Posts Tagged 'Facial Recognition'
Wednesday, February 5th, 2020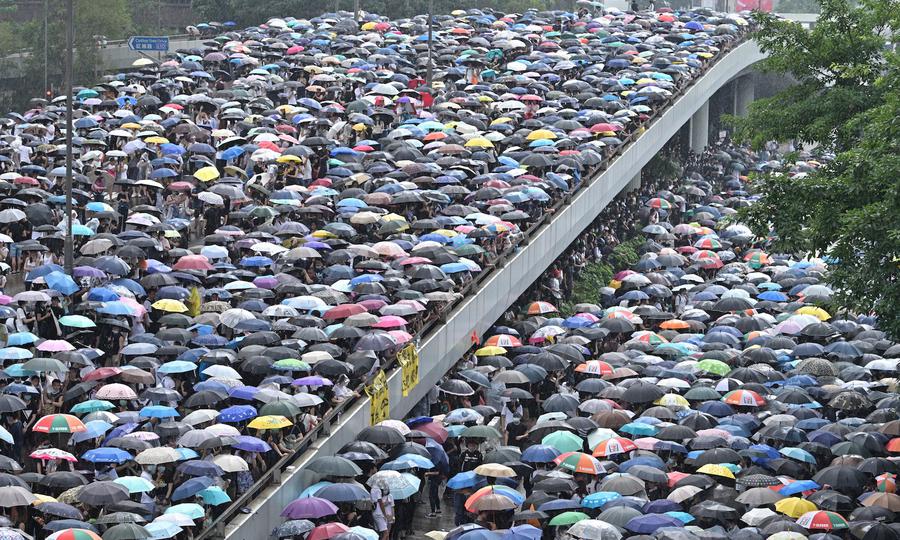 "On Wednesday 12th June, when someone shouted out that drones had started flying above them, everyone opened up their umbrellas almost simultaneously."
Four texts from Dialectical Delinquents:
1. Coronavirus – an exercise in intensified social control.
2. Hong Kong – its relevance to the rest of us… …its resistance to the science & technology of social control.
4. China: A-Z of some moments of international opposition.
Tags: Anti-technology, CCTV, China, Coronavirus, Dictatorship, Facial Recognition, Hong Kong, Repression, Riots, Social Insurrection, Surveillance
Posted in Social Control
Sunday, December 15th, 2019
From It's Going Down:
Report from insurrectionary anarchist publication Anathema on the growth of networks of surveillance being developed by Amazon and local police departments.
In November, The Intercept reported that internal documents at Ring, the home security company owned by Amazon, reveal that the company is planning to create automated neighborhood "watch lists" by incorporating facial recognition technology into its increasingly vast network of "smart home" doorbell cameras. The feature would alert camera-owners via smartphone when someone deemed "suspicious" pops up on their cameras. Like the old-fashioned "neighborhood watch" that Ring wants to replace, the feature would extend the power of the police and as well as make certain areas of town more dangerous for anyone Ring camera owners deem "suspicious."
Ring's documents do not define what "suspicious" means. In practice, this will likely be defined by gentrifiers and cops, whose systemic racism is well documented. At its core, the watch list would identify people who "don't belong" in certain areas; this means black and brown people, poor people, and anyone whose appearance deviates from social norms. Ring's Neighbors program — an online discussion forum between camera owners — is already well known for its aggressive racism and for generally heightening distrust and paranoia within neighborhoods. For many people, Ring's new feature would make it dangerous to be in certain neighborhoods at all — a victory for the forces of gentrification everywhere.
Ring doorbell cameras have already allowed police to significantly expand their operations, simply by appropriating private citizens' technology for no additional expense. The technology therefore has immense "value," not only for the company, but for the state. For decades it's been steadily expanding policing in order to keep its increasingly immiserated people under control, while struggling to balance its own budgets. (more…)
Tags: Amazon (Company), Anathema, Facial Recognition, Intelligent Surveillance, Palantir, Rekognition, Repression, Ring (Surveillance Company), Smart Cities, Surveillance, USA
Posted in Social Control
Wednesday, October 10th, 2018
As requested, here is the 'Against Surveillance State UK' CCTV article as an A4 PDF to be enlarged to A3 and flyposted as a spread, or printed out on to double-sided A4 and handed out.
PDF: A4 – Against Facial Recognition CCTV
Tags: Analysis, Anti-technology, CCTV, Facial Recognition, Flyposter, Intelligent Surveillance, PDF, Surveillance, UK
Posted in Social Control
Sunday, October 7th, 2018
PDF: Dark Nights #47 – EN
PDF: Dark Nights #47 – ES
'Against Surveillance State UK – Against Facial Recognition CCTV'
'Contra la Vigilancia del Estado de Reino Unido – Contra el CCTV de Reconocimiento Facial'
International anarchist newsletter in English and Spanish versions. Latest issue of Dark Nights returns after more than two years. Download, copy and distribute.
Boletín anarquista internacional en versiones en inglés y español. El último número de Dark Nights regresa después de más de dos años. Descargar, copiar y distribuir.
Anti-Copyright Network

+ Facial Recognition CCTV article as A4 PDF to be enlarged to A3 and flyposted.
Tags: Analysis, Anti-technology, CCTV, Dark Nights, Facial Recognition, Insurrection, Intelligent Surveillance, Novichok Case, PDF, Repression, Sabotage, Social War, Zine
Posted in Library
Thursday, September 20th, 2018
EN: Against Surveillance State UK – Against Facial Recognition CCTV
CONTRA LA VIGILANCIA DEL ESTADO DE REINO UNIDO – CONTRA EL CCTV DE RECONOCIMIENTO FACIAL
Gran Bretaña es un Estado autoritario de vigilancia, que ha sido pionero en el aspecto de muchas de las sociedades modernas; que están completamente cubiertos por cámaras de seguridad en casi cada punto urbano, plaza, camino, esquina, tienda, autobús, tren, etc. Parcialmente en un estado de perpetua decadencia y deterioro, aquí han construido una vida como si fuera una gran prisión, y es como se ve su mundo. Sociedad carcelaria un sinfín de monótonos centros comerciales, urbanizaciones, bloques de pisos, áreas industriales y recreativas, las cuales son capaces de encerrarlos en un corto plazo. Simulacros de respuesta antiterrorista de múltiples agencias a gran escala practicados regularmente para posibles ataques terroristas o disturbios en el centro de la ciudad. Los medios de control mental emiten mentiras, medias verdades, distracciones, deseos imposibles de consumismo, mañana, tarde y noche. Cada evento masivo potencialmente perturbador, crisis social y ambiental, es promocionado por los medios como una amenaza de un final tan abrupto a la normalidad que al menos todos los recursos de la policía serán tan escasos que los militares tendrán que involucrarse para restaurar el orden bajo la ley marcial. Austeridad, inundaciones, Brexit, inmigración, islamismo. Los discursos e ideologías reaccionarias, racistas, nacionalistas están en todas partes; grupos neonazis, religiosos y de extrema derecha se están reagrupando. La idea anarquista y de la eco-acción se les llaman "extremismo" o "terrorismo", en el doble discurso del estado policial. Nunca habrá ninguna posibilidad de cambio individual, social y ambiental sin la recreación de la vida diaria en una existencia que refleje nuestros deseos, pasiones y alegrías, en lugar de ser un engranaje en su sistema de miedo. Asimismo, no hay posibilidad de ningún cambio social sin una insurrección, una guerra social. (more…)
Tags: Analysis, Anti-technology, CCTV, Facial Recognition, Intelligent Surveillance, Repression, Surveillance, UK
Posted in Social Control
Wednesday, September 19th, 2018
This article is also available as an A4 PDF to be enlarged to A3 and flyposted as a spread, or double-sided A4 to hand out.
Against Surveillance State UK – Against Facial Recognition CCTV
Britain is an authoritarian surveillance State, which has pioneered how many modern societies look; entirely covered by security cameras at almost every urban point, place, square, road, corner, shop, bus, train, etc. Partially perpetually in a state of decay and disrepair, here they have built a life almost as in a vast prison, and it is what their world looks like. Prison society; endless drab shopping centres, housing estates, tower blocks, industrial and recreational areas capable of being on lock-down at short notice. Regularly practised large-scale multi-agency counter-terror response drills to terrorist attacks, inner-city riots. Mind-control media beams out lies, half-truths, distractions, impossible consumer desires, morning, noon and night. Every potentially disruptive mass event, social and environmental crisis, is hyped by the media as threatening such an abrupt end to normality that at least all the police's resources will be stretched so thin that the military will have to be involved to restore order under martial law. Austerity, flooding, Brexit, immigration, Islamism. Reactionary, racist, nationalist discourses and ideologies are everywhere; religious and far-right neo-nazi groups are regrouping. Anarchist and eco-action is called "extremism" or "terrorism", in the double-speak of the police-state. There will never be any chance of individual, social and environmental change without the recreation of daily life into an existence that reflects our desires, passions and joys, rather than a cog in their system of fear. Likewise there is zero possibility of any social change without an insurrection, a social war. (more…)
Tags: Analysis, Anti-technology, CCTV, Facial Recognition, Intelligent Surveillance, Repression, Surveillance, UK
Posted in Social Control