Posts Tagged 'Finland'
Thursday, December 19th, 2019
What, When and Where?
Father Frost Against – festival (formerly Father Frost Against Putin) is a cultural and political festival designed to stimulate critical thought and reflection, and to work out new activist strategies, with a focus on developments in Russia and the post-Soviet space. The festival has been organised since 2014, and the 7th edition will take place in various locations in Helsinki, Finland, on 3 – 5 January 2020 and is organized by local activists with active support and participation from individuals and groups from Russia and the post-Soviet space.

Main Aims of the Festival
Redefine social and political fields, through information exchange with successful projects and strategic planning.
Creating a space for networking and connecting with like-minded people.
Involving new participants and guests in the festival program.
Developing a new language to indicate current and relevant issues.
Who are we?
We are Studio 4.413 /a laboratory of alternative discourse and intersectional kinship based in St. Petersburg, created to shift art and activist communities. Studio 4.413 includes artists, human rights activists and independent media representatives from Russia and the post-Soviet space.
https://www.facebook.com/studio4413/ (more…)
Tags: Dictatorship, Festival Father Frost against Putin, Finland, International Solidarity, Russia, Solidarity Event
Posted in Autonomy
Tuesday, November 20th, 2018
Next year, 2019, the Father Frost against Putin-festival will once again take place in Helsinki. From the 5th to the 6th of January you can join discussions about the state of affairs in Russia and the x-USSR region, and get a chance to meet various social and political activists without the fear of police or special service operations. (fear of infringement from the side of police and special services).
The difficult political and economic situation, compounded by a new wave of repressions and authoritarianism in Russia and the region provide ample topics for discussion. The social protests taking place in a generally difficult geopolitical environment in Europe, the "Network" frameup against Russian anti-fascists and events related to it, are just a small selection of the topics up for discussion.
In this increasingly turbulent context we want to work out and form a common position in regards to these events, and figure out what to do in relation to the Putin regime, and other islands of authoritarianism in the x-USSR.
The festival program will be distributed openly, and will consist of two parts – presentations and a party. The event is open, and organised in a country where police harassment is unlikely.
Place of the event will be announced later If you are interested in taking part in the festival and you need place to sleep, please fill out the form below and send it to dedmoroz@riseup.net. Registration is required only for those, who need help with sleeping places. Deadline to send your form – January 4 2019.
Event in facebook: https://www.facebook.com/events/964842413701892/
Event in VK: https://vk.com/ded_against_putin
QUESTIONNAIRE
Name / Nickname:
City / Region / Country:
Email:
Phone:
Dates of stay (from when to when):
How did you find out about the event:
Who can give a recommendation/vouch for you:
Diet, allergies or anything else we need to know
(food at the event will be vegan):
Suggestions for discussions, workshops or inputs that you could offer:
How much time would you need for your workshop/input and what technical
equipment:
https://avtonom.org/en/news/festival-father-frost-against-putin-2019-take-place-january
Tags: Anarchist Gathering, Festival Father Frost against Putin, Finland, Helsinki
Posted in Autonomy
Tuesday, November 14th, 2017
14.11.17
We wanted to dedicate this action to all our kidnapped friends, or those who have been kidnapped once, by setting fire to 4 trucks from one of the biggest milk companys in finland named valio. The action took place in a city named tampere in the early morning hours of this tuesday. Many of our cell have wanted to target this company for a long time. We think that it is not necessary to explain too much the reason of our selection: the milk industry has a long history of destruction, cruelty and torture on this planet, its ecosystem and their habitants. Like our friends the cows and the forests. Who are cruelly abused and murdered or destroyed by the production of milk."
via biteback.
Tags: ALF, Arson, Finland, Sabotage, Tampere, Valio
Posted in Direct Action
Wednesday, February 22nd, 2017
Come to the Tattoo Circus 21-23.4 to support prisoners and get inked!
Oranssi, Kaasutehtaankatu 1 (building 11), Suvilahti, Helsinki
The Tattoo Circus is coming to Helsinki! The festival will feature tattoo artists ready to give you a tattoo in support of political prisoners – but that's not all – apart from tattoos there will also be piercing, stick-and-poke tattoo workshop, music, talks on different prisoners, distros, food, and much much more.
There will be an info-point open throughout the day, with the ability to send postcards and letters to prisoners.
Contact us: tattoocircushki[at]riseup.net
https://tattoocircushki.noblogs.org/
Tags: Finland, Helsinki, Solidarity Event, Tattoo Circus
Posted in Prison Struggle
Sunday, December 11th, 2016
From 7th to 8th of January 2017 fourth Father Frost against Putin-festival will be organised in Helsinki. Exact festival location will be announced later.
As in earlier years, various Russian grassroot initiatives will present themselves in festival. You should visit festival, if you are interested on what has happened in Russian anarchist, feminist and queer movements during year 2016.
All festival events will be open to everyone. (more…)
Tags: ABC Helsinki, Alexey Gaskarov, Anarchist Gathering, Finland, Helsinki, International Solidarity, Russia
Posted in Autonomy
Friday, July 8th, 2016
After Tel Aviv, Helsinki joined the solidarity campaign. A picket in the center of the city was organised. 1st of July, in the opposite side of the railway station, around 10 anarchists stood with a banner "Freedom to Crimean prisoners" (Vapaus Krimin vangeille) with pictures of Oleg Sentsov and Alexandr Kolchenko, and "Freedom for all political prisoners" (in English). Few hundred leaflets were spread. Goal of the action was to spread information about constant repressions in Russia against those in disagreement with Putin's politics, and against ongoing bloodshed in Ukraine. Leaflets had the following demands:
– Russia must withdraw its troops from Ukraine, and both sides of the conflict must fulfill the obligations of the Minsk II peace treaty
– Russia should release all Crimean tatars, anarchists, antifascists and other imprisoned anti-war activists. All illegally detained people in Donetsk and Lugansk areas should be released.

Photos
Tags: Finland, Helsinki, International Solidarity, Russia
Posted in Prison Struggle
Sunday, May 15th, 2016
Reclaim the Cape -action week took place in Pyhäjoki 22.4.-1.5.2016 and dozens of people where detained by the police. 11 activists were arrested. Five of them were released in few days after the detention. After this, still six activists were kept in remand prison. One activist still remain in prison.
We have sent money, clean clothes, toothbrushes and toothpaste, cigarettes, books etc. to the prisoners as much as we've been able. However, the prisoners haven't received all packages from their parents or other senders. They also haven't been able to send or receive letters or postcards.
During the imprisonment of the activists the police hasn't offered legal facilities for the prisoners. Police says that there hasn't been resources for example for cleaning cells and in the first few days of imprisonment the prisoners didn't have possibility to wash up and they didn't have toilet paper or proper food. Also the prisoners didn't get outside as much as the legal rights would allow. (more…)
Tags: Anti-Nuclear, Finland, Pyhäjoki, Repression
Posted in Social Control
Sunday, May 1st, 2016
Repression against those who oppose Fennovoima-Rosatom nuclear power plant project continues: and it's getting worse and worse. On Friday 29.4. two protest camp sites got evicted at Pyhäjoki, Finland. Police operations were, on Finnish scale, massive.
Not big. Massive. Present were roughly 20 police vans, officers in riot gear, border patrol's helicopter, sections from both national SWAT teams, dog units and specially equipped riot vans. Police declared the eviction of both camp sites by presenting a legally vague, written police order without even specified locations of the camp sites or other information. Just an order to leave and a declaration that police will arrest everyone "under the police law" it considers to "be connected to the locations" or "able to disrupt public order".
The majority of the protest campers and Reclaim the Cape-action week participants grouped up and vanished into the forests without negotiating with the police.
As we speak, both sites are being emptied of infrastructure and belongings. Comrades are being searched and picked from the woods. Those been detained are being helped and awaited outside the cells. New campsite is under construction, but not public. (more…)
Tags: 'Stop Fennovoima camp', Anti-Nuclear, Ecological Destruction, Eviction, Fennovoima, Finland, Fuck the Mainstream Media, Fuck the Police, International Solidarity, Pyhäjoki, Repression
Posted in Eco Struggle
Thursday, April 28th, 2016
– We need help immediately!
Today 28.4. around 3 pm, riot cops and a police patrol with dogs started to approach the camp. We communicated clearly to the police with a megaphone that they are not welcome, and we don't want to engage in conflict with them. The police didn't say anything or answer any questions.
The police started to shoot people with a projectile / rubber bullet gun and the people at the camp defended themselves by throwing rocks. The police were clearly aiming for the activists heads, backs of heads and upper bodies with the gun. People got hit several times on the area of their upper bodies. As far as we know, not to their heads though… The police got hit several times with the rocks, and there was one police car burning up in flames at the area.
After a long struggle with delay tactics, the police managed to move ahead to the camp when the people who were defending the camp disappeared to the forest. In the camp the police shot projectiles towards the kitchen-collective people. The police evacuated all the people from the camp, and took some people into custody.
The police have also threatened to evict another camp location which is still in our use.
We don't accept giving into repression and police violence, and the struggle against Fennovoima will continue. Now we'll need everyone to help build up the camp again, and to continue the fight and actions against Fennovoima. We invite comrades to this fight wherever you are – let's aim our actions towards the companies which are working with/for Fennovoima, the embassies of Finland, or the local police.
Tags: 'Stop Fennovoima camp', Anti-Nuclear, Fennovoima, Finland, Pyhäjoki, Repression
Posted in Social Control
Monday, April 18th, 2016
In a cold world,
in the cold north,
our hearts still always have warmth to share for those
who've had to sacrifice their freedom in the struggle for freedom for all.
On the night of Monday 11th of April, 2016, in Tampere, Finland, milk company Valio's dairy plant got a paintbomb on its facade, as did meat company Saarioinen.

Happy birthday Abdul "Lone Wolf"!!
Tags: Animal Liberation, Finland, Paint attack, Paint bombs, Supreme Vegan Power, Tampere
Posted in Eco Struggle
Monday, April 18th, 2016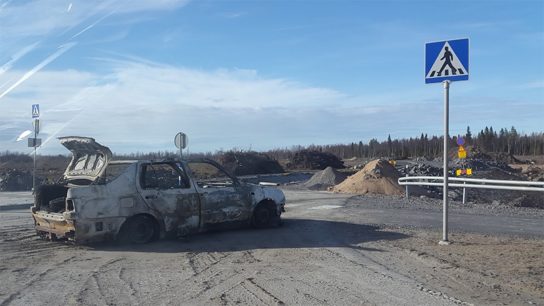 Fennovoima-Rosatom tries to build a new nuclear power plant in Pyhäjoki, Finland. Nuclear energy is by every standard outdated technology, financially unprofitable, it increases the centralization of energy production and produces hazardous nuclear waste for generations to come.
On top of it all, Fennovoima-Rosatom is destroying unique nature as we speak and messing up the Bay of Bothnia. The chosen location is a crappy one for a nuclear power plant by any means. Close to sea, close to groundwater. For example, the builders need to lift the ground level with meters to even get to start the constructions.
On Tuesday 12/04 at 6 in the morning we blocked the traffic of the only road leading to the construction site, and the landfills from continuing, by burning a crappy car filled with car tires etc. In the middle of that Fennovoima road.
The paintjob on the car said "Dialog Devil". That's our dialogue and that's what we have to say to everyone demanding dialogue with Fennovoima-Rosatom.
We also want to send our solidarity to Hambach forest occupation where comrades are battling against the climate killing energy giant RWE despite heavy repression against them. One struggle!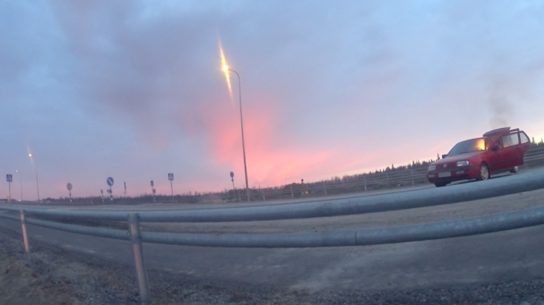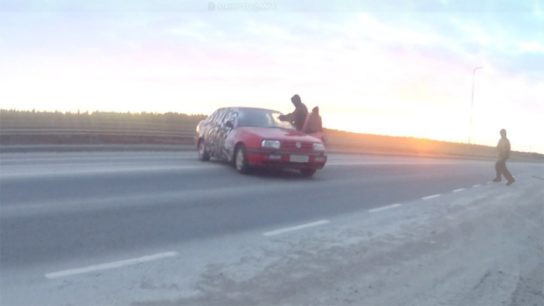 Tags: Anti-Nuclear, Arson, Barricades, Blockade, Burning Barricades, Ecological Destruction, Fennovoima, Finland, Hambach Forest, Pyhäjoki
Posted in Eco Struggle
Sunday, April 3rd, 2016
We take responsibility for the arson attack on the 29th of March. We burned two cars of the private security company Securitas. With this attack we want to bring to light the co-operation between Securitas and Fennovoima nuclear energy company that is known for its destruction of the environment.
The 1st of April will be the first day that Securitas will be in charge of the construction site in Hanhikivenniemi, where the latest nuclear plant is meant to be built.

With this arson we welcome Securitas to Fennovoima!
We want to send our solidarity to Monica and Francisco.
And all the prisoners of the world!
Tags: Arson, Car Burning, Fennovoima, Finland, Francisco Solar, Hanhikivenniemi, Monica Caballero, Securitas
Posted in Direct Action
Friday, January 29th, 2016
So. There's an anti-nuclear protest site at the west coast of Finland. And it's
holding an action week between 22th of April – 1th of May, 2016, while celebrating
its first anniversary of existence. What's all this about? To put it all in a simple
nutshell:
Fennovoima is a Finnish nuclear power company established in 2007 by a consortium of
Finnish power and industrial companies thinking it's a mighty good idea to put up a
nuke plant at Pyhäjoki, a small municipality at the west coast of Finland – by any
means necessary. Fennovoima's project nearly faced its much wished-for doom when
German energy giant E.ON, the main investor of the project at that time, decided
nuclear power is bad business and withdrew its money in 2012. (more…)
Tags: Anti-Nuclear, Demo, Fennovoima, Finland
Posted in Eco Struggle
Friday, June 26th, 2015
Fennovoima-Rosatom's nuclear power project is now at a critical point. Fennovoima is supposed to hand over the keys – symbolical and concretical – to Rosatom on the 1st of July. However, Rosatom wants – as agreed – the area without troublesome extra attachments.
Requirements for a police-assisted eviction are however not quite ready yet.
The people still holding on to their lands and cottages in the area have been sent a message by Fennovoima, in which is demanded that the last missing cottage-keys be surrendered to the company at the latest on Friday 26th of June. If this does not happen, the issue will proceed to the Distraint Authorities [the authority managing forced collection of debts, taxes, etc.] according to Fennovoima. After that we'll have to see how and with what kind of schedule the Distraint and police authorities sort out the practicalities and the connecting of their respective official powers. (more…)
Tags: Anti-Nuclear, Demo, Eviction, Fennovoima, Finland, Hanhikivi, Helsinki
Posted in Eco Struggle
Sunday, May 3rd, 2015
The Fennovoima Energy Company is starting to construct a nuclear power
plant in Pyhäjoki, a nice, quiet and small village in the northwest of
Finland.
During the second half of April, Fennovoima cut 95 hectares of very
special coastal forest at the construction area. They didn't wait for a
month for the legal permission to clear cut the landscape. Instead,
Fennovoima started destroying the forest on Wednesday, the 15 of April.
The forest was a home for several rare birds and other species. Nests of
endangered white-backed woodpeckers (Dendrocopos leucotos) were
destroyed, a very rare white tale eagle got disturbed as dozens of
machines demolished it´s neighborhood.
(more…)
Tags: Anarchist Gatherings, Anti-Nuclear, Fennovoima, Finland, Pyhäjoki
Posted in Eco Struggle