Posts Tagged 'Flyposter'
Friday, January 10th, 2020
Note: Paska, as Giovanni and Ghespe, are actually at house arrest (since June 2019). Paska, Giovanni and Ghespe were arrested at August 3, 2017, in the context of a repressive operation against anarchists in Florence. In the sentence of July 22, 2019, in the trial for the "Panico" operation, Paska, Giovanni and Ghespe were convicted to 9 years and 10 months, 9 years, 10 months and 15 days, and 9 years respectively. "Panico" trial is the result of the union of several proceedings, including the one linked to the "Panico" repressive operation of January 31, 2017 (which involved three house arrest, some restrictions and searches with the main accusation of "criminal association") and the repressive operation of August 3, 2017, which involved eight arrests, searches and the eviction of La Riottosa occupation, in Florence, with accusations (for the eight anarchists arrested) of having carried out an explosive attack against "Il Bargello" bookstore (Florence, January 1, 2017) – a space linked to fascists and the fascist party "Casapound" -, an action during which a policeman was seriously injured and lost part of a hand and an eye, and an arson attack on a carabinieri station in the neighborhood of Rovezzano (Florence, April 21, 2016). Paska, Giovanni and Ghespe were sentenced mainly for accusations related to the attack against the fascist library. Nine anarchists were sentenced for "criminal association" and generally about twenty anarchists were condemned.
Not rotten apples
September 17, 2019, saw the start of the trial against our comrade Paska, accused of resistance and grievous bodily harm towards some of his jailers during a transfer.
A couple of pushes against a few of the escort screws was the least he could do after the treatment they had reserved for him on various occasions: the latest being the rally driving of the paddy wagon that caused him a strong blow to his head and ribs during the transfer of October 18, 2018.
On the other hand, since his arrival at La Spezia the prison management had decided to arbitrarily reserve even more restrictive measures for him such as delaying mail, bans on meeting others, isolation up to the 14bis isolation regime level as well as being forbidden to go to the yard with the other prisoners.
That doesn't surprise us. In the year 2018 – 2019 alone La Spezia prison boasts no less than 5 deaths out of about 230 prisoners, added to the acts of self-harm and beatings as a daily occurrence: the normality of a prison considered to be among the most progressive in Italy.
It is, therefore, within the normal execution of their functions that escort guards Luigi Viziello and Stefano Cenderelli covered our comrade in insults, kicks and punches. (more…)
Tags: Flyposter, International Solidarity, Italy, Operation Panic, Paska, Repression
Posted in Prison Struggle
Tuesday, December 3rd, 2019
Tags: China, Flyposter, Hong Kong, International Solidarity, Repression, Riots
Posted in Library
Thursday, October 31st, 2019
Tags: Flyposter, Surveillance
Posted in Library
Wednesday, August 21st, 2019
WEEK OF SOLIDARITY WITH ANARCHIST PRISONERS 23-30 AUGUST
To act in solidarity is completely up to the interpretation of an individual or collective. One could write a letter or visit a prisoner. Others could hold an event for prisoner awareness or a benefit gig. But then there are also the lone wolves who creep around in the darkness of night, lighting up the night sky with flames of rage and solidarity. No matter what act of solidarity is done, it's completely up to the expression of the rebel individual or collective. The point is to show the anarchist fighters encaged in the belly of the beast that they are not alone, we haven't forgotten them.

THE SOCIAL WAR AGAINST TECHNO-INDUSTRIAL CIVILIZATION CONTINUES
SOLIDARITY WITH ALL IMPRISONED ANARCHISTS
SOLIDARITY WITH ALL ANARCHIST FIGHTERS
Tags: Flyposter, Green Anarchy Ireland, International Solidarity, International Week for Anarchist Prisoners
Posted in Prison Struggle
Sunday, July 14th, 2019
Tags: Flyposter, Italy, Operation Panic, Repression
Posted in Social Control
Thursday, July 4th, 2019
Tags: Chile, Flyposter, International Solidarity
Posted in Prison Struggle
Monday, May 6th, 2019
MAURICIO MORALES PRESENTE
La madrugada del 22 de mayo de 2009 muere en axión el compañero Mauricio Morales, tras la detonación anticipada del artefacto explosivo con el que pretendía atacar la Escuela de Gendarmería, fábrica de miserables carceleros.
Recordamos la vida del Punki Mauri, la vida que eligió vivir, sus ideas y acciones, las decisiones que lo llevaron a transitar el camino anárquico, con corazón y convicción. Desde la kalle procuramos que siga viva la anarquía, en cada gesto de memoria activa y confrontacional, sin victimismo ni docilidad, haciendo en el acto y la palabra un elemento peligroso para el orden social de los poderosos.
NADA HA ACABADO
TODO CONTINÚA
por la expansión del caos…
PROKURA KE VIVA LA ANARKÍA
Tags: Chile, Flyposter, International Solidarity, Mauricio Morales
Posted in Direct Action
Monday, April 22nd, 2019


Afiche en solidaridad con los cautivos en guerra Juan Aliste Vega y Marcelo Villarroel Sepúlveda.
Tags: Chile, Flyposter, Juan Aliste Vega, Marcelo Villarroel Sepúlveda, Santiago
Posted in Prison Struggle
Wednesday, April 17th, 2019
Cartel (Din A3)
Octavilla (Din A4)
Hola!
Compartimos este llamado a la abstención activa, ante el circo eufórico de los procesos electorales (en España) que ya están aquí de nuevo. Con esto no sólo incitamos a la abstención, sino al ataque directo contra cualquier máquina, institución, Estado o colaborador de éstos.
Es un Cartel para colgar en la calle, y una Octavilla para buzonear.
El Catel es Din A3.
La Octavilla se imprime en Din A4 por las dos caras, y se recorta en 3, y se dobla el papel por donde está la imagen del gato, y se deja en el buzón dejando que sobresalga del buzón sólo la parte del gato y el "no votes nunca" para llamar la atención del vecino de turno.
No es un llamado "ciudadanista", es un llamado a deslegitimar y atacar todas las estructuras de dominación que se ciernen sobre nosotros a diario. (more…)
Tags: Elections, Flyposter, PDF, Spain
Posted in Autonomy
Monday, January 28th, 2019
Tags: Flyposter, G20, Germany, Hamburg, International Solidarity
Posted in Social Control
Tuesday, December 18th, 2018


Italian translation via Anarhija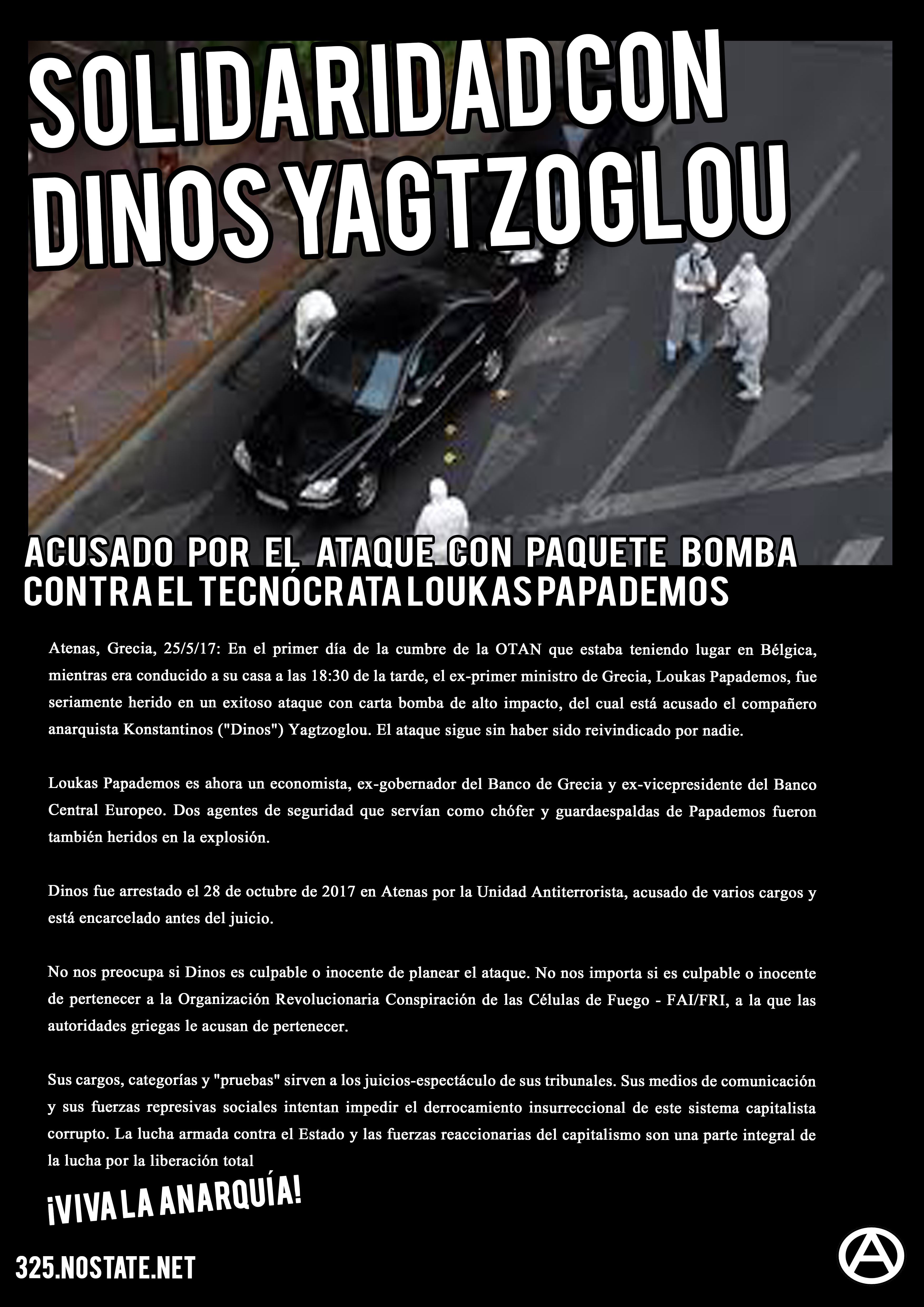 Spanish translation by La Rebelión de las Palabras + PDF
Tags: Athens, Flyposter, Greece, Konstantinos Yagtzoglou, Loukas Papadimos
Posted in Prison Struggle
Monday, December 3rd, 2018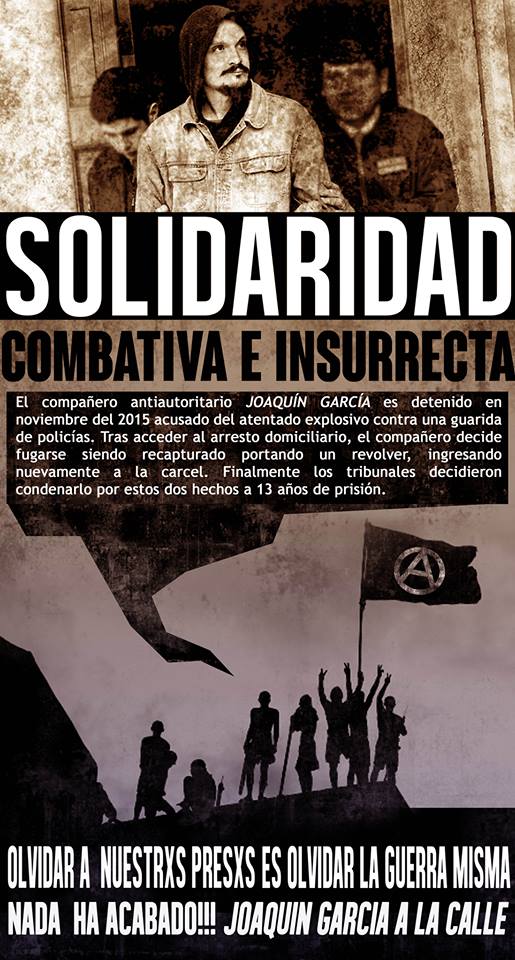 COMBATIVE AND INSURRECTIONIST SOLIDARITY
The anti-authoritarian comrade Joaquín García was arrested in November 2015, accused of an explosive attack against a police station. After being placed under house arrest, the comrade decided to escape but was recaptured carrying a revolver, and sent to prison again. Finally the courts decided to condemn him for these two acts to 13 years of prison.
FORGETTING OUR PRISONERS IS FORGETTING THE WAR ITSELF
NOTHING HAS FINISHED!! JOAQUIN GARCIA TO THE STREET!!
Tags: Chile, Flyposter, Joaquín García Chanks, Santiago
Posted in Prison Struggle
Friday, November 16th, 2018
Wallmapu: Prisionerxs politicxs mapuche se amotinan en respuesta al asesinato de Camilo Catrillanca
Tags: Flyposter, Indigenous Struggle, Mapuche, Repression
Posted in Library
Thursday, November 15th, 2018
ITALIA: AFICHES EN SOLIDARIDAD CON EL COMPAÑERO ANARQUISTA PASKA EN HUELGA DE HAMBRE (ES/FR/EN/DU)
Italy: Updates on Anarchist comrade Paska's hunger strike and appeal for solidarity
Tags: Flyposter, Hunger Strike, Italy, Operation Panic, Paska
Posted in Prison Struggle
Wednesday, October 10th, 2018
As requested, here is the 'Against Surveillance State UK' CCTV article as an A4 PDF to be enlarged to A3 and flyposted as a spread, or printed out on to double-sided A4 and handed out.
PDF: A4 – Against Facial Recognition CCTV
Tags: Analysis, Anti-technology, CCTV, Facial Recognition, Flyposter, Intelligent Surveillance, PDF, Surveillance, UK
Posted in Social Control