Posts Tagged 'Flyposter'
Monday, May 6th, 2019
MAURICIO MORALES PRESENTE
La madrugada del 22 de mayo de 2009 muere en axión el compañero Mauricio Morales, tras la detonación anticipada del artefacto explosivo con el que pretendía atacar la Escuela de Gendarmería, fábrica de miserables carceleros.
Recordamos la vida del Punki Mauri, la vida que eligió vivir, sus ideas y acciones, las decisiones que lo llevaron a transitar el camino anárquico, con corazón y convicción. Desde la kalle procuramos que siga viva la anarquía, en cada gesto de memoria activa y confrontacional, sin victimismo ni docilidad, haciendo en el acto y la palabra un elemento peligroso para el orden social de los poderosos.
NADA HA ACABADO
TODO CONTINÚA
por la expansión del caos…
PROKURA KE VIVA LA ANARKÍA
Tags: Chile, Flyposter, International Solidarity, Mauricio Morales
Posted in Direct Action
Monday, April 22nd, 2019


Afiche en solidaridad con los cautivos en guerra Juan Aliste Vega y Marcelo Villarroel Sepúlveda.
Tags: Chile, Flyposter, Juan Aliste Vega, Marcelo Villarroel Sepúlveda, Santiago
Posted in Prison Struggle
Wednesday, April 17th, 2019
Cartel (Din A3)
Octavilla (Din A4)
Hola!
Compartimos este llamado a la abstención activa, ante el circo eufórico de los procesos electorales (en España) que ya están aquí de nuevo. Con esto no sólo incitamos a la abstención, sino al ataque directo contra cualquier máquina, institución, Estado o colaborador de éstos.
Es un Cartel para colgar en la calle, y una Octavilla para buzonear.
El Catel es Din A3.
La Octavilla se imprime en Din A4 por las dos caras, y se recorta en 3, y se dobla el papel por donde está la imagen del gato, y se deja en el buzón dejando que sobresalga del buzón sólo la parte del gato y el "no votes nunca" para llamar la atención del vecino de turno.
No es un llamado "ciudadanista", es un llamado a deslegitimar y atacar todas las estructuras de dominación que se ciernen sobre nosotros a diario. (more…)
Tags: Elections, Flyposter, PDF, Spain
Posted in Autonomy
Monday, January 28th, 2019
Tags: Flyposter, G20, Germany, Hamburg, International Solidarity
Posted in Social Control
Tuesday, December 18th, 2018


Italian translation via Anarhija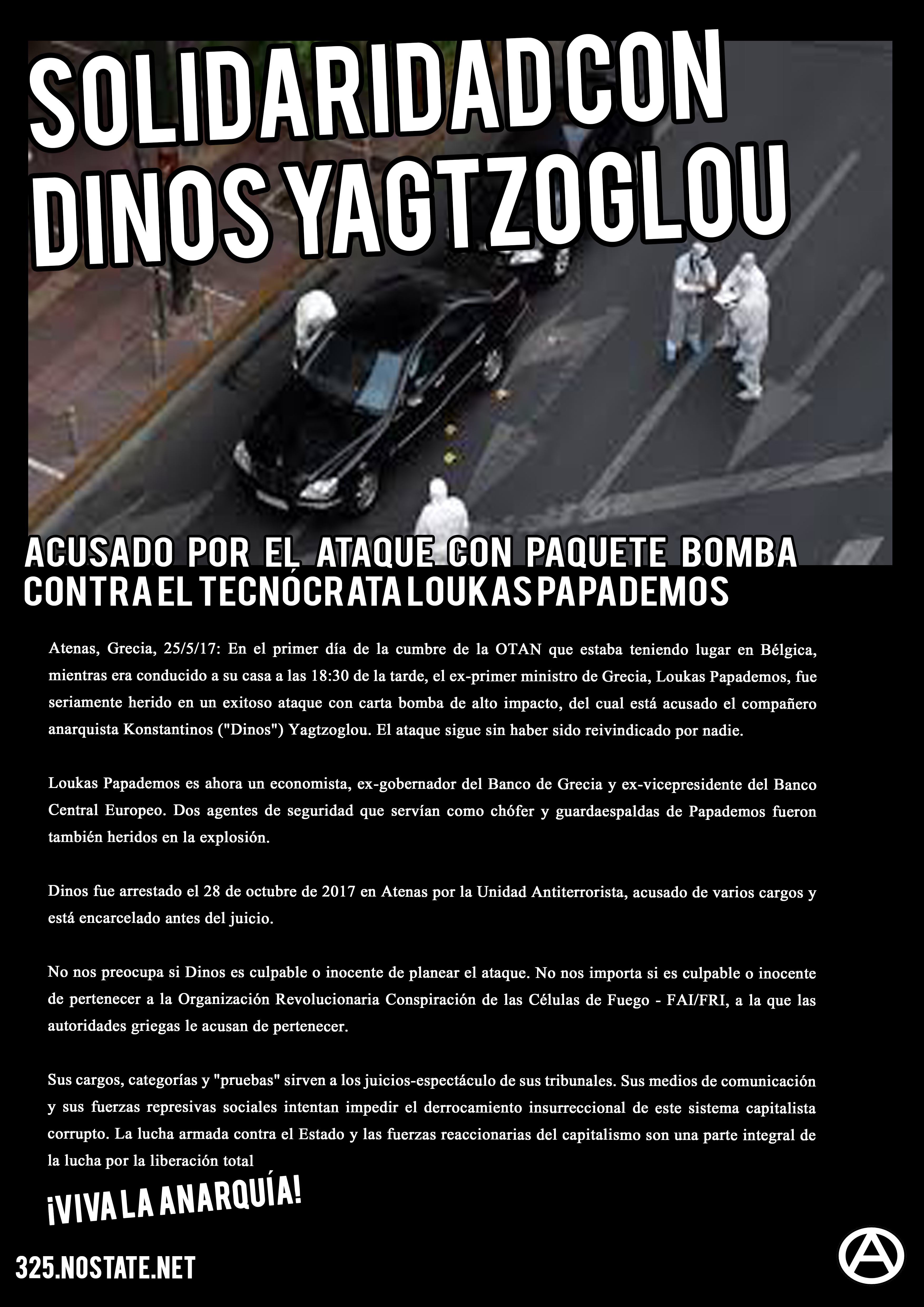 Spanish translation by La Rebelión de las Palabras + PDF
Tags: Athens, Flyposter, Greece, Konstantinos Yagtzoglou, Loukas Papadimos
Posted in Prison Struggle
Monday, December 3rd, 2018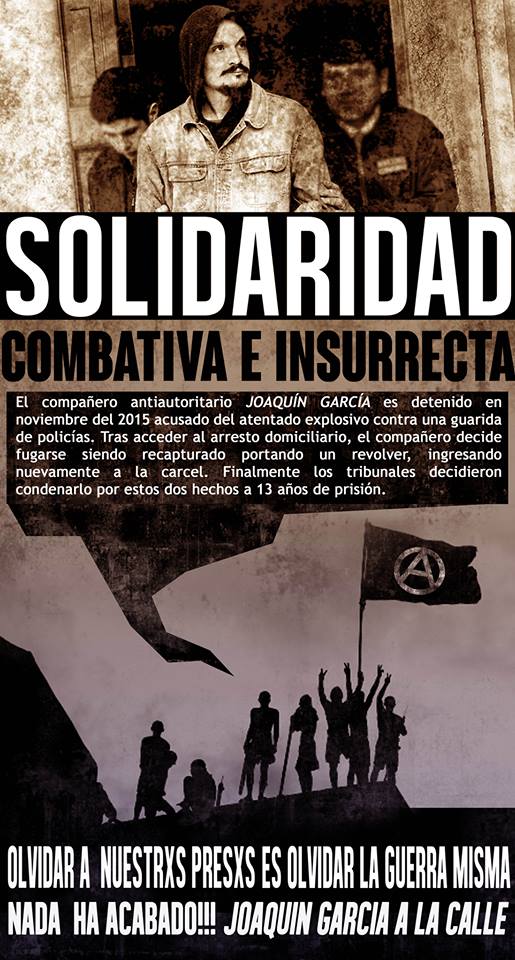 COMBATIVE AND INSURRECTIONIST SOLIDARITY
The anti-authoritarian comrade Joaquín García was arrested in November 2015, accused of an explosive attack against a police station. After being placed under house arrest, the comrade decided to escape but was recaptured carrying a revolver, and sent to prison again. Finally the courts decided to condemn him for these two acts to 13 years of prison.
FORGETTING OUR PRISONERS IS FORGETTING THE WAR ITSELF
NOTHING HAS FINISHED!! JOAQUIN GARCIA TO THE STREET!!
Tags: Chile, Flyposter, Joaquín García Chanks, Santiago
Posted in Prison Struggle
Friday, November 16th, 2018
Wallmapu: Prisionerxs politicxs mapuche se amotinan en respuesta al asesinato de Camilo Catrillanca
Tags: Flyposter, Indigenous Struggle, Mapuche, Repression
Posted in Library
Thursday, November 15th, 2018
ITALIA: AFICHES EN SOLIDARIDAD CON EL COMPAÑERO ANARQUISTA PASKA EN HUELGA DE HAMBRE (ES/FR/EN/DU)
Italy: Updates on Anarchist comrade Paska's hunger strike and appeal for solidarity
Tags: Flyposter, Hunger Strike, Italy, Operation Panic, Paska
Posted in Prison Struggle
Wednesday, October 10th, 2018
As requested, here is the 'Against Surveillance State UK' CCTV article as an A4 PDF to be enlarged to A3 and flyposted as a spread, or printed out on to double-sided A4 and handed out.
PDF: A4 – Against Facial Recognition CCTV
Tags: Analysis, Anti-technology, CCTV, Flyposter, Intelligent Surveillance, PDF, UK
Posted in Social Control
Saturday, August 25th, 2018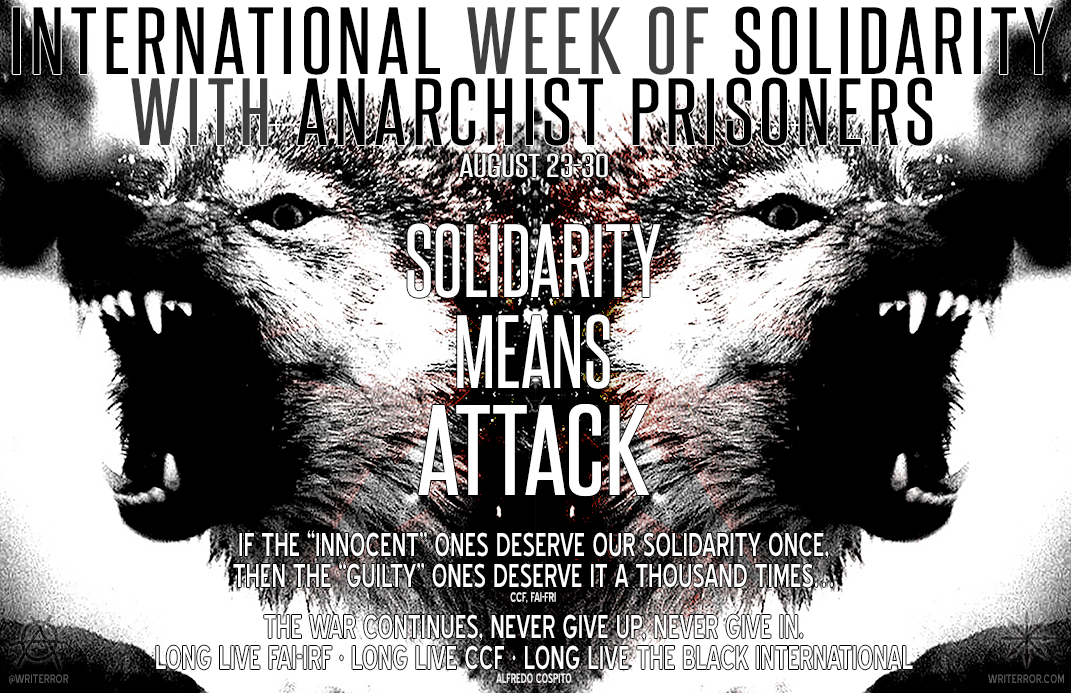 If the "innocent" ones deserve our solidarity once, then the "guilty" ones deserve it a thousand times… — Conspiracy of Cells of Fire, FAI-IRF / Imprisoned Members Cell

Solidarity will always be practiced as an indispensable feature of an anarchist way of life and action. The war continues, never give up, never give in. Long live FAI-FRI. Long live CCF. Long live the black international — Alfredo Cospito

Source
Tags: Flyposter, International Solidarity, International Week for Anarchist Prisoners
Posted in Prison Struggle
Wednesday, August 15th, 2018
FUROR MANET
2016, September. Operation "Scripta Manent", carried forth by the Turinese prosecutor Sparagna, leads to the arrest of 8 comrades, the main accusation being the creation of a subversive organization with terrorist aims. Along with this, the imputation includes several other attacks, all signed FAI (informal anarchist federation) and FAI/FRI (informal anarchist federation/international revolutionary front). At the present time, six comrades are still in jail and another one is kept prisoner in her own house. In the meantime, inside the Turin bunker courtroom the trial continues at a steady pace. Scores of policemen from several different towns climb the stage of the courthouse, supposedly in order to reconstruct the history of the contemporary anarchist movement. (more…)
Tags: Flyposter, Informal Anarchist Federation (FAI), International Revolutionary Front, Italy, Operation Scripta Manent, Turin
Posted in Social Control
Friday, August 10th, 2018
Tags: Flyposter, Indonesia, International Solidarity
Posted in Prison Struggle
Wednesday, August 8th, 2018
Tags: Flyposter, International Solidarity, International Week for Anarchist Prisoners
Posted in Prison Struggle
Sunday, July 22nd, 2018
Soli-Plakat für die bevorstehende Woche der Solidarität für unsere GefährtInnen, die eingesperrt oder auf der Flucht sind.
Überall auf der Welt werden unsere inhaftierten GefährtInnen als Geiseln gehalten für deren Akte des Krieges gegen diese dekadente und verrottete Zivilisation, die alles zerstört und verkünstlicht. Sie haben für ihr Handeln jene Mittel benutzt, die zur Verfügung standen: Sprengkörper, Feuer, Waffen, Entschlossenheit, Mut und den Traum der Freiheit. Lasst sie niemals alleine, sondern lasst die Nächte und Tage mit unserem brennenden Zorn aufleuchten…
Alle unsere Plakate – außer ihr habt Zugang zu einem Pro Printer – werden am besten in hoher Auflösung über einen normalen Drucker in schwarz-weiss ausgedruckt und dann auf A3 vergrößert kopiert und mit Tapetenkleister auf der Straße plakatiert. Der Toner des Kopierers verschmiert nicht so schlimm wie Druckerfarbe, wenn darauf gekleistert wird. Auf die Straße…
Tags: Flyposter, International Solidarity, International Week for Anarchist Prisoners
Posted in Prison Struggle
Sunday, July 22nd, 2018
"Knast ist ein Meilenstein auf dem Pfad, den der Revolutionär in Richtung Freiheit geht. Es ist ein vorüber gehender Aufenthalt, aber nicht das Ende." Verschwörung der Feuerzellen (CCF)
Am 1. Mai 2018 wurden dutzende AnarchistInnen in Yogyakarta während eines wütenden Krawalls gegen den Sultan und das NYIA Mega-Flughafen Projekt, welches die Kulon Progo Coastal Community bedroht, verhaftet. 11 AnarchistInnen sind immer noch eingesperrt, weil sie gegen die Bullen und die Schläger das Sultans gekämpft haben. Dem Gefährten Ucil wird vorgeworfen Polizeimotorräder mit Molotov-Cocktails angegriffen zu haben. Der indonesische Staat hat diesen Moment benutzt, um die anarchistische Bewegung auf dem Archipel mit Repression zu überziehen, außerdem sind einige GefährtInnen im Untergrund oder es wird gegen sie ermittelt. Lasst uns den Funken der revolutionären Solidarität entzünden und die schwarze Internationale entfachen. Feuer den Unternehmen, den Investoren, dem Tourismus und den Banken, die in Indonesien tätig sind.
"Bedauerlicherweise ist der Traum, den wir in unseren Herzen tragen, zu bedeutend, als dass wir die Gefahr unterlaufen könnten, uns selbst an der monströsen Wand der Autorität wieder zu finden, die aufgebaut wurde, um Staat und Kapital zu verteidigen." – Nicola Gai
Tags: Flyposter, Germany, Indonesia, New Yogyakarta International Airport (NYIA), Repression
Posted in Prison Struggle