Posts Tagged 'France'
Friday, May 17th, 2013
from non-fides, translated by waronsociety:
Four years. Difficult to know if it's four years already or just four years. Four years and a long mourning which has only just begun several years after her death, after those who justice found necessary to punish directly for the accident which cost Zoé her life finished the prison sentences which they had been assigned, after those who remained outside prison were no longer listened in on, tailed, photographed, filmed, intimidated. But anyway, that's another story. After those who believe that seeing a friend die is not enough have satisfied themselves with our pain, have been sated enough by our sadness to leave again with a full belly and head held high, proud to have restored order and justice. This order and this justice which are after our friendships and our loves, and that seek to destroy them, because our friendships and loves are, among other things, born of our desires and our potential to create a space in which to grow and develop. Without passion, theory is but a dead letter. And cynicism is nothing revolutionary. (more…)
Tags: France, Zoé Aveilla
Posted in Uncategorized
Sunday, March 17th, 2013
from liberaciontotal, transl waronsociety:
Note from LT: Our path as a propaganda project is still marked by the moment when we found the information in French that a compañera had died and a compañero had been wounded, this accident happened when the two armed an explosive device during the early hours of May 1st, 2009. But we found this information and translated it more than a month after this painful accident happened, and also the information was always equally scarce. We have never managed to understand why there was such silence, if there was even a review published in France titled "Peste Noire" (Black Plague) in honor of the compañero Mauri, in which texts were translated from Spanish to French and the editors did a lot of work to copy communiques and reflections. We often asked why they couldn't find similar texts to the ones we could find for Mauri after his accidental death, except with Zoe's name, but the responses were always that this was how her close compañerxs wanted it. Which we never shared. (more…)
Tags: France, Letter, Mike, Zoé Aveilla
Posted in Prison Struggle
Thursday, March 14th, 2013
from nonfides, translated by waronsociety:
Nothing to declare
Why we refuse to participate in our own repression
It has now been two years since the investigation into "public defamation of public officials" and "incitement to the commission of an attack against a person without effect" was opened in relation to the tract "Correspondants de nuit: des agents de proximité de la guerre aux pauvres" [Night correspondants*: Agents of the war on the poor], published in late 2010 on Indymedia and then reposted on many sites, such as Non Fides and Retour à Belleville, but mainly distributed widely in several districts of Northeast Paris.
During the course of this investigation, we have received several summons (simple letters and then certified letters, and calls from the police on our mobile phones) which we have chosen to ignore. Some of our relatives have also been summoned and questioned.
After our refusal to cooperate with the pigs' work, they decided to proceed with two searches, first of Dan's house on May 15, 2012, and later of Olivier's house on January 22, 2013, during which they robbed us of computers, USB sticks and external hard drives. Until now, we had not been indicted, but today, judge Maïa Escrive has called us to a "first appearance for an indictment." (more…)
Tags: Counter-info, France, Non-Fides.fr, Repression
Posted in Social Control
Sunday, February 24th, 2013
Message of solidarity from some people of the ZAD (Zone A Défendre) and elsewhere in France, an occupied area against an international airport and metropolisation project.
With pleasure, we heard of the reactions of solidarity against the evictions at Athens in December and January : United States, India, England, Canada, Australia, Japan, Chile… and also the numerous actions and demonstrations through Greece.
In split of contexts differences here or elsewhere, the same mechanisms of repression sweep down on all those who struggle against the imposition of what our lives should be. And who wants a liberty which have an other flavour than the sad liberty to survive in their international competition in silence. (more…)
Tags: Athens, Forest Struggle, France, Greece, International Solidarity, Vinci, ZAD
Posted in Eco Struggle
Monday, February 11th, 2013
Hors Service is an anarchist journal from Brussels. It's printed in several thousands of copies and distributed in the streets of Brussels. Since a few numbers, it comes out every three weeks. Here's the translated part of disorder news and attacks of the three latest numbers.
Beyond all borders, long live the revolt – As an echo to the multiple movements of revolt in Egypt against the new power, for freedom and the end of all exploitation, the residence of the Egyptian ambassador, Fatma El Zahraa Ottman, in Brussels was attacked by unknown persons. During the night, the attackers broke the windows, threw paint on the building and started a fire in front of it, escaping before the arrival of the police. The ambassador, the representation of Egyptian power in Belgium, was at home during the attack. (more…)
Tags: Anderlecht, Arson, Belgacom, Belgium, Bravvo, Brussels, Car Burning, Charleroi, Egypt, Eurovia, Fatma El Zahraa Ottman, France, Fuck the Law, Hors Service, Laeken, Liège, Sabotage, Solidarity Action, Vinci
Posted in Direct Action
Monday, February 11th, 2013
From Nantes IMC:
On the night of 3 to 4 February, the local CGT office at 13 RUE PIERRE BONNARD in the 20th arrondissement, saw all its windows explode.
This is because of their screws and their dirty work of confinement.
Through this attack, we want to send a full salvation of strength and determination to those who, in the jail of Roanne and also raise their heads to face prison and loose keychain uniforms. (For the record: http://nantes.indymedia.org/article/26893 and http://nantes.indymedia.org/article/26961)
On this occasion we also carry a combative message for Marco Camenisch and all rebels who do not let themselves be overwhelmed by the horror of prison, or by the horror of this society in its entirety.
This all sounds the cry of rebellion, which is also a cry of joy:

Death to prison
Long live freedom.
Tags: CGT, France, Paris, Sabotage
Posted in Direct Action
Thursday, January 31st, 2013
On the night of January 28 to 29, we pierced the window of the local CGT at 1 rue de Nantes (Paris 19th).
This is a direct message to the CGT and its dirty prison warders in response to the call for solidarity with the prisoners in Roanne.
We also take this opportunity to send a warm revolutionary hug to Mike, imprisoned in Chambéry (a letter from him here).
des béliers solidaires
Source: Nantes Indymedia
Nb: The CGT (General Confederation of Labor), which historically has ties to both anarcho-syndicalism and the French Communist Party (PCF) is now the major trade union confederation in France. Prison guards are unionized within the CGT.
Tags: CGT, France, Mike, Paris, Repression, Roanne, Sabotage, Solidarity Action
Posted in Prison Struggle
Wednesday, January 30th, 2013
From Non-Fides, transl waronsociety:
Tuesday, January 22nd at 4:45 PM, the BRDP knocked on the door of Olivier and announced: "Search!" Olivier is targeted this time because his name is the registered host of the site Non-Fides.fr. Once again, agents came in order to find out the authors of the tract "Correspondants de nuit: des agents de proximité de la guerre aux pauvres" [Night correspondents*: Agents of the war on the poor] published the 6th of October, 2010, on Nantes Indymedia and relayed to various sites (including Non-Fides) and widely distributed in Belleville and in Northeast Paris, where five night correspondents and the city government had complained of "defamation" and "incitement to the commission of an offense without effect." (more…)
Tags: France, Non-Fides.fr, Repression
Posted in Social Control
Wednesday, December 5th, 2012
325 receives and transmits:
ARSON AGAINST VINCI SECURITY COMPANY IN MALMÖ, SWEDEN.
On the 8th november a company car of the security company skånsk larmtjänst was set on fire in malmö, sweden. Skånsk larmtjänst is a part of the huge construction company vinci. The attack was carried out in solidarity with la ZAD, a anti airport project outside of nantes, france, where the french state and vinci try to build a big airport. It was also done in hatred of society and in love of anarchism.
VINCI DEGAGE!
Tags: Arson, France, Malmo, Solidarity Action, Sweden, Vinci, ZAD
Posted in Direct Action
Sunday, August 5th, 2012
No more border killings!
Request for solidarity!
Our friend and comrade, Noureddin Mohamed, died in the centre of Calais, France, in the early hours of Saturday 7 July 2012. Noureddin was 28 years old. Originally from North Darfur, Sudan, he had been in Calais for more than four years. He was well known and loved in Calais, and leaves many grieving friends. He died just some 200 metres from the Sub-prefecture (government office) where he had recently been granted leave to remain in France as a refugee. (more…)
Tags: Calais, France, Noureddin Mohamed, Police Brutality, Racism
Posted in No Borders
Thursday, April 12th, 2012


21 March 2012
From the press:
A bomb of artisan manufacturing has exploited this Wednesday in front of the Indonesia Embassy in Paris, without causing casualties, although damage.

"The Embassy of Indonesia in Paris reported an explosion at one of the intersections near the building to the 5.20 hours", has confirmed the Coordinating Minister for Legal Affairs, political and security of Indonesia, Djoko Suyanrto.
Suyanrto has indicated that there is no victims among people working in the diplomatic headquarters. "The Ambassador is in place, but has been unable to move away", the Indonesian official said. Nevertheless, yes there has been material damage, the Windows are broken.
Questioned about the reasons for this attack, Suyanrto has pointed out that, for the moment, is unknown what was the target of the bomb.
Police sources consulted by the daily Le Parisien reported that several witnesses have seen three men placed a package near the Embassy of Indonesia in Paris, located in the 16th district.
Tags: Attack, France, Indonesia, Paris
Posted in Direct Action
Saturday, March 10th, 2012
From cette semaine, translated from informa-azione (click for photos):
Sabotage in Savoy
We learn from the press of the regime that early in the morning on Saturday 3rd March acts of sabotage were carried out on the French railway trunk line. Three arsons hit the railway structures in the town of La Ravoire, Saint-Pierre-d'Albigny and Chamousset, near Chambery (Savoy).
These acts of sabotage, two of which on the high speed railway (TGV), caused delays throughout the day of Saturday for a hundred trains on the lines going from Chambery to Mondane (and to Italy), Bourg-Saint-Maurice and Grenoble. Therefore high speed trains to Italy were delayed besides those full of tourists going skiing (it's school holiday in France).
Two signalling caves were set on fire, which are particularly important on this line because high speed trains use only one track on both directions. According to the press, unknown people tore off the cable trays in concrete running along the railroad tracks and set fire to the caves inside them (signalling cave) using rags soaked in petrol and oil. A graffiti saying NO TAV was left on a railway sentry box close to the arsons.
Police say they are not sure that the sabotage is linked to what's going on in Val Susa (!) but a great numbers of gendarmes backed by helicopters equipped with thermal cameras were deployed to patrol the railroad tracks in the area…
Lyon
On Thursday 1st March a solidarity demo with the NO TAV movement was held in Lyon. A group of unmasked people split from the march and forced a technician to open the door of a railway centre. The small group of demonstrators went up the railroad tracks and threw bags of sand at the air cables which feed the trains, thus blocking the latter. All trains that were due to pass by on that track were therefore delayed for one and a half hours (on one of the trains there were even two ministers visiting the area!) During the night paint was threw and graffiti were left on the walls of the Italian consulate of the city.
Tags: France, Italy, Lyon, Sabotage, Savoy, Solidarity Action, TAV
Posted in Direct Action
Monday, March 5th, 2012
NO TAV: Gathering and road blocks in Paris, France.
Paris – Saturday 3rd March 2012. About fifty people answered the solidarity call of the NO TAV movement. During the gathering, speeches on the events in Val Susa and the mobilizations all over Italy, then the points of the meetings: what are we going to do besides the solidarity, simple but necessary, with the prisoners; how can we bring the movement to France; what are the links between this movement and us? Followed by policemen in plain clothes at a certain distance, the small group started marching and blocked the traffic in Sebastopol and on Rue de Rivoli, and eventually reached Place du Chalet, where a demo for the Syrian people was being held.
–
NO TAV – Solidarity from Peru, Italian embassy visited.
On the night of 29th February we visited the Italian embassy in Lima and left there a banner reading: 'SOLIDARITY WITH THE PEOPLE THAT STRUGGLE FOR THE LAND! NO TAV!' We also dubbed a ridiculous baroque-like painting on the wall with graffiti. As we were being chased by the watch dogs of power, we disappeared in the darkness.
In this country the struggle is against mines, in Italy it is against the high speed railway. May resistance to the destructive projects of the State and capital go beyond all borders! Against all harmfulness and in defence of the Earth. Self-organization and Direct Action everywhere!
NO TAV – NO CONGA – FREEDOM FOR ALL

Anarchists
Tags: France, International Solidarity, Italy, Lima, Paris, Peru, Solidarity Action, TAV, Val Susa
Posted in Eco Struggle
Tuesday, January 3rd, 2012
Solidarity with Sonja and Christian!
After 33 years in French exile, Sonja Suder, 79, and Christian Gauger, 70, were extradited to Germany on September 14, 2011. Christian was transported across the border in an ambulance! Sonja was jailed in Frankfurt-Preungesheim; Christian in a prison hospital. Christian, who suffered cardiac arrest in October of 1997 and has since been under constant medical and personal care, wasn't released from detention until one month after his extradition; he now is forced to report to the cops twice per week. Sonja, who continues to be detained in Preungesheim, is likely the oldest woman in Europe awaiting trial in jail. Prosecutors brought charges in November and are planning to bring the cases to trial in 2012.
A Long Tradition of Resistance
As part of the political left, the Revolutionaere Zellen (Revolutionary Cells, RZ) started tackling the revolutionary perspective in the BRD in 1973, striving to identify novel formats of militancy and starting points for resistance. It formed a third urban guerilla group, next to RAF and Bewegung 2. Juni (2nd June Movement); however, RZ opted against a vanguard position, choosing to act from within the legal left movement instead. In the mid-1970s, RZ spawned a feminist organization, Rote Zora. RZ and Rote Zora ceased action in the early 1990s. (more…)
Tags: 2nd June Movement, Christian Gauger, France, Germany, Red Army Faction (RAF), Repression, Revolutionary Cells (RZ), Rote Zora, Sonja Suder
Posted in Prison Struggle
Thursday, December 15th, 2011
7/12/11 – Frankfurt, Germany : CEO Josef Ackermann is the intended target of a fully operational explosive parcel which is mailed to Deutsche Bank headquarters. Bank security staff identify the device during x-ray screening, and it is later neutralised by police. A claim of responsibility is recovered from the device, which is published in the corporate press.
9/12/11 – Rome, Italy : Chief Director Marco Cuccagna of Italy's tax collection office, Equitalia, receives a letter-bomb which explodes after he opens it, causing damage to his hands, blowing off part of his finger and almost blinding him after his glass desk shatters in the explosion.
12/12/11 – Paris, France : The Greek embassy in Paris is the target of a third explosive device which is identified and neutralised.
Amidst the wave, mainstream media report that envelopes containing bullets and threatening letters are mailed to Italian Justice Minister Paola Severino and Rome Mayor Gianni Alemanno. An additional parcel of vengeance was received by Equitalia on the 15th December, but was identified and neutralised. A note inside the latest package said "don't kill yourself, rebel: death to usurers!"

Here is a translation of the claim of responsibility that accompanied the package bomb to the central headquarters of Deutsche Bank in Frankfurt:

FREEDOM AND HAPPINESS FOR OUR BROTHER GABRIEL POMBO DA SILVA. DEATH TO THE BANKS THAT STRANGLE THE PEOPLE.
THREE PARCEL BOMBS IN THESE DAYS ARE TRAVELLING TOWARD BANKS AND BANKERS, TICKS AND LEECHES. WITH THESE SMALL BUT RESOLVED ACTIONS, WE OF THE EAT & BILLY ITALIAN CELL JOIN IN THE NEW ANARCHIST INTERNATIONAL, THE INFORMAL ANARCHIST FEDERATION AND INTERNATIONAL REVOLUTIONARY FRONT. WE HAVE THIS NAME IN SOLIDARITY WITH THE INDONESIAN FAI, WITH OUR BROTHERS EAT AND BILLY. WE DON'T NEED SPECIALISTS OF ACTION, ANYONE CAN ARM THEIR OWN HANDS, ANYONE CAN ASSEMBLE THEIR OWN GIFT PACKAGE. WAR ON THE EUROPE OF THE BANKERS, DEATH TO THE LEECHES THAT GOVERN US.
LONG LIVE THE INDONESIAN FAI
LONG LIVE THE C.C.F.
VIVA THE NEW ANARCHIST GUERRILLA
VIVA THE FAI/IRF
FREE EAT AND BILLY CELL FAI/IRF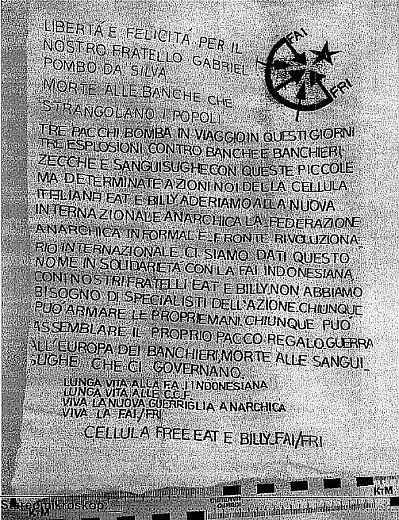 Tags: Billy, Deutsche Bank, Eat, Equitalia, France, Frankfurt, Free Eat & Billy Cell FAI/IRF, Germany, Greece, Greek Embassy, Indonesia, Informal Anarchist Federation (FAI), International Revolutionary Front, International Solidarity, Italy, Letter-bombs, Paris, RO-FAI (Indonesia Section), Rome
Posted in Direct Action