Posts Tagged 'France'
Tuesday, January 3rd, 2012
Solidarity with Sonja and Christian!
After 33 years in French exile, Sonja Suder, 79, and Christian Gauger, 70, were extradited to Germany on September 14, 2011. Christian was transported across the border in an ambulance! Sonja was jailed in Frankfurt-Preungesheim; Christian in a prison hospital. Christian, who suffered cardiac arrest in October of 1997 and has since been under constant medical and personal care, wasn't released from detention until one month after his extradition; he now is forced to report to the cops twice per week. Sonja, who continues to be detained in Preungesheim, is likely the oldest woman in Europe awaiting trial in jail. Prosecutors brought charges in November and are planning to bring the cases to trial in 2012.
A Long Tradition of Resistance
As part of the political left, the Revolutionaere Zellen (Revolutionary Cells, RZ) started tackling the revolutionary perspective in the BRD in 1973, striving to identify novel formats of militancy and starting points for resistance. It formed a third urban guerilla group, next to RAF and Bewegung 2. Juni (2nd June Movement); however, RZ opted against a vanguard position, choosing to act from within the legal left movement instead. In the mid-1970s, RZ spawned a feminist organization, Rote Zora. RZ and Rote Zora ceased action in the early 1990s. (more…)
Tags: 2nd June Movement, Christian Gauger, France, Germany, Red Army Faction (RAF), Repression, Revolutionary Cells (RZ), Rote Zora, Sonja Suder
Posted in Prison Struggle
Thursday, December 15th, 2011
7/12/11 – Frankfurt, Germany : CEO Josef Ackermann is the intended target of a fully operational explosive parcel which is mailed to Deutsche Bank headquarters. Bank security staff identify the device during x-ray screening, and it is later neutralised by police. A claim of responsibility is recovered from the device, which is published in the corporate press.
9/12/11 – Rome, Italy : Chief Director Marco Cuccagna of Italy's tax collection office, Equitalia, receives a letter-bomb which explodes after he opens it, causing damage to his hands, blowing off part of his finger and almost blinding him after his glass desk shatters in the explosion.
12/12/11 – Paris, France : The Greek embassy in Paris is the target of a third explosive device which is identified and neutralised.
Amidst the wave, mainstream media report that envelopes containing bullets and threatening letters are mailed to Italian Justice Minister Paola Severino and Rome Mayor Gianni Alemanno. An additional parcel of vengeance was received by Equitalia on the 15th December, but was identified and neutralised. A note inside the latest package said "don't kill yourself, rebel: death to usurers!"

Here is a translation of the claim of responsibility that accompanied the package bomb to the central headquarters of Deutsche Bank in Frankfurt:

FREEDOM AND HAPPINESS FOR OUR BROTHER GABRIEL POMBO DA SILVA. DEATH TO THE BANKS THAT STRANGLE THE PEOPLE.
THREE PARCEL BOMBS IN THESE DAYS ARE TRAVELLING TOWARD BANKS AND BANKERS, TICKS AND LEECHES. WITH THESE SMALL BUT RESOLVED ACTIONS, WE OF THE EAT & BILLY ITALIAN CELL JOIN IN THE NEW ANARCHIST INTERNATIONAL, THE INFORMAL ANARCHIST FEDERATION AND INTERNATIONAL REVOLUTIONARY FRONT. WE HAVE THIS NAME IN SOLIDARITY WITH THE INDONESIAN FAI, WITH OUR BROTHERS EAT AND BILLY. WE DON'T NEED SPECIALISTS OF ACTION, ANYONE CAN ARM THEIR OWN HANDS, ANYONE CAN ASSEMBLE THEIR OWN GIFT PACKAGE. WAR ON THE EUROPE OF THE BANKERS, DEATH TO THE LEECHES THAT GOVERN US.
LONG LIVE THE INDONESIAN FAI
LONG LIVE THE C.C.F.
VIVA THE NEW ANARCHIST GUERRILLA
VIVA THE FAI/IRF
FREE EAT AND BILLY CELL FAI/IRF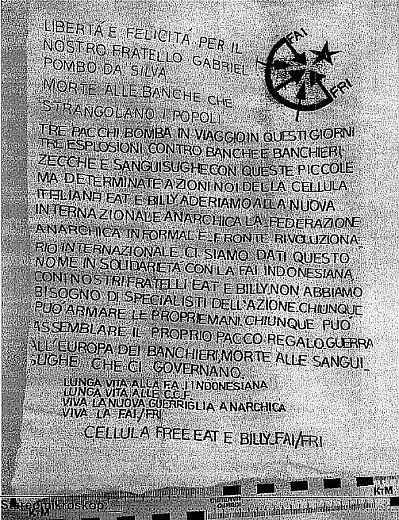 Tags: Billy, Deutsche Bank, Eat, Equitalia, France, Frankfurt, Free Eat & Billy Cell FAI/IRF, Germany, Greece, Greek Embassy, Indonesia, Informal Anarchist Federation (FAI), International Revolutionary Front, International Solidarity, Italy, Letter-bombs, Paris, RO-FAI (Indonesia Section), Rome
Posted in Direct Action
Saturday, May 28th, 2011
From Tokata (May 18, 2011) via Directa (May 18, 2011):
After 24 years in prison, former Action Directe member Jean-Marc Rouillan began his partial release period on May 19. Rouillan is in good health, physically as well as psychologically, and he never abandoned his ideals. He suffered over 10 years of solitary confinement, seven of which were consecutive, among other humiliations denounced over the course of his imprisonment by family, friends, and the support groups that can now celebrate his release. For years, the French judicial system and mass media demanded that Rouillan show remorse and abstain from talking about his past, but they never achieved those demands. (more…)
Tags: Action Directe, France, Jean-Marc Rouillan
Posted in Prison Struggle
Tuesday, January 25th, 2011
Anti-Terrorist detention of 3 people for Graffiti
On January 12th, three people have been arrested in Belleville, Paris. They are accused of graffiti in solidarity with the revolt in Maghreb. The slogans were: "Algérie – Tunisie / Insurrection", "Vive l'anarchie". (more…)
Tags: Algeria, France, From Sidi Bouzid to Bab-el-Oued, Graffiti, Keep Bombing, Paris, Poster, Revolution, Tunisia
Posted in Social Control
Tuesday, April 6th, 2010
Staff have already set fire to pieces of plastic and rolls of carpet at the factory, sending billowing black smoke into the sky.
Workers at a factory facing closure in France have threatened to blow up the plant unless they are given better layoff compensation. About 50 workers at Sodimatex, which makes car rugs, have been occupying the site in Crepy-en-Valois since Thursday. They are pressuring the company for better compensation. The employees have placed petrol bombs near a large gas tank and are threatening to set them ablaze. The French industry minister has condemned the move and urged the workers to settle the row through talks.
France is suffering a 10 percent unemployment rate — highest in a decade. The car industry is among the hardest-hit by the economic slowdown. Plant closings have led French workers to increasingly militant behavior, with numerous cases of boss-napping over the past year and one other case of a threat to blow up a factory.
Tags: Crepy-en-Valois, France, Sodimatex, Workers Autonomy
Posted in Direct Action
Friday, March 19th, 2010
Since 1945, they want us to believe that the most serene freedom has arisen in our lifetime; now that housewives have access to all the best household appliances, now that almost everyone has the right to vote, now that "freedom" of speech is guaranteed by the democratic institutions, now that we are left with the listing of false choices- between exploiting or being exploited for nothing at all, and without trying to understand why, threatened to be quashed. Our anxiety and our thirst for liberty do not falter, though that is what it's all about when the State parrots out its ideas of freedom, democratic and industrial progress. (more…)
Tags: France, Fuck the Law
Posted in Social Control
Friday, March 5th, 2010
On February 15th, at 6am in the morning, 7 people were place in custody and had their homes searched in Paris as part of an investigation into the support around the rebellion at the Vincennes dentention center, and against the machinery of deportation. Here is some more information and updates about these arrests… (more…)
Tags: France, Migrant Struggle, Paris, Repression, Vincennes
Posted in No Borders
Saturday, February 20th, 2010
Terrorism- The Show
On Monday, February 15th, six people have been arrested in Paris- and their homes searched. One more person has been arrested on Tuesday. Several parents' houses have been also searched on Monday. Cops took the computers, some flyers and brochures, and seemed to look for specific clothes. (more…)
Tags: France, Paris, Prison Society, Repression
Posted in Social Control