Posts Tagged 'Frascati'
Saturday, July 21st, 2012

From informa-azione via actforfree:
Translation act for freedom now/B.pb
We receive from anonymous mail:
Dedicated to those who are in prison, wanted by police, sentenced and searched…. to the anarchists hit by the repressive forces of the State/Capital…
FRASCATI (ROME)
In the night of Wednesday July 18 2012, two banks were attacked in Frascati.
Two molotov bottles and an incendiary device were thrown at the Unicredit bank and the BNL bank.
Unicredit got completely destroyed.
Graffiti was left: EARTH IS WORTH MORE THAN YOUR MONEY and an encircled A.
PUBLIC NUISANCE:
'To get rid of mental sophistry and social restriction is a way to face this war.
To destroy the normality of order, authority, jobs and appointments, the normality of scientific-technological experimentation and creation, their judicial right on the bodies in court trials, their right to accuse but also the right to defend oneself.
Points of view are for those who decide for others, those who are delegated and appointed by society, the citizens; wild drives don't need political/cultural explanations.
We can see and feel directly what they are doing to the Earth, to the animals, to anti-authoritarians, and this is sufficient to give a reason to our attacks, every time with more determination and strength… forward anarchists, let's sabotage and destroy the present!'
Finally everything finds it nonsense, our bodies moving in daily appearance, among weak citizens opposing rebellion, waiting for the next chance to stir up our instincts and anger.
We found but never met practical allies all over the world, united in the new anti-authoritarian guerrilla against the existent. Anarchist of action bound by a unique force, total liberation of the living, the individual (especially oneself), the Earth, for the total destruction of the State, religion and military authority.
Our trajectory is far from a road full of signs, we are moving on wild and impenetrable paths, in a daily war that liberates us in pain.
We individuals of violent and practical actions shut out moral and social fears and indecision, of condemnation or death, on which the dominating power feeds itself. We are going to throw those fears out in the form of terror.
"Now I know. I know exactly what I have to do. Let's go then, once again. This time with feeling. Until the end. Long live Anarchy." CCF
WITH THE BLACK INTERNATIONAL
LONG LIVE THE FIRE OF ANARCHY!
INTERNATIONAL REVOLUTIONARY FRONT
INFORMAL ANARCHIST FEDERATION
Subversive Anticivilization Individualities
FAI IRF
Tags: Arson, BNL Bank, FAI - Subversive Individualism Anti-civilization, Frascati, Informal Anarchist Federation (FAI), International Revolutionary Front, Italy, Molotovs, Unicredit Bank
Posted in Direct Action
Friday, December 30th, 2011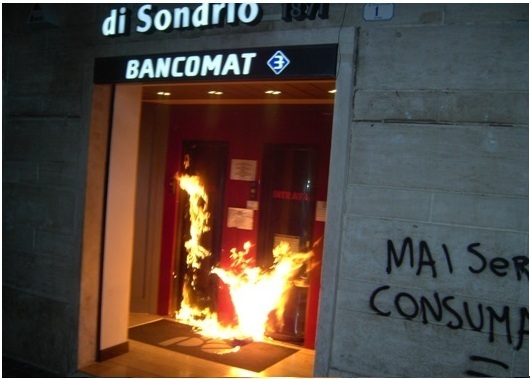 From vivalaanarquia, translated by war on society (it is a partial translation):
12/22/2011 Frascati (Rome)
The newly inaugurated DeutscheBank in the main plaza of Frascati was hit, the windows and ATMs were destroyed. In the place slogans were written: "work is consumption (A)," "Struggle for anarchy," "The Earth is wild!"
Banco Popular of Sondrio was burned a few yards from the DeutscheBank on the same night, it was attacked with a homemade incendiary bomb. By means of the local papers it has been discovered unexpectedly that the bomb exploded in the entrance and allowed the fire to spread, even inside of the bank, which was completely destroyed. Bank Closed! Slogans were left "against technological-industrial domination (A)," "slaves to consumption," "Viva anarchy!"
* * * * *

We have chosen the path to follow, you already know at what risk, but, above all, we have chosen to give ourselves an expectation of life consistent with our ideas and our instincts.
…
Our struggle against the domination of technology and industrial waste, toward total liberation, placed at the forefront of our lives.
Scientific progress and technology are always feeding on life and the earth, producing environmental disasters, of domination and control, confirming our reasons and all that we have in mind and putting into practice from this "progress"… its destruction. With the available weapons, incendiary or explosive attack on the whole system of energy, centralized and on each side, where most damage, without thinking twice, perhaps we feel bad for not having done more each time, with each attack.
…
Everyone screams what you feel inside, we will not stop for a single day calling for the person on the side or the warriors of Earth, brothers or combatants. We were not born in the forest, but we are ready to unleash hell for a tree to not be cut, to free an animal or to stop a monstrous industry.
Solidarity, prisoner support, support for the prisoners in prisons and the struggle against domination push us to go every day and to never pull back from the enemy. It is not necessary nor desired to feel in the minority, we do not want the consent of the honest citizens, we have nothing to ask of the governments … they do not accept certain compromises.
All the individual actions and the anarchists were murdered, wounded, imprisoned or free are part of us and of pushing armed insurgency, the Animal Liberation Front and the Earth Liberation Front and the individual cells and informal across the world.
LONG LIVE ANARCHY!
LONG LIVE THE INTERNATIONAL REVOLUTIONARY FRONT!
EARTH wild and free!
Informal Anarchist Federation
Subversive Individualism Anti-civilization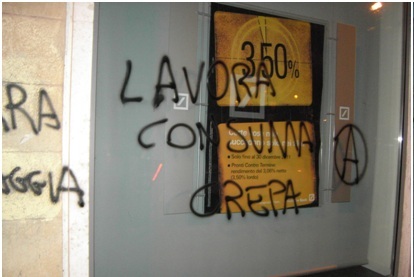 WORK – CONSUME – DROP DEAD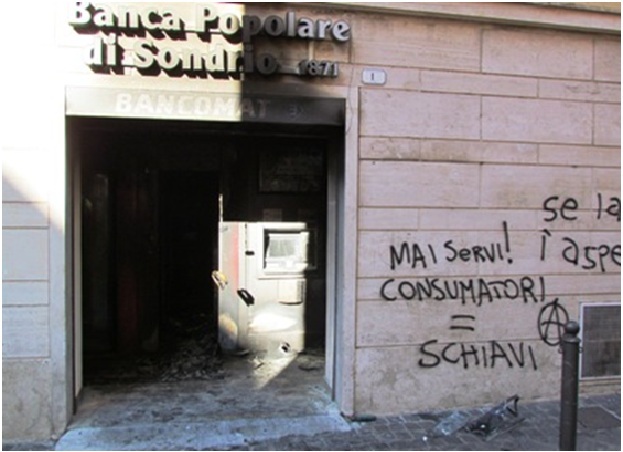 NEVER SERVE! / CONSUMERS = SLAVES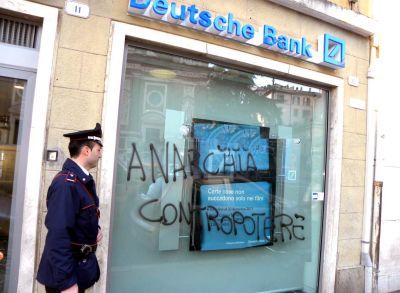 ANARCHY / COUNTERPOWER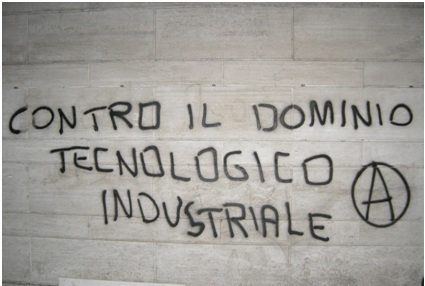 AGAINST TECHNOLOGICAL-INDUSTRIAL DOMINATION
Tags: Attack, FAI - Subversive Individualism Anti-civilization, Frascati, Informal Anarchist Federation (FAI), International Revolutionary Front, Italy, Rome
Posted in Direct Action