Posts Tagged 'Fuck the Elections'
Tuesday, August 4th, 2020
PDF: 1 pag. Como vivimos…
PDF: Formato libro. Como vivimos…
El presente libro, está dedicado al guerrero anarquista Gabriel Pombo Da Silva, secuestrado por el Estado español. Querido compañero, te queremos pronto en las calles, la libertad vino hace tiempo a por ti.
Como vivimos desde la anarquía la lucha y los disturbios por el Poder en Bolivia, es el grito furibundo de una recopilación de textos germinados por la sed de lucha contra la dominación, en un escenario tramoyado por la pugna interburguesa por el Poder, en el que sencillamente los ácratas no intervenimos. Ese forcejeo por la silla presidencial no nos incumbe, pero sí la ofensiva constante contra toda autoridad, sin desperdiciar la crítica que nos señala el camino de la praxis. Es necesario enfocarnos en el encandilamiento feligrés-social, que conduce a los ciudadanos a buscar su presente (y futuro) en las urnas de la dominación, con la intención de elegir a su nuevo amo, lo cual atenta contra cualquier expectativa de libertad individual y colectiva. La insurrección es permanente. Quienes luchamos contra toda forma de autoridad no necesitamos esperar por una fecha específica en el calendario para reaccionar contra las imposiciones. No necesitamos quien nos gobierne ni nos dirija; sabemos organizarnos, elegir a nuestrxs afines en la lucha y avanzar hacia la liberación total sin recular. (more…)
Tags: Analysis, Anti-Fascism, Bolivia, Como vivimos desde la anarquía la lucha y los disturbios por el Poder en Bolivia, Edições Crônica Subversiva, Elections, Evo Morales, Fuck the Elections, Gustavo Rodriguez, Indigenous Struggle, Insurrection, Jeanine Áñez, PDF, Social Insurrection, Zine
Posted in Library
Thursday, December 12th, 2019
ES: Reino Unido – Ataque a la prisión juvenil de Vinney Green (Bristol)
PL: Bristol, Anglia: Akcja Sabotażowa w Więzieniu Dla Młodocianych "Vinney Green" z rąk eko-anarchistycznych wandali FAI-IRF
FR: Bristol (UK) : Sabotages à la prison pour mineurs
Back again! we paid another visit to Vinney Green 'Secure Unit' (AKA Youth Prison), on the outskirts of Bristol. We sabotaged and immobilised 4 cars belonging to screws. Vinney Green was previously attacked in June.
24 young people (aged 10-18) are incarcerated at Vinney Green. It is one of 15 secure units in England, and is currently being expanded. There were 144 assaults there last year. The prison has been publicly criticised for it's "high use of restraint" among other things (but do not mistake us; there is no such thing as a "good" prison, and it is never acceptable to use restraint)…
Remember the kids this Christmas. Remember Alexis Grigoropoulos, who was shot by police in Greece aged 15.
In this time when many are turning to the ballot box… we took to the streets. A juvenile prank, for those in juvie…. Their cameras and fences do not deter us… and our rage will never be silenced by their electioneering and rhetoric. Boris Johnson promises tougher sentences. We promise more actions….
Until next time.
Fire to the prisons!
December Cell
Eco-anarchist vandals – FAI/IRF
Tags: Alexis Grigoropoulos, Bristol, Eco-anarchist vandals - FAI/IRF, Fuck the Elections, Sabotage, UK, Vandalism, Vinney Green
Posted in Direct Action
Tuesday, June 9th, 2015
Yesterday's A to B march – RabbleLDN
A growing mood of angry defiance of the capitalist system has been in evidence on the streets of the UK in recent weeks.
The latest instance took place in Brighton on Saturday June 6, where a large anti-austerity protest in the city culminated in the storming of the former Barclays bank at Preston Circus. (more…)
Tags: Acorn, Barclays bank, Brighton, Conservative Party, Demo, Douglas Carswell (UKIP), Fuck the Elections, Liverpool, London, Squatting, UK
Posted in Direct Action
Saturday, May 9th, 2015
Martin thinks we live in a banana republic with a queen and no bananas.
Tags: Conservative Party, Fuck the Elections, London, Martin Lux, UK
Posted in Anti-Fascist
Thursday, May 7th, 2015
Vote or don't vote or spoil your ballot paper, it will make no difference. Politicians will sell you and take you for their personal power. Elections are just a choice between spokesmen of the rich. We don't have to settle for it. We've got to get rid of the rich!
Class War candidate for Michael Fabricant's safe Tory Lichfield seat, Andy Bennetts, said: "We're having more of a pantomime than an election, where career minded politicos try to make a good impression with their party in the hope of being selected to fight a seat they have a chance of winning in the future.
"No one is contesting this election to win. Not even us. This election is a lot of bollocks. Don't vote – it is a waste of time."
Class War took to the streets on May Day, sweeping through the citadel of class exploitation: the City of London. The police could not contain the Fuck Parade mob. Hundreds of class warriors closed down Commercial Street, Tower Bridge, London Bridge and marched to the squats of Soho, where the battle rages against gentrification.
The City was brought to a standstill. It didn't need party bureaucracies and vanguards. It was just the will of the raging mass.
The streets are our ballot box. The mob are our votes. Our class is our party.

Get out. There will be no Government on Friday. It's ours. Let's take it.

Class War is supporting a post-election action by London Black Revs. In a statement, LBR says: "The polls suggest a hung parliament; where no party wins a majority of seats. If so there will be a scramble for power, with the Tories and Labour trying to cobble together enough MPs from different parties to form a government. If they call a legitimate government, they will force through the worst cuts since the Second World War.
"We think the Tories and Labour sing from the same song sheet; with the difference between austerity and austerity-lite being nowhere near enough. When no-one represents us, we must take to the streets."
Tory HQ 2pm SATURDAY 9TH.
LOCATION:
Polling Day HQ & Battlebus
Conservative Campaign Headquarters
4 Matthew Parker St, Westminster
London SW1H 9HQ – Map; http://bit.ly/1EjGYp6
http://www.classwarparty.org.uk/
Tags: Conservative Party, Demo, Fuck the Elections, UK
Posted in Autonomy
Thursday, May 7th, 2015
Red and Black TV. News about Mayday in London plus comment on the elections.

https://www.youtube.com/channel/UCdrsvuw055Yvvqe1jWWUlDA
Tags: Fuck the Elections, Martin Lux, UK
Posted in Anti-Fascist
Thursday, May 7th, 2015
The Tories and their supporters in the press are preparing a post election plan to stay in office even if Labour and the SNP have more seats in Parliament.
They are planning to declare that they are the legitimate government and have the right to form an administration.
This was the meaning of the recent Times editorial which urged Cameron to 'Occupy Downing Street'. This will be a 'constitutional coup' against the wishes of the electorate.
That's why we are calling for an immediate protest if this happens:
Assemble: Saturday 9 May 1pm, Downing Street.
We cannot allow the Tories to get away with using a flagrant abuse of power to impose the most severe austerity this country has seen since the Second World War.
We will use this facebook event page to keep you updated about any changes to the time of the demonstration depending on the outcome of the election. Watch this space and, please, invite your friends and share the facebook event page.
More info:
Seumas Milne in the Guardian: "The Tories are plotting a coup in the name of legitimacy"
Owen Jones in New Statesman: "if the Tories get more seats than Labour, get ready for a Very British Coup"
Whatever happens, the People's Assembly 'End Austerity Now' national demonstration on Saturday 20 June is more important than ever.
Please keep spreading the word and lets make sure the new government feels the full force of the anti-austerity majority in Britain out on the streets in just six weeks time.
Tell the new government: End Austerity Now
National demonstration, Saturday 20 June
Assemble: 12pm, Bank of England
UK
Tags: Conservative Party, Fuck the Elections, UK
Posted in Anti-Fascist
Thursday, May 7th, 2015
Updated version of this article here.
This article collection is against the doctrines which state "We cannot change the system" or "There is no better system than the current one"!
1) 2 pages document about the implementation of Real Democracy (Direct Democracy) today:
http://www.viewdocsonline.com/document/2i4yr2
(or https://docs.google.com/file/d/0B1Z5YU3ass1-T1pJS2Z4cVJRcm8/ )
2) 1 page document about the continuance of an indicative operating framework which aims to unanimity and respects fundamental human rights of individuals and minorities:
http://www.viewdocsonline.com/document/ef5o26
(or https://docs.google.com/file/d/0B1Z5YU3ass1-U2VIc1REeWQ3UFk/ )
Pericles Network (is a way of implementing Direct Democracy which was developed many years ago in "National Technical University of Athens"):
1) https://docs.google.com/document/d/1QqHCzMYn0eWbJ-Up9_P6Vtxm6uCMqwdh4bS7sJMj3j0/
2) http://www.ntua.gr/periklesnet/page3/page3.html
VIO.ME. (a self-management factory in Thessaloniki, Greece):
1) http://roarmag.org/2013/06/vio-me-greece-factory-documentary/
2) http://www.viome.org/
Initiative 136 (a self-management initiative to stop water privatization in Thessaloniki, Greece):
1) http://www.enetenglish.gr/?i=news.en.economy&id=838
2) http://www.136.gr/article/citizens-bid-control-thessalonikis-water
The paradigm of frequent referendums by people's initiative in Switzerland for validating laws made by citizens or for cancelling laws made by their government:
1) http://direct-democracy.geschichte-schweiz.ch/
2) http://direct-democracy.geschichte-schweiz.ch/switzerlands-system-referendums.html
View and download all the above in one PDF file:
http://www.viewdocsonline.com/document/f3rqli
(or https://docs.google.com/file/d/0B1Z5YU3ass1-Qld5T0pKZ1N2Tms/ )
I wish Freedom to all of you!
Tags: Analysis, Direct Democracy, Fuck the Elections, Greece, Switzerland
Posted in Autonomy
Saturday, March 28th, 2015
Fuck the Police – Fuck the Tories – Fuck the lot of them – All Fucking Wankers
http://www.classwarparty.org.uk/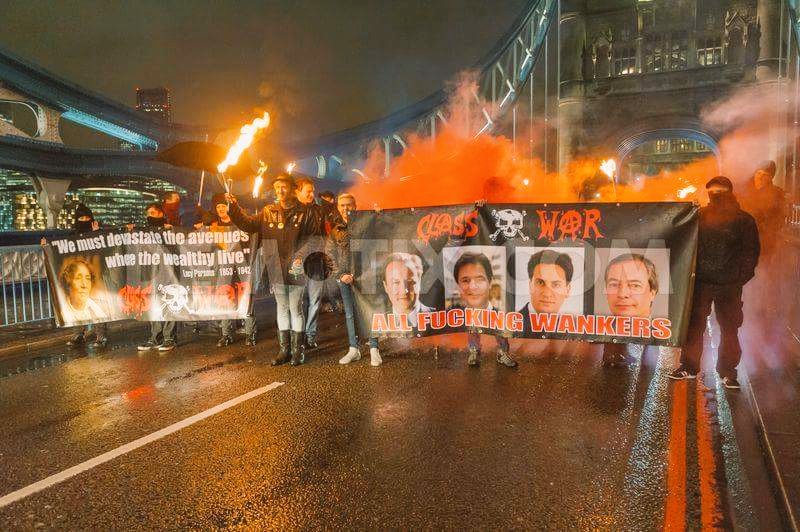 Tags: Class War (UK), Demo, Fuck School, Fuck the Church, Fuck the Elections, Fuck the Law, Fuck the Mainstream Media, Fuck the Police, Fuck the Queen, Fuck Work, Fuck You Tesco, Mayday, Police Bastards
Posted in Uncategorized
Sunday, February 22nd, 2015
Inter Arma received and translated:
Last week (8-14 / 2) we made a propaganda campaign in the town of Mytilene, in solidarity with the imprisoned comrades of the anarchist revolutionary organization the Conspiracy of Cells of Fire. We painted slogans and put up posters in the main streets, on bank branches, supermarkets, phone stands, bus stops, crowded buildings and the city courts. Although the photos would be enough to convey our anger and passion, we write these lines as we want to also tell that during our intervention in the campus of the University of the Aegean, knowing that there are no environmental sensitivities in the faction of New Democracy at the School of Environment, we stole the whole year's election material (huge colored posters) of DAP and sent them for recycling, so that they won't think that it was lost and, secondly, for them to know that we do not abstain from the university campus and the student elections, but from the educational process and the collective stupidity… We wish you luck with the election results morons!
Notes: New Democracy is the biggest right-wing political party in Greece and DAP is its student faction.
Tags: Conspiracy of Cells of Fire, Conspiracy of Cells of Fire : Imprisoned Members Cell, Fuck the Elections, Greece, Mytilene, Solidarity Action
Posted in Direct Action