Posts Tagged 'Fuck the Law'
Sunday, June 5th, 2011
2 June 2011
"Direct action was taken against Ken Clarke's constituency offices on Thursday. While doughnut eating cops were dozing near by, the Tory social club on Rectory Road, West Bridgford had its doors D-locked shut and "Tory Scum" painted on it. The offices of the Rushcliffe Conservative Association across the road were attacked with paint and the messages "Class War" and "Fuck Ken in the Head" were painted. (more…)
Tags: 'Little' Joe Foster, David 'Paddy' Foster, Edward Woolward, Fuck the Law, Ken Clarke, Nottingham, Rushcliffe Conservative Association, Sabotage, Solidarity Action, Tory Scum, UK, West Bridgford
Posted in Direct Action
Saturday, May 28th, 2011
26 May 2011
"Montreal, Quebec. On the night of May 26, the cars in a police parking lot on rue Dollard were attacked with paint stripper. We refuse to be complacent in the misery around us. The police are an occupying army in our streets and any act to further remove them from our lives warms our hearts.
Much love to Theofilos Mavropoulos and prisoners everywhere, both inside and out, fighting for freedom.
Onward the struggle."
Some anarchists
Tags: Canada, Fuck the Law, Greece, International Solidarity, Montreal, Sabotage, Theofilos Mavropoulos
Posted in Direct Action
Monday, May 16th, 2011
Two brave and uncontrollable brothers (David 'Paddy' Foster & Joe 'Little Joe' Foster) who were arrested at the squat Telepathic Heights after the disturbances in Stokes Croft, Bristol, have been in prison since the riots with two other young comrades (Ben, and another unknown one who was disappeared into the jail without so far any chance of finding them.). (more…)
Tags: Bristol, Fuck the Law, Fuck You Tesco, Little Joe, Molotov, Paddy, Riot, Stokes Croft, Telepathic Heights, UK
Posted in Social Control
Wednesday, May 4th, 2011
After the civil unrest following the raid and evictions on Telepathic Heights, the stakes are clearly raised for all parties for any future eviction.
Meanwhile, three more people will appear in Bristol Magistrates Court this morning, including one charged with "Attempted Murder". It is notable that many of those charged with serious offences have been of 'minors' – i.e. those under the age of 17. It seems the young and naive will bear the brunt of the polices' judicial revenge. (more…)
Tags: Bristol, Classics Freeshop, Emporium, Eviction, Fuck the Law, Stokes Croft, UK
Posted in Autonomy
Friday, April 29th, 2011
28 April 2011
UPDATE 30.4.11: OFFICIAL ARRESTS FROM THE LAST 24HRS NOW NUMBER 30 – MOST ARE OUT ON CONDITIONAL BAIL. ARREST SUPPORT GROUP FORMED : BRISTOLARRESTEESUPPORT_AT_RISEUP.NET

Rioting erupts again late at night after a demo/party against the recent police brutality – The fighting breaks out of the activist ghetto and every underdog can become an instigator, mainly due to the police causing chaos through horse charges and riot unit surges – The tension grows deeper.
One week after the Telepathic Heights raid, people gathered to fight and protest police occupation, against the wishes of the hated 'community leaders/spokespeople', 'business representatives' and other pathetic individuals pleading 'peace' with the class enemies.
Running battles with police riot units all the way up Cheltenham road, burning barricades in St.Pauls, trouble in Cotham, widespread disorder and violent resistance against the cops in the affected areas. 15 people are reported by mainstream media as being arrested in the disturbance.
Reports circulating that Horfield prison has also erupted in a prison riot, news of which is being suppressed. Also, a few days earlier police had suppressed a film night about the riots held in a residential area with a massive police presence, leading the film to be shown in a residents back garden.
Let's make fighting the police a hot and fun summer delight and spread the rage into other cities – Let's see Birmingham, Manchester, Liverpool, London burning with an anti-police – anti-system fire! Ambush!
'let's show these bastards what a real crisis looks like.'
–
Telepathic Heights evicted
29 April 2011
Telepathic Heights is stormed by over 100 police, riot units, helicopters, district shut down again. 4 squatters have barricaded themselves onto the roof and as of writing are refusing to come down. A crowd is gathering. Police climbing team in attendance. Police snatch squads active on the ground snatching folks they don't like the look of, under the premise that they believe them to have been involved in violent disorder. Prisoners being taken to Southmead pig sty because Trinity police station is full of last nights lot.
Tags: Bristol, Economic Crisis, Eviction, Fuck the Law, Horfield Prison, Prison Riot, Riot, St.Pauls, Stokes Croft, Telepathic Heights, UK
Posted in Direct Action
Thursday, April 28th, 2011
Breaking news, more updates as we receive them:
Metropolitan police have raided several squatted autonomous centres in London, in a media-spectacle in which the pigs promise more raids. The raids are apparently in connection with the 26 March TUC demo / Black Bloc and the pathetic Royal wedding this weekend which has been hyped up.
The Ratstar squat in South London was amongst those raided, as were 2 nearby squats. Also Offmarket squat in Hackney and Grow Heathrow squat were raided. Current reports are that 14 people are arrested so far. No one has been charged yet. The arrested are being held at Harrow Road Policestation.
On Wednesday March 27 police officers from the Metropolitan and Sussex police forces raided squats in Brighton and arrested seven people. This was also allegedly connected with the TUC demo / Black Bloc.
Tags: Fuck the Law, London, Repression, UK
Posted in Social Control
Saturday, April 23rd, 2011
Update 30.4.11: 1 comrade remains inside the cells in Bristol from Telepathic Heights, accused of manufacture + possession of molotovs + making threats with the items. Others arrested that night have received charges or are on bail, whilst a few have already been before the judge receiving low penalties.
April 21, 2011. 10pm. A riot starts after a 160 strong multi-regional police force coordinated assault shuts down a district and breaks down the door of a squat named 'Telepathic Heights' in Bristol.
The cops then violently harass local people and get attacked in return. Telepathic Heights is in the busy cultural area of Stokes Croft, Bristol, where there are many bars, cafes, squats, community projects, etc. 300 people fight the police for hours and hours in response to the police occupation of the neighbourhood. A corporate supermarket is looted and destroyed, whilst none of the other (independently-owned) shops on the streets are touched in the disturbance.
Everyone is in the streets. Barricades are lit, the cops face an anger that has not been seen for a long time. It seems like it is just beginning. Bristol has been burning now for some time… it will be a hot year of discontent.
9 people are arrested: 5 from the street, and 4 from Telepathic Heights accused of possession and manufacture of molotovs.
Tags: Bristol, Fuck the Law, Fuck You Tesco, Molotovs, Raid, Riot, Telepathic Heights, UK
Posted in Social Control
Monday, March 28th, 2011
28 March 2011

"Last night just after midnight police station on Wollaton Road, Nottingham was attacked with glass jars filled with black paint. We send this loving kiss to Jock Palfreeman and all those who represented for the eternal struggle against domination on the streets of London this weekend.
We chose our target to emphasise the fragility and weakness of the state. If their first line of defence can be hurt with such ease then cracks in the status quo will grow and begin to bleed. We view the cops as the security guards of capitalists, protecting property, reinforcing white supremacy and state control. With this action we show their inability to protect themselves.
As things get worse, as the divisions between the capitalists and the rest become deeper and more entrenched the fascism inherent in any police force will become ever more clear. As this become the case it will be important for us to know in our angry little hoodlum hearts that we can strike back whenever we choose to.
In doing this we did not forever alter the state of things, but we did forever alter the strength and resolve within ourselves as we prepare for all out social war.
The love in our hearts is offered up with this action to Jock Palfreeman imprisoned by the Bulgarian arm of state power for refusing to cower in the face of racism and fascism. Also to the 14 Chilean anarchists currently on hunger strike, physically captured by the industrial prison complex, but still free in their hearts and strong in their resistance. We won't let them be forgotten.
Finally to those who rebelled against state control on the streets of London, those black clad lovers and fighters who strove to liberate themselves. Solidarity to those who were arrested on Saturday.
Not because they're innocent.
Not because they're peaceful.
But because they're comrades."
Petty Vandals
Tags: 14/14, Bulgaria, Chile, Fuck the Law, International Solidarity, Jock Palfreeman, Nottingham, UK
Posted in Direct Action
Monday, March 28th, 2011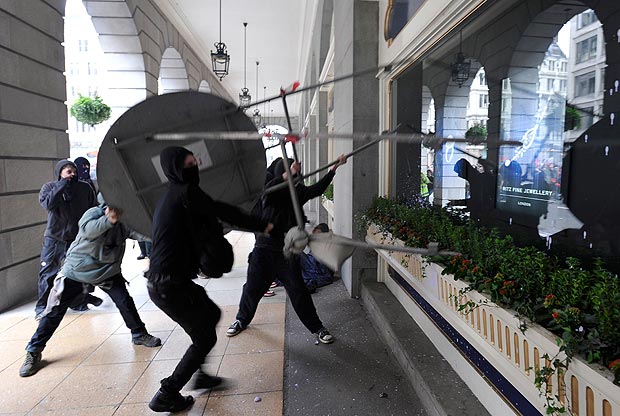 26 March 2011
Something worth reporting happens in London, despite the hype…
"CLASS War broke out on the streets of London on Saturday, as anarchists attacked banks, shops and other symbols of the capitalism and state. A Black Bloc, at least 500 strong, roamed freely through the West End of the British capital, picking off targets at will with bricks, paintbombs and fireworks.
Sporadic cops attempts to stop the Bloc were met with robust resistance and cops were forced to retreat on more than one occasion. As riot cops belatedly caught up with the action, the Bloc made a timely re-entry into the main TUC march, where police were unwilling to follow.
More attacks on banks, and the Ritz hotel, followed – to the general approval of the mainstream anti-cuts protesters.
The successful day of high-profile action was only marred by the uninspiring behaviour of those sheep-like protesters who failed to express any anger at all at the neoliberal assault on their communities. Splinter groups broke off from the main body of more than 250,000 demonstrators marching from Victoria Embankment to Hyde Park to launch an assault on the capital's main shopping district. Some were hellbent on storming – or destroying – any London landmarks synonymous with luxury or money. Others targeted companies associated with tax avoidance. Hundreds laid siege to The Ritz hotel, attacking it with paint and smokebombs. A Porsche showroom was also smashed up and upmarket department store Fortnum & Mason was occupied by about 1,000 activists. On the streets outside, anarchists battled police. Some cops in Oxford Street were attacked, Other cops were hit with paint and flying bottles."

Video of thousands in London protest march as… by marina2984
Tags: 26 March 2011, Anti-cuts, Black Bloc, Demo, Fuck the Law, London, Police need ca$h, UK
Posted in Direct Action
Wednesday, March 23rd, 2011
EVICTION WAVE HITS AMSTERDAM: SQUATTERS CHOOSE ATTACK INSTEAD OF DEFENSE.
This Tuesday the 22nd of March, the city of Amsterdam witnessed a huge eviction-wave.
It was the first big series of evictions after the new anti-squat law in Holland. The formerly quite tolerant attitude in Holland towards squatting has been replaced by a zero-tolerance approach to anyone taking housing rights into their own hands. (more…)
Tags: Amsterdam, Eviction, Fuck the Law, Holland, Squatting
Posted in Social Control
Saturday, February 26th, 2011
Here is a prison poem that was written by Stan Skank after he got arrested for some bullshit in London on one of the recent demos. Stan scratched this into a polystyrene cup (UK detention is pretty sparse), but how he managed to write all this on one is beyond us. Anyway, Stan bothered to send it to us, so here it is for you lot:
Here I sit in another nick, for another crime I did not commit,
Another profile, another trial
They don't give an inch but always leap a mile,
All this attention when I don't wanna be admired,
I'm gettin' sick and tired of being sick an tired
I just wanna be left alone, For a quiet life and to build a home,
But the government always wanna check up on me,
There's no freedom without anarchy,
Capitalism is a public hell,
And if you try to make a change pigs stick you in a cell.
My caged mind wanders,
Wonder how long they'll hold us,
But like a blizzard in a snow globe our prisons can't contain us
Each unique but unified flake
Ready for an outbreak, with the power of an earth quake,
We won't wipe but crack the slate,
Innumerable droplets from a tsunami
An uncontrollable tide to wash away the tyranny.
They'll call it a disaster but I say it's natural,
What you call a riot to me looks like a battle.
Forces meet and sabres rattle,
Flank us in a pincer then stick on the kettle,
If you increase the pressure we'll boil over you just watch us,
We'll scald the hand that feeds and the other which oppresses.
We're the freedom fighters, we're urban guerrillas,
You may strike us down, but you'll never fucking kill us.
Tags: Demo, Fuck the Law, Poem, Police Bastards, Polystyrene cup, Stan Skank, UK, Wrongful Arrest
Posted in Prison Struggle
Wednesday, January 26th, 2011
Wednesday, January 26th, 2011. Athens, Greece
This morning in Athens, an American anarchist has pressed attempted murder charges against Delta and Dias motorcycle police, as well as the relevant commanding officers, for a beating she suffered at the intersection of Patision and Stounari streets while demonstrating against the International Monetary Fund (IMF) on November 15th, 2010. Meanwhile, over 170 members of the American and European scholarly community, including Noam Chomsky, Judith Butler, and Immanuel Wallerstein, have denounced the behavior of the Delta police towards demonstrations and specifically the beating of the American demonstrator, calling the attack on her "nearly fatal". (more…)
Tags: American comrade, Athens, Delta Cops, Fuck the Law, Greece, Police Brutality
Posted in Social Control
Sunday, December 19th, 2010
Early December – TUBIZE – During a robbery in a jewellery, a youngster, Flavien (16 years), is killed by the owner of the jewellery shop. The robbers were two, they had fake weapons with them. The owner used his hunting rifle to kill one and to hold the other one, Hassan, till the police arrived. Hassan is now in prison and refuses to collaborate with the police.
A few days later, friends of Flavien organised a march to commemorate their friend and to march to the jewellery. About 100 youngsters showed up next to the small city centre . The Federal Police and anti-riot squads were very present and blocked the centre completely, while the mayor prohibited all gathering. At the beginning of the march, some people started to attack the cops with stones. Then the family of Flavien arrived, asking for calm and saying literally "we are not here to make revolution". The march ended therefore calmly.
In the days following the march, cars were put on fire in several regions around Tubize and in the French speaking part of Belgium:
8/12/2010, Tubize: car put on fire in the "Street of Democracy".
8/12/2010, Charleroi: three cars put on fire.
9/12/2010, Jemeppe: five cars put on fire on different spots of the small city.
9/12/2010, Ottignies: car put on fire on the parking of the station in the "Lane of Human Rights".
9/12/2010, Liège: four cars put on fire on different spots.
From:
Suie et Cendres – Belgium news of social war.
Tags: Belgium, Car Burning, Flavien, Fuck the Law, Robbery, Tubize
Posted in Direct Action
Sunday, December 19th, 2010
From mainstream media:
"A man charged with the attempted murder of two police officers was remanded in custody today after hurling abuse from the dock. Unemployed John Paul Onyenaychi, 30, is accused of stabbing Pc Paul Madden, 23, and Piotr Dolata, 27, a police community support officer (PCSO) on Wednesday (15/12/10). The two officers were injured at a bus stop in New Broadway in Ealing, west London. PCSO Dolata's life was saved by a quick-thinking doctor who was passing by and was able to stem the bleeding. Onyenaychi, of east London, was also charged with attempting to cause grievous bodily harm against a second PCSO, Steven Constable. Surrounded in the dock by 10 police officers at Brent Magistrates' Court, Onyenaychi refused to confirm his name, date of birth and address before launching into an expletive-filled tirade.
Shouting at District Judge Margot Coleman when asked for his full name, John Paul said: "My name's 'go fuck yourself'" …. When his solicitor Aneurin Brewer appeared in court, he continued: "You're not my ******* solicitor. You're not representing me."
The hearing continued in Onyenaychi's absence after District Judge Coleman ordered he be taken back to the cell, before telling Mr Brewer, 'He was being extremely abusive and I'm not prepared to tolerate that behaviour in my courtroom.'
…
There was no application for bail and Onyenaychi was remanded on two counts of attempted murder and one count of attempting to cause grievous bodily harm with intent. He will appear at the Old Bailey on March 25. PCSO Dolata was released from hospital after being treated for his injuries while Pc Madden remained in a 'serious but stable condition' after undergoing surgery. The officers, who were based in Ealing Borough, were checking bus fares when they were attacked at around 3pm on the busy shopping street.'"
Tags: Fuck the Law, UK
Posted in Direct Action
Tuesday, November 16th, 2010
London Riot: Tory HQ smashed by British students
From mainstream media (Russia Today):
—
UPDATE: An 18 year old student charged with 'violent disorder' and granted bail for throwing fire extinguisher from roof of Tory HQ at cops. This carries 5 years imprisonment and/or a fine on indictment; six months imprisonment and/or a fine summarily.
See also: November 10th Defence Campaign
(more…)
Tags: Economic Crisis, Fuck the Law, Repression, Student Fees, Tory Scum, UK, Workers Autonomy
Posted in Autonomy, Social Control