Posts Tagged 'Fuck the Law'
Saturday, April 4th, 2015
Inter Arma received and translated:
THE HUNGER STRIKE OF THE CONSPIRACY OF CELLS OF FIRE WAS VICTORIOUS
Today is a day that a crack in the walls of the imprisoned world around us has opened. After 32 days of hunger strike, the mother of Christos and Gerasimos Tsakalos and the girlfriend of the latter will soon pass the exit of prison, free again…
32 days of hunger strike, with eight comrades of the Conspiracy of Cells of Fire being hospitalized, balancing between life and death. Mihalis found himself in the ICU the last few days, Olga has reached 40 kilos, Panagiotis had an already compromised health from previous surgeries on his head, George P. has a problem with his heart, with his heart-beats reaching 30 and all of them had medical measurements indicating that they lost 15-20% of their initial body weight.
32 days, the hunger strike became a daily, slow torment of death, in order for us not to make truce with the absolute death of emotional blackmail. An insidious blackmail which authority wanted to impose on us by abducting and keeping our relatives as hostages in prison. 32 days of hunger strike, every fading beat of our heart, reminded us of the promise we made together when we met for the last time, "Let's go, until freedom …".
After 32 days of hunger strike, the shadow of repression grew pale, the walls of captivity lowered and prison admitted defeat.
This victory is not only the result of the hunger strike of the Conspiracy of Cells of Fire. It's a victory of a whole world of solidarity, with arson attacks, occupations, sabotage, marches, gatherings, unexpected interventions, which broke the social peace, turned cities into fields of insurrectional moments and occupied buildings into living labs of subversive situations. In an everyday life where the desire for freedom has been suspended indefinitely, life flooded with little and large gestures of liberation, with fires, with slogans and sparkling eyes of persons who wore hoods.
We are flooded with many thoughts that want to fill with words the corresponding meanings. But now, there is neither a day for celebration, nor for accounts of victory. Today we stop the hunger strike, having beaten the scarecrows of authority who wanted our relatives in prison, BUT at the same time, the hunger strike of the remaining political prisoners, for the overall requests that have been set, continues. The days that follow are critical both for their health and for the total wager of anarchist struggle. Therefore, there is no time neither for relaxing, nor for victory celebrations. The die was cast a long time ago… We, as the Conspiracy of Cells of Fire, remain on the ramparts and prepare our counter-attack, supporting the struggle conducted within and outside prison.
Authority and it's scarecrows should know that every judicial coup, every jail, every moment of oppression, every lie of propaganda, every shade of bourgeois morality will return back to its instigators and owners, with multiple power and vehemence. With the power and vehemence of sabotage, fire, explosion, execution… In war, we answer with war. Time for us to attack first…
STRENGTH AND SOLIDARITY with anarchist comrade Nikos Maziotis. member of R.S., and the Network of Fighting Prisoners

VICTORY TO THE STRUGGLE OF THE HUNGER STRIKE
EVERYTHING CONTINUES…
Conspiracy of Cells of Fire – FAI/IRF,
Imprisoned Members Cell
04/4/2015
Tags: Athens, Conspiracy of Cells of Fire, Conspiracy of Cells of Fire : Imprisoned Members Cell, Fuck the Law, Fuck the Police, Greece, Hunger Strike, Informal Anarchist Federation (FAI), International Revolutionary Front
Posted in Prison Struggle
Saturday, March 28th, 2015
Fuck the Police – Fuck the Tories – Fuck the lot of them – All Fucking Wankers
http://www.classwarparty.org.uk/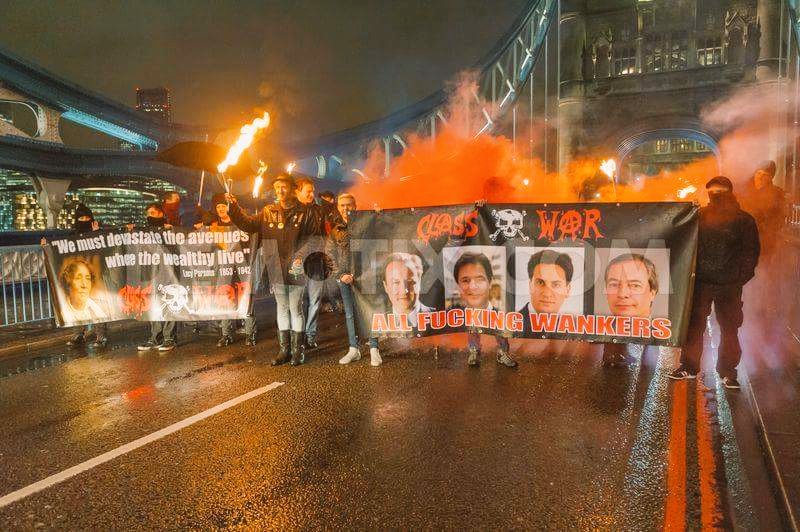 Tags: Class War (UK), Demo, Fuck School, Fuck the Church, Fuck the Elections, Fuck the Law, Fuck the Mainstream Media, Fuck the Police, Fuck the Queen, Fuck Work, Fuck You Tesco, Mayday, Police Bastards
Posted in Uncategorized
Thursday, March 12th, 2015
Last night, two cops were shot outside Missouri city police station during a demo against police brutality and the killing of Michael Brown, 18-year-old unarmed black man slain by cops last summer. The two cops did not die, but are seriously injured. On Wednesday, Ferguson Police Chief Thomas Jackson announced that he planned to resign after a harsh U.S. Justice Department investigative report about his handling of the police killing last summer of Michael Brown. (more…)
Tags: Ferguson, Fuck the Law, Fuck the Police, Missouri, Police Bastards, Police Brutality, Racism, USA
Posted in Direct Action
Wednesday, February 25th, 2015
Fire to the Prisons #12 is Available Now!
PDF – https://firetotheprisons.org/issues/fttp12.pdf
The new issue of Fire to the Prisons is now completed and available online. Check out the new issue, print your own copies, and view past PDFs at our new website: www.firetotheprisons.org
(NOT TO be confused with .com, which is hosted by unknown sources)
Fire to the Prisons is an insurrectionary periodical. It focuses on promoting a revolutionary solidarity between different struggles, prisoners, and existing social tensions that challenge capitalism and the state.
We made 10,000 copies of this issue because we wanted to get them as far and wide as possible. In order to create a publication for free to comrades and the general discontented public, we have forfeited our traditional magazine form and went with a less costly newspaper. We hope to spread this as far as it can go. A lot of blood, sweat, and tears went into this project and we hope that it shows. (more…)
Tags: Fire to the Prisons (Zine), Fuck the Law, Fuck the Police, PDF, Police Bastards, Police Brutality, Racism, USA, Zine
Posted in Library
Saturday, February 21st, 2015
The chief warden of Domokos' Type C high security prison was murdered on Saturday (21/02/2015) evening near the city of Lamia, in central Greece, police said. According to the information received so far, the 47 year-old victim left his house in the area of Kouvela, located between the town of Lamia and Stylida, just before 17.30 to go hunting in the wider area.
As soon as he got into his jeep, a passenger car with two or three individuals approached him and opened fire with Kalashnikovs and a nine-millimeter pistol. The victim was riddled with more than 20 bullets on the head and chest and had no time to react.
Police launched a manhunt to find the suspects and set up road blocks in the wider area but at time of writing had failed to find anything other than empty shells, witness statements and a corpse.

War against the existent
Tags: Attentat, Domokos, Fuck the Law, Greece, Kouvela, Lamia, Type C prisons
Posted in Direct Action
Saturday, February 21st, 2015
Here is an overview that we were sent reporting on some recent events in Guerrero, written by a Mexican anarchist living in the U$A
Guerrero, considered to be one of the most violent states in Mexico, seems to be in a never ending state of chaos. Murders in the beach resort town of Acapulco, the capital city Chilpancingo, multiple clandestine grave sites and of course, the Iguala massacre. Estado Fallido, failed state, is constantly used to describe Mexico, but especially Guerrero. No doubts there, police involvement in many heinous crimes, politicians and political parties working hand in hand with organized crime. A failed state, but what is a functioning state?
Tags: Coca Cola, Community Resistance, Drug War, Fuck the Law, Guerrero, Mexico, Petaquillas, Police Bastards, Repression
Posted in Autonomy
Thursday, January 29th, 2015
Beat The Raid will be a place to hear up to date info on the repression of anti-pipelines activists and anarchists in so called Vancouver, BC. We are still fundraising and now selling no pipelines patches and t-shirts to help with legal funds. You can contact us at beattheraid@riseup.net for questions and interview requests.
Together we will beat the isolation the state imposes on us.
Beat The raid: https://beattheraid.wordpress.com/
Contact: beattheraid -at- riseup.net
–
Statement
Repression is part and parcel in democracy. In a democracy the rulers require complete control over the people. Revolts are countered with political repression in the form of arrests, armed raids and physical and emotional harassment by the police. Movements are watered downed by mainstream environmental groups such as Forest Ethics and Greenpeace. These groups wish to reform colonialism instead of eliminating it. These groups, much like Enbridge and BP, rely upon capitalism and cooperation with the state to exist. These mainstream environmental organizations frack the rebellion out of people in the form of referendums, voting and waving signs. Meanwhile, they use our radical words only to dilute, co-opt and contribute to polluted deals undermining real grassroots movements and then ensure us that democracy is still drinkable. (more…)
Tags: Anti-pipelines, Canada, Fuck the Law, Graffiti, Keep Bombing, Repression, Vancouver
Posted in Eco Struggle
Monday, January 12th, 2015
On January 10, 2015, in the club "Pirates" there was supposed to be a concert of several punk bands including Italian "Kalashnikov".
However, on information received from witnesses, this never happened. Approximately during the middle of the set of the first band, the club was surrounded by police cars and "branded" vans of Riot police without numbers. Front doors were locked, people were banned to leave the building. After that riot police in masks broke into the building. Without explanations they put everyone face to the walls with hands behind the head. This was followed by ID check and control of personal belongings. The whole procedure took around one hour and a half with constant video recording from police. Distro with anarchist and other political literature was of particular interest for them – they were searching for owners of items without any success. However they confiscated all the items from distro including political books, musical CDs and Vinyls. The whole raided as abruptly as it had begun: after checking everyone they left the place without any explanations.
3 detainees reported after this. The concert just ended before it could even begin. Apparently the preparation for the elections of the President of the Republic of Belarus has already begun.
Update on yesterday's raid on the concert:
3 people were detained who were selling items at the distro table. Initially, all of them were charged with distribution of extremist materials, later one of the detainees was released, but on Monday there will be court on minor Hooliganism. The trial of two other detainees will also be held on Monday in Minsk. Pre-court will be held at 11:00. Till the trial 2 people will stay in jail.
–
On January 12 in Minsk court have ruled on three cases of people detained on Saturday at New Year Punk Show. All the three people were charged with minor hooliganism, two of them were additionally charged with distribution of extremist materials. During the court the Judge have found violations in protocols on distribution of extremist materials so the documents were send back to police to fix the violations.
The Hearing started with Judge forbidding friends and comrades to enter the court room. However several people managed to go through and observe the process. All the detainees were accused of swearing at the moment of riot police entrance to the club. They all accepted the charges. The result was not so optimistic: the girl got around 100 euro fine, two guys were sentenced to 10 days in prison. It is still unclear when the hearing on distribution of extremist materials will be held.
One of the detainees reported that he was beaten up in police station.
http://abc-belarus.org/?p=5480&lang=en
Tags: Belarus, Fuck the Law, Minsk, Punx, Raids, Repression
Posted in Social Control
Saturday, December 6th, 2014
REPRESSION IN UK
December 3, 2014 – According to the British mass-media, there is an arrest warrant, with a size of £10,000 to anyone offering information about an anarchist comrade, already free / fugitive for three years following the repression that followed the explosion of urban warfare 2011 in Bristol and a series of attacks, anonymous and signed ELF, FAI.
The media refer to more than one hundred attacks that occurred in the UK in the last three years, that have produced more than £20 million of damage, at various targets including pylons for telecommunications, banks, luxury cars and a center of police training completely destroyed during an attack, including the latest in solidarity with Nikos Romanos, which occurred a few days ago.
The comrade sought, Huw Norfolk, is accused of some of these attacks.
The following pamphlet was written by persons unknown: Since the Bristol Riots
"We are the "lost kids" angry and disappointed by false promises, the "uncontrollable youth" unsatisfied with the paltry futures offered to us, the "useless components" who reject or are excluded anyway from wage-slavery or the "disruptive elements" who fight to destroy it from within, the "minority of trouble-makers" within the constructs of obedient-hierarchical-racist-patriarchal normality, the "hooded rioters" within the constant revolt against all that and more. We are your children, and those of your society. And it is time today for the components of that society to decide if they will be the hand trying to stop us, or the hand lighting their own conspiracy for self-determination."
Huw 'Badger' Norfolk
just another fugitive.
October 2011
–
More from ABC Bristol:
http://bristolabc.wordpress.com/2014/10/15/statement-against-police-harassment/
http://bristolabc.wordpress.com/defendant-solidarity/police-harassment/
http://bristolabc.wordpress.com/2014/11/18/action-report-back-at-ya-police-harassment/
ABC Hurricane:
http://abchurricane.noblogs.org/post/2014/09/27/bbc-anarchists-intent-on-bringing-chaos-to-the-streets-uk/
–
REPRESSIONE IN UK
3 dicembre 2014-Dai mass-media britannici si legge del mandato di cattura, con taglia di 10.000 sterline per chiunque offra informazioni su di un compagno anarchico, già libero/latitante da 3 anni in seguito alla repressione seguita all'esplosione di guerriglia urbana del 2011 a Bristol ed ad una serie di attacchi, anonimi e firmati ELF, FAI.
I media fanno riferimento a più di cento attacchi avvenuti nel Regno Unito negli ultimi negli ultimi tre anni che hanno prodotto più di 20 milioni di sterline di danni,a vari obiettivi tra cui tralicci per le telecomunicazioni, banche, auto di lusso ed un centro di addestramento della polizia integralmente distrutto durante un attacco, tra cui l'ultimo in solidarietà a Nikos Romanos avvenuto pochi giorni fa.
Il compagno ricercato, Huw Norfolk, è accusato di alcuni di questi attacchi.
Di seguito un suo scritto dalla latitanza, tratto da Since the Bristol Riots
Noi siamo i "ragazzi perduti", arrabbiati e disillusi da false promesse, la "gioventù incontrollabile" nsoddisfatta del misero futuro che ci viene offerto, i "componenti inutili" che rifiutano o sono in ogni caso esclusi dalla schiavitù salariata o gli "elementi di rottura" che combattono per distruggerla dall'interno, la "minoranza di guastatori" degli schemi della normalità obbediente-gerarchica-razzista-patriarcale, "gli incappucciati" in rivolta costante contro tutto questo ed oltre. Siamo i vostri figli, e quelli della vostra società.
Ed oggi è venuto il tempo per i componenti di quella società di decidere se saranno la mano che cerca di fermarci,o la mano che accende la propria cospirazione per l'auto-determinazione.

Huw 'Badger' Norfolk
Solo un' altro in fuga.
Ottobre 2011
Tags: ABC Bristol, Bristol, Croce Nera Anarchica - Italia, Earth Liberation Front, Fuck the Law, Fuck the Mainstream Media, Fuck the Police, Huw 'Badger' Norfolk, Informal Anarchist Federation (FAI), Nikos Romanos, Repression, UK
Posted in Social Control
Friday, November 28th, 2014
Last night (25/26 November), the first spark of fire that burns today in France, Greece and USA, illuminated the space under a car of the city-police, which was parked outside the police station in Mazowiecka street in Warsaw.
We'd chosen the target not by accident.
The institution of the City Police – summoned in purpose of cleaning the city-parks had become a paramilitary group, who 'cleans' mainly homeless people, hustles kids that smokes weed or skip school. So called routine 'interventions' usually end up with brutal violence – petting boys in uniforms' egos.
That's how on the 3rd of October, the City police's intervention ended in Szczecinek – by dumping a 20 year old beaten to a pulp in front of hospital. For that, or for other interventions of this type – no policeman was ever held responsible – so we're taking the justice in our hands.
It disgusts us that they're walking the streets with impunity and pride. Just like the murderer of Max Itoya – Artur Brzeziński, Mike Brown's executioner – Darren Wilson or the killer of Remi from Testet. There is no, and there will not be the agreement for that from the part of the society. We will not leave them alone, because when they put on their uniforms, they stop acting as people, they stop being people in our eyes, they're the bodyguards of the government – the money advocate.
Politicians recently are racing in postulating to dissolve the city-police. Neither the orders from up there, nor any reform that would dissolve the services under a concrete name (not holding responsible these bandits in uniforms and in the same time helping to grow other services) is not going to be enough for us.
The idea of dissolving the city-police that we're putting into practice is a physical confrontation. It will not leave out the police, prison guards or border police. We know, that we're taking part in the global wave of resistance that already takes place and will grow stronger, also here – in Poland. So, don't be afraid to act! let them finally feel the fear, that they're serving us. Destroying the law enforcements isn't difficult – start from killing the cop in your own head.
Our symbolic action we're dedicating to the memory of Remi killed by the cops in french Testet and to friends behind the bars.
Instead of a minute of silence – a whole life in struggle!
Fire to all the prisons, closed detention camps, psychiatric wards and police stations!
Queer Meinhof/ FAI (Informal Anarchist Federation)
Tags: Arson, Fuck the Law, Fuck the Police, Informal Anarchist Federation (FAI), Poland, Police Bastards, Queer Meinhof / FAI, Solidarity Action, Warsaw
Posted in Direct Action
Saturday, October 18th, 2014
On the morning of October 17th, the National Guard Armory in Durham was the target of vandalism intended to disrupt weekend operations at the facility.
We glued five different sets of locks in order to prevent the entry or exit of
vehicles from the fenced lot, chained the front doors shut, and left a message on the brick wall on the front of the building reading, "Disobey orders. Solidarity with Missouri Rebels. Fuck the Police."
This simple act was done in solidarity with all who struggle against police
harassment and occupation of their neighborhoods, and in particular with those
insurgents in St. Louis and Ferguson, whose historic rebellion resulted in a
National Guard occupation of their town. They remind us that when police murder the poor and people of color, the proper reaction is to riot.
We're aware that our act is unlikely to cause major disruption at this facility. It is not a substitute for other kinds of antagonism and combative struggle.
Nonetheless, we see it as a gesture towards that time when such a facility provides crucial vehicles and arms to crush popular uprisings. If the future looks like civil war, let's learn the terrain now rather than later.
To those who train at this facility, we would encourage you to think now about what it would mean to fire on your own neighbors and community members. Some of the most courageous soldiers in history have been those who disobeyed orders and refused to squash a popular rebellion. How will you be remembered when that time comes? Which side are you on? If it was your son or daughter murdered by the cops, what side then?

In defiance and fury,
– Some bull city anarchists
Tags: Durham, Fuck the Law, Sabotage, Solidarity Action, USA, Vandals
Posted in Direct Action
Saturday, October 11th, 2014
http://voiceofanarchopacifism.noblogs.org/post/2014/10/08/3586/
Tags: Czech Republic, Elections, Fuck the Law, Sabotage, Vandals
Posted in Direct Action
Sunday, October 5th, 2014
Anarchists in Australia issue a call out for decentralised attacks, disorder, riots and sabotage around the topic of the G20.
The G20 is meeting in Brisbane in November. This elite decision making body epitomises the undemocratic nature of state-sponsored global capitalism; delegates from the 20 wealthiest economic zones make self-serving proclamations which affect everyone, without open discussion or oversight. …
We are calling for people to form affinity groups in their home towns and
autonomously organise decentralised direct action against the G20 and the capitalist occupation of our lives.
See you on the streets!!
http://planbg20.wordpress.com/
Tags: Arson, Australia, Brisbane, Fuck the Law, G20, Insurrection, Riots, Sabotage
Posted in Autonomy
Sunday, September 21st, 2014
from contrainformate transl. waronsociety:
On August 11 we carried out an attack on the 39° Bosque and 1° police stations in Santiago. We wanted to show that it is possible to hit the police right in the nose. It ended up as we would have liked as some bastion of law was injured.
/"they are mortal and their laws are destructible"/
We love to see wounded or dead cops whether in conflictual clashes or acts of sabotage.They should know that anyone of them could face the same fate as the pigs Moyano, Vera, or Bobadilla; they are all responsible (and volunteers) of belonging to a military institution that represses the population on a daily basis and orders us to comply to the laws imposed by the powerful.
It should be clear to them that each aggression that has been committed by the pigs of power is not forgotten, that their condition of impunity will not last long, they are human beings, mortal like any other.
Let us dare to confront them, there is every reason to detest the existence of the police, ratis, repressive forces, and/or guardians of the rich. They are the military force of the bourgeoisie in charge of suppressing and punishing every attempt to recuperate that which has been accumulated for centuries thanks to exploitation.
Whether in robberies or protests, they are those in charge of exerting fear on the population. Their essence is the defense of the system making us submit to its miseries. They and their bosses should be beaten and attacked with every means and all their manifestations.
We remember each blow given and yearn for the multiplication of direct attacks against their repulsive authority, as the preparation of material needed in order to cause the desired damage is minimal.
We remember and align ourselves with the compañerxs who carried out the failed attack on January 1, 2014 on the 14° station in ñuñoa, we also would have liked to see how this powerful device detonated and we celebrate the attack on the Lo Prado station!!
We send our fraternal greetings to all the families and loved ones of those fallen at the hands of the police.
Present in our minds are Matias Catrileo, Jhonny Cariqueo, Claudia Lopez, Daniel Melinao, Javier Mendoza Collio, all are present, dead here or in whichever part of the world they are part of the social war.
We are adding to the initiative of the compas in Indonesia and we make up part of:
C.I.V (Conspiración Internacional por la Venganza)

International Conspiracy for Revenge
Tags: Chile, Fuck the Law, International Conspiracy for Revenge, Santiago
Posted in Direct Action
Tuesday, September 16th, 2014
DOWNLOAD FLV VIDEO: Police car burned
In solidarity with anarchist prisoners all over the world, in the morning of Saturday 30th August 2014, we made an arson attack on a police car, which stood in the street in front of the station Truhlářova in Ústí nad Labem. The event has become a fragment of a mosaic of solidarity activities during the International Week of Anarchist Prisoners. It was announced for 23 to 30 August 2014.
Francesco Puglisi, André Mazurek, Yiannis Dimitrakis, Olegovich Igor Kharchenko, Rebecca Rubin, Bill Dunne, Nikos Maziotis and many others, known and unknown. They were imprisoned for their anarchist attitudes and actions. Our arson attack against the police is a solidarity message sent to all of them. The communication of this direct action is simple. In the ongoing class war the State puts in jail the people when they actively resist. A good sign of solidarity with the imprisoned comrades is therefore continuing the resistance. In opposition to the same goals with the same means that our friends often chose before being placing in the cells of the State.
There is no doubt that the purpose of prison is not only isolation and the subjection of detainees. In a broader sense, it is their task to influence those who survive outside of a prison cell. They intimidate every resisting person and try to break his/her will to fight. Anarchist groups around the world show that to achieve this goal is virtually impossible. While the States imprison many anarchists, others -despite the risks- continue to practice rebellion. Our arson attack in Ústí nad Labem is a powerful reminder that suffocating our friends behind the prison walls will not smother our libertarian will to resist. On the contrary, every act of State repression against the anarchist movement recreates other rebellious passions. They manifest themselves in a variety of direct actions and will continue until all the comrades leave prison.
Proletarian Solidarity Cell / Network Revolutionary Cells – 30th August 2014
Tags: Arson, Czech Republic, Fuck the Law, International Solidarity, International Week for Anarchist Prisoners, Network Revolutionary Cells, Proletarian Solidarity Cell / Network Revolutionary Cells, Ústí nad Labem
Posted in Direct Action