Posts Tagged 'Fuck the Law'
Wednesday, August 28th, 2013
August 27, 2013 – Responsibility claim for large-scale arson of £16million police firearms training facilities and vandalism of vehicles of the corporate security services:

The (under construction) Police Firearms Training Centre in Black Rock Quarry, Portishead, situated directly beneath the Avon and Somerset Police regional headquarters was our target on the night of 26th August, and we left it with flames licking high. The facility is intended to serve forces across the South West.
After climbing into the quarry we used accelerant to burn the major electrical cables at five junction points throughout the complex, and doused and lighted a pallet of electrical fittings and wires. More than twelve hours later the fire is still burning. It put smiles on our faces to realise how easy it was to enter their gun club and leave a fuck you signature right in the belly of the beast, with a curious fox as our only witness.
On the same night others of us attacked two vehicles near St George, Bristol with paint stripper and by slashing the tyres – one G4S and one Amey. In the UK and globally G4S provide prison and security services and profit from many aspects of prison society. Amey, in a joint venture with GEO transport prisoners in England and Wales and run courthouses in Bristol and North Somerset.
In the City around us the lock down increases; there is a general atmosphere of rising fear and powerlessness; there is more and more surveillance, and security guards with handcuffs appear on more and more doors. Tensions across the world are simmering as people lose faith in the system. As a response to this insecurity the state is militarising it's police with firearms, remote control drones and 'non-lethal' weapons that regularly kill. At the same time they develop the preventative 'soft cop' buffer of community support officers, liaison teams and so on, that are more fitting with the democratic image. They even get some help from leftists such as John Drury from Aufheben with his contributions on crowd control, who is as terrified of the unmanageable as the ruling classes are. The British state is a world leader in counter-insurgency techniques. Their expertise is the result of generations long brutal colonisation, like in India, Kenya and to this day in Ireland. (more…)
Tags: Amey, Angry Foxes Cell, Angry Foxes Cell in collaboration with ACAB, Arson, Badger Cull, Black Rock Quarry, Bristol, Fuck the Law, G4S, GEO, International Solidarity, John Drury, Kostas Sakkas, Police Firearms Training Centre, Portishead, UK
Posted in Direct Action
Saturday, August 3rd, 2013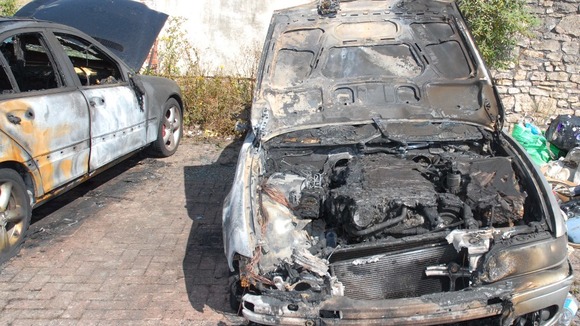 24 July – Mercedes and BMW set alight that were parked at Barry Football Club, South Wales. No one was arrested or injured. Police appealed for information because they have none.
July 30 – Three car fires in South East Ipswich were all the work of arsonists. Afterwards in the local media, police appealed for more information and revealed more acts of property damage had taken place, including against two of their own police cars. It all kicked off when a blaze broke out in Ravenswood Avenue at about 12.40am, when a number of people reported a car on fire in a wooded area on land between Ravenswood Avenue and Gainsborough Sports Centre. An East Ipswich fire crew turned up and had the flames under control by 1.03am. The damage was so bad that no identifiable features remained on the vehicle, which is thought to have been a Vauxhall Vectra or similar. At 4.17am, a Ford transit van was reported alight in Fletcher Road – and then a stolen car in Landseer Park at 5.05am. Between the fires, at 4.38am, a grey BMW and a black Ford Focus were damaged in Orwell Gardens. Shortly before 6.45am it was discovered the windows of a police car were smashed in Clapgate Lane, at the Ipswich south east safer neighbourhood team base. At 8.15am another police car was found to have had its windows smashed and damage done to the body work in Heath Road, at the Ipswich north east safer neighbourhood Team base.
Tags: Arson, Barry, Car Burning, Fuck the Law, Ipswich, UK, Wales
Posted in Direct Action
Friday, August 2nd, 2013
This statement was read in the 4th trial of CCF (250 attacks)
Before I speak my mind about the legal objections raised from the side of the lawyers, I want to make something clear. In this trial, there are four different sides. The side of the judges, the lawyers' side, the side of the accused, who are innocent and our own side, the side of those who took responsibility for our action in the network of the Conspiracy of Cells of Fire.
From the part of the lawyers there was a refined positioning in relation to the submission of objections to the court in previous sessions. The lawyers, among whom is also our personal friend Franciscos Ragkousis, speaking in the language of the law, not only highlighted the contradictions of the trial but they also showed its hypocrisy.
We're talking about a show that does not even keep up the pretenses of its own democratic scenario. But this farce called a trial, leaves us completely indifferent. Often our attorneys appointed by the court, reach a dead end. As they say themselves, the hostile and absolute way in which we face this trial, blocks them and cancels pieces of legal defense. It cancels the possible presumption of innocence, the pleas and defense lines as well as the legal benefit of any extenuations.
To be accurate, your laws are trash for us. Our view on justice is written on the demolition of the courts of Thessaloniki, on the blasting of the façade of Athens' Court, on the homes of judges, that we burned … Nothing has changed just because some of us were captured. The captivity in prison did not reduce our decision to fight against laws and institutions, not even one inch.
Then one could reasonably wonder why we appear at trial. The answer is simple. When we were free/wanted our attacks were the way we expressed ourselves and now as we remain captured, our word, even in the court of the enemy, breaks the silence. Silence is not acceptable for an anarchist urban guerrilla.
This does not mean that we will resort to the legal corpses of words in order to talk about ourselves. Reference was made to the jurisdiction of the Court. For us, the court lacks jurisdiction. We do not recognize any white-collar as our natural judge. Only we and our conscience can judge our actions. Nobody else. There was also a plea for the poor composition of judges. But for us, there are no good and bad judges, nor righteous and unrighteous. There are simply judges, officials of the enemy in different shades whose names are targets of the anarchist network of CCF, without exceptions.
The issue of the Joint Statutory and the presence of jurors, was also mentioned. We make clear here that we are anarcho-individualists and nihilists and that we have no appreciation nor respect for the "poor people." Even more, for law-abiding citizens who sit on the benches of jurors. These "poor" people, who are today humiliated and miserable, are the same who worship their bosses and have the same values with them​​, money and power. They are the people who always whimper but never revolt, questioning but always believing in young leaders/saviors, who always yell but never act. It is high time we break away from dusty revolutionary ideologies – no sheep was saved bleating. Against sheep and shepherds, we are wolves.
As far as the definition of "political crime" is concerned, we don't seek an evaluation for our actions within the laws and the articles of the penal code. Our actions are defined by ourselves with the way we intervene into the normal course of history in order to derail it. Only through violent derailment of history, is a person able to come across the peaks of his thoughts and actions. We place ourselves far away from the so-called unselfish separation between political and criminal. These terms belong to Power and we don't use them. There is just the responsibility of saying "this is me and I will continue to wage war by all means necessary". Theory and action are one. This is the theory of the Conspiracy of Cells of Fire. The unity of theory and action, for the destruction of the system. As for the unselfishness of the motives of our actions, this just a romantic abstraction, unable to measure up with real life. Anarchy is our egoistic demand to ourselves, to take life in our own hands. To define our existence. To hit what is ugly. More than anything it is an existential bet and not a scheme for social salvation. So we are not unselfish and neither do we act in the name of the pitiful people. We are egoist anarchists and we don't accept extenuations. We have already chosen the weight of our choices and we are not going to lighten our decisions.
As far as the potential risk of human life is concerned, we have said these things before in other trials. The choices of each one of us, define their life. There are options that are hostile and their exponents are targets for us. The acts and thoughts of an anarchist urban guerrilla aim to multiply the risk to the life of the enemies of anarchy and of state officials. It is clear that the Conspiracy of Cells of Fire contributed to the proliferation of this risk and we will continue to do so.
For all these reasons and countless more, do not bother to answer the objections because we are indifferent to them. We reject the hypocrisy of a democratic dialogue and choose to keep our words armed, as our weapons. Always on the opposite side, always on the attack.

The imprisoned comrades of the Conspiracy of Cells of Fire FAI/IRF
Tags: Athens, Conspiracy of Cells of Fire, Conspiracy of Cells of Fire : Imprisoned Members Cell, Fuck the Law, Greece, Informal Anarchist Federation (FAI), International Revolutionary Front, Letter
Posted in Cognitive Liberty
Friday, July 26th, 2013
Via Parabellum & Nihilist Abyss
MIRUPAFSIM**
And, after all, how is freedom truly gained? The only sure thing is, that he lies outside the cells of Democracy, outside the storage of human souls, outside the land of "correction", obedience, apathy and psychiatric drugs.
Everyday is a repeating reality. Every morning, noon, evening you hear the sound of the keychain. Body counting. They have to be sure that you are still locked up, inside four walls. And only a stroll in the prison yard, while looking at the blue sky, makes you yearn for the outside… and tomorrow again from the start… In an everyday routine, where time seems to be frozen… (more…)
Tags: Conspiracy of Cells of Fire, Conspiracy of Cells of Fire : Imprisoned Members Cell, Fuck the Law, Greece, Marian Kola, Trikala
Posted in Prison Struggle
Friday, June 28th, 2013
from Lucioles, translated by waronsociety:
Lucioles [Fireflies] is an irregular newsletter containing texts of analysis and agitation in Paris and the surrounding area and analysis of everyday life from an anarchist perspective. We discuss different manifestations of insubordination and attacks in which we can recognize ourselves and uncover potential rupture against the State, capitalism and domination in all its forms by attempting to connect them each to everyday life. We do not desire to represent anyone or defend any particular piece of territory which is a scale model of this shit world. (more…)
Tags: Arson, France, Fuck the Law, Lucioles, Paris, Sabotage
Posted in Direct Action
Sunday, May 26th, 2013
Communique for incendiary attack on prison guards' gym
from materialanarquista, translated by waronsociety:
"One would say, then, that force is aimed at imposing the organization of a certain social order in which a minority governs, while violence tends to destroy this order. The bourgeoisie has used force since the dawn of time up to modern times, while the proletariat reacts to the present, through violence, against it and against the state" – George Sorel
THE GANG IS FURIOUS:
In this moment, the weight of history falls on our backs, the memory of the combatants, fallen and victorious compañerxs in a struggle since the origins of humanity, just like that, varying in material and quantitative terms. How to confront a corporeal beast with an unprecedented historical force; class society is a material and also an idea, essence and phenomenon present in humanity's individual and collective consciousness. The state, private property, its armed forces, the productive modes and the permanent, continual complicity of a humanity subject to the decisions of an omnipresent authority.
Tags: Anarchic Gang of Fury (B.A.C.), Arson, Chile, Fuck the Law, Incendiary Cell for the Subversion of the Existent, Molotovs
Posted in Direct Action
Friday, April 19th, 2013
On 20/03/2013 4 SUVs burned down in Voronezh. Police suspects arson.
On 02/04/2013 somebody threw an armed frag grenade into police station lobby in New Voronezh (Voronezh region). Cops arrested a suspect, no further news about his fate or reasons for action.
On 08/04/2013 2 Mercedes and Volvo were torched in Northern Moscow.
Source: https://blackblocg.info/ (all news come from corporate media)
Tags: Arson, Fuck the Law, Russia, SUV, Voronezh
Posted in Direct Action
Saturday, April 13th, 2013
ONE LESS ENEMY OF FREEDOM – LETS DANCE ON HER GRAVE!
To celebrate the news of Thatcher's death we smashed the front windows of the Conservative Club on Fishponds Road in Bristol in the early hours of this morning.
No matter how many tributes to a "great woman" appear in the media, we will never remember her as anything other than a vicious tyrant who rolled out the aggressive free market capitalism that flourishes today. The only good politician is a dead one!
Even compared to politicians in general Thatcher was one of the most hated figures in recent UK history, which is why she was under armed guard 24 hours a day until her death in the five star Ritz hotel. She led an all out assault on living conditions of the "underclass" she so openly despised, entrenching and enriching the ruling classes. We are only a few of the thousands upon thousands who are lining up to piss on her grave.
The response in Bristol to her death was immediate. The night the news broke there was a large street party in Easton to celebrate. When cops arrived to break it up they were met with bricks, bottles and burning barricades, injuring several state thugs and damaging a police vehicle. Our thoughts are with the arrested and the many more who defied the riot squad and their "pacifist" allies.
We attacked the club where Thatcher's arse lickers hang out, but don't get us wrong – political parties are only one face of the global dominant order. The same system of exploitation they represent churns on regardless of who hold office. Thatcher's day saw forceful revolt against her regime (the miners strike, the poll tax rebellion and more), and today's rulers can be sure that they also face our fury.
Thatcher actively supported and defended Pinochet's military dictatorship in Chile. Under the new economic dictatorship of democracy, rebellious students, Mapuche indigenous warriors and anarchist-subversives continue to be persecuted by the same fascist-era laws. We greet Marcelo, Juan and Freddy in Santiago high security dungeon, solid social fighters since the time of Pinochet's rule, and those targeted by the Chilean state's latest frame-up who are held in Temuco women's prison (also the scene of a recent riot).
Finally, our team takes responsibility for the recent arson on a police 4×4 in a garage off Pennywell Road in Easton. These servants of the state should never be safe on the streets from our attack, here as in Moscow, Cairo or Montreal.
FUCK THE LAW AND THE PEACE POLICE!
FOR A RIOTOUS SATURDAY 13TH EVERYWHERE!
WAR ON POLITICIANS, DEATH TO THE STATE!
–unruly anarchists (in the spirit of Millbank)
Tags: Arson, Bristol, Conservative Association, Conservative Party, Evil Dead, Fuck the Law, Margaret Thatcher, Sabotage, UK
Posted in Direct Action
Tuesday, April 9th, 2013
The news is confirmed – the murderous whore of capital is finally dead. We laugh and celebrate her death. Party on.
Brixton, London: Fotos and video from london-brixton night 9.4.13 – uk + Barnardo's windows smashed in Brixton 9.4.13 – it was us – south london – uk (Informal Anarchist Federation)
Saturday night 6pm onwards everywhere. Expect the pigs to turn up!

England – – –
London – Trafalgar Square
Bristol -City Centre, opposite the Hippodrome Theatre.
Brighton – Clock Tower
Bradford – Centenery Square
Burry St Edmunds – Chequer Square
Birmingham – Victoria Square
Carlisle – Club Victoria
Coventry – Fountain on the Precinct.
Cambridge – Mid-Summer Common
Doncaster – Town Centre (from Hatfield Colliery)
Falmouth – The Moor
Hastings (East Sussex), The Town Centre.
Hull – Queens Gardens
Liverpool – St Georges Plateau
Leeds City Square.
Leicester – Clock Tower
Luton – St Georges Square
Manchester – Albert Square
Oxford – Bonn Square
Norwich – Forum
Nottingham – Market Square (something about Sneinton?)
Newcastle – Monument
Plymouth – Armada Way The Sun Dial
Portsmouth – Pompey – Guildhall Square
Rotherham – All Saints Green (or Orgeave)?
Sheffield – Devonshire Green
Sunderland – Stadium of Light (atop Munkwearmouth Pit!)
York – The Naivesmire
Worcester – Elgar Statue
Warrington – Market Gate.
Scotland – – –
Edinburgh – The Mound
Glasgow – George Square
Dundee – The counting house
Wales – – –
Wales – Cardif – City Hall
Wales – Aberystwyth – ????
Wales – Swansea – Castle Square
Northern Ireland – – –
Belfast?
Republic of Ireland – – –
Dublin City Centre – Temple Bar

International – – –
Finland – Tampere
Thailand – Nong Khai
Italy – Venice – St Marco
Spain – Barcelona – Plaza Real – midnight!
New Zealand – Aotea Square
Norway – Oslo – National Theatre Station (outside)
Sweden – Stockholm – Sergels Torg 6 pm saturday after.
USA – – –
Denver – Colorado – 16th Street Mall
Tags: Evil Dead, Fuck the Law, Margaret Thatcher, UK
Posted in Direct Action
Saturday, April 6th, 2013
Received from 'This is our Job'.
All decisions, when it's a question of freedom, contain death within them. We, through this death, must attain life: a deep breath before the endless journey.
An armed clash took place in Pefki between two anarchists and the police force.
Two of their dogs, Leontopoulos and Drosos, tried to arrest me and my comrade. Our response was armed resistance and the rejection of surrender, with the goal of preserving our freedom, which—as anarchists—we value so much.
The results are well-known: my comrade escaped by stealing a patrol car, while I was wounded and arrested. Also wounded were the two police officers, whom I fired at first, managing to catch them by surprise. Without any doubt, if the pigs had died and the two of us—my comrade and I—had remained unharmed, we would have gotten away.
Additionally—regardless of the fact that my operational priority was to disengage and escape—it would be an honor for me if at the same time I had the blood of two police officers on my hands, not just because they were going to arrest me, but simply and solely because they were police officers. (more…)
Tags: Conspiracy of Cells of Fire, Fuck the Law, Informal Anarchist Federation (FAI), International Revolutionary Front, Theofilos Mavropoulos
Posted in Prison Struggle
Sunday, March 17th, 2013
In the spirit of March 15's past, a cop car was set on fire on the evening of March 15th, at the Poste 33 police station in Parc-Ex, Montreal. This action was taken to complement the 17th annual demonstration against police (and their brutality) that took place earlier that day.
We also send a message of support to Marco Camenisch in his struggles from inside prison in Switzerland.
—
Note: Police units attacked the annual anti-police demo in Montreal this year and arrested over 200 people in a preemptive assault. The target of the demo was the downtown policestation.
Tags: Arson, Canada, Fuck the Law, International Day of Action Against Police Brutality, International Solidarity, Marco Camenisch, Montreal, Police Bastards, Police Brutality, Switzerland
Posted in Direct Action
Wednesday, March 13th, 2013
We have received message from our comrades: "We have burned a big Ford nearby VDNKH subway station about two weeks ago. The car had a pass of Police ministry behind a windshield and it looks like a typical car granted for official of medium/high level. We proclaim solidarity with all our comrades prosecuted. And you, police pigs, should know that any of your aggression etc. against freedom fighters won't be unrequited."
Tags: Arson, Car Burning, Fuck the Law, Moscow, Russia
Posted in Direct Action
Sunday, March 10th, 2013
In the early hours of Sunday, 10th March 2013 a group of 15-20 anarchists attacked the local police station in the Acropolis region (Athens) with Molotov cocktails. Two motorbikes and the station's guard outpost were damaged. In a communiqué, following the attack, the assault was dedicated to the memory of Lambros Foundas, member of the revolutionary urban guerilla group "Revolutionary Struggle", who was shot dead in a gunfight with cops on 10 March 2010.
Here is the link for the full communique:
http://en.contrainfo.espiv.net/2013/03/10/athens-responsibility-claim-for-incendiary-attack-on-the-police-station-of-acropolis-in-remembrance-of-lambros-foundas/
Tags: Athens, Fuck the Law, Greece, Lambros Foundas, Revolutionary Struggle
Posted in Direct Action
Wednesday, March 6th, 2013
This is a demo call out from a social activist group in Birmingham, UK.

Friday, 15 March 2013, 13:00. Wear Black
Police Headquarters Lloyd House.
March 15 has been a day of international action against police brutality around the globe since 1997. The specific date is significant because in Switzerland, on March 15, two children, ages 11 and 12, were beaten by police. M15 originated from the Black Flag group in Switzerland and from the Collective Opposed to Police Brutality in Montreal. People in countries across the world come out to the streets in March to express their rage against the police. In Montreal specifically, there has been fierce annual riots erupting from the depths of the dispossessed. This March 15, We encourage everyone to join the rest of the world in the streets the timing couldn't be more appropriate. On this date 2 years ago the Police killed a British Reggae Icon David Emanuel aka Smiley Culture proved in court to be an innocent man and weeks later Birmingham man Kingsley Burrell dialled 999 for help and ended up dead 30th March 2011. Not forgetting unarmed man 36, Anthony Grainger shot and killed in a pre planned operation in Manchester on 3rd March 2012. (more…)
Tags: Birmingham, Fuck the Law, International Day of Action Against Police Brutality, Police Bastards, Police Brutality, UK
Posted in Social Control
Monday, March 4th, 2013
In the night February 19/20 we attacked local police station in the village Povedniki (Moscow region). It was settled in non-residential building – so we felt free to act strongly. It is likely, that a good portion of incendiary has completely destroyed the contents of this enemy's nest (we had no possibility to watch fire up to end).
Dear comrades! We see authorities unqualified, organized badly and act blindly. So it is time to concentrate on radical struggle and then you can damage the system stronger and go free longer. Join us!
Victory will be ours!
Tags: Arson, Fuck the Law, Moscow, Povedniki, Russia, Sabotage
Posted in Direct Action