Posts Tagged 'Fuck the Police'
Wednesday, August 19th, 2015
Berlin, 14th august 2015

From Berlin to Kopenhagen – Greetings from the rebellious Rigaer str. to Nørrebro
We also received the information about the terror of the cops against your house project Bumzen and three other flats. The reason for the police attack was a "reclaim the streets" action, where stones and molotow cocktails has been thrown against pics and a bank was smashed. We really like that you took back the streets and in which way you did it was amazing.
They forced you to give your DNA, so we gave also some orders to our specialists of the laboratory.
In a act of solidarity, two cop cars lost again in "Rigaer Roulette". We attacked the cops with stones and stinking bombs and we get informed by the press that the police sent some samples to the laboratory. We are really looking forward to the result of the analysis, if the pigs will publish it.
They also wrote that 20 stones hit the pig cars. Be sure, that there is no doubt that as long your colleagues are getting on the nerves of our friends or you by our own are wandering around our beautiful streets, as long it will be dangerous for you!
Rigaer roulette is going to the next round
Bumzen stays!
Solidarity with all anti-authoritarian struggles
–
via chronik
Tags: Berlin, Bumzen, Denmark, Fuck the Police, Germany, Rigaerstrasse, Solidarity Action
Posted in Direct Action
Wednesday, July 8th, 2015
SRB (Network of Revolutionary Cells communique: Police car torched in response to Operation Fenix
In the early hours of Saturday, July 4, 2015 we torched a police car outside the Praha-Bubny police station. This was in response to the police and state repression against anarchists. Since April 28, 2015 when the police launched 'Operation Fenix', four anarchists have been arrested and held in custody. Wild Heart Cell sends a message with this sabotage: We will not tolerate such violence by the state and we will fight against it!
With the launch of 'Operation Fenix' cops have declared war against the anarchist movement. They thought they could scare us into giving up. They have made a mistake, we will never give up. We are moving into counterattack.
They want to suffocate the resistance but they only add more fuel to the fire.
Wild Heart Cell – Network of Revolutionary Cells (SRB)
–
SRB (Network of Revolutionary Cells) Communique: Police car torched in solidarity with Alešem Kočím
On Wednesday, July 1st, 2015, a police car was set on fire in Prague. It occurred on the outskirts of the park near the Srašnická metro station. As part of the ongoing struggle an SRB cell attacked the police car to send a fiery greeting to Alešem Kočím. For his anarchist beliefs in class warfare, Alešem fell into the hands of the state. On the 28th April, 2015 he was detained by the police during 'Operation Fenix' and was subsequently charged with possession of illegal weapons. He now sits in custody as a prisoner of the state.
The state and it's institutions have a huge arsenal of weapons and have created a monopoly on their use. They constantly use them in order to keep the capitalist construct in motion – the network of exploitative and oppressive relations. Anarchists do not accept the state's monopoly on weapons. Anarchist praxis confronts the values the defend and reproduce state violence. State violence against anarchists builds insurgent violence.
Alešem Kočím is an anarchist who disrupted the state's monopoly on the use of weapons by being armed. SRB supports such a stance. While Alešem is in the hands of the enemy this limits his potential for future struggle but we do not intend to accept this situation. Incendiary words, fire, weapons and explosives – it's all part of our struggle. Revolutionary struggle against the violence perpetrated by the state to preserve the misery of capitalism. So far we have only used fire to ignite cars. Next time however will not be the same.

Fire Greeting Cell – Network of Revolutionary Cells (SRB)
via revolucnibunky & insurrectionnews.
Tags: Alešem Kočím, Arson, Czech Republic, Fire Greeting Cell - Network of Revolutionary Cells (SRB), Fuck the Police, Network Revolutionary Cells, Prague, Solidarity Action, Wild Heart Cell - Network of Revolutionary Cells (SRB)
Posted in Direct Action
Tuesday, June 30th, 2015
Also: "This is how we do it": Neighbourhood Solidarity after East Street raid.

In the wake of the militant resistance to the immigration raid on East Street London on the 21st, this message above was painted …
As one of the East Street Two remains caged at Gatwick Detention Centre we sprayed our message of vengeance at the offices of the United Kingdom Border Agency.
To explain the organised misery of their oppression the agents of this racist state need scapegoats to blame. We dismiss their petty attempts to divide us and will continue to fight together as we did on Sunday until all borders are destroyed, their fences and prisons torn down.
With paint, fists and crowbars we will destroy the rotten infrastructure and poisonous ideology of this racist system. Let this message be a warning – every deportation must be met with furious resistance.
Fuck UKBA- Vegeance on all authority – until every deportation is stopped.
Tags: East Street Market, Fuck the Police, Graffiti, Racism, UK, UKBA
Posted in No Borders
Tuesday, June 23rd, 2015
Home Office immigration enforcement have been targeting the East Street market in Walworth, London SE17, all week, with no less than five raids over previous days. Today they came again at 5PM and snatched one man from a fish shop, presumably accused of working without legal documents.
But this time, things were not going to go so easy for the thugs in blue. After call-outs went out through the local grapevine and also on social media, people from the area including the next door Aylesbury Estate rushed down to the scene. The Home Office snatch van was blockaded and penned in on a side street off the market. The bullies retreated inside the van with their prisoner while it was surrounded by people's bodies and by makeshift barricades, the tires were let down, and it was pelted with rotten fruit and eggs from the market.
(more…)
Tags: East Street Market, Fuck the Police, Immigration Raids, London, Racism, Riots, UK, UKBA
Posted in No Borders
Thursday, June 18th, 2015
From Bristol Defendant Solidarity:
Police in the UK are allowed to question anyone entering/leaving the country about "terrorism" – without the right to silence. We have spoken to a number of anarchists who have been questioned under these powers, known as "Schedule 7″. Because of a lack of information on the law, most of those stopped have given more information than they had to. This includes people from outside of the UK who have not even heard of "Schedule 7″ before. For this reason, we strongly recommend any anarchists travelling to/from the UK read our briefing beforehand – http://bristolabc.wordpress.com/defendant-solidarity/resources-and-advice/schedule-7/.
If you have been questioned under "Schedule 7″, please contact the Network for Police Monitoring, so they can keep track of how the police are using this power. Website: http://netpol.org; Email: info (at) netpol.org
Tags: Fuck the Police, Police Bastards, Repression, Schedule 7, UK
Posted in Social Control
Monday, May 4th, 2015
Tags: Black Bloc, EXPO Milan 2015, Fuck the Police, Italy, Mayday, Milan, Riots
Posted in Direct Action
Saturday, May 2nd, 2015
Following massive raid on anarchists on Tuesday night, three people were
charged with terrorism and taken into custody. Whole operation police
called "Phoenix" started in early morning with house search in dozens of
private flats and social center "Ateneo" in the town of Most. Around 20
people were arrested, part of them only questioned and immediately
released.
Three people were charged of attempted terrorism (12-20 years of
prison), some others are officially investigated of the same crime but
were released. Even others were charged of not reporting this serious
crime. Three people were taken into custody. As some servers were
confiscated most of Czech anarchists websites are down.
(more…)
Tags: Czech Republic, Fuck the Police, Most, Repression
Posted in Social Control
Saturday, April 11th, 2015
[Noticias de la Guerra Social]
El 29 de Marzo de 1985 la policía montaba un operativo para aniquilar a Eduardo y Rafael Vergara en el sector de Villa Francia, ambos orgullosos miembros del MIR son acribillados por la policía. Desde esa fecha que se conmemora el día del joven combatiente en recuerdo de todos los rebeldes asesinados a manos de la policía y muertos en combate durante dictadura y democracia.
Hace 30 años que el fuego de la memoria se enciende en los sectores combativos. Rapidamente a lo largo de los años el enfrentamiento se ha extendido a distintas poblaciones de la periferia que buscan atacar a la policía, devolviendo en parte la violencia cotidiana de esta institución de muerte.
En Valparaíso, el 25 de Marzo afuera de la UTFSM encapuchados cortan el transito en camino troncal urbano con barricadas incendiarias lanzando panfletos en conmemoración del joven combatiente. En simultaneo barricadas y enfrentamientos se desatan a las afueras de la Universidad Playa Ancha. (more…)
Tags: Chile, Day of the Young Combatant, Fuck the Law, Fuck the Police, Riots, Young Combatants
Posted in Direct Action
Sunday, April 5th, 2015
Inthebellyofthebeast receives & transmits:
A crack was formed in the prison wall during the eviction eve demo on 2nd April for Chiltern House, a building that has been occupied by squatters in solidarity with residents in the near abandoned Aylesbury estate, which is earmarked for demolition by Southwark council. A whole estate that is now surrounded by a wall & patrolled by private security* which is all part of the the forced but also self imposed prison society. As anarchists we see the Southwark council, just as our friends who are occupying the estate do, as part of the wave of gentrification that is sweeping vast parts of the capital urban hell, moulding the cityscape more to authoritarian control, pushing the excluded further to the outer reaches, out of sight, out of mind as they say!
We decided not to be part of the demonstration, instead lying in wait for our moment to attack, which presented itself in an empty cop van on the estate. Our rage was projected through the smashing of the vehicles windows just minutes after the pigs left it all on its own. The cops were attacked because they are just as much the screws of our daily existence in this prison island as any politician and security can be.
We will not wait to be evicted… instead we go on the attack!

ACAT (All Cops Are Targets)
*who have physically attacked friends & intimidated residents on the Aylesbury estate. DON'T THINK WE HAVE FORGOTTEN ABOUT YOU SECURITY SCUM!
Tags: Aylesbury Estate, Fuck the Police, London, Sabotage, UK
Posted in Direct Action
Saturday, April 4th, 2015
Inter Arma received and translated:
THE HUNGER STRIKE OF THE CONSPIRACY OF CELLS OF FIRE WAS VICTORIOUS
Today is a day that a crack in the walls of the imprisoned world around us has opened. After 32 days of hunger strike, the mother of Christos and Gerasimos Tsakalos and the girlfriend of the latter will soon pass the exit of prison, free again…
32 days of hunger strike, with eight comrades of the Conspiracy of Cells of Fire being hospitalized, balancing between life and death. Mihalis found himself in the ICU the last few days, Olga has reached 40 kilos, Panagiotis had an already compromised health from previous surgeries on his head, George P. has a problem with his heart, with his heart-beats reaching 30 and all of them had medical measurements indicating that they lost 15-20% of their initial body weight.
32 days, the hunger strike became a daily, slow torment of death, in order for us not to make truce with the absolute death of emotional blackmail. An insidious blackmail which authority wanted to impose on us by abducting and keeping our relatives as hostages in prison. 32 days of hunger strike, every fading beat of our heart, reminded us of the promise we made together when we met for the last time, "Let's go, until freedom …".
After 32 days of hunger strike, the shadow of repression grew pale, the walls of captivity lowered and prison admitted defeat.
This victory is not only the result of the hunger strike of the Conspiracy of Cells of Fire. It's a victory of a whole world of solidarity, with arson attacks, occupations, sabotage, marches, gatherings, unexpected interventions, which broke the social peace, turned cities into fields of insurrectional moments and occupied buildings into living labs of subversive situations. In an everyday life where the desire for freedom has been suspended indefinitely, life flooded with little and large gestures of liberation, with fires, with slogans and sparkling eyes of persons who wore hoods.
We are flooded with many thoughts that want to fill with words the corresponding meanings. But now, there is neither a day for celebration, nor for accounts of victory. Today we stop the hunger strike, having beaten the scarecrows of authority who wanted our relatives in prison, BUT at the same time, the hunger strike of the remaining political prisoners, for the overall requests that have been set, continues. The days that follow are critical both for their health and for the total wager of anarchist struggle. Therefore, there is no time neither for relaxing, nor for victory celebrations. The die was cast a long time ago… We, as the Conspiracy of Cells of Fire, remain on the ramparts and prepare our counter-attack, supporting the struggle conducted within and outside prison.
Authority and it's scarecrows should know that every judicial coup, every jail, every moment of oppression, every lie of propaganda, every shade of bourgeois morality will return back to its instigators and owners, with multiple power and vehemence. With the power and vehemence of sabotage, fire, explosion, execution… In war, we answer with war. Time for us to attack first…
STRENGTH AND SOLIDARITY with anarchist comrade Nikos Maziotis. member of R.S., and the Network of Fighting Prisoners

VICTORY TO THE STRUGGLE OF THE HUNGER STRIKE
EVERYTHING CONTINUES…
Conspiracy of Cells of Fire – FAI/IRF,
Imprisoned Members Cell
04/4/2015
Tags: Athens, Conspiracy of Cells of Fire, Conspiracy of Cells of Fire : Imprisoned Members Cell, Fuck the Law, Fuck the Police, Greece, Hunger Strike, Informal Anarchist Federation (FAI), International Revolutionary Front
Posted in Prison Struggle
Monday, March 30th, 2015
Statement of FAI/IRF Poetry of fire cell
On Thursday 26th March 2015 we make an arson attack on a police car in Olomouc city. Attack against repressive machinery means fighting for freedom. Because where repression is needed, there is no place for liberty to bloom. There is no place without repression. Repression is an instrument of the state and capital. Repression and authority are the two sides of the same coin. Repression is global. Repression comes from the state as well as from the private sector. It cooperates all around the world. Everyone has met some kind of repression except those who do not want to live their own lives. Those who bow their heads and accept the orders voluntarily. Those who refuse the existing order knows the consequences. Everyone who even only tries to get his unpaid wage by means of direct action, people in a wild strike, people attacking the billboards or people looting during the riots know it. We are happy about every demonstration of insurrection which crosses bonds of legality, but only in case there is no demand of repression against the others. One day people attack the police to fight against taxes, the day after they demand stricter law against homeless people and "unadaptables", the third day they become homeless themselves and want more money from taxes on social spending, the fourth day they find some job and try to avoid paying taxes again. Conditions in which we live influence our lives, but we must not use them as an excuse. What is the most important are the choices we make. In every situation we can succumb or we can resist.
We, the anarchists, do not let anyone decide about our lives. We feel only pity for people who try to find their path through the sad reality at the expense of the others. They bend their backs in the face of the Existent and make excuses about the objective conditions. We, the anarchist, we fight for a world without repression, without compulsion. Therefore we fight against every kind of repression continuously, regardless if it hits peaceful demonstrations of students on the other side of the world or the criminals in our town. We feel solidarity and sincere affinity with those who fight for destruction of repressive machinery, for anarchy. Rebels, insurrectionists, anarchists, revolutionaries, fighters…
Currently the Greek political prisoners continue their continuous fight against repression. Network of fighting prisoners (NFP), Maziotis, Gournas, members of CCF and many others. All these decided not to give up their fight and to resist repression even in captivity. Our attack is a gesture of solidarity with their fight. And therefore our attack is part of the struggle for anarchy, in the aim of helping the hunger strikers to win their fight.
Fighting against repression is also fighting against militarization. Our act also notes against passing of US army convoy, which will demonstrate its power in our neighborhood. We are not afraid of soldiers and cops, we are scared of society, which lets the elites to commit the worst atrocities, without resistance, obediently. Society of zombies. Our attack and our statement is contribution to Project Phoenix 2015 "Lets destroy Repression". Project Phoenix is a game. We can play the game or we can finish it every time we want. We can do what we want to do. It is creative game played according to our rules. Everyone can join the game. Everyone can leave the game. When nobody plays the game it will cease to exist. This is part of life. It is only our choice. Some new game will appear sooner or later. Most important is to play according to our rules. The game which arouse passion and joy. It is also a destructive game at the same time. Destructive for the authorities.
Project Phoenix is solidarity praxis and it can be our own combative analysis. To get to know each other in combat. To plan how to aim our guns better against the Existent. This way we connect now and continuously. We connect destructively and creatively. Creative, not because we would like to create something in this society, but because everything which will be created in this society will be used as a tool of oppression unless it is destructive for the Existent.
We keep the new world in our hearts. The world where creativity is not turned into the tool of repression. In the recent world exists only one fight for freedom. A fight which is creative and full of joy for those who do not want to be chained. A fight which is destructive for the chains. There are many ways how to fight for a more beautiful world.
We have also received the messages from the anarchists abroad. First mentions of current anarchists of praxis, R.O. – Revolutionary Struggle, CCF, FAI/FRI, etc. appeared about 3 years ago [in Czech Republic]. Official anarchism, and state and capital try hard to suppress every combative tendency. When we read the information about official movement in Greece, it seems to us, that there is the same situation in our country. The proof is that nobody here informed about the hunger strike till now. Everyone has their own timing but it seems that some calls meet only deaf ears. There can be various reasons. One of them surely is the situation here. Therefore it is important for us to mention briefly the context of anarchism in Czech.
FAI/IRF Poetry of Fire Cell
Solidarity with hungerstrikers
Solidarity with the anarchists of praxis
For diffusion of theory and praxis of the Black International
Long live FAI/IRF
Project Phoenix 2015 "Lets destroy Repression"
For Anarchy
Tags: "Let's destroy repression" - 2015, Arson, Black International of Anarchists of Praxis, Conspiracy of Cells of Fire, Czech Republic, Fuck the Police, Informal Anarchist Federation (FAI), International Revolutionary Front, International Solidarity, Olomouc, Phoenix Project
Posted in Direct Action
Saturday, March 28th, 2015
Fuck the Police – Fuck the Tories – Fuck the lot of them – All Fucking Wankers
http://www.classwarparty.org.uk/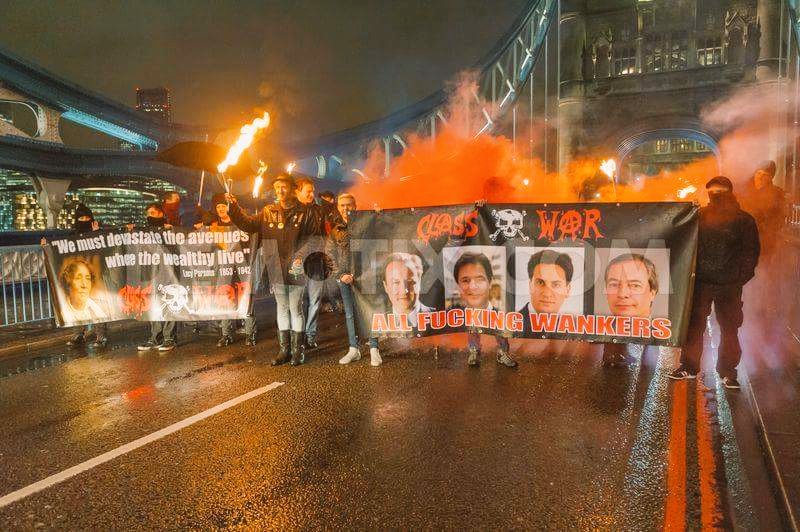 Tags: Class War (UK), Demo, Fuck School, Fuck the Church, Fuck the Elections, Fuck the Law, Fuck the Mainstream Media, Fuck the Police, Fuck the Queen, Fuck Work, Fuck You Tesco, Mayday, Police Bastards
Posted in Uncategorized
Thursday, March 26th, 2015
Warsaw: Demo against police violence
A spontaneous demonstration against police violence took place in Warsaw, Poland, on 19th of March. Protest was direct reaction to events that took place few days earlier in Legionowo, Warsaw suburb: police organised hunt for marihuana users. During the arrest, one of the detainees was basically suffocated by a cop, who was trying to stop him from swallowing a bag of pot.
Death of the detainee caused a few days of intense protest- demo on 19th March was first held in Warsaw. It was a reaction against the police statement, full of lies and manipulations, which blames whole situation on the murdered detainee. This secondary victimization and police attempt to cover-up the whole case was the direct impulse to organise protest in the capital. Protest started in front of Prosecutors Office on Brudnowska street, where going to police station was decided. Police was present from the beginning, and after allowing demonstrators to pass almost 2 km decided to start confrontation: all of the protesters were surrounded, then police started checking IDs of the majority of the protesters. Some people were detained and brought to various police stations. Police called all checked protesters to testify in the following days, as suspected of committing the felony – "participating in illegal assembly". (more…)
Tags: Anti-Fascist, Chmielna, Fuck the Police, Jolanta Brzeska, Legionowo, Neo-Nazis, Poland, Police Bastards, Police Brutality, Warsaw, Wilcza
Posted in Direct Action
Tuesday, March 17th, 2015
To all those still keeping the fire alive, my name is Dante Cano.
I was arrested by the pigs on Friday the 13th, at a march "Against the Police State." It was an international call-out against militarization of the pigs and police repression towards black lives in so-called "America."
I was also out there that night for all those killed in racist murders and the killing of a woman that was shot by the Emeryville police outside of Home Depot.
I was violently attacked for supposedly breaking a Men's Warehouse window. I was tackled and beaten by OPD, then put in a van and taken four to five blocks away. I was then asked if a bat and a black bag was mind. I said, "Fuck no." Police beat me once more in the van and then took me to jail. (more…)
Tags: Dante Cano, Fuck the Police, Letter, USA
Posted in Prison Struggle
Thursday, March 12th, 2015
6pm @Cardiff Central Police Station on the 24th of March 2015
It has been over five years since we learned that Mark "Marco" Jacobs was not just another anarchist in the south Wales activist scene, but was actually an undercover police officer.
Since then a number of people who were directly effected by his use of sexual relations as an infiltration tactic have taken legal action to attempt to hold the system to account.
Sickeningly South Wales Police and the Metropolitan Police have maintained a "Neither Confirm Nor Deny" defence of all aspects of Officer Jacobs deployment. (more…)
Tags: Cardiff, Demo, Fuck the Police, Mark 'Marco' Jacobs (Undercover Cop), Police Bastards, Rapist abusers, Repression, Wales
Posted in Social Control