Posts Tagged 'Fuck the Police'
Tuesday, March 17th, 2015
To all those still keeping the fire alive, my name is Dante Cano.
I was arrested by the pigs on Friday the 13th, at a march "Against the Police State." It was an international call-out against militarization of the pigs and police repression towards black lives in so-called "America."
I was also out there that night for all those killed in racist murders and the killing of a woman that was shot by the Emeryville police outside of Home Depot.
I was violently attacked for supposedly breaking a Men's Warehouse window. I was tackled and beaten by OPD, then put in a van and taken four to five blocks away. I was then asked if a bat and a black bag was mind. I said, "Fuck no." Police beat me once more in the van and then took me to jail. (more…)
Tags: Dante Cano, Fuck the Police, Letter, USA
Posted in Prison Struggle
Thursday, March 12th, 2015
6pm @Cardiff Central Police Station on the 24th of March 2015
It has been over five years since we learned that Mark "Marco" Jacobs was not just another anarchist in the south Wales activist scene, but was actually an undercover police officer.
Since then a number of people who were directly effected by his use of sexual relations as an infiltration tactic have taken legal action to attempt to hold the system to account.
Sickeningly South Wales Police and the Metropolitan Police have maintained a "Neither Confirm Nor Deny" defence of all aspects of Officer Jacobs deployment. (more…)
Tags: Cardiff, Demo, Fuck the Police, Mark 'Marco' Jacobs (Undercover Cop), Police Bastards, Rapist abusers, Repression, Wales
Posted in Social Control
Thursday, March 12th, 2015
Last night, two cops were shot outside Missouri city police station during a demo against police brutality and the killing of Michael Brown, 18-year-old unarmed black man slain by cops last summer. The two cops did not die, but are seriously injured. On Wednesday, Ferguson Police Chief Thomas Jackson announced that he planned to resign after a harsh U.S. Justice Department investigative report about his handling of the police killing last summer of Michael Brown. (more…)
Tags: Ferguson, Fuck the Law, Fuck the Police, Missouri, Police Bastards, Police Brutality, Racism, USA
Posted in Direct Action
Wednesday, February 25th, 2015
Fire to the Prisons #12 is Available Now!
PDF – https://firetotheprisons.org/issues/fttp12.pdf
The new issue of Fire to the Prisons is now completed and available online. Check out the new issue, print your own copies, and view past PDFs at our new website: www.firetotheprisons.org
(NOT TO be confused with .com, which is hosted by unknown sources)
Fire to the Prisons is an insurrectionary periodical. It focuses on promoting a revolutionary solidarity between different struggles, prisoners, and existing social tensions that challenge capitalism and the state.
We made 10,000 copies of this issue because we wanted to get them as far and wide as possible. In order to create a publication for free to comrades and the general discontented public, we have forfeited our traditional magazine form and went with a less costly newspaper. We hope to spread this as far as it can go. A lot of blood, sweat, and tears went into this project and we hope that it shows. (more…)
Tags: Fire to the Prisons (Zine), Fuck the Law, Fuck the Police, PDF, Police Bastards, Police Brutality, Racism, USA, Zine
Posted in Library
Thursday, February 5th, 2015
Last week, Nicanor Cortez was arrested for his alleged participation in property destruction in the anti-police riots in Oakland, California, during late November and December. He faces seven counts of felony vandalism and a misdemeanor charge for concealing his face with a mask. Specifically, he is accused of smashing the windows of the Oakland Tribune [newspaper], the police internal affairs division, as well as other businesses.
This is a call for action in solidarity with our captured comrade. When the state captures our comrades we must answer that aggression with unrelenting fire and attack on the bastions of capitalist power. Strike hard wherever you are. Don't let them take one of us without fury and destruction.
Harness the flame while you still have breath.
Wildfirecell
Tags: Fuck the Police, International Solidarity, Nicanor Cortez, Oakland, Repression, USA
Posted in Social Control
Friday, January 9th, 2015
January 11 @ 1:00 pm – 5:00 pm
The time to unite and stand together against injustice has arrived.
There is No Justice #Justus
For the first time, the justice campaign groups shall be standing shoulder to shoulder to say 'No to Racism, No to discrimination, No to police cover up and Yes to Justice'.
Date: 11th January 2015
Time: 1pm
Assembly point: Bury Park area by Nadeem Plaza, Dunstable Road, Luton
The intention is to have a peaceful march from Bury Park Luton, along Dunstable Road, Stuart Street and then stop on Buxton Road outside the Luton Police Station, where dynamic speeches shall be delivered by various Justice campaign groups and their supporters.
We need to raise awareness of the issue affecting the public from failures by our police force and call for it to stop. Justice Groups in attendance will include Justice4Faruk, Justice4Leon, Justice4Paps, Justice4Maya, and Justice4Mark Duggan.
March for Justice
Against Police brutally
Against Racism
Against Fascism
Please show your support on the day and also follow us on Facebook and Twitter for more planned events and announcements in the New Year.
Many communities, One Voice for Justice!
Follow us
Twitter: LutonJustice
Facebook: Luton 4 Justice"
Tags: Demo, Fuck the Police, Mark Duggan, Police Bastards, Police Brutality, Racism, Repression, UK
Posted in Anti-Fascist
Sunday, December 21st, 2014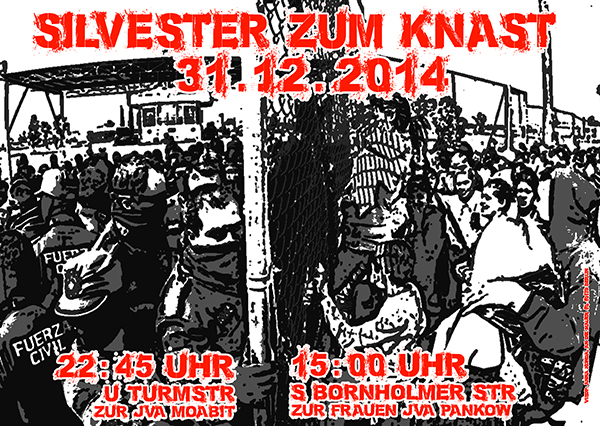 Bremen, Deutschland: endofroad.blogsport.de
Stuttgart, Deutschland: www.silvesterdemo-stuttgart.tk
Bristol, UK: bristolabc.wordpress.com
London, UK: network23.org/londonabc
Durham, North Carolina, USA: www.facebook.com
New York City, New York, USA: nycabc.wordpress.com
Oakland, Kalifornien, USA: www.facebook.com
Portland, Oregon, USA: www.facebook.com
Seattle, Washington, USA: pugetsoundanarchists.org


Call from Berlin-
Aufruf
"…solange es eine Unterschicht gibt, bin ich Teil davon. Solange es kriminelle Elemente gibt, bin ich eines davon, und solange auch nur eine Seele im Gefängnis ist, kann ich nicht frei sein."
Eugene V. Debs
Knäste sind das Resultat einer kranken Gesellschaft, welche zu feige ist sich mit ihren Problemen auseinander zu setzen. Wer sich den fremdbestimmten Regeln widersetzt, sich normfremd verhält oder manchmal einfach nur um Überleben kämpft hat in der Reproduktionsmaschinerie von Staat und Politik schlechte Karten. Kriminalisierung und schließlich das Wegsperren sind die vermeintlich leichtesten Mittel der Wahrheit aus dem Weg zu gehen und sich einer grundlegenden Konfrontation zu entziehen. (more…)
Tags: Anti-Prison, Fuck the Police, New Year, Prison : Abolish or Destroy?, Prison Abolition, Prison demo
Posted in Prison Struggle
Saturday, December 6th, 2014
REPRESSION IN UK
December 3, 2014 – According to the British mass-media, there is an arrest warrant, with a size of £10,000 to anyone offering information about an anarchist comrade, already free / fugitive for three years following the repression that followed the explosion of urban warfare 2011 in Bristol and a series of attacks, anonymous and signed ELF, FAI.
The media refer to more than one hundred attacks that occurred in the UK in the last three years, that have produced more than £20 million of damage, at various targets including pylons for telecommunications, banks, luxury cars and a center of police training completely destroyed during an attack, including the latest in solidarity with Nikos Romanos, which occurred a few days ago.
The comrade sought, Huw Norfolk, is accused of some of these attacks.
The following pamphlet was written by persons unknown: Since the Bristol Riots
"We are the "lost kids" angry and disappointed by false promises, the "uncontrollable youth" unsatisfied with the paltry futures offered to us, the "useless components" who reject or are excluded anyway from wage-slavery or the "disruptive elements" who fight to destroy it from within, the "minority of trouble-makers" within the constructs of obedient-hierarchical-racist-patriarchal normality, the "hooded rioters" within the constant revolt against all that and more. We are your children, and those of your society. And it is time today for the components of that society to decide if they will be the hand trying to stop us, or the hand lighting their own conspiracy for self-determination."
Huw 'Badger' Norfolk
just another fugitive.
October 2011
–
More from ABC Bristol:
http://bristolabc.wordpress.com/2014/10/15/statement-against-police-harassment/
http://bristolabc.wordpress.com/defendant-solidarity/police-harassment/
http://bristolabc.wordpress.com/2014/11/18/action-report-back-at-ya-police-harassment/
ABC Hurricane:
http://abchurricane.noblogs.org/post/2014/09/27/bbc-anarchists-intent-on-bringing-chaos-to-the-streets-uk/
–
REPRESSIONE IN UK
3 dicembre 2014-Dai mass-media britannici si legge del mandato di cattura, con taglia di 10.000 sterline per chiunque offra informazioni su di un compagno anarchico, già libero/latitante da 3 anni in seguito alla repressione seguita all'esplosione di guerriglia urbana del 2011 a Bristol ed ad una serie di attacchi, anonimi e firmati ELF, FAI.
I media fanno riferimento a più di cento attacchi avvenuti nel Regno Unito negli ultimi negli ultimi tre anni che hanno prodotto più di 20 milioni di sterline di danni,a vari obiettivi tra cui tralicci per le telecomunicazioni, banche, auto di lusso ed un centro di addestramento della polizia integralmente distrutto durante un attacco, tra cui l'ultimo in solidarietà a Nikos Romanos avvenuto pochi giorni fa.
Il compagno ricercato, Huw Norfolk, è accusato di alcuni di questi attacchi.
Di seguito un suo scritto dalla latitanza, tratto da Since the Bristol Riots
Noi siamo i "ragazzi perduti", arrabbiati e disillusi da false promesse, la "gioventù incontrollabile" nsoddisfatta del misero futuro che ci viene offerto, i "componenti inutili" che rifiutano o sono in ogni caso esclusi dalla schiavitù salariata o gli "elementi di rottura" che combattono per distruggerla dall'interno, la "minoranza di guastatori" degli schemi della normalità obbediente-gerarchica-razzista-patriarcale, "gli incappucciati" in rivolta costante contro tutto questo ed oltre. Siamo i vostri figli, e quelli della vostra società.
Ed oggi è venuto il tempo per i componenti di quella società di decidere se saranno la mano che cerca di fermarci,o la mano che accende la propria cospirazione per l'auto-determinazione.

Huw 'Badger' Norfolk
Solo un' altro in fuga.
Ottobre 2011
Tags: ABC Bristol, Bristol, Croce Nera Anarchica - Italia, Earth Liberation Front, Fuck the Law, Fuck the Mainstream Media, Fuck the Police, Huw 'Badger' Norfolk, Informal Anarchist Federation (FAI), Nikos Romanos, Repression, UK
Posted in Social Control
Tuesday, December 2nd, 2014
[Noticias de la Guerra Social]
Durante la mañana del 11 de Noviembre del 2014, se activo un intenso
operativo por parte del GOPE (Grupo de Operaciones Especiales), tras el
aviso que realizo el guardia de seguridad al encontrar un artefacto
explosivo instalado en la CESFAM, un centro de salud de carabineros.
Esta institución se encuentra cerca del paradero 5 de Pajaritos, en
calle Gladys Marín 6701, la cual fue completamente evacuada y sitiada
por la policía para intentar desactivar el artefacto..
Mediante la carroña periodística y los voceros de la fiscalía, www.buyavodartsite.com se
informo que el GOPE no pudo realizar una detonación controlada, teniendo
que neutralizar el artefacto y llevarlo a periciar en laboratorios de
Labocar.
El explosivo habría sido un Niple o tubo metálico, de cerca de unos 30
cm, tapado en ambos extremos repleto de TNT mas Anfo, que pretendía ser
activado mediante una mecha la cual no habría funcionado.
En el lugar no fueron encontrados panfletos y hasta el momento ningún
grupo ha revindicado la acción.
Tags: Chile, Fuck the Police, Santiago
Posted in Direct Action
Friday, November 28th, 2014
Last night (25/26 November), the first spark of fire that burns today in France, Greece and USA, illuminated the space under a car of the city-police, which was parked outside the police station in Mazowiecka street in Warsaw.
We'd chosen the target not by accident.
The institution of the City Police – summoned in purpose of cleaning the city-parks had become a paramilitary group, who 'cleans' mainly homeless people, hustles kids that smokes weed or skip school. So called routine 'interventions' usually end up with brutal violence – petting boys in uniforms' egos.
That's how on the 3rd of October, the City police's intervention ended in Szczecinek – by dumping a 20 year old beaten to a pulp in front of hospital. For that, or for other interventions of this type – no policeman was ever held responsible – so we're taking the justice in our hands.
It disgusts us that they're walking the streets with impunity and pride. Just like the murderer of Max Itoya – Artur Brzeziński, Mike Brown's executioner – Darren Wilson or the killer of Remi from Testet. There is no, and there will not be the agreement for that from the part of the society. We will not leave them alone, because when they put on their uniforms, they stop acting as people, they stop being people in our eyes, they're the bodyguards of the government – the money advocate.
Politicians recently are racing in postulating to dissolve the city-police. Neither the orders from up there, nor any reform that would dissolve the services under a concrete name (not holding responsible these bandits in uniforms and in the same time helping to grow other services) is not going to be enough for us.
The idea of dissolving the city-police that we're putting into practice is a physical confrontation. It will not leave out the police, prison guards or border police. We know, that we're taking part in the global wave of resistance that already takes place and will grow stronger, also here – in Poland. So, don't be afraid to act! let them finally feel the fear, that they're serving us. Destroying the law enforcements isn't difficult – start from killing the cop in your own head.
Our symbolic action we're dedicating to the memory of Remi killed by the cops in french Testet and to friends behind the bars.
Instead of a minute of silence – a whole life in struggle!
Fire to all the prisons, closed detention camps, psychiatric wards and police stations!
Queer Meinhof/ FAI (Informal Anarchist Federation)
Tags: Arson, Fuck the Law, Fuck the Police, Informal Anarchist Federation (FAI), Poland, Police Bastards, Queer Meinhof / FAI, Solidarity Action, Warsaw
Posted in Direct Action
Thursday, November 27th, 2014
325 receives and transmits from North Carolina:
On Tuesday night November 25th, a group of people enraged by the police murder of
Mike-Mike Brown, and inspired by the rebellious acts that have spread across the
country, vandalized the Durham National Guard Armory on Stadium Dr. Messages were
painted on the front doors and over a dozen windows were smashed out.
The National Guard is now on the streets of St. Louis and Ferguson, continuing the
racist cops' war on behalf of the rich against the poor.
This act followed an exciting night of protest in downtown Durham, in which a
diverse hundreds of people spoke out about their experiences at the hands of the
police, blocked streets, set off fireworks, spray-painted buildings with anti-police
and anti-prison messages, and blocked the northbound side of Highway 147.
We hope all of these acts contribute to a continued escalation in local, combative
struggle against racism, capitalism, and the state.
For anarchy,
XXX
Tags: Fuck the Police, USA
Posted in Social Control
Tuesday, March 18th, 2014
Just over a week ago, an Interim Possession Order was served on a squatted church in Brighton. Deciding to resist the IPO, the squatters barricaded the building, and took to the roof in protest and a large group of people gathered outside.
A Banner was hung from the roof stating "The meek shall squat the earth" in reference to some religious nonsense found within the church, and a black flag was flown whilst the squatters maintained a presence on the roof for 3 consecutive days.
Out of the numerous police patrols that passed, one cocky sergeant decided to parade around the church and threatened that the police would return at 5am in the morning to evict the squatters. (more…)
Tags: Brighton, Fuck the Church, Fuck the Law, Fuck the Police, Squatting, UK
Posted in Direct Action
Friday, January 10th, 2014
Action report censored by the pacifist-judiciary of Indymedia UK:
8th of January – incendiary device on delay left at Kia car showroom, Lower Bristol Road, Bath. Damage to the building facade. A brand new 4-x-4 and three cars also consumed by the flames. A direct attack on exploitative manufacturing industries who profit from choking our world, who also make status symbols for our class enemies. This section of the Earth Liberation Front and Informal Anarchist Federation has them in our sights.
With the cops cleared of the execution of Mark Duggan that started the riots of 2011, as good a time as ever to re-ignite the streets.
Unfortunately for the enemy, the 32 year old man arrested for the action has no relation to our group.
Active solidarity with:
– the stirrings of new struggle against road building programs in the UK (traces of which we saw in Combe Haven), specifically with the ones who won't take the path of liberals and pacifists next time.
– Swiss anarchist Marco Camenish (who is on hunger strike and refusing work since the 30th of December) and also informal anarchist prisoners Alfredo Cospito and Nicola Gai in Italy.
– Henry Zegarrundo (who we recognise as a kindred spirit through his letters) targeted by the Bolivian prosecutors, those on the run, and the anarchist and indigenous peoples still fighting the highway development.
Bristol – Toluca – Jakarta – Moscow – Buenos Aires – Melbourne – keep the fires burning

Perennial Resistance ELF-FAI
Tags: Arson, Bath, Car Burning, Earth Liberation Front, Fuck the Police, Henry Zegarrundo, Informal Anarchist Federation (FAI), International Solidarity, Marco Camenisch, Mark Duggan, Perennial Resistance ELF-FAI, UK
Posted in Direct Action