Posts Tagged 'Fuck Work'
Friday, March 11th, 2016
Fuck you all, it's the Fuck Parade
Meet Sunday 1st May 2016, 6pm @ One Commercial Street, Aldgate, London E1 7PT. Bring what you expect to find.
http://fuckparade.wordpress.com
Tags: 1st May, Demo, Fuck McDonalds, Fuck the Church, Fuck the Law, Fuck the Mainstream Media, Fuck the Police, Fuck the Queen, Fuck Work, Fuck You Tesco, London, UK
Posted in Direct Action
Tuesday, April 14th, 2015
YES MAYDAY | NOEXPO
INTERNATIONAL WORKERS' DAY IN MILAN
After seven years of crisis the precarious pride has become rage and indignation against the burgeoning unemployment and the growth of poverty imposed by BCE & IMF to most of the population with austerity policies, particularly in Italy, Greece and the rest of the Latin Europe. Social slaughter, plunder of wealth and common goods, the end of the public city are the bases upon which governments build their response to the economic crisis.
The whole urban environment is the heart of many overwhelming social tensions. It is dominated by profit-based logics, soil consumption, the speculative spiral and the showcase city formula, in which the territorial branding is everything and inhabitants needs count as nothing, which leads to environmental exploitation, militarization of life, as we see in Val Susa, attack against our city back streets.
Italy deeply suffers precariousness, exploitation, repression. Corresponds to our need of places for political activism and criticism their evacuation and closure. (more…)
Tags: Demo, EXPO Milan 2015, Fuck Work, Italy, Mayday, Milan, Riots
Posted in Autonomy
Saturday, March 28th, 2015
Fuck the Police – Fuck the Tories – Fuck the lot of them – All Fucking Wankers
http://www.classwarparty.org.uk/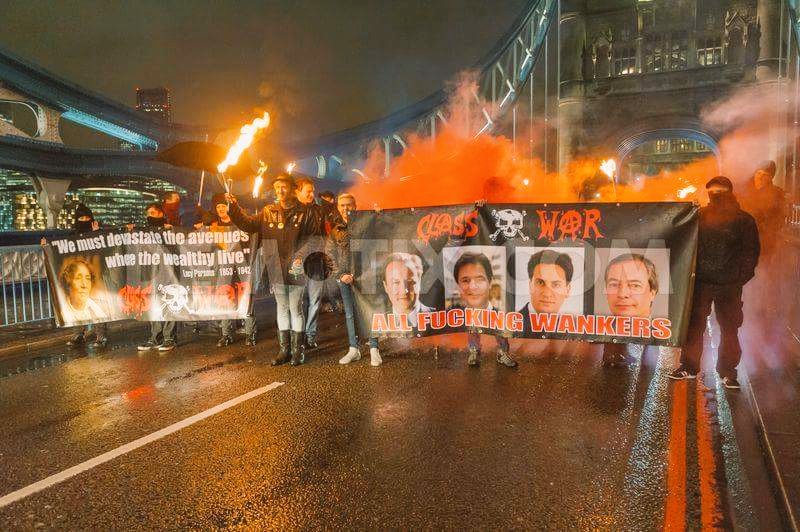 Tags: Class War (UK), Demo, Fuck School, Fuck the Church, Fuck the Elections, Fuck the Law, Fuck the Mainstream Media, Fuck the Police, Fuck the Queen, Fuck Work, Fuck You Tesco, Mayday, Police Bastards
Posted in Uncategorized
Friday, June 17th, 2011
17 June 2011
"Early Friday morning, 17 June, we brought disorder to Chesterton Road, Cambridge. The HSBC bank was graffitied, its locks glued, its cashpoint trashed using glue and spraypaint. The offices of Seetech, a 'back to work' training company, was graffitied with the words FUCK WORK and circled As, a bike lock was used to chain the front doors and the locks were glued. We then visited the Chesterton Road JobCentre and graffitied the front saying FUCK WORK B4 IT FUCKS U and so on. We then sabotaged the cashpoints of the Lloyds TSB and the Barclays banks nearby, also graffiting both offices and gluing locks. A few other nearby businesses had their locks glued and were graffitied, including the slogan SMASH AUTHORITY, FUCK THE POLICE.
This goes out to other marginalised people, those who cannot and/or will not integrate into this sick society.
International solidarity to imprisoned fighters, including American eco-anarchist prisoners Marie Mason and Eric McDavid, also not forgetting another long term caged freedom lover Ted Kaczynski (aka FC or 'Unabomber').
We will not forget or give in, subversive complicities are our strength! Until all cages are destroyed…"
Anonymous Autonomous
Tags: Barclays bank, Cambridge, Eric McDavid, Fuck the Law, Fuck Work, HSBC, International Solidarity, Jobcentre, June 11th Solidarity, Lloyds TSB, Marius Mason, Sabotage, Seetech, Ted Kaczynski, UK
Posted in Direct Action