Posts Tagged 'G20'
Thursday, August 29th, 2019
(FR) Vienne, Autriche : Incendie d'une antenne d'autoroute en solidarité avec les trois du banc public de Hambourg
(IT) Vienna, Austria: Le nostre inclinazioni dannose si stanno consolidando
We learned with rage that our comrades of Hamburg known as "the park bench three", are in prison on remand. The fact that two of them are charged with "harmful inclinations" doesn't surprise us. Always, those who rebel against the prevailing order are condemned as "parasites".
Our comrades are clearly accused of attempted arson as they were arrested in possession of incendiaries in this Hamburg park. It should be clear to everyone that this is yet another repressive blow against the anti-G20 rebels and their world, also concerning the arrest on the day of the anniversary of the riots. (more…)
Tags: Arson, Austria, G20, Hamburg, International Solidarity, Park Bench 3, Sabotage, Solidarity Action, Vienna
Posted in Direct Action
Sunday, July 14th, 2019
via https://de.indymedia.org/node/34562:

Solidarity with the Three from the park bench
During the night of 8 July 2019, three of our friends and comrades were arrested and after that several apartments were searched. After the prison examination two of them are now in custody, the third person got released on parole. According to the press, they are accused of preparing an arson attack in connection with the anniversary of the riots against the G20 summit in Hamburg in 2017.
Show solidarity and show them that they are not alone!
If you want to write to them you can send letters:
Libertäres Zentrum
Karolinenstraße 42 (Hinterhaus)
20357 Hamburg
[Germany]
Keyword "Die Drei von der Parkbank"
We are furious!
Whether guilty or not, solidarity with all those affected by repression!
Freedom for all prisoners!
Burning hearts cannot be locked up!
Tags: G20, Germany, Hamburg, Repression
Posted in Social Control
Sunday, March 3rd, 2019
On the night of February 18, a bank ATM in the Usera neighborhood was set on fire. This small action is a sign of encouragement for Lisa, recently moved from Germany to Madrid; for the repression of the G20; the comrades arrested in Madrid on 30 October – accused of burning another Bankia ATM – and for the comrades in Italy, recently beaten in new operations against the anarchist environments in Turin and Trento, as well as for the comrades on trial in the Scripta Manet and Panic operations.
Let the Spanish and Italian states know that anarchist solidarity will not stop. And it will be formed by more than words. Sabotage is easy and simple. In the possibilities of its reproduction is its strength.
Also, this small action serves as a contribution to the week of agitation and propaganda against gentrification, spatial capitalism and in defense of squatting.
Freedom for Lisa, freedom for all!
Long Live Anarchy!
Tags: Arson, ATM Burned, G20, International Solidarity, Lisa, Madrid, Operation Panic, Operation Scripta Manent, Sabotage, Solidarity Action, Spain
Posted in Direct Action
Sunday, February 17th, 2019
Recibido por correo electrónico
A principios de julio de 2017 tuvo lugar en Hamburgo la reunión del g20. Representantes de los países dueños de la economía mundial, planeaban durante dos días como seguir manteniendo ese sistema de miseria, explotación y muerte. Manifestaciones, bloqueos, sabotajes, enfrentamientos con las fuerzas del orden, saqueos… (al igual que ataques descentralizados las semanas previas) pretendieron, y lograron durante muchos momentos, interrumpir el normal funcionamiento de esta cumbre.
El 6 de junio, el día que llegaban los políticos, acompañados de sus más de 6000 delegados, seguidos en todo momento por más de 3000 periodistas y protegidos por unos 10000 policías, estaba convocada una manifestación anticapitalista bajo el lema de Welocome to Hell. (more…)
Tags: G20, Germany, Hamburg, International Solidarity, PDF, Repression, Spain, Zine
Posted in Library
Monday, January 28th, 2019
Tags: Flyposter, G20, Germany, Hamburg, International Solidarity
Posted in Social Control
Wednesday, January 9th, 2019
Columns of smoke escaping from the roofs of the rich district of Elbchaussee, helicopters turning in the sky. By far, that was what let some early-bird residents guess that something was going on, perhaps beyond the statements of the riot police and secret services. A crowd of hooded people pursued their goal of publicizing their vision of things, destroying both in a targeted and blind manner a tiny part of this world of prosperity.
A wonderful sign. A street of cars in flames, souls completely helpless absolutely not wanting to understand why they had just been the victim of this useless violence. We have a great mark of respect for the risk that people had been ready to take.
After all, it already seemed to appear on the radar of all the intelligence services, before the summit, that the limits of the city were going to be surpassed. A moment of offensive demonstration, whose character has only rarely been achieved in this country.
Since 18 December, five comrades from Frankfurt, Offenbach and from France have been going before the higher regional court of Hamburg. They are accused of having been part of this ride. The relevant items are films and video material that the cops have analysed in detail . They claim to be able to identify people in a cohort of hooded individuals dressed all in black. (more…)
Tags: Arson, Berlin, G20, Germany, KONE, Sabotage
Posted in Direct Action
Tuesday, January 8th, 2019
Responsibility claim for the arson attack against the Courthouse in Wedding
Europe-wide raids and house-searches. Arrests and extraditions. Informers and denunciations. The joyous chaos of the summit days and the confirmation of the loss of control forces the State to react. The reactions are noticeably more hostile than they have been for many years. Direct attacks against us and our structures are the reply of the rulers. The intensification of the persecution, the will to punish and the depoliticization of our ideas and actions are promoted.
What is forgotten within this logic is that we are united by political fragments like small parts of a puzzle – be it events, trains of thought that are happening in other cities or suddenly appearing in texts – and also by the reduction of the accomplices that are to be removed from the common table. We don't have to know the people who are on the streets with us. Through our sometimes unspoken ideas, we feel connected to each other and by meeting together in the streets, we act together, so that these ideas are not just dreamed of in a vacuum.
The enemy's current attempts to condemn the few who have resisted the many cannot be left unanswered by our side. (more…)
Tags: Arson, Berlin, G20, Germany, Sabotage
Posted in Direct Action
Wednesday, November 21st, 2018
On November 14th, two specific events took place in the city of Buenos Aires, with media coverage and a rapid police / judicial response.
During the afternoon, in the Recoleta cemetry, at the mausoleum dedicated to Colonel Ramon Falcon (assassinated by comrade Simón Radowitzky) – a bomb explodes leaving the comrade Anahi Salcedo wounded, she is transferred to Fernandez hospital and detained with wounds to her face and skull as well as the loss of three fingers on one of her hands. She is currently in an induced coma. At the same place, comrade Hugo Rodriguez was arrested.
Hours later, outside the home of Judge Bonadio (famous for his hard line, his indelible past with the youth of the iron guard- a Peronist fascist group, and his current practice and discourse against anti-conservatism and repression of dissenting sectors and individuals opposed to the current order), comrade Marco Viola is arrested, accused of throwing an explosive device at the magistrate's car.
At dawn, and throughout the following days, various spaces of the anarchic environment including squats, neighborhood centers and private homes are searched, resulting in the arrests of another 12 people.
The detainees were transferred to 2200 Cavia street where the anti-terrorist unit works, then to the police superintendence on Madariaga street, and then finally on Saturday morning they were taken to the Comodoro Py courts to testify in front of judge Ercollini and the public prosecutor Di Lello, following 72 hours of uncertainty, isolation and being subjected to who knows what by the eternally miserable wretches.
After this, two people are released, leaving a total of 10 imprisoned comrades charged with illegal association, public intimidation and possession of explosive material. The two actions unified under the same cause.
At the moment it is all prudential what can be transmitted, we know that other places are under surveillance, as well as specific people, since the government itself have confirmed the seizure of more than 100 private phones belonging to activists, and they have reopened investigations into direct actions that were carried out in the city from 2005 until the present (some claimed by anarchists and others not).
The call is clear and leaves no room for double interpretations.
Every gesture of concrete solidarity is welcome and desirable.
Do not leave the comrades kidnapped by the Argentine State alone, without fear and with perseverance extend the offensive.

ANARCHIST NIHILIST ANTI-AUTHORITARIAN COMRADES WE ARE HERE AND WE ARE STRONG
WITHOUT FEAR AND WITH MORE ANGER THAN EVER
FREEDOM FOR THE ANARCHIST PRISONERS
Tags: Anahi Salcedo, Argentina, Buenos Aires, G20, Marco Viola, Repression
Posted in Social Control
Saturday, November 17th, 2018
Wednesday, November 14th, in Buenos Aires, almost simultaneously, two locations were attacked with bombs. The first attack, at the Recoleta cemetery, failed unfortunately. The bomb exploded in the hands of one of the two people carrying out the action. It was aimed at the tomb of Ramón Falcón, a police chief who was
responsible for the murder of 11 protesters on May 1st, 1909, and who was assassinated several months later by the anarchist Simón Radowitzky. The comrade who led the attack is in a serious condition in hospital and the comrade who accompanied her was arrested.
A few hours later, a bomb was thrown at the house of Federal Judge Claudio Bonadi. The comrade who led the attack was quickly arrested as well.
On the night of Wednesday to Thursday, 10 people were arrested in a Buenos Aires squat.
As a reminder, the G20 in Buenos Aires begins in 2 weeks.
[Summary from the Argentine press, as soon as more information is published by Argentine comrades, we will publish it]
Tags: Argentina, Buenos Aires, G20, Repression
Posted in Social Control
Thursday, September 27th, 2018
During the International Week of Solidarity with Anarchist Prisoners more than a dozen ATMs in different neighborhoods of Madrid were sabotaged. The tools for these types of sabotage and simple and easy: hammers and sprays.
We understand solidarity as a continuity of the struggle that has led to our compañerxs being held in the prisons of the State. Anarchist solidarity is much more than just a written word or doing assistance work with the prisoners. This solidarity is materialized via attacks against the structures of capitalism and State, and seeks to deepen the conflict through direct action.
Down with the walls of the prisons. Long live anarchy.
For the compañerxs hit by Operation Scripta Manent!
For the compañerxs facing repression following the Hamburg G20 summit!
For the Indonesian anarchists prosecuted after May 1st!
For Lisa and all the anarchist prisoners!
Anarchists
Tags: G20, International Week for Anarchist Prisoners, Madrid, Operation Scripta Manent, Sabotage, Spain
Posted in Direct Action
Sunday, September 2nd, 2018
With this we take responsibility for the incendiary device we placed in front of the building of the German Society for Foreign Politics (DGAP) in Drake-/Rauchstraße (Tiergarten) in the night of 21.8.18.
13 litres of a petrol-oil-mixture shall be the beginning of putting an end to the undisturbed and fearless existence of the DGAP as a political advisor of the German war society.
Since the beginning of this year increased attacks against the war industry, their profiteers and financiers take and took place over all the German controlled territory. We join these attacks and let the fire speak from our side. War starts here! War on the war!
War starts here, in the halls of politics. War starts everywhere, where people throw away their empathy, to profit from the globalized misery. In the war-industry, the thinktanks of science, in the faceless administration of bureaucracy, in the form of uniformed slaves, who receive and obey orders in rank and file. War starts between human beings, when concurrence and aspiration to power reigns over solidarity and the free development of the individual.
German Security – Profit through war
Through the choice of the DGAP as the target of our incendiary device we declare the ideological architects of German-European hegemonic politics, the scientists and forerunners of a security paradigm which works with as well as alongside of warmongers and in this way are our enemies. What they declare about security is not ours. Their foreign policy is a policy of order. And their order needs tanks against uprisings and frigates against inflatable dinghies, it builds fences against the suppressed and works continuously to extend their ongoing misery. (more…)
Tags: Arson, Berlin, G20, Germany, International Solidarity, Kurdish Struggle, Rojava, Sabotage, Solidarity Action
Posted in Direct Action
Friday, August 17th, 2018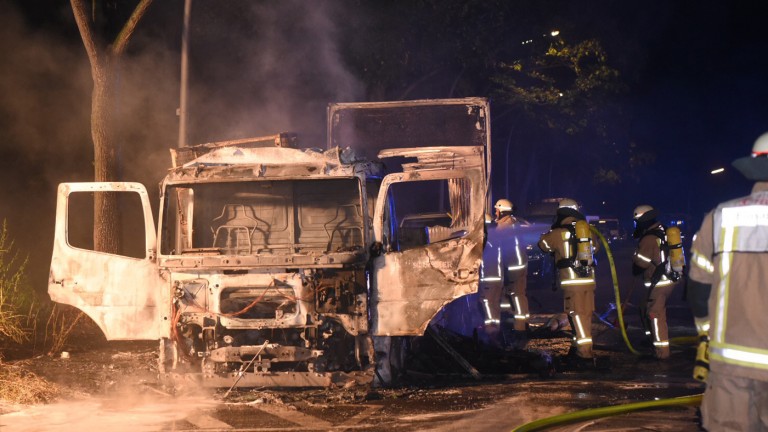 Berlin – Enemy supply lines attacked
We burned a truck of DB Schenker in the night to August 8th in Berlin-Wedding. When Erdogan arrives in Berlin on September 28. / 29., he will find our hostility here. Who rolls out the red carpet for the fascist Erdogan – X Day – is supposed to feel the ashes of the burning city in the nose.
Already since the year 2000, the ESG Elektronicsystem- and Logistics company runs together with its partner Schenker Germany AG (DB Schenker) the headquarters of logistics – called ZEBEL – of the German Armed Forces (Bundeswehr) in Kassel. From this hub with 17.000 square metres occurs the supply of civil partner companies and military repair workshops, which maintain Bundeswehr systems and vehicles. The transport of war material has most priority for DB Schenker. With it, the subsidiary company of Deutsche Bahn is responsible for the logistics and supply with NATO equipment to the Turkish Army in their war against the Kurdish areas. (more…)
Tags: Arson, Deutsche Bahn, G20, International Solidarity, Kurdish Struggle, Sabotage
Posted in Direct Action
Tuesday, August 7th, 2018
First appeared as "Ein Gespräch mit einigen Militanten über die informelle Koordinierung im Vorfeld der G20" in Rauchzeichen, a magazine published by Autonomous Groups, Fall 2017 and now first published in English on Anarhija. This is late, but not too late. We can use this conversation to prepare something for the coming black bloc attack next year in Biarritz/France, where the G7 summit will be end of Summer 2019.
–
AG: At the end of the summer of 2016, several communiques propose an informal coordination of radical groups in the run-up to the G20 summit in Hamburg. You took part in it. What interventions were you aiming for and which perspectives did it entail for you?
[Chuzpe]: "On the occasion of several big events like the G8 in Heiligendamm in 2007 or around the Destroika prior to the inauguration of the European Central Bank in Frankfurt in 2015, there have been similar proposals and radical campaigns. It is not a very new idea. Starting from an anarchist analysis, I see the necessity of a permanent conflictuality and I'm sceptical towards this staging of a political play where everyone has its role. Focusing on such an event leads often to the side-lining of everyday struggles. But at the same time, I see the possibility of a tension opening up in such moments, in which the scope of our interventions can amplify. (more…)
Tags: Analysis, G20, Germany, Hamburg
Posted in Interviews
Monday, July 16th, 2018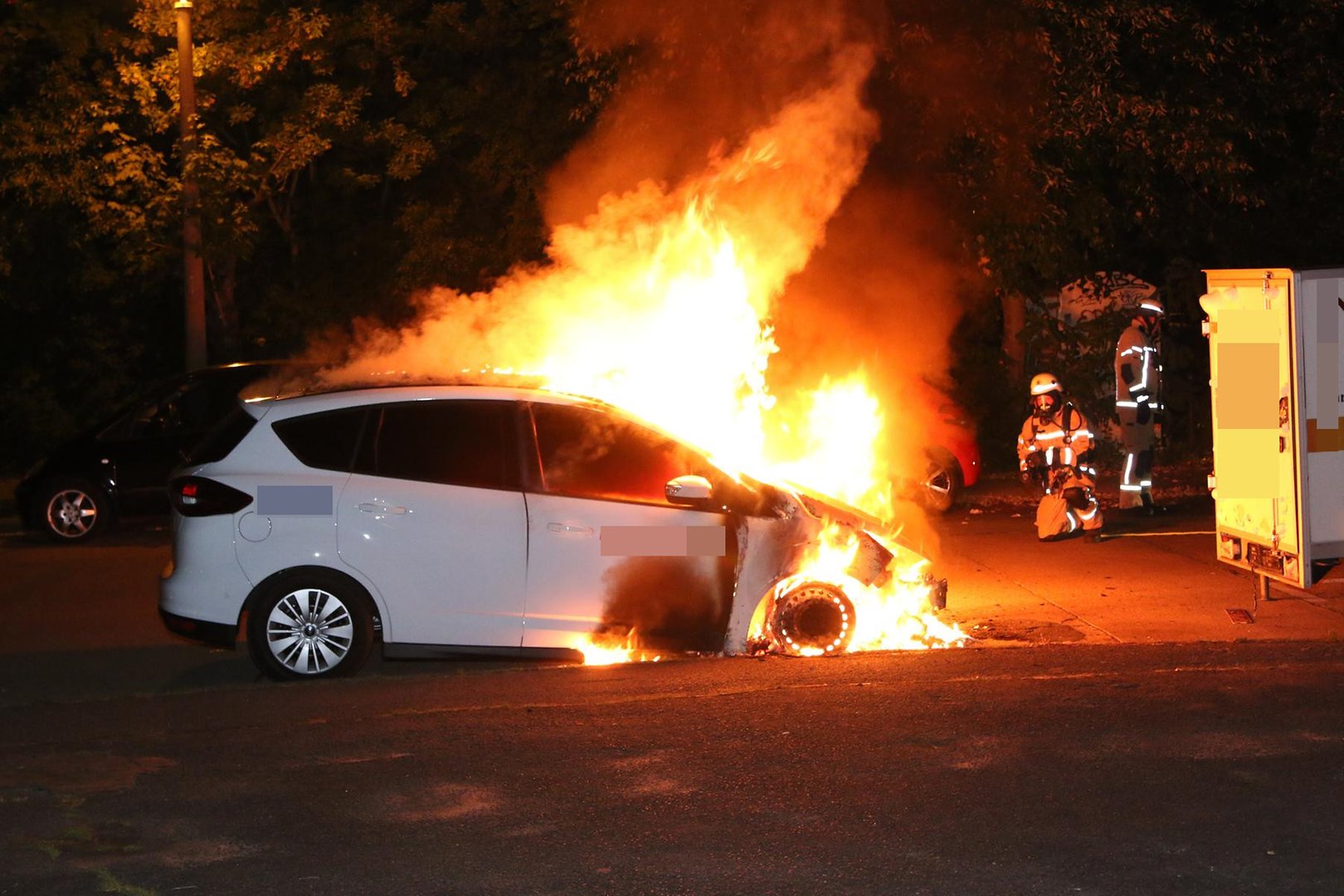 16.07.18: Last night a car belonging to the company Dräger was torched on Hänsel street in Baumschulenweg. Among other things, this corporation that is listed on the stock exchange, manufactures gas masks for police and military use.
In 2010, Dräger locations in Berlin and Cologne were attacked with paint:
"We hit Dräger because it is one of the biggest supporters of the international torture and murder scene, and in addition to sponsoring the police congrees, Dräger is also a leading international security and medical technology company".
From the Dräger annual report:
"Demand for our products increased in 2017, especially in Poland, Great Britain, Austria and Germany, as well as in Romania, Russia and Turkey…The increased demand for security products in particular contributed to the positive development of an increase in orders for medical technology too".
Freedom For All G20 Prisoners!
Tags: Arson, Berlin, Dräger, G20, Germany, Sabotage
Posted in Direct Action
Wednesday, July 11th, 2018
When you set out at night with the intention of burning or putting something out of action, interrupting the paralysis inherent in everyday life, you never know exactly what you will find once you are on the street. Which is how it was one night in mid-June when we came across a Diplomatic Corp car and one belonging to ENJOY* parked side by side next to the footpath. If until then, they had been united together in the same shitty existence in service of devastation, power and domination, we could not help but see their willingness to share the same demise together. And so, just like it was with some excavators in France not long ago, we took note of their will by enjoying the sight of the flames that enveloped them.
We hope that despite the high temperatures of recent days that the heat of this fire may bring a smile to all the comrades locked up in prisons, subjected to judicial controls or under surveillance…

To the Argentine comrade Diego Parodi… Strength, hold on!
To those facing investigation for the G20 in Hamburg.
For the prisoners and the accused of Operation Scripta Manent.
For Giova, Ghespe and Paska.

For Anarchy!
*Translation note: ENJOY is a 'sustainable' vehicle sharing company run by energy company ENI and public transport operator Trenitalia

Source
Tags: Arson, ENI, G20, International Solidarity, Italy, Rome, Sabotage, Trenitalia
Posted in Direct Action