Posts Tagged 'G20'
Sunday, November 19th, 2017
We see that the repressive campaign on the anarchist movement does not cease. Examples are enough: The operation Fénix case in the Czech Republic, the case of the Warsaw Three, charges of bank robbery in Aachen, courts with rebels against the G20 summit in Hamburg and other cases.
Cops, judges, prosecutors, mass-media. They are haunted, imprisoned, robbed, manipulated. This is a challenge to all Revolutionary cells and other groups and individuals. Do sabotages the activities of those bastards. Turn them into terrain, technology and structures. Organize resistance. Support the fugitive and their loved ones.
What destroys us will stop by fighting.
The goal is clear = Freedom, justice, anarcho-communism.

Network of Revolutionary Cells (SRB)
–
https://revolutionarycells.noblogs.org/
Tags: Czech Republic, G20, International Solidarity, Network Revolutionary Cells, Sabotage
Posted in Autonomy
Tuesday, November 14th, 2017
Flensburg, November 10, 2017
On the night of 10.11.2017, a patrol car at Harrislee police station (Flensburg area) was torched. Solidarity with the prisoners from the G20 processes that began on calendar week 45. Freedom for Fabio, Christian and all other comrades affected by repression! Freedom for all political prisoners, you are not forgotten!
via Chronik, Insurrection News.
*Translation note: This action was originally posted on Indymedia in Germany but was removed due to censorship.
Tags: Arson, Fuck the Police, G20, Germany, Schleswig-Holstein, Solidarity Action
Posted in Direct Action
Saturday, November 4th, 2017
Last weekend, we have put up an solidarity graffiti of eighty meters long opposite the police headquarters and training center of The Hague, the Netherlands with the text: Burn all prisons.
The graffiti is in solidarity with Lisa and Peike who are both in German prisons. Lisa is imprisoned for seven and a half years because of a conviction on suspicion of bank robbery. Peike has been sentenced for two years and seven months because of protests against the G20 summit in Hamburg.
We want them free! Freedom for Lisa and Peike and all anarchist prisoners! Burn all prisons!

Anarchist Damage Squad
Tags: Den Haag, G20, Graff, Netherlands, Solidarity Action
Posted in Direct Action
Tuesday, October 24th, 2017
Dear all,
Episode number 5 (10/2017) of "B(A)D NEWS – Angry voices from around the world", a monthly news program from the international network of anarchist and antiauthoritarian radios, consisting of short news segments from different parts of the world, is now online.
Length: 1:15 h
You'll find the audio here.
Content:
* 98fm: Laws, actions and repression in Greece
* A-Radio Berlin: The Anarchist Days in Dresden, Germany
* Radio Fragmata: Struggles in Greece
* 105fm: Immigration struggles, gender violence and other topics from Lesvos, Greece
* The Final Straw: Interview on the case of Hermann Bell in the USA
* Bilda Kedjor: Antifa action in Gothenburg, Sweden
* Radio Kurruf: Mapuche hungerstrike and repression in Chile
* Dissident Island: DSEI arms fair in London and October Revolution 1917
* Frequenz A: Update about repression and solidarity related to the protests against G20 in Hamburg
Other audios from A-Radio Berlin in English (or Spanish) here.
Or visit the new anarchist 24/7 online stream from the Channel Zero
Network: http://channelzeronetwork.com/
Enjoy!

A-Radio Berlin
Tags: Anarchist Radio, Anarchistisches Radio Berlin, Chile, DSEi, G20, Germany, Greece, Hermann Bell, Mapuche, Sweden, UK, USA
Posted in Autonomy
Monday, October 9th, 2017
The anarchist comrade Riccardo, arrested and imprisoned since 7 July 2017 for the days of riots against G20 in Hamburg, was released today (5 October), following the court decision that sentenced him to 1 year and 9 months, but with the benefit of suspended sentence.
Solidarity with the rebels of G20!

–
Also read this article.
Tags: G20, Germany, Hamburg, Riccardo Lupano
Posted in Prison Struggle
Monday, October 9th, 2017
Spontaneous demonstration in Amsterdam in solidarity with G20 prisoners
Yesterday (30-9-2017) a manifestation took place in Amsterdam in solidarity with comrades who are momentarily in prison after the G20 protests in Hamburg (Germany) this July. After the manifestation a spontaneous demonstration started through the inner city of Amsterdam.
100 people took part in the manifestation in solidarity with G20 prisoners. There were speeches and music acts. After the manifestation about 50 people walked an unannounced demonstration through the centre of Amsterdam to Spuiplein.

Freedom for all G20 prisoners! Freedom for Peike!
Tags: Amsterdam, Demo, G20, Netherlands
Posted in Direct Action
Thursday, September 28th, 2017
On Wednesday more than 100 cops raided 14 apartments and a store in Hamburg and the German state of Schleswig-Holstein. The cops confiscated 7 iPhones during the raids. On October 1 there will be a demonstration to Billwerder prison in Hamburg. Many of the NoG20 prisoners are imprisoned in Billwerder. We also publish some of the addresses of NoG20 prisoners and the next trial dates. Earlier today NoG20 prisoner Orazio was released.
The cops confiscated 7 iPhones during the raids. The cops claim the iPhones were stolen as a mobile phone store was looted during the NoG20 protests in Hamburg on July 7. In a press conference the cops yesterday claimed that they are investigating 2000 people, but expect that this number will rise to 3000. Given the fact that yesterdays raids were based on located mobile phones that were allegedly stolen in a mobile phone store during the NoG20 protests, its possible that the 180 men/women strong special investigation squad "Black Bloc" actually don't seem to have that much. But activists should be aware that the cops are also investigating video material from public transport companies and that they use face recognition software to identify people. The 180 men/women strong task force will continue to investigate in order to repress as much people as possible, so stay alert. (more…)
Tags: G20, Germany, Hamburg, International Solidarity, Raids, Repression
Posted in Social Control
Thursday, September 28th, 2017
Transnational Gathering for G20 Prisoners Support from November 3rd until November the 5th, 2017, at the Rote Flora in Hamburg.
The campaign "UNITED WE STAND" is a loose network of different people and groups to support the ones who face repression after the G20 summit in Hamburg. Our focus is to support them during prison and trial.
We invite in particular those who have comrades, friends and relatives in jail because of the G20 summit – to get to know us, exchange experiences, come together, develop ideas and strategies and to learn from each other. We want to gain more power together to handle repression.
During the gathering, we want to develop future action strategies, it's not a wrap-up.
The schedule
Friday: arriving, food and get to know each other
Saturday: breakfast, actual situation of prisoners and trial, we
would like to discuss the following topics
Trial
Support
Networking
Sustainability
Sunday: demonstration the the jail in Hamburg-Billwerder with a manifestation with greetings, music and encouragement.
We welcome your ideas and suggestions for the weekend, please tell us
with the application.
Please write us if you come as soon as possible, thereby we can support
you with your expenses and to find a place to stay.
See you in November "UNITED WE STAND"
application: international.gathering [at] riseup [dot] net
sleeping: unterschlupf [at] riseup [dot] net

via enoughisenough14.org
Tags: G20, Germany, Hamburg, International Solidarity, Rote Flora, Solidarity Event
Posted in Prison Struggle
Monday, September 25th, 2017
The trial that will see Riccardo accused will be held on 5 October at 9.00 at the court of Altona – Hamburg (Max Bauer Allee 91.). It will be open but we do not yet know whether the judgment will be on the same day or will slip to another date. It depends on the hearing (in many cases they have been judged in a single day also because the defendants have confessed).
He will be judged by the second degree court that has sentences from two years upwards (in Germany the courts are divided into 3 levels based on the requested sentence, it is not a special court). The formal charges are: breach of the peace, attack by assault and resistance.
Regarding mail censorship, there have not been any systematic blocks but some letters are blocked (so far they are 3, spread over time: a postcard, a letter, an envelope containing newspapers from Hamburg).
Then envelopes containing counter-informative material and brochures were blocked.
Address:
Riccardo Lupano
Jva Billwerder
Dweerlandweg 100
22113 Hamburg
Germany
Tags: G20, Germany, Hamburg, Riccardo Lupano, Trial
Posted in Prison Struggle
Monday, September 18th, 2017
G20. Updates on trial against Riccardo
The date of the hearing against Riccardo, an anarchist charged with criminal offences relating to riot days against G20 in Hamburg in July, is set. It will be held on 5 October at the Court of Hamburg.
We call on everyone to take part in solidarity presence, organised for that day, in the courtroom (Riccardo will be there) and at the Court, as well as in activities which will be promoted in Genoa during those days.
Updates will follow.
Meeting to discuss solidarity initiatives and updates:
Tuesday 19 September, 20.00 pm.
Il Mainasso — 6, Square Santa Maria in Passione — Genoa, Italy
Tags: G20, Genoa, Germany, Hamburg, Italy, Riccardo Lupano
Posted in Prison Struggle
Wednesday, September 13th, 2017
New counter-information site 'Tormentas de Fogo', translating news and articles from Spanish, Portuguese and English:
Letter from anarchist prisoner Marcelo Villarroel Sepúlveda – Chile.
–
COMUNICADO PARA DIFUSÃO DE "BEM-VINDO AO INFERNO: TEXTOS SOBRE A INSURREIÇÃO CONTRA A CÚPULA DO G20 HAMBURGO, 2017"
Essa publicação reúne algumas ofensivas anárquicas dentro e fora das cadeias, contra a desprezível reunião dos vinte chefes de estado mais poderosos do mundo.
Algumas palavras de provocação… Não tão somente…
A energia caótica mantém a chama da anarquia queimando. As ações transcritas nessas linhas são recebidas por nós calorosamente. Todavia estas práticas não se encerram apenas na nossa memória, mas encontram solo fértil em nossas mentes e corações. Portanto não se trata de contemplar o passado, mas vivê-lo intensamente durante o presente.
Uma cronologia para continuar…
A visão transmitida é bastante nítida: nós não esperaremos pela próxima cúpula. Essa publicação celebra a rebelião, procurando manter pulsante a paixão demolidora pela total liberdade.
Da leitura… Até a cumplicidade…

Tormentas de Fogo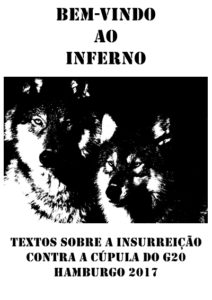 Tags: Counter-info, G20, Hamburg, Marcelo Villarroel Sepúlveda, PDF, Tormentas de Fogo, Zine
Posted in Autonomy
Wednesday, September 13th, 2017
A month ago in Hamburg, Germany, a G20 summit was beginning, and with it mass protests against it, with demands for a more 'human' running of capitalism, up to the total destruction of the system in order to build a more ethical world where there would be a place and respect for all, where there would be no repression or hierarchy, where the earth would be protected and the insatiable thirst for empty benefits on which this society is based would disappear from our values and life goals.
You can read about what happened during the 3 days of the summit and the demonstrations in many websites, including this blog, if you look in the corresponding posts (starting from the month of July, for those who are curious); and as I couldn't go to Hamburg (and I'm sorry about that) for reasons that are irrelevant here, I won't comment on what happened or go into detail. The comrades who were there have talked about that and continue to do so.
I'd like to talk about a particular aspect of those demonstrations, which I think occurs too often in this kind of context, and which seems a serious problem, at least to me, and one that annoys me. It's what is known as the 'tyranny of the image'. (more…)
Tags: Analysis, G20, Germany, Hamburg
Posted in Autonomy
Wednesday, September 13th, 2017
From Amsterdam to Hamburg. On Thursday 31st August a solidarity demo took place in Amsterdam. It was not only against the G20 but also against the recent censorship of Indymedia in Germany. We hope you can spread the news amongst our friends.
A 21-year old person from Amsterdam has been convicted to two year and seven months in prison. He is accused of having thrown two empty beer bottles at the police after hundreds of riot police blocked and attacked the "Welcome to Hell" demonstration on the evening before the G20 summit in Hamburg last July (see here: https://vimeo.com/224524911). (more…)
Tags: Amsterdam, G20, Hamburg, Netherlands, Solidarity Action
Posted in Direct Action
Wednesday, August 23rd, 2017
HAMBURG SUMMER 2017: I AM THERE, I STAY THERE!
It's been almost a month and a half since I was imprisoned during the twelfth G20 summit in Hamburg, in a city that was besieged and taken in hostage by the security forces, but which also saw an important local and popular protest.
Tens of thousands, if not more, flocking from all over Europe, and even beyond, converged, met, organised, debated and demonstrated together for several days in a great surge of solidarity. At all times aware of the possibility of suffering the violence and the repression of the police. A huge prefab police court had been built for the occasion, to punish any dissent against this international summit as quickly as possible.
My arrest, like that of many comrades, is based only on the sacred word of the police, of a brigade sent to infiltrate, observe and follow their "prey" (during forty-five minutes in my case, for a supposed throwing of a projectile…). Once isolated, they sent colleagues to arrest them, intervening quickly and violently, and leaving no loop-holes. (more…)
Tags: G20, Germany, Hamburg, Letter
Posted in Prison Struggle
Tuesday, August 1st, 2017
'Eine Antwort auf den Aufruf zur Solidarität mit den Gefangenen in Hamburg' von Panagiotis Argyrou, inhaftiertes Mitglied der Verschwörung der Feuerzellen /FAI-IRF [de]
A response to the call for solidarity to the ones held in custody in Hamburg

During the exile of captivity few are the things that can make you smile, offer a warm thought or a pleasant feeling. I can, however, say with some certainty that these days of July when Hamburg surrendered to the chaos of riots during the G20 summit, the clashes with the police, the burning barricades, the store looting, the vandalisms and burnings of sovereignty targets, my thoughts were boosted, a great deal of "thank you-s" as well as vivid emotions overwhelmed me, and a smile lit up my face.
I'll be honest, however. Although from an early stage a large part of insurrectionary anarchism aspired at setting a high target, something that had become clear already since the call for a militant campaign of informal organization months before the summit; and although there was a large number of public texts and claims of responsibility responding to this call (some comrades were kind enough to even mention the heritage of Black December), I wasn't that sure that the days in question would indeed involve such great momentum. And this due to the fact that the difficulties entailed weren't unknown to me—the adversities and the challenges that would have to be confronted by the people who would want to organize and accomplish such an ambitious riot plan. (more…)
Tags: Black December, Conspiracy of Cells of Fire, G20, Germany, Greece, Hamburg, Informal Anarchist Federation (FAI), International Revolutionary Front, Letter, Panagiotis Argyrou
Posted in Prison Struggle