Posts Tagged 'G20'
Monday, September 18th, 2017
G20. Updates on trial against Riccardo
The date of the hearing against Riccardo, an anarchist charged with criminal offences relating to riot days against G20 in Hamburg in July, is set. It will be held on 5 October at the Court of Hamburg.
We call on everyone to take part in solidarity presence, organised for that day, in the courtroom (Riccardo will be there) and at the Court, as well as in activities which will be promoted in Genoa during those days.
Updates will follow.
Meeting to discuss solidarity initiatives and updates:
Tuesday 19 September, 20.00 pm.
Il Mainasso — 6, Square Santa Maria in Passione — Genoa, Italy
Tags: G20, Genoa, Germany, Hamburg, Italy, Riccardo Lupano
Posted in Prison Struggle
Wednesday, September 13th, 2017
New counter-information site 'Tormentas de Fogo', translating news and articles from Spanish, Portuguese and English:
Letter from anarchist prisoner Marcelo Villarroel Sepúlveda – Chile.
–
COMUNICADO PARA DIFUSÃO DE "BEM-VINDO AO INFERNO: TEXTOS SOBRE A INSURREIÇÃO CONTRA A CÚPULA DO G20 HAMBURGO, 2017"
Essa publicação reúne algumas ofensivas anárquicas dentro e fora das cadeias, contra a desprezível reunião dos vinte chefes de estado mais poderosos do mundo.
Algumas palavras de provocação… Não tão somente…
A energia caótica mantém a chama da anarquia queimando. As ações transcritas nessas linhas são recebidas por nós calorosamente. Todavia estas práticas não se encerram apenas na nossa memória, mas encontram solo fértil em nossas mentes e corações. Portanto não se trata de contemplar o passado, mas vivê-lo intensamente durante o presente.
Uma cronologia para continuar…
A visão transmitida é bastante nítida: nós não esperaremos pela próxima cúpula. Essa publicação celebra a rebelião, procurando manter pulsante a paixão demolidora pela total liberdade.
Da leitura… Até a cumplicidade…

Tormentas de Fogo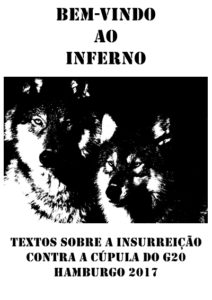 Tags: Counter-info, G20, Hamburg, Marcelo Villarroel Sepúlveda, PDF, Tormentas de Fogo, Zine
Posted in Autonomy
Wednesday, September 13th, 2017
A month ago in Hamburg, Germany, a G20 summit was beginning, and with it mass protests against it, with demands for a more 'human' running of capitalism, up to the total destruction of the system in order to build a more ethical world where there would be a place and respect for all, where there would be no repression or hierarchy, where the earth would be protected and the insatiable thirst for empty benefits on which this society is based would disappear from our values and life goals.
You can read about what happened during the 3 days of the summit and the demonstrations in many websites, including this blog, if you look in the corresponding posts (starting from the month of July, for those who are curious); and as I couldn't go to Hamburg (and I'm sorry about that) for reasons that are irrelevant here, I won't comment on what happened or go into detail. The comrades who were there have talked about that and continue to do so.
I'd like to talk about a particular aspect of those demonstrations, which I think occurs too often in this kind of context, and which seems a serious problem, at least to me, and one that annoys me. It's what is known as the 'tyranny of the image'. (more…)
Tags: Analysis, G20, Germany, Hamburg
Posted in Autonomy
Wednesday, September 13th, 2017
From Amsterdam to Hamburg. On Thursday 31st August a solidarity demo took place in Amsterdam. It was not only against the G20 but also against the recent censorship of Indymedia in Germany. We hope you can spread the news amongst our friends.
A 21-year old person from Amsterdam has been convicted to two year and seven months in prison. He is accused of having thrown two empty beer bottles at the police after hundreds of riot police blocked and attacked the "Welcome to Hell" demonstration on the evening before the G20 summit in Hamburg last July (see here: https://vimeo.com/224524911). (more…)
Tags: Amsterdam, G20, Hamburg, Netherlands, Solidarity Action
Posted in Direct Action
Wednesday, August 23rd, 2017
HAMBURG SUMMER 2017: I AM THERE, I STAY THERE!
It's been almost a month and a half since I was imprisoned during the twelfth G20 summit in Hamburg, in a city that was besieged and taken in hostage by the security forces, but which also saw an important local and popular protest.
Tens of thousands, if not more, flocking from all over Europe, and even beyond, converged, met, organised, debated and demonstrated together for several days in a great surge of solidarity. At all times aware of the possibility of suffering the violence and the repression of the police. A huge prefab police court had been built for the occasion, to punish any dissent against this international summit as quickly as possible.
My arrest, like that of many comrades, is based only on the sacred word of the police, of a brigade sent to infiltrate, observe and follow their "prey" (during forty-five minutes in my case, for a supposed throwing of a projectile…). Once isolated, they sent colleagues to arrest them, intervening quickly and violently, and leaving no loop-holes. (more…)
Tags: G20, Germany, Hamburg, Letter
Posted in Prison Struggle
Tuesday, August 1st, 2017
'Eine Antwort auf den Aufruf zur Solidarität mit den Gefangenen in Hamburg' von Panagiotis Argyrou, inhaftiertes Mitglied der Verschwörung der Feuerzellen /FAI-IRF [de]
A response to the call for solidarity to the ones held in custody in Hamburg

During the exile of captivity few are the things that can make you smile, offer a warm thought or a pleasant feeling. I can, however, say with some certainty that these days of July when Hamburg surrendered to the chaos of riots during the G20 summit, the clashes with the police, the burning barricades, the store looting, the vandalisms and burnings of sovereignty targets, my thoughts were boosted, a great deal of "thank you-s" as well as vivid emotions overwhelmed me, and a smile lit up my face.
I'll be honest, however. Although from an early stage a large part of insurrectionary anarchism aspired at setting a high target, something that had become clear already since the call for a militant campaign of informal organization months before the summit; and although there was a large number of public texts and claims of responsibility responding to this call (some comrades were kind enough to even mention the heritage of Black December), I wasn't that sure that the days in question would indeed involve such great momentum. And this due to the fact that the difficulties entailed weren't unknown to me—the adversities and the challenges that would have to be confronted by the people who would want to organize and accomplish such an ambitious riot plan. (more…)
Tags: Black December, Conspiracy of Cells of Fire, G20, Germany, Greece, Hamburg, Informal Anarchist Federation (FAI), International Revolutionary Front, Letter, Panagiotis Argyrou
Posted in Prison Struggle
Monday, July 24th, 2017
G20 in Hamburg: These were days of revolt
During the days of the summit of the G20, thousands of people flooded the streets of Hamburg with their anger about the cops` violence and the world that they protect. Already during the week before, there was no uncertainty around the cops' will to confront every sign of protest or resistance with zero tolerance. During the demo on Thursday evening, they made their position clear once again, attacking the front of the demo from the first minute it started. The cops obviously and viciously embraced the possibility of potentially even lethal injuries, when they pushed and kettled the front block of the demo into a very narrow, canyon-like part of the Hafenstraße, bordered on the sides by brick walls. They caused panic, hitting, kicking, pepper-spraying, firing tear gas and shooting water canons from the front and the sides. Many people sought to flee over the walls on the sides, a lot of people got hurt – but you could also see impressive moments of solidarity, people helping each other up the wall, whilst others attacked the cops from above and brave and calm front rows defended the demo from the cops attacks, taking a serious beating.
(more…)
Tags: Analysis, G20, Germany, Hamburg, Riots
Posted in Autonomy
Monday, July 24th, 2017
We are spreading news of the arrest of a comrade from Genoa, Riccardo, on Friday 7th July in Hamburg during the revolt against the G20.
Riccardo has seen his lawyers, is doing well and his spirits are high.
On 18/07 a hearing confirmed that Riccardo and all those arrested be remanded in custody. In 15 days an appeal trial will be held to decide if imprisonment is to be continued until the trial. The charges haven't been formulated yet.
We reconfirm our solidarity with all those arrested in Hamburg.
Freedom for all!
If you want to write to Riccardo or send him reading material, his address (name, surname, date of birth and address of the prison where is being held) is:
RICCARDO LUPANO
09/06/1985
JVA BILLWERDER
DWEERLANDWEG 100
22113 HAMBURG – GERMANY (more…)
Tags: G20, Germany, Hamburg, Letter, Riccardo Lupano
Posted in Prison Struggle
Friday, July 21st, 2017
In a time of open hunt against anti-G20 protesters by the cops, the media and "the public" (including demands for a lynch law circulating on the internet), it is essential to remember those who were injured during protests against the G20 summit in Hamburg and the dozens who are still under investigation and caged by the German State.
No consideration however for a large part of society that, together with public authorities and their media, not only accepts the police state we witnessed in Hamburg, but also wants to see it reinforced.
It is now time for groups and individuals to organize solidarity events, raise donations, and express all kinds of support with those imprisoned, e.g. letter writing as soon as contact addresses are known.

Let's act in solidarity with all those affected by repression during the G20, and update about their situation through counter-information networks. Let's make sure that they don't remain alone.
The more actions, the more pressure on the authorities, the media and their world. For anarchy!
in German
contrainfo
Tags: G20, Germany, Hamburg, International Solidarity, Riots
Posted in Social Control
Thursday, April 6th, 2017
On the 7th and 8th of July 2017, when the most successful war criminals of the present, the most unscrupulous sweaters of human and nature, the self-titled leaders of this planet, meet in Hamburg, they will not be confronted and thus be revaluated with some demands for better governance or social enslavement.
They will feel the rage of the street, when they are rushing with their convoys through deserted districts and talk about the nightly attacks of the last few weeks.
This call, like so many others at similar meetings, does not want to lose itself in an analysis of the importance of the G-20 summit or the policy of their participants. The injustice of the world has been declared a thousand times, anyone who now feels no urge to act, does not need another text.
We want to speak of those who are already involved in the struggle against capitalism and its exerting states with their conforming societies – so, of US.
Since Seattle in 1999, summit protests were a catalysator of radical resistance; individuals and groups came together, swapped ideas, were standing together behind the barricades and carried the flame of resistance back to their regions. Even the shots of Gothenburg and Genoa, or the numerous infiltrated snitches could not stop the development of a Europe-wide chaotic network of autonomous / anarchist / antiauthoritarian tendencies. (more…)
Tags: Black Bloc, Counter-Summit, G20, Germany, Hamburg, International Solidarity, Riots
Posted in Autonomy
Thursday, April 6th, 2017
Because we despise any kind of authority, we set fire to a car belonging to the security company 'Securitas' last night. The conditions in which we find ourselves are making it clearer to us day by day that there are politicians, judges and prosecutors, authorities, crappy teachers, conductors, and even cops and their lap dogs of security that stand over us and control our lives. This situation is completely unacceptable. We can take care of ourselves, and we recognize that they are the ones who stand in the way of an emancipated life. For they are there to defend the freedom of the rulers. Not the freedom of being free from domination.
For our form of freedom that consists of solidarity and respect for our environment exists outside of capitalist thinking and would be its downfall. An anarchist world would mean the loss of their power and the death of their world.
In a few months is the climax of the authorities in Hamburg.
There is much to do.
Take care of yourselves. See you on the streets.
Fire to the ruling power, Fire to the G20 and its system.

via Linksunten Indymedia, translated by Insurrection News
Tags: Arson, Car Burning, G20, Germany, Hamburg, Sabotage, Securitas
Posted in Direct Action
Tuesday, March 7th, 2017
Bon Soir!
On the evening of the 28th of February, six Securitas (private security company) vehicles were torched at Anhalter railway station. Securitas have been gaurding the entry to the occupied school on Ohlauer Strasse in Kreuzberg, Berlin for two years, forcing the remaining refugees to a jail-like existence. Through constant displays and harassment of the residents, their number has been constantly reduced – many have disappeared in jail, have been deported or have a house ban.
If we were able to identify more deeply with society's slaves we would now complain that 'guarding' costs millions of euros for taxpayers. But no. Then we would have to complain about the bad working conditions in the security sector. On the contrary we are working on the destruction of the bridges of this society, which are still being preserved via the security sector in order to integrate even the partly autonomous milieus with reluctant practice. (more…)
Tags: Arson, Berlin, Car Burning, Conspiracy of Vengeful Arsonists, G20, Germany, International Solidarity, Sabotage, Securitas
Posted in Direct Action
Tuesday, February 21st, 2017
18.02.17: On February 21/22 the European Police Congress will take place for the 20th time in Berlin. On this occasion at the Berlin Congress Center (BCC), war mongers, human hunters and security fanatics meet to propagate their despicable machinations.
In addition to Thomas Thomas de Maizière, the Federal Minister of the Interior and Hans-Georg Maaßen, the President of the Federal Office for the Protection of the Constitution, agents and guards of all types will be represented by Europol, Frontex, BKA, LKAs and many other authorities. Also present will be lobbyists, entrepreneurs and war ministries such as Heckler & Koch, Taser, Rheinmetal and developers of monitoring software and communications technology such as SAP, IBM and Vodafone will also be present.
Under the slogan – Europe limitless? Freedom, mobility, security – the coming campaigns in which authority is put into position will be discussed and the appropriate technologies and weapons will be brought into the field.
Words such as limitless, freedom and mobility are above all the transnational cooperation of the repressive European bodies, the exchange of data and knowledge and the militarization of Europe and its external borders. (more…)
Tags: Aachen, Arson, Berlin, G20, Gabriel Pombo da Silva, Germany, Konstantina Athanasopoulou, Pola Roupa, Sabotage, Solidarity Action
Posted in Direct Action
Monday, February 6th, 2017
Armed with an incendiary device, we rode through the streets of Berlin on a frosty night looking for a target for which we could say that we are fighting the struggles of our unknown comrades against the CIGÉO nuclear dump in the woods of Bure, in the ZAD and against the French state of emergency as a whole and express our solidarity.
We also support other anarchist interventions on the continent of Europe, such as Revolutionary Struggle in Greece.
So we torched a diplomatic vehicle of the French Embassy at the Willmanndamm in Schöneberg last night, with which we would like to greet the prisoner Damien Camélio, as well as Pola Roupa and Konstantina Athanasopoulou who were recently arrested in Athens, for whose freedom all states must be combated, and for who we will continue to act diligently.
This is also a call to use the G20 in Hamburg to coordinate our theory and praxis in order to reach a continuing anarchist offensive in all areas beyond the July meeting.
The French piece of shit who wants to represent his regime at the G20 in Hamburg is of course just as welcome as any other power. We advise the diplomats of Berlin to hide in gated communities.
'Rémi Fraisse Cell' – FAI
Berlin 06-02-2017
via Linksunten Indymedia, translated by Insurrection News
Tags: Arson, Berlin, Damien Camélio, G20, Informal Anarchist Federation (FAI), International Solidarity, Konstantina Athanasopoulou, Pola Roupa, Rémi Fraisse, Rémi Fraisse Cell - FAI
Posted in Direct Action
Wednesday, January 25th, 2017
http://www.liveleak.com/view?i=fa9_1485352794
Tags: Arson, Fuck the Law, Fuck the Police, G20, Germany, Hamburg, Riots, Sabotage, Videos
Posted in Autonomy