Posts Tagged 'Gabriel Pombo da Silva'
Monday, November 21st, 2011
– English translation here.
–
325 recibe y transmite:
17-20 Novembre 2011 – Acciones coordinadas
por Insurgencia Antiautoritaria de Accion/Federación Anarquista Informal
Communicado:
Siempre nos preguntemos por que en el estado español no se planteó la estrategia de una federación internacional unitaria. En lugar de esperar y seguir con interrogantes, damos un pasito.
Después de un año aproximadamente de pequeñas acciones anónimas de sabotajes, de fracasos y de pequeñas victorias, se ha decidido contemplar la Anarquia desde otra perspectiva, por eso hemos tomado la decisión de formar parte de la Federación Anarquista Informal y del Frente Revolucionario Internacional. Queremos experimentar de cerca la sensación que conlleva el hecho de adherirse a este proyecto, estudiar nuevas formas de entender la Acracia y participar en todos los campos de lucha. El Anarquismo es un movimiento de liberación, un arma de lucha, una forma de vida y/o accionar, o almenos muchxs lo entendemos así. Queremos tener una oportunidad de tener un papel crucial en la guerra social y a partir del trabajo diario, vamos a ser constantes. De la misma forma, se pretende abrir la lata o plantear desde la autocritica nuevas formas de acción directa y animar a la organización informal, horizontal y combativa. Creemos en el antiautoritarismo, en la acracia y en u na fuerte praxis anarquista, asi como la reproducción constante de sabotajes, boicots y ataques que dificulten y puedan mermar los proyectos del capital y al capital en si. También en esta forma de lucha optamos y aceptamos el ataque directo contra el Nazifascismo, en la lucha contra la autoridad y contra el sistema, el ataque contundente contra el Nazifascismo es un frente más y es fundamental la lucha directa y posterior aplastamiento de quien se cree superior racial y políticamente de lxs demás. Buscamos la creación de una situación continua de tensión y conflictividad contra el poder.
"Ante un sistema de control y dominación solo la lucha combativa ha de prevalecer"
Entendemos los ataques y la destrucción del orden social como una herramienta muy válida y decisiva, sin embargo, no lo hacemos un dogma revolucionario ni un fetichismo, y depende de la situación su aplicación, reproducción y desempeño puede variar. Después de reflexionar, de profundizar y de análisis, creemos que en los ataques se precisa una cierta calidad, en efecto, sin dejar de lado lo cuantitativo.
Dejamos claro que lo cualitativo es esencial, debemos mirar de perjudicar al sistema y su funcionamiento de raíz, es decir, como ejemplo buscar alguna forma de perjudicar el consumo de mercancías como el ataque al Wall Mart en México, sabotear una jornada electoral entera perjudicando y haciendo imposible su normal funcionamiento, destruir las máquinas y posesiones de algún cacique, vamos, agresiones y ataques directos que provoquen un miedo de verdad a lxs responsables del terror gubernamental. También puede ser muy efectivo empapelar media metrópolis con propaganda subversiva o en solidaridad con compañerxs presxs. Las acciones y los ataques al capitalismo como un MEDIO eficaz.

"Pero es interesante preguntarse si ahora.. que poco a poco se va conociendo parte de nuestro pasado, que poco a poco se va ampliando nuestro sueño de una Federación Anarquista Informal/Frente Revolucionario Internacional. Si ahora nuestrxs afines en la Península ibérica también se van a quedar en el medio de las multitudes anónimas o por el contrario se suman al empeño revolucionario" Gabriel Pombo da Silva
En el estado español (¡que arda su bandera!) hemos vivido duros episodios de represión, pues los grupos armados y resistentes en los 90 y en los años 70 tuvieron mucha fuerza, el sistema y el estado se volvió especialmente represor contra cualquier disidencia organizada y con cualquier círculo insurgente. Las prisiones y el sistema carcelario son especialmente represores y las condiciones de lxs presxs (y más si son presxs politicxs) son malas, muy malas. De esta forma se hace entendible que hasta el momento, las acciones hayan sido anónimas. Sin embargo, ante nuevas situaciones políticas y nuevos procesos revolucionarios, algunxs han visto la necesidad de formar parte de un proyecto común, de extender la familia revolucionaria por más horizontes y levantar los puños contra los viejos dogmas, buscar nuevos frentes y tratar de trabajar como un círculo antagónico. Gabriel Pombo da Silva (un saludo para el) está en lo cierto, a partir de las experiencias propias debemos seguir buscando, estudiando y actuando para engrandecer nuestra experiencia y los daños contra las nuevas fases del capitalismo cada vez más y más monopolista. Es decir, unirnos al empeño revolucionario. No obstante, la FAI/IRF es una opción para quien lo quiera, para quien quiera usar ese medio como herramienta de lucha y como acercamiento a otrxs compas que por desgracia, viven más lejos.
"Escudarse diciendo que el contexto político en el lugar donde se vive no es el adecuado para la lucha, es solo una excusa para no romper la tranquilidad de la cotidianidad" Silvia Guerini
Es fácil ser un mero espectador de la guerra social desde la pantalla del ordenador, pero por que sea fácil no significa que sea válido. Creemos que no todo depende del contexto y de la situación como algo que flota en el aire y es externo. Las situaciones las hemos de crear por nosotrxs mismxs, trabajar duro y crear proyectos propios, ser protagonistas de la guerra social y tener un papel activo, ser lxs protagonistas de nuestra propia realidad y lucha. Los problemas ecológicos y lxs que lxs provocan, la nanotecnología y la biotecnología, no se combatirán solas, todo lo contrario. Se necesita crear espacios de trabajo y de contrapoder, de escapar de lo establecido, pero sobretodo si estos tienen un papel directo contra el estado y a la vez que creativo, destructivo contra el sistema hipertecnológico. El trabajo de base es imprescindible como el participar en luchas sociales e implicarse en muchas causas, pero reconociendo siempre el problema de raíz y buscando su total destrucción. Si no nos apresuramos en la creación de una resistencia consolidada y fuerte, de una oposición activa, dentro de unos años deberemos dar gracias por trabajar jornadas enteras en zanjas hasta los 67 años. Por eso, a partir de ahora nos aglutinamos en la Federación Anárquica Informal y en el frente revolucionario como una forma y contribución de ampliar la federación y el desarrollo del verdadero movimiento revolucionario (sea como parte de la federación y del frente, o en grupos autónomos y anónimos)
"Esto es lo que ha pasado, lo que tenemos. Si algo nos asusta es el regreso a la normalidad por que en las calles en las acciones, las expropiaciones, etc en nuestras ciudades de luz y muerte, no vemos solo las consecuencias de nuestra rabia, si no, intentos de poder volver a vivir. Ya no tenemos nada que hacer salvo convertirlo en una realidad viviente, parando el campo de la vida cotidiana, nuestro poder de materializar nuestros deseos, nuestro poder de no contemplar si no transformar lo real, ese es nuestro espacio vital, todo lo demás es muerte."

"Lxs que quieran entender entenderán, ahora es el momento de romper nuestras celdas invisibles y de transformar nuestras pequeñas y patéticas vidas."
Escapamos de las redes y estructuras del capital, confeccionadas por sociópatas, escapamos del sucedáneo de las redes sociales que nos hacen evadirnos a un mundo mejor, mientras que hablamos solxs con la pared desarrollando el cáncer que supone el aparentar y nosotrxs no queremos aparentar, si no atacar. Nos unimos a lxs insurgentes. Que de nada sirvan de antemano, la critica de que nuestras acciones y lucha no tienen una expresión política, nuestra lucha es nuestra expresión política.
Nuestra lucha es lo único que tenemos. No estamos para venderle la moto a nadie, somos jóvenes precarixs en guerra contra la dominación.
Partiendo de las citas, consideramos que tras y durante de hacer una acción o una manifestación luchadora suceden una serie de cosas; primero ganamos, es decir, logramos el objetivo saboteando el objetivo en concreto y posteriormente perdemos, pues volvemos a aglutinarnos a la espectacular normalidad, dejamos de tener el papel subversivo y pasamos a estar entre las redes de nuevo, por eso y en medida de que cada uno pueda, las acciones deben seguir prolongándose, perpetuarse y hacerse diarias y habituales hasta que-junto las palabras, la solidaridad y todo tipo de trabajo anárquico-se puedan crear unos tejidos sociales subversivos y unas bases de contrapoder fuertes.
No queríamos que estas palabras fueran solo palabras muertas.
Acciones coordinadas:
Envío de sobres que simulaban ser cartas explosivas:
Los días 17 y 18 de noviembre se enviaron dos sobres que simulaban ser cartas explosivas a la sede central del PSC y del PPC en Barcelona. El mismo dia 18 se dejaron en la puerta de ambas sedes unas notas que rezaban: "El dominio, los abusos, el terror y el control no pasan inadvertidos, las expresiones de rabia no serán simples simulaciones posteriormente. Muerte al capital y a lxs politicxs. Viva la anarquia".
Barcelona, 20 de Noviembre de 2011.
En la tardenoche-madrugada del 19 al 20 de noviembre se sellaron las cerraduras de 15 colegios electorales, se oscurecieron y atacaron algunas cámaras ubicadas en los mismos centros. Posteriormente, a la 1:30 de la madrugada, se corto la calle en el cruce de la avenida meridiana y la calle Ruben Darío (aproximadamente numero 460), más tarde a las 2:15-2:30 se cortó la calle en el cruce entre el Carrer de Claramunt i el Carrer de Serós.
12:30, 20 de Noviembre, Barcelona; aviso de bomba en la ciudad de la (in)justicia.
19:50, 20 de Noviembre, Badalona; aviso de bomba en los juzgados de Badalona.
El 20 de Noviembre nadie vota, abstención activa, ¡No nos representan!
Insurgencia Antiautoritària d'Acció/Federación Anarquista Informal
Para lxs compas de otros paises que no lo entiendan:
1. PPC y PSC son las ramas en Cataluña del Partido (in)Popular y el P$OE. Partidos que representan en el e$tado las fuerzas políticas mayoritarias autoras de realizar y coordinar los recortes y privatizaciones.
2. "Venderle la moto" significa tomar por estúpido a alguien.
Tags: Barcelona, Bomb threats, Catalunya, Gabriel Pombo da Silva, Informal Anarchist Federation (FAI), Insurgencia Antiautoritària d'Acció / Federación Anarquista Informal, International Revolutionary Front, Letter Bomb, P$OE, PPC, PSC, Sabotage, Silvia Guerin
Posted in Direct Action
Saturday, October 29th, 2011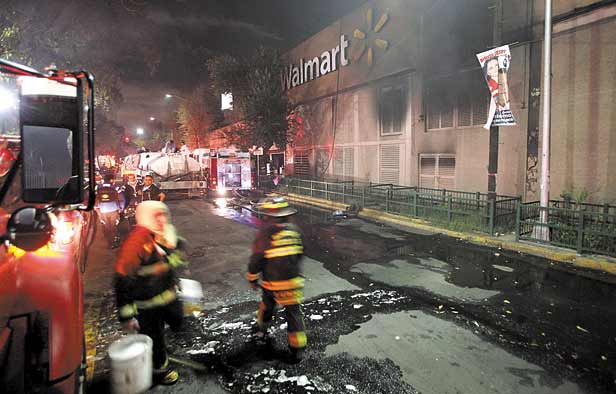 From culmine via this is our job:
To all like-minded arsonists and antagonists, the fourth communiqué from the Conspiracy of Cells of Fire – Mexico / Informal Anarchist Federation:
Neither exasperated, indignant, nor broken! Arsonists at war against every authority!
All our solidarity with comrade Gabriel Pombo da Silva!
We're celebrating two months of direct attacks on capital and the State!
Against the system of domination!
For Total Liberation!
Yesterday [26/10/11] at 6:23 p.m., liberatory fire again burned where it hurts most, destroying merchandise. The Conspiracy of Cells of Fire (CCF) faction of the Mexican Informal Anarchist Federation (FAI-M), Veracruz section, gave life to liberatory fire at the Wal-Mart located at Universidad and Avenida Las Palmas in the heart of Coatzacoalcos, Veracruz. With this new attack, we avenge comrade Gabriel Pombo da Silva (held captive in Aachen prison) and demand his immediate release from the German and Spanish states. We also stand in solidarity with our comrade Tamara, with the Bombings Case compas in Chile, with the imprisoned Conspiracy of Cells of Fire compas in Greece, and with all our comrades abducted by the State in Mexico and the rest of the world. (more…)
Tags: 14/14, Arson, Coatzacoalcos, Conspiracy of Cells of Fire, Conspiracy of Cells of Fire - Mexico, Conspiracy of Cells of Fire : Imprisoned Members Cell, Gabriel Pombo da Silva, Germany, Informal Anarchist Federation - Mexico (FAI-M), Informal Anarchist Federation (FAI), International Solidarity, Luciano Pitronello Schuffeneger, Mexico, Revolutionary Struggle, Spain, Tamara, Veracruz, Wal-Mart
Posted in Direct Action
Monday, October 24th, 2011
from liberacion total via thisisourjob…
Dear brothers and sisters:
To Michalis and Christos (who exuberantly burst into "my" cell, destroying the ISOLATION I've lived in for over seven years), their brothers and sisters, and all the other comrades who constitute the first generation of the Revolutionary Organization – Conspiracy of Cells of Fire / Informal Anarchist Federation.
My eyes and my heart have always been very close to you in Greece. I still remember Nikos Maziotis' action and his attitude in front of the court. That moved and affected us very much, to the point that some of my comrades took their own action by sending a package-bomb to the Greek embassy in Madrid.
Those comrades of mine were arrested in September 2003, and the blow came at the worst possible time. Really, it couldn't have been worse. Back then I was regularly "on leave" from prison. Regardless of all the racket regarding my judicial/prison situation, I had already "served" the maximum sentence allowed at the time: 20 YEARS. And out of those 20, 14 were in solitary confinement and FIES [Spanish isolation units]. I don't have to tell you what it meant to me to have to lose so many good comrades who, tired of bearing all kinds of systematic torture for decades, decided to leave "by the back door, feet first."
The arrest of my comrades in Barcelona left me shaken. I could have been with them! The "death" of Paco Ortiz, the coming to power of the neo-Francoist People's Party — all these things went through my head before I decided to make a getaway.
My escape began by putting one foot in front of the other. The first thing was to get a bit of distance behind me. With that done, I crossed the Pyrenees, destination unknown.
Once abroad, I got in touch with some old comrades. I managed to buy myself perfect identification (with which I was even able to open a checking account at a bank, rent an apartment, etc.), and I took some time to think, meet new comrades, and discuss things. From that moment on I was known as Michele Cataldi, Italian citizen.
I had decided to break out one of the compas arrested in Barcelona, and for that task I needed reliable, experienced comrades.
Luck was on my side when some Iberian Peninsula compas called to tell me they were sending someone over. I thought for sure it would be an "anarchist" comrade, yet nevertheless I saw Josepi show up (he had also escaped while "on leave"), and he knew absolutely nothing about anarchy or theory. However, I was almost happier to have a "criminal" on my side than an "anarchist." At the end of the day, the endeavor and purpose motivating me was to break a compa out of prison, and I needed someone by my side who hated the institution of prison with absolute intensity, like I did. Josepi, with his (in total) 23 years of prison behind him, was an ideal candidate. In addition (and just like me), his "trade" was robbing banks, which is of course always indispensable.
Back then, I didn't know which Iberian Peninsula comrades I could count on (or how many, as I believed/assumed that a large portion of the Libertarian Youth had gone underground). I'm not talking about matters regarding "solidarity funds" or "ideological debates." Rather, I mean comrades ready to take up arms in order to expropriate funds, hijack a helicopter, break out other compas, etc.
My proposal to liberate our compa was supported by José, and later on two other anarchists joined the endeavor.
We decided that the first thing we needed was money (we already had two handguns), and to that end we robbed a bank. If I remember correctly, we expropriated 40,000 or 50,000 euros, which was useful to us at the beginning for the acquisition of cars, electronic gear, etc.
Over the course of several months (and to the extent that it was possible for me), I was able to attend a number of meetings with internationalist comrades. Those meetings between comrades, where positions and approaches were clarified through critique and analysis, deserve all my respect, yet they left me feeling very uneasy.
Perhaps I had poorly "digested" the analyses of the "Italian insurrectionaries". Perhaps I hadn't stopped to think about the importance of knowing just how many comrades were truly for revolutionary anarchy. And perhaps our "adventure" of freedom and "glory" was doomed to "failure" from the start.
At that time, some communiqués from the newly-formed Informal Anarchist Federation fell into my hands. For someone like me, who came out of the Anarchist Black Cross (and was therefore already federalist and anarchist), the notion of "informal groups" opened up a world of possibility. In Northern Europe, insurrectionary ideas were practically unknown.
On June 28, 2004, three anarchists and my sister (who is apolitical) were traveling to Germany in a BMW. At noon, upon entering the city of Aachen, a Federal Border Guard (BGS) patrol car pulled up in front of us and signaled for us to follow it.
We followed the patrol car (my sister was driving) to a gas station.
At the gas station, one of the border police officers approached and asked us for our passports. José had a forged Spanish passport (a very good one) and was called Alfonso Domínguez Pombo. He could have been my sister's cousin. Then Bart handed over his Belgian passport, as he and my sister were "clean."
Obviously, José and I were armed and ready to save our skins at any cost. We knew what was waiting for us.
The border police officer went off with all our passports and didn't come back for 10 or 20 minutes, after which time both officers approached, passports in hand, while another BGS car suddenly appeared and parked directly behind us, sandwiching us between the two patrol cars.
The police officers "suggested," in a "friendly" way, that we get out of our car. Our papers were fine, but now they also wanted to search the car, since a car with so many foreigners in it is viewed as "suspicious" in Germany.
We got out of the car and the police officers immediately began searching it. José and I both had our weapons on us. His was in a small backpack and mine was in one of those fanny packs that tourists often carry.
After more than a half-hour of searching, an officer approached José and asked him to put his backpack in the trunk of one of the patrol cars. Since José didn't understand what he was saying, the officer asked me.
There were no longer any more "conversational alternatives." The time had come for me to simply tell José: "You grab this one and I'll go for the other one."
Despite all the tension, it was definitely a relief to finally put an end to that comedy. Gun in hand, taking the initiative, I really believed we would succeed. José's police officer took off when José pointed his Ravachol-era revolver at him, and that image of José running after a German border police officer, telling him to "surrender" and put his "hands up," is something that makes me crack up even today.
Unfortunately, José "misinterpreted" what I said. When I told him to "grab" the police officer, I meant exactly that: to grab hold of him. But in any case, "my" police officer and the other ones ran from me as well, so I was unable to grab them. And what worried me most during the whole situation was my sister.
How was I going to tell my mother about all this? My sister remained very still throughout, and if she had wanted to (to save her own skin), she could have told the police my name and blamed me for everything. The police unfortunately had us surrounded, and the only thing that occurred to us at the time was to "kidnap" two "citizens" in order to shield ourselves. You already know the rest. . . .
My sister (despite what's been said) refused to "collaborate" or give a statement. She was even mistreated at the police station because of her refusal to let them take her fingerprints or her photograph. Her prints, as well as her DNA and her photo, were taken by force. I was very proud of my sister and the rest of my comrades.
I waited (in vain) for our Iberian Peninsula comrades to "avenge" us, as well as for them to defend direct action as a revolutionary methodology.
By one of life's coincidences, a brief analysis by my old comrades appeared in issue 2 of Inferno magazine, more than seven years after our arrest here. But did that article explain why José and I were left alone, "abandoned" by the Iberian movement? I don't want to "argue" or "settle scores." I just want to write about our experiences in order to record and expand our rebellious, subversive memory.
What you have achieved is part of what I and others dreamed of. More than dreamed of, actually. You've dared to defy political resignation. As my comrades aptly wrote in their text, we were the "pioneers of Iberian insurrectionism". It doesn't make sense to ask (yet nevertheless that's what has constantly been done since our arrest) if Iberian insurrectionism would have come about back then had some of us met and had other little things been encouraged.
But it is interesting to ask — since part of our past is becoming known bit by bit, and since our dream of an Informal Anarchist Federation / International Revolutionary Front is gradually spreading — if our Iberian Peninsula counterparts will now remain mired in the anonymous multitudes or instead join the revolutionary effort.
Just like you, I have always believed that rebellion is a permanent process that doesn't stop for courts or jailers. The certainty of our convictions and our love of freedom embolden us. We may be "naive" for believing ourselves capable of taking our "destiny" into our own hands, but that will always be preferable to joining the chorus of naysayers and complainers.
The courts have been and are sites of power where anarchists don't "defend" ourselves with judicial arguments, but instead base our "defense" on the ideas and values that have led us to the defendant's dock.
Prisons are the ideal settings in which to spread anarchist ideas and values. They are the universities where we get degrees in all the arts and trades of illegality.
Comrade prisoners, fugitives, etc.: the spread of our ideas, memories, and histories is the compass that guides our footsteps.
I don't know if this writing is in keeping with what you expect from contributions for your second trial. Perhaps I should have touched a bit more on theoretical aspects (about which we still have much to discuss), but I'm convinced that we will have opportunities to talk/write more about that and many other things.
What's important is that we seek a direct relationship between us, the prisoners (in that sense, I'm having serious problems with correspondence), and that we find more like-minded people among us with whom to exchange ideas, information, etc.
We won't be in prison for our entire lives. And as you correctly say in some of your writings: "the power of the jailers ends outside the walls."
As far as José and I are concerned, we are awaiting our deportation to the Spanish state. There (in Spain), according to their laws, we should be released shortly.
For me, Germany is a chapter in my life that is best forgotten. Never in my life have I seen prisoners more disgraceful, more disposed to snitch and kiss ass, than those I have had the displeasure to meet here. I haven't lacked desire or idealism. What I've lacked is contact with people who have a minimum of dignity—oppositional, rebellious people. That fact has isolated me more (and of course hurt me more) than the institution itself.
In seven years in this country, I haven't managed (and/or wanted) to create any kind of regular link or communication with people from the "radical left." I haven't wanted to "tone down" my discourse in order to be "accepted" by the "radical community."
Quite often, while reading the "leftist" (including anarchist) newsletters, fanzines, and magazines that "report" on us (the "Aachen four"), I get the impression that my only "merit" as an "anarchist" is my past of "prison struggle," which ignores (consciously or unconsciously) the intensive revolutionary work and effort I've undertaken while "free." Likewise, my political writings and texts have been met with either censorship or disinterest.
But I'm now writing about all that in my new book, which is taking much more work than I previously thought, especially the political section.
Before beginning to write about my/our recent past as well as its consequences (for each one of us), it was essential to me that my comrades be free to send me "signals." Perhaps communication will be reopened by those "signals." And perhaps all of us will then have the opportunity to write a new chapter in the history of Iberian anarchism — one more stream flowing into the wide-open anarchic sea, now that the ground is fertile and the world is falling to pieces.
We did what we could, and we will keep doing what we can. Let's hope that each new generation of the Conspiracy of Cells of Fire / Iberian Anarchist Federation is infinitely better, more dynamic, and more effective than we have been. Regardless of my total of over 27 years imprisoned in the Spanish and German states, as well as my being uncertain of the day of my release, I am absolutely positive that I have nothing to apologize for. I only regret not being wiser and more adept at the moment of my intersection with the course of history.
With these words that break my isolation, cross borders, and arrive in the hearts of all our people in Greece and throughout the world, I embrace our brothers and sisters in the Conspiracy of Cells of Fire / Informal Anarchist Federation.
Long live the Informal Anarchist Federation / International Revolutionary Front!
Long live the Revolutionary Organization – Conspiracy of Cells of Fire / Informal Anarchist Federation!
Long live anarchy!
— Gabriel, Aachen, early October 2011
–

Gabriel Pombo da Silva
c/o JVA Aachen
Krefelderstrasse 251
52070 Aachen
Germany
Tags: Aachen, Christos Tsakalos, Conspiracy of Cells of Fire, Conspiracy of Cells of Fire : Imprisoned Members Cell, Gabriel Pombo da Silva, Germany, Greece, Informal Anarchist Federation, International Revolutionary Front, Letter, Michalis Nikolopoulos, Nikos Maziotis
Posted in Prison Struggle
Monday, October 10th, 2011
2 comrades, Eat and Billy are imprisoned having taken responsibility for this action. There has been a call-out for revolutionary solidarity with the struggle in Indonesia – translated into several languages, which can be found on the website Contra-Info, in Greek, Spanish, Italian, French, German and Portuguese. More details to follow.
7 October 2011
NEGARA-KORPORASI-POLISI-MILITER ADALAH TERORIS SEBENARNYA
"Pemberontakan sosial akan terus berlanjut karena mentari terus bersinar."
Kali ini kami mengatakan, bahwa apa yang kami lakukan merupakan puncak dari semua kegelisahan serta kemarahan kami terhadap sistem yang sedang berjalan ini. Sistem yang memberhalakan uang, sistem yang merecoki keseharian masyarakat dengan televisi, agar mereka membeli barang-barang yang tak mereka perlukan agar mereka terus bekerja seperti mesin. Sistem yang mengharuskan kami beserta masyarakat lainnya tidak memiliki kendali atas hidup kita sendiri.
Sistem yang lainnya menguntungkan borjuis, para pebisnis, dan para birokrat negara yang menjadi sekutu setianya. Bagi kami semua, ini bukan saatnya untuk diam, bukan saatnya untuk tenang menonton acara di depan televisi dan berkata bahwa "semua baik-baik saja".
Untuk setiap penindasan di Papua Barat.
Untuk setiap penindasan di Kulon Progo.
Untuk setiap penindasan bersejarah di Aceh.
Untuk setiap penindasan di Wera, Bima.
Untuk setiap penggusuran dan perampasan lahan di Takalar dan Pandan Raya di Makasar.
Untuk setiap penindasan terhadap kawan-kawan kami yang berjuang.
Untuk Tukijo dan para kombatan sosial yang mendekam di penjara hanya karena berjuang mempertahankan hak hidupnya.
Untuk setiap konsensi hutan yang akan menghancurkan setiap keanekaragaman hayati mengatasnamakan uang dan bisnis!
Dan untuk setiap penjara yang seharusnya terbakar rata dengan tanah.
Maka selama negara dan kapitalisme masih eksis, tak pernah akan ada kata damai antara mereka yang tak berpunya dengan mereka yang berpunya.
Penyerangan terhadap pusat-pusat finansial: ATM, bank, gedung korporat adalah target yang penting, karena mereka adalah salah satu kolaborator yang menyebabkan penderitaan di muka bumi ini. Ini bukanlah terorisme karena kami tidak mengadvokasikan untuk menyerang orang-orang, terorisme adalah peperangan antar negara. Terorisme adalah beras dan pangan di dapurmu yang semakin menipis. Terorisme adalah bajingan berseragam yang membawa senjata ke mana-mana. Terorisme adalah pembantaian orang-orang tak berpunya.
Maka kami mengatakan: sudah cukup!
Dan ini juga untuk kalian! Para kombatan yang tak pernah surut untuk berjuang di luar sana, meski kalian harus mendekam di jeruji besi karena keyakinan kalian akan kebebasan: Conspiracy of Cells of Fire (Yunani), kombatan Chile: Tortuga! Lives on! Gabriel Pombo da Silva, Thomas Meyer Falk (Germany) Polykarpos Georgiades, Revolutionary Struggle! Salut bagi kombatan Manado, Makassar, dan Bandung, kalian adalah inspirasi di tengah ketidakberdayaan masyarakat akan hidup mereka yang semakin tidak menentu dan tak berdaya.
"Biarkan api menyala dalam kegelapan!"
Long Live Luciano Tortuga Cell – International Revolutionary Front – FAI
–
English Translation:
STATES-CORPORATIONS-MILITARY-POLICE ARE THE TERRORISTS

"Social rebellion will continue as the sun continues to shine."
This time we say, that what we are doing is the culmination of all our anxieties and anger against a system that is running this. Systems that idolize money, a system that nags the public daily with television, so they buy things they do not need so that they continue to work like a machine. System that required us and other people to not have control over our own lives.
Another system that benefits the bourgeoisie, the businessmen, and state bureaucrats who become loyal allies. For us all, this is not the time to be quiet, not the time to calmly watch the event in front of the television and say that "all is okay".
For each incident of repression in West Papua.
For each incident of oppression in Kulon Progo.
For every historic repression in Aceh.
For each incident of oppression in Wera, Bima.
For any evictions and land seizures in Takalar and Pandan Raya in Makassar.
For each of the oppression of our comrades who are struggling.
To Tukijo and social combatants languishing in jail just because of fighting for their life right.
For each forest concession that would destroy any biodiversity on behalf of money and business!
And for every prison should have burned to the ground.
So long as the state and capitalism still exist, never will there be words of peace between those dispossessed by those who are propertied.
Attacks on financial centers: ATMs, banks, corporate buildings is an important target, because they are one of the collaborators who cause suffering on this earth.
This is not because we do not advocate terrorism to attack the people, terrorism is a war between countries. Terrorism is rice and food in your kitchen that are running low. Terrorism is a crook in uniform who carries weapons everywhere. Terrorism is the massacre of the dispossessed.
So we say: enough!
Tortuga! The combatants who never stopped to fight out there, although you have to crouch on the bars but you have freedom of thought: Conspiracy of Cells of Fire (Greece), combatants in Chile: Tortuga! Lives on! Gabriel Pombo da Silva, Thomas Meyer Falk (Germany) Polykarpos Georgiades, Revolutionary Struggle! Kudos for the combatants in Manado, Makassar, and Bandung, you are an inspiration in the middle of the powerlessness of their lives that society makes increasingly uncertain and helpless.

"Let the fire burn in the darkness!"

Long Live Luciano Tortuga Cell – International Revolutionary Front – FAI
Tags: ATM Burned, Billy, Chile, Conspiracy of Cells of Fire, Eat, Gabriel Pombo da Silva, Indonesia, Informal Anarchist Federation (FAI), Informal Global Federation / Anarchist Network, International Conspiracy for Revenge, International Revolutionary Front, International Solidarity, Kulon Progo, Long Live Luciano Tortuga Cell - International Revolutionary Front - FAI, Luciano Pitronello Schuffeneger, Polykarpos Georgiades, Revolutionary Struggle, RO-FAI (Indonesia Section), Thomas Meyer Falk, Tukijo
Posted in Direct Action
Tuesday, October 4th, 2011
From Liberación Total:
To all arsonists and like-minded antagonists, the third communiqué from the CCF-FAI of Mexico:
Like the joint communiqué by 11 Mexican insurrectionary anarchist and eco-anarchist groups says: "We are launching a frontal attack on the system of domination, causing maximum damage with minimum risk."

We have the capacity to rebel against a criminal, terrorist, unjust system, even until the final consequences!
On September 15, while BLACK SEPTEMBER was developing in Mexico, a new path of informal struggle against domination was being laid out: the Conspiracy of Cells of Fire (CCF) faction of the Informal Anarchist Federation of Mexico (FAI-M). Our first arson was carried out on September 27 by the Mexico City cells, who unleashed liberatory fire at the warehouse on Avenida Pacífico between Miguel Ángel de Quevedo and Eje 10 Sur in the Coyoacán area of Mexico City. War on the existent order had begun. The next day, we torched the Airport Staff training school of the National College of Professional Technical Education (CONALEP), located in the Third Ward of Arenal in the Venustiano Carranza area of Mexico City. On September 30, in an action coordinated between the Mexico City cells and the Jalisco cells, the CCF of Mexico simultaneously attacked capital in Mexico City and Jalisco, hitting where it hurts most: merchandise. Liberatory fire was born at the Wal-Mart on Calle Luis Donaldo Colosio in the Buenavista suburb of Cuauhtémoc, Mexico City and at the Pabellón shopping mall on Avenida Patria in Guadalajara, Jalisco.
Recent statements by Mexico City chief prosecutor Miguel Ángel Mancera continue to downplay the anarchist actions taking place in the capital. This is the same old strategy used by the PRD and Marcelo Ebrad to censor our struggle, as the Mexico City cells claimed responsibility for their attack in a communiqué released on the same day as the action. The Jalisco chief prosecutor's office is also adding to the silence and whitewashing that conceals our struggle, as the Jalisco cells publicized their attack that same night as well.
With our acts of propaganda during the events of this BLACK SEPTEMBER, we take retribution for comrade Tortuga, comrade Tamara, and our comrade prisoners in Mexico and the rest of the world.
The struggle has begun. Let's make sure it spreads everywhere.
Take a single comrade prisoner during tomorrow's march and we will make the cities burn!
We are all accomplices of the Conspiracy of Cells of Fire!
Long live the Conspiracy of Cells of Fire!
Long live the Informal Anarchist Federation of Mexico!
Long live the fighting insurrectionist and eco-anarchist groups!
Long live liberatory fire and avenging gunpowder!
Be strong, captive comrades in the Bombings Case!
Be strong, imprisoned comrades from the Conspiracy of Cells of Fire!
Be strong, comrades from Epanastatikos Agonas [Revolutionary Struggle]!
Be strong, comrade Tortuga!
Be strong, comrade Tamara!
Be strong, comrade Gabriel!
Against the technological system of domination!
For the demolition of prisons!
For the destruction of everything that dominates us!
For Total Liberation!
For international anarchist coordination!
For Anarchy!
— Conspiracy of Cells of Fire (Jalisco); October 1, 2011
Tags: Arson, Attack, Conspiracy of Cells of Fire, Conspiracy of Cells of Fire - Mexico, Gabriel Pombo da Silva, Informal Anarchist Federation - Mexico (FAI-M), Informal Anarchist Federation (FAI), International Solidarity, Luciano Pitronello Schuffeneger, Mexico, Mexico City, Tamara
Posted in Direct Action
Monday, September 26th, 2011
Note: Updated corrected email address – sinomosiapf (at) riseup (dot) net
To all anarchist prisoners:
Prison is the country of prisoners. From here inside, we want to send greetings to our comrades imprisoned around the world, as well as set a proposal in motion.
In the country of prisoners, the days go by one after the other, slow and indifferent, while everywhere cement and an immense boredom prevail.
Nevertheless, our minds often escape and secretly visit our brothers and sisters imprisoned in Chile, Mexico, Italy, Germany, Switzerland, England, Russia, Denmark, and wherever else there are cells full of people who haven't lost the desire for freedom.
Comrades, we talk to you even though we don't speak the same language. We see you even though we've never met face-to-face. We smile at you even though we don't know one another.
The enemy believes it can break our morale by locking us up in its cells for months and years. Power thus expects to receive a declaration of remorse, a renunciation of direct action, a revision of our anarchist values.
But the only thing it will receive is our utter contempt and our most potent rage. All of us who have assumed responsibility for belonging to the first phase of the Conspiracy of Cells of Fire expect sentences of many years—condemnation by a system we have declared war on because we will not tolerate it governing our lives.
We want to transform the upcoming trial of the Conspiracy of Cells of Fire into a trial of the system.
By way of our discourse and our attitude, it won't be us defending ourselves in front of the judges, but they defending themselves in front of us for the crimes committed by the Power they serve.
At the same time, we want to draw attention to the fascist mechanism constructed to persecute us via the collaboration of the police, the judiciary, and the mass media.
A mechanism that launched an unprecedented anti-anarchist campaign whose goal was not just our arrest, but also the creation of a climate of widespread fear in which even the possession of previously published texts by anarchist prisoners could lead to a date with the prosecutor.
This was preceded by numerous detentions, the issuing of arrest warrants, the publication of photos of those of us who were at large, mass media screenplays about "connections between all the guerrilla organizations," reports about the "revolutionary fund" and our participation in bank robberies, "specialist" analyses of each of our "psychological profiles," and many other methodical schemes whose objective was to isolate us morally and marginalize anarchist urban guerrilla warfare.
The State wants to wipe the choice of anarchist direct action off the map of values held by subversive circles.
It wants to portray direct action as a futile decision that leads directly to prison, changing nothing.
However, when you choose direct action, you choose to take your life into your own hands.
Through direct action, we break away from stagnant thinking, we negate spineless movements, and we sabotage the clocks of discipline, creating free time and space within the hostile environment of the metropolis.
There, where surveillance cameras record our every move, uniformed police pigs memorize our faces, and the screens of the spectacle fabricate our desires, we once again don our masks. Our hands grab hold of stones, Molotovs, bombs, pistols, and we pour into the streets in search of freedom.
Now, even in prison, we don't ever forget that feeling, and we'll do exactly the same thing again the first chance we get.
We therefore don't want intellectuals, university professors, or any of the well-known hacks from leftist cliques defending us at our trial.
What do any of them know about the adventure of direct action and its values?
What can be said by those who spend all day firmly seated in their comfortable offices, chitchatting against the system from the vantage point of their leftist salon culture while that very system feeds them?
No, let them keep their "sensitivity" and the guilt they feel for having sold out to the Power that wants to portray us as "troubled, socially impressionable youths."
We're not looking for fake sympathy or support from the Left. Far from it. We seek accomplices to the same crime: the fight for anarchy and freedom.
There can be no more appropriate place for our search than the prisons that constitute an obligatory stop on the path of many anarchist comrades.
Therefore, comrades, we present you with a proposal/invitation.
In a few months the second Conspiracy of Cells of Fire trial will be held.
Even now we know that they will sentence us, and not for one minute will we take a step back, nor will we lower our heads or our voices in order to benefit from some "extenuating circumstance."
Therefore, there can be no better or stronger argument for our defense that your own voice, comrades. It's from your expressions of solidarity and the attacks carried out by anarchist direct action groups that we draw the courage to look our persecutors directly in the eye. Surely you've felt the same thing, imprisoned in other countries and paying the same price for our shared passion for freedom.
More specifically, what we're thinking about and proposing is to release, ahead of the trial, a pamphlet containing your international words of solidarity with the Conspiracy of Cells of Fire case.
At the same time, given that solidarity is a reciprocal concept to us, we'd like it if those of you who want to contribute something—thereby giving us strength and support—accompany it with an introductory text explaining your own case.
The pamphlet we want to release will thus include summaries of each of your cases, carrying your own experience of struggle to Greece and the other countries where the publication will be distributed, creating new opportunities to instigate hostilities with the system as part of international solidarity.
Together we will create an international experience of struggle that far exceeds our specific case, since we don't view the Conspiracy of Cells of Fire as the simple calling card of an organization. We view it as a way of being that describes and comprises the features and trajectory of the anarchist struggle we're all engaged in, another part of which is our time spent in prison.
This is an experience we want to share with all you comrades who find yourselves prisoners in the hands of the State, and it's simultaneously a proposal through which we can also be accomplices to your experiences.
It thus becomes possible to reach, within international anarchist circles, a level of unity and coordination that isn't vague, but essential.
Contact between comrade prisoners at an international level transforms solidarity into a revolutionary workshop, revealing the different perceptions that shape a joint anarchist action front.
The first contact between us will be capable of creating the preconditions that open up an international dialogue among prisoners as well as comrades on the other side of the prison walls—a dialogue in which each person's specific perceptions and analyses can be discussed, thereby promoting coordinated attacking actions against the State. Of course, this doesn't mean the fusion or the dismissal of different opinions
Additionally, such differences cannot and must not be obstacles to reciprocal support.
This is about trying to move from sympathy, which has developed among us through letters and shared textual references, to international coordination. It's about trying to become accomplices, together forming the Black International of anarchist prisoners and supporting—if so desired—our Italian comrades' proposal regarding the strengthening and broadening of the Informal Anarchist Federation/International Revolutionary Front.
The potentialities opened by this commitment are enormous, since it concerns a process of intensifying hostilities between revolutionary anarchists and the system.
It's worth imagining the strength gained by something that, for example, begins in Chilean prisons, crosses borders, and winds up in the cells of Greece. An international solidarity campaign can thus be initiated from prison, just like in the past when it was a matter of supporting comrade Gabriel Pombo da Silva.
At the same time, the formation of an autonomous network of communication among prisoners creates the appropriate preconditions for the existence of a permanent flow of information about what's going on in each prison, the conditions of imprisonment, upcoming trials, potential sentences, and ultimately the preparation of a counterattack plan by comrades outside prison.
For each sentenced comrade, for each disciplinary measure, for each prohibited letter or visit, for each vindictive transfer: no guard, no embassy, and no police officer should feel safe. When prisoners have the potential to communicate in their hands, there will be decisive comrades everywhere responding with action, sabotage, and fire.
We consider the proposal to release the International Words of Solidarity with the Conspiracy of Cells of Fire pamphlet to be the first step in that direction.
There will certainly be many more steps to come, but at some point one must simply begin.
In conclusion, we salute and stand beside—with our thoughts as well as our hearts—the Chilean comrades charged in the Bombings Case and also comrade Tamara, who is facing State persecution for sending a letter-bomb.
From the prisons of Greece we send anarchist smoke signals to Mónica Caballero, Andrea Urzúa, El Viejo Loco, and the rest of the comrades charged in the Bombings Case; Gabriel Pombo da Silva; Thomas Meyer-Falk; Marco Camenisch; Silvia, Billy, and Costa; Braulio Arturo; Walter Bond; Villarroel and Fuentevilla; Thomas Black and the English antifascists; the imprisoned Italian insurrectionists; the Russians and Belarusians; the Danes; and all those we've forgotten or whose names we simply don't know but want to know, because all of us have together chosen to sail against our epoch, using anarchy as our compass.
The following excerpt is dedicated to us all:
One day of prison. Two days of prison. Three days of prison. A month of prison.
The door closes and opens, then closes and opens again. Three months of prison. A year of prison. I need to know if others are thinking about me as much as I'm thinking about them. The days can't go by fast enough now. Four-hundred-eighty-two days of prison. Four-hundred-eighty-three days of prison. Four-hundred-eighty . . . I've lost count. Fuck. It's better that way. Counting is no good in prison. The arithmetic makes no sense whatsoever. Prison has its own smell. A smell that gets all over you and follows you around. I'll never manage to get it off me. Yesterday marked two calendars in prison. Two fucking years. I don't get any sleep. I've forgotten how to smile and now I can't dream. "Clink clink" in the night. They wake me up for a search. Maybe they'll find the shanks? Seven-hundred-fifty-one days of prison. Are you satisfied, my dear judges? Pigs. Seven-hundred-fifty-two days of prison, pigs. Seven-hundred-fifty-three pigs. Coming and going and off I go. Coming and going and off I go. My cell is three meters by three meters. From the second floor window I see 20% of the sky over the top of the fucking prison wall. I walk through the yard like an automaton. I walk kilometers in a yard measuring just a few meters. Boredom and boredom again. Today I vomited up my very soul. I vomited bars, walls, solitary confinements, years of prison, judicial sentences. I vomited three years of prison. I don't want to count anymore. I completely close my eyes and think. I think about my comrades, whom they're keeping far away from me in other prisons. I think about fires on the prison roofs. I think about everything prison has tried to make me forget. I think about a smile, a caress, a journey that doesn't end over there where the wall ends, a glance that isn't trapped behind the fucking prison bars. I stop thinking. I open my hand. I look at the metal file I have. Now I know. I know exactly what I have to do. Let's go then, once again. This time with feeling. Until the end. Long live Anarchy.
—An altered excerpt from the text signed by J. and V.
LONG LIVE THE CONSPIRACY OF CELLS OF FIRE. LONG LIVE THE INFORMAL ANARCHIST FEDERATION/INTERNATIONAL REVOLUTIONARY FRONT.
P.S. The current proposal to release the International Words of Solidarity with the Conspiracy of Cells of Fire pamphlet will be mailed to all our imprisoned comrades around the world. In order to counteract potential difficulties (censored correspondence), and due to the lack of information regarding certain comrade prisoners (unknown prison mailing addresses), our proposal will also be posted on anarchist Web sites. But what's crucially needed is that our comrade prisoners be informed. All responses, texts, comments, and critiques can be sent by e-mail to sinomosiapf (at) riseup (dot) net and by conventional mail to:
Post Box 51076
TK 14510 Nea Kifissia
Athens
Greece

— Imprisoned Members of the Conspiracy of Cells of Fire : Panayiotis Argyrou, Michalis Nikolopoulos, Giorgos Nikolopoulos, Gerasimos Tsakalos, Christos Tsakalos, Giorgos Polydoras, Damiano Bolano, Haris Hatzimichelakis, Olga Economidou
Tags: 14/14, Braulio Arturo, Chile, Christos Tsakalos, Conspiracy of Cells of Fire, Conspiracy of Cells of Fire : Imprisoned Members Cell, Damiano Bolano, Gabriel Pombo da Silva, Gerasimos Tsakalos, Giorgos Nikolopoulos, Giorgos Polydoras, Haris Hatzimichelakis, Informal Anarchist Federation (FAI), International Revolutionary Front, International Solidarity, International Words of Solidarity with the Conspiracy of Cells of Fire pamphlet, Marco Camenisch, Michalis Nikolopoulos, Olga Economidou, Panayiotis Argyrou, Proposal, Thomas Blak, Thomas Meyer Falk, Walter Bond
Posted in Prison Struggle
Sunday, May 29th, 2011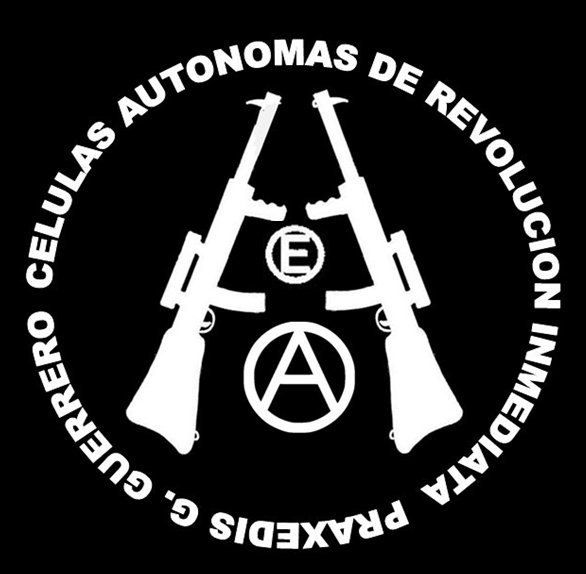 from Culmine, translated by War on society:
We claim ourselves the agents of the following attacks with explosives:
*The placement and detonation of the explosive device that blew up in the Santander [bank] at Tlalpan and Normandía streets, Mexico City.
*Explosive device against a Starbucks located on the commercial avenue "Paseo de la Reforma," Mexico City.
The morning of the 22nd of May of 2009, a warrior for freedom left us, but he will never be forgotten, he will live forever in the anti-authoritarian offensive, which is directed against the promoters of insane violence and of social control. Punk Mauri died in combat, struggling against the enemy, fighting for his ideas, despite what the enemies of our rebellion say, comrade Mauri died in the direct solidarity struggle with the comrades caged in the prisons of the state.
What happened yesterday is our way of remembering him, of showing what between ourselves stays alive–the spirit of that iconoclastic warrior: attacking those he always attacked, committing an outrage against the system of domination and the social peace that he, like us, loathed. Without mediation in our struggle and with our firm convictions. His words remind us every day that we must not take even one step back, that beyond our fronts there lies a capitalist world that needs to explode. One bomb, two, three…. Arm yourself and become violent, beautifully violent, until everything explodes… Arm yourself and combat the terrorism, burn, conspire, sabotage and become violent, beautifully violent, naturally violent, boldly violent… Anarchy does not die in the mouth, it prevails in active hands… were his words and his action.
The targets against which we directed our attack this time are part of the machinery by which the state/capital continue to remain intact. The banks and capitalist businesses are what dominate the world in this new stage of capitalism: technological capitalism. They are who, with the ownership of the economy, make, direct, and control the life of millions of slaves of the illusory well-being, the life of a society submissive to the longings to receive crumbs from power. Not to mention the banking institutions finance the construction of new public and private prisons in which they exploit the prisoners for the supposed purpose of reinsertion, obviously a reinsertion into capitalist society. They are in part those responsible for sexism, misogyny, destruction of the environment…
The devices were made from metal cans, butane gas canisters, screws and dynamite. All these actions are minimized by the inferiorist [a play on the words "inferior" and "interiorista" meaning person in the ministry of the interior – transl] Miguel Mancera in a clear intention to cover up the anarchist offensive and who, on seeing his order upset and his security evaded, with decaying arguments and explanations intends to explain the components of our devices, our form of action and our motives, which he certainly will never understand, since our motive is to annihilate the system that protects him. His lie-laden declarations contradict the version he gave to a TV journalist after the explosive attack against the Santander in Navarte in April of last year.

A greeting of solidarity to compañero Gabriel Pombo… We are with you… always with the rebels!!!
"We are not in agreement with what they impose on us and we will destroy those who press on us many problems we will have to face but more will be the reasons to struggle nothing imports on us that we have to fight now that our struggle will never finish… We will not allow them to control our lives and we will struggle against all authority not only the bad times will exist, there also will be moments of great joy. We should initiate subversive actions to stop thus power from reaching freedom…"
STRUGGLE!!! STRUGGLE!!! STRUGGLE!!! UNTIL THE END!!!
STRUGGLE!!! STRUGGLE!!! STRUGGLE!!! FOR YOUR FREEDOM!!!
For freedom, for anarchy…. For the multiplication of bombings and actions against the state/capital!!!
Against the prison society and the police state!!!
For the expansion of the social war on all fronts!!!
Mauricio Morales… Presente!!!!
At war against the state:
Autonomous Cells for Immediate Revolution – Praxedis G. Guerrero
Tags: Autonomous Cells for immediate Revolution - Praxedis G: Guerrero, Gabriel Pombo da Silva, Mauricio Morales, Mexico, Santander Bank, Starbucks
Posted in Direct Action
Sunday, May 29th, 2011
21 & 23 May 2011
from Culmine, translated by War on society:
–
We are a small stone of the mountain, a drop within the ocean, a sigh running through the wind, we are the minoritarian struggle, the despised, the dangerous, the reckless, those who love violence, those who make the fire to sing the insolent song of their dead…
The early morning of Saturday the 21st we made our approach to the PDI [investigative police] headquarters located on Rodríguez street in the heart of Curicó and we placed a fuse-lit incendiary device under a bus, at one of its wheels, located some 100 meters from the place; the truth is that it appears this set off an alarm, so that while we were quickly getting away we heard fire sirens approaching the place, and so we did not make sure after, the bus only suffered minor damage. Two days later, the morning of Monday the 23rd, we set fire to a barricade in the northeast sector of the city at the intersection of Av. Colon and Av. Balmaceda.
We wish to dedicate these fires to the memory of Punk Mauri, at two years since his parting, also we send strength to comrade Gabriel Pombo da Silva recently repressed by his jailers, our minds and hearts are with you in these difficult moments, not forgetting the countless warriors imprisoned around the world, to Silvia, Costa and Billy in their hunger strike, to the latest hostages captured by the Greek dictatorship especially to Theofilos Mavropoulos, the comrade wounded by the police in a clash and likewise to the anonymous combatant who took flight, to the warriors who fill the $hilean dungeons, and to those who fly far away in their insurgent escape.
MAURICIO MORALES, WARRIOR, NEVER MARTYR, DEMANDS VENGEANCE FROM EVERY ANARCHIST HEART
GABRIELA CURILEM AND DIEGO RIOS IN THE STREET FLOUTING AUTHORITY

CARLO GIULIANI INFORMAL CELL
Tags: Carlo Giuliani Informal Cell, Chile, Costantino Ragusa, Curicó, Gabriel Pombo da Silva, Luca Bernasconi, Mauricio Morales, Sabotage, Silvia Guerini, Theofilos Mavropoulos
Posted in Direct Action
Monday, May 16th, 2011
12/05/11
Gabriel Pombo da Silva's cell in the Aachen prison has been raided. All of his CDs, DVDs and postcards with political slogans were taken away. Furthermore, they took his free weights (which were approved), as well as his typewriter. In addition, personal photos were taken from him. No specific reasons were given. His lawyer has been informed.
Gabriel is very angry and would appreciate support.
Write to him:
Gabriel Pombo da Silva
JVA Aachen
Krefeld Str 251
52070 Aachen
Germany
Note: Gabriel is a long-term anarchist prisoner who escaped from the Spanish prison system, only to be caught on the German border after an attempted armed escape from pursuing border police after the comrades denied to be controlled (So-called 'Aachen 4 case').
Tags: Aachen, Gabriel Pombo da Silva, Germany, Raid
Posted in Prison Struggle
Wednesday, January 26th, 2011
On the 23 January 2010 the Chilean Embassy in Mexico received two explosive letter devices which were immediately noticed by Embassy civil servants, who then alerted the Secretariat of Mexican Public Security. The building was evacuated and 24 hours later Mexican police confirmed that the packets contained explosives and threats against the ambassador of Chile in Mexico – Germán Guerrero Pavez. The devices were neutralized.
Autonomous Cells of the Immediate Revolution – Praxedis G. Guerrerro took responsibility for this latest attack against the Chilean State through an internet message.
This incident has been 'quietened down' by the Chilean and Mexican governments, international media plus European authorities, who are not willing to give the "oxygen of publicity" to this latest attack on the global media-stage, during the precarious trial of the Conspiracy of Cells of Fire, after the December letter-bombs against various States, which hit international media headlines, prompting the Italian Informal Anarchist Federation to respond with two explosive parcels for the Chilean and Swiss embassies in Rome. Growing insurrectional tendancies will not be censored out of the media, nor will the attacks end. Anarchism will only spread, become more developed and will overcome the institutions of hierarchy and finance.
The action was dedicated to the prisoners of the Chilean State who are fighting for their dignity and freedom, the indigenous people of the Mapuche, who are fighting for their land and self-determination, as well as dedicated to the Revolutionary Organisations Conspiracy of Cells of Fire and Revolutionary Struggle in Greece. Anarchist prisoner Gabriel Pombo da Silva also gets a mention, with a quote from him ending the final section: "Siempre con l@s rebeldes!!!!"
Download the Communique (PDF / Spanish Language)
–
More information:
Communique from Conspiracy of Cells of Fire – Call for an Informal Anarchist Federation – International Network
–
AGAINST THE VIOLENCE OF CAPITAL – OUR STRUGGLE IS ONE
Tags: 14/14, Autonomous Cells of the Immediate Revolution – Praxedis G. Guerrerro, Chile, Conspiracy of Cells of Fire, Gabriel Pombo da Silva, Informal Anarchist Federation (FAI), Informal Global Federation / Anarchist Network, International Revolutionary Front, International Solidarity, Letter-bombs, Mapuche, Mexico
Posted in Direct Action
Sunday, January 2nd, 2011
1 January 2010
"January the First. Anarchists saw in the new year 2011 with attacks on both Newfoundland road police station and the probation office on Upper York street using easily found stones.
With our action, we breathe revolutionary solidarity for the next year and beyond to all those engaged in struggle against the state and capitalism in whatever forms across the planet. we especially think of those behind bars who became rebels and have risen up and burned Ford prison. we identify with them, as it would seem we both wish for jails to become ashes in this moment. each moment cannot fail to bring us closer to the conclusion we already knew – the only way out of this society that with its cctv cameras, cops, conformity, e-surveillance, snitches and repression of dissent begins to resemble the prison more closely. so we in turn continue our own project of desire for total liberation so attacking that which attacks us.
To the pigs and their apologists – we will strike again soon. happy new year.
Love & rage across borders, until every wall falls.
Anarchist greetings to the enemy's hostages of ours, known and unknown to us, including:
Giannis Dimitrakis, Gerasimos Tsakalos, Panagiotis Argyrou in Greece
John Bowden in UK
Jock Palfreeman in Bulgaria
Thomas Meyer Falk, Gabriel Pombo da Silva in Germany
Aleksey Bychin in Russia
Marco Camenisch, Luca Bernasconi, Costantino Ragusa, Silvia Guerini in Switzerland"
anonymous autonomous
Tags: Aleksey Bychin, Bristol, Costantino Ragusa, Gabriel Pombo da Silva, Gerasimos Tsakalos, Giannis Dimitrakis, Jock Palfreeman, John Bowden, Luca Bernasconi, Marco Camenisch, Panagiotis Argyrou, Silvia Guerini, Solidarity Action, Thomas Meyer Falk, UK
Posted in Direct Action, Prison Struggle
Wednesday, February 24th, 2010
Received via contact form.
23 February 2009
In the early hours of Tuesday 23rd February 2010, anarchists attacked the Royal Bank of Scotland HQ in the heart of developing Bristol, UK.
Despite road traffic and proximity of security, the mob succeeded in breaking windows, smashing paint-bombs against upper floors and setting fire to tyres in the middle of the road.
A litany of abuses by RBS or any other bank could continue for pages, but it is enough to state that every bank is part of the financial prison which incarcerates and impoverishes all of us.
These actions will escalate and multiply.
We dedicate this action to all indigenous fighters and their allies struggling against the Tar Sands project in Kanada which RBS is an investor in, and also all those who fight against the 2010 Winter-Olympics.
This action is also in solidarity with Alfredo M. Bonanno, Christos Stratigopoulos, Polykarpos Georgiades, Vaggelis Chrisohoides, Giannis Dimitrakis, Gabriel Pombo da Silva, the entire London G20 defendants/prisoners and all other prisoners in struggle.
For international struggle against capitalism and the state.
Tags: Alfredo M. Bonanno, Christos Stratigopoulos, G20, Gabriel Pombo da Silva, Giannis Dimitrakis, Polykarpos Georgiades, Royal Bank of Scotland, Solidarity Action, Tar Sands, Vaggelis Chrisohoides
Posted in Direct Action
Sunday, January 31st, 2010
Dear comrades,
Behind us we feel the strength of our gesture of insurgent love; informal and coordinated, lived and felt in as many ways as our creativity, our imagination, our desires and resources, (personal or material), have allowed and guided…
It seems to me that I am not the only one who has been moved by the interest that this hunger strike stirred up, by the demonstration of revolutionary solidarity and its results. I also don't think I'm the only one that wants to see that all that was experienced and shared during these days remain "only" a gesture… Gestures are for remembering (monuments, comrades, situations, etc.), but IDEAS and ACTIONS are for continuing and advancing… (more…)
Tags: Aachen, Gabriel Pombo da Silva, Germany, Hungerstrike, Revolutionary Solidarity
Posted in Prison Struggle
Saturday, January 2nd, 2010
Comrades visited Gabriel Pombo da Silva in Aachen prison, Germany, during these previous days. He was fine, not suffering so much and very happy to get news about the solidarity actions that took place in different places. He will begin to eat again tomorrow and was already thinking about that. The comrades also spoke with Gabriel about making a balance from what happened, but it will take time before the text appears.
For the destruction of all prisons and borders forever.
For revolutionary struggle against capitalism.
–
Some of the recent actions of solidarity:
Bombing at Banco Frances, Buenos Aires, Argentina
Bombings at BBVA Bank and Kenworth Company, Ecatepec, Mexico
Bombing near Federal Prison System HQ, Buenos Aires, Argentina
Tags: Gabriel Pombo da Silva, Germany, Hungerstrike, Prison Society, Solidarity Action
Posted in Prison Struggle
Wednesday, December 30th, 2009
Marco Camenisch was born on January 21st 1952 in Switzerland, in a small village of the Graubunden region. At the beginning of 1980 Marco was arrested for damaging electricity pylons and transformers, once against the NOK company (which ran nuclear power plants in Switzerland) and once against their distributors, the Sarelli company. The sentence was very harsh: 10 years. Marco was well aware this reflected the seriousness of what was at stake: the ecocide perpetrated by the the power industry as part of the wider system of destruction, which formed the target of his own struggle. (more…)
Tags: ABC Bristol, Agustín Rueda Sierra Autonomous Group, Gabriel Pombo da Silva, Marco Camenisch, Solidarity Action, Switzerland
Posted in Eco Struggle, Prison Struggle