Posts Tagged 'Germany'
Saturday, July 11th, 2020
Today at 07:00 July 9th, 2020
in the morning, a hundred riot cops walked over the bicycle rack in the yard of Riga 93 to climb over the fence into our yard one by one. At the same time they occupied the roofs of our block. The cops, along with LKA 5 and 6, then gained access to apartments on the 3rd floor of the front building under the pretext of a search for forgery of documents and others. According to the press, they also searched an apartment on Karl-Marx-Allee.
Contrary to their usual procedure, they refrained from using a helicopter and made no attempt to penetrate the rear building so far. In the meantime, they led the worst traffic lawyer in town, Markus Bernau, around the front building, presumably with the intention of supporting him in legal actions against the apartments occupied there. Torsten Luschnat, who thinks he is our new property manager, also gained access to these apartments. The so-called owner company has already proved several times in court that they can't really prove anything, not even their legality to take legal action against us. The previous court rulings have dismissed all claims. (more…)
Tags: Berlin, Eviction, Germany, Raids, Repression, Rigaer 94, Rigaerstrasse
Posted in Social Control
Friday, July 3rd, 2020
Our friend Andreas is dying… (July 2, 2020)
… and everyone is watching. What has been happening to Andreas in jail in Naples for at least a year is a result that both the German and the Italian state are responsible for. In spite of his poor health, Andreas is denied adequate medical care despite promises to the contrary by the hospital management. He is brought to a hospital every hour for questionable or senseless examinations and then back to prison.
Andreas was diagnosed with cancer at least a year ago, it spread all over his body and he had unspeakable pain. He can hardly walk anymore, just eat more baby food, he loses blood and is often unconscious for days. His Italian lawyer is fighting at all levels, but transfer to house arrest has now been refused.
Andreas is doing very badly, suicide seems to be the only way out for him in the current situation.
Both the Italian and the German state know Andreas' state of health. Nobody lifts a finger, fundamental human rights do not seem to apply to prisoners. What happens here is murder. And every suicide in jail is nothing else, because behind bars there are no free decisions.
We cannot stand by, although we are infinitely sad and angry and have no ideas what to do.
Confront the German and Italian authorities with their inactivity, call the Federal Foreign Office, Boschaft and the consulate.
Down with all prisons! Down with all states!
ABC Vienna, July 2nd, 2020
–

Notes:
The address to write to him:
Andreas Krebs
Sez.4 /Stz.5
Mediterraneo
Via Roma Verso Scampia 250
CAP 80144 Napoli (NA)
Italy
—
He has to pay for the urgently needed medication and reasonably usable food himself. If you want to donate money:
Receiver Krebs IBAN: DE 90 1005 0000 1067 1474 26
BIC: LOADED BEXXX
Purpose: Donation / Andreas Krebs
Tags: ABC Vienna, Andreas Krebs, Germany, Italy, Repression
Posted in Prison Struggle
Friday, June 19th, 2020
ADESSO CHE AVETE PAURA.
E' sempre più chiaro ormai come il modello economico dominante, sacrifichi alla legge del profitto e della competizione esasperata qualsiasi espressione di libertà individuale, uguaglianza e solidarietà sociale.
Di fronte a tutto ciò, numerosi sono gli scenari di rivolta che esplodono e si ramificano in ogni parte del mondo.
Dal confederalismo democratico curdo, ai territori autonomi zapatisti, da Hong Kong al Chile.
In questi ultimi mesi, il modo in cui la pandemia da Covid è stata gestita ha ulteriormente amplificato e reso evidente la disuguaglianza tra chi il sistema lo subisce e chi pretende di controllarlo.
Questo ha reso più estrema la tensione sociale e il suo potenziale esplosivo.
La morte di George Floyd, di per sé un evento non eccezionale nel contesto della brutalità di un sistema che giornalmente uccide e devasta, vissuto nel momento del lock down globale a causa della pandemia, ha scatenato a livello internazionale un'esplosione di rabbia che si è manifestata in molteplici forme: dall'assedio dei distretti di polizia, ai saccheggi di quei beni a cui molt* non hanno più o non hanno mai avuto la possibilità di accedere, alle grandi manifestazioni di piazza. (more…)
Tags: Berlin, Coronavirus, George Floyd, Germany, International Solidarity, Italy, Operation Bialystok, Repression
Posted in Social Control
Friday, June 19th, 2020
Welcome to the 35th edition of Bad News. This is our Angry Voices From Around The World for June, 2020. A report from the international network of anarchist and anti-authoritarian radios.
If you'd like to get involved in the network or want to hear more – send an email to a-radio-network@riseup.net.
Check out all the shows look for the a-radio-network collection on archive.org or at our website, a-radio-network.org.
Contents:
1. The Final Straw Radio:
• Interview about the liberation of a former Sheraton Hotel in Minneapolis.
2. A-Radio Berlin:
• Interview about a new feminist campaign in Germany to raise awareness to the abortion topic.
3. Radio Fragmata:
• Updates on the general situation, the movement and the struggles in Greek territory.
4. Invisible Radio:
• Voices of people from Moria camp
5. R.O.S.E. (Athens):
• News from Greece.
Tags: Anarchist Radio, Anarchistisches Radio Berlin, Anti-Prison, Athens, Berlin, Final Straw Radio, George Floyd, Germany, Greece, International Solidarity, Invisible Radio, Migrant Struggle, Minneapolis, Moria, R.O.S.E (Athens), Racism, Radio, Radio Fragmata, Repression, USA
Posted in Autonomy
Wednesday, June 17th, 2020
Received from AWW:
Germany: A Reply to the City of Berlin's Declaration of War Against Anarchists
https://anarchistsworldwide.noblogs.org/post/2020/06/14/germany-a-reply-to-the-city-of-berlins-declaration-of-war-against-anarchists/
Matraville, Australia: Black Lives Matter Statement from Prisoners at Long Bay Prison
https://anarchistsworldwide.noblogs.org/post/2020/06/15/matraville-australia-black-lives-matter-statement-from-prisoners-at-long-bay-prison/
Italy: Updates & Reflections Regarding the Repressive Operation 'Prometheus'
https://anarchistsworldwide.noblogs.org/post/2020/06/15/italy-updates-reflections-regarding-the-repressive-operation-prometheus/
Italy: Those Who Do Not Die Find Themselves – Thoughts on Repressive Operation 'Ritrovo'
https://anarchistsworldwide.noblogs.org/post/2020/06/15/italy-those-who-do-not-die-find-themselves-thoughts-on-repressive-operation-ritrovo/
Tags: #BlackLivesMatter, Australia, Germany, Italy, Operation Prometeo, Operation Ritrovo
Posted in Autonomy
Wednesday, May 27th, 2020
The struggle is not only in the streets but in how we represent and inspire each other. In January 2020, the Anarchist Radio Berlin was with Dirti Lepra, a trap artist with whom we talked about why make music for dancing with social critique and revolutionary lyrics, his life experience through music, anarchism and the popular uprising.
Social Media
* Instagram: @dirti_lepra
* Youtube: Dirti Lepra
You can listen to our Spanish original audio here.
Tags: Anarchist Radio, Anarchistisches Radio Berlin, Berlin, Chile, Dirti Lepra, Germany, Interview, Radio, Santiago, Trap
Posted in Interviews
Sunday, May 24th, 2020
It's been 11 years since your last ride… 11 years… and we were all surprised when it was the first anniversary of your death, Mauri. The years go by, but something always remains, right?
For those of us who knew you and for those of us who knew you after your death, it has been 11 years of having you around, 11 years of continuing to propagate, breaking in, bothering, laughing loudly or in whispers, stubbornly propagating the Black Death.
How much has happened in these years, there is no rational measure that can quantify it. There are those who will say that we have lost, others that we have gained a lot, what is really important is that we continue… and that anarchy, as a concrete practice against any form of domination, as a permanent exercise, continues unrestrained. And that is why our dead people enjoy excellent health and continue to laugh, today already in other laughs.
How much you would have enjoyed the streets in these months, we smile when we imagine the answer, but you were, Mauri, in memorable days, in the chaos and its sweet deliriums. You were there, because there are those who insist on going out with you to the chaos. (more…)
Tags: Chile, Germany, International Solidarity, Mauricio Morales
Posted in Uncategorised
Saturday, May 16th, 2020
From 13 to 15 September, the heads of government of all European countries will meet with the Chinese government in Leipzig. This will not only be about intensifying trade relations. Rather, it will be about building a new global partnership so that the EU is not ousted from the table of the great powers in the future. The deterioration in the EU's relationship with the USA under Donald Trump has made it necessary to find another partner to coordinate the shaping of its own global interests with the EU. The topics of the summit are therefore not only economic relations, but also foreign and security policy and – unsurprisingly – digitalisation and digital cooperation, as well as climate protection and human rights. The summit is based on strategic position papers which already began in the EU-China 2020 Strategic Agenda for Cooperation from 2013 and have since become increasingly concrete at the annual meetings. This year, not only representatives from China and the EU will meet for the first time, but also all heads of state and government.
Economic Cooperation (more…)
Tags: Black Bloc, China, Counter-Summit, Demo, EU, Germany, International Solidarity, Leipzig
Posted in Autonomy
Monday, May 11th, 2020
Like last year, the autonomous MayDay was full of surprises! And these surprises have caught the cops off guard and we are happy about that!
It started in the night from 30.04. to 01.05. with a demonstration in the Ölberg district, accompanied by fireworks and other great lights and (sound) effects. On our way through the Elberfelder Nordstadt some neighbours at their windows celebrated with us that the 1st of May has begun. So we were able to start the day in good spirits with strike two under difficult conditions. Already with the first strike last year we could catch the cops on the wrong foot and thus trick the cop apparatus. From that point on, we managed to break through the de facto suspension of the right to demonstrate for a short time. At least for a short period of time we were able to make the darkness glow.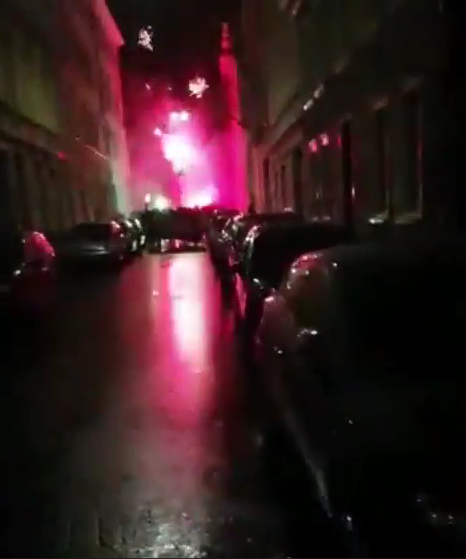 Tags: 1st May, Demo, Germany, International Solidarity, Mayday, Wuppertal
Posted in Direct Action
Friday, May 1st, 2020
Welcome to the 33rd edition of Bad News. This is our Angry Voices From Around The World for April, 2020. A report from the international network of anarchist and anti-authoritarian radios.
If you'd like to get involved in the network or want to hear more – send an email to a-radio-network@riseup.net.
Check out all the shows look for the a-radio-network collection on archive.org or at our website, a-radio-network.org.
Contents:
1. Črna Luknja sharing a thought on how does corona virus influence our society and thoughts on how to intervene politically in state of emergency – from Federation for Anarchist Organizing from Slovenia and part of Croatia.
2. 105fm (Mytilene, Lesvos) for the general situation in Lesvos, situation in Moria camp and hunger strike in Moria's prison.
3. The Final Straw Radio sharing a short description of recent covid-19 subjects in the US and some commentary by anarchist prisoner Sean Swain on how to make it through isolation more safely.
4. R.O.S.E. (Athens) with updates and news from Athens.
5. A-Radio Berlin on a commentary about the global situation these days.
6. Free Social Radio 1431AM (Thessaloniki) about
the cut of power supply in BIO.ME. (an occupied and self-organized factory in Thessaloniki)
movements and struggles in prisons during the quarantine and corona-virus.
repression in so-called Greece during the quarantine and corona-virus.
arrests of Kurdish and Turkish comrades in Athens.
evictions of migrant's "home" squats.
7. Dissident Island (London) focuses on issues around housing in the UK, discussing moves the state has made to protect landlords, the lip service paid to renters and homeless folk, and the self-organised solutions that are emerging through rent strike and mutual aid groups.
8. Frequenz A with an interview with somebody of the anarchist network Dresden (Germoney) about their initiative in their neighborhood during the covid-19 crisis.
9. Radio Fragmata (Athens) with an introduction on the socio-political situation and struggles in Greek territory.
Tags: Anarchist Radio, Anarchistisches Radio Berlin, Athens, Berlin, Coronavirus, Croatia, Dresden, Germany, Greece, Lesvos, London, Migrant Struggle, Radio, Radio Fragmata, Repression, Sean Swain, Slovenia, Thessaloniki, UK, USA
Posted in Autonomy
Sunday, April 26th, 2020
With broken glass and paint in the entrance area of ​​the company headquarters of the local municipal utility "Wuppertaler Stadtwerke" (WSW) on Bromberger Straße, we have underlined our request to the WSW for an immediate power cut.
The WSW have always been brazen. But now the company is going one step further. While more and more large energy companies, such as the ENBW has even reversed gas and electricity barriers due to the corona pandemic, the WSW does nothing. For those affected, this means in the already difficult times, in the evening no light, no electricity or gas for cooking … ..
We will not forget our demand for a general stop of electricity and gas barriers even after the pandemic!
Just as little as the need for an ecologically justifiable energy supply for everyone who needs it for meaningful purposes. So e.g. definitely not for the armaments and automotive industries (the workers would certainly be pleased to produce socially useful products!)
Statistics from the Consumer Advice Center North Rhine-Westphalia from March 23 on the average company margin, i.e. the money with which the companies operate and ultimately make profits, for the basic electricity supply with an annual consumption of 3000 kWh in the period from January 2017 to April 2020 shows that the WSW with 9.03 cents per kWh (the average company range is 8.25 cents per kWh), the fourth highest company range of basic electricity suppliers in the 20 most populous cities in NRW. (more…)
Tags: Coronavirus, Germany, Paint attack, Sabotage, Vandalism, Wuppertal, Wuppertaler Stadtwerke (WSW)
Posted in Direct Action
Saturday, April 11th, 2020
This is the 32nd episode of "B(A)D NEWS – Angry voices from around the world", a news program from the international network of anarchist and antiauthoritarian radios, consisting of short news segments from different parts of the world.
Content:
1. Radiofragmata (Athens, Greece): Updates for arrested anarchists and political prisoners. / News from the Greek regime.
2. Free Social Radio 1431AM (Thessaloniki, Greece): About the revengeful deportation to Albania of the anarchist comrade Irdi K.
3. Radiozones of Subversive Expression (Athens, Greece): A review for the current situation in Evros (the Northeastern borders of Greece).
4. 105FM (Mytilene, Greece): An update from the recent refugee demonstrations in Lesvos, the repression and the fascist attacks.
5. Dissident Island (London): A roundup of happenings from around the so-called United Kingdom.
6. A-Radio Berlin: An interview with an organizer of the first feminist congress in Poland that took place in February.
7. Frequenz(A): About the resistance against a deportation in Leipzig, Germany back in the 10/7/2019 and the repression like for example the current court case linked to that.
https://www.aradio-berlin.org/bad-news-episode-32/
Tags: Anarchist Radio, Anarchistisches Radio Berlin, Athens, Berlin, Dissident Island, Free Social Radio 1431AM, Frequenz(A), Germany, Greece, Irdi K, Leipzig, Lesvos, London, Migrant Struggle, Mytilene, Poland, Racism, Radio, Radio Fragmata, Radiozones of Subversive Expression, Repression, Sexism, Squatting, Thessaloniki, UK
Posted in Autonomy
Thursday, April 9th, 2020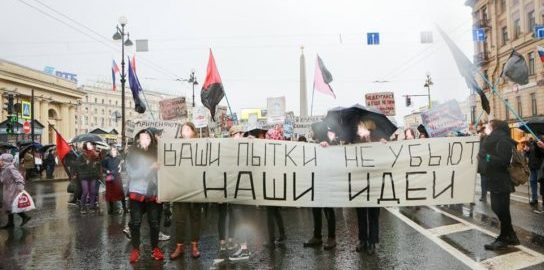 From ABC Dresden:
Around a month ago before the whole Europe was locked down by the national states, anarchist movement in different parts of the world was shaken by the news from Russia around "Network Case". Liberal news portal "Meduza" published information that some of the defendants from Penza were involved in murder of two people while they were on the run. This information brought back the topic of how we organize our solidarity and what are the limits of our solidarity. Although we are not located in the region, we have a connection to our comrades in Russia. We organized many solidarity events for those prosecuted under "Network" case in the city of Dresden. For example, an evening at the end of December, where we encouraged people to write to Russian Anarchists and Antifascists in prison.
This text is not an attack on the solidarity campaign or the anarchist movement in Russia. We are writing it to proceed with further discussion – only that way we can learn and avoid repeating the same mistakes as before.
"Network" creation
We think most of the people who are going to read this text already know the history of the case. But we will repeat a short version of it so everybody is on the same page here. (more…)
Tags: "Network Case", ABC Dresden, Analysis, Germany, International Solidarity, Russia
Posted in Prison Struggle
Sunday, March 22nd, 2020
An Early Easter Egg on Political Prisoners Day
We, as an early Easter egg, claim responsibility for the fires during the night of 18.03.2020 at two companies involved in the construction of the new Zwickau-Marienthal prison. [1]
Today is the anniversary of the International Day of Political Prisoners. This day was proclaimed to remember the many fighting comrades and comrades-in-arms who are in the dungeons of prisons worldwide. The date is based on the day on which the Paris Commune was proclaimed in 1871. For many people, the Paris Commune was and still is a reference point for revolutionary efforts for social justice and political freedom. The smashing of the Commune, the massacre of thousands of Communards and the deportation of hundreds of them to the penal colonies, where they died a slow death, was intended to show all revolutionaries in the world what a bourgeois government is prepared to do when it sees its power threatened.
Even today thousands of revolutionaries are sitting in the prisons of this world. The emancipatory struggle has been going on since the commune, and its children have come and are still coming under the wheels of repression. There has always been a struggle for the liberation and support of the prisoners. A fundamental critique of domination has been linked to a critique of the prison system and the morality of punishment. The demand for the liberation of the prisoners often turned into a demand to abolish prisons and to overcome the principle of punishment completely. (more…)
Tags: Arson, Germany, Park Bench 3, Sabotage, Saxony, Solidarity Action
Posted in Direct Action
Friday, March 13th, 2020
Liebe Freund*innen und Genoss*innen,
Wir möchten euch herzlich zu der folgenden Veranstaltung unter dem Titel "Solidarität mit den Kämpfenden in der Türkei" einladen.
Freitag, 20. März ab 18 Uhr,
Jockel Ratiborstr. 14c, 10997 Berlin
Infoveranstaltung:
An dem Abend wird es um die Frage gehen "Wer sind die Hungerstreikenden in der Türkei, die seit dem 17. Mai 2019 für ihre Rechte kämpfen und warum tun sie dies?" Dazu Informationen über den Kampf des politischen Gefangenen Mustafa Koçak, der seit 2 Jahren in der Türkei inhaftiert ist und zu lebenslanger Haft verurteilt wurde.
Konzert:
Im Anschuss an den informativen Teil der Veranstaltung wollen wir mit Euch bei einem Konzert verschiedener Musiker*innen den Abend
kulturpolitisch abschließen.
Broschüre:
Außerdem die Vorstellung der neuen Broschüre "Repression gegen revolutionäre Kunst und Kultur", die Interviews, Texte und Materialien
von und zu Grup Yorum enthält.
Die Band "Grup Yorum" ist ein revolutionäres Musikkollektiv, welches in der Türkei massivster Repression ausgesetzt ist und ebenfalls seit einigen Jahren vermehrt in Deutschland Probleme bekommt, z.B. durch die Unterbindung von Konzerten. In der Türkei wurde ihr Kulturzentrum Idil mehrere Male von der Polizei gestürmt.
Tags: Berlin, Germany, Grup Yorum, Hunger Strike, International Solidarity, Repression, Solidarity Event, Turkey
Posted in Prison Struggle