Posts Tagged 'Germany'
Tuesday, November 12th, 2019
We talk about the "political climate related to political prisoners in Greek prisons, the historical time-line of the solidarity fund, what we have done, what we are currently busy with and what our future steps will be"
Any income from the event will be given to the solidarity fund for the material support of prisoners and persecuted militants.
Tags: Berlin, Germany, Greece, International Solidarity, Solidarity Event, Tameio
Posted in Prison Struggle
Saturday, October 26th, 2019
Prison Profiteers Attacked – Excavators Torched – Solidarity with the Park Bench 3
During the night of October 11th [2019], we set fire to two Eurovia Vinci excavators. Vinci, as a global company, has shown many times in the past and in the present that it apologizes for NOTHING and that it is ready to accept any order, no matter how dirty. (more…)
Tags: Arson, Eurovia, Eurovia-Vinci, Germany, Leipzig, Vinci, ZAD
Posted in Direct Action
Saturday, October 26th, 2019
Branches of Turkish banks was attacked
Berlin, London, Sofia, Amsterdam, Paris. In these cities was attacked branches of Turkish bank (Işbank). For actions we used manual from the Network of Revolutionary Cells (SRB): "How to start evacuation"
Money from Turkish bank support terrorism of Turkish state. Turkish army killing civil people. For example, they killing a child named Sara Yusuf Hüseyin. Turkish army also killing revolutionary fighters in Rojava. We have to stop it!
Fight against Turkish bank is fight against terrorism!
– Commando Sara Yusuf Hüseyin
Tags: Berlin, Bulgaria, Commando Sara Yusuf Hüseyin, Evacuation warning, France, Germany, Kurdish Struggle, Kurdistan, London, Paris, Rojava, Sofia, Turkey, Turkish bank (Işbank), UK, War
Posted in Direct Action
Friday, October 11th, 2019
· ANTICOLONIAL MARCH 2019 ·
Colonialism has never ended. The neocolonial-capitalist system still wants to silence and to marginalize us. With fascism rising everywhere, time has come to unite and stand together!
The 12th of October marks the "discovery" of America by the Europeans in 1492. It's the founding stone of a big lie that lives on until today in forms of white supremacy, eurocentrism and ignorance. October 12th marks the beginning of the colonial genocides, of the destruction and robbery of precolonial societies, culture and knowledge, of forced christianization, the exploitation of the indigenous peoples, their land and resources, the transatlantic slave trade and the globalization of the a system that is wrecking life on our planet.
Until today October 12th is celebrated as "Columbus Day" and "dia de la raza" (Spanish: "race day") by colonial states. The "heroic achievements" of Columbus are still taught in German schools, while our forests are burning for the profit of multinational corporations and neocolonial regimes. German weapons are exported to war zones to kill people, while people fleeing these wars are left to drown to not enter Europe. This hypocrisy can no longer be tolerated. (more…)
Tags: Anti-Colonialism, Berlin, Demo, Germany
Posted in Autonomy
Saturday, September 21st, 2019
BURNING HEARTS CANNOT BE LOCKED AWAY
FREEDOM FOR THE THREE ON THE PARK BENCH!
On the night of 8 July 2019, three of our comrades were arrested on a park bench. On the same night there were several house searches in various districts of Hamburg, during which some of the people were forced out of their beds with weapons. The suspicion, according to the Attorney General's Office, was the preparation of an arson attack. On 9 July, the three were brought before the magistrate. Two of them were remitted from custody and the third had her arrest warrant suspended, with conditions – she has to report once a week and is not allowed to leave the country – and she has been on the outside ever since. A evaluation trial for the pre-trial detention was requested by the defence and then withdrawn two weeks later. A new date is not foreseeable at the moment.
Currently DNA was taken from the two prisoners for comparison. The person outside did not have to give any DNA, since the alleged traces found are only male DNA. The two in custody are doing well, considering the circumstances. Since the LKA (State criminal police office) officials are present at every visit, the visits that take place twice a month for one hour depend on the LKA calendars. Telephone calls (1 hour per month) and letters are also monitored, listened to and read by the LKA,
the prison and the General Prosecutor's Office. Accordingly, there is never a moment of private communication between the two and their friends or family. It is clear to them what this place should do to them – but they keep their heads up and share solidarity and contact with fellow prisoners. (more…)
Tags: Germany, Hamburg, Letter, Park Bench 3
Posted in Prison Struggle
Thursday, August 22nd, 2019
21.08.19: On Monday night, we set fire to several construction vehicles on the grounds of the Zwickau Marienthal Prison construction site. An excavator was burned out completely, the other four excavators and a front end loader were damaged by our fire and made partially unusable. We would like to dedicate this action especially to Loic, the Park Bench 3 and the Basel 18. They are missing from our side.
In Zwickau-Marienthal, construction work on a joint new prison complex for the states of Saxony and Thuringia began recently. At the beginning of 2020, a 6 meter high wall will surround the 10ha area. The concrete complex, which is to be completed by 2024, will then hold 820 people within its walls. In its workshops more than two-thirds of the prisoners will be forced to work. (more…)
Tags: Anti-Prison, Arson, Germany, International Week for Anarchist Prisoners, Prison Industrial Complex, Prison Labour, Sabotage, Saxony, Thomas Meyer Falk
Posted in Direct Action
Thursday, August 22nd, 2019
Kundgebung in Solidarität mit Grup Yorum!
Freitag, 23. August 2019, 18 Uhr
Kottbusser Tor – Kreuzberg
Grup Yorum im Hungerstreik. Am 25. August 2019 werden es 100 Tage sein.
Mitglieder der Musikband Grup Yorum begaben sich am 17. Mai 2019 in einen Hungerstreik. Ihre Hungerstreik-Erklärung enthielt diverse Forderungen, darunter die Freilassung der gefangenen Bandmitglieder und die Einstellung der Verfahren, die Beendigung der Polizeirepression gegen den Istanbuler Kulturverein İdil, die Streichung der Namen der Bandmitglieder von den "Terrorlisten" und die Aufhebung der Konzertverbote. (more…)
Tags: Berlin, Demo, Germany, Grup Yorum, Hunger Strike, International Solidarity, Turkey
Posted in Prison Struggle
Tuesday, July 23rd, 2019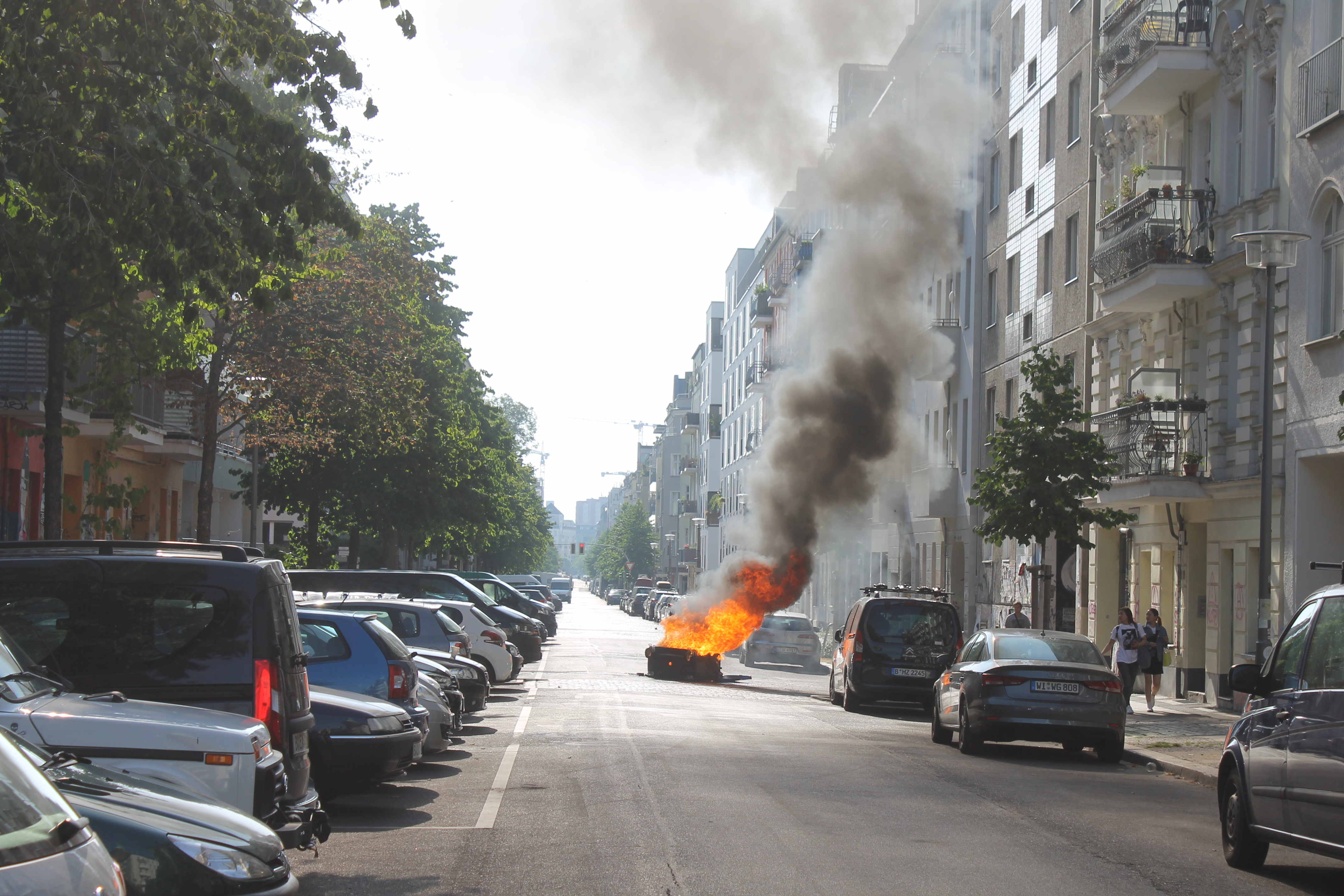 This morning [20/7], the cops of the LKA 5.21 unit under the command of Kranich raided Liebig34. Unusual was the saturday, unusual the mix of units from different departments. New were a few civil cop faces, not new: the repression.
The reason for this raid was probably stones thrown from the house during the last few weeks. After the cops collected stones from the Dorfplatz around 2:30 this morning, they obtained a court order and search warrant to search part of our house and returned around 6:30 a.m.. They came through the backyard and the front door, sawed the doors and barris, picked them up and thus forcibly gained access to our project. A lawyer was quickly on the scene and was able to observe and testify. Altogether the cops were about three hours in the house, having searched officially and intensively three connected rooms and the attic. They also snooped around in unlocked private rooms, tore posters from the walls, knocked over furniture, cut internet cables and destroyed windows. (more…)
Tags: Berlin, Germany, Liebig34/XB, Raids, Repression, Rigaerstrasse
Posted in Social Control
Tuesday, July 23rd, 2019
Support an anarchist who was sentenced in so-called Germany. This person was captured by a civilian security guard in a shopping mall while nonviolently expropriating some goods. Without noticing he has a small pocket knife on him which he didn't want to use as weapon. Even though he was accused of: A theft with a weapon prepared to use.
The German court imposed punishment of 90 days in prison or paying 1000 Euro. That means if he doesn't pay those money he will have to spend three months in prison. The Czech ABC group decided to support him with organising a money collection. You can send your solidarity contribution to an account at: https://abcnews.noblogs.org/kontakt/ or put it in a box by the ABC stall at public events.
The expropriation is not a crime. Different forms of expropriation of capitalist and state sources is a legitimate way of a fight against dictatorship of a capital. We are supporting those who act in this way and are punished.
Solidarity is our weapon!
Tags: ABC Czech Republic, Germany, Repression
Posted in Prison Struggle
Monday, July 22nd, 2019
Received Saturday 20 July
This morning 6:30, the police broke into Liebig34 to search evidence and DNA in one room. The reason is an attack with stones against repression forces on Friday night. Soon after many riot police vans and a helicopter arrived, a barricade was burning in Rigaer Street. After some hours police left, no one was arrested. There is a call for resistance tonight and solidarity actions. More info as it comes.
https://twitter.com/Liebig34Liebig
https://twitter.com/rigaer94
Tags: Berlin, Eviction, Germany, Liebig34/XB, Raids, Rigaerstrasse
Posted in Social Control
Sunday, July 14th, 2019
via https://de.indymedia.org/node/34562:

Solidarity with the Three from the park bench
During the night of 8 July 2019, three of our friends and comrades were arrested and after that several apartments were searched. After the prison examination two of them are now in custody, the third person got released on parole. According to the press, they are accused of preparing an arson attack in connection with the anniversary of the riots against the G20 summit in Hamburg in 2017.
Show solidarity and show them that they are not alone!
If you want to write to them you can send letters:
Libertäres Zentrum
Karolinenstraße 42 (Hinterhaus)
20357 Hamburg
[Germany]
Keyword "Die Drei von der Parkbank"
We are furious!
Whether guilty or not, solidarity with all those affected by repression!
Freedom for all prisoners!
Burning hearts cannot be locked up!
Tags: G20, Germany, Hamburg, Repression
Posted in Social Control
Saturday, July 13th, 2019
The Fight for Liebig34 goes further.
The Court hearing for the eviction of our anarcha-queer-feminist housing project will take place on the 20th of September 2019. Padovicz wants to snitch away the house, while the politicians are trying to keep our mouths shut. Both parties are awaiting a final court decision. We do not let any cis-men decide about the future of our anarcha-queer-feminist project, cause simply no one should decide about us, but ourselves.
The last weeks in Nordkiez
Lateley, the presence of cops in our neighbourhood increased massively. Helicopters are flying daily and nightly over our roofs. Multiple police vans drive through our streets and ID-controls become part of everyday normality.
Also, during our self-organized neighbour fest in which a lot of children participated, the cops reacted in an aggressive way, trying to ruin our day. Several persons sympathising with our project, have been arrested and taken into custody. The arrests of these friends were very violent and sexist. Whether it's about getting a coffee in the morning at the other side of the street or having dinner in front of our house, the cops find ways to intimidate us. The system of state tries to silence us by all means. As a consequence, we face daily confrontation with the cops. However, their provocation is not something we allow to set us back or keep us small. It is something that encourages us to resist.
We are aware that their violent behaviour is purely a reaction on our mobilization in our joint-fight against gentrification, patriarchy and capital. All of this, shows us, that our battle against "the city of the rich and powerful" is effectively starting to worry the establishment.
A glance into our future
It remains important to not let them take away Dorfplatz and the neighbourhood, but to show presence, since we want to shift life and summer to the streets in Berlin. Let us all together. Let us express to Padovicz and everyone else what we think of this court date which we received. Be creative and support us with solidarity actions. Further, it's fundamental that the focus is not only on the eviction day of Liebig34, but that decentralized actions happen everywhere at any moment.
We won't be robbed of our desires and conviction when our house will be evicted. The fight against capital and patriarchy is not solely connected to one day or one project. Let's form rebellious feminist gangs!
We will continue to battle further for a life free of hierarchies, away from patriarchy and capitalism. For a liberated society in which living spaces are no commodities in a consumerist world.
Liebig34
https://de.indymedia.org/node/34491
Join us Day X: https://vimeo.com/325552190
Follow us on https://twitter.com/Liebig34Liebig
Tags: Berlin, Eviction, Germany, Liebig34/XB, Rigaerstrasse
Posted in Autonomy
Tuesday, June 25th, 2019
We hate prisons, many of our comrades are held in them, some are tortured, and prisons are at the heart of enforcing the established order. Vinci builds prisons, this vehicle belonged to them, so we wanted to set it on fire. So the train of thought that led to the destruction of the road construction vehicle on June 24 was actually quite simple.
(more…)
Tags: Arson, Eurovia-Vinci, Germany, International Solidarity, Leipzig, Sabotage, Solidarity Action, Vinci
Posted in Direct Action
Monday, June 24th, 2019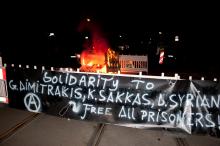 From the urban desert of the danger zone in Friedrichshain we send a signal of our solidarity to Yiannis Dimitrakis, Kostas Sakkas and Dimitra Syrianou. On Monday morning, June 24, we erected a burning barricade on Weidenweg (Street near Rigaer and Liebig) together with a fixed banner (see text on picture). We were waiting with stones to welcome the first patrol car but they needed time to mass up strong forces to enter the area of Rigaer Straße, and we disappeared safe.
(more…)
Tags: Berlin, Burning Barricades, Dimitra Syrianou, Germany, Giannis Dimitrakis, International Solidarity, Kostas Sakkas, Rigaerstrasse, Solidarity Action
Posted in Direct Action
Saturday, June 1st, 2019
"Burn all prisons, with or without walls!" – The call for a Subversive May, as an extension of the proposal for an Anarchist May 1st in Berlin, is understood by us as a call to extend the attack on different levels. We agree with the idea not to confine ourselves to one day but to constantly and unpredictably attack the functioning of existing society and prove that its security is an illusion.
The apparatus of power includes not only the murderers of the State, but also the mercenaries of the private security companies. Securitas vehicles once parked undisturbed in the GESOBAG housing estate where they act as security guards to prevent the intervention of cops during conflicts with tenants or tensions with the property management. Securitas is also engaged in surveillance work in prisons and public spaces worldwide. (more…)
Tags: Alfredo Cospito, Anahi Salcedo, Arson, Berlin, Dimitris Koufodinas, Dimitris Koufontinas, Germany, Informal Anarchist Federation (FAI), International Revolutionary Front, International Solidarity, Mauricio Morales, Securitas
Posted in Direct Action