Posts Tagged 'Germany'
Saturday, August 15th, 2015
Mildly interesting article giving info on international police operations against the radical left, concerning the well known vastly over-hyped cases of the 'Invisible Committee' and Mark 'Stone' Kennedy, UK undercover cop.
Tags: France, Germany, UK, USA
Posted in Social Control
Thursday, August 13th, 2015
In the following interview we talk about the "Week of solidarity with anarchist prisoners", who is promoting it and what it is about. For security reasons, this interview has been re-recorded using our own voices.
You'll find the audio (to listen online or download in different sizes) here:
http://aradio.blogsport.de/2015/08/12/a-radio-in-english-interview-week-of-solidarity-with-anarchist-prisoners-august-2015/
Length: 4:47 min
You can find other English and Spanish language audios here.
August 23-30 International Week of Solidarity with Anarchist Prisoners blog, 'tillallarefree.noblogs.org'
Call out for an International Week for Anarchist Prisoners
In summer 2013 members of several ABC groups discussed the necessity of introducing an International Day for Anarchist Prisoners. Given there are already established dates for Political Prisoners Rights Day or Prison Justice Day, we found it important to emphasise the stories of our comrades as well. Many imprisoned anarchists will never be acknowledged as 'political prisoners' by formal human-rights organisations, because their sense of social justice is strictly limited to the capitalist laws which are designed to defend the State and prevent any real social change. At the same time, even within our individual communities, we know so little about the repression that exists in other countries, to say nothing of the names and cases involving many of our incarcerated comrades.
This is why we have decided to introduce an annual Week for Anarchist Prisoners on August 23-30. We chose August 23 as a starting point, because on that very day in 1927 the Italian-American anarchists Nicola Sacco and Bartolomeo Vanzetti were executed in prison. They were convicted of murdering two men during an armed robbery at a shoe factory in South Braintree, Massachusetts, United States. Their arrest was a part of a bigger anti-radical campaign led by the American government. The State's evidence against the two was almost totally non-existent and many people still today believe that they were punished for their strong anarchist beliefs.
Given the nature and diversity of anarchist groups around the globe, we have proposed a week of common action rather than a single campaign on a specific day making easier for groups to be able to organise an event within a longer target period.
Therefore, we call on everyone to spread the information about the Week for Anarchist Prisoners among other groups and communities and think about organising event(s) in your city or town. The events can vary from info-evenings, screenings and benefit concerts to solidarity and direct actions. Let your imagination run free.
Check out the flyers in different languages. Please send reports of your activities to tillallarefree (A) riseup.net
Tags: Anarchistisches Radio Berlin, Berlin, Germany, International Solidarity, International Week for Anarchist Prisoners
Posted in Prison Struggle
Thursday, August 13th, 2015
PDF: Processo di Stoccarda. I compagni Ozgur Aslan, Sonnur Demiray, Muzaffer Dogan e Yusuf Tas, condannati in base all'art. 129 b – Luglio 2015.
Netzwerk Freiheit für alle politischen Gefangenen
Tags: Germany, Muzaffer Dogan, Özgur Aslan, PDF, Repression, Sonnur Demiray, Yusuf Tas
Posted in Social Control
Thursday, August 13th, 2015
There is a new blog in Germany – documenting the social war and collecting translations in 4 languages:
—-
Über zwei Jahre sind vergangen, seit Til Schweiger [1] über Umwege die
Abschaltung [2] von directactionde.ucrony.net [3] erwirkte. (more…)
Tags: Chronik, Counter-info, Germany
Posted in Autonomy
Monday, August 3rd, 2015
For Mónica Caballero, Nikos Romanos, Francisco Solar, Nikos Maziotis and all upright prisoners, for those who burn the vehicles of the prison-construction company Vinci in the streets of Paris and have celebrated the 14 July national holiday in their own way, for the untouchables that throw once again μολότοφ [Molotov cocktails] and stones through the streets of Athens and not let themselves be deceived by Syriza… and for ourselves.
That's why we torched a vehicle of the surveillance company Deutsche Telekom in the Wedding district of Berlin on 11/6/2015; we burned a van of the armaments company Siemens on the Stralau half-island on 13/7/2015; and caused a vehicle of the security company WISAG in the Paul-Junius-Straße to burst into flames on 17/7/2015.
Fortress Europe will collapse only when the storm on the outer boundaries connects itself with the local, inner subversions, and these struggles correlate with each other.
Tags: Arson, Berlin, Car Burning, Deutsche Telekom, Germany, International Solidarity, SIEMENS
Posted in Direct Action
Sunday, August 2nd, 2015
On the 27.08.2014 a house was squatted in Breite Straße in Hamburg. When the cops came to evict they were heavily attacked by the squatters with fireworks, colour, and a lot of other projectiles.
Later people got arrested outside the house accused of participation in the
action. Some of them where in custody for some months but are now out. End of august 2015 the courtcase will start against 6 persons. The accusations are heavy, some of them are accused with attempted homicide because of the
attacks on cops.
Lets show solidarity with the action because it was an attack against this
oppressive normality!
Solidarity with the accused because there should be no rebel in the hands of the state!

03.-09. August 2015 Week of mobilisation and agitation in solidarity with the accused of the "Breite Straße" case!
Show your solidarity with the accused rebels no matter where and how!
A video from the action: https://www.youtube.com/watch?v=4_KPGsFBKtI
Tags: Breite Straße case, Germany, Hamburg, International Solidarity
Posted in Autonomy
Monday, June 29th, 2015
Police will attack next week, because….
Signs against the gentrification: The Rigaer street party
Dear groups, individuals and collectives "Es ist besser unsere Jugend besetzt leere Häuser als fremde Länder" (In our youth it is better to squat empty houses than foreign countries).
Under this motto some young people started squatting houses in Rigaestrasse and in the rest of Friedrichshain in the early 90's, creating places where they could collectively live, organize and resist.
Particularly in the following years many of the squatted houses were evicted or pressed to sign contracts as a result of the so called "Berliner Line" which aimed to push people into a capitalistic (consumptive) lifestyle. Even the contracts didn't prevent houses getting evicted in many cases. Nevertheless a few of the originally squatted houses persist as active spaces.
Discounting these projects that have remained, with somewhat affordable rent – the rest of our Kiez has undergone drastic changes in rent costs and real estate prices that are obvious to see / hard to ignore, with formidable and unaffordable prices for flats. (more…)
Tags: Berlin, Germany, Rigaer 94, Rigaerstrasse
Posted in Autonomy
Tuesday, June 23rd, 2015
Comparing Evils
Chapter 4 of the book
RADICAL PEACE: People Refusing War
By William T. Hathaway
Jamal Khan is an Afghan journalist who fled his country because of Taliban persecution and now lives in Germany. We met in the apartment of a mutual friend from the Deutsche Friedensgesellschaft, the German Peace Society. Jamal is mid-forties, thin, with curly brown hair, tan skin, and clear green eyes that take everything in.
Hathaway: "Do you miss your country?"
Khan: "Only when I'm drunk, which isn't very often. Then I get stupidly sentimental.
"Actually I'm not a big fan of any country. They're all inhuman. They exist mainly as platforms for power. The rulers promote cultural rituals that make people identify with the place they live. Then they manipulate the people's patriotic emotions to get them to fight wars for them. We cling to the identification because it gives us a sense of security, of belonging to something greater. But the insecurity we feel is actually generated by the power the rulers have over us.
(more…)
Tags: Afghanistan, Germany, Radical Peace: People Refusing War, USA, William T. Hathaway
Posted in Library
Friday, June 19th, 2015
SAMs for Uncle Sam
Chapter 3 of the book
RADICAL PEACE: People Refusing War
By William T. Hathaway
Merna al-Marjan is a young Iraqi who is currently in Germany studying European history. We talked in her dormitory room, a spartan but functional cubicle in a building that embodies a hopeful change in European history: it was constructed in the nineteenth century as an army barracks but now houses university students. That's progress.
On Merna's small table sat a pot of peppermint tea and a plate of baklava. She's short and plump with smooth skin the color of clover honey and deep anthracite eyes; she was wearing a long skirt of light cotton, a long-sleeved blouse, and a green paisley headscarf.
Hathaway: "Headscarves have become a controversial item of clothing here in Germany."
Al-Marjan: "Yes, you can't teach in the schools if you wear one. It's OK for a teacher to wear a Christian crucifix but not a Muslim headscarf. I didn't wear a hijab in Iraq, but I've started doing it here to show solidarity. It's ridiculous to ban an article of clothing, a simple piece of cloth. What sort of freedom is that?
(more…)
Tags: Anti-War, Germany, Iraq, Oil War, Radical Peace: People Refusing War, USA, War, William T. Hathaway
Posted in Library
Sunday, June 7th, 2015
Here in Germany two communist prisoners from Turkey, who had been sentenced according to the "antiterror-paragraph §129b", achieved victories by means of long hungerstrikes: Sadi Özpolat starved 43 days and Gülaferit Ünsal 54 days. They fought against censorship, prison clothing and intimidation. They didn't fight in the prison alone. Together with Gülaferit 6 other prisoners starved as well in solidarity.
Taken from one of our speeches ("Network of all political prisoners", Hamburg) in front of the Berlin prison, where Gülaferit is jailed: (29.5.2015)
"This is a draconic assault to all prisoners. More than 100 yearly commit suicide, living under similar conditions as Gülaferit, without any hope and unwilling to vegetate isolated anymore."
9 political prisoners of armed groups like RAF, who organised collective resistance against such conditions, didn't survive in prison in the seventies and eighties.
(more…)
Tags: Ahmet Düzün Yüksel, Berlin, DHKP-C (Democratic People's Liberation Party-Front), Germany, Gülaferit Ünsal, Hunger Strike, Muzaffer Dogan, Özgur Aslan, Özkan Güzel, Rote Hilfe, Sadi Özpolat, Sonnur Demiray, Turkey, Yusuf Tas
Posted in Prison Struggle
Sunday, April 12th, 2015
English subtitled version of the film giving the account of the early part of the Phoenix Project, international project of sabotage and attack with over a dozen hits in a variety of different countries.

Dedicated to Alfredo Cospito and Nicola Gai, Olga Cell FAI/IRF, who took responsibility for the laming of CEO Roberto Adinolfi of Ansaldo Nucleare.
"We are here, where everything starts now."
The Project of 'Phoenix' is the unfolding of a hidden map marking one of the routes to the Atlantis of practical theory. An unknown and lost continent that exists beyond the edges of the burning cities of the interzone. Created through action, dialogue and ideas and organised informally with anarchic principles of permanent autonomous attack, revolutionary solidarity and internationalism. A sequence of attacks by different radical direct action groups around the world, breaking the silence of isolation and striking back again against the prison societies of the techno-industrial system.
The imprisoned members of CCF are charged with instigation for the attacks, Spyros Mandylas and Andreas Tsavdaridis were arrested and charged for act #4 in the project, sending a parcel-bomb to the former commander of the anti-terrorist agency, Dimitris Xorianopoulos, whilst Christos Rodopoulos is reportedly accused of the mailing of the parcel bomb to Dimitris Mokkas, chief prosecutor in the CCF case, as act #6.
The Phoenix project is now renewed through the 2015 attacks in Chile, Czech Republic and Greece, with the comrades within the territory of Czech Republic initiating the campaign "Let's destroy repression". The story of the Phoenix continues to be written…
SOLIDARITY IS OUR WEAPON
NOT A MILLIMETER BACK
NINE MILLIMETERS TO THE COPS' HEADS
Tags: "Let's destroy repression" - 2015, Alfredo Cospito, Andreas Tsavdaridis, Ansaldo Nucleare, Black International of Anarchists of Praxis, Chile, Conspiracy of Cells of Fire, Conspiracy of Cells of Fire : Imprisoned Members Cell, Czech Republic, Germany, Greece, Indonesia, Informal Anarchist Federation (FAI), International Conspiracy for Revenge, Italy, Mexico, Nicola Gai, Nucleo Olga FAI/FRI, Phoenix Project, Poland, Roberto Adinolfi, Russia, Spyros Mandylas, UK, Videos
Posted in Library
Wednesday, April 8th, 2015
As a small sign of solidarity with the CCF and the ongoing hungerstrike of various prisoners in Greece and their struggle against this prison-society, we dropped a banner in Berlin, at the "Oberbraumbrücke" in Friedrichshain/Kreuzberg:
"Strength and complicity to all CCF / prisoners on hunger-strike in Greece! our hearts are beating for you too"
Victory to the prisoners' struggle and their demands!
Strength and Freedom for the CCF and their relatives!
Some angry anarchists
Tags: Banner drop, Berlin, Conspiracy of Cells of Fire, Conspiracy of Cells of Fire : Imprisoned Members Cell, Germany, Hunger Strike
Posted in Prison Struggle
Friday, April 3rd, 2015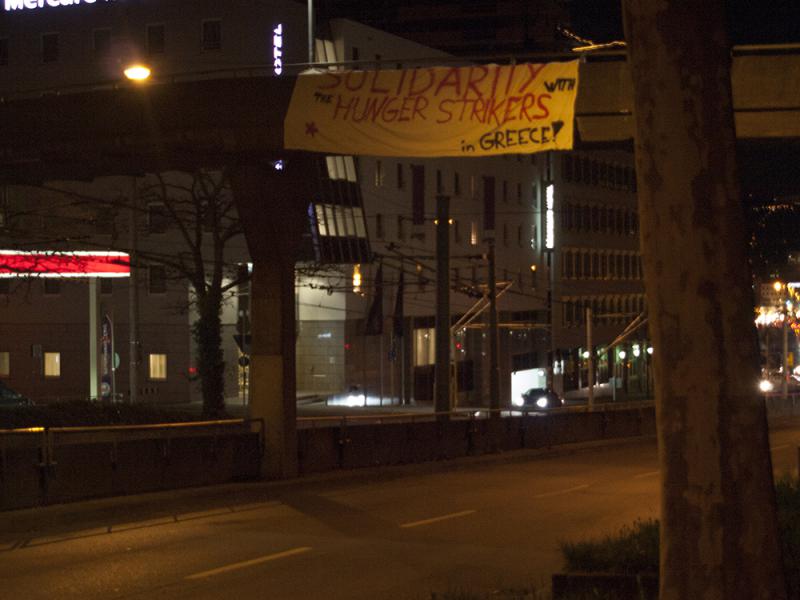 Solidarity banner for international action day for prisoners on hunger strike in Greek prisons. Immediate victory for the demands of the prisoners now.
Tags: Banner drop, Germany, Hunger Strike, Solidarity Action, Stuttgart
Posted in Prison Struggle
Monday, March 23rd, 2015
The axis of the rabble has struck. We set fire with the intention of considerably impairing the power supply and the grid connection of the large data centres of Deutsche Bank, Commerzbank, Deutsche Börse [that operates the Frankfurt Stock Exchange], and many others in Eschborn.
On March 16th, 2015, at 5am, the ground cables of an electricity pylon and three distribution boxes of Vodafone went up in flames on the outskirts of Eschborn near the A66 highway.
The side of the State tried to gag the disruption of the capitalist daily life by imposing a news blackout on Monday; however, telecommunication and power supply failures, as well as a large contingent of firefighters deployed in the early morning hours in Frankfurt did not go unnoticed.
Smash ECB [European Central Bank]

The axis of the rabble

– Contrainfo
Tags: Arson, Commerzbank, Deutsche Bank, Deutsche Börse, Eschborn, Frankfurt, Germany, Sabotage, Vodafone
Posted in Direct Action
Sunday, March 15th, 2015
74 gang members killed in Kobanê and Til Temir
13 March – ISIS gangs continued their attacks on and around Til Temir during last night after reinforcing their units with more groups of fighters, mostly foreigners, and heavy weapons brought in from various parts of Iraq such as Raqqa, Aleppo and Hol.
YPG (People's Defense Units) Press Centre reported in a written statement that 74 gang members were killed in clashes in Til Temir and Kobanê. 5 YPG/YPJ fighters have also lost their lives.
YPG said that ISIS gangs continued their attacks on and around Til Temir during last night after reinforcing their units with more groups of fighters, mostly foreigners, and heavy weapons brought in from various parts of Iraq such as Raqqa, Aleppo and Hol. (more…)
Tags: Duisburg, Germany, Insurrection, Iraq, Islamic State in Iraq and Syria (ISIS), Ivana Hoffmann, Kubani, Kurdistan, Lions of Rojava, People's Defence Units (Y.P.G.), Rojava, Syria, Til Temir, Turkey, War, Women's Defense Units (YPJ)
Posted in Autonomy