Posts Tagged 'Germany'
Friday, February 27th, 2015
And once again autonomous cells struck. This night we carried out a sabotage in Berlin, in complicity with all the fighters of our worldwide conspiracy. With fire we transformed two cars belonging to the company 'Sicherheit Nord' completely worthless for the watchdogs of the system. With this attack we promise our attention and support to those persecuted and incarcerated by the pigs.
Strength to Tamara Sol Farías Vergara, Mónica Andrea Caballero and Francisco Javier Solar Domínguez.
Strength to the prisoners of the Revolutionary Struggle (Epanastatikos Agonas), who are locked up in maximum security prisons.
The dogs that are hunting us down will be hunted by us at any time. Furthermore, we enjoyed the attempted prison escape by the Conspiracy of Cells of Fire, as well as the assassination of the chief executioner of Domokos type C prison.
We encourage all those who are able, to make attacks against the prison system on a daily basis.
Also the prison laborers who bake donuts for the Olympics propaganda, and thus further dig their own grave, could instead poison a few sports fans of the Berlin Senate with arsenic.
… for a society without coercion and prisons!
For Anarchy!
Freedom for all prisoners!
Translation notes:
Recently, as part of the city authorities' push to represent Germany in the bid for the 2024 Olympics, the Berlin Justice Senator Thomas Heilmann tried to give away donuts (Pfannkuchen) decorated with the Olympic rings that were baked by inmates from Tegel prison.
Final message on video reads: "See each other on the 18th of March in Frankfurt – make ECB's opening into a disaster."
-ContraInfo
Tags: Arson, Berlin, Car Burning, CCF Escape case, Conspiracy of Cells of Fire, Francisco Solar, Germany, International Solidarity, Monica Cabellero, Revolutionary Struggle, Sicherheit Nord, Tamara Sol
Posted in Direct Action
Sunday, February 22nd, 2015
Friday, February 20, 2015 at 2:30 PM
Aachen – Anf/ ali güler
YPG fighter Richard Jansen from Holland who has been brought back to Europe for treatment for an injury he sustained in clashes in Sinjar said that: "I am happy to be a part of the honorable struggle waged by the Kurds. I was injured very early and I am sorry that my fight remained unfinished."

Richard Jansen from the town of Schiadam in Amsterdam joined the ranks of the YPG (People's Defense Units) some four and a half months ago in support of the Kurdish struggle against ISIS gangs.
Jansen who took the name of Serdar Botan was wounded on the head after a mortar shell fired by ISIS fell on a YPG emplacement in Sinjar one and a half month ago. He has been taken to the German city of Dusseldorf for treatment in a plane that took off from South Kurdistan earlier today. (more…)
Tags: Germany, Islamic State in Iraq and Syria (ISIS), Kubani, Kurdistan, Lions of Rojava, Netherlands, People's Defence Units (Y.P.G.), Richard Jansen, Syria
Posted in Autonomy
Monday, February 9th, 2015
In the night between the 28th and 29th of January 2015, Destroika struck in Berlin, and two prison industry vehicles turned into ruins. Through these pinpricks, we will limit the flexibility of the relevant companies. A van of Wisag in Lichtenberg and another of Sodexo in Moabit came under attack.
The company WISAG provides, in addition to the exploitative cleaning sector, security staff for transport services such as the BVG transport company in Berlin, and is responsible for filling the Berlin prisons of fare-dodgers, with ticket inspectors plain-clothed as well as in uniform.
The company Sodexo now runs five prisons in the UK under their own responsibility since the privatisation of the British justice system. In addition, Sodexo is blacklisted in Belgium for their involvement in deportation prisons, besides providing facility management services to deportation lagers in Germany. The company is owned by the Zehnacker group, which is presented in this way: "As a partner of the armed forces, we accompany them in their operational areas at home and abroad. Our mission is to take care of both the troops and their command for a better quality of life. Under the supervision of the Ministry of Justice, Sodexo plans and delivers solutions that contribute to smooth operations in correctional facilities. In all our activities, we respect our values and ethical principles. Our work in this domain is further proof of our strong commitment to society."
Freedom for the prisoners of Operation Pandora and all the others!
On the 18th of March 2015 off to Frankfurt – to reduce the European Central Bank to ruins and ashes!
Autonomous Group "Muslim H."
(Muslim H., originally from Kosovo, was 28 years old when he was killed by 8 screws in the prison of Landshut on May 24th, 2014, in revenge for his successful resistance to his deportation to Hungary.)
Translation note: On January 30th, the remaining seven prisoners of Operation Pandora were released on conditional bail.

– ContraInfo
Tags: Arson, Autonomous Group "Muslim H.", Berlin, Car Burning, Destroika, Germany, Migrant Struggle, Operation Pandora, Racism, Sodexo, Solidarity Action, Wisag
Posted in Direct Action
Wednesday, February 4th, 2015
From a comrade of ABC Brighton:
The growth of what some have described as the "prison industrial complex" and the unleashing of economic free market forces upon the prison system by a government ideologically-driven to sell off or "out source" virtually every state function has created the spectre of a prison population utilised as essentially a source of cheap, forced labour for an increasingly avaricious neo-liberal capitalism. There is no starker example of organised modern slavery.
In the US, the epicentre of the prison industrial complex, the exploitation of cheap convict labour takes place on an industrial scale and in poor urban areas, especially districts with a majority poor Afro-American population, prisons are increasingly replacing factories as places where the criminalised poor are confined and exploited by multi-national security corporations.
In Britain, whose criminal justice system is becoming almost a mirror-image of it's American counterpart, the exploitation of cheap convict labour by private companies is increasingly as is the ownership of entire chunks of the prison system. More and more prisoners are dealt with and treated not as offenders to be rehabilitated but as a source of considerable profit for an economic elite not hamstrung by wishy-washy concepts such as public service or moral conscience in the treatment of prisoners. (more…)
Tags: Germany, HMP Shotts, John Bowden, Letter, Militante Gruppe (MG), Oliver Rast, Prison Industrial Complex, Prison Labour, Scotland, UK
Posted in Prison Struggle
Tuesday, February 3rd, 2015
2. Call for a convergence of resistance
Tags: Demo, European Central Bank, Germany, Riots
Posted in Autonomy
Wednesday, January 28th, 2015
Via Contra-Info:
Wednesday 21st January around 3 o'clock in the morning, four vehicles of a real estate company in Leipzig were torched: the cars destroyed by flames were all high-end vehicles (3 Mercedes and 1 Audi). This incendiary sabotage was claimed on Sunday 25th January by "Autonome Gruppen":
In the night of 20th-21st January 2015, we attacked during a targeted action the whole fleet of vehicles of the multi-million euro real estate speculators GRK Holding in the southern-centre of Leipzig, and with this we delivered flames to four vehicles. The real estate company referenced is one of the largest long-term profiteers of gentrification in Leipzig. Spread throughout the city, the big company projects are either under construction or have already been completed. The systematic terror against the tenants is still high on the agenda, such as gentrification ensuing the cheaply purchased property renders Leipzig more attractive for people with a higher monthly income.
"Founded since 1991, GRK-Holding AG manages and leases, exclusively and qualitatively, high-end properties in and around Leipzig."
This is enough reason to show these dear ladies and gentlemen that their actions don't remain without a response. This took place whilst we deposited incendiaries to four vehicles parked in front of the headquarters of the company and a truck parked in the yard, four vehicles and a carport in the flames of our hatred. (more…)
Tags: Arson, Car Burning, Germany, Leipzig
Posted in Direct Action
Sunday, December 14th, 2014
Estimados compañero/as
Por medio de la presente les informo que para el martes 16 de diciembre de
2014 a las 2pm la Sala Penal del TSJ acordó la audiencia pública en el caso
de solicitud de extradición del revolucionario alemán Bernhard Heidbreder.
Through this I inform you that on Tuesday 16 December 2014 at 2pm the Criminal Chamber of the Supreme Court agreed to a public hearing in the case request for the extradition of the German revolutionary Bernhard Heidbreder.
Para los que no recuerden el caso, Heidbreder es un anti-imperialista y
anti-fascista alemán que está acusado por la fiscalía alemana de participar
en el KOMITEE y de intentar derrumbar una prisión que estaba en
construcción para inmigrantes kurdos.
For those who do not remember the case, Heidbreder is an anti-imperialist,
German anti-fascist who is accused by German prosecutors of participating
KOMITEE and in attempting to destroy a prison which was in construction for
Kurdish immigrants.
Agradecemos de antemano toda la solidaridad que puedan brindar.
Saludos
http://no-extradicion.site36.net/
Tags: Bernhard Heidbreder, Extradition, Germany, K.O.M.I.T.E.E., Repression, Venezuela
Posted in Social Control
Wednesday, December 10th, 2014
Dear all,
As Anarchist Radio Berlin we documented a presentation by Jake Conroy:
"From activist to terrorist". He is an activist for animal liberation
from the US, who participated in a campaign to close an animal testing
laboratory and was prosecuted and sentenced as a terrorist.
Along with the presentation we recorded an interview as well where he
tells a bit more about the US prison system and his experiences with it.
You'll find the audios (to listen online or download in different sizes)
here:
http://aradio.blogsport.de/2014/12/08/a-radio-auf-englisch-jake-conroy-from-activist-to-terrorist-presentation-and-interview/
The length of the interview is: 11:20 min.
The length of the presentation is: 59:10 min.
Enjoy! And please feel free to share!
A-Radio Berlin
ps.: Please note: We are always looking for people willing to lend us a
hand with transcript translations from Spanish or German into English as
well as people able to do voice recordings – in order to amplify our
international radio work. You can contact us at
aradio-berlin/at/riseup(dot)net!
Tags: Anarchistisches Radio Berlin, Animal Liberation, Berlin, Germany, Jake Conroy, SHAC
Posted in Eco Struggle
Monday, December 1st, 2014
Weil es uns und Andreas ein großes Bedürfnis ist, allen Interessierten
über die letzten Ereignisse im Knast und die ersten Eindrücke von der
neu gewonnenen Freiheit von Andreas Krebs zu berichten, hier ein
kleines Interview mit ihm. Andreas Krebs ist nach 16 Jahren Knast nun
etwa 4 Wochen draußen. Das Interview wurde 2 Wochen nach seiner
Entlassung geführt. (more…)
Tags: Andreas Krebs, Germany
Posted in Interviews
Friday, November 28th, 2014
In the night of November 21st, 2014, the Office of probation services and juvenile court assistance located in the Museumstrasse in Altona, Hamburg, was attacked with stones, and many windows were broken.
Against the State, its Justice and minions!
Solidarity with the accused and the imprisoned in the case of squatting in the Breite Strasse in Hamburg!
Solidarity with the squatters, who really showed the cops!
Rage and struggle for Rémi Fraisse, who was killed in France some weeks ago after he was hit by a grenade during clashes with the cops!
Freedom is not negotiated or begged for!
Against every authority!
English translation:
http://en.contrainfo.espiv.net/2014/11/24/hamburg-juvenile-justice-agency-attacked/
Tags: Germany, Hamburg, Rémi Fraisse, Sabotage, Solidarity Action
Posted in Direct Action
Monday, November 3rd, 2014
Dear all,
We would like to present an interview with Nicky Danesh, an Iranian anarchist living in exile in Australia, made by Furia de Radio from September. Furia de Radio is an anarchist programme on 97 Irratia FM in Bilbao. It can be heard every Friday at 7pm in the Basque Country, or on mixcloud.com/FuriaDeRadio. As Anarchist Radio Berlin we have edited the English version of the interview from the original programme into a single segment and re-recorded the questions to help with its distribution.
You'll find the audio (to listen online or download in different sizes)
here:
http://aradio.blogsport.de/2014/11/01/a-radio-auf-englisch-interview-of-furia-de-radio-with-nicky-danesh-on-anarchism-in-iran-september-2014/
The length is: 12:40 min.
Additional links:
Original program: https://archive.org/details/FdR16
Mixcloud: http://www.mixcloud.com/FuriaDeRadio
97 Irratia FM: http://97irratia.info/
Enjoy! And please feel free to share!
A-Radio Berlin
ps.: Please note: We are always looking for people willing to lend us a hand with transcript translations from Spanish or German into English as well as people able to do voice recordings – in order to amplify our international radio work. You can contact us at aradio-berlin/at/riseup(dot)net!
Tags: Anarchistisches Radio Berlin, Berlin, Germany, Iran, Nicky Danesh
Posted in Interviews
Friday, October 24th, 2014
via contra-info:
Many of us are spontaneously and long since aware of it: prisons are places of ethical, humane, moral and cultural decay. There is no desire for life, freedom, humaneness conveyed there but instead the guards and any other staff treat the detainees as dead objects; they manage people as piece goods in a storehouse.
So prisons are necrophiliac places.
It was only a few weeks ago that a prison inmate – who was kept in solitary confinement for a couple of years after having broken a guard's nose with a headbutt in 2012 – was starved to death in Germany. (more…)
Tags: Germany, Letter, Thomas Meyer Falk
Posted in Prison Struggle
Wednesday, October 8th, 2014
A short update from comrade Thomas Meyer-Falk about the inhuman conditions in German prisons.
Thomas was locked up for 11 and a half years in 1996 for a politically motivated bank-robbery and has spent most of his sentence in isolation. He had his sentence extended and remains incarcerated today.
On 18th August 2014 Koala Rosmane died after two years in Bruchsal Prison, Germany. A few days later the prison director, Mr M, was suspended.
– The Details
In 2012 Koala Rosmane was convicted of manslaughter and sentenced to ten years in jail. Maybe because he had trouble with a prison officer, and/or maybe because Rosmane came from Burkina Faso in Africa, he was sentenced to another year and kept in solitary confinement for the past two years. It has been said that racist officers insulted the inmate often. For the past few months he refused prison food, maybe because he feared that the prison administration wanted to poison him.
– The Death
The forensic doctor who carried out the post mortem examination said that the prisoner was extremely malnourished. Maybe he died of starvation.
– The Suspension
It was the first time ever in Germany that a prison warden was suspended after an inmates death. Mr M was known for his special "character". A couple of years ago, when he sent his Christmas greetings to inmates, he used a quotation from a song by a band which has been involved in racist attacks in the past. Inmates hang themselves, cut their veins, make hunger strikes. No one was interested in them. But it seems that now Mr M has gone too far! (more…)
Tags: Germany, Hunger Strike, Letter, Racism, Repression, Thomas Meyer Falk
Posted in Prison Struggle
Sunday, October 5th, 2014
Translated from linksunten.indymedia.org by anarchist comrade Marco Camenisch. Translated from Italian by act for freedom now.
In the night between 26th and 27th July 2014 we tossed molotov bottles at several 'Bayer AG' vehicles – and with this action we started off our Tendency of Eco Struggle.
Poisoning and exploiting
During the first world war 'Friedr. Bayer & Co' (which later became 'Bayer AG') produced explosives and chemicals for war purposes. Their troubles in getting supplies were not due to humanitarian scruples but to security risks and lack of labour force. As soon as the war turned into trench warfare gas begun to be strategically used as a weapon, and Bayer begun to supply the army with tens of thousands of tons of various types of gas.
Not content with their turnover, 'Friedr. Bayer & Co' also formed alliances with other chemical companies in a 'community of interest' following the example of the American Trusts of the time.
The economic crisis that followed the war didn't last long, and in 1925 nine chemical companies led by 'BASF' formed 'JG Farben'.
At the beginning (1926), 'JG Farben' didn't embrace the aspirations of the national-socialist party, but then they realized that their production of synthetic petrol couldn't function without funding. Back in 1932, a year before the electoral victory of NSDAP (German National-Socialist Workers' Party), the company made contact with Hitler and obtained his support. In order to guarantee stability in their profits, 'JG Farben' thought it useful to contribute to the electoral expenses of the NSDAP with about 400,000 Reichsmark (German marks). Since then their cooperation with the Nazi regime flourished almost without frictions.
Almost the entire board of directors of the company became members of the NSDAP, while monopolization made 'JG Farben' the fourth most important company in the world.
During the Spanish Civil war, the company provided financial support to Franco's troops, while in Guernica the Luftwaffe had the chance to test an incendiary bomb produced by 'JG Farben' on civilians. During the second world war 'JG Farben' was committed to the production of war weaponry and was one of the responsible for the murder and exploitation of prisoners in concentration camps.
As soon as 'JG Farben' discovered a suitable site for production near Auschwitz, they started to seek for a hard labour force. In February 1941 Carl Krauch, an important member of 'BASF'/'JG Farben', wrote a letter to Hermann Goring asking him to convince Himmler to use prisoners in concentration camps as slave-workers in the plant of Buna. From the collaboration with 'JG Farben' Himmler expected the supply of materials necessary to expand the concentration camp in Auschwitz. In this regard he ordered Karl Wolff to forge a strict alliance with 'JG Farben'. (more…)
Tags: Arson, Bayer AG, Biotechnology, Germany, Molotovs
Posted in Direct Action
Sunday, October 5th, 2014
People of Kobane, hear us. In this bitter hour of the inhuman threat, we see you freedom lovers in the world and we call to you: take courage. The city of Kobane is surrounded by the ISIS-murderers. On three sides ISIS confronts the city. If they take the city. it will inevitably lead to a massacre of the remaining Kurdish people on site. They have no way to flee to the north, because there already waiting are the Turkish army …
Turkey will decide at the present day on the extension of the 'anti-terrorist' struggle. This will mainly affect Kurdish people in Syria, which they as well as the PKK (Kurdish Peoples Party) stand on the Turkish terror list. Turkey's fear of the Kurdish people is greater than of the ISIS-fighters. For example, Turkey supports the ISIS-fighters to their best of their will, for example, at border crossings to Syria or arms shipments that were observed by Kurdish people, or the medical care of injured ISIS-fighters in Turkish territory. On the Turkish side of the border, the Turkish army is using force of arms against all those Kurdish people trying to come to Kobane to oppose the corruption. Clashes occur daily there between Turkish security forces and Kurdish people who come from all over Turkey to help the trapped fighters of YPG in Kobane.
Tonight we have attacked the Turkish State in the NATO hinterland to brand it as an inhuman actor in this conflict. Two vehicles of the Turkish State – representatives of the Embassy are burned … At the same time, we appeal to everyone, not to stand idly by, ignite the solidarity for our brothers and sisters.
We tremble with the combatants, but their determination is our courage. We will not abandon the ideals and freedom. Maximum global solidarity!
Long live freedom!
In Memory of Berivan Sason, fallen but never dead!
Commando Berivan Sason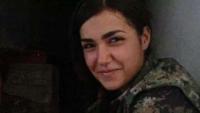 NB: Ceylan Ozalp (Code Name: Berivan Sason) was an active fighter and leader with several comrades in the northern Syrian Kurdish city Kobanê in armed resistance against the ISIS/Daesh.
Tags: Arson, Berlin, Car Burning, Commando Berivan Sason, Germany, International Solidarity, Islamic State in Iraq and Syria (ISIS), Sabotage, Turkey
Posted in Direct Action