Posts Tagged 'Germany'
Monday, March 5th, 2012
325 receives and transmits:
27 & 28 February 2012

Solidarity with the revolting people in Greece (Hamburg/Germoney)
The crisis is the fucking system!
In Greece, people struggle against the direct results of decisions made by German and other European politicians above their and our heads! The anti-Greece-propaganda of the German press is disgusting to us!
Our solidarity goes out to those in strike and struggle, who are imprisoned and see themselves confronted with repression. Also we send solidarity to the Greek revolutionaries of the urban guerrilla group "Revolutionary Struggle", who are confronted with the courts for their ideas and struggles.
During the nights of February, the 27th and 28th, we attacked six banks in Hamburg. It's a small, but clear sign to attack banks in Germany, for example, we were inspired by an action of solidarity in Bielefeld, and we hope that a lot of people will do the same and send solidarity to the revolting people in Greece and rage and stones against the banks and their system.
May a lot of people get to the streets in Frankfurt and everywhere on the 31st of March and any time else!

For a hot summer! Freedom!
Tags: Banks Smashed, Germany, Greece, International Solidarity, M31, Sabotage, Solidarity Action
Posted in Direct Action
Sunday, March 4th, 2012
From culmine:
1 March 2012
Ours is the conviction
Gendarmería, Local, and Buenos Aires Federal police, civilian brigades, anti-terrorist laws, biometric identification systems, thousands of cameras throughout the city, vigilant citizens ready to betray, overcrowded jails, torture, murder … this is the scenario where our struggle, in a context similar to many other cities, attacking comrades, individually or collectively, without any social consensus and without the approval of any leader, alone and with their principles and values, ​​burn like a fire.
For our part, we report that on Thursday March 1st at 2:30 in the morning, we attacked with an explosive / incendiary, the Criminal Court in Calle Paraguay 1536, in the city center, causing visible damage to the facade and their windows.
We're thinking of the comrades Freddy Fuentevilla Saa, Marcelo Villarroel Sepulveda and Juan Aliste Vega, who were on hunger strike in prison in Santiago on February 17, within days of international turmoil (19 to 29 February).
Compañeros: The subversion is awake and will not disappear! While there is poverty there will be rebellion!!
The brothers of the Conspiracy of Cells of Fire, that even within the prison continue war unabated. We are brothers with their words, their gestures and their actions and with the project of the Informal Anarchist Federation, to which we contribute and strengthen.
With love and complicity for the companion Luciano Pitronello (Turtle), wounded and kidnapped by the Chilean state. Gabriel Pombo da Silva, prisoner in Germany – anarquista integro; Marco Camenisch, fighter for the liberation of the earth; and comrade-prisoners in Mexico, Spain, Italy, Indonesia…
With Mauricio Morales and Lambros Foundas always present in the combative memory.
War without truce to the whole system of domination
Indomitable Nucleus for the Spread of the Fire / FAI
Tags: Argentina, Billy, Buenos Aires, Chile, Conspiracy of Cells of Fire, Eat, Freddy Fuentevilla Saa, Gabriel Pombo da Silva, Germany, Indomitable nucleus for the spread of the fire / FAI, Indonesia, Informal Anarchist Federation (FAI), International Revolutionary Front, International Solidarity, Italy, Juan Aliste Vega, Lambros Foundas, Luciano Pitronello Schuffeneger, Marcelo Villarroel Sepúlveda, Marco Camenisch, Mauricio Morales, Mexico, Spain, Switzerland
Posted in Direct Action
Tuesday, February 21st, 2012
325 receives and transmits:
17 February 2012
Solidarity with the revolts in Greece (Bielefeld/Germoney)
Our hearts beat for freedom. When we look to Greece where thousands each time more intense rise in revolts against state, capital, social cuts, exploitation and opression and show their anger they beat even faster. In solidarity with those revolting, we want to take part in spreading the uprising here in the nearly pacified territory of capitalism.
We stand full of passion for a free, solidaritarian society in which everyone self-determines her/his life and in which money has no role when it comes to the question of (basic) needs.
In deep denial of the ruling system of money, privileges and authority we took our anger against the windows of a 'Commerz' bank and an ATM in the city of Bielefeld in the night of the 17th February.
Anarchist group
Tags: ATM, Bielefeld, Germany, International Solidarity, Sabotage
Posted in Direct Action
Monday, January 30th, 2012
Nearly one year after the eviction of the neighbouring houseproject Liebig 14, our project Rigaer 94 and the squatbar Kadterschmiede got attacked by cops.
On 28th of January 2012, a demo against a police congress and the urban operations-conference in Berlin took place. At night there was an after-demo
soliparty in Kadterschmiede which is located in Rigaer 94. Before the party had even started, the area was already swarming with cops. Soon the usual quarrel with the cops at our gate to the street began. It is not unusual that they try to get into the yard and cause some trouble. At first, they were held back by our outer gate as always. But then they tried to find other ways into the house, climbing over walls and sneaking through basements. They got through to the front door of Kadterschmiede and started to destroy it as well as the entrance door to the living space of Rigaer 94. (more…)
Tags: Berlin, Fuck the Law, Germany, Repression, Rigaer 94, Rigaerstrasse
Posted in Autonomy
Tuesday, January 10th, 2012
The night of the new year's eve has seen again a lot of different type of protests taking place in Germany against prisons and all forms of detention, as well as against some of those, who daily enforce their existence.
The traditional demonstrations at local prisons saw an increase in their numbers and more cities decided that this was a good way to salute the upcoming year.
In Berlin, the month of December hosted several events under the motto "Behind different windows… but the chains remain the same ones! New year's eve to the prisons – question, demount and destroy the machine of prison!", events ranged from discussion about ongoing trials against comrades, the building of a new detention center at the new Berlin's airport, to a demonstration against the local detention center for immigrants. (more…)
Tags: ABC Berlin, All Cops Are Bastards - Team Kreuzberg 36, Berlin, Bremen, Christian Gauger, Cologne, Dennis J., Dortmund, Dresden, Frankfurt, Freiburg, Friedrichshain, Fuck the Law, Germany, Hamburg, Kreuzberg, Moabit, New Year, Prison demo, Revolutionary Cells (RZ), Sonja Suder, Stammheim, Stuttgart
Posted in Prison Struggle
Tuesday, January 3rd, 2012
Solidarity with Sonja and Christian!
After 33 years in French exile, Sonja Suder, 79, and Christian Gauger, 70, were extradited to Germany on September 14, 2011. Christian was transported across the border in an ambulance! Sonja was jailed in Frankfurt-Preungesheim; Christian in a prison hospital. Christian, who suffered cardiac arrest in October of 1997 and has since been under constant medical and personal care, wasn't released from detention until one month after his extradition; he now is forced to report to the cops twice per week. Sonja, who continues to be detained in Preungesheim, is likely the oldest woman in Europe awaiting trial in jail. Prosecutors brought charges in November and are planning to bring the cases to trial in 2012.
A Long Tradition of Resistance
As part of the political left, the Revolutionaere Zellen (Revolutionary Cells, RZ) started tackling the revolutionary perspective in the BRD in 1973, striving to identify novel formats of militancy and starting points for resistance. It formed a third urban guerilla group, next to RAF and Bewegung 2. Juni (2nd June Movement); however, RZ opted against a vanguard position, choosing to act from within the legal left movement instead. In the mid-1970s, RZ spawned a feminist organization, Rote Zora. RZ and Rote Zora ceased action in the early 1990s. (more…)
Tags: 2nd June Movement, Christian Gauger, France, Germany, Red Army Faction (RAF), Repression, Revolutionary Cells (RZ), Rote Zora, Sonja Suder
Posted in Prison Struggle
Saturday, December 31st, 2011
The 30th December a crowd of people gathered short but well-seen and heard in front of the custody and deportation prison Holstenglacis in Hamburg. A banner with the words "Freedom for all-against all walls" (in German language) was held and a few words against all prisons and greetings to the prisoners were spoken. Together with a lot of fireworks the Gate, the entrance and a watchtower were couloured with paintbombs. When the pigs arrived the people ended the action and left. In the evening a lot of police controls of random people in the area happened.
Greetings to the NYE anti-prison demos in Berlin, Bremen, Köln, Stuttgart and all over the World!
For a world without oppression and exploition!
A flyer (German language) givenout at the action. It's about a recent death of a prisoner in the Holstenglacis prison. He took his life but was murdered by the prison, the state, this reality!…
Tags: Germany, Hamburg, Holstenglacis prison, Prison demo
Posted in Prison Struggle
Thursday, December 22nd, 2011
We don't demand anything, we want everything!
People all over the world are taking their protest to the streets fighting for their rights and freedom to overturn the current conditions. But why not here? The German reality is marked by social exclusion and cuts in the supply of basic essentials. (more…)
Tags: Berlin, Fuck the Law, Germany, Insurrection
Posted in Autonomy
Thursday, December 15th, 2011
7/12/11 – Frankfurt, Germany : CEO Josef Ackermann is the intended target of a fully operational explosive parcel which is mailed to Deutsche Bank headquarters. Bank security staff identify the device during x-ray screening, and it is later neutralised by police. A claim of responsibility is recovered from the device, which is published in the corporate press.
9/12/11 – Rome, Italy : Chief Director Marco Cuccagna of Italy's tax collection office, Equitalia, receives a letter-bomb which explodes after he opens it, causing damage to his hands, blowing off part of his finger and almost blinding him after his glass desk shatters in the explosion.
12/12/11 – Paris, France : The Greek embassy in Paris is the target of a third explosive device which is identified and neutralised.
Amidst the wave, mainstream media report that envelopes containing bullets and threatening letters are mailed to Italian Justice Minister Paola Severino and Rome Mayor Gianni Alemanno. An additional parcel of vengeance was received by Equitalia on the 15th December, but was identified and neutralised. A note inside the latest package said "don't kill yourself, rebel: death to usurers!"

Here is a translation of the claim of responsibility that accompanied the package bomb to the central headquarters of Deutsche Bank in Frankfurt:

FREEDOM AND HAPPINESS FOR OUR BROTHER GABRIEL POMBO DA SILVA. DEATH TO THE BANKS THAT STRANGLE THE PEOPLE.
THREE PARCEL BOMBS IN THESE DAYS ARE TRAVELLING TOWARD BANKS AND BANKERS, TICKS AND LEECHES. WITH THESE SMALL BUT RESOLVED ACTIONS, WE OF THE EAT & BILLY ITALIAN CELL JOIN IN THE NEW ANARCHIST INTERNATIONAL, THE INFORMAL ANARCHIST FEDERATION AND INTERNATIONAL REVOLUTIONARY FRONT. WE HAVE THIS NAME IN SOLIDARITY WITH THE INDONESIAN FAI, WITH OUR BROTHERS EAT AND BILLY. WE DON'T NEED SPECIALISTS OF ACTION, ANYONE CAN ARM THEIR OWN HANDS, ANYONE CAN ASSEMBLE THEIR OWN GIFT PACKAGE. WAR ON THE EUROPE OF THE BANKERS, DEATH TO THE LEECHES THAT GOVERN US.
LONG LIVE THE INDONESIAN FAI
LONG LIVE THE C.C.F.
VIVA THE NEW ANARCHIST GUERRILLA
VIVA THE FAI/IRF
FREE EAT AND BILLY CELL FAI/IRF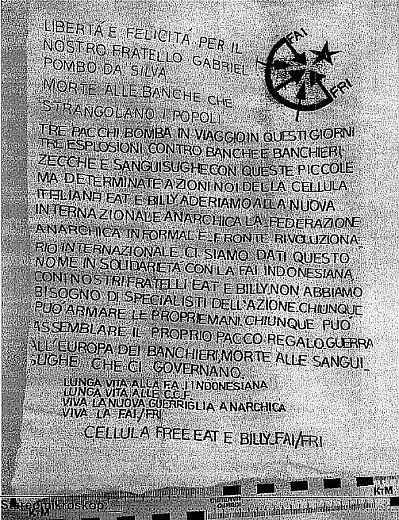 Tags: Billy, Deutsche Bank, Eat, Equitalia, France, Frankfurt, Free Eat & Billy Cell FAI/IRF, Germany, Greece, Greek Embassy, Indonesia, Informal Anarchist Federation (FAI), International Revolutionary Front, International Solidarity, Italy, Letter-bombs, Paris, RO-FAI (Indonesia Section), Rome
Posted in Direct Action
Tuesday, November 15th, 2011
325 receives and transmits:

9 November 2011
In the night of 9th November 2011, in Milano (Italy), we smashed 7 bank ATMs.
We decided to attack the banks as they are the symbolic institutions of money, the pillar of today's alienated and false social relations (work/consume) and of the power relations between the dominant élites and the mass of the exploited.
Crisis or no crisis, it's the same existence of any economic system that disgusts us, a system that we're not interested in saving or reforming but only in destroying.
The executives of the financial institutions, closed in their offices, everyday move huge quantities of capital, in order to gain as much profit as possible, not caring about the devastating effects that the projects they finance (wars and weapons, highways, energy plants, high speed trains, security and social control systems and so on) have on entire territories and populations.
This action is dedicated to Luciano Tortuga, Chilean anarchist comrade wounded while he was attacking a bank in Santiago.
Solidarity is not only words! Complicity and solidarity to all the prisoners that resist, and to anybody who fights here as in Chile, Greece, Russia, Belgium, Germany, Indonesia, Spain, Sweden, USA and anywhere else… against any form of oppression!
Riot shouldn't be just a day of temporary joy but a permanent life condition… to take our lives back in our hands… more attacks against the symbols of State and Capital!
Revolting Individualists
Tags: ATM, Belgium, Chile, Economic Crisis, Germany, Greece, Indonesia, International Solidarity, Italy, Luciano Pitronello Schuffeneger, Revolting Individualists, Russia, Spain, Sweden, USA
Posted in Direct Action
Friday, November 4th, 2011
If you fight against the state, if you fight for a better world, fight for freedom, there is a chance that you will get thrown to the cage – that is the place where I stay. For over 15 years now. In the infernal regions, kept in isolation for security reasons, for more than 10 years. I was arrested in 1996, and only released into the general prison population in 2007.
In October 1996 I was arrested after a bank robbery to raise money for left-wing projects – legal and illegal ones. I was convicted to 11 and a ½ years and P.D. (Preventive Detention, based on a Nazi-law from 1933 which permits the state to keep me in custody for a life-time, as long as they believe that I am a "threat to public safety"). Because I fought back strong they kept me in isolation for more than 10 years; I have spent the last 4 years in the general prison population, but I refuse to cooperate with the state nor accept forced labour. (more…)
Tags: Bank Robbery, Germany, Letter, Thomas Meyer Falk
Posted in Prison Struggle
Saturday, October 29th, 2011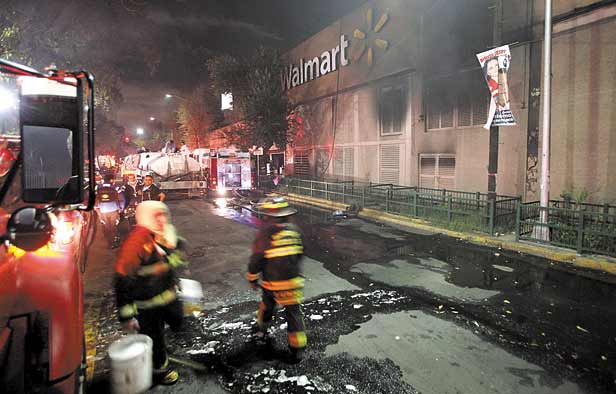 From culmine via this is our job:
To all like-minded arsonists and antagonists, the fourth communiqué from the Conspiracy of Cells of Fire – Mexico / Informal Anarchist Federation:
Neither exasperated, indignant, nor broken! Arsonists at war against every authority!
All our solidarity with comrade Gabriel Pombo da Silva!
We're celebrating two months of direct attacks on capital and the State!
Against the system of domination!
For Total Liberation!
Yesterday [26/10/11] at 6:23 p.m., liberatory fire again burned where it hurts most, destroying merchandise. The Conspiracy of Cells of Fire (CCF) faction of the Mexican Informal Anarchist Federation (FAI-M), Veracruz section, gave life to liberatory fire at the Wal-Mart located at Universidad and Avenida Las Palmas in the heart of Coatzacoalcos, Veracruz. With this new attack, we avenge comrade Gabriel Pombo da Silva (held captive in Aachen prison) and demand his immediate release from the German and Spanish states. We also stand in solidarity with our comrade Tamara, with the Bombings Case compas in Chile, with the imprisoned Conspiracy of Cells of Fire compas in Greece, and with all our comrades abducted by the State in Mexico and the rest of the world. (more…)
Tags: 14/14, Arson, Coatzacoalcos, Conspiracy of Cells of Fire, Conspiracy of Cells of Fire - Mexico, Conspiracy of Cells of Fire : Imprisoned Members Cell, Gabriel Pombo da Silva, Germany, Informal Anarchist Federation - Mexico (FAI-M), Informal Anarchist Federation (FAI), International Solidarity, Luciano Pitronello Schuffeneger, Mexico, Revolutionary Struggle, Spain, Tamara, Veracruz, Wal-Mart
Posted in Direct Action
Monday, October 24th, 2011
from liberacion total via thisisourjob…
Dear brothers and sisters:
To Michalis and Christos (who exuberantly burst into "my" cell, destroying the ISOLATION I've lived in for over seven years), their brothers and sisters, and all the other comrades who constitute the first generation of the Revolutionary Organization – Conspiracy of Cells of Fire / Informal Anarchist Federation.
My eyes and my heart have always been very close to you in Greece. I still remember Nikos Maziotis' action and his attitude in front of the court. That moved and affected us very much, to the point that some of my comrades took their own action by sending a package-bomb to the Greek embassy in Madrid.
Those comrades of mine were arrested in September 2003, and the blow came at the worst possible time. Really, it couldn't have been worse. Back then I was regularly "on leave" from prison. Regardless of all the racket regarding my judicial/prison situation, I had already "served" the maximum sentence allowed at the time: 20 YEARS. And out of those 20, 14 were in solitary confinement and FIES [Spanish isolation units]. I don't have to tell you what it meant to me to have to lose so many good comrades who, tired of bearing all kinds of systematic torture for decades, decided to leave "by the back door, feet first."
The arrest of my comrades in Barcelona left me shaken. I could have been with them! The "death" of Paco Ortiz, the coming to power of the neo-Francoist People's Party — all these things went through my head before I decided to make a getaway.
My escape began by putting one foot in front of the other. The first thing was to get a bit of distance behind me. With that done, I crossed the Pyrenees, destination unknown.
Once abroad, I got in touch with some old comrades. I managed to buy myself perfect identification (with which I was even able to open a checking account at a bank, rent an apartment, etc.), and I took some time to think, meet new comrades, and discuss things. From that moment on I was known as Michele Cataldi, Italian citizen.
I had decided to break out one of the compas arrested in Barcelona, and for that task I needed reliable, experienced comrades.
Luck was on my side when some Iberian Peninsula compas called to tell me they were sending someone over. I thought for sure it would be an "anarchist" comrade, yet nevertheless I saw Josepi show up (he had also escaped while "on leave"), and he knew absolutely nothing about anarchy or theory. However, I was almost happier to have a "criminal" on my side than an "anarchist." At the end of the day, the endeavor and purpose motivating me was to break a compa out of prison, and I needed someone by my side who hated the institution of prison with absolute intensity, like I did. Josepi, with his (in total) 23 years of prison behind him, was an ideal candidate. In addition (and just like me), his "trade" was robbing banks, which is of course always indispensable.
Back then, I didn't know which Iberian Peninsula comrades I could count on (or how many, as I believed/assumed that a large portion of the Libertarian Youth had gone underground). I'm not talking about matters regarding "solidarity funds" or "ideological debates." Rather, I mean comrades ready to take up arms in order to expropriate funds, hijack a helicopter, break out other compas, etc.
My proposal to liberate our compa was supported by José, and later on two other anarchists joined the endeavor.
We decided that the first thing we needed was money (we already had two handguns), and to that end we robbed a bank. If I remember correctly, we expropriated 40,000 or 50,000 euros, which was useful to us at the beginning for the acquisition of cars, electronic gear, etc.
Over the course of several months (and to the extent that it was possible for me), I was able to attend a number of meetings with internationalist comrades. Those meetings between comrades, where positions and approaches were clarified through critique and analysis, deserve all my respect, yet they left me feeling very uneasy.
Perhaps I had poorly "digested" the analyses of the "Italian insurrectionaries". Perhaps I hadn't stopped to think about the importance of knowing just how many comrades were truly for revolutionary anarchy. And perhaps our "adventure" of freedom and "glory" was doomed to "failure" from the start.
At that time, some communiqués from the newly-formed Informal Anarchist Federation fell into my hands. For someone like me, who came out of the Anarchist Black Cross (and was therefore already federalist and anarchist), the notion of "informal groups" opened up a world of possibility. In Northern Europe, insurrectionary ideas were practically unknown.
On June 28, 2004, three anarchists and my sister (who is apolitical) were traveling to Germany in a BMW. At noon, upon entering the city of Aachen, a Federal Border Guard (BGS) patrol car pulled up in front of us and signaled for us to follow it.
We followed the patrol car (my sister was driving) to a gas station.
At the gas station, one of the border police officers approached and asked us for our passports. José had a forged Spanish passport (a very good one) and was called Alfonso Domínguez Pombo. He could have been my sister's cousin. Then Bart handed over his Belgian passport, as he and my sister were "clean."
Obviously, José and I were armed and ready to save our skins at any cost. We knew what was waiting for us.
The border police officer went off with all our passports and didn't come back for 10 or 20 minutes, after which time both officers approached, passports in hand, while another BGS car suddenly appeared and parked directly behind us, sandwiching us between the two patrol cars.
The police officers "suggested," in a "friendly" way, that we get out of our car. Our papers were fine, but now they also wanted to search the car, since a car with so many foreigners in it is viewed as "suspicious" in Germany.
We got out of the car and the police officers immediately began searching it. José and I both had our weapons on us. His was in a small backpack and mine was in one of those fanny packs that tourists often carry.
After more than a half-hour of searching, an officer approached José and asked him to put his backpack in the trunk of one of the patrol cars. Since José didn't understand what he was saying, the officer asked me.
There were no longer any more "conversational alternatives." The time had come for me to simply tell José: "You grab this one and I'll go for the other one."
Despite all the tension, it was definitely a relief to finally put an end to that comedy. Gun in hand, taking the initiative, I really believed we would succeed. José's police officer took off when José pointed his Ravachol-era revolver at him, and that image of José running after a German border police officer, telling him to "surrender" and put his "hands up," is something that makes me crack up even today.
Unfortunately, José "misinterpreted" what I said. When I told him to "grab" the police officer, I meant exactly that: to grab hold of him. But in any case, "my" police officer and the other ones ran from me as well, so I was unable to grab them. And what worried me most during the whole situation was my sister.
How was I going to tell my mother about all this? My sister remained very still throughout, and if she had wanted to (to save her own skin), she could have told the police my name and blamed me for everything. The police unfortunately had us surrounded, and the only thing that occurred to us at the time was to "kidnap" two "citizens" in order to shield ourselves. You already know the rest. . . .
My sister (despite what's been said) refused to "collaborate" or give a statement. She was even mistreated at the police station because of her refusal to let them take her fingerprints or her photograph. Her prints, as well as her DNA and her photo, were taken by force. I was very proud of my sister and the rest of my comrades.
I waited (in vain) for our Iberian Peninsula comrades to "avenge" us, as well as for them to defend direct action as a revolutionary methodology.
By one of life's coincidences, a brief analysis by my old comrades appeared in issue 2 of Inferno magazine, more than seven years after our arrest here. But did that article explain why José and I were left alone, "abandoned" by the Iberian movement? I don't want to "argue" or "settle scores." I just want to write about our experiences in order to record and expand our rebellious, subversive memory.
What you have achieved is part of what I and others dreamed of. More than dreamed of, actually. You've dared to defy political resignation. As my comrades aptly wrote in their text, we were the "pioneers of Iberian insurrectionism". It doesn't make sense to ask (yet nevertheless that's what has constantly been done since our arrest) if Iberian insurrectionism would have come about back then had some of us met and had other little things been encouraged.
But it is interesting to ask — since part of our past is becoming known bit by bit, and since our dream of an Informal Anarchist Federation / International Revolutionary Front is gradually spreading — if our Iberian Peninsula counterparts will now remain mired in the anonymous multitudes or instead join the revolutionary effort.
Just like you, I have always believed that rebellion is a permanent process that doesn't stop for courts or jailers. The certainty of our convictions and our love of freedom embolden us. We may be "naive" for believing ourselves capable of taking our "destiny" into our own hands, but that will always be preferable to joining the chorus of naysayers and complainers.
The courts have been and are sites of power where anarchists don't "defend" ourselves with judicial arguments, but instead base our "defense" on the ideas and values that have led us to the defendant's dock.
Prisons are the ideal settings in which to spread anarchist ideas and values. They are the universities where we get degrees in all the arts and trades of illegality.
Comrade prisoners, fugitives, etc.: the spread of our ideas, memories, and histories is the compass that guides our footsteps.
I don't know if this writing is in keeping with what you expect from contributions for your second trial. Perhaps I should have touched a bit more on theoretical aspects (about which we still have much to discuss), but I'm convinced that we will have opportunities to talk/write more about that and many other things.
What's important is that we seek a direct relationship between us, the prisoners (in that sense, I'm having serious problems with correspondence), and that we find more like-minded people among us with whom to exchange ideas, information, etc.
We won't be in prison for our entire lives. And as you correctly say in some of your writings: "the power of the jailers ends outside the walls."
As far as José and I are concerned, we are awaiting our deportation to the Spanish state. There (in Spain), according to their laws, we should be released shortly.
For me, Germany is a chapter in my life that is best forgotten. Never in my life have I seen prisoners more disgraceful, more disposed to snitch and kiss ass, than those I have had the displeasure to meet here. I haven't lacked desire or idealism. What I've lacked is contact with people who have a minimum of dignity—oppositional, rebellious people. That fact has isolated me more (and of course hurt me more) than the institution itself.
In seven years in this country, I haven't managed (and/or wanted) to create any kind of regular link or communication with people from the "radical left." I haven't wanted to "tone down" my discourse in order to be "accepted" by the "radical community."
Quite often, while reading the "leftist" (including anarchist) newsletters, fanzines, and magazines that "report" on us (the "Aachen four"), I get the impression that my only "merit" as an "anarchist" is my past of "prison struggle," which ignores (consciously or unconsciously) the intensive revolutionary work and effort I've undertaken while "free." Likewise, my political writings and texts have been met with either censorship or disinterest.
But I'm now writing about all that in my new book, which is taking much more work than I previously thought, especially the political section.
Before beginning to write about my/our recent past as well as its consequences (for each one of us), it was essential to me that my comrades be free to send me "signals." Perhaps communication will be reopened by those "signals." And perhaps all of us will then have the opportunity to write a new chapter in the history of Iberian anarchism — one more stream flowing into the wide-open anarchic sea, now that the ground is fertile and the world is falling to pieces.
We did what we could, and we will keep doing what we can. Let's hope that each new generation of the Conspiracy of Cells of Fire / Iberian Anarchist Federation is infinitely better, more dynamic, and more effective than we have been. Regardless of my total of over 27 years imprisoned in the Spanish and German states, as well as my being uncertain of the day of my release, I am absolutely positive that I have nothing to apologize for. I only regret not being wiser and more adept at the moment of my intersection with the course of history.
With these words that break my isolation, cross borders, and arrive in the hearts of all our people in Greece and throughout the world, I embrace our brothers and sisters in the Conspiracy of Cells of Fire / Informal Anarchist Federation.
Long live the Informal Anarchist Federation / International Revolutionary Front!
Long live the Revolutionary Organization – Conspiracy of Cells of Fire / Informal Anarchist Federation!
Long live anarchy!
— Gabriel, Aachen, early October 2011
–

Gabriel Pombo da Silva
c/o JVA Aachen
Krefelderstrasse 251
52070 Aachen
Germany
Tags: Aachen, Christos Tsakalos, Conspiracy of Cells of Fire, Conspiracy of Cells of Fire : Imprisoned Members Cell, Gabriel Pombo da Silva, Germany, Greece, Informal Anarchist Federation, International Revolutionary Front, Letter, Michalis Nikolopoulos, Nikos Maziotis
Posted in Prison Struggle
Thursday, October 6th, 2011
3 October 2011
From Contrainfo:
During the night to October 3rd, we made a gift to the German economy. We attacked several vehicles with incendiaries at a site of Deutsche Telekom in Lichtenberg, Berlin. We selected the date for this action in reference to the trial against the organization Revolutionary Struggle which begins on October 5th in Athens.
We stand in solidarity with the actions of the Revolutionary Struggle and demand the release of Kostas Gournas, Panagiota 'Pola' Roupa, Nikos Maziotis and all other comrades who are imprisoned.
The option of armed struggle within autonomous and radical leftist forms of resistance should always be maintained but must not be led to isolation from other forms of actions and movements.
Here, there is no movement willing and able to back up the possibility of armed struggle. For this reason, there aren't any guerrilla groups in Germany at the moment.
However, the levels of resistance in Europe need to refer to each other in order to fight the project of the European superpower more effectively.
The troika set the privatization of state-owned enterprises as a condition for further credit loans to the Greek State. Within this framework, Deutsche Telekom has overtaken large shares of the Greek telecommunications organization OTE at times of hoped economic upturn. Since OTE's profits did not rise up to the anticipated amount, [its largest shareholder] Deutsche Telekom plans to launch layoffs and massive wage cuts against the employees. Also, Telekom specifies the payments to early retirees as a 'burden' in its balance sheet. Deutsche Telekom speculates via this pressure to acquire OTE's remaining shares, and thus completely overtake the company from the Greek State, in order to obtain the absolute supremacy. The example of this multinational corporation marks the inhuman capitalistic exploitation logic very well.
Furthermore, Telekom is involved through a security partnership with the police and the army in the comprehensive surveillance at Germany and abroad.
Our attack was also meant to support the strikes among the employees and workers in Greece, and to merge the struggle of the anarchist movement across the borders.
We hope that this action will also encourage others to participate actively in a militant perspective.
We commemorate Lambros Foundas who was shot dead by cops
in his struggle for freedom.
FOR ANARCHY!
'Propagandists of the Deed' (Propagandisten der Tat)
Tags: Berlin, Germany, Greece, International Solidarity, Lambros Foundas, Revolutionary Struggle
Posted in Direct Action
Wednesday, June 8th, 2011
The following communique was originally published in the Finnish anarchist portal Takku.net. During the last weekend an Islamist blogger tried to take credit for the bomb and molotov cocktails, until an anarchist communique was published on Monday 6.6.11, putting the attacks within the anti-state/anti-capitalist frame of struggle. Mainstream media news can be found here: 1 & 2
From the comrades:
"Tuesday night 13.4.2011 we burned five dumpsters at Pukinmäki train station in Helsinki. We also wrote some slogans for free spaces on some walls.
During the next two nights we burned dumpsters at several places in the city of Vantaa.
Tuesday 19.4. we attacked the police; we set up a bonfire on the street, and when the police showed up, we greeted them with stones and paint bombs. The police responded by attacking the nearby Social Centre Satama, which they found empty after a long siege and assault inside.
During the night 31.5.-1.6. in the district of Pukinmäki, Helsinki, we closed the Kenttätie-road, frequently used by the police, by setting several dumpsters on fire.
Early Friday morning 3.6. in the Helsinki district of Pasila, we put a bomb under Turvatiimi's (a private security company) car. Although the bomb was fully functional, we decided not to explode it, to ensure that bystanders and workers in other nearby companies wouldn't be put in danger. This is also why we placed the bomb so that everyone in the courtyard could see it.
Early Saturday morning 4.6. we attacked two gas stations with molotov cocktails in the Helsinki district of Tapaninvainio.
Monday morning 6.6. we called bomb threats to the following embassies: Belarus, Russia, Spain, Mexico, Chile, United States, Germany, Greece, Italy.
We chose these countries because of the ongoing struggles there. We wanted to make the representatives of these countries feel a bit of the fear, that our anarchist comrades face in their everyday struggle against the violence machine of the state.
With these attacks we want to show our solidarity to the comrades of Social Centre Satama and their struggle for free space. We also send revolutionary greetings to the Roma migrants in Helsinki, who are oppressed daily by the violent apparatus of the state.
With these attacks we also express our support to every anarchist prisoner, and want to remind that the struggle will continue despite the attempts at repression by the state. The time of empty talk is over, long live anarchy!"
Tags: Arson, Belarus, Bomb threats, Chile, Finland, Germany, Greece, Helsiniki, International Solidarity, Italy, Mexico, Roma, Russia, Sabotage, Social Centre Satama, Spain, Turvatiimi, United States
Posted in Direct Action