Posts Tagged 'Germany'
Tuesday, February 25th, 2020
INTERNATIONAL CALL!
JOIN US FOR ANOTHER WEEK OF ANTISPECIESIST ACTION, WORKSHOPS AND SKILLSHARING.
20th – 25th May, Hambacher Forst.
(looking for a different language? check the bottom of this page for BASQUE, CATALAN, DUTCH. FRENCH, ITALIAN, SPANISH, SWEDISH, GERMAN)
The third edition of Liberate or Die: From Cage to Freedom will aim to open a space in which we can come together, share skills, and attack speciesism. As before, the gathering will take place in the Hambacher Forst occupation, a focal point of anti-capitalist and climate justice resistance across Europe.
THIS EVENT IS ACTION-FOCUSED.
Aside from just sharing skills, every day of the gathering will be a day of action in which we can put new knowledge into practice. We want to motivate people to initiate actions autonomously, without seeking permission from mainstream/reformist organisations. There will be a range of possible actions depending on your particular interests and risk levels. Some actions may be suggested, but you are invited to come up with plans for yourselves and act spontaneously.
THIS EVENT IS INTERSECTIONAL.
We want to emphasise the interconnections between antispeciesism and all other struggles against oppression. That means bearing in mind different privileges that we hold and maintaining a space which aims to challenge all hierarchies and further total liberation – something that will also be reflected in the workshops offered. This is not a space for those with racist/sexist/homophobic/etc. views who have infiltrated some animal rights groups over recent years.
THIS EVENT IS FREE.
You don't have to pay to attend! Even if donations are welcome, we believe people shouldn't have to pay for anything. This event can be hosted for free because we self-organize – everyone attending is part of the crew, and is encouraged to take part in the maintenance of the gathering. If you see a job it's yours!
THIS EVENT IS SQUATTED.
The gathering will take place in an autonomous land occupation. That means collectively taking care of the forest ecosystem – keep to the paths, pick up your trash, respect the wild. It also means keeping an eye out for intrusion from the state. Participants should be aware of the likelihood of intervention by cops, whether covertly or in uniform. Information will be shared on arrival on legal rights and how to deal with the filth.
Let us know if you have ideas for workshops or other questions.
More info and list of workshops to follow.
Spread the word and stay wild!!

From Unoffensive Animal.
Tags: Anarchist Gathering, Animal Liberation, Climate Chaos, Forest Struggle, Germany, Hambach Forest, International Solidarity, Mining, Racism, Squatting
Posted in Eco Struggle
Wednesday, February 19th, 2020
IT: Richiesta di sostegno economico per la difesa legale di Gabriel Pombo Da Silva
Our comrade Gabriel, arrested on January 25 in Portugal, is still locked in the cells of the judiciary of Porto waiting for a possible extradition. The second part of the trial started on 27 January. It still hasn't begun yet, but it will take place in the next few days. Until we notify otherwise, the contact address for writing letters of support and solidarity to Gabriel remains the same.
Gabriel Pombo Da Silva
EPPJ Porto
Rua Assis Vaz,
109 4200-096 Porto
-Portugal-.
Whilst awaiting more news, his lawyer – who is in solidarity with Gabriel – has anticipated that the amount necessary for the defense will be considerable. You need to rely on and pay punctually those professionals with whom you are obliged to work; and we cannot act without the competing lawyers from Portugal and most likely from Germany.
Therefore, a constant amount of money is urgently needed to manage all the bureaucracy that involves the administrations of justice from three different countries (Spanish State, Germany and Portugal).
Currently the legal situation is as follows:
The Girona prosecutor's office intends that Gabriel spends another 16 years in jail due to the interpretation of a fusion of non-existent penalties. This denies a special principle (one of the legal reasons why it was possible that Gabriel was released in June 2016), which must be claimed by Germany at the request of Portugal, if optionally, they consider it appropriate.
The extradition order will be frozen while Portugal analyzes the situation, consults Germany about the "special principle" and determines in the situation whether to extradite him or not.
The objective of the defense is the immediate release of Gabriel by recognition of the same "special principle". If that was not achieved, the objective would be to avoid extradition and serve any supposed outstanding penalty in Portugal, avoiding the harassment that awaits him in the prisons of Spain.
In case of extradition, it would be fought so that this penalty was not fulfilled, applying any redemptions and mergers that until today have not been accounted for, an action that could also be implemented if it met with approval in Portugal.
In any case, you have to work legally so that no prosecution can reopen any previous case and end any possible order of arrest.
At the moment, a bank account has been opened for these purposes, in the name of his partner Elisa, to receive the solidarity contributions by the fastest, most direct and orderly way possible:
HOLDER: Elisa Di Bernardo
BANKINTER
IBAN: ES06-0128-0180-3601-0009-8696
BIC / SWIFT: BKBKESMMXXX
FREE GABRIEL!
FREEDOM FOR ALL!
LONG LIVE ANARCHY!
–
Petición de apoyo económico para la defensa jurídica de Gabriel Pombo Da Silva
Nuestro compañero Gabriel, detenido el pasado 25 de Enero en Portugal, continúa encerrado en las celdas de la judicatura de Oporto en espera de una posible extradición. La segunda parte del juicio iniciado el 27 de Enero todavía no comienza, pero tendrá lugar en los próximos días.
Mientras no notifiquemos lo contrario, la dirección de contacto para escribirle cartas de apoyo y solidaridad a Gabriel sigue siendo la misma (Gabriel Pombo Da Silva EPPJ Porto, Rua Assis Vaz, 109 4200-096 Porto -Portugal-).
En espera de más novedades, su abogado –que es solidario con Gabriel– nos ha adelantado que el monto necesario para la defensa va a ser considerable. Necesita apoyarse y pagar puntualmente a los profesionales con los que está obligado a trabajar; no puede actuar sin el concurso de los abogados de Portugal y muy probablemente de Alemania.
Por lo tanto, se necesita urgentemente una cantidad de dinero constante para hacerse cargo de toda la burocracia que implica las administraciones de justicia de tres países diferentes (Estado español, Alemania y Portugal).
Actualmente la situación jurídica es la siguiente:
La fiscalía de Girona pretende que Gabriel cumpla 16 años más debido a la interpretación de una fusión de penas inexistentes. Niega el principio de especialidad (una de las razones jurídicas por la que fue posible su liberación en el junio del 2016), que ha de ser reclamado por Alemania a petición de Portugal, si opcionalmente lo estiman oportuno.
La orden de extradición quedará congelada mientras Portugal analiza la situación, pregunta a Alemania sobre el "principio de especialidad" y determine la situación para extraditarlo o no.
El objetivo de la defensa es la liberación inmediata por reconocimiento del mismo "principio de especialidad". Si eso no se consiguiera, el objetivo sería evitar la extradición y que cumpliera la supuesta pena residual en Portugal, evitando el acoso que le espera en las cárceles españolas.
En caso de extradición, se lucharía para que no se cumpliera esa pena aplicando redenciones y fusiones que hasta hoy no han sido computadas, acción que también se podría implementar si cumpliese esa pena en Portugal.
En todo caso, hay que trabajar legalmente para que ninguna fiscalía pueda reabrir alguna causa anterior y terminar con toda posible orden de arresto.
De momento, se ha abierto para estos fines una cuenta bancaria, a nombre de su compañera Elisa, para recibir las aportaciones solidarias de la forma mas rápida, directa y ordenada posible:
TITULAR: Elisa Di Bernardo
BANKINTER
IBAN: ES06-0128-0180-3601-0009-8696
BIC/SWIFT: BKBKESMMXXX
GABRIEL LIBRE!
TODXS LIBRES!
VIVA LA ANARQUIA!
Tags: Elisa Di Bernardo, Extradition, Gabriel Pombo da Silva, Germany, International Solidarity, Portugal, Repression, Spain
Posted in Prison Struggle
Sunday, February 9th, 2020
In the night from Saturday to Sunday (01.-02.02) we threw stones at a patrol car on the Bethaniendamm. Because the driver braked out of initial overconfidence, we were able to destroy the front and side windows.
This is to be understood as the direct answer to the attacks on our demos this weekend. Whether provocative and beating at the unlock demo on Friday or the Sponti in Kreuzberg on Saturday.
Even if you are caught up in common police state fantasies at your congress, you can be sure of one thing; that we always create moments where the balance of power is in our favour and know how to use it.
You can kill us but the idea of freedom will never die.
REVENGE FOR MARIA!
Translator's note:
According to media reports, the patrol car was badly damaged and had to be taken to a garage, the two cops also resigned from duty and one was taken to hospital. The night before, riot police got into clashes with stone throwers in Rigaer Street, damaging several of their vehicles and injuring an officer. More about the murder of Maria.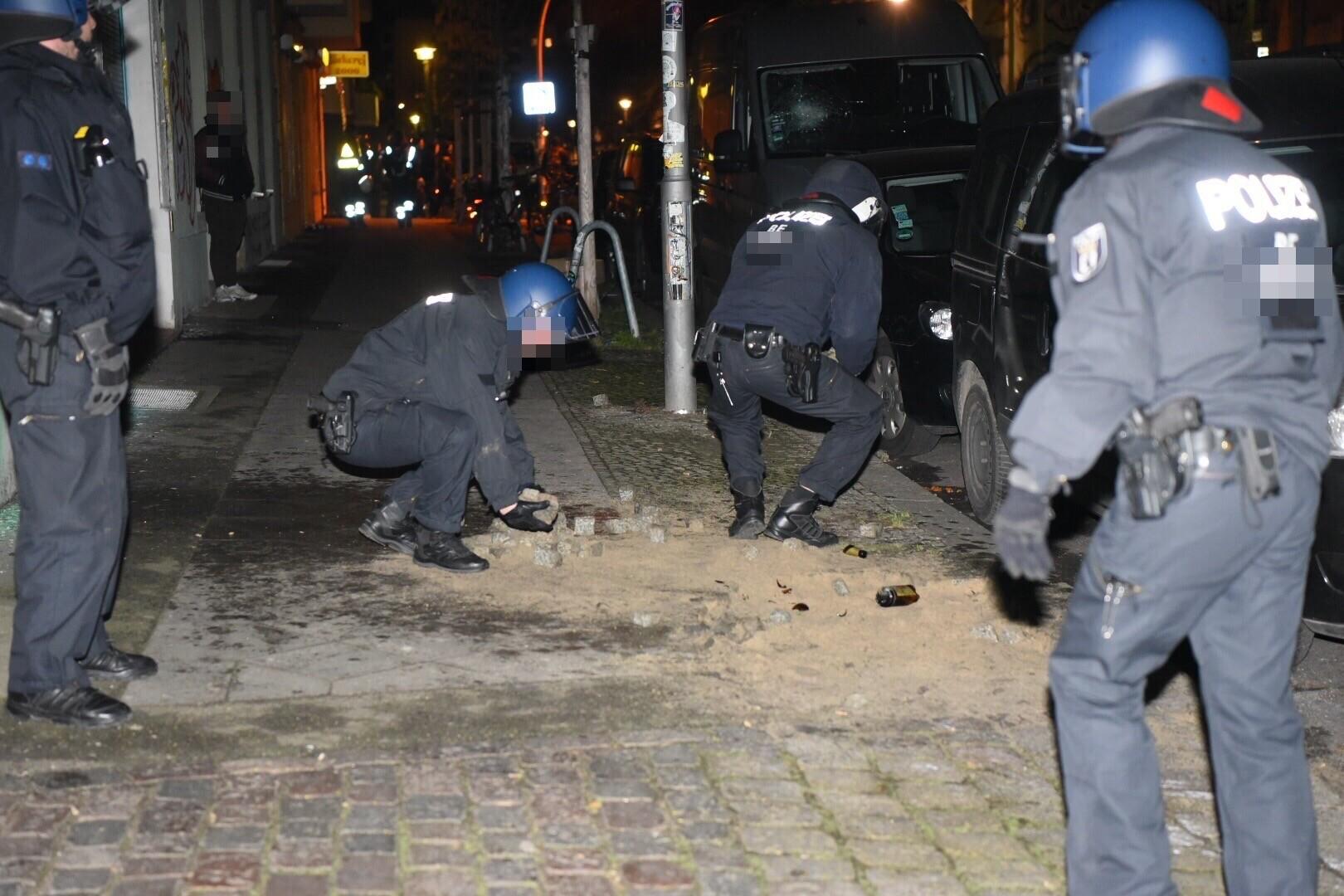 Foto: Pigs collecting stones in Rigaer Street, during riot on 31/01/2020
Tags: Berlin, Germany, Kreuzberg, Maria P., Rigaerstrasse, Riots, Sabotage
Posted in Direct Action
Friday, February 7th, 2020
PDF: 'A sea of possibilities in the concrete desert: Territory, city and insurrection'
Brochure from squatters and resisting spots in Madrid, Athens and Berlin
This publication is a compilation of texts that emerges from the discussions and the work we started in the wake of the event "A sea of possibilities in the concrete desert. Territory, city and insurrection" that happened in Madrid during June 2019 in Local Emboscada and Local Anarquista Motin. Is the product of a joint work of some comrades from Berlin and Madrid, that does not finish with the publication of this pages and pretends to extend the discussion that we have shared.
What does it mean to take territory against the State and Capitalism? How can we take it through our struggles? How does it work domination in the territories that we inhabit? Does it mean our way of living in a territory a conflict with the system?
December 2019,
Madrid and Berlin.
Tags: A sea of possibilities in the concrete desert: Territory, city and insurrection' (Zine), Germany, La Emboscada, Local Anarquista Motin, PDF, Spain, Zine
Posted in Library
Saturday, February 1st, 2020
On Friday 24.01 around 4.00 a.m, the cops of the police station 51 (Wedekindwache), raided the flat of Maria P. on Grünberger Straße 46, after her flatmate's phone call, and shot her dead. Police reports and its careful reproduction through mass media profile Maria as a mentally ill person attacking the cops with a knife. At the same time the state, police and the mass media are targeting persons with mental health issues, suggesting that this 'diagnosis' is enough for their potential execution.
The day after the murder, people gathered in solidarity and started a spontaneous demo in Maria's neighbourhood. This demo was attacked by the cops, completing in this way the image of zero tolerance while actively defending the provocative statements of the police union (GdP) and the public prosecutor's office which said that they are currently assuming that their colleagues have behaved correctly.
Berlin is a city based on the alternative tourism industry and a facade of diversity tolerance, promoting a progressive city image, which offers as products, ideas such as antiracism, antisexism and veganism/vegetarianism without hesitating to rely on the 'friendly' police forces (da für dich) to ensure citizen's peace and security when needed. (more…)
Tags: Anti-Psychiatry, Berlin, Demo, Germany, Maria P., Police Brutality, Repression
Posted in Social Control
Saturday, January 18th, 2020
Episode number 30 (01/2020) of "B(A)D NEWS – Angry voices from around the world", a monthly news program from the international network of anarchist and antiauthoritarian radios, consisting of short news segments from different parts of the world, is now online.
Length: 1:10 h
You'll find the audio here:
https://www.a-radio-network.org/bad-news-angry-voices-from-around-the-world/episode-30-01-2020
In this episode you will hear contributions from:
1) A-Radio Berlin: Meuterei goes in the air – a steampunk report
2) Frequenz A: A summary and a short interview about the case against the Park Bench 3 in Hamburg
3) 1431AM (Thessaloniki): Struggles in Petrou Ralli Immigrantion Office and Detention Center / 23day-strike in OTE (Organisaton of Telecommunications in Greece)
4) R.O.S.E. (Athens): Eviction of the Utopia squat / Process around the murder of P. Fyssas
5) Radio Fragmata: Updates on political prisoners and persecuted antifascists in Greece
6) Dissident Island (London): News of an oil rig occupation in Scotland, industrial action by precarious workers in London and reports from various hunt saboteur outings around the country
7) The Final Straw: conversation with a translator for the Anarchist Union of Afghanistan and Iran
8) The Final Straw: conversation with an anarchafeminist about the new, rightwing neoliberal regime of Nayib Bukele and the GANA party in El Salvador
9) A-Radio Berlin: Call for an International Week of Solidarity with the Political Prisoners of the revolt in Chile (13.-19.1.2020)
Other audios from A-Radio Berlin in English (or Spanish) here:
http://aradio.blogsport.de/englishcastellano.
Or visit the anarchist 24/7 online stream from the Channel Zero Network:
http://channelzeronetwork.com
Enjoy!
A-Radio Berlin
Tags: Afghanistan, Anarchist Radio, Anarchistisches Radio Berlin, Berlin, Chile, El Salvador, Germany, Greece, International Solidarity, Iran, Migrant Struggle, Park Bench 3, Radio Fragmata, UK
Posted in Autonomy
Wednesday, January 8th, 2020
On the 6th of January, we chose to open a banner amidst the crossroad of Liebig and Rigaer Strasse and attack a police car in order to show our solidarity with the threatened house projects in Berlin and the evicted squats in Athens.
The banner says: "Solidarity with Squats in Greece – Revenge 4 Koukaki Eviction".
When it was installed across the street, a patrol car arrived and was attacked with stones by the backup team and forced to flee.
There are some similar conditions for the anarchist movement in Berlin and Athens, for example the aim of the government to eliminate us and take our neighborhoods and occupied spaces. Despite the differences between the movement in Germany and Greece, the enemy is the same. The smell of garbage in uniforms is the same, the barriers of the prison is the same. Ultimately, the goal of these two states are the same, to eliminate the resistance of the fighting anarchist movements.
(more…)
Tags: Athens, Banner drop, Berlin, Eviction, Germany, Liebig 14, Liebig34/XB, Rigaer 94, Rigaerstrasse, Solidarity Action, Squatting
Posted in Direct Action
Sunday, December 29th, 2019
After COP25 and the Economic Stimulus Package: Stop Appealing to those Responsible! What We Need is a Revolt!
Wuppertal. Haan. December 26th, 2019. Since August 15th, 2019 we've occupied the Osterholz Forest. A lot has happened in these four and a half months. The forest that was supposed to be cleared in October is still standing, and that's good. We will continue to actively oppose the possible clearing for the capitalist interests of a private company called Oetelshofen.
On September 20th, millions of people took to the streets worldwide to demonstrate for climate justice. The German government's response should be a lesson to all those who think that decisive changes will come from the rulers. The "climate package" presented by the German government is above all an economic stimulus package for the (E) car industry. The proposed coal phase-out law is primarily a wind power phase-out law. The rulers are trying to cheat their way through by deceiving public opinion. Business as usual. The COP25 climate negotiations have also failed miserably. No wonder, because the rulers have long since understood what needs to be done, but that is exactly what they don't want to do. Those who believe that the rulers "have not yet understood the seriousness of the situation" succumb to a mistaken belief: the rulers have understood the seriousness of the situation very well. Their interests simply lie elsewhere. The lackeys of capital stand for an everlasting situation and their friends of green capital only want to change things slightly. Instead of destroying entire regions for coal, they now want to destroy unique landscapes for the mining of lithium for their electric cars. The same sauce, but now with a green colour. (more…)
Tags: Anti-Coal, Cop25, Ecological Destruction, Forest Struggle, Germany, Mining, Oetelshofen, Osterholz Forest, Squatting
Posted in Eco Struggle
Sunday, December 15th, 2019
In the morning hours of 13th of December we set fire to five company cars and one radio antenna on the Deutsche Telekom premises at Hannemannstraße in Berlin-Britz as well as to two cars in front of the Nissan car dealership at Gärtnerstraße in Berlin-Alt-Hohenschönhausen.
Our attacks are aimed at two companies that are globally involved in securing the rule of power and enriching themselves by it, including in Greece, where the current government is threatening to evict all occupied houses and social centers and where those who do not allow themselves to be pushed into the neoliberal norm are subject to massive attacks by the state:
→ Deutsche Telekom, as the biggest European company for Telecommunications, which, profiting from the crisis, bought parts of the former state company Hellenic Telecommunications Organization S.A. (Greek: OTE A.E.) and is now a 45% shareholder. With its subsidiary T-Systems, the Deutsche Telekom is worldwide leading in service for security authorities, industry and the energy sector.
→ Nissan, as a company, which supplies the Greek repression authorities. In June 2019 four Nissan Qashqai Diesel 4×4 and two Nissan Navara for the Criminal Investigation Unit (Δ.Ε.Ε. Διεύθυνση Εγκληματολογικών Ερευνών – forensic division) as well as one Nissan NV400 for the anti-riotcops (M.A.T. – Μονάδες Αποκατάστασης Τάξης – Monades Apokatastasis Taxis) were ceremonially granted to the cops in front of their academy in Amygdaleza, in the north of Athens.
We chose this moment because it was in December 2008, when the assassination of Alexis by the cop Korkoneas in Exarchia, Athens, triggered a social revolt that was accompanied by a multitude of international attacks on the symbols of state and capital and their murderous functionaries.
11 years later, living conditions have not improved either here or there. Rather, the social war is intensifying worldwide. The gap between rich and poor continues to widen. The triumphant march of neoliberalism produces a mass of excluded people who are denied the possibility of social participation. Expelled and parked on the margins of the metropolis or in slums, they are declared enemies, who should be monitored and oppressed. Walls and fences, private security services, intelligent cameras and highly equipped police units are the clearest expression of an increasingly militarized territory in which, under the disguise of security, war is being waged against the poor.
New technologies and the associated digital access to our lives enable new and more subtle techniques of governance. The thousands and thousands of data that are produced every day are intended to make any action calculable and controllable. With Predictive Policing, the foresighted cop, a tool was created that sorts people according to stereotypes and thus creates the criminals of the future. Such technologies are embedded in the restructuring of cities into Smart Cities, the implementation of which companies such as Deutsche Telekom are constantly working on with 5G infrastructure projects or smart traffic systems, lanterns, waste management and much more. However, this is by no means to enable a better life for all, but to enable the totalitarian idea of comprehensive control of the city and its population through practical solutions.
The technological attack is so successful because humans are actually collective beings. Part of the neo-liberal agenda was and is the destruction of this very collectivity in order to reassemble it in line with the market through digital domination. Driven by the fear of being excluded, even outlawed, and by the supposed joys that Virtual Reality has to offer us, we ourselves weave on the net that encloses us. The state of isolation in the cities or the disregard of rural communities leads many into the arms of the constructed national community and therefore parties like the AfD get a influx of followers. Fighting the rise of fascism by integrating ideas of solidarity and collectivity into social struggles, is therefore certainly a task for the coming time.
As it is happening in other countries at the moment, the abolished leftist government in Greece has prepared the ground for the new rise of a right-wing conservative regime. The past phase of Syriza's government should have clearly demonstrated to those in doubt that participation in power must fulfill the conditions of capitalist constraints and that no emancipatory project can stand on democratic parliamentary feet. To name these contradictions, to reject any domination by others, not to compromise and not to recognize the authority of a hostile system are part of the anarchist idea.
We feel connected with the rebels worldwide, who are currently in many different places in the world, especially where the state-social partnership is not developed to the smallest detail, those who let the sparks of resistance grow into a widespread fire of social uprising. While in Athens self-organized and revolutionary structures are being defended and state and capital being attacked, we are fighting the same struggle here, in which we aim at the profiteers of capitalist domination. We do this with the consciousness that the infrastructure and the flow of goods are elementary components of it. We send our flaming greetings especially to those who fight against the regime of Nea Demokratia in Greece as well as worldwide to all those people who revolt against authority, are in prison for it or who have to flee.
Anarchists
via Deutschland Indymedia, Anarchists Worldwide.
Tags: Alexis Grigoropoulos, Arson, Berlin, Deutsche Telekom, Exarchia, Germany, International Solidarity, Nissan, Sabotage, Smart Cities
Posted in Direct Action
Tuesday, December 10th, 2019
Arson Attack on Saxon federal office of taxes and finances – No one will be able to pacify our struggle – Solidarity Greetings to the fighting companions in Exarchia
The Saxon federal office of taxes and finances (LSF) is in charge of the financial administration of the Saxon federal state and provides the juristic basis for enforcement measures and the enforcement of juristic judgments, such as forced evictions or confiscations to compensate debts. Being under patronage of the German state, this ministry performs the political agenda of the free market. The LSF is enforcing the national financial policy, which privileges companies and disadvantages the people. This policy is driven by the ideology of the "Black Zero". The neoliberal doctrine of economizing provokes the capital's overarching control over all social spheres. Through privatization and the cutting of taxes for major companies, any social attempt is buried completely under the logic of profit.
Under guidance of the German State the dictate of economizing (Spardiktat), which is targeting us here, is enforced all over Europe and worldwide. Germany bears the blame for economizing the Greek public to complete destruction, as well as for letting loose the property of the Greek people to the total exploitation of private investors. In consequence rampant unemployment arose, many people lost their base of existence, some committed suicide, many died on the streets, because they haven't had shelter or couldn't afford necessary medical support or medication. (more…)
Tags: Arson, Exarchia, Germany, International Solidarity, Leipzig, Sabotage
Posted in Direct Action
Sunday, November 24th, 2019
Munich, 20.11.19: In Chile tens of thousands of people have been revolting for weeks against the prevailing normality. Police stations, churches, banks, shopping malls, buses, subway stations and universities burn. The normal everyday life has come to a standstill and the state and capitalist power is attacked.
How can we express our solidarity and solidarity with the revolts there?
There are various possibilities … in Munich, for example, In recent nights, several ticket machines have been lit and burned at various stations. Also, the Chilean Consulate was defaced with color and "Fire to all states! (A)" sprayed next to this. A nearby church was smeared and sprayed with "No God No State No Patriarchy" on it.
It would be nice if such proposals were to be disseminated wildly and other possibilities of solidarity put into practice.
–
Actforfree received anonymous email 21/11/19
Tags: Arson, Chile, Germany, Graffiti, International Solidarity, Munich, Sabotage
Posted in Direct Action
Wednesday, November 20th, 2019
Solidarität mit Grup Yorum
Eine Infoveranstaltung mit Solikonzert
Freitag, 22. November 2019, ab 19 Uhr
Jockel, Ratiborstr. 14C, 10999 Berlin
The band Grup Yorum is facing massive repression in Turkey. Their cultural association Idil has been the target of state attacks multiple times in the last few years and several of their members have been placed on so-called terror lists, imprisoned, or are living in exile. In protest of these measures, members of the band have been on hunger strike for over 150 days.
This event will provide current information on the band's situation, followed by a soli concert with bands, choirs and surprise guests.
Die Band Grup Yorum ist in der Türkei massivster Repression ausgesetzt. Ihr Kulturverein Idil ist in den vergangenen Jahren etliche Male zur Zielscheibe staatlicher Angriffe ausgesetzt gewesen und mehrere ihrer Mitglieder wurden auf sogenannte Terrorlisten gesetzt, befinden sich im Gefängnis und im Exil. Um sich gegen diese Maßnahmen zur Wehr zu setzen, haben sich Mitglieder der Band vor rund 150 Tagen in einen Hungerstreik begeben.
Auf unserer Veranstaltung möchten wir aktuelle Infos zur Situation der Band geben und anschließend ein Solikonzert machen, wo Bands, Chöre und Überraschungsgäste auftreten werden.
Grup Yorum, Türkiye'de yoğun baskılara maruz kalmaktadır. Grubun da içinde bulunduğu İdil Kültür Merkezi son yıllarda defalarca kez devlet saldırılarının hedefinde oldu ve grubun birçok üyesi sözde terör listelerine konuldu. Grubun bir kısmı hapiste ve bir kısmı sürgünde. Bu uygulamalara karşı direnerek Grup Yorum üyeleri yaklaşık 150 gün önce açlık grevine başladı.
Etkinliğimizde Grup Yorum'la ilgili güncel gelişmeleri aktarıp ardından da değişik müzik gruplarının, koroların ve sürpriz misafirlerin yer alacağı bir dayanışma konseri düzenleyeceğiz.
Tags: Berlin, Germany, Grup Yorum, Solidarity Event, Turkey
Posted in Social Control
Tuesday, November 12th, 2019
We talk about the "political climate related to political prisoners in Greek prisons, the historical time-line of the solidarity fund, what we have done, what we are currently busy with and what our future steps will be"
Any income from the event will be given to the solidarity fund for the material support of prisoners and persecuted militants.
Tags: Berlin, Germany, Greece, International Solidarity, Solidarity Event, Tameio
Posted in Prison Struggle
Saturday, October 26th, 2019
Prison Profiteers Attacked – Excavators Torched – Solidarity with the Park Bench 3
During the night of October 11th [2019], we set fire to two Eurovia Vinci excavators. Vinci, as a global company, has shown many times in the past and in the present that it apologizes for NOTHING and that it is ready to accept any order, no matter how dirty. (more…)
Tags: Arson, Eurovia, Eurovia-Vinci, Germany, Leipzig, Vinci, ZAD
Posted in Direct Action
Saturday, October 26th, 2019
Branches of Turkish banks was attacked
Berlin, London, Sofia, Amsterdam, Paris. In these cities was attacked branches of Turkish bank (Işbank). For actions we used manual from the Network of Revolutionary Cells (SRB): "How to start evacuation"
Money from Turkish bank support terrorism of Turkish state. Turkish army killing civil people. For example, they killing a child named Sara Yusuf Hüseyin. Turkish army also killing revolutionary fighters in Rojava. We have to stop it!
Fight against Turkish bank is fight against terrorism!
– Commando Sara Yusuf Hüseyin
Tags: Berlin, Bulgaria, Commando Sara Yusuf Hüseyin, Evacuation warning, France, Germany, Kurdish Struggle, Kurdistan, London, Paris, Rojava, Sofia, Turkey, Turkish bank (Işbank), UK, War
Posted in Direct Action