Posts Tagged 'Germany'
Monday, March 11th, 2019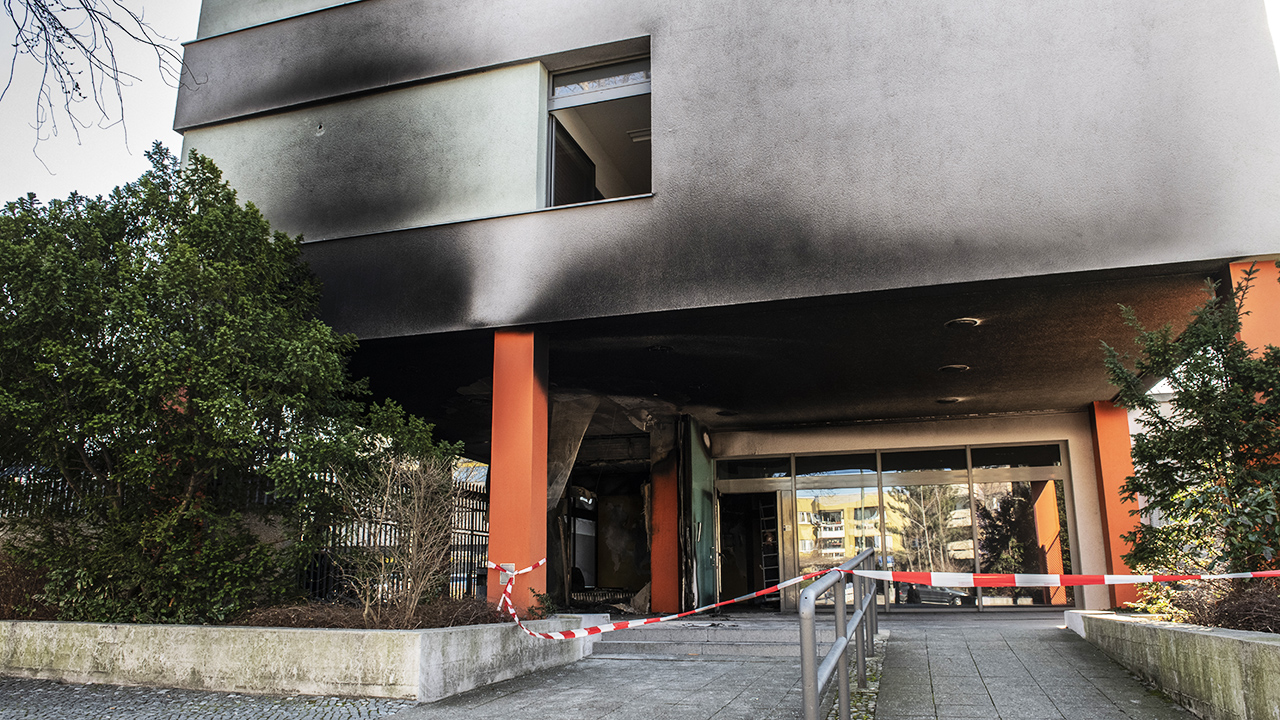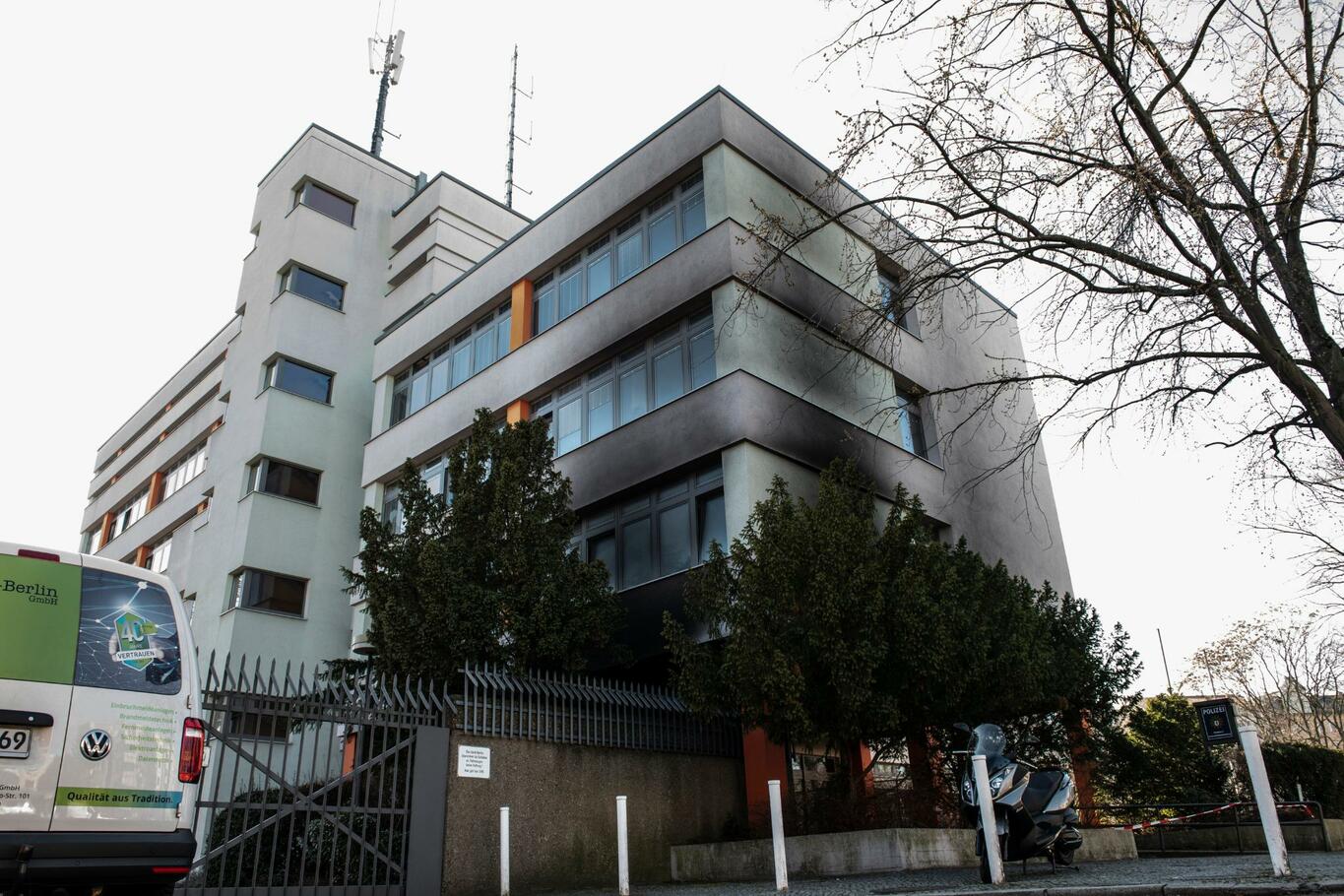 Berlin: Our propaganda remains the attack: cops are murderers!
No words of justification are necessary for that, what has happened to a cop station in Berlin on the morning of February 27, 2019. All those who were already handcuffed, humiliated by the cops, sexually assaulted, beaten, driven through the streets, jailed, or detained understands our language. Our fire speaks to those who have understood or learned that it is always a danger to life and limb to fall into the hands of the state. Many who were dragged in patrol cars or cop stations did not leave them alive.
We do not hope for justice, nor for more humanistic cops. Instead, we deepen our enemy determination and draw a line that is appropriate to the quality of social conflicts. There is nothing to discuss with the killers and their collaborators. Not even if you present yourself all year round as friends and helpers at their police congress.
Nothing is forgotten and we are not ready to forgive. Instead of celebrating its own role as a victim, it is necessary to organize further attacks against the cops and to disassemble their sense of inviolability step by step.
Part of this we have contributed with our act. The casualness with which the cops and the press deal with the attack on the building on Invalidenstraße belies their losses. As we ignited the used 60 liters of gas under the canopy of the entrance area, the fire could jam under the ceiling and cause considerable damage there, which will remind them for a long time that they need to expect nothing but our hatred.
We greet Loic in the Hamburg prison and all upright prisoners of the social war and promise them to continue to aim at the pigs.
For Ebuka Mama Subek, who was recently murdered in an Athenian police station. For Oury Jalloh, Hans-Jürgen Rose and Mario Bichtemann, who were killed by pigs in Dessauer. For Halim, Carlo, Dennis and Amed!
For the revolutionary revenge!
Tags: Arson, Berlin, Germany, Sabotage, Solidarity Action
Posted in Direct Action
Sunday, February 17th, 2019
Recibido por correo electrónico
A principios de julio de 2017 tuvo lugar en Hamburgo la reunión del g20. Representantes de los países dueños de la economía mundial, planeaban durante dos días como seguir manteniendo ese sistema de miseria, explotación y muerte. Manifestaciones, bloqueos, sabotajes, enfrentamientos con las fuerzas del orden, saqueos… (al igual que ataques descentralizados las semanas previas) pretendieron, y lograron durante muchos momentos, interrumpir el normal funcionamiento de esta cumbre.
El 6 de junio, el día que llegaban los políticos, acompañados de sus más de 6000 delegados, seguidos en todo momento por más de 3000 periodistas y protegidos por unos 10000 policías, estaba convocada una manifestación anticapitalista bajo el lema de Welocome to Hell. (more…)
Tags: G20, Germany, Hamburg, International Solidarity, PDF, Repression, Spain, Zine
Posted in Library
Monday, January 28th, 2019
During new years eve in Leipzig, eastern Germany, the night of excess was used to initiate an attack on a target that, up until then, deemed itself as heavily protected and untouchable. Every year for the first half hour of the new year, the
big cities in are covered in thick layers of fog and smog, never ending noises of explosions and masses of people who take over the sidewalks and community spaces to get a good look at the fireworks. The attackers goal was the federal court and the state prosecution. This institution figuratively and literally represents the central organ of the judiciary, this state and its democratic society.
200 meters away from the federal court, a burning barricade blocked the crossroad, so that the group could carry out the attack on the federal court and the neighbouring fraternity Corps Lusatia without any disturbances. Stones broke
through the windows of the fraternity house and paint balls were thrown at the facade. The mobile cameras of the court house were sprayed followed by people jumping the fence and trying to break through the security glass. Fire was set to the front door and the window frame, sadly the insides of the building were left undamaged. In front of the court, another barricade was set ablaze, cars were smashed and burned. The whole street was covered in smoke, released from the
cartridges of the attackers.
A choreography, which led saxonies attorney general to believe in a high level of professionalism behind the attack. He was very quick to announce a new level of left radical violence. Not only did the delinquents attack the state, but the whole society. Nothing that actually hasn't been heard before.
Around the new year, several attacks against state property were carried out. For example the arson attack against the district court in Berlin-Wedding and the district court and the district attorneys office in Hamburg in the last week of December 2018. In the first weeks of January there were attacks on the Court Building in the south of Germany, Stuttgart and some days later in Freiburg and against the Court in Göttingen, as an attack against deportations and the racist law regime.

Let's continue to target these institutions.
As long as we walk these streets we will try to burn down every court, that people get dragged in front of every day!
Tags: Arson, Germany, Leipzig, Sabotage
Posted in Direct Action
Monday, January 28th, 2019
Tags: Flyposter, G20, Germany, Hamburg, International Solidarity
Posted in Social Control
Wednesday, January 9th, 2019
Columns of smoke escaping from the roofs of the rich district of Elbchaussee, helicopters turning in the sky. By far, that was what let some early-bird residents guess that something was going on, perhaps beyond the statements of the riot police and secret services. A crowd of hooded people pursued their goal of publicizing their vision of things, destroying both in a targeted and blind manner a tiny part of this world of prosperity.
A wonderful sign. A street of cars in flames, souls completely helpless absolutely not wanting to understand why they had just been the victim of this useless violence. We have a great mark of respect for the risk that people had been ready to take.
After all, it already seemed to appear on the radar of all the intelligence services, before the summit, that the limits of the city were going to be surpassed. A moment of offensive demonstration, whose character has only rarely been achieved in this country.
Since 18 December, five comrades from Frankfurt, Offenbach and from France have been going before the higher regional court of Hamburg. They are accused of having been part of this ride. The relevant items are films and video material that the cops have analysed in detail . They claim to be able to identify people in a cohort of hooded individuals dressed all in black. (more…)
Tags: Arson, Berlin, G20, Germany, KONE, Sabotage
Posted in Direct Action
Tuesday, January 8th, 2019
Responsibility claim for the arson attack against the Courthouse in Wedding
Europe-wide raids and house-searches. Arrests and extraditions. Informers and denunciations. The joyous chaos of the summit days and the confirmation of the loss of control forces the State to react. The reactions are noticeably more hostile than they have been for many years. Direct attacks against us and our structures are the reply of the rulers. The intensification of the persecution, the will to punish and the depoliticization of our ideas and actions are promoted.
What is forgotten within this logic is that we are united by political fragments like small parts of a puzzle – be it events, trains of thought that are happening in other cities or suddenly appearing in texts – and also by the reduction of the accomplices that are to be removed from the common table. We don't have to know the people who are on the streets with us. Through our sometimes unspoken ideas, we feel connected to each other and by meeting together in the streets, we act together, so that these ideas are not just dreamed of in a vacuum.
The enemy's current attempts to condemn the few who have resisted the many cannot be left unanswered by our side. (more…)
Tags: Arson, Berlin, G20, Germany, Sabotage
Posted in Direct Action
Wednesday, December 26th, 2018
On Friday December 21 the comrade was transferred to Madrid, to Soto del Real prison. As far as we know there are no restrictions on incoming or outgoing post, so it would be really nice if everyone were to write to her. Here is her new address:
Lisa Dorfer
Módulo 15
Centro Penitenciario Madrid V
Carretera M609 km.3,5
28791 Soto del Real
Madrid
Spain
Monday, December 31 at 10.30 gathering outside the WAD-RAS prison.
Translated by Act for Freedom Now!
Source
Tags: Germany, Lisa, Madrid, Prison Transfer, Soto del Real, Spain
Posted in Prison Struggle
Tuesday, December 11th, 2018
Deutsch | Arabisch | Türkisch | Farsi | Englisch
Hallo liebe Freund*innen,
wir möchten am Samstag, den 15. Dezember 2018, gemeinsam von Berlin aus
zur "Freiheit für Musa Aşoğlu"-Demo nach Hamburg fahren. Hierzu treffen
wir uns am 15. Dezember um 7.30 Uhr am Ostbahnhof, Gleis 7. Wir besorgen
uns zusammen Wochenendtickets. Der Zug fährt dann um 7.52 Uhr ab. Wir
wären dann pünktlich in Hamburg, wo die Demo um 12 Uhr vor der Roten
Flora beginnen soll. Im Anschluss an die Demo würden wir gemeinsam
wieder zurück nach Berlin reisen.
Musa Aşoğlu wurde am 2. Dezember 2016 verhaftet und befindet sich
seitdem in Hamburg in Isolationshaft. Ihm wird nach §129b
(Mitgliedschaft in einer verbotenen terroristischen Vereinigung)
vorgeworfen, Mitglied der in der Türkei kämpfenden DHKP-C (Revolutionäre
Volksbefreiungspartei-Front) zu sein. Dass Oppositionelle in der Türkei
verfolgt, gefoltert und ermordet werden, stört die BRD in keinster Weise
– ist er doch enger Verbündeter und politischer Stabilidsator des immer
offener faschistisch agierenden Regimes in der Türkei.
Der §129b-Prozess gegen Musa Aşoğlu dauert seit dem 25. Januar 2018 an
und wir gehen davon aus, dass dieser im Frühjahr 2019 enden könnte.
Wir möchten Musa Aşoğlu und alle §129b-Gefangenen durch unsere
Teiilnahme an der Demo supporten. Schließt euch uns an. (more…)
Tags: Berlin, Demo, DHKP-C (Democratic People's Liberation Party-Front), Germany, Hamburg, Musa Aşoğlu, Repression, Trial, Turkey
Posted in Prison Struggle
Tuesday, December 4th, 2018
Originally published by Indymedia DE. Edited machine translation by Enough is Enough.
According to a report of German weekly Focus, Federal Minister of Interior Horst Seehofer (CSU) plans a ban on the solidarity organization Rote Hilfe eV ['Red Help']. It is up to you, now you can give back the association the solidarity it deserves.
The only cross-flow organization of the radical left has supported you all, all left-wing activists, that watched your back in recent years. Whether financially, if again existence was threatened because of political activity, a good advice if once again there was a yellow letter (Courts and state prosecuters send their letter in yellow envelope on the German territory, EIE) in the mailbox, a good leaflet at the right time, that you better shut up (Don't talk with the cops, EIE) or the costs of being imprisoned.
Not to mention that Rote Hilfe e.V. is one of the only left-wing organizations that continuously opposes snooping paragraphs and sharpening of laws by law and order ideologues. And that from a unsellable and incorruptible anti-capitalist position. Where else is there something like this?
Today's Rote Hilfe e.V. is the direct successor to Rote Hilfe Deutschland, an organization that massively strengthened the anti-fascist struggle until its last ban by the Nazis in 1936. All this with the idea of ​​solidarity – to bolster up each other to maintain the political struggle for a better world. We tie into the struggle on this principle today. The fact that a new ban is pending only shows in what stormy times we are living. (more…)
Tags: Germany, International Solidarity, Repression, Rote Hilfe
Posted in Social Control
Sunday, November 25th, 2018
16.11.18: Last Friday night we torched a car belonging to the Spie Fleischhauer company in Leipzig Connewitz. And so, we made a small expression of our contempt and hatred towards the cruel prison industry. The direct attack against the property of those who allow domination and oppression is a necessary part of the struggle for a liberated society!
Our greetings go out to all those who sit in the dungeons of the rulers, do not lose heart and oppose each day of repression and exploitation. In particular, we send greetings to Nero and our comrades in Berlin after last week's raids*. Your courage and determination give us strength!
Spie is one of the leading coal, lignite and nuclear industry service providers, and not just in Germany. After torching a Spie van in April, in Berlin, Sébastien Briat summed it up in a few words:
"In France, Spie is Vinci's biggest competitor in the service sector. The company, based in France, is involved in the nuclear industry via its subsidiary Spie
Nucléaire. In Germany, Spie SAG is involved in the generation of electricty from coal and boasts of its long-standing partnership with RWE. For example, the settlers for lignite mining for RWE were transported from Spie to Hambacher Forest."
The subsidiary Spie Fleischhauer GmbH is an information, security, media and electrical engineering company that is also active in the prison industry. Here Spie
Fleischhauer specializes, among others, in hazard management and telecommunication systems. For wealthy individuals, banks and corporations, it offers intelligent property protection surveillance systems. In Leipzig, the company is participating in the current expansion of Leipzig prison.
A free and self-determined life cannot exist with a state and its institutions. We stand in fighting solidarity with all the people who are harassed, exploited and imprisoned by cops, prosecutors and judges!

Freedom for Nero!
*Free Nero Blog: https://freenero.blackblogs.org/texte/
R94 statement on the raids: https://de.indymedia.org/node/26080
… In addition, we observed following our nightly excursion that cops seem to pass by and ignore burning company cars and luxury cars in Leipzig Connewitz. That means for us: Let more cars go up in flames!
It's easy: instructions can be found here: https://militanz.blackblogs.org/42/
(in German)

Source
Tags: Arson, Germany, Leipzig, Sabotage, SPIE (Prison Industry)
Posted in Direct Action
Sunday, November 25th, 2018
Veranstaltung und Soli-Abend in der Meuterei am Freitag, den 30. November ab 18 Uhr mit anschließendem Cocktail-Tresen.
Vor über fünf Jahren eröffnete sich neun Personen die Tatsache Beschuldigte in einem Ermittlungsverfahren nach §129 StGB (Gründung/Mitgliedschaft in einer kriminellen Vereinigung) zu sein. Im Fokus der Ermittlungen standen die RAZ(Revolutionäre Aktionszellen)/RL(Revolutionäre Linke) und die Zeitschrift Radikal.
Jetzt hat die Staatsanwaltschaft Berlin in diesem Zusammenhang einen Antrag auf Eröffnung eines Hauptverfahrens gestellt und eine Anklageschrift formuliert. Nachdem bereits im August 2014 die Ermittlungen gegen zwei der Beschuldigten abgetrennt und unter anderem Aktenzeichen geführt wurden, richtet sich die nun im September 2018 verschickte Anklageschrift nur noch gegen eine Person. Die Ermittlungsverfahren gegen die anderen Personen wurden eingestellt. Bereits die Trennung der Ermittlungsverfahren ließ vermuten, dass eine Anklage wegen §129 für die Behörden nicht haltbar sein werde, und so lautet der Vorwurf jetzt auch Brandstiftung pp. in drei Fällen. (more…)
Tags: Berlin, Germany, Radikal (Zine), Revolutionäre Aktionszellen (RAZ), Revolutionäre Linke (RL)
Posted in Autonomy
Friday, November 9th, 2018
Lieber Freund*innen und Genoss*innen,
Wir möchten euch auf die morgige Veranstaltung aufmerksam machen und herzlich einladen.
Wo: Info- und Stadtteilladen LUNTE (Weisestr. 53, Neukölln)
Wann: 19 Uhr
Am 28.11.18 wird die Innenministerkonferenz (IMK) in Magdeburg geben. Bei dieser Konferenz werden die strategischen Leitlinien und taktischen Mittel des Staates zur Herrschaftssicherung bestimmt.
Wir wollen gemeinsam mit euch über die Entwicklung der Repression in der BRD sprechen und wie die Einführung der neuen Polizeigesetze im
Zusammenhang mit der Faschistisierung der BRD zu sehen ist. Desweiteren werden wir euch über die geplanten Proteste gegen die IMK und den Internationalistischen Block auf der Anti-IMK Demonstration am 24.11.18 informieren.
Referent*in: Proletarische Autonomie Magdeburg
https://proletarischeautonomie.noblogs.org
Veranstaltet von: Netzwerk Freiheit für alle politischen Gefangenen [Berlin]
http://political-prisoners.net/
Weitere Infos zur Innenministerkonferenz
https://unheimlichsicher.org/
Tags: Berlin, Counter-Summit, Germany, Innenministerkonferenz (IMK), Magdeburg
Posted in Autonomy
Monday, October 29th, 2018
Elefterya Hambi is an internationalist in northern Syria and is fighting in the YPJ ranks. In an interview, she talks about her reasons why she decided to help create a new social model in Rojava.
Tags: Germany, Hambach Forest, International Solidarity, Islamic State in Iraq and Syria (ISIS), Kurdish Struggle, Rojava, Syria, War, Women's Defense Units (YPJ)
Posted in Interviews
Saturday, October 27th, 2018
Berlin, October 15th, 2018
The anarchist movement has sharpened it's profile. This has meant that the repression against us has intensified in recent years. From Germany, the G20 has triggered an increase in activity by security agencies because they have realized that they are not in control of us and it became so obvious that a response was necessary. The destruction in Hamburg, the lack of compromise and the determination of the hooded ones hit them exactly where it was intended. Uncertainty was triggered there, in a place where people people's property defines themselves and their complicity in a warring society. The luxury automobile or the patrol car on the verge of becoming a pile of charred plastic – a casualness towards the war against the poor, the outcast and the inept.
Following the publication of the text 'The Insurgent's Autism', in issue 9, June 2018 of the eco-anarchist publication Fenrir, we felt an urge to respond. And for a moment we attack the illusion of security in this society in a very specific place to engage in communication and open a space for discussion.
…We do not know what to think regarding what out comrade Alfredo Cospito is saying when he speaks about a vision of an anarchist praxis that would become more dangerous because it keeps on experimenting. We can only speak for ourselves, that we have become more dangerous and are quite successful because the power misjudges our real potential. The willingness to remain alone, the claiming of total responsibility for our destiny… (more…)
Tags: 'Amad Ahmad' Cell FAI-FRI, Arson, Berlin, Fenrir, Germany, Informal Anarchist Federation (FAI), International Revolutionary Front, International Solidarity, Operation Panic, Operation Scripta Manent, Sabotage, Securitas
Posted in Direct Action
Wednesday, October 17th, 2018
During the night of the 14th to the 15th of October in Frankfurt-Heddernheim we destroyed two vans of the company Vonovia with fire. We took care that no people or other objects were damaged, only the vans were completely destroyed.
Vonovia, the largest real estate company in Germany, is guilty of forcing people out of the districts, including Frankfurt, which continue to be gentrified. The sole driving force of the group, profit maximization via privatization and luxury refurbishments, means that as usual the tenants suffer. Since we still lack the ability to expropriate the group, we wanted to draw attention to the impact that private housing companies and Vonovia itself have and the great damage they cause by sabotaging it's day-to-day business.
The anger against the housing policy is felt everywhere and there have been many attacks surfacing. Therefore, we are in solidarity with the fight against gentrification on many levels and look forward to the Mietwahnsinns demo on October 20th in Frankfurt.
In solidarity with a city for all!
Tags: Arson, Frankfurt, Germany, Sabotage, Vonovia
Posted in Direct Action