Posts Tagged 'Germany'
Wednesday, December 26th, 2018
On Friday December 21 the comrade was transferred to Madrid, to Soto del Real prison. As far as we know there are no restrictions on incoming or outgoing post, so it would be really nice if everyone were to write to her. Here is her new address:
Lisa Dorfer
Módulo 15
Centro Penitenciario Madrid V
Carretera M609 km.3,5
28791 Soto del Real
Madrid
Spain
Monday, December 31 at 10.30 gathering outside the WAD-RAS prison.
Translated by Act for Freedom Now!
Source
Tags: Germany, Lisa, Madrid, Prison Transfer, Soto del Real, Spain
Posted in Prison Struggle
Tuesday, December 11th, 2018
Deutsch | Arabisch | Türkisch | Farsi | Englisch
Hallo liebe Freund*innen,
wir möchten am Samstag, den 15. Dezember 2018, gemeinsam von Berlin aus
zur "Freiheit für Musa Aşoğlu"-Demo nach Hamburg fahren. Hierzu treffen
wir uns am 15. Dezember um 7.30 Uhr am Ostbahnhof, Gleis 7. Wir besorgen
uns zusammen Wochenendtickets. Der Zug fährt dann um 7.52 Uhr ab. Wir
wären dann pünktlich in Hamburg, wo die Demo um 12 Uhr vor der Roten
Flora beginnen soll. Im Anschluss an die Demo würden wir gemeinsam
wieder zurück nach Berlin reisen.
Musa Aşoğlu wurde am 2. Dezember 2016 verhaftet und befindet sich
seitdem in Hamburg in Isolationshaft. Ihm wird nach §129b
(Mitgliedschaft in einer verbotenen terroristischen Vereinigung)
vorgeworfen, Mitglied der in der Türkei kämpfenden DHKP-C (Revolutionäre
Volksbefreiungspartei-Front) zu sein. Dass Oppositionelle in der Türkei
verfolgt, gefoltert und ermordet werden, stört die BRD in keinster Weise
– ist er doch enger Verbündeter und politischer Stabilidsator des immer
offener faschistisch agierenden Regimes in der Türkei.
Der §129b-Prozess gegen Musa Aşoğlu dauert seit dem 25. Januar 2018 an
und wir gehen davon aus, dass dieser im Frühjahr 2019 enden könnte.
Wir möchten Musa Aşoğlu und alle §129b-Gefangenen durch unsere
Teiilnahme an der Demo supporten. Schließt euch uns an. (more…)
Tags: Berlin, Demo, DHKP-C (Democratic People's Liberation Party-Front), Germany, Hamburg, Musa Aşoğlu, Repression, Trial, Turkey
Posted in Prison Struggle
Tuesday, December 4th, 2018
Originally published by Indymedia DE. Edited machine translation by Enough is Enough.
According to a report of German weekly Focus, Federal Minister of Interior Horst Seehofer (CSU) plans a ban on the solidarity organization Rote Hilfe eV ['Red Help']. It is up to you, now you can give back the association the solidarity it deserves.
The only cross-flow organization of the radical left has supported you all, all left-wing activists, that watched your back in recent years. Whether financially, if again existence was threatened because of political activity, a good advice if once again there was a yellow letter (Courts and state prosecuters send their letter in yellow envelope on the German territory, EIE) in the mailbox, a good leaflet at the right time, that you better shut up (Don't talk with the cops, EIE) or the costs of being imprisoned.
Not to mention that Rote Hilfe e.V. is one of the only left-wing organizations that continuously opposes snooping paragraphs and sharpening of laws by law and order ideologues. And that from a unsellable and incorruptible anti-capitalist position. Where else is there something like this?
Today's Rote Hilfe e.V. is the direct successor to Rote Hilfe Deutschland, an organization that massively strengthened the anti-fascist struggle until its last ban by the Nazis in 1936. All this with the idea of ​​solidarity – to bolster up each other to maintain the political struggle for a better world. We tie into the struggle on this principle today. The fact that a new ban is pending only shows in what stormy times we are living. (more…)
Tags: Germany, International Solidarity, Repression, Rote Hilfe
Posted in Social Control
Sunday, November 25th, 2018
16.11.18: Last Friday night we torched a car belonging to the Spie Fleischhauer company in Leipzig Connewitz. And so, we made a small expression of our contempt and hatred towards the cruel prison industry. The direct attack against the property of those who allow domination and oppression is a necessary part of the struggle for a liberated society!
Our greetings go out to all those who sit in the dungeons of the rulers, do not lose heart and oppose each day of repression and exploitation. In particular, we send greetings to Nero and our comrades in Berlin after last week's raids*. Your courage and determination give us strength!
Spie is one of the leading coal, lignite and nuclear industry service providers, and not just in Germany. After torching a Spie van in April, in Berlin, Sébastien Briat summed it up in a few words:
"In France, Spie is Vinci's biggest competitor in the service sector. The company, based in France, is involved in the nuclear industry via its subsidiary Spie
Nucléaire. In Germany, Spie SAG is involved in the generation of electricty from coal and boasts of its long-standing partnership with RWE. For example, the settlers for lignite mining for RWE were transported from Spie to Hambacher Forest."
The subsidiary Spie Fleischhauer GmbH is an information, security, media and electrical engineering company that is also active in the prison industry. Here Spie
Fleischhauer specializes, among others, in hazard management and telecommunication systems. For wealthy individuals, banks and corporations, it offers intelligent property protection surveillance systems. In Leipzig, the company is participating in the current expansion of Leipzig prison.
A free and self-determined life cannot exist with a state and its institutions. We stand in fighting solidarity with all the people who are harassed, exploited and imprisoned by cops, prosecutors and judges!

Freedom for Nero!
*Free Nero Blog: https://freenero.blackblogs.org/texte/
R94 statement on the raids: https://de.indymedia.org/node/26080
… In addition, we observed following our nightly excursion that cops seem to pass by and ignore burning company cars and luxury cars in Leipzig Connewitz. That means for us: Let more cars go up in flames!
It's easy: instructions can be found here: https://militanz.blackblogs.org/42/
(in German)

Source
Tags: Arson, Germany, Leipzig, Sabotage, SPIE (Prison Industry)
Posted in Direct Action
Sunday, November 25th, 2018
Veranstaltung und Soli-Abend in der Meuterei am Freitag, den 30. November ab 18 Uhr mit anschließendem Cocktail-Tresen.
Vor über fünf Jahren eröffnete sich neun Personen die Tatsache Beschuldigte in einem Ermittlungsverfahren nach §129 StGB (Gründung/Mitgliedschaft in einer kriminellen Vereinigung) zu sein. Im Fokus der Ermittlungen standen die RAZ(Revolutionäre Aktionszellen)/RL(Revolutionäre Linke) und die Zeitschrift Radikal.
Jetzt hat die Staatsanwaltschaft Berlin in diesem Zusammenhang einen Antrag auf Eröffnung eines Hauptverfahrens gestellt und eine Anklageschrift formuliert. Nachdem bereits im August 2014 die Ermittlungen gegen zwei der Beschuldigten abgetrennt und unter anderem Aktenzeichen geführt wurden, richtet sich die nun im September 2018 verschickte Anklageschrift nur noch gegen eine Person. Die Ermittlungsverfahren gegen die anderen Personen wurden eingestellt. Bereits die Trennung der Ermittlungsverfahren ließ vermuten, dass eine Anklage wegen §129 für die Behörden nicht haltbar sein werde, und so lautet der Vorwurf jetzt auch Brandstiftung pp. in drei Fällen. (more…)
Tags: Berlin, Germany, Radikal (Zine), Revolutionäre Aktionszellen (RAZ), Revolutionäre Linke (RL)
Posted in Autonomy
Friday, November 9th, 2018
Lieber Freund*innen und Genoss*innen,
Wir möchten euch auf die morgige Veranstaltung aufmerksam machen und herzlich einladen.
Wo: Info- und Stadtteilladen LUNTE (Weisestr. 53, Neukölln)
Wann: 19 Uhr
Am 28.11.18 wird die Innenministerkonferenz (IMK) in Magdeburg geben. Bei dieser Konferenz werden die strategischen Leitlinien und taktischen Mittel des Staates zur Herrschaftssicherung bestimmt.
Wir wollen gemeinsam mit euch über die Entwicklung der Repression in der BRD sprechen und wie die Einführung der neuen Polizeigesetze im
Zusammenhang mit der Faschistisierung der BRD zu sehen ist. Desweiteren werden wir euch über die geplanten Proteste gegen die IMK und den Internationalistischen Block auf der Anti-IMK Demonstration am 24.11.18 informieren.
Referent*in: Proletarische Autonomie Magdeburg
https://proletarischeautonomie.noblogs.org
Veranstaltet von: Netzwerk Freiheit für alle politischen Gefangenen [Berlin]
http://political-prisoners.net/
Weitere Infos zur Innenministerkonferenz
https://unheimlichsicher.org/
Tags: Berlin, Counter-Summit, Germany, Innenministerkonferenz (IMK), Magdeburg
Posted in Autonomy
Monday, October 29th, 2018
Elefterya Hambi is an internationalist in northern Syria and is fighting in the YPJ ranks. In an interview, she talks about her reasons why she decided to help create a new social model in Rojava.
Tags: Germany, Hambach Forest, International Solidarity, Islamic State in Iraq and Syria (ISIS), Kurdish Struggle, Rojava, Syria, War, Women's Defense Units (YPJ)
Posted in Interviews
Saturday, October 27th, 2018
Berlin, October 15th, 2018
The anarchist movement has sharpened it's profile. This has meant that the repression against us has intensified in recent years. From Germany, the G20 has triggered an increase in activity by security agencies because they have realized that they are not in control of us and it became so obvious that a response was necessary. The destruction in Hamburg, the lack of compromise and the determination of the hooded ones hit them exactly where it was intended. Uncertainty was triggered there, in a place where people people's property defines themselves and their complicity in a warring society. The luxury automobile or the patrol car on the verge of becoming a pile of charred plastic – a casualness towards the war against the poor, the outcast and the inept.
Following the publication of the text 'The Insurgent's Autism', in issue 9, June 2018 of the eco-anarchist publication Fenrir, we felt an urge to respond. And for a moment we attack the illusion of security in this society in a very specific place to engage in communication and open a space for discussion.
…We do not know what to think regarding what out comrade Alfredo Cospito is saying when he speaks about a vision of an anarchist praxis that would become more dangerous because it keeps on experimenting. We can only speak for ourselves, that we have become more dangerous and are quite successful because the power misjudges our real potential. The willingness to remain alone, the claiming of total responsibility for our destiny… (more…)
Tags: 'Amad Ahmad' Cell FAI-FRI, Arson, Berlin, Fenrir, Germany, Informal Anarchist Federation (FAI), International Revolutionary Front, International Solidarity, Operation Panic, Operation Scripta Manent, Sabotage, Securitas
Posted in Direct Action
Wednesday, October 17th, 2018
During the night of the 14th to the 15th of October in Frankfurt-Heddernheim we destroyed two vans of the company Vonovia with fire. We took care that no people or other objects were damaged, only the vans were completely destroyed.
Vonovia, the largest real estate company in Germany, is guilty of forcing people out of the districts, including Frankfurt, which continue to be gentrified. The sole driving force of the group, profit maximization via privatization and luxury refurbishments, means that as usual the tenants suffer. Since we still lack the ability to expropriate the group, we wanted to draw attention to the impact that private housing companies and Vonovia itself have and the great damage they cause by sabotaging it's day-to-day business.
The anger against the housing policy is felt everywhere and there have been many attacks surfacing. Therefore, we are in solidarity with the fight against gentrification on many levels and look forward to the Mietwahnsinns demo on October 20th in Frankfurt.
In solidarity with a city for all!
Tags: Arson, Frankfurt, Germany, Sabotage, Vonovia
Posted in Direct Action
Thursday, September 27th, 2018
Erdogan – the stray dog from the Bosporus – will come to Berlin on September 29 and become a terrorist legitimized through the German state government. The warmongers and fascists will meet to resolve further deals on the "refugee issue". While the arms industry pops bottles and the Federal Republic of Germany grants arms exports into the billions, innumerable people are dying in this war. This is the reason for us to disturb, sabotage, and attack this state visit. Not all of us are facing this destruction deedless. Our signs of rage and resistance reached as well our international comrades, who will fight with us on the day the fascist is coming to Germany. Shoulder to shoulder against fascism! Down with Erdogan and his fascist collaborateurs! For freedom! (more…)
Tags: Afrin, Germany, International Solidarity, Kurdish Struggle, Rojava, Sabotage, Syria, Turkey
Posted in Direct Action
Saturday, September 22nd, 2018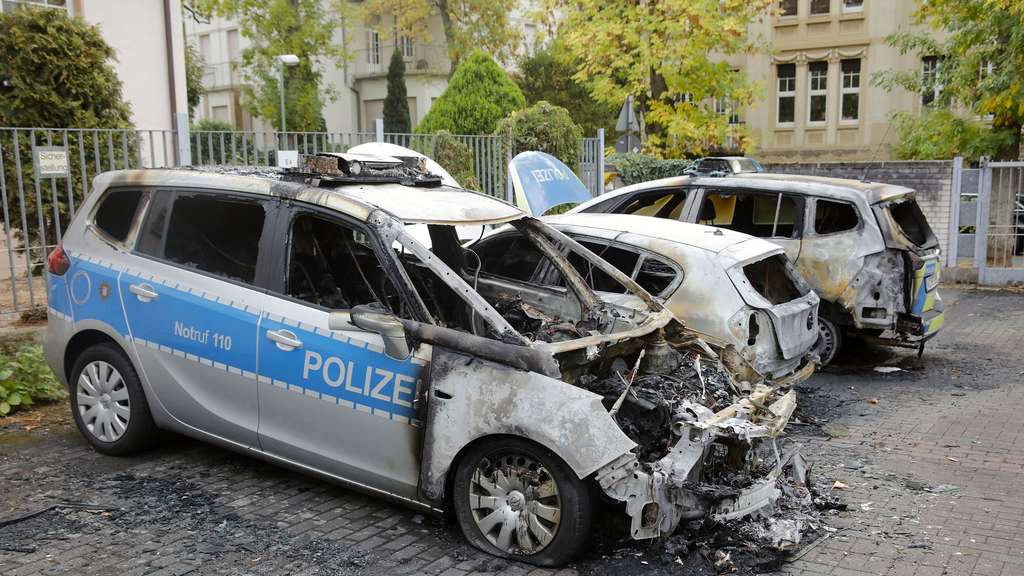 IT: Offenbach, Germania – Incediate auto della polizia contro la repressione e in solidarietà alla resistenza di Hambach
Yes, this is an attack against the police. This is an attack against the state power that the police represent. This is an attack against a regulatory power that for many people means daily humiliation, violence and exclusion.
In Offenbach, many people hate the police. On the night of the 13th to the 14th of September 2018 we torched some cop cars in the parking lot of the cop station in Offenbach am Main.
The letter claiming responsibility which was also sent to the media:
The best way to explain what we do is that everyone can understand the image of burning cop cars.
Yes, this is an attack against the police. This is an attack against the state power that the police represent. This is an attack against a regulatory power that for many people means daily humiliation, violence and exclusion.
In Offenbach, many people hate the police. (more…)
Tags: Arson, Frankfurt, Germany, Hambach Forest, Offenbach, Sabotage
Posted in Direct Action
Thursday, September 20th, 2018
A friend who has accompanied us as a journalist for a long time in the forest, fell today [19/9] from a suspension bridge over 20 meters high in Beechtown and died. At that time police and RWE tried to evict the tree house village. The SEK [special forces cops] was in the process of arresting an activist near the suspension bridge. Our friend was apparently on the way there when he fell.
We are deeply shaken. All our thoughts and desires are with him. Our compassion goes to all the relatives, friends and people who feel concerned.
We urge the police and RWE to leave the forest immediately and stop this dangerous operation. No further lives may be endangered.
What is needed now is a moment of rest.
Even if this is difficult for you at the moment, just as it is difficult for us to give such a factual hint: We recommend, in order to protect all activists, do not give any statements, nor even make any testimonies at the police. The accident must and will be reappraised, but the police are not the place to do that. Their interest is to blame activists.

via ABC Rhineland
Tags: Eviction, Germany, Hambach Forest, Repression, RWE
Posted in Eco Struggle
Sunday, September 2nd, 2018
With this we take responsibility for the incendiary device we placed in front of the building of the German Society for Foreign Politics (DGAP) in Drake-/Rauchstraße (Tiergarten) in the night of 21.8.18.
13 litres of a petrol-oil-mixture shall be the beginning of putting an end to the undisturbed and fearless existence of the DGAP as a political advisor of the German war society.
Since the beginning of this year increased attacks against the war industry, their profiteers and financiers take and took place over all the German controlled territory. We join these attacks and let the fire speak from our side. War starts here! War on the war!
War starts here, in the halls of politics. War starts everywhere, where people throw away their empathy, to profit from the globalized misery. In the war-industry, the thinktanks of science, in the faceless administration of bureaucracy, in the form of uniformed slaves, who receive and obey orders in rank and file. War starts between human beings, when concurrence and aspiration to power reigns over solidarity and the free development of the individual.
German Security – Profit through war
Through the choice of the DGAP as the target of our incendiary device we declare the ideological architects of German-European hegemonic politics, the scientists and forerunners of a security paradigm which works with as well as alongside of warmongers and in this way are our enemies. What they declare about security is not ours. Their foreign policy is a policy of order. And their order needs tanks against uprisings and frigates against inflatable dinghies, it builds fences against the suppressed and works continuously to extend their ongoing misery. (more…)
Tags: Arson, Berlin, G20, Germany, International Solidarity, Kurdish Struggle, Rojava, Sabotage, Solidarity Action
Posted in Direct Action
Wednesday, August 15th, 2018
The solidarity groups of Germany's Incarcerated Workers' Union (GG/BO), with the support of the anarchist workers' union (FAU), are calling for a protest to take place in front of the US consulate of Leipzig on August 21st, which is the start date of a nationwide prison strike in the USA.
You can find the call on the blog of the GG/BO solidarity group of Jena and on the website of GG/BO.
Tags: Demo, Germany, Leipzig, Prison Labour Strike, USA
Posted in Prison Struggle
Tuesday, August 7th, 2018
First appeared as "Ein Gespräch mit einigen Militanten über die informelle Koordinierung im Vorfeld der G20" in Rauchzeichen, a magazine published by Autonomous Groups, Fall 2017 and now first published in English on Anarhija. This is late, but not too late. We can use this conversation to prepare something for the coming black bloc attack next year in Biarritz/France, where the G7 summit will be end of Summer 2019.
–
AG: At the end of the summer of 2016, several communiques propose an informal coordination of radical groups in the run-up to the G20 summit in Hamburg. You took part in it. What interventions were you aiming for and which perspectives did it entail for you?
[Chuzpe]: "On the occasion of several big events like the G8 in Heiligendamm in 2007 or around the Destroika prior to the inauguration of the European Central Bank in Frankfurt in 2015, there have been similar proposals and radical campaigns. It is not a very new idea. Starting from an anarchist analysis, I see the necessity of a permanent conflictuality and I'm sceptical towards this staging of a political play where everyone has its role. Focusing on such an event leads often to the side-lining of everyday struggles. But at the same time, I see the possibility of a tension opening up in such moments, in which the scope of our interventions can amplify. (more…)
Tags: Analysis, G20, Germany, Hamburg
Posted in Interviews