Posts Tagged 'Germany'
Tuesday, July 3rd, 2018
Unknown persons destroyed the windows of the Russian visacenter in Kanalstr. 14a, Hamburg, the night of the 22.06. Also "FUCK FIFA!", "FIGHT REPRESSION!" and"(A)" was spraypainted to the facade.
Since autumn 2017 there happen repressive attacks against anarchists in different Russian cities, in Belarus and on Krim. With torture, intimidation, blackmail and imprisonment they are targeted. At the same time the football worldcup is one of the biggest spectacles of power that is happening in Russia. The rich can enrich themself even more and behind the cameras, all this, as with the Olympic games or summit-meetings, can be used to develop repression and control against maginalised, poor and unwanted social groups and to develop aggressive gentrification.

Freedom and solidarity don't need Visa!
Tags: FIFA, Germany, Russia, Sabotage, Solidarity Action
Posted in Direct Action
Tuesday, July 3rd, 2018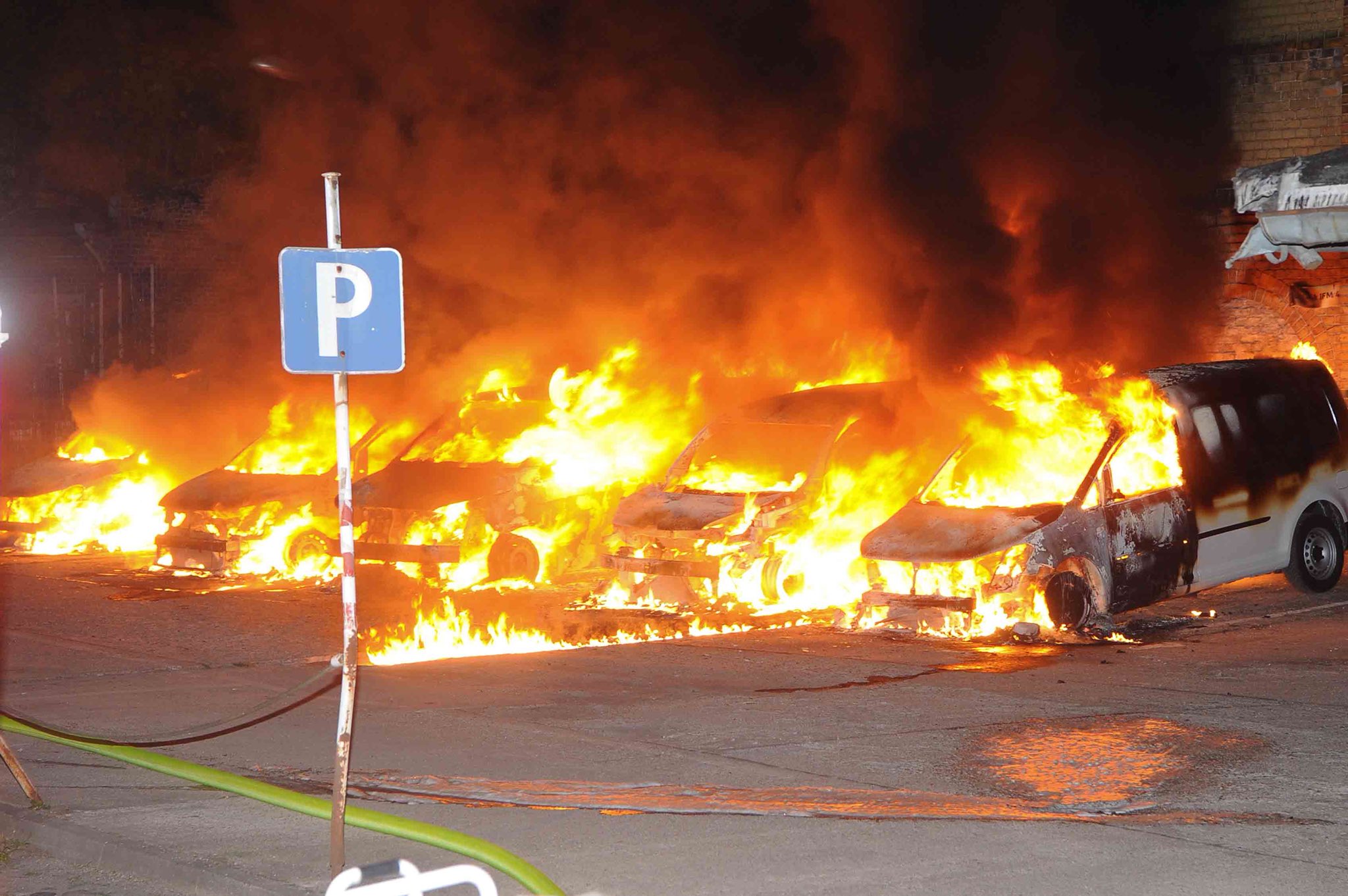 Berlin, June 2018
Restructuring power via digitization is in full swing. Hardly anything that cannot be complemented by a 'smart' in its name and thus a new place in this world has escaped this process. Everything is networked. Cameras, sensors and chips are constantly sending and letting things communicate. 'Big Data' is the currency of tomorrow. Even our relationships, actions and thinking are permanently exposed to digital access. Reduced to information, we feed the algorithms of the machines, helping to make the future manageable and controllable.
It's not always easy to hold on to the possibility of destroying this system as the rapid pace of the technological attack is widening and the net of domination stretches around us. All the more important are the moments of counterattack to reject the powerlessness that is spreading in the face of current developments. So we are all the more pleased that the answers to the misery produced by the colonization of the world via techno-industrial hegemony are found again and again in Berlin. Within the context of the planned Google campus in Kreuzberg, a fight has developed that is not only aimed at the tech giants and their universe, but also at the social level. Self-organization, direct communication and the power of the attack are the means of choice. Various acts of sabotage, such as the one last March by 'Vulkangruppe NetzHerrschaft zerreißen' have shown that the infrastructure of the flow of goods, communication and data networks is vulnerable and can be disrupted by arson attacks against cable networks and sensitive radio antennas. (more…)
Tags: Arson, Berlin, Deutsche Bahn, Germany, Telekom, Vodafone
Posted in Direct Action
Sunday, November 26th, 2017
Urgent Call from HAMBACH FOREST
The courtcase which gave the Forest of Hambach a little more time to prepare for cutting season is lost. RWE started today with clearing bushes to prepare for total cutting. The preparations for an massive police action are obviously building. They announced that they want to evict the whole occupation. We expect them at the latest on Monday for evictions. They are already in the forest protecting machinery.
But to make it possible that Hambach Forest stays we need you and your frieds/comr@des!
At best come around.

At best bring with you:
– sleeping bag, mattress
– your friends
– an idea of what you wanna do (the Infrastructre of RWE is too huge for them to protect it all)
– waterproof boots, camouflage-clothing
– camera (for recording police violence)
– working gloves
– toothbrush
– 1st aid stuff
– rainstuff
– a small tent (not necessary but if you have)
– no drugs
– no passport (if you need it for travelling, bury it somewhere in the woods)

What you can do from outside:
– spread the news
– do what ever you like to show solidarity
– distract police forces (they will need cops from all germany to evict us)
– attack the veins of capitalism & its fossil fuel industry
– dont get caught
– dont forget them in the cages
See you on the barricades
hambacherforst.org
Tags: Ecological Destruction, Eviction, Forest, Forest Struggle, Germany, Hambach, Hambach Forest, Mining, RWE, Sabotage
Posted in Eco Struggle
Tuesday, November 14th, 2017
Flensburg, November 10, 2017
On the night of 10.11.2017, a patrol car at Harrislee police station (Flensburg area) was torched. Solidarity with the prisoners from the G20 processes that began on calendar week 45. Freedom for Fabio, Christian and all other comrades affected by repression! Freedom for all political prisoners, you are not forgotten!
via Chronik, Insurrection News.
*Translation note: This action was originally posted on Indymedia in Germany but was removed due to censorship.
Tags: Arson, Fuck the Police, G20, Germany, Schleswig-Holstein, Solidarity Action
Posted in Direct Action
Monday, November 13th, 2017
They call it "Dangerzone"* – but it is just an ungovernable neigbourhood
Greetings from Berlin to Athens
We, individuals and groups from the Rigaer Street, welcome the initiative, to start a discussion about an insurrection and fill it with experiences from the past, current theories and practical possibilities. This is how we understood the call for the Insurrection Festival in Athens.
In the program, we discovered several aspects, that we in the Nordkiez of Friedrichshain are engaged in. There is no anarchist, anti authoritarian or left radical movement in Berlin, there is just a scene. The dullness of the majority of a fascist society, makes it complicated to get moving. In order to destroy overall power structures, we need to search for the confrontation in our local communities. A concentration of people, ideas and structures working against the state, are necessary to be able to protect oneself from outside aggression and be able to actually develop. (more…)
Tags: Athens, Berlin, Germany, Rigaer 94, Rigaerstrasse
Posted in Autonomy
Monday, November 6th, 2017
Background
The start of October also marks the start of the annual cutting season – the time between October and February during which RWE has permission to clear the forest. The company cuts 70-80ha every year. But not much is left of the Hambach Forest, and the occupied trees are again very close to the clear-cut edge. In order to prevent that the majority of the remaining forest will be cut in the coming months, and the occupation from being evicted, we have to be many. That's why we hope that as many people as possible can join us this Autumn and Winter – protecting the forest and actively working against climate change and the exploitation of people and the environment.
We have put together a call to action and translated it into different languages. Please help us spread it! (more…)
Tags: Anti-Coal, Ecological Destruction, Forest Struggle, Germany, Hambach Forest, Mining, RWE
Posted in Eco Struggle
Tuesday, October 24th, 2017
Demo zum Frauenknast nach rassistischem Übergriff! 28.10. um 18 Uhr S+U Frankfurter Allee
Hallo Genoss*innen,
wir teilen diesen Aufruf für eine Demo am Samstag. Bitte verbreitet ihn weiter und unterstützt die Demonstration. Von Draußen können wir eine solidarische Antwort an die Gefangene senden und dem Knast zeigen, dass das was drinnen passiert nicht unbeobachtet bleibt!
—
Erklärung Soligruppe Gülaferit zu den Ereignissen am 8.10. in der JVA Lichtenberg

Knapp drei Monate vor der Haftentlassung* unserer Freundin und Genossin Gülaferit lässt das Knastsystem die Situation eskalieren. Die fortwährenden Provokationen und Schikanen gegen Gülaferit gipfeln in einem brutalen Angriff.
Was ist passiert: Bei einem Besuch schilderte uns Gülaferit wie es am 8.10. zu dem Angriff kam. Sie ging in die Zelle einer Mitgefangenen um das permanente Abspielen extrem lauter Musik zu stoppen. Daraufhin ging die Mitgefangene auf sie los und attackierte sie mit Fäusten. Ebenfalls drückte die Mitgefangene Gülaferit mit einem Besenstiel vor dem Hals an die Wand und beschimpfte sie rassistisch. Gülaferit wurde verletzt und musste auf der Krankenstation behandelt werden, sie trug an mehreren Körperstellen Hämatome (Blaue Flecken) davon. (more…)
Tags: Demo, Germany, Gülaferit Ünsal, Lichtenberg, Solidarity Event
Posted in Prison Struggle
Tuesday, October 24th, 2017
Dear all,
Episode number 5 (10/2017) of "B(A)D NEWS – Angry voices from around the world", a monthly news program from the international network of anarchist and antiauthoritarian radios, consisting of short news segments from different parts of the world, is now online.
Length: 1:15 h
You'll find the audio here.
Content:
* 98fm: Laws, actions and repression in Greece
* A-Radio Berlin: The Anarchist Days in Dresden, Germany
* Radio Fragmata: Struggles in Greece
* 105fm: Immigration struggles, gender violence and other topics from Lesvos, Greece
* The Final Straw: Interview on the case of Hermann Bell in the USA
* Bilda Kedjor: Antifa action in Gothenburg, Sweden
* Radio Kurruf: Mapuche hungerstrike and repression in Chile
* Dissident Island: DSEI arms fair in London and October Revolution 1917
* Frequenz A: Update about repression and solidarity related to the protests against G20 in Hamburg
Other audios from A-Radio Berlin in English (or Spanish) here.
Or visit the new anarchist 24/7 online stream from the Channel Zero
Network: http://channelzeronetwork.com/
Enjoy!

A-Radio Berlin
Tags: Anarchist Radio, Anarchistisches Radio Berlin, Chile, DSEi, G20, Germany, Greece, Hermann Bell, Mapuche, Sweden, UK, USA
Posted in Autonomy
Monday, October 9th, 2017
The anarchist comrade Riccardo, arrested and imprisoned since 7 July 2017 for the days of riots against G20 in Hamburg, was released today (5 October), following the court decision that sentenced him to 1 year and 9 months, but with the benefit of suspended sentence.
Solidarity with the rebels of G20!

–
Also read this article.
Tags: G20, Germany, Hamburg, Riccardo Lupano
Posted in Prison Struggle
Thursday, September 28th, 2017
On Wednesday more than 100 cops raided 14 apartments and a store in Hamburg and the German state of Schleswig-Holstein. The cops confiscated 7 iPhones during the raids. On October 1 there will be a demonstration to Billwerder prison in Hamburg. Many of the NoG20 prisoners are imprisoned in Billwerder. We also publish some of the addresses of NoG20 prisoners and the next trial dates. Earlier today NoG20 prisoner Orazio was released.
The cops confiscated 7 iPhones during the raids. The cops claim the iPhones were stolen as a mobile phone store was looted during the NoG20 protests in Hamburg on July 7. In a press conference the cops yesterday claimed that they are investigating 2000 people, but expect that this number will rise to 3000. Given the fact that yesterdays raids were based on located mobile phones that were allegedly stolen in a mobile phone store during the NoG20 protests, its possible that the 180 men/women strong special investigation squad "Black Bloc" actually don't seem to have that much. But activists should be aware that the cops are also investigating video material from public transport companies and that they use face recognition software to identify people. The 180 men/women strong task force will continue to investigate in order to repress as much people as possible, so stay alert. (more…)
Tags: G20, Germany, Hamburg, International Solidarity, Raids, Repression
Posted in Social Control
Thursday, September 28th, 2017
Transnational Gathering for G20 Prisoners Support from November 3rd until November the 5th, 2017, at the Rote Flora in Hamburg.
The campaign "UNITED WE STAND" is a loose network of different people and groups to support the ones who face repression after the G20 summit in Hamburg. Our focus is to support them during prison and trial.
We invite in particular those who have comrades, friends and relatives in jail because of the G20 summit – to get to know us, exchange experiences, come together, develop ideas and strategies and to learn from each other. We want to gain more power together to handle repression.
During the gathering, we want to develop future action strategies, it's not a wrap-up.
The schedule
Friday: arriving, food and get to know each other
Saturday: breakfast, actual situation of prisoners and trial, we
would like to discuss the following topics
Trial
Support
Networking
Sustainability
Sunday: demonstration the the jail in Hamburg-Billwerder with a manifestation with greetings, music and encouragement.
We welcome your ideas and suggestions for the weekend, please tell us
with the application.
Please write us if you come as soon as possible, thereby we can support
you with your expenses and to find a place to stay.
See you in November "UNITED WE STAND"
application: international.gathering [at] riseup [dot] net
sleeping: unterschlupf [at] riseup [dot] net

via enoughisenough14.org
Tags: G20, Germany, Hamburg, International Solidarity, Rote Flora, Solidarity Event
Posted in Prison Struggle
Monday, September 25th, 2017
The trial that will see Riccardo accused will be held on 5 October at 9.00 at the court of Altona – Hamburg (Max Bauer Allee 91.). It will be open but we do not yet know whether the judgment will be on the same day or will slip to another date. It depends on the hearing (in many cases they have been judged in a single day also because the defendants have confessed).
He will be judged by the second degree court that has sentences from two years upwards (in Germany the courts are divided into 3 levels based on the requested sentence, it is not a special court). The formal charges are: breach of the peace, attack by assault and resistance.
Regarding mail censorship, there have not been any systematic blocks but some letters are blocked (so far they are 3, spread over time: a postcard, a letter, an envelope containing newspapers from Hamburg).
Then envelopes containing counter-informative material and brochures were blocked.
Address:
Riccardo Lupano
Jva Billwerder
Dweerlandweg 100
22113 Hamburg
Germany
Tags: G20, Germany, Hamburg, Riccardo Lupano, Trial
Posted in Prison Struggle
Thursday, September 21st, 2017
(Trovato in tedesco: rigaer94.squat.net, Berlin)
Era tre anni fa che Andreas arriva a Rigaer 94. Era segnato della situazione carceria lunga durata e non trova solo un rifugio nella nostra casa ma anche i nuovi amici. Abbiamo vissuti le prime passaggi di Andreas fuori del prigione da vicino.
Non lo vogliamo chiamare libertà. Se hai visto mai come la prigionia annosa concia l'individuo, causa la paura profonda delle connessione sociale, produce anche una paura della così chiamato "libertà", non poui negare che "la libertà" sarà un termine relativo; ancora di più sarà relativo nella conoscenza che la società fa tutto per rimuovere il significato della parola "liberà".
Era bello di vedere come Andreas riesce recuperare la sua libertà pezzo per pezzo.
Prossimamente ha cambiato casa e ha cominciato con la sua amica di prendere la vità nelle proprie mani. Poco dopo erano attratto dal`Italia Sud, là dove l'Europa non esiste.
Al momento che tutti i soldi sono stati lì, Andreas ha mantenuto la promessa di allontanarsi della società tedesca, che non era mai la sua casa. (more…)
Tags: Andreas Krebs, Deportation, Germany, Italy
Posted in Prison Struggle
Monday, September 18th, 2017
G20. Updates on trial against Riccardo
The date of the hearing against Riccardo, an anarchist charged with criminal offences relating to riot days against G20 in Hamburg in July, is set. It will be held on 5 October at the Court of Hamburg.
We call on everyone to take part in solidarity presence, organised for that day, in the courtroom (Riccardo will be there) and at the Court, as well as in activities which will be promoted in Genoa during those days.
Updates will follow.
Meeting to discuss solidarity initiatives and updates:
Tuesday 19 September, 20.00 pm.
Il Mainasso — 6, Square Santa Maria in Passione — Genoa, Italy
Tags: G20, Genoa, Germany, Hamburg, Italy, Riccardo Lupano
Posted in Prison Struggle
Wednesday, September 13th, 2017
A month ago in Hamburg, Germany, a G20 summit was beginning, and with it mass protests against it, with demands for a more 'human' running of capitalism, up to the total destruction of the system in order to build a more ethical world where there would be a place and respect for all, where there would be no repression or hierarchy, where the earth would be protected and the insatiable thirst for empty benefits on which this society is based would disappear from our values and life goals.
You can read about what happened during the 3 days of the summit and the demonstrations in many websites, including this blog, if you look in the corresponding posts (starting from the month of July, for those who are curious); and as I couldn't go to Hamburg (and I'm sorry about that) for reasons that are irrelevant here, I won't comment on what happened or go into detail. The comrades who were there have talked about that and continue to do so.
I'd like to talk about a particular aspect of those demonstrations, which I think occurs too often in this kind of context, and which seems a serious problem, at least to me, and one that annoys me. It's what is known as the 'tyranny of the image'. (more…)