Posts Tagged 'Germany'
Friday, January 29th, 2016
The conflict against RWE at Hambacher forest has intensified with every
day since the beginning of this new year.
Many individuals embracing a diverse variety of tactics have been hard
at work bringing anarchic mischief to the mine.
Some elements of practical refusal from the occupiers of the forest
include:
* The continuous barricading of the roads used by security and
construction vehicles, as well as structural damage to the bridges they
use with fire and pick axes.
*Tree-spiking and the placement of "potential improvised explosive
devices" in threatened areas of the forest, as well as more and more
barricades, platforms and tree-defenses deeper in the woods.
(more…)
Tags: Forest Struggle, Germany, Hambach Forest
Posted in Eco Struggle
Sunday, January 24th, 2016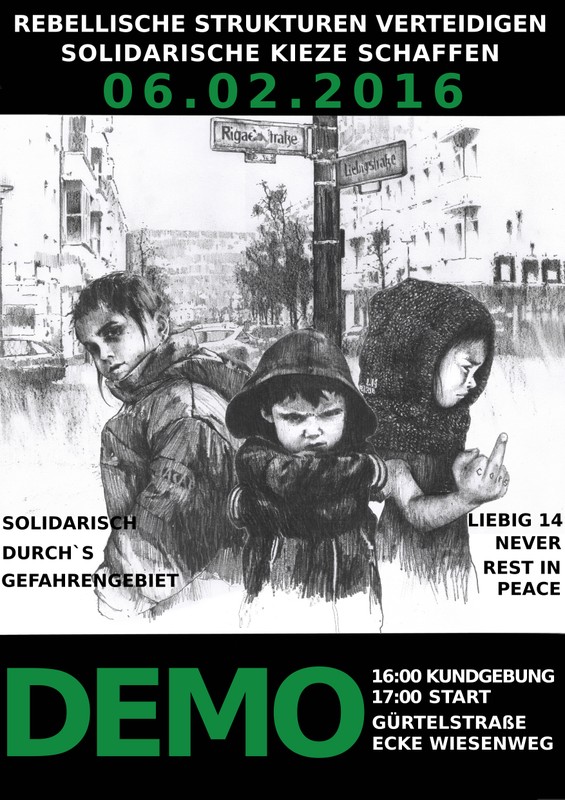 After the major offensive on Rigaer 94 by 500 cops, SEK, a K-9 unit and a helicopter, the northKiez of Friedrichshain is still under siege. There are constant controls all around Rigaerstraße and the streets are patrolled by massive swathes of cops.
We take the attack on the night of 13.01.2016 on Rigaer 94 and the assault on Liebig34 on the same evening as an attack on all of us! It is an affront to all of us that resist, organise, plan, act and network every day; against all those that cannot pay their rents anymore and get displaced.
To the cops and politicians speculation to be able to force us into capitulation and resignation by repression we respond: Forget it! We will not yield a centimeter! Now more than ever!
We are calling everyone, to go out on the streets with us on February 6th to fight against 'danger zones', police terror and displacement.
Call to action:
Defend rebellious structures, create neighbourhoods of solidarity!

Saturday 6th February 2016 | Berlin
Gathering at 16:00 in front of Wagenplatz Rummelplatz, Gürtelstrasse 26
Demonstration at 17:00 (be on time!)
Tags: Berlin, Demo, Fuck the Police, Germany, Liebig 14, Liebig34/XB, Rigaer 94
Posted in Autonomy
Saturday, January 2nd, 2016
Dear all,
As Anarchist Radio Berlin we had the opportunity of making an interview
with two activists of the occupied and self-organized refugee center
Notara26 in Athens, Greece. The comrades tell us about the origins and
ideas of their center as well as of the anarchist influence and
importance of the Exarchia neighbourhood. They also comment on the topic
of governmental (Syriza) policies and the difference of their work to
such policies. And they also mention problems encountered in this project.
You'll find the audio (to listen online or download in different sizes)
here:
http://aradio.blogsport.de/2016/01/02/a-radio-in-english-mediterranean-1-the-occupied-refugee-center-notara26-in-athens/
Length: 12:36 min
You can find other English and Spanish language audios here:
http://aradio.blogsport.de/englishcastellano/
Tags: Anarchistisches Radio Berlin, Exarchia, Germany, Greece, Migrant Struggle, Notara26, Racism, SY.RIZ.A.
Posted in No Borders
Friday, December 11th, 2015
viva Alexis 06.12.2008
7 years ago an anarchist rebellion began in Greece which then spread internationally and still continues. Despite numerous attempts to torture and kill our comrades around the world we have refused to be intimidated and the state repression has only made us stronger.
In the context of Black December we torched two vehicles at a Suzuki dealership hoping that the fire would illuminate the building. Suzuki regularly supply the Greek state with new vehicles so they can torture better such as those used for counterinsurgency by Delta squad.
Suzuki motorcycles are used by these minions of the recently reappointed Greek regime against it's population in the field.
We dedicate our action to Alexandros Grigoropoulos who was murdered in Exarcheia on the night of December 6, 2008.
We are aware of the purely symbolic nature of our action and are also aware that in the metropoles these actions are hardly noticed, however, we hope that the few who did notice imitate us and share our destructive intentions by launching their own operations to attack the system.
There are always plenty of reasons at any time to unleash destructive intention and attack hated (un-)state institutions and their servants.
These years of lethargy should have been taken advantage of so that we could regroup and discuss new methods of direct action.

for a Black December
Freedom for all prisoners of the uprising worldwide

(via linksunten indymedia, modified for clarity by Insurrection News)
Tags: Alexis Grigoropoulos, Arson, Berlin, Black December, Germany, Suzuki
Posted in Direct Action
Saturday, December 5th, 2015
In May 2014 the prisoners' syndicate GG/BO (prisoners'
syndicate/German-wide organisation) was formed in Berlin-Tegel prison.
Ever since, it expanded to more than 70 prisons in Germany and Austria
and over 800 male and female, German and migrant prisoners joined it.
GG/BO is an autonoumous grassroots syndicate for all incarcerated
workers regardless of race and gender. Its main demands are the minimum
wage of 8,50 euros, social insurance and freedom of union to all prisoners.
GG/BO react to the situation of most workers exploited within the German
prison-industrial complex. 45.000 out of 65.000 prisoners work, in 12
out of 16 German federal states they are subject to the compulsion to
work, they are paid one to two euros per hour and strikes as well as
other labour actions are persecuted as mutiny. Beside federal state
administrations, it is local industry and big business that benefit from
the exploitation of cheap prisoners' labour force in 'Germany's China'.
(more…)
Tags: Butzbach Prison, Germany, GG/BO solidarity group Jena, Hunger Strike
Posted in Prison Struggle
Thursday, November 26th, 2015
via Contra-Info:
Our friend and comrade has been in prison for over 4 months now and is currently being held in "Untersuchungshaft" in Germany. Here are a few words that reached us from the dungeons.
With midnight always in one's heart,
And twilight in one's cell,
We turn the crank, or tear the rope,
Each in his separate Hell,
And the silence is more awful far
Than the sound of a brazen bell.
After having been arrested and taken to prison in a small border town somewhere in South-Eastern Europe, and having had the "pleasure" of spending three weeks in its state-hotels, I now find myself in the claws of the German state. At the moment of writing I still do not know when I will be free again; no "official" accusation has been sent, no court date has been set. In theory, "U-haft" can take up to six months- depending on the wishes and whims of prosecutors and judges however this period can be extended. So far i have not been wrecking my head over it too much. The insecurity of not knowing what will happen next, or when, is one of the more difficult things in this situation, but i refuse to torture myself with questions that for now remain unanswerable. Whatever is to come, I will face it with my head held high. (more…)
Tags: Bank Robbery, Germany, Letter
Posted in Prison Struggle
Wednesday, November 18th, 2015
Below is a letter from long-term prisoner Thomas Meyer-Falk about a friend of his who is in indefinite detention in Germany. For more information write to:
Thomas Meyer-Falk
c/o JVA (SV)
Hermann-Herderstr. 8
D 79104 Freiburg
GERMANY
www.freedom-for-thomas.de
www.freedomforthomas.wordpress.com

Woman imprisoned for sex without a condom
In Germany in 2014 a 29 year old woman was sentenced to four years in prison for having sex without using a condom. Because the court deemed her a threat to public safety, Preventative Detention – indefinite imprisonment – was added.

The story:
Jaqueline was a young woman who was in love with life, she hung around the surroundings of a biker club and had a few partners. Years before she had caught HIV, but was taking medication for it and therefore hadn't become ill. (more…)
Tags: Germany, HIV, Letter, Thomas Meyer Falk
Posted in Prison Struggle
Thursday, November 5th, 2015
Dear all,
As Anarchist Radio Berlin we had the opportunity of documenting a presentation organized by the magazine Cilip in Berlin with the title "Undercover for State and Capital". Therein, Kate Wilson talked about her relationship to [undercover cop] Mark Kennedy and Eveline Lubbes about the spying of multinationals and the Undercover Research Group. Unfortunately, due to technical problems, we could only record the first part of the presentation where Kate talks about her experiences.
The presentation was held in English.
You'll find the audio (to listen online or download in different sizes) here:
http://aradio.blogsport.de/2015/11/04/a-radio-auf-englisch-audio-documentation-undercover-for-state-and-capital/
Length: 33 min
You can find other English and Spanish language audios here:
http://aradio.blogsport.de/englishcastellano/.
Tags: Anarchistisches Radio Berlin, Berlin, Germany, Undercover Police
Posted in Interviews
Thursday, October 29th, 2015
Updated 2 Nov 2015
PDF – CALL OUT FROM ABC RHINELAND
deutsch – english – spanish – catalan – danish – french
Newest information about the Hambi-prisoners
Yesterday evening we got new information about the conditions and developments concerning the 3 prisoners from the forest occupation, who are at the moment imprisoned in Aachen and Cologne. We want to give an update to everyone interested and call out for solidarity. At the moment, there are no public names for the two persons arrested last Thursday, so they'll be called A. and B. in this text.
All 3 prisoners suffer from injuries they had inflicted on them during their arrest. How the situation exactly went and if they were hurt by police or security, we don't know. Mr. Blue, who is imprisoned for several weeks now, can't hear well out of his left ear, and he can't feel two fingers on his left hand. Since he is in prison, he is not been allowed to see the prison-doctor. (more…)
Tags: Forest Struggle, Germany, Hambach Forest
Posted in Eco Struggle
Thursday, October 15th, 2015
After our comrade Jus got out of prison, and is freely walking amongst us again,
another comrade got kidnapped by the police.
The 7th of October the person blockaded one of the conveyor belts in the Hambach
mine. When this belt stops, some diggers stand still and the trains can not be
filled with coal. This mine is second biggest open cast mine of Europe, This area
is the biggest Co2 emitter of Europe.
It is reported that he got beaten by security as well as police, with a broken
wrist, bruises and a red eye as a result. Allegedly photos where taken of the
person at 5 different actions in which the detainee allegedly was involved. They
are accusing him of assault because he allegedly bit a security guard, also
trespassing, 'disturbing of public enterprises' resisting and insulting police
officers, are on the list of charges. (more…)
Tags: Dariusz 'Jus' Brzeski, Forest Struggle, Germany, Hambach Forest, Repression
Posted in Eco Struggle
Sunday, September 27th, 2015
No Prison – No State!
Anti-Authoritarian days against the prison society in Hamburg
8th-11th October, 2015
Whilst we are working, consuming, functioning… they hold the cage we`re
living in!
Life under democratic regimes are dominated by a continuous process of
adaption to the problems and developments of the system.
The state permanently reflects and improves itself, trying to keep up a
civic discourse through offering so-called alternatives and reforms.
This is supposed to destroy the basis for unrest and resistance and to
many it legitimates strong repressive answers to such rebellious
behavior.
This phenomenon can be found in almost every aspect of modern life. The
illusion of participation is one of their strongest weapons, and
together with the ongoing expansion of so called rights, democracy is
developing towards a system, in which the ruled are actively
participating in their own oppression.
(more…)
Tags: Anarchist Gatherings, Anti-Prison, Germany, Hamburg, Prison Society
Posted in Prison Struggle
Monday, September 7th, 2015
On August 22, the Belarusian president Lukashenko signed papers to release all official political prisoners in the country. This includes the three anarchists that were still imprisoned. As Anarchist Radio Berlin, we talked with Anarchist Black Cross Belarus about their release and the upcoming elections among other things.
For security reasons, this interview has been re-recorded using our own voices.
You'll find the audio (to listen online or download in different sizes) here.
Length: 5:18 min
You can find other English and Spanish language audios here:
http://aradio.blogsport.de/englishcastellano/.
Tags: ABC Belarus, Anarchistisches Radio Berlin, Belarus, Germany
Posted in Prison Struggle
Monday, September 7th, 2015
6 weeks ago our comrade Jus got taken from us at the eviction of Remi's Tower, a huge barricade built in honour of Remi Fraisse, who got killed by the freakin cops.
The first 3 weeks Jus was on hunger strike and as a reaction to that the cops told him he did not have a lawyer registered (which he had) and put him in a isolation cell, where it is hard to sleep because they check every 15 minutes if you are not dead yet by turning the lights on and off. All the letters he receives now get checked and it takes about 2 to 4 weeks for them to get to him. He is in prison for 6 weeks and only had two visits. It is extremely difficult to arrange visits, because there has to be an interpreter at all times, and they want audio-visual surveillance. Also his phone privileges are restricted to only his lawyer (even though everyone else can call whoever the fuck they want) and even about that they are being assholes. (more…)
Tags: Dariusz 'Jus' Brzeski, Forest Struggle, Germany, Hambach Forest, Rémi Fraisse, Repression
Posted in Prison Struggle
Tuesday, August 25th, 2015
Video featuring 3 activists, talk filmed at Chaos Communication Camp, Germany. Also read article on undercoverinfo.
Tags: Climate Chaos, Fuck the Police, Germany, Repression, Surveillance, UK, Undercover Police, USA
Posted in Social Control
Friday, August 21st, 2015
This Saturday ‪‎YPG‬ Commander Kevin Jochim (Dilsoz Bahar) will be buried in his hometown of Karlsruhe, Germany. For those who want participate in funeral procession:

22nd Aug; 10 o'clock
Friedhof Grünwinkel
Durmer­s­hei­­mer Str. 34
76185 Karlsruhe
Tags: Germany, Islamic State in Iraq and Syria (ISIS), Kevin Jochim (Dilsoz Bahar), Kurdistan, Lions of Rojava, People's Defence Units (Y.P.G.), Rojava, Syria, War
Posted in Autonomy