Posts Tagged 'Germany'
Wednesday, May 11th, 2016
#ShutThemDown
OVER 20 SIMULTANEOUS PROTESTS THROUGHOUT THE UK AND AROUND THE WORLD TO END IMMIGRATION DETENTION CENTRES
THOUSANDS OF ACTIVISTS TOOK PART IN A COORDINATED TRANSNATIONAL DAY OF SOLIDARITY WITH DETAINEES; 190 DETAINEES ON HUNGER STRIKE IN HARMONDSWORTH DETENTION CENTRES
A coalition of groups from the UK and around the world joined today (Saturday 7 May) a mass simultaneous protest in 15 detention centres, calling to end immigration detention centres. An international coalition joined forces with groups from all around the UK as well as groups from the US, Spain, Greece, The Netherlands, Germany, Sweden, Iceland, N. Ireland, Belgium, France and Italy. In the UK, thousands took part in the protest in solidarity with the 30,000 adults and children in detention. Protesters held demonstrations at St Pancras train station, held noise demonstration in various detention centres, flew kites so detainees can see them beyond the high walls, danced, sang songs and called for the immediate release of those held against their will without judicial oversight, a time limit, or adequate access to legal support, translation, and healthcare. (more…)
Tags: #ShutThemDown, Belgium, Deportation, France, G4S, GEO, Germany, Greece, Iceland, Italy, Migrant Struggle, Netherlands, Racism, Serco, Spain, Sweden, UK, US
Posted in No Borders
Tuesday, April 26th, 2016
The last few years have seen an immense rise in protests inside and outside of detention centres. On Saturday May 7th, simultaneous demonstrations will be held around the UK and beyond, to protest against the existence of immigration detention centres and show solidarity with the 30,000 adults and children who are being detained against their will under the Immigration Act every year in the UK – without judicial oversight, a time limit, or adequate access to legal support, translation, and healthcare. We will come together with people inside detention to demand the closure of all detention centres and an end to border and migration controls!
May 7th is part of a wider transnational campaign to shut down detention centres and end the inherently abusive and violent system of immigration detention that criminalises, detains, and imprisons people simply because they have chosen or been forced to migrate. Actions also take place in solidarity with wider struggles against borders and migration controls and with people who are living in detention without walls, from Calais to Idomeni. So far actions have been planned across the UK and in The Netherlands, Germany, Belgium and Iceland. (more…)
Tags: Anti-Fascist, Demo, France, G4S, GEO, Germany, Holland, Iceland, International Day of Solidarity with People in Detention, International Solidarity, Migrant Struggle, Racism, Serco, Sweden, UK
Posted in No Borders
Tuesday, April 26th, 2016
On the evening of 23 April a group of saboteurs set fire to high-voltage cables at the Hambach site, preventing the place from working. Hambach forest is the scene of a protracted ecological battle against the company RWE, which is aiming to destroy the forest for coal mining. The construction operation will now suffer huge financial losses due to the successful arson.
Find the communique in German here:

http://linksunten.indymedia.org/de/node/176670
Tags: Arson, Germany, Hambach Forest, RWE
Posted in Eco Struggle
Thursday, April 21st, 2016
In July 2015 our friend and comrade got arrested at a passport control at the Greek-Bulgarian border. The Europe-wide arrest warrant against her had been issued by the prosecution office of Aachen, Germany, on the 24th of June 2015. In Germany she got locked up under the 'U-haft' (Untersuchungshaft) regime in Cologne because of a presumed involvement in an armed bank robbery that had taken place two years earlier (2013). On the 2nd December 2015, after months of investigation the prosecution formally charged her with bank robbery, hostage taking and weapon possession. On the 16th of December, the court called the prison instructing them to release our comrade because all charges were to be dropped, since the "evidence" that months of investigation produced was not sufficient for this case to be brought to court.
When we were writing the above statement concerning the imprisonment and release of our friend, we hoped it would be the last. Unfortunately the German cops did not agree, and decided to appeal against the decision of her release. This resulted in, after first being rejected by the normal court, the higher court's decision to reopen the case. Concretely this means that, after having spent nearly six months in preventive prison, our friend and comrade is now outside awaiting trial. It is still unclear when the court case will take place. Despite several desperate attempts from the prosecutor's office to also get a new warrant for her arrest – at the moment we are awaiting the high court's decision of yet another appeal – she is still outside with us. (more…)
Tags: Aachen, Bank Robbery, Germany, Repression, Spain
Posted in Social Control
Monday, April 18th, 2016
"Day of the German Future" in Dortmund? Let's unite to block, sabotage and prevent the neo-Nazis from marching!
On the 4th of June 2016 neo-Nazis are about to march in the streets of Dortmund. Since 2009 the annual "Day of the German Future" rallies have become one of Germany's most important neo-Nazi events. The local neo-Nazis of Dortmund's far-right party "Die Rechte" want to bring the annual event to Dortmund for the first time.

What's all this about?
The "Day of the German future" rallies are set around the far-right narrative of 'native' Germans dying out and being replaced by migrants and refugees. This narrative views Germany as an entity that existed for millenias with natural borders and as a fixed and 'pure' national and ethnic community. In other words: It's the core ideology of national socialism with a slightly more timely wording.

What's the deal with Dortmund and the far-right?

Dortmund has been a stronghold of neo-Nazi groups since the 1980. Over the years, the city has seen various neo-Nazi groups ranging from hooligan gangs to legalistic far-right parties. At the moment, the small neo-Nazi party "Die Rechte" (The Right) is the dominant far-right group in the city and region. Even though the party won a seat in the city council at the last communal elections, they could not be further away from a genuine interest in democratic processes. On the contrary, the party's origins are in a number of radical and partly militant neo-Nazi groups. They have a history of violence against antifascists, migrants and people of colour. Their activity in the last years is heavily focused on migrant and refugee issues. They protest against refugee centres and camps throughout the city and spread their racist hate.
Amongst the broad variety of racist, antisemitic far-right groups and parties in Germany, "Die Rechte" is about as radical and openly in line with historical national socialism as it gets.

What can we expect on the neo-Nazi's side?
The neo-Nazis want to march in the northern part of Dortmunds city centre – the "Nordstadt". Being an old working class neighbourhood, more than 50% of its inhabitants today are either migrants themselves of have a migration background in their families. In earlier years, the neighbourhood has also been the site of a number of big neo-Nazi protests with far bigger counter protests.
We expect the neo-Nazi rally in June to be one of the biggest explicitly neo-Nazi marches this year. The "Day of the German Future" rallies in other cities have seen between 200 and 600 neo-Nazis so far since 2009.
Who are we?
We are a group of people who came together to block and sabotage the so called "Day of the German Future" and stop the neo-Nazis from marching. We are autonomous antifascists and cooperate with other local antifascist groups and alliances. Of course we do not only want to address local players but individuals and groups throughout Germany and Europe to join us in the activities against the "Day of the German Future" in Dortmund.

What do we want?

We want to stop the neo-Nazis from marching! We don't get into the blame game: The door for a peaceful blockade oftentimes only opens up because of militant tactics destabilising the police operations. We are in solidarity with everyone acting against the Nazi rally in a meaningful and purposeful way. Let's unite in Dortmund to prevent one of the last remaining big neo-Nazi events in Germany from happening.

Block, sabotage and prevent Nazi rallies!
For solidarity and emancipation without borders!
No future for Germany!
Tags: "Day of the German Future", Anti-Fascist, Antifa, Demo, Dortmund, Germany, Neo-Nazis, Racism
Posted in Anti-Fascist
Thursday, March 24th, 2016
In the early hours of March 20th 2016, unknown persons desecrated three churches in Hamburg with a fire extinguisher filled with paint, slingshot and stone. In addition to this vandalism, slogans such as "No God – No State – No patriarchy", "Solidarity with Mónica and Francisco" and circle-A's were spray-painted. Flyers were thrown on the streets, reading: "Religion means oppression! Against every domination! Solidarity with Mónica Caballero and Francisco Solar, anarchists imprisoned in Spain".
via contrainfo… see the photos.
Tags: Francisco Solar, Fuck the Church, Germany, Hamburg, Monica Caballero, Solidarity Action, Vandalism
Posted in Direct Action
Thursday, March 24th, 2016
After the courtcase of LAUtonomia activist Sarah on the 22 of March at the court district of Cottbus our compa Huba got arrested. Sarah was released and got arrested straight away again for something else but we do not have the info on why and for what. Sarah was in jail for a month for not giving ID after getting caught shoplifting. When leaving the courtroom civil cops and the screws hold Huba at the door and confronted him with a warrant for his arrest. The same day he saw a judge in Cottbuss. He came as a spectator for the court case and left in hand-cuffs.

Right now he is in the JVA Wriezen and will be transported to Aachen this week. He is charged with violent assault that allegedly happened the 11 of November in the cutting area of the Hambach forest.
We do not know how long it will take for Huba to arrive in Aachen. prisoner transport normally takes quite a long time. Huba will be transported from prison to prison where he will be put in one person cells with no access to books, sports or other things that you would normally get when you are in jail. when arriving in Duren he will be seeing another judge. (more…)
Tags: Forest Struggle, Germany, Hambach Forest, Huba, Repression
Posted in Eco Struggle
Tuesday, March 22nd, 2016
PDF: Schwarzer Dezember (2015)
Tags: Black December, Germany, PDF, Zine
Posted in Library
Wednesday, March 16th, 2016
Ongoing eviction in the Hambach forest! Support needed!!
15.03.2016 – Yesterday morning the meadow occupation was surrounded by cops. This turned into a huge police operation: All main paths in the forest were cleared, fixed and broadened, all barricades and tripods destroyed. Until today four unoccupied platforms were evicted. Police forces are still present all around, chasing people who try to build new barricades…
This is an urgent call-out for all kinds of support! What has happened the last two days is a massive attack! Because all the roads are cleared and passable for big machinery, it is important to protect the forest occupations NOW!
Come to the Hambach forest, we need food, water, blankets and most of all more people with fresh energy!
For more information: www.hambachforest.blogsport.de

Tags: Eviction, Forest Struggle, Germany, Hambach Forest
Posted in Eco Struggle
Tuesday, March 8th, 2016
Freitag, 18. März 2016 um 18 uhr
S-Bhf Sonnenallee
(Siegrief-Aufhäuser-Platz)
Join us for March 18 – Day of action for the liberation of all political prisoners! Resist and fight against the justice system of the bourgeoisie and the imperialist oppression!

Freedom for all political prisoners….
The internationally-operating Rote Hilfe ('Red Help') – until present the most meaningful and largest solidarity organisation for workers' and peoples' movements – was officially founded not for nothing by the Communist Internationale on March 18, 1923. It was the anniversary of the Paris Commune of 1871 – the first attempt of the working class to take over the power and carry it with the goal of reorganizing the society. France's and Germany's ruling classes united to drown in blood this struggle of the oppressed. 30,000 men and women, workers, fighters and revolutionaries were hanged, 363,000 appeared before court. To commemorate this massacre and honour the fallen, this day has been known up until now as the international day of action for the liberation of all political prisoners.
Even today it remains in the nature of things for the universal imperialist system of exploitation to produce copious amounts of hardship, poverty and war, calling forth the exploited and the oppressed to commit to a most decided resistance. To assure their continuous rule and profits, the bourgeois countries, their armed institutions and their justice system resort to various forms of political repression: intimidation, spying, news-baiting, monetary fines, tightened laws, bans, trials, imprisonment, isolation, counter-revolutionary violence, torture, planned disappearances, murder and terror are in the program of the so fully 'democratic' dictatorships of the bourgeoisie in the imperialist capitalist system. (more…)
Tags: Ahmad Sa'adat, Berlin, Demo, DHKP-C (Democratic People's Liberation Party-Front), Georges Ibrahim Abdallah, Germany, GG/BO (Prisoners Union), Gülaferit Ünsal, India, Kurdistan, Leonard Peltier, Maoist Communist Party - Turkey (MKP), Mumia Abu-Jamal, Palestine, People's War of the Communist Party of India (Maoist), Popular Front for the Liberation of Palestine (PFLP), Repression, Revolutionäre Aktionszellen, Revolutionäre Linken, Rote Hilfe, Turkey
Posted in Prison Struggle
Saturday, February 13th, 2016


"R94 Lives!" read the fresh graffiti. Daubed in red paint across an office of Berlin's ruling SPD scum, which lost its windows too, the slogan (since scrubbed off) referred to a massive police raid on an East Berlin squat on January 13, one of the largest and most controversial in Berlin's recent history.
Following an attack of a police officer nearby, a 500-strong anti-riot team backed up by special forces, dogs and helicopters stormed into the so-called "occupied house" at 94, Rigaer Strasse (or "R94") on Wednesday night. Police raided the two houses next door the following day and kept up a heavy stop-and-search presence till now.
Video: https://www.youtube.com/watch?v=D5Zth5-uiV8
Taking place at one of Berlin's best-known anarchist project, the raid has sent shockwaves through the city, sparking a heated debate on whether it was a case of necessary public safety or unlawful police overreach. For the police and their defenders, the raid was an inevitable consequence of continuing disorder and antagonism coming from the squat. For their critics, the assault on the officer was an excuse used by the police to launch an only quasi-lawful attack on people who they disliked. (more…)
Tags: Berlin, Fuck the Police, Germany, Repression, Rigaer 94, Rigaerstrasse, Riots
Posted in Direct Action
Friday, January 29th, 2016
The conflict against RWE at Hambacher forest has intensified with every
day since the beginning of this new year.
Many individuals embracing a diverse variety of tactics have been hard
at work bringing anarchic mischief to the mine.
Some elements of practical refusal from the occupiers of the forest
include:
* The continuous barricading of the roads used by security and
construction vehicles, as well as structural damage to the bridges they
use with fire and pick axes.
*Tree-spiking and the placement of "potential improvised explosive
devices" in threatened areas of the forest, as well as more and more
barricades, platforms and tree-defenses deeper in the woods.
(more…)
Tags: Forest Struggle, Germany, Hambach Forest
Posted in Eco Struggle
Sunday, January 24th, 2016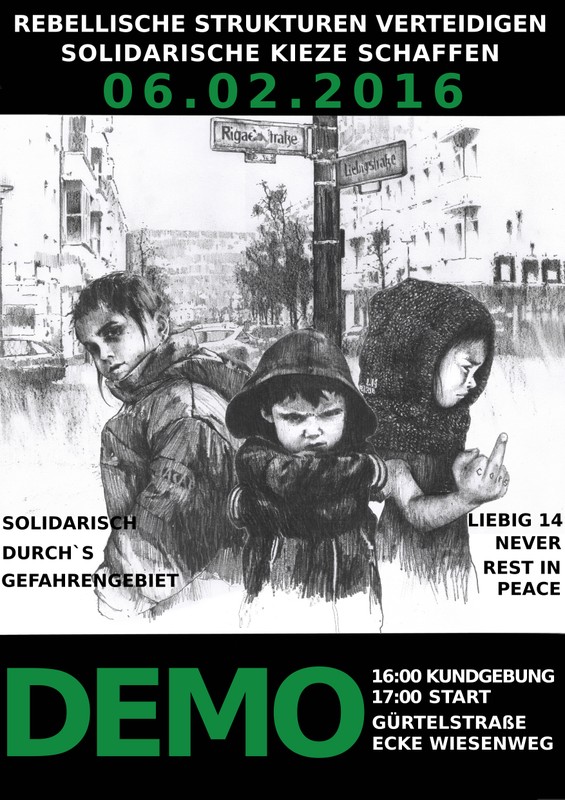 After the major offensive on Rigaer 94 by 500 cops, SEK, a K-9 unit and a helicopter, the northKiez of Friedrichshain is still under siege. There are constant controls all around Rigaerstraße and the streets are patrolled by massive swathes of cops.
We take the attack on the night of 13.01.2016 on Rigaer 94 and the assault on Liebig34 on the same evening as an attack on all of us! It is an affront to all of us that resist, organise, plan, act and network every day; against all those that cannot pay their rents anymore and get displaced.
To the cops and politicians speculation to be able to force us into capitulation and resignation by repression we respond: Forget it! We will not yield a centimeter! Now more than ever!
We are calling everyone, to go out on the streets with us on February 6th to fight against 'danger zones', police terror and displacement.
Call to action:
Defend rebellious structures, create neighbourhoods of solidarity!

Saturday 6th February 2016 | Berlin
Gathering at 16:00 in front of Wagenplatz Rummelplatz, Gürtelstrasse 26
Demonstration at 17:00 (be on time!)
Tags: Berlin, Demo, Fuck the Police, Germany, Liebig 14, Liebig34/XB, Rigaer 94
Posted in Autonomy
Saturday, January 2nd, 2016
Dear all,
As Anarchist Radio Berlin we had the opportunity of making an interview
with two activists of the occupied and self-organized refugee center
Notara26 in Athens, Greece. The comrades tell us about the origins and
ideas of their center as well as of the anarchist influence and
importance of the Exarchia neighbourhood. They also comment on the topic
of governmental (Syriza) policies and the difference of their work to
such policies. And they also mention problems encountered in this project.
You'll find the audio (to listen online or download in different sizes)
here:
http://aradio.blogsport.de/2016/01/02/a-radio-in-english-mediterranean-1-the-occupied-refugee-center-notara26-in-athens/
Length: 12:36 min
You can find other English and Spanish language audios here:
http://aradio.blogsport.de/englishcastellano/
Tags: Anarchistisches Radio Berlin, Exarchia, Germany, Greece, Migrant Struggle, Notara26, Racism, SY.RIZ.A.
Posted in No Borders
Friday, December 11th, 2015
viva Alexis 06.12.2008
7 years ago an anarchist rebellion began in Greece which then spread internationally and still continues. Despite numerous attempts to torture and kill our comrades around the world we have refused to be intimidated and the state repression has only made us stronger.
In the context of Black December we torched two vehicles at a Suzuki dealership hoping that the fire would illuminate the building. Suzuki regularly supply the Greek state with new vehicles so they can torture better such as those used for counterinsurgency by Delta squad.
Suzuki motorcycles are used by these minions of the recently reappointed Greek regime against it's population in the field.
We dedicate our action to Alexandros Grigoropoulos who was murdered in Exarcheia on the night of December 6, 2008.
We are aware of the purely symbolic nature of our action and are also aware that in the metropoles these actions are hardly noticed, however, we hope that the few who did notice imitate us and share our destructive intentions by launching their own operations to attack the system.
There are always plenty of reasons at any time to unleash destructive intention and attack hated (un-)state institutions and their servants.
These years of lethargy should have been taken advantage of so that we could regroup and discuss new methods of direct action.

for a Black December
Freedom for all prisoners of the uprising worldwide

(via linksunten indymedia, modified for clarity by Insurrection News)
Tags: Alexis Grigoropoulos, Arson, Berlin, Black December, Germany, Suzuki
Posted in Direct Action