Posts Tagged 'Girona'
Wednesday, October 14th, 2020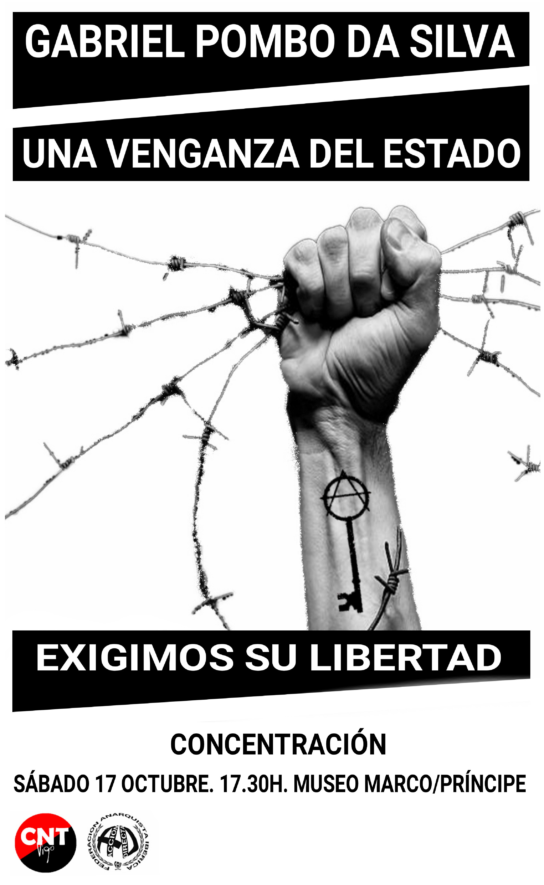 El compañero Gabriel Pombo Da Silva fue arrestado en Portugal, el 25 de enero pasado, en virtud de una ODE, Euroorden, emitida por el Juzgado de lo Penal nº 2 de Girona, del que es magistrada juez Mercedes Alcázar Navarro, la cual, en mayo del 2016, ordenó al entonces director de la cárcel de Dueñas (Palencia) ocultar la orden de liberación inmediata de Gabriel quien, tras tres semanas de "secuestro", fue finalmente liberado el 16 de junio, por lo que se iniciaron los trámites para denunciarla por prevaricación. A cada cual la conclusión de la obcecación de esa magistrada juez en proceder mediante una ODE a la persecución europea del compañero, pese a que Gabriel fuera puesto en libertad en España, dicho 16 de junio de 2016, al haber cumplido la totalidad de su condena. Se aclara que con posterioridad a esa fecha, el compañero no ha sido incriminado por delito alguno, por lo que no existe ninguna sentencia de condena posterior. (more…)
Tags: Anti-Prison, Badajoz, Demo, FIES, Gabriel Pombo da Silva, Girona, International Solidarity, Repression, Spain
Posted in Prison Struggle
Monday, September 2nd, 2013
2nd of September, 2013:
The active resistance camp against the MAT (very high tension electricity line) taking place near Girona has squatted a huge, antique, abandoned farmhouse near the village of Oriol, in order to give continuity to the struggle against this deadly project and the world which needs it. The resistance against the MAT has been active for more than a decade and has now reached a crucial point seeing that the construction of the line has now started in this area and is going ahead at a furious pace. (more…)
Tags: Anti-Nuclear, Catalunya, Endesa, Girona, M.A.T., Vinci
Posted in Eco Struggle
Wednesday, July 31st, 2013
ACTIVE RESISTANCE CAMP IN DEFENSE OF THE LAND – AGAINST THE M.A.T. AND THE WORLD WHICH NEEDS IT
WHAT IS THE M.A.T.?
The very high tension line ('Muy Alta Tensión' – M.A.T.) is an electrical motorway which transports at least 400,000 volts. It is being constructed in order to connect European States to each other and also Europe with Africa. It is necessary in order to sell and distribute excess energy produced by nuclear power plants and the so-called alternative sources of energy. At the same time, it is the network which capitalism needs in order to supply the electricity necessary for other projects and infrastructures of death and destruction, such as high-speed railway lines [TAV]. Those responsible for all this are always the same ones and the construction companies in question are directly involved in other projects which are destroying lands around the world; companies like Vinci standing out in Europe and Endesa in South America. (more…)
Tags: Anti-Nuclear, Catalunya, Endesa, Girona, M.A.T., Vinci
Posted in Eco Struggle