Posts Tagged 'Graff'
Sunday, May 31st, 2020
Tags: Bristol, Fuck the Police, George Floyd, Graff, Graffiti, International Solidarity, Police Brutality, Racism, UK, USA
Posted in Direct Action
Friday, April 3rd, 2020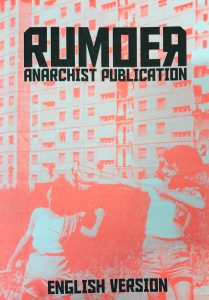 The second edition of the anarchist publication Rumoer is out! A publication which will hopefully provoke discussion, irritation, inspiration, agitation, and attack. Because we do not want a raise in wages, but the destruction of work. Because we do not want to shout 'boo!' but want to hear BOOM! We want a confrontation without compromise with the system that is destroying our lives and the planet.
In this issue some extra attention for the rampaging Covid-19 virus. But also just the ongoing anarchist interventions and other topics: an interview with a graffiti maker in Lebanon, the fight against Shell, post-gentrification and the use of the Signal app.
If you want to receive the new Rumoer, send an email to: rumoer (((A))) riseup /// net. Since most social centres are currently closed, we ask you to help spread the latest edition. Order some extra copies and bring it to your neighbours, isolated family, friends and comrades.
You can also download the new Rumoer or print it yourself. The link to the downloads can be found at rumoer.noblogs.org
Remember, the streets are empty, the possibilities are open. Keep 1.5 meters away, but always at least ten times as much from the police!
Tags: Coronavirus, Counter-info, Graff, Graffiti, Lebanon, PDF, Rumoer (Zine), Sabotage, Shell, Signal (PGP App), Zine
Posted in Library
Wednesday, August 21st, 2019
Recently received translations of two separate actions from earlier this year to highlight anarcha-feminist and anti-sexist struggle.
Athens, Greece: Antisexist scoutings in Exarchia
In response to the misogynistic culture of Exarcheia and the recent incidents of rape, sexual harassment and gendered violence in the streets of the area, we decided to show those who would have us live in fear that they are the ones with a reason to be afraid. On the night of the 10th of March we went on an antisexist scouting without the presence of cis men chanting slogans and demonstrating our ability to fight back.
On the night of the 15th of March we went on a second antisexist scouting by femmes in response to the misogynistic culture of Exarcheia and the recent incidents of rape, sexual harassment and gendered violence in the streets of the area. This time even more comrades participated in the intevention. We will continue being present in the street and we will be more and more. (more…)
Tags: Anarcha-Feminists, Athens, Corfu, Crete, Exarchia, Graff, Graffiti, Greece, Paint attack, Petralona, Sexism, Vandalism
Posted in Direct Action
Wednesday, August 21st, 2019
Graffiti on Hoarding Boards of 'Ashton Rise' new urban sprawl development…..
15/08/19
At the 'Ashton Rise' development on the South Bristol Metro Bus Route (near Bristol City Football Club) graffiti was sprayed:

"Yet more urban sprawl… this time on allotments, and social housing…. Check 325.nostate.net tag Bristol for eco-actions".
This was "socially cleansed" within 24 hours… maybe they feel a bit threatened? The standard "art-graffiti" around the area still remains.
Ashton Rise has a budget of £21 million. The council brag of it's "affordable" nature, but the only thing that's cheap about their project are the promises of "creating communities" and "sustainability".
They can remove our traces… but they will never crush our rebellious hearts!
—
Thanks to the vandals for the shout out.
Tags: Ashton Rise Development, Bristol, Graff, Graffiti, Paint attack, UK, Vandalism
Posted in Eco Struggle
Saturday, November 4th, 2017
Last weekend, we have put up an solidarity graffiti of eighty meters long opposite the police headquarters and training center of The Hague, the Netherlands with the text: Burn all prisons.
The graffiti is in solidarity with Lisa and Peike who are both in German prisons. Lisa is imprisoned for seven and a half years because of a conviction on suspicion of bank robbery. Peike has been sentenced for two years and seven months because of protests against the G20 summit in Hamburg.
We want them free! Freedom for Lisa and Peike and all anarchist prisoners! Burn all prisons!

Anarchist Damage Squad
Tags: Den Haag, G20, Graff, Netherlands, Solidarity Action
Posted in Direct Action
Thursday, April 6th, 2017
On 31st March, a young boy, Reker Ahmed, was brutally beaten by a gang in the area of Croydon whilst waiting for a bus. The gang (of almost 25) approached the boy and after asking where he was from, chased him and attacked him, leaving him with life-threatening injuries. He was only 17 years old and currently applying for asylum in the UK. This attack occurred on the Shrublands Estate, in Shirley, a diverse working-class area and its significance was felt by the local community.
In response to this racist and xenophobic violence, we chose to decorate the neighbourhood with our outrage. In offering a message of solidarity here, we demonstrate our solidarity everywhere; from the U.S to Greece, from Belarus to the Middle East; for all victims of the State, of the border regime and for all victims of hate crime.
We carried out this action as a clear message from the community, but also as a message to the perpetrators. At the time, we were still unsure as to whether this was an attack carried out by people from within the estate, as it would be unlikely and unheard of in such a diverse, close community. However, sadly, the gang consisted of people from many backgrounds. It is the true that nationalism blurs the truth of oppressive class and racial hierarchies and has us identify with our own oppression. However, the response has to our action has revealed exactly what we also suspected; that this was an attack endorsed by self-identifying FASCISTS from likely within the area. (more…)
Tags: Anti-Fascism, Croydon, Graff, Kurdish Struggle, Racism, Reker Ahmed, Solidarity Action, UK
Posted in No Borders
Wednesday, August 31st, 2016
Via InsurrectionNews:
Slogans painted around inner-city Narrm / Melbourne, so-called 'Australia' as a minimum contribution to the International Week of Solidarity with Anarchist Prisoners (August 23-30).
Victory to the anarchist fighters!
Solidarity with all combative anarchist prisoners!
Destroy the prison society!

– Pictures here
Tags: Australia, Graff, International Week for Anarchist Prisoners, Melbourne
Posted in Prison Struggle
Thursday, August 11th, 2016
Anti-Fascist/Anti-ISIS graffiti by the comrades in Newcastle Upon Tyne UK.
Track:- 'Angelic Upstarts – Anti Nazi'
Link:- https://antifascistnetwork.org/
Tags: Antifa, Graff, Graffiti, Islamic State in Iraq and Syria (ISIS), Neo-Nazis, Newcastle, Racism, UK, War
Posted in Anti-Fascist
Thursday, August 4th, 2016
Angeliki Spyropoulou was arrested on March 2, 2015 and is held in Korydallos prison. She has claimed full responsibility for her role in the attempted escape of the CCF from Korydallos prison. At her trial she was sentenced to 28 years imprisonment.
Panos Mixalakoglou was arrested on October 1, 2014 in Athens and detained in the prisons of Nigrita and Serres. He was convicted for possession of a gun. He was entitled to prisoner leave 5 months ago however the prison refuse to give it to him.
The squat Biblioteca Kaos in Porto Alegre, Brazil is a place which functions as a library and as a venue for events since 11 June, 2015. In July 2016, they received an eviction order for August 4, 2016.
INDIVIDUALITIES FOR A BROADER ANTI-AUTHORITARIAN SPACE
Tags: Aggeliki Spyropoulou, Biblioteca Kaos, Graff, Greece, Panos Mixalakoglou, Solidarity Action, Thessaloniki
Posted in Direct Action