Posts Tagged 'Graffiti'
Sunday, July 19th, 2020
As anarchists we believe, direct action and insurrection is the soul of anarchism itself, while prison and humiliation are the consequences of every direct action we take.
If humiliation is the answer to every direct action, then pacifism is the answer right? Unfortunately not, giving up on pacifism means letting our necks stepped and getting stepped again!
Our comrades in Tangerang and Makassar have decided to fight back against state oppression and must now be locked up in prison, and this is our duty to ensure they are not alone! We did a little decoration in an unused building a few days ago as our solidarity, let's make and spread solidarity!
Our hugs and love for Makassar and Tangerang anarchist prisoners. Fire for prison! No anarchy without abolition of prisons and police!
Tulungagung Anarchist Individual Network
via Palang Hitam Indonesia / Anarchist Black Cross Indonesia
Free All Anarchist Prisoners
Tags: Graffiti, Indonesia, International Solidarity, Makassar, Makassar City, Solidarity Action, Tangerang, Tulungagung
Posted in Prison Struggle
Sunday, May 31st, 2020
Tags: Bristol, Fuck the Police, George Floyd, Graff, Graffiti, International Solidarity, Police Brutality, Racism, UK, USA
Posted in Direct Action
Sunday, April 26th, 2020
+ Indonesia: The Continual Anarchist Witch Hunt & the Scenario of State Incompetence
In the middle of a global pandemic–as if there never was a global crisis to humanity before–and on the verge of a global economic recession, the Indonesian police have released a statement that anarchists are planning looting on a national scale on 18th April, The Year of Corona. This idiotic and also a strategic statement falsely made by authority are a clear intention of seeking who to blame in this time of crisis while in the lower layer of Indonesian society many are already fed up with the conditions and looting is no longer a taboo subject. Anger is growing. But as media and the police tried to sensationalize the recent arrest of four anarchists accused of graffiti that said "It's already a crisis, its time to burn" (see photo) they tried to manipulate the crisis and the incompetency of the state in responding to the situation by seeking a "public enemy" now named "the anarchists". If we can just compare how the impact of some graffiti and the recent situation, the response of general middle class internet society and mostly also by activists, snitches, and cowards who are manipulated into focusing on a small group of anarchists in Tangerang, a few kilometers from Jakarta who were arrested for doing graffiti. (more…)
Tags: Coronavirus, Graffiti, Indonesia, Raids, Repression
Posted in Social Control
Friday, April 3rd, 2020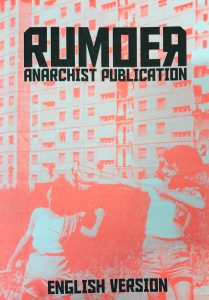 The second edition of the anarchist publication Rumoer is out! A publication which will hopefully provoke discussion, irritation, inspiration, agitation, and attack. Because we do not want a raise in wages, but the destruction of work. Because we do not want to shout 'boo!' but want to hear BOOM! We want a confrontation without compromise with the system that is destroying our lives and the planet.
In this issue some extra attention for the rampaging Covid-19 virus. But also just the ongoing anarchist interventions and other topics: an interview with a graffiti maker in Lebanon, the fight against Shell, post-gentrification and the use of the Signal app.
If you want to receive the new Rumoer, send an email to: rumoer (((A))) riseup /// net. Since most social centres are currently closed, we ask you to help spread the latest edition. Order some extra copies and bring it to your neighbours, isolated family, friends and comrades.
You can also download the new Rumoer or print it yourself. The link to the downloads can be found at rumoer.noblogs.org
Remember, the streets are empty, the possibilities are open. Keep 1.5 meters away, but always at least ten times as much from the police!
Tags: Coronavirus, Counter-info, Graff, Graffiti, Lebanon, PDF, Rumoer (Zine), Sabotage, Shell, Signal (PGP App), Zine
Posted in Library
Sunday, December 15th, 2019
From Anarchists Worldwide:
In the early morning hours of December 14th, 2019, the International Day of Action for Rojava, we paid a visit to the offices of local war profiteers, Trakka Corp/Trakka Systems, in Moorabin, south-east Melbourne, to let them know that their greed-driven collaboration with the fascist Turkish State's war machine has not gone unnoticed.
In August 2019, Trakka Systems were contracted by Sikorsky, a Lockheed Martin company, to supply "cutting edge, high intensity, multi-mission Trakka Beam A800 searchlights" for their Black Hawk helicopters, including the Sikorsky TAI (Turkish Aerospace Industries) variant destined for use by the fascist Turkish Armed Forces in their ongoing invasion and occupation of the Autonomous Administration of North and East Syria (Rojava).
As a small contribution to the International Day of Action for Rojava we decided to take direct action against Trakka Systems to express our solidarity with the people of Rojava and their internationalist comrades who, since October 9th, 2019, have courageously resisted the genocidal occupation plans of Erdoğan's fascist forces. We also carried out this action to highlight the shameless activities of capitalist vultures like Trakka Corp / Trakka Systems, one of many companies operating within so-called Australia who willingly collaborate with war-mongering authoritarian regimes for profit. Not only do Trakka Systems do business with the Turkish Armed Forces, they are also in bed with other international military and police forces such as those of Israel, Indonesia and the US, who they supply with the latest in 'Critical Vision Technology'.
Finally, we hope that our small action contributes in some way towards a revival of militant, targeted direct action and sabotage in so-called Australia.
Biji Rojava!
Death to Turkish State Fascism!
Death to War Profiteers!
Long Live International Solidarity!

– Anarchists
Tags: Australia, Graffiti, International Solidarity, Lockheed Martin, Melbourne, Rojava, Sabotage, Sikorsky, Trakka Corp / Trakka Systems, Vandalism
Posted in Direct Action
Sunday, November 24th, 2019
Munich, 20.11.19: In Chile tens of thousands of people have been revolting for weeks against the prevailing normality. Police stations, churches, banks, shopping malls, buses, subway stations and universities burn. The normal everyday life has come to a standstill and the state and capitalist power is attacked.
How can we express our solidarity and solidarity with the revolts there?
There are various possibilities … in Munich, for example, In recent nights, several ticket machines have been lit and burned at various stations. Also, the Chilean Consulate was defaced with color and "Fire to all states! (A)" sprayed next to this. A nearby church was smeared and sprayed with "No God No State No Patriarchy" on it.
It would be nice if such proposals were to be disseminated wildly and other possibilities of solidarity put into practice.
–
Actforfree received anonymous email 21/11/19
Tags: Arson, Chile, Germany, Graffiti, International Solidarity, Munich, Sabotage
Posted in Direct Action
Saturday, October 12th, 2019
Received 11.10.19:
"A few weeks ago on the day Anna Campbell died (killed on 15/03/18), some people from Ghent made a solidarity action with her, they put up a graffiti piece in memory of her achievements and her death. The artwork was made under a bridge in Ghent where many people can see it. In loving memory of Anna Cambell. Rest in Power!"
Tags: Anna Campbell, Belgium, Ghent, Graffiti, Rojava
Posted in Anti-Fascist
Wednesday, August 21st, 2019
Recently received translations of two separate actions from earlier this year to highlight anarcha-feminist and anti-sexist struggle.
Athens, Greece: Antisexist scoutings in Exarchia
In response to the misogynistic culture of Exarcheia and the recent incidents of rape, sexual harassment and gendered violence in the streets of the area, we decided to show those who would have us live in fear that they are the ones with a reason to be afraid. On the night of the 10th of March we went on an antisexist scouting without the presence of cis men chanting slogans and demonstrating our ability to fight back.
On the night of the 15th of March we went on a second antisexist scouting by femmes in response to the misogynistic culture of Exarcheia and the recent incidents of rape, sexual harassment and gendered violence in the streets of the area. This time even more comrades participated in the intevention. We will continue being present in the street and we will be more and more. (more…)
Tags: Anarcha-Feminists, Athens, Corfu, Crete, Exarchia, Graff, Graffiti, Greece, Paint attack, Petralona, Sexism, Vandalism
Posted in Direct Action
Wednesday, August 21st, 2019
Graffiti on Hoarding Boards of 'Ashton Rise' new urban sprawl development…..
15/08/19
At the 'Ashton Rise' development on the South Bristol Metro Bus Route (near Bristol City Football Club) graffiti was sprayed:

"Yet more urban sprawl… this time on allotments, and social housing…. Check 325.nostate.net tag Bristol for eco-actions".
This was "socially cleansed" within 24 hours… maybe they feel a bit threatened? The standard "art-graffiti" around the area still remains.
Ashton Rise has a budget of £21 million. The council brag of it's "affordable" nature, but the only thing that's cheap about their project are the promises of "creating communities" and "sustainability".
They can remove our traces… but they will never crush our rebellious hearts!
—
Thanks to the vandals for the shout out.
Tags: Ashton Rise Development, Bristol, Graff, Graffiti, Paint attack, UK, Vandalism
Posted in Eco Struggle
Friday, June 21st, 2019
For June 11 – Solidarity for long term anarchist prisoners
Just outside the city limits of Bristol tucked away in the dark is a poultry farm (Ivy Farm) owned by P&S Mitchell LTD. Located in Whitchurch Lane, Dundry, the birds never see the light of day. Despite the CCTV, the grain silo and broiler house were both spray-painted with the words "Animal Prison".
A new McDonalds restaurant that is not welcome is being built in Fishponds Road, but maybe the "Burger Off!" posters in local's front windows isn't enough. Graffiti was sprayed inside the building site – "McWork Prison".
Vinney Green, hidden in Emersons Green on the edge of Bristol is a special secure detention unit for 10-17 year old "dangerous kids". The unit holds up to 24 detainees. A large hole was cut in the perimeter fence and then the next inner security fence was broken through by bending back the bars, causing a second human size gap. Then the prison buildings themselves were sprayed with the words "Child Prison", "Screws Work Here".
Solidarity to Brian Vaillancourt who is serving a 9 year sentence in the USA for an arson of a McDonalds. To the imprisoned comrades in Italy who are fighting from inside the cells on hunger strike. To the 3 comrades arrested for bank robbery in Thessaloniki, Greece. To Lisa held in Spain. For all the imprisoned anarchists around the world.
Freedom for everyone!

Eco-anarchist vandals – FAI/IRF
Tags: Brian Vaillancourt, Bristol, Eco-anarchist vandals - FAI/IRF, Fuck McDonalds, Graffiti, International Solidarity, Ivy Farm (Poultry), June 11th Solidarity, Lisa, McDonalds Corporation, Paint attack, Solidarity Action, UK, Vandalism, Vinney Green
Posted in Direct Action
Saturday, November 10th, 2018
Narrm / Melbourne, so-called Australia: Graffiti mural in memory of 17 year old Russian Anarchist-Communist Mikhail Zhlobitsky who died while carrying out an explosive attack against the FSB (Federal Security Service) Regional Headquarters in Arkhangelsk, Russia on October 31st.

"Never Forget Our Fallen Comrades!"
Tags: Australia, Graffiti, Melbourne, Misha Zhlobitsky, Russia, Solidarity Action
Posted in Autonomy
Tuesday, August 7th, 2018
How many people would love to tell Jacob Rees-Mogg to go and fuck himself? Well, last night we did so in joyful fashion. We paid a little visit to the countryside just outside of Bristol, to his mansion called Gourney Court in the quiet village of West Harptree.
For those of you who are reading this and do not know who this man is, he is one of the most detestable members of parliament ever, and fuck me they're a bad bunch. Other politicians claim he is the one truly ruling this country from behind the scenes. Here are some of his charming characteristics…
He is extremely wealthy, staunchly Roman Catholic, a clear friend to fascist groups and has his eyes fixed on being the actual political leader of this fucking prison island (after May decomposes fully).
He was raised by his nanny. After prep school he attended Eton college and then Oxford university (for the poshest people in the country). Him and his wife have a 100 million quid together, they just bought a new house in London for 5 million, he makes 168,000 pounds a year from his partnership in a hedgefund business called Somerset Capital Management that is worth 7.5 billion pounds (apparently it invests in tobacco, mining and oil and is based in offshore tax havens, for those who care about such details). He proudly claims he has never changed a nappy in his life despite having 6 kids.
He uses his religion as an excuse for his xenophobic views. He is opposed to same sex marriage and contraception, he is against feminism, LGBTQI people and specifically gender re-assignment. He is opposed to abortion in all circumstances including cases of rape. He has argued for the abolition of environmental protections and for fracking, he is pro fox hunting and has also argued for the Conservative party to be almost entirely white skinned. He is opposed to immigration, he supports zero hours contracts and loves the equally charming DUP (Northern Irelands right-wing Democratic Unionist Party) and the Conservative governments billion pound deal with them.
He fucking idolizes Margaret Thatcher and we're not even done yet…
In May 2013, he addressed the annual dinner held by the Traditional Britain Group, a group of fascists that calls for non-white Britons to be deported. Apparently he had been informed about these things by anti-fascist group Searchlight prior to his attendance.
After Rees-Mogg was confronted by anti-fascists in Bristol a year ago, Britain First (another fascist organisation) pledged to protect him at future events.
Rees-Mogg is backed by Nigel Farage, the disgusting former leader of nationalist UKIP party, who has probably the second most punchable face in politics after Rees-Mogg himself. He's also met with Steve Bannon of Breitbart News in the US.
He constantly spouts-off about these high morals of Catholicism from his position of other-worldly privilege with no comprehension of the realities of people at the other end of the financial spectrum.
Phew, that is an impressively exhausting list to sum up a contender for the worlds biggest arsehole.
For all of these reasons and more he was chosen as a perfect symbol of many things we struggle against as anarchists. And so… last night we left him over 60 soiled nappies spread across his grounds as he's no idea what they look like (don't ask where they came from! haha). We spread around condoms to see if the idea would grow on him, even decorating a crucifix in his garden with them. We left lots of lovely messages sprayed around many of the buildings on his property letting him know exactly how we felt about him and causing a considerable clean up job. The pièce de résistance: his wife's car (license plate Y7 HRM) sprayed with "SCUM" across the side in massive letters with a big sucker dildo planted on the bonnet! Beautiful.
Our action is not revenge or punishment (how could it be, there is no balance between our prank and this list of his accomplishments), but one (slightly sillier) glimpse into one of the multitude ways we exercise our critical analysis.
The conditions of our existence are under the control of people like this, but make no mistake, unlike one member of Bristol antifa who confronted Rees-Mogg, we are not supporters of the left or defenders of Jeremy Corbyn, we are not interested in a different leadership, in another form of representation, in a regime change, or in anything that merely shuffles around the makeup of power. We are opposed to all political forms including democracy. Democracy is shit, it breaks the link between thought and action. It does nothing but maintain the existence of alienated power since it requires that our desires be separate from our power to act, and any attempts to engage in that system will only serve to reproduce it. Voting does not give you a voice, it takes it away.
We continue to struggle for our ourselves, in solidarity with our comrades (inside and outside of the prison walls, across national boundaries and to those continuing to struggle who have been forced underground)… and in honor of a comrade who fell in the midst of fighting and who spent her life struggling against many of the issues mentioned above. Like the graffiti says around Bristol, "keep fighting!".

The Cornerstone group(1) can shove their faith and their flag up their arse and Momentum(2) can go fuck themselves as well!
Down with politics and politicians, religion and the State!

The Home-visit Cell
PS. Sorry for the long communique, blame Jacob Rees-Mogg for being such a massive prick.
–
(1) https://en.wikipedia.org/wiki/Cornerstone_Group
(2) https://en.wikipedia.org/wiki/Momentum_(organisation)
Tags: Bristol, Conservative Party, Gourney Court, Graffiti, Home visit, Jacob Rees-Mogg, Paint attack, Vandalism, West Harptree
Posted in Direct Action
Thursday, August 11th, 2016
Anti-Fascist/Anti-ISIS graffiti by the comrades in Newcastle Upon Tyne UK.
Track:- 'Angelic Upstarts – Anti Nazi'
Link:- https://antifascistnetwork.org/
Tags: Antifa, Graff, Graffiti, Islamic State in Iraq and Syria (ISIS), Neo-Nazis, Newcastle, Racism, UK, War
Posted in Anti-Fascist
Monday, March 21st, 2016
Translated by Act for freedom now!, via Cette Semaine
Dauphiné Libéré, 13/03/2016 17:01
Funny discovery this morning for the parishioners of Our Lady of the Annunciation, at the Grand Charran and Notre Dame, rue Berthelot in Valence. During the night one or more individuals had doused the facades of the two religious buildings with red paint, not without also writing phrases with anarchist connotations. The council has decided to lodge a complaint.
Tags: France, Fuck the Church, Graffiti, Paint attack, Valence
Posted in Direct Action
Thursday, August 13th, 2015
New photo/video of action to share:
Cleaning up Nazi/Anti-semitic graffiti in Newcaste Upon Tyne
Photo:- http://imgur.com/N2qpwfx

Video:- https://www.youtube.com/watch?v=H54n7yoHQBE
Tags: Anti-Semitism, Graffiti, Newcaste Upon Tyne, Racism, UK
Posted in Anti-Fascist