Posts Tagged 'Graffiti'
Wednesday, April 8th, 2015
Solidarité avec les prisonniers !
Abolition des lois 187, 187A, anticapuche, et sur les prisons de type-C !
Abolition de l'utilisation de l'ADN comme preuve légale !
Liberté pour Savvas Xiros !
Courage et force à Nikos Maziotis et à tous les prisonniers en grève de la faim !
Tags: Belgium, Brussels, Graffiti, Hunger Strike, Savvas Xiros
Posted in Prison Struggle
Thursday, January 29th, 2015
Beat The Raid will be a place to hear up to date info on the repression of anti-pipelines activists and anarchists in so called Vancouver, BC. We are still fundraising and now selling no pipelines patches and t-shirts to help with legal funds. You can contact us at beattheraid@riseup.net for questions and interview requests.
Together we will beat the isolation the state imposes on us.
Beat The raid: https://beattheraid.wordpress.com/
Contact: beattheraid -at- riseup.net
–
Statement
Repression is part and parcel in democracy. In a democracy the rulers require complete control over the people. Revolts are countered with political repression in the form of arrests, armed raids and physical and emotional harassment by the police. Movements are watered downed by mainstream environmental groups such as Forest Ethics and Greenpeace. These groups wish to reform colonialism instead of eliminating it. These groups, much like Enbridge and BP, rely upon capitalism and cooperation with the state to exist. These mainstream environmental organizations frack the rebellion out of people in the form of referendums, voting and waving signs. Meanwhile, they use our radical words only to dilute, co-opt and contribute to polluted deals undermining real grassroots movements and then ensure us that democracy is still drinkable. (more…)
Tags: Anti-pipelines, Canada, Fuck the Law, Graffiti, Keep Bombing, Repression, Vancouver
Posted in Eco Struggle
Monday, December 8th, 2014
In the last week a few graffitis appeared in two psychiatric hospitals in the area of Barcelona…
http://network23.org/gam/material-grafic/
PDF: http://network23.org/gam/files/2014/07/INGRESOS-FORZOSOS.pdf
Tags: Anti-Psychiatry, Barcelona, Catalunya, Graffiti
Posted in Cognitive Liberty
Saturday, November 15th, 2014
by indyvan, Vancouver Media Coop
On June 3rd, 2014, Vancouver Police staged a "guns-drawn" raid against a house of known indigenous and anarchist opponents to the energy policies of the central government and its corporate sponsors.
The ostensible reason for the raid was given as the search for graffiti materials believed to be tied to an ongoing "no pipelines" tagging campaign. One person was arrested, but released without charges or conditions.
The Vancouver Police Department returned on June 12 at around 9am with a warrant to take a DNA blood sample from the accused. The accused was again released without charges. There has been no info on the result of the DNA blood sample nearly 5 months after. (more…)
Tags: Canada, Graffiti, Raid, Vancouver
Posted in Direct Action
Wednesday, June 25th, 2014


Here's some photos from one of our graffiti comrades in Indonesia… (more…)
Tags: Fuck the Law, Graffiti, Indonesia
Posted in Direct Action
Sunday, June 8th, 2014
ACT FOR FREEDOM!
Here are a couple photos of graffiti that appeared in Hastings (UK) in support of the ZAD (a zone to be defended), France and the struggle to save the squat Can Vies in Barcelona, Catalonia, an imposition that comes as the result of the Spanish state and developers to crush dissent, resistance and free spaces. (more…)
Tags: Can Vies, Graffiti, Hastings, Solidarity Action, UK, ZAD
Posted in Direct Action
Thursday, December 5th, 2013
Last night (December 2nd), we painted graffiti in solidarity with the Mi'kmaq warriors' road blockade in New Brunswick against the fracking company SWN. It reads "Solidarity with the Mi'kmaq blockades," "Fuck RCMP, Fuck OPD," "Fight back," and "Solidarity with the Mi'kmaq Warriors."
With this humble gesture we send them the strength of knowing that they are not alone and that their brave actions are inspiring us to show our feelings of revolt in more concrete terms. This is just the beginning for us, we intend to escalate our level of conflictuality.
We also put up a large piece that read "Strength + courage, fuck the state," not only for Germaine Jr Breau and the rest of the brave Mi'kmaq warriors, but for all those who show courage in times of adversity. We would like to take this opportunity to send greetings of solidarity to: The five recently arrested in Barcelona including Monica Caballero and Francisco Solar who remain in custody, the accused comrades of the Nea Filadelfia bank robbery case in Greece and to the inspiring Alfredo Cospito and Nicola Gai recently sentenced for the shooting of a CEO of a nuclear power company, your words are more important and inspiring than you can imagine.
In furtherance of an escalated anarchist conflict in the States, solidarity to the Mi'kmaq warriors and all those who fight back.
–some anarchists in Olympia
Pictures:
http://i41.tinypic.com/vinns3.png
http://i39.tinypic.com/11qsbkp.jpg
http://i40.tinypic.com/8z0mdv.jpg
http://i41.tinypic.com/30mxyxx.jpg
Tags: Canada, Fracking, Graffiti, International Solidarity, Mi'kmaq, Mi'kmaq Land Defenders, New Brunswick, SWN
Posted in Direct Action
Wednesday, August 7th, 2013
PDF Graff zine produced by "some very angry and dangerous motherfuckers based in Toronto, Canada". It contains the particularly useful section "Quick tips for those newer to graffiti vandalism".
Tags: Canada, Graffiti, Keep Bombing, PDF, Toronto, Zine
Posted in Library
Monday, October 1st, 2012
325 receives and transmits:
On Sunday the 31st of September under the cover of darkness we set off with hatred in our hearts & cans of spray-paint in our back-packs.
Once again we found ourselves in the outer northern suburbs of Melbourne – in particular the predominantly low-income neighborhood of Glenroy.
And once more we decided to direct our anger at the church; there always seem to be plenty of churches in the poorer suburbs & Glenroy is no exception.
Our first stop was the Corpus Christi Catholic Church where we sprayed 'FUCK RELIGION' and an anarchy symbol on a side of the church facing a main road, we then made our way to the front door of the church and sprayed 'JESUS RAPES' and another anarchy symbol.
We then walked across the road to St Matthews Anglican Church where we sprayed several anarchy symbols and the words 'RELIGION BREEDS ENSLAVEMENT'. In the car park we were lucky enough to find two church vehicles. Unfortunately we were not in the position to be able to torch the vehicles so we did the next best thing – redecorated them with some anarchy symbols and some random scribble which will no doubt be very costly for them to remove.
We continued onwards into the night, stopping several times to paint slogans on some very public walls. The slogans were : 'FUCK AUTHORITY!', 'FUCK THE POLICE!', 'COPS MURDER', 'SOCIAL WAR'. 'CLASS WAR' and of course plenty of circle a's to compliment them.
We then made our way to the Glenroy Uniting Church and sprayed the slogans 'PEDO CHRIST' & 'GOD IS DEAD' on the front of the church, and of course we sprayed some anarchy symbols as well just in case they were wondering just who these angry vandals were.
Running low on paint & high on adrenalin we decided to call it a night, happy that we had ventured much further than last time & already thinking of future actions!
Next time we will definitely have to bring some fire making utensils as it is high time that the night time landscape of Melbourne's outer suburban wastelands were lit up with the flames of nihilistic social warfare!

We would like to dedicate this night's actions to our chaotic church hating comrades in Bristol UK, the Free Thought Association / Fraction of Gender Renegades. We also send greetings to all FAI insurgents currently active on planet Earth, to all the comrades in cyberspace still operating under the AntiSec banner & of course to all the imprisoned anarchist fighters struggling for dignity in the prisons around the world!

Invisible Combatant Cells / Anonymous Anarchists
Tags: #antisec, Australia, Bristol, Fuck the Church, Fuck the Law, Graffiti, Informal Anarchist Federation (FAI), Melbourne, UK
Posted in Direct Action
Thursday, July 26th, 2012
Anti-Sona 2012- Anarchist Protest in the Philippines
July 23, 2012 Monday
A group of anarchist demonstrators wearing mask, around 30 individuals, (with black clothes tied on in their face) unpredictably showed up from Aurora Avenue, Cubao Quezon City staging uncompromising rebellion against the State of the Nation Address or SONA.
Circle A black flag was waved in the air, along with green and black and red and black flags that symbolizes an ever-expanding expression of solidarity in the struggle for radical social change and liberation that are inclusive for all common people and every walks of life not solely amongst activists circles and political movements. (more…)
Tags: Anti-Sona 2012, Black Bloc, Demo, Fuck the Law, Graffiti, Paintbombs, Philippines
Posted in Direct Action
Wednesday, June 27th, 2012
From IMC:
19 & 24 June 2012
In the night of June 19, we targeted the office of Commuter Security Group situated in Solna (north of Stockholm)
We accuse CSG for providing « security » in Detention Centers in Sweden, participating in repression against migrants, especially in Marsta Detention Center, which has a capacity of 100 detainees.
By helping Swedish Migration board organizing imprisonment and deportation, CSG are involved in a global racist machine which every day murders and makes suffering thousands of people. (more…)
Tags: Commuter Security Group (CSG), Graffiti, Migrants, Paint attack, Paintbombs, Sabotage, Solna, Stockholm, Sweden
Posted in Direct Action, No Borders
Friday, April 13th, 2012

325 receives and transmits:

We are autonomous individuals in Cambridge who wish to react to the state-seizure and international extradition of a Cambridge resident, Eneko Gogeaskoetxea Arronategui, who is accused of being an anti-imperialist fighter of Basque independence group ETA.
E. Gogeaskoetxea was arrested in July ('11) and now faces extradition to Spain where he faces 8 arrest warrants alleging a series of actions, such as attacks on a police station and an airport, as well as plotting to kill the Spanish King Juan Carlos II in 1997. When the state takes hostages of the social/revolutionary struggle, the words 'innocent' and 'guilty' do not mean anything to us.
We are anarchists and while we criticize through words and action political leftism and militaristic, national-focused revolutionary organisation, we stand alongside other oppressed people in asymmetric war with our enemy the state and the elite classes. The British authorities are planning on handing over E. Gogeaskoetxea to the Spanish state – the same Spanish state that has locked up and murdered many Basque fighters, anarchists, anti-fascists, autonomous and subversive elements.
In the isolation/torture cells of Spanish democratic-fascism, as all over Europe and all the worlds states, they intend to disappear and silence revolutionary consciousness by trying to disappear and silence those in struggle. We affirm that violent struggle against the class oppressors is necessary, whether in the territories occupied by UK PLC or the Spanish state, and will not let the police snatch a man from the street, accused of being an enemy of the state and disappear them into democracy's prisons.
For international anti-capitalist struggle.
Innocent or guilty – Solidarity with Eneko Gogeaskoetxea!
Against state extradition and counter-insurgency – The State is the Terrorist!
Tags: Cambridge, Eneko Gogeaskoetxea, Euskadi (Basque Country), Extradition, Graffiti, Solidarity Action, Spain, UK
Posted in Direct Action
Saturday, February 25th, 2012
From Bite Back:
23 February 2012
"Henderson Biomedical are a newly exposed supplier of lab equipment to Huntingdon Life Sciences. A few nights ago activists visited their premises in Lower Sydenham, London, to deliver a message to the company.
Mark if you keep supporting HLS you will continue to be a target of the animal rights movement. It won't hurt to stop dealing with them but as the graffiti said, this is just the start if you don't.
If you continue to be responsible for animal cruelty, the attacks will continue.
Drop HLS!"
MFAH – Militant Forces Against Huntingdon
Tags: Animal Liberation, Graffiti, Henderson Biomedical, HLS, London, MFAH - Militant Forces Against Huntingdon, UK
Posted in Direct Action
Tuesday, February 21st, 2012
From culmine, translated by war on society:
8 February 2012
In the early hours of February 8, 2012, the group Uncontrollable Forces in Solidarity with the Black Rebels, painted graffiti on the walls of downtown La Paz in solidarity with the comrade Zerman Elias who faces an abbreviated trial after spending months within the Chilean prisons, accused of being a danger to the public order after being arrested in a street confrontation; and also in solidarity with the comrades Billy and Eat who in Indonesia face the charges of placing an incendiary device at an ATM, both members of the FAI [Informal Anarchist Federation.]
We emphasize, as has already been done by means of an appeal, the RO-CCF, in making the days of trial against the comrades into days of unrest and rage against those directly or indirectly involved in keeping the comrades as prisoners of war with a future "exemplary punishment."
Their "punishments," our attacks

ACTIVE SOLIDARITY WITH ALL THE FUGITIVE AND INCARCERATED WARRIORS

Uncontrollable Forces in Solidarity with the Black Rebels,
Informal Anarchist Federation / International Revolutionary Front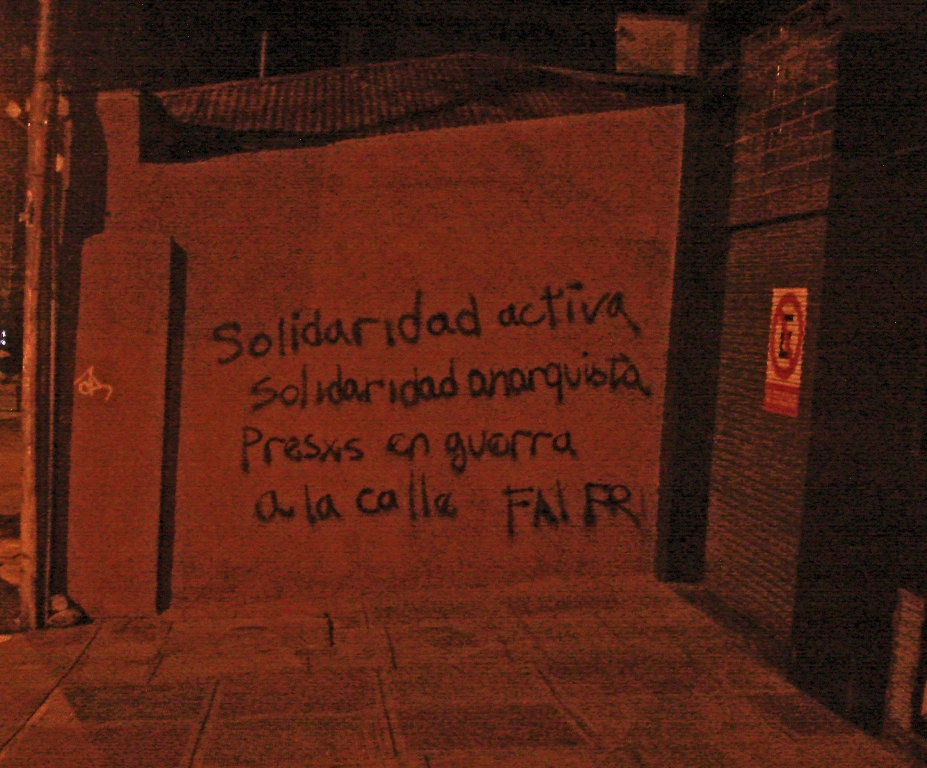 Tags: Billy, Bolivia, Chile, Conspiracy of Cells of Fire, Eat, Graffiti, Greece, Indonesia, Informal Anarchist Federation (FAI), International Revolutionary Front, International Solidarity, Uncontrollable Forces in Solidarity with the Black Rebels, Zerman Elias
Posted in Direct Action
Friday, February 25th, 2011
On night of February 1st, anarchists of Barnaul (Altai region) undertook a graffiti-action which ridiculed the members of today's Russian "political elite" and compared them with parasites. It did not took long for state repressive apparatus to react. On the next day the officers of so-called anti-extremist police (CPE) broke into the houses of two libertarian activists – Sergey Sandin and Daniil Malishkin. (more…)
Tags: Barnaul, Daniil Malishkin, Graffiti, Repression, Russia, Sergey Sandin, Vitaliy Leonov
Posted in Social Control