Posts Tagged 'Greece'
Tuesday, October 6th, 2020
Giannis Dimitrakis was sentenced to 11.5 years without mitigation for robbery, possession of a weapon and use of a forged document.
Kostas Sakkas was sentenced to 7 years and 10 months on the same charges.
However, both were acquitted of the charges of resistance and possession of drugs that the cops had included in the case file …
The co-accused anarchist comrade Dimitra Syrianou was sentenced to two years in prison with a three-year suspension for simple complicity in robbery, and was released.
Anarchists from Act for freedom now!
Tags: Dimitra Syrianou, Giannis Dimitrakis, Greece, Kostas Sakkas, Repression, Thessaloniki
Posted in Prison Struggle
Friday, October 2nd, 2020
Episode number 38 (09/2020) of "B(A)D NEWS – Angry voices from around the world", a monthly news program from the international network of anarchist and anti-authoritarian radios, consisting of short news segments from different parts of the world, is now online.
Length: 49:03 min
In this episode you will hear contributions from:
1. Radiofragmata (Athens, Greece) on direct actions, environmental struggles and the upcoming anniversary of the death of Pavlos Fyssas. One of his songs is featured at the end of their segment. Rest In Power Killah P!
2. The Anarchist Radio Berlin in conversation with comrades from the "Burning Arks" collective, discussing solidarity work around a police operation not so well known outside of Spain, called "Operation Ark", which took place in May of 2019.
3. Dissident Island Radio from London with a short roundup of union wins, animal action, eco-wars and acab ammo from a largely wet august on the steadily sinking ship that is the so called United Kingdom.
4. Radiozones of Subversive Expression contribute reports about the fire that recently devastated the Moria refugee camp and the evacuation of the Rosa Nera squat.
5. Frequenz A with a short report about the ongoing struggle against gentrification in Leipzig (Germoney).
6. Free Social Radio 1431AM from Thessaloniki with updates about the eviction of Terra Incognita squat, the invasion of cops in Libertatia squat and comrades in hunger strike and the martyr Ebru Timtik in Turkey.
Or visit the anarchist 24/7 online stream from the Channel Zero Network:
Enjoy!
A-Radio Berlin
ps1.: We are on Twitter and Mastodon! Please feel welcome to follow us at @aradio_berlin!
ps2.: Please note: We are always looking for people willing to lend us a hand with transcriptions and translations from Spanish or German into English as well as people able to do voice recordings – in order to amplify our international radio work. You can contact us at
aradio-berlin/at/riseup(dot)net!
Tags: Anarchist Radio, Anarchistisches Radio Berlin, Berlin, Dissident Island, Ebru Timtik, Free Social Radio 1431AM, Frequenz(A), Greece, Leipzig, London, Migrant Struggle, Moria, Operation Arca, Pavlos Fyssas, Racism, Radio, Radio Fragmata, Radiozones of Subversive Expression, Rosa Nera Squat, Spain, Terra Incognita Squat, Thessaloniki, Turkey, UK
Posted in Interviews
Wednesday, September 30th, 2020
The start of the appellate court of the 5th trial of the Revolutionary Struggle is scheduled for Wednesday, September 30. The case of the attempted escape by helicopter from the Korydallos prison that was organized by Pola Roupa in February 2016 and two expropriations of banks, at the Sotiria hospital and the National Bank in Malesina, are being re-tried. At first instance, the comrade was sentenced to 120 years in prison, by merger 65 and Nikos Maziotis to 37, by merger 24, for moral instigation.
The attempted escape of Nikos Maziotis and other detainees, organized in February 2016 by Pola Roupa, is a top action of resistance and solidarity, with rich moral content and high values. It is not only the selfless pursuit of an action that could cost the very life of the comrade who emits powerful symbolism and messages, but also the very way she organized it. Taking the necessary measures to save lives, the means of management when the plan was derailed, the orientation itself are what determine the value of the Revolutionary Struggle and at the same time illuminate the operational gaps between the revolutionaries and their regime persecutors. It reveals the inaccessible borders that separate the armed action of the volunteer fighters with the salaried agents of the state power.
The political choice of the comrade consistently follows the inaccessible path of the revolutionary perspective, the sometimes lonely and sometimes triumphant, but always necessary perspective that with the final victory, sooner or later, oppressed humanity will taste. It characterizes with clarity and revolutionary ethos the very path of the comrade and her organization, of the Revolutionary Struggle. This action was the great companion of a historical journey that did not end in the straits of Daphne, did not disappear in the unequal battle of Monastiraki and was not buried in January 2017. The Revolutionary Struggle was not buried as a political entity, as individuals and as a living prospect in so many episodes of deactivation from state repression and its long arms, both before and after the escape attempt. (more…)
Tags: Athens, Greece, Korydallos Prison, Nikos Maziotis, Pola Roupa, Revolutionary Struggle, Trial
Posted in Prison Struggle
Wednesday, September 16th, 2020


Refugees demonstrating after the burning of Moria. "Azadi!" Freedom!
In the following report from Greece, anarchists describe the burning of the refugee camp, Moria, and the response countrywide, as well as the latest chapter in other struggles against state repression on a variety of fronts.
A report by Radio Fragmata.
Another month, another report on the situation here in Greece. There has been no pause in the repression of the state, nor any peace for the marginalized and excluded. Another historic squat has been evicted, the economic despair many already face is becoming generalized, society drifts towards the right at the guidance of state and corporate media, and the largest concentration camp housing migrants in all of Europe has been engulfed in flames, displacing thousands.
As in the rest of the world, each morning brings new concerns, new disasters, new forms of precarity. We share the following information in the pursuit of a relentless and borderless solidarity.
-Radio Fragmata, September 2020
Moria Burns—The Greek State Plays Victim
The refugee camp Moria on the island of Lesvos has burned down.
The state claims this was the result of demonstrations by desperate people inside the camp reacting to new measures the police had opportunistically declared in response to an inevitable and now unavoidable outbreak of COVID-19 inside the camp. Some 35 cases have been made public as of early September; considering the intense overcrowding of the camp, the number should be assumed to be much higher. Some wonder whether nearby fascists took the opportunity to set fires under the cover of the refugees' protests. It is certain that some of the villagers wanted those fleeing the flames to burn alive, as they pushed those who tried to flee to the nearby village of Mytilene back towards the blaze. (more…)
Tags: Chania, Coronavirus, Crete, Eviction, Giannis Dimitrakis, Greece, International Solidarity, Kostas Sakkas, Lesvos, Migrant Struggle, Moria, Mytilene, Pavlos Fyssas, Racism, Radio Fragmata, Rosa Nera, Terra Incognita Squat
Posted in No Borders
Tuesday, September 1st, 2020
On Thursday 27/08/2020, as part of the international week of solidarity with imprisoned comrades around the world, we hung two banners at the western entrance and exit of Komotini, on the railway bridge over the highways.
Those Who Forget Imprisoned Comrades Forget Their Political Substance
Our Solidarity Exceeds the Limits of Their World
UTOPIA A.D. SQUAT
Komotini Northen Greece
Tags: Anarchist Squat Utopia A.D. (Komotini), Banner drop, Greece, International Week for Anarchist Prisoners, Komotini, Solidarity Action
Posted in Prison Struggle
Sunday, August 23rd, 2020
In the morning of 17th of August Terra Incognita gets TEMPORARILY evicted by the repressive forces of neoliberalism. Police forces intrude in the building and conduct researches for hours and confiscations. Days after the eviction the squat still remains open with cops celebrating TEMPORARILY their capability of violating every corner of our liberalized grounds.
For over 16 years Terra Incognita constituted a meeting place for hundreds of people of the struggling social basis. With constant events, direct acts, demonstrations and conflicts Terra Incognita was present in moments of the violent struggle against the violence of the state, the benefits of capitalistic monopolies, against the violating authority of fascism and patriarchy, against any type of discrimination and speciesism. In the grounds of the self-organised structures of self-education, solidarity and mutual aid of the squat all the "known-unknown" strugglers of freedom met and will continue to meet. Liberating and equality-based relationships were constructed, subversive plans and operations, dreams that day by day found and still find a space of moral and physical substance. For 16 years the squat proves itself to be the flesh of the flesh of the multiform struggle against any type of authority and oppression, without prioritizing or distinguishing the means that contribute to the spreading of libertarian ideas and the organization of social and class-conscious counter attack. Because for us this is liberation. (more…)
Tags: Eviction, Greece, International Solidarity, Repression, Terra Incognita Squat, Thessaloniki
Posted in Autonomy
Saturday, August 22nd, 2020
EN | Text by anarchist comrade Dinos Giagtzoglou: For the day of agitation and propaganda in solidarity with Monica Caballero and Francisco Solar
Texto anarquista de Dinos Giagtzoglou – Para el día de la agitación y la propaganda en solidaridad con Mónica Caballero y Francisco Solar (14 de agosto 2020)
Justo como hoy, hace 10 años, el Estado Chileno llevó a cabo una amplia operación represiva en contra de compañeros y anarquistas en respuesta a las decenas de atentados en contra de los símbolos y de las instituciones del Estado y el Capital. Esta operación condujo a la detención de diez de los anarquistas y llegó a ser conocido como el "Caso Bombas", terminó en un fiasco, los cinco compañeros que fueron finalmente procesados quedaron completamente absueltos, y esto fue descrito por la prensa como la derrota más grande de la fiscalía en la historia. Hoy, dos de nuestros compañeros, Mónica y Francisco, quienes estaban entre los detenidos en ese tiempo, son de nuevo encarcelado en un Estado que hace un par de meses estaba siendo sacrificado por una enorme revuelta social que nos sorprendió a todxs nosotrxs.
La detención y la prisión no son nada nuevo para nuestrxs hermanxs, ya que en 2013 fueron llevados a las celdas por el Estado español acusados de un ataque a una catedral en Zaragoza revindicada por el Comando Insurreccional Mateo Morral. Los compañeros son una vez más acusado de una serie de atentados en contra de los representantes de los ricos, los poderosos y sus defensores en el territorio Chileno. Los ataques incluyen el envío de dos bombas explosivas, uno de los cuales explotó, en una estación de policía dejando a ocho policías heridos (3 de ellos de gravedad) en Santiago, y el otro se encuentra antes de llegar a su destino en la filial de las oficinas de uno de los mayores consorcios de empresas en Chile (propiedad del cuarto más rico de la familia en América latina), teniendo como destinatario el jefe del departamento legal, quien se había desempeñado como Ministro de Defensa y del Interior durante la represión de los anarquistas, conocido como el "Caso Bombas".
Después de tantos años de persecución y encarcelamiento, luchas implacables dentro y fuera de las cárceles, se mantienen firmes y convencidxs del derecho a la lucha por la liberación. Son estos ejemplos de combatientes los que también me han motivado a tomar iniciativas subversivas y elegir la resistencia a la dominación y la explotación. En tales caminos de lucha queremos y debemos caminar constantemente con amor por la vida y la libertad y sin miedo a la muerte o la cárcel.
Con el recuerdo intacto de Mauricio Morales,
Con pasión y determinación,
Con terquedad y compromiso,
Con la cabeza en alto
Desde el fondo de mi corazón les envío una señal rebelde y un abrazo fuerte a Mónica Caballero y Francisco Solar.
PRIMERO Y SIEMPRE LA REBELIÓN
-Dinos Giagtzoglou-
Subterraneos de la prisión de Korydallos
Tags: 14/14, Athens, Chile, Francisco Solar, Greece, International Solidarity, Konstantinos Yagtzoglou, Letter, Monica Caballero
Posted in Prison Struggle
Saturday, August 22nd, 2020
Welcome to the 37th edition of Bad News. This is your Angry Voices From Around The World for August, 2020.
In this episode you will hear contributions from:
1. A call for the International Week of Solidarity with Anarchist Prisoners (23.-30.8.2020)
2. Radio Fragmata (Athens):
* Updates from so-called Greece
3. Anarchist Assembly Valparaíso (Chile)
* Statement on the current imprisonment of two comrades
4. FrequenzA
* An interview about the Coordinating (prisoner support) group 18th of October in Chile.
5. A-Radio Berlin (Germany)
* A summary of the ongoing Mapuche hungerstrike in Chile
(Length: 35:40 min)
Other audios from A-Radio Berlin in English here.
.
Tags: Anarchist Radio, Athens, Berlin, Chile, Frequenz(A), Germany, Greece, International Week for Anarchist Prisoners, Mapuche, Radio, Radio Fragmata, Valparaiso
Posted in Interviews
Sunday, August 16th, 2020
ES | Texto anarquista de Dinos Giagtzoglou – Para el día de la agitación y la propaganda en solidaridad con Mónica Caballero y Francisco Solar
Just like today, 10 years ago, the Chilean State carried out an extensive repressive operation against comrades and anarchist operations in response to the dozens of bombings against symbols and institutions of the State and Capital. This operation, which led to the arrest of ten anarchists and became known as the "Bombs Case", ended in a fiasco, as the five who were eventually prosecuted were completely acquitted, and were described by the press as the biggest defeat of law enforcement authorities in court history. Today, two of our comrades, Monica and Francisco, who were among those arrested at the time, are again imprisoned in a State that a few months ago slaughtered a massive social uprising that shocked us all.
Arrest and imprisonment are nothing new for our siblings, since in 2013 they were found in the cells of the Spanish State accused of an attack on a cathedral in Zaragoza by the Insurrectional Commando Mateo Morral. The comrades are once again accused of a series of bombings against representatives of the rich, powerful and their defenders in Chilean territory. The attacks included the shipment of two booby-trapped parcels, one of which exploded, leaving eight cops injured (3 of them seriously) at a Santiago police station and the other being located before hitting its target at the subsidiary offices of one of the largest business consortia in Chile (owned by the fourth richest family in Latin America) having as a recipient the head of the legal department, who had served as Minister of Defense and Interior during the crackdown on anarchists known as the "Bombs Case".
After so many years of persecution and imprisonment, relentless struggles inside and outside prisons, they remain steadfast and convinced of the right of the liberation struggle. It is such examples of combatants that have motivated me too to take subversive initiatives and make choices of resistance to domination and exploitation. In such paths of struggle we want to and must walk constantly with love for life and freedom and without fear for death or prison.
With the undimmed memory of Mauricio Morales,
With passion and determination,
With stubbornness and commitment,
With my heads high,
From the bottom of my heart I send a rebellious signal and a big hug to Monica Caballero and Francisco Solar.
REBELLION FIRST AND ALWAYS
Dinos
Special underground section of Koridallos prison
14/08/2020
Tags: 14/14, Athens, Chile, Francisco Solar, Greece, International Solidarity, Konstantinos Yagtzoglou, Letter, Monica Caballero
Posted in Prison Struggle
Thursday, July 30th, 2020
Episode number 36 (07/2020) of "B(A)D NEWS – Angry voices from around the world", a monthly news program from the international network of anarchist and antiauthoritarian radios, consisting of short news segments from different parts of the world, is now online.
Length: 38 min
You'll find the audio on A-Radio Berlin's new website.
Or directly on the networks website.
In this episode you will hear contributions from:
1. Radio-zones of Subversive Expression (Athens):
* media foundation by the Greek government during the quarantine
* the police violence in Exarchia some days after a squat eviction
* the violence and eviction of Victoria square
2. Crna Luknja (Ljubljana)
* antireport from Slovenian unrests

3. Free Social Radio 1431AM (Thessaloniki):
* the arrest of two anarchist comrades in Thessaloniki
* the latest developments on the shutdown and reconnection of espiv.net's server
* the violence and eviction of Victoria square
4. A-Radio Berlin:
* Stop the eviction of the collective bar Syndikat
5. Radiofragmata (Athens)
* News from Greece.
6. FrequenzA
* interview with solikomitee 1007 about the street festival "resist-2"
7. Dissident Island Radio (London):
* a round-up of UK-related 'B(A)D News'
Other audios from A-Radio Berlin in English here:
https://www.aradio-berlin.org/en/audios-2/.
Or visit the anarchist 24/7 online stream from the Channel Zero Network:
http://channelzeronetwork.com/
Enjoy!
A-Radio Berlin
Tags: Anarchist Radio, Anarchistisches Radio Berlin, Athens, Berlin, Crna Luknja (Ljubljana), Dissident Island, Exarchia, Free Social Radio 1431AM, Frequenz(A), Germany, Greece, Migrant Struggle, Radio, Radio Fragmata, Radiozones of Subversive Expression, Repression, Slovenia, Syndikat, Thessaloniki, UK
Posted in Autonomy
Saturday, July 25th, 2020
In the night of July 23rd we sprayed slogans in solidarity to the squats Liebig34 and Rigaer94 in Berlin on the LIDL supermarket in Neos Cosmos / Athens. After we destroyed all windows with hammers.
Every eviction has its price. This is a message do all those responsible for the aggressive gentrification of many European cities, which always goes on with the eviction of squats, the state terror against the radical movement and the rising of rents. We noticed the eviction thread against Liebig34 in Berlin and the attack by so called owners and their companies together with the cops against Rigaer94. With the eviction of Dervenion56 in Exarchia the government of ND continues its operations against the combative and solidarity resistance, which we always will be – with squats or without.
One of many answers to an evicted squat is the destruction of a consumer symbol the capitalist system offers to the inmates of the prisons called the Metropolis. To support the struggle of our comrades in Berlin we found a German company, but it can be also real estate agencies or luxury cars or tourism.
The LIDL supermarket chain was targeted already some time ago in Germany because of its bad working conditions for their employees. This action is an offering of solidarity to this aggressive campaign against the working conditions in LIDL WORLDWIDE. 8 to 10 hours per day with a fake smile for pity money, sitting in front of hundreds of products, in a cashier, becoming a robot which just counts and counts. Or lifting big weights destroying your back. Why all these? What is the role of supermarkets ?
Supermarket are big financial mechanisms which seem very innocent to the majority of the people. The truth is, they are not.
Colonilization
Supermarket are colonizing the economies of local societies in all the earth. All the small markets, grocery stores and other kind of shops are shutting down whenever a new supermarket is opening. There is no need for a new supermarket in most of the areas, its just matter of expanding and absorbing. Also, is reducing the use of local products and producers. Slowly slowly, the residents of an area are becoming workers, mainly women, of this industry, losing all their independence (even in liberal terms)
Anti-ecological
The opening of chain supermarkets, local or multinational, is also increasing importing of products. This is happening because the production companies are
exploiting people in a cheaper way in other countries, or because they make better offers to a multinational company because of the massive consumption. What is happening at the end is a big consumption of petrol by the ships to transfer products all around the world. The paradox of capitalism, the fact that a product from 2000 miles far is cheaper than the local, is killing faster the nature.
Food Control
All these brings us to the bigger problem. Supermarkets are the greatest tool for multinational food companies to takeover all of our nutrition process. We eat shit, we don't produce anything, we need money to buy everything, we need to work for them for ever to be able to buy them and cure our selves from the sickness their food is creating
Do we smash supermarket?
Yes we do. But we have to know that most of the people will not understand why. So we must do more propaganda against this mechanism. And for sure it is better to smash without people being inside. Our target is to spread fear to the side of the bosses not to the side of the random population. But if somebody break a supermarket with people inside without putting someone in danger, its okay, we can overpass it.
Solidarity to Liebig34 and Rigaer 94
We hit the German interests in solidarity with the resistance in the German controlled territory
Solidarity to Dervenion 56 and all the evicted and the still resisting squats in Greece
Support to the workers that suffer in the food and product industry worldwide
(source https://athens.indymedia.org/post/1606472/)
+
As a note, we place a link here for a poster we made years ago, concerning supermarkets, one of the core nodes of 'everyday life' – Against Society & Culture
Tags: Athens, Dervenion 56, Greece, International Solidarity, Lidl (Supermarket), Liebig34/XB, Rigaer 94
Posted in Direct Action
Monday, July 20th, 2020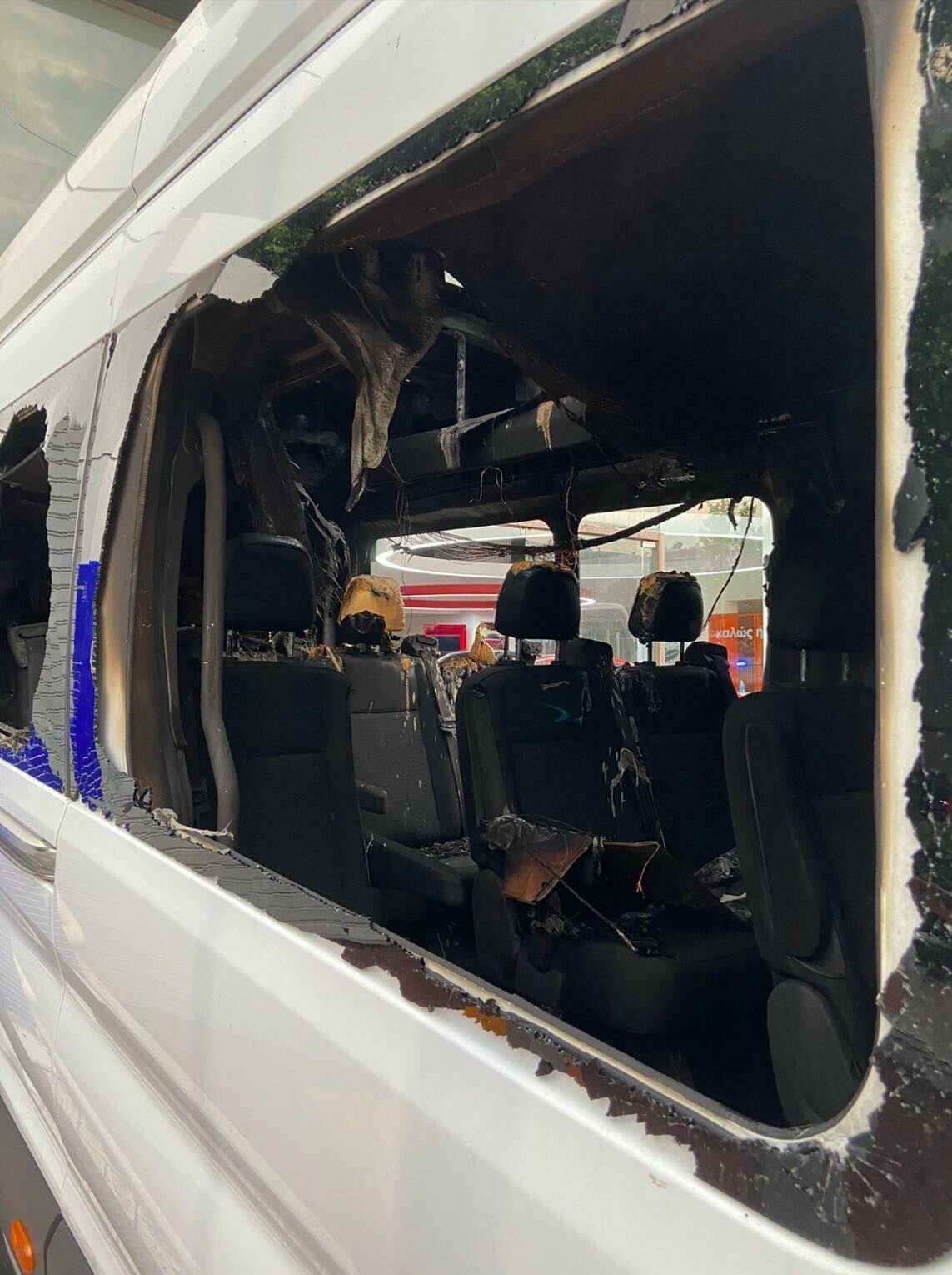 Besieged bodies among the concrete, between the cameras eyes, crossing daily life with careful but daring steps, moved by an ethic forged by negations.
We are folks that woke up from the social lethargy, having as weapon our solidarity to the fighting individuals towards the world. We want to be the crack that will join the others, destroying a system that represents injustice and "deadly injuries".
So, at the night of 7/7/2020, we chose to plant four incendiary devices to the Ford car dealership of Sfakianakis company, resulting to three burnt-down vehicles and a destroyed showcase. Our target was totally not random, as this specific company equips the state apparatus with vehicles, and also the moment of our attack coincides the uprising in USA, the homeland of Ford.
By that we choose to be the aroma of night-flower that bungs the nostrils of the decay, and we want this smell to break every authoritarian nose, to close every mouth that pukes shit, to cut every hand that points at our bodies full of racism, homophobia and sexism.
Carmine Night-Flowers
Tags: Arson, Athens, Ford, Greece, International Solidarity, Sabotage
Posted in Direct Action
Thursday, July 16th, 2020
Vasilis Maggos was savagely beaten by riot cops at a solidarity demo.
1 month later he is found dead
The video that you'll see depicts the brutal riot police attack against 27-year-old Vassilis Maggos on Sunday, June 14, 2020 in the Greek city of Volos, during a rally of solidarity to the detainees of the previous day's protest (13/6) against the polluting garbage burning by LAFARGE / AGET companies and against the creation of an SRF factory by the Municipality of Volos.
According to myvolos. net, Vassilis Maggos was found dead in his room by his mother yesterday evening (July 13, 2020). "The mother tried to bring her son back to life and notified the emergency services, but it was already late. The police rushed to the spot and examined the area, ruling out any criminal activity and requested an autopsy – necropsy to determine the causes of death of 27-year-old Vassilis Maggos, who almost a month ago had been recorded to be brutally attacked by the riot police outside the Courts of Volos.
According to a post at the time by the "People's Assembly against Garbage Incineration" the originally posted the above video on June 14, 2020, The young man was savagely beaten in front of passers-by in the center of Volos and was taken to the Magnesia Police Department. In the car that transported him, according to his father's testimony, the police continued to beat and abuse him. The severe beating continued inside the police headquarters building. They beat him mercilessly, breaking his ribs until the young man shouted "I cannot breathe". At the height of the violence, the police tortured him. When he asked for water, they took him to the freezer and gave him water drop by drop just to torture him and while he could not stand on his legs. In the end, they released him so that he could be taken to the hospital, because he needed immediate medical treatment. His condition was so dire that the doctors were afraid that his broken bones may pierce his vital organs". "Amongst his injuries, he had suffered 7 broken ribs and vital organ injuries".
Tags: Fuck the Police, Greece, Police Brutality, Vasilis Maggos, Volos
Posted in Social Control
Saturday, July 11th, 2020
– Athens, Greece: We call for a solidarity gathering with those arrested at the demo on 9/7/20 against the new law for the prohibition of demonstrations
– Ashes to Aspiring Oligarchies, Tuesday 8 /7 & Thursday 9/7
9 July 2020, Athens, Greece: Proposed by a self-proclaimed socialist Minister of Public Order (Michalis Chrisohoidis), taking part in a right wing government (New Democracy), assisted by the votes of the self-proclaimed socialist party (KINAL), the Greek Parliament approved a junta-inspired bill on Thursday imposing new restrictions to quash and destroy the right to protest, a right integral to the so-called democracies, eg. under the provisions of the new law you will be arrested for joining a protest that hasn't been authorized by the police. For dozens of years across the world, this has been called a Police State or a Dictatorship but then again the Greek governing party's name is "New Democracy", which probably means the same, when someone feels the need to affix the word "New" to the political theory of "Democracy" that has been solidified for more than 2.500 years.
As a result, thousands of people marched through central Athens denouncing the new law, and managed to approach in great numbers the Greek parliament at Syntagma Square, during the discussion of the bill. The sight of hundreds of policemen that flooded the area around the parliament, during such a sensitive topic of protest, aggravated things and soon the protest turned in to a riot, making the atmosphere unbearable to breath, while the riot police "bombarded" the area with asphyxiating gas grenades.
After a decade long financial crisis, Greece is expected to suffer a new major recession this year due to the impact of the pandemic. The new law that was passed yesterday seems to aim exactly towards what's coming. The strong reaction of the greek society, for all the money that were thrown away by the Greek government and Athens mayor (Kostas Mpakogiannis) during the quarantine and what followed. It's no wonder that the Greek government chose to hire thousands of new policemen, rather than nurses and doctors during the COVID-19 pandemic. But, then again, as it was aforementioned the governing party's name is "New Democracy"…
+ Nea Demokratia – Greece's Right Wing Political Party in the UK: A Profile
Tags: Athens, Greece, Nea Demokratia (Right Wing Party), Repression, Riots
Posted in Direct Action
Sunday, July 5th, 2020
Πρωτοφανή σκηνικά ακόμη και για τα έως τώρα δεδομένα της ΕΛ.ΑΣ. εκτυλίχθηκαν στα Εξάρχεια το βράδυ της Παρασκευής 3 Ιούλη 2020.
Ντοπαρισμένοι αστυνομικοί από την ασυδοσία που τους πρόσφερε η απαγόρευση των συναθροίσεων κατά τη διάρκεια της καραντίνας του Κορωνοιού, αλλά και το επερχόμενο νομοσχέδιο για περιορισμό και απαγόρευση των διαδηλώσεων, εισέβαλαν στη περιοχή, επιτέθηκαν σε συναυλία αλληλεγγύης στην Κατάληψη Δερβενιών 56 που εκκενώθηκε πρόσφατα, έπνιξαν την περιοχή στα ασφυξιογόνα, διέλυσαν τη συναυλία, χτύπησαν με ωμή βιαιότητα όποιον και όποια έτρεχε για να ξεφύγει από τη μανία τους και τα χημικά, έπεφταν με τις μηχανές τους με ταχύτητα πάνω σε παρευρισκόμενους , υπήρχαν περιπτώσεις που μηχανές Δέλτα πέρασαν μαρσάροντας πάνω από πεσμένους ανθρώπους σπάζοντας τους πόδια και χέρια, έριχναν σε ευθεία βολή χειροβομβίδες κρότου-λάμψης πάνω σε κόσμο, μάτωσαν στην κυριολεξία πελάτες μαγαζιών στην πλατεία Εξαρχείων, στη Θεμιστοκλέους, στην Κωλέττη και στη Μεσολογγίου, πέταξαν ασφυξιογόνο μέσα σε μπαρ γεμάτο από ανθρώπους, εισέβαλλαν σε άλλα μπαρ χτυπώντας άγρια εργαζομένους και θαμώνες, έσπασαν μαγαζιά μέσα κι έξω, πετούσαν στον κόσμο καρέκλες και τραπέζια που βρίσκονταν εξωτερικά κι όλα τα παραπάνω καταγεγραμμένα σε μαρτυρίες, φωτογραφίες και βίντεο που έχουν ήδη κυκλοφορήσει στο διαδίκτυο τις προηγούμενες 2 ημέρες και το βίντεο αυτό έρχεται προς επίρρωση απλά να προστεθεί σε όλα αυτά.
Και μέσα σε αυτό χάος που προξένησε η ελληνική αστυνομία η αλληλεγγύη και η αντίσταση. Κάτοικοι που άνοιγαν τις πόρτες των πολυκατοικιών και τα σπίτια τους για να προσφέρουν καταφύγιο στον κόσμο από τη μανία των ενστόλων. Άνθρωποι που βγήκαν στα μπαλκόνια τους και στο δρόμο ορθώνοντας ανάστημα και οδοφράγματα στην επέλαση των βαρβάρων και αυτός ο χαρακτηρισμός δεν είναι υπερβολή για όσα έπραξαν οι υπάλληλοι των Μητσοτάκη, Χρυσοχοίδη και Μπακογιάννη το βράδυ της Παρασκευής στα Εξάρχεια. Μα ό,τι κι αν κάνουν όμως, σ'αυτή τη γειτονιά όλα γυρίζουν πάλι σε αυτό. «Αντίσταση, αυτοοργάνωση, αλληλεγγύη». Πολλές, μα πολλές δεκαετίες τώρα.
Tags: Athens, Exarchia, Greece, Police Brutality, Repression, Video
Posted in Social Control