Posts Tagged 'Greece'
Thursday, July 30th, 2020
Episode number 36 (07/2020) of "B(A)D NEWS – Angry voices from around the world", a monthly news program from the international network of anarchist and antiauthoritarian radios, consisting of short news segments from different parts of the world, is now online.
Length: 38 min
You'll find the audio on A-Radio Berlin's new website.
Or directly on the networks website.
In this episode you will hear contributions from:
1. Radio-zones of Subversive Expression (Athens):
* media foundation by the Greek government during the quarantine
* the police violence in Exarchia some days after a squat eviction
* the violence and eviction of Victoria square
2. Crna Luknja (Ljubljana)
* antireport from Slovenian unrests

3. Free Social Radio 1431AM (Thessaloniki):
* the arrest of two anarchist comrades in Thessaloniki
* the latest developments on the shutdown and reconnection of espiv.net's server
* the violence and eviction of Victoria square
4. A-Radio Berlin:
* Stop the eviction of the collective bar Syndikat
5. Radiofragmata (Athens)
* News from Greece.
6. FrequenzA
* interview with solikomitee 1007 about the street festival "resist-2"
7. Dissident Island Radio (London):
* a round-up of UK-related 'B(A)D News'
Other audios from A-Radio Berlin in English here:
https://www.aradio-berlin.org/en/audios-2/.
Or visit the anarchist 24/7 online stream from the Channel Zero Network:
http://channelzeronetwork.com/
Enjoy!
A-Radio Berlin
Tags: Anarchist Radio, Anarchistisches Radio Berlin, Athens, Berlin, Crna Luknja (Ljubljana), Dissident Island, Exarchia, Free Social Radio 1431AM, Frequenz(A), Germany, Greece, Migrant Struggle, Radio, Radio Fragmata, Radiozones of Subversive Expression, Repression, Slovenia, Syndikat, Thessaloniki, UK
Posted in Autonomy
Saturday, July 25th, 2020
In the night of July 23rd we sprayed slogans in solidarity to the squats Liebig34 and Rigaer94 in Berlin on the LIDL supermarket in Neos Cosmos / Athens. After we destroyed all windows with hammers.
Every eviction has its price. This is a message do all those responsible for the aggressive gentrification of many European cities, which always goes on with the eviction of squats, the state terror against the radical movement and the rising of rents. We noticed the eviction thread against Liebig34 in Berlin and the attack by so called owners and their companies together with the cops against Rigaer94. With the eviction of Dervenion56 in Exarchia the government of ND continues its operations against the combative and solidarity resistance, which we always will be – with squats or without.
One of many answers to an evicted squat is the destruction of a consumer symbol the capitalist system offers to the inmates of the prisons called the Metropolis. To support the struggle of our comrades in Berlin we found a German company, but it can be also real estate agencies or luxury cars or tourism.
The LIDL supermarket chain was targeted already some time ago in Germany because of its bad working conditions for their employees. This action is an offering of solidarity to this aggressive campaign against the working conditions in LIDL WORLDWIDE. 8 to 10 hours per day with a fake smile for pity money, sitting in front of hundreds of products, in a cashier, becoming a robot which just counts and counts. Or lifting big weights destroying your back. Why all these? What is the role of supermarkets ?
Supermarket are big financial mechanisms which seem very innocent to the majority of the people. The truth is, they are not.
Colonilization
Supermarket are colonizing the economies of local societies in all the earth. All the small markets, grocery stores and other kind of shops are shutting down whenever a new supermarket is opening. There is no need for a new supermarket in most of the areas, its just matter of expanding and absorbing. Also, is reducing the use of local products and producers. Slowly slowly, the residents of an area are becoming workers, mainly women, of this industry, losing all their independence (even in liberal terms)
Anti-ecological
The opening of chain supermarkets, local or multinational, is also increasing importing of products. This is happening because the production companies are
exploiting people in a cheaper way in other countries, or because they make better offers to a multinational company because of the massive consumption. What is happening at the end is a big consumption of petrol by the ships to transfer products all around the world. The paradox of capitalism, the fact that a product from 2000 miles far is cheaper than the local, is killing faster the nature.
Food Control
All these brings us to the bigger problem. Supermarkets are the greatest tool for multinational food companies to takeover all of our nutrition process. We eat shit, we don't produce anything, we need money to buy everything, we need to work for them for ever to be able to buy them and cure our selves from the sickness their food is creating
Do we smash supermarket?
Yes we do. But we have to know that most of the people will not understand why. So we must do more propaganda against this mechanism. And for sure it is better to smash without people being inside. Our target is to spread fear to the side of the bosses not to the side of the random population. But if somebody break a supermarket with people inside without putting someone in danger, its okay, we can overpass it.
Solidarity to Liebig34 and Rigaer 94
We hit the German interests in solidarity with the resistance in the German controlled territory
Solidarity to Dervenion 56 and all the evicted and the still resisting squats in Greece
Support to the workers that suffer in the food and product industry worldwide
(source https://athens.indymedia.org/post/1606472/)
+
As a note, we place a link here for a poster we made years ago, concerning supermarkets, one of the core nodes of 'everyday life' – Against Society & Culture
Tags: Athens, Dervenion 56, Greece, International Solidarity, Lidl (Supermarket), Liebig34/XB, Rigaer 94
Posted in Direct Action
Monday, July 20th, 2020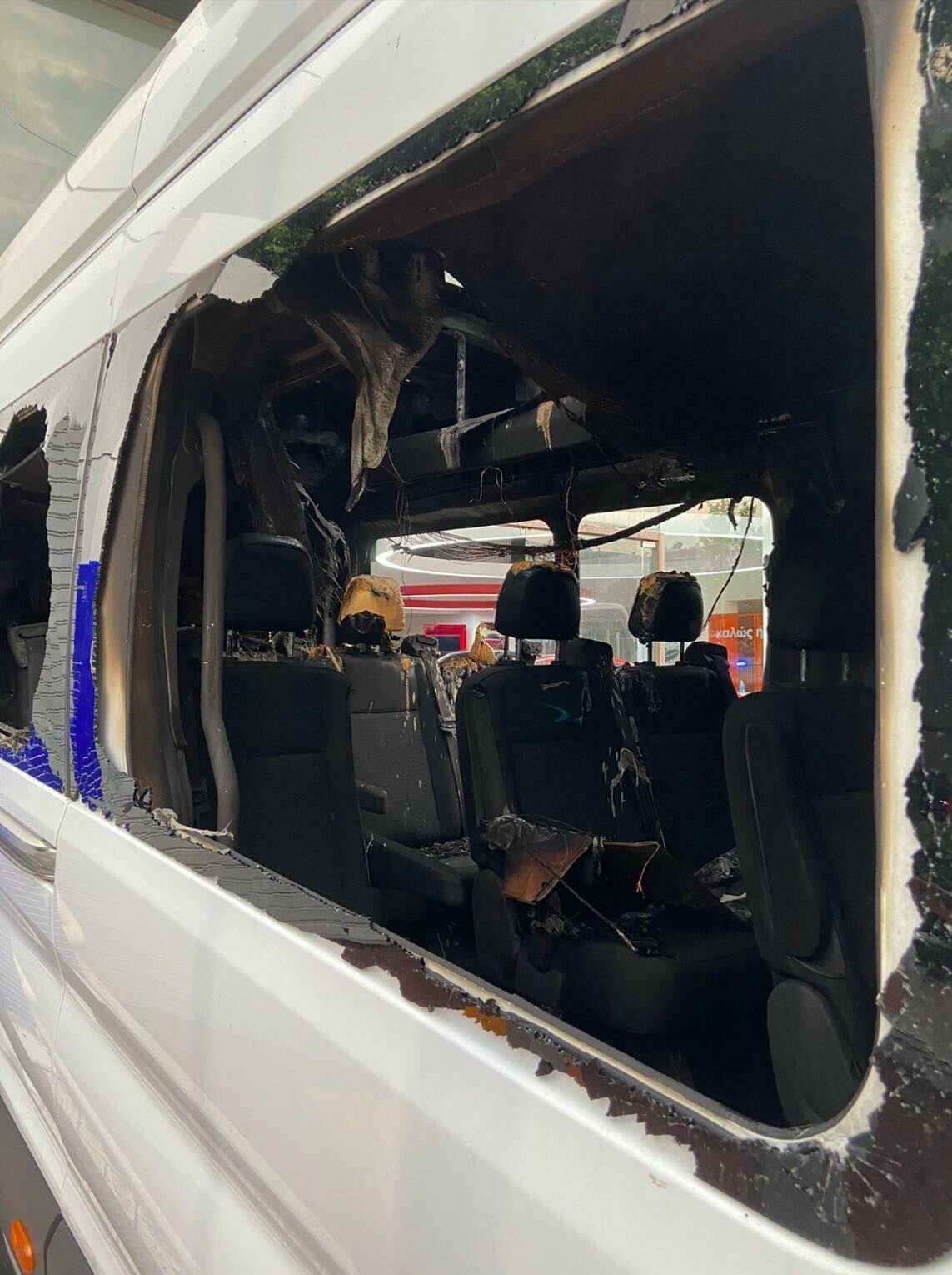 Besieged bodies among the concrete, between the cameras eyes, crossing daily life with careful but daring steps, moved by an ethic forged by negations.
We are folks that woke up from the social lethargy, having as weapon our solidarity to the fighting individuals towards the world. We want to be the crack that will join the others, destroying a system that represents injustice and "deadly injuries".
So, at the night of 7/7/2020, we chose to plant four incendiary devices to the Ford car dealership of Sfakianakis company, resulting to three burnt-down vehicles and a destroyed showcase. Our target was totally not random, as this specific company equips the state apparatus with vehicles, and also the moment of our attack coincides the uprising in USA, the homeland of Ford.
By that we choose to be the aroma of night-flower that bungs the nostrils of the decay, and we want this smell to break every authoritarian nose, to close every mouth that pukes shit, to cut every hand that points at our bodies full of racism, homophobia and sexism.
Carmine Night-Flowers
Tags: Arson, Athens, Ford, Greece, International Solidarity, Sabotage
Posted in Direct Action
Thursday, July 16th, 2020
Vasilis Maggos was savagely beaten by riot cops at a solidarity demo.
1 month later he is found dead
The video that you'll see depicts the brutal riot police attack against 27-year-old Vassilis Maggos on Sunday, June 14, 2020 in the Greek city of Volos, during a rally of solidarity to the detainees of the previous day's protest (13/6) against the polluting garbage burning by LAFARGE / AGET companies and against the creation of an SRF factory by the Municipality of Volos.
According to myvolos. net, Vassilis Maggos was found dead in his room by his mother yesterday evening (July 13, 2020). "The mother tried to bring her son back to life and notified the emergency services, but it was already late. The police rushed to the spot and examined the area, ruling out any criminal activity and requested an autopsy – necropsy to determine the causes of death of 27-year-old Vassilis Maggos, who almost a month ago had been recorded to be brutally attacked by the riot police outside the Courts of Volos.
According to a post at the time by the "People's Assembly against Garbage Incineration" the originally posted the above video on June 14, 2020, The young man was savagely beaten in front of passers-by in the center of Volos and was taken to the Magnesia Police Department. In the car that transported him, according to his father's testimony, the police continued to beat and abuse him. The severe beating continued inside the police headquarters building. They beat him mercilessly, breaking his ribs until the young man shouted "I cannot breathe". At the height of the violence, the police tortured him. When he asked for water, they took him to the freezer and gave him water drop by drop just to torture him and while he could not stand on his legs. In the end, they released him so that he could be taken to the hospital, because he needed immediate medical treatment. His condition was so dire that the doctors were afraid that his broken bones may pierce his vital organs". "Amongst his injuries, he had suffered 7 broken ribs and vital organ injuries".
Tags: Fuck the Police, Greece, Police Brutality, Vasilis Maggos, Volos
Posted in Social Control
Saturday, July 11th, 2020
– Athens, Greece: We call for a solidarity gathering with those arrested at the demo on 9/7/20 against the new law for the prohibition of demonstrations
– Ashes to Aspiring Oligarchies, Tuesday 8 /7 & Thursday 9/7
9 July 2020, Athens, Greece: Proposed by a self-proclaimed socialist Minister of Public Order (Michalis Chrisohoidis), taking part in a right wing government (New Democracy), assisted by the votes of the self-proclaimed socialist party (KINAL), the Greek Parliament approved a junta-inspired bill on Thursday imposing new restrictions to quash and destroy the right to protest, a right integral to the so-called democracies, eg. under the provisions of the new law you will be arrested for joining a protest that hasn't been authorized by the police. For dozens of years across the world, this has been called a Police State or a Dictatorship but then again the Greek governing party's name is "New Democracy", which probably means the same, when someone feels the need to affix the word "New" to the political theory of "Democracy" that has been solidified for more than 2.500 years.
As a result, thousands of people marched through central Athens denouncing the new law, and managed to approach in great numbers the Greek parliament at Syntagma Square, during the discussion of the bill. The sight of hundreds of policemen that flooded the area around the parliament, during such a sensitive topic of protest, aggravated things and soon the protest turned in to a riot, making the atmosphere unbearable to breath, while the riot police "bombarded" the area with asphyxiating gas grenades.
After a decade long financial crisis, Greece is expected to suffer a new major recession this year due to the impact of the pandemic. The new law that was passed yesterday seems to aim exactly towards what's coming. The strong reaction of the greek society, for all the money that were thrown away by the Greek government and Athens mayor (Kostas Mpakogiannis) during the quarantine and what followed. It's no wonder that the Greek government chose to hire thousands of new policemen, rather than nurses and doctors during the COVID-19 pandemic. But, then again, as it was aforementioned the governing party's name is "New Democracy"…
+ Nea Demokratia – Greece's Right Wing Political Party in the UK: A Profile
Tags: Athens, Greece, Nea Demokratia (Right Wing Party), Repression, Riots
Posted in Direct Action
Sunday, July 5th, 2020
Πρωτοφανή σκηνικά ακόμη και για τα έως τώρα δεδομένα της ΕΛ.ΑΣ. εκτυλίχθηκαν στα Εξάρχεια το βράδυ της Παρασκευής 3 Ιούλη 2020.
Ντοπαρισμένοι αστυνομικοί από την ασυδοσία που τους πρόσφερε η απαγόρευση των συναθροίσεων κατά τη διάρκεια της καραντίνας του Κορωνοιού, αλλά και το επερχόμενο νομοσχέδιο για περιορισμό και απαγόρευση των διαδηλώσεων, εισέβαλαν στη περιοχή, επιτέθηκαν σε συναυλία αλληλεγγύης στην Κατάληψη Δερβενιών 56 που εκκενώθηκε πρόσφατα, έπνιξαν την περιοχή στα ασφυξιογόνα, διέλυσαν τη συναυλία, χτύπησαν με ωμή βιαιότητα όποιον και όποια έτρεχε για να ξεφύγει από τη μανία τους και τα χημικά, έπεφταν με τις μηχανές τους με ταχύτητα πάνω σε παρευρισκόμενους , υπήρχαν περιπτώσεις που μηχανές Δέλτα πέρασαν μαρσάροντας πάνω από πεσμένους ανθρώπους σπάζοντας τους πόδια και χέρια, έριχναν σε ευθεία βολή χειροβομβίδες κρότου-λάμψης πάνω σε κόσμο, μάτωσαν στην κυριολεξία πελάτες μαγαζιών στην πλατεία Εξαρχείων, στη Θεμιστοκλέους, στην Κωλέττη και στη Μεσολογγίου, πέταξαν ασφυξιογόνο μέσα σε μπαρ γεμάτο από ανθρώπους, εισέβαλλαν σε άλλα μπαρ χτυπώντας άγρια εργαζομένους και θαμώνες, έσπασαν μαγαζιά μέσα κι έξω, πετούσαν στον κόσμο καρέκλες και τραπέζια που βρίσκονταν εξωτερικά κι όλα τα παραπάνω καταγεγραμμένα σε μαρτυρίες, φωτογραφίες και βίντεο που έχουν ήδη κυκλοφορήσει στο διαδίκτυο τις προηγούμενες 2 ημέρες και το βίντεο αυτό έρχεται προς επίρρωση απλά να προστεθεί σε όλα αυτά.
Και μέσα σε αυτό χάος που προξένησε η ελληνική αστυνομία η αλληλεγγύη και η αντίσταση. Κάτοικοι που άνοιγαν τις πόρτες των πολυκατοικιών και τα σπίτια τους για να προσφέρουν καταφύγιο στον κόσμο από τη μανία των ενστόλων. Άνθρωποι που βγήκαν στα μπαλκόνια τους και στο δρόμο ορθώνοντας ανάστημα και οδοφράγματα στην επέλαση των βαρβάρων και αυτός ο χαρακτηρισμός δεν είναι υπερβολή για όσα έπραξαν οι υπάλληλοι των Μητσοτάκη, Χρυσοχοίδη και Μπακογιάννη το βράδυ της Παρασκευής στα Εξάρχεια. Μα ό,τι κι αν κάνουν όμως, σ'αυτή τη γειτονιά όλα γυρίζουν πάλι σε αυτό. «Αντίσταση, αυτοοργάνωση, αλληλεγγύη». Πολλές, μα πολλές δεκαετίες τώρα.
Tags: Athens, Exarchia, Greece, Police Brutality, Repression, Video
Posted in Social Control
Saturday, July 4th, 2020
EL | [Κουκάκι] Δράση αλληλεγγύης για Δερβενίων 56 // Διεθνές κάλεσμα αλληλεγγύης // Συγκεντρωτικό δράσεων
We are calling for international actions in solidarity with the Squats. Make the Greek state, the Greek capital and its partners regret the choice they made to attack the movement and its spaces in Greece. To defend Dervenion 56 and all squats,to prepare the ground for the coming social uprising.
On Friday 26/6, in Exarchia, the Greek state evacuated and sealed Dervenion 56 squat and the building at Dervenion 52. An immediate gathering of solidarity was held at Exarxia Square for several hours.In the evening of the same day, a solidarity march was held with the participation of 300 people. The march ended at Dervenion squat, barricades were set up around the perimeter and then comrades broke the concrete blocks of shame.
(more…)
Tags: Athens, Dervenion 56, Ermou, Eviction, Exarchia, Greece, International Solidarity, Koukaki, Molotovs, Riots, Squatting
Posted in Autonomy
Friday, July 3rd, 2020
EL | Απολογιστική-προτασιακή τοποθέτηση του συντρόφου Δημήτρη Χατζηβασιλειάδη προς τους συντρόφους
PDF: Debriefing and propositional statement
Historical background
On the 21st of October, around 11pm, together with one more person, I made an appropriation of a state casino shop in Cholargos (suburb of Athens). Before our departure from the shop the rifle that was used for our self defense passed from the other person's hand to mine. An automatic rifle, if available, is a convincing deterrent during any act that may come into confrontation with the murderous mercenaries of capitalism. Bastards like those who tortured to death George Floyd, the same bastards who gang killed Zak Kostopoulos, who was already wounded by the fascist shop-owners in a pedestrian road, in the middle of the day, in the city center, bastards who, shortly after, killed Embouka Mamasoubek inside a police station, and whose names are still kept secret, having enjoyed the full cover of the then leftist government and bourgeois justice, these bastards don't understand any other language than the one they have learned to implement.
The moment I took the weapon, it fired, due to my negligence. The bullet hit my leg. After leaving the place, I sought refuge at the nearby home of an old friend. Estimating that very soon the repression mechanisms and their minions, the regime's journalists, would publish my photo, I decided to evacuate a flat in which I was storing a number of tools for the resistance, with the aim to rescue them. So these tools ended up in the house where I had gone wounded, and from there into the warehouses of the militarist-statist rulers, about two weeks after my injury. (more…)
Tags: Analysis, Athens, Dimitris Chatzivasileiadis, Greece, Insurrection, Letter, Organization for Revolutionary Self-Defense, Repression
Posted in Prison Struggle
Monday, June 22nd, 2020
On June 12, 2020, a financial aid party was held in Thessaloniki/Greece for the case of the two arrested on 27/5 at Kalamaria/Thessaloniki.
The money raised was 1,000 euros and after it was initially handed over to the "Solidarity Assembly of the 2 arrested comrades", if we were informed that the amount had been collected (20,000 euros) we decided to ask for it back to meet other needs of political anarchist prisoners.
Thus, the money will be allocated to the accused in the "Scripta Manent" case (500 euros) and to the members of the Revolutionary Struggle Nikos Maziotis (250 euros) & Pola Roupa (250 euros).
Below are the contact details where one can provide financial support.
For the "Scripta Manent" case
Iban: IT56M0567617295IB0000592586
Account holder: Omar Nioi
Bank: Banco di Sardegna or Bank: Banca di Sassari
Bic / Swift code: SARDIT3S100 or BPSAIT31XXX
For the case of the "Revolutionary Struggle"
Maziotis Nikolaos
D wing of Domokos prison
Post Code 35010 Domokos
Greece
Roupa Panagiota
C wing of women's prisons in Eleonas, Thebes
Post Code 32200 Thebes
Greece

Anarchist hangout Nadir
Tags: Greece, Italy, Nadir Squat, Nikos Maziotis, Operation Scripta Manent, Pola Roupa, Revolutionary Struggle, Thessaloniki
Posted in Prison Struggle
Friday, June 19th, 2020
Welcome to the 35th edition of Bad News. This is our Angry Voices From Around The World for June, 2020. A report from the international network of anarchist and anti-authoritarian radios.
If you'd like to get involved in the network or want to hear more – send an email to a-radio-network@riseup.net.
Check out all the shows look for the a-radio-network collection on archive.org or at our website, a-radio-network.org.
Contents:
1. The Final Straw Radio:
• Interview about the liberation of a former Sheraton Hotel in Minneapolis.
2. A-Radio Berlin:
• Interview about a new feminist campaign in Germany to raise awareness to the abortion topic.
3. Radio Fragmata:
• Updates on the general situation, the movement and the struggles in Greek territory.
4. Invisible Radio:
• Voices of people from Moria camp
5. R.O.S.E. (Athens):
• News from Greece.
Tags: Anarchist Radio, Anarchistisches Radio Berlin, Anti-Prison, Athens, Berlin, Final Straw Radio, George Floyd, Germany, Greece, International Solidarity, Invisible Radio, Migrant Struggle, Minneapolis, Moria, R.O.S.E (Athens), Racism, Radio, Radio Fragmata, Repression, USA
Posted in Autonomy
Tuesday, June 9th, 2020
The 2 comrades were arrested on 27/5/20, at Thessaloniki, Greece. They are accused of attempting an explosion, possession of explosives, violence against employees, disobedience and criminal conspiracy according to a made-up indictment. At 1/6 they were released on the following terms:
1. To give presence 3 times a month at a police station,
2. Prohibition of leaving the country and
3. to pay a guarantee-bail of € 10,000 for each one (a total of € 20,000) by 15/06.
In order to ensure that the required amount is covered, so that the comrades are not remanded in custody, we use every means available for financial support. Thus we created this firefund campaign.
Solidarity is our weapon against state's repressive tactics.
–

The announcement of the 2 persecuted comrades:
In the early hours of Wednesday 27/5, I am being persecuted and arrested by undercover cops (wearing civilian clothes) and OPKE (special police forces for crime prevention and suppression), in the area of Kalamaria, Thessaloniki. I was thrown on the road and the cops handcuffed me. For a long period, more than ten cops were beating me up with kicks and punches. Only when some neighbors from the adjacent apartment buildings came out, they were ordered to stop and called an undercover car to transfer me to the general police department. At first, they took me to the first floor and then to the third. They kept transferring me to different rooms-offices -amid constant humiliations, intimidations, and beatings. I ended up in the office of the head chief of the operation, who initially didn't deal with me, focusing his interest on his colleagues, by giving his congratulations on the success of the operation.
After that, the well-known game began. He became the good cop who just wanted to help. He gave me "advice", encouraged me to speak, and admit the actions that they were attributed to me and to cooperate in order to facilitate my position. He also played the card of the "squealer comrade" who had turned me in exchange for some money.
I remained silent to their questions, as I had to and I didn't give any information beyond those which were written on my identity, which I had anyway. Until 9 a.m. neither the arrest nor the indictment had been announced to me, expect that they will conduct a home search in a house I had never declared, but which according to the file they had already opened for quite some time, I lived in Tsinari in a block of house-squats.
When we got to the houses – the only clue of where I lived in was a piece of anonymous information- they invaded the squats, one after the other. OPKE units, accompanied by undercover cops, broke down doors and windows, woke up my comrades, and demanded that they facilitate their "work". The comrades showed quick reflexes and from the first moment they stood next to me with a word, a touch, by just saying "strength". It's worth noting that during my transfer from one house to another, they had me wear a black hood so that on the one hand I could not be recognized by other comrades who had gathered outside the squats and on the other hand I could not have eye contact with the comrades who lived there. I guess the rest is already known-their wanton adduction to the general police department for a few hours.
Then, returning to the general police department, in the same offices as before, I saw comrade Ρ.Ζ. who had been arrested and brought in a few hours after me. They left us in the same place for a few seconds and then they separated us again while giving us the case file asking us to sign it. We both denied any signature on the forged indictment as well as the process of fingerprint checks and photographs (a process that many times in the past has led anarchists to trial-parodies resting on clues of DNA mixtures and fingerprints).
Twelve hours after my arrest and after several "yellings", they allowed me to contact my lawyer and they placed the handcuffs in the front. When we were taken to the detention cell, according to "orders from above", they did not allow us to be in the same cell and to be in touch within the first 24 hours. On the second day of my detention, when I was taken to a medical examiner to record the injuries, the doctor who was supposed to be acting impartially, all he had to say to the escorts-cops was that "these things happen in a pursuit" and that "he can't be sure what caused the injuries".
On 27/05, at 8 a.m., I was arrested right at the entrance of my apartment building. Three undercover cops rushed from different directions, leaving me no time and space to react, and immobilized me.
While I was standing still on the ground, they handcuffed me, and pressed my head with their knees, and confiscate my house keys. Only when my screams incited the passers-by and the inhabitants they stopped pressing me with their knees and asked me to stop. In return, they promised not to touch me. They are probably ashamed of their practices. And they should actually. Then they took me to the general police department of Thessaloniki, in a room in the basement, where I was completely alone. After about half an hour, they picked me up again and announced to me that we were going for home research. In the presence of a prosecutor, they broke into my house, after tragic situations, as they were not sure about the floor or the apartment, they disturbed the neighbors and created tension. From inside the house, they confiscate all the electronic devices as well as a computer that I use exclusively for my work. From my personal belongings, they confiscate also my handwritten notes, unrelated to the case, as well as personal documents, and documents that happened to be in my house, such as family files that do not belong to me. Then we returned to the general police department with the confiscated items. So far I had no idea what had happened or if there were other arrests. I had no contact with lawyers nor allowed to talk to any of my people. They took me up the corridor and there I saw my comrade Δ.Σ. who was beaten and tied up. They immediately separated us so that we had no contact and led me to an empty room, handcuffed, guarded by a jailer.
After hours and after I was still tied up, I started protesting loudly.
In response, I got threats by the cops and then, after their vain attempts failed, they sent an undercover cop to "reassure" me. This episode demonstrated the essence of the claim. Defeat and vanity offer space to the enemy.
The procedures after the incident went smoothly. Two undercover cops came and showed me the case file and I refused to sign anything without the presence of a lawyer, except my rights. After that, they started the marking procedure. We both refused it.
Late in the afternoon, they took us to the detention cells, handcuffed us, and placed us together in a cell. After half an hour, the guards separated us again telling that "they had orders from above".
The next day we went to the prosecutor and the interrogator. We were informed about the indications and asked if we had anything to say. We both asked for a deadline. Footnote: Throughout the arrest and subsequent proceedings, the undercover cops had hidden their faces and features carefully.
All of the above are not reported so that we will victimize ourselves.
It's just a recording that can be taken into consideration for future repressive actions. Because the only purpose of the state is to repress.
What every comrade needs to do is not be afraid, not be intimidated by being targeted, and keep fighting. We don't have anything to say about the case at the moment other than that we deny the false accusation.
For the fact that we are being targeted because of our anarchist identity, we have to say that despite the repressive mechanisms, the apathy of society and its stupefaction, we will continue to fight for a world free of bonds and guards, without laws and prohibitions, without oppression and exploitation, without humiliation and indignity.
We will continue to fight for a world of equality, solidarity, and freedom.

For a world without dominion.
For anarchy.
Solidarity will win!
Tags: Greece, International Solidarity, Letter, Repression, Thessaloniki
Posted in Prison Struggle
Thursday, May 28th, 2020
In the early hours of Wednesday 27/05/2020, in Thessaloniki, Greece, 2 anarchist comrades were arrested on an attempt of incendiary/explosive attack on the house of the ex member of New Democracy (the Greek governmental party) and now president of the Deposit and Loans Fund, Dimitris Stamatis.
As Greek media report, the one comrade was seen by civil cops passing by and checking the house in Kalamaria area; then the other comrade was caught at the moment he was going to plant the incendiary/explosive devices. The first comrade was caught a few hours later in Thessaloniki, riding his bike.
There was a big police research operation in the comrade's house, and also in other comrades' houses. More specifically, 4 squatted houses at Ano Poli area in Thessaloniki were thoroughly searched and, furthermore, there were totally 10 comrades persecuted, who were left free some hours later, as nothing was found against them.
The 2 anarchist comrades are accused for the felonies of criminal association, attempt of explosion, attempt of arson, possession and manufacturing of explosive material which could cause danger for human beings; also for offending the laws about arms, firecrackers and drugs, and for resistance and disobedience against authority.
They will pass from the examining judge on Monday 01/06/2020, in the morning, at Thessaloniki's court. Until then, they will be held captive in the State's hands. Calls for solidarity will be published at the next days.
Updates will follow.
STRENGTH & SOLIDARITY TO OUR 2 COMRADES IN THESSALONIKI
WE DON'T FORGET THE PRISONERS OF SOCIAL WAR
NOT A STEP BACK
EACH FLAME AND EXPLOSION IS A SIGNAL OF FREEDOM & INSURGENCY
EACH ANARCHIST COMBATANT IS A WELL-SHARPENED KNIFE
AGAINST THE WORLD OF MISERY & OPPRESSION
solidarity initiative
Tags: Dimitris Stamatis, Greece, International Solidarity, Raids, Repression, Thessaloniki
Posted in Social Control
Tuesday, May 19th, 2020
EL | ΑΛΛΗΛΕΓΓΥΗ ΜΕ ΤΟΥΣ ΑΠΑΝΤΑΧΟΥ ΦΥΛΑΚΙΣΜΕΝΟΥΣ-ΚΑΛΕΣΜΑ ΣΕ ΔΙΕΘΝΕΣ ΤΡΙΗΜΕΡΟ ΔΡΑΣΗΣ, 29-30-31 Μαϊου 2020
SOLIDARITY WITH PRISONERS ALL OVER THE WORLD
CALL FOR INTERNATIONAL DAYS OF ACTION
The existing health crisis and its management from governments until now, globally, has unmasked the real character of authority, which was hiding itself behind the democratic mask. This oppressive system imposed an ultimate control of life, forbidding everything. Now, all civil liberties have become senseless words. This extreme condition that we live in, reveals that the prison-model is the true capitalistic model of society.
Prison is the most extreme form of bio-politics and extermination. Prisoners are under constant surveillance and control, something that, nowadays is happening to the whole society.
In this period of time, prisoners in Greek prisons are dying, one after another, from minor causes such as rotten teeth etc. Selim Zerolari and Azizel Demiroglou were two prisoners that we were informed about their deaths, this month. Mass media, of course, managed to conceal or distort these news. Furthermore, the state has grabbed the opportunity, due to the curfew, to move the most active prisoners, anarchists and others, into other prisons. Silence in the streets gives more power to the state to repress the voices of the imprisoned people.
Incarceration has always been, and remains, a form of torture and a tool of submission for authority. If we don't resist to this modern totalitarianism, we will live in this prison-society, which states systematically impose.
Throughout the planet, in the face of the corona virus threat, prisoners stacked in prisons and migrant concentration camps are shouting: We are prisoners, not death row convicts!
Korinthos migrant concentration camp, Greece: 1,200 migrants go on hunger strike, March '20
Italy, March '20: 27 prisons in revolt due to the corona virus, many prisoners killed in the clashes
Argentina, April '20: Revolt in Concordia prison, guards respond with shootings
Palmasola, Bolivia, May '20: 2 prisoners left to die from the corona virus, prisoners revolt
Chile: Strike mobilization at high security prison in Santiago, May '20
Thebes prison, Greece: Prisoners revolt after prisoner dies because she was not taken to hospital, April '20
MEET ALL PRISONERS DEMANDS
FREEDOM TO ALL WHO ARE IN THE CELLS
PUBLIC HEALTH CARE FOR ALL – PRISONERS AND MIGRANTS
OPEN ALL CONCENTRATION CAMPS FOR MIGRANTS
AS LONG AS BORDERS AND PRISONS EXIST NOBODY IS FREE
CALL TO INTERNATIONAL DAYS OF ACTION IN SOLIDARITY WITH PRISONERS
29-30-31 MAY 2020

Comrades, Solidarians with prisoners' struggles
Tags: Anti-Prison, Coronavirus, Greece, International Solidarity, Isolation, Migrant Struggle, Repression
Posted in Prison Struggle
Tuesday, May 19th, 2020
Episode number 34 (05/2020) of "B(A)D NEWS – Angry voices from around the world", a monthly news program from the international network of anarchist and antiauthoritarian radios, consisting of short news segments from different parts of the world, is now online.
Length: 1:22 h
You'll also find the audio on A-Radio Berlin's new website.
In this episode you will hear contributions from:
1. Free social radio 1431AM:
• Hunger strike of V. Dimakis
• 1st of May in Greece
• Some words about Grup Yorum, the hunger strikes and the deaths of 3 comrades.
2. A-Radio Berlin:
• Interview on the film "Radical Resilience" about political burnout and how to avoid it.
3. FrequenzA:
• The audio is from two internationalist, which are based in Rojava at the moment, about their thoughts and analysis of the impact of COVID-19 on the society there and why it makes sense to fight the capitalist system worldwide.
4. Radio Fragmata:
• Updates on situation in Greece and coronavirus (May Day 2020, New environment destructive policy, police brutality, refugees struggles and fascists attacks, anarchist and revolutionary prisoners situation, mutual aid actions)
5. Invisible Radio:
• Voices of people from Moria camp and Last incidents in prisons and camps in Greece
Other audios from A-Radio Berlin in English here:
https://www.aradio-berlin.org/en/audios-2
Or visit the anarchist 24/7 online stream from the Channel Zero Network:
http://channelzeronetwork.com/
Enjoy!
A-Radio Berlin
Tags: 1st May, Anarchist Radio, Anarchistisches Radio Berlin, Athens, Coronavirus, Free Social Radio 1431AM, Frequenz(A), Greece, Grup Yorum, Hunger Strike, International Solidarity, Interview, Invisible Radio, Mayday, Migrant Struggle, Moria, Racism, Radio, Radio Fragmata, Repression, Rojava, Syria
Posted in Autonomy
Monday, May 11th, 2020
"In this current circumstance, especially in light of the new facts about the virus spreading and the restrictive measures imposed by the state on this occasion, it is again extremely difficult to secure the resources to support the material needs of the ones within the walls. Perhaps it is more difficult than ever. The slogan "no one left alone in the hands of the state" is becoming more crucial and tangible these days than ever. We urge you to defend it once again in practice. Factual solidarity will again be our weapon."
https://www.firefund.net/imprisonedsoli
The Solidarity Fund for imprisoned and persecuted militants was established in 2010 in a circumstance where, on the one hand, a hard capitalist restructuring was carried out under the guise of the "economic crisis" and, on the other hand, the radical movement, having very recent memories from the experience of the social revolt of December '08, was in full bloom. Under those circumstances, repression became even more intense, resulting in an ever-increasing number of political prisoners. It is precisely in this context that the Solidarity Fund was formed, initially setting out to provide regular and consistent support to those persecuted or imprisoned for their subversive action or for their participation in social struggles. The basic aim of the structure is to ensure decent living conditions for the imprisoned comrades through a process that would take place within the political movement; thereby taking the material dimension of solidarity a step beyond close family, friendly and comrade relationships, as well as to help with the immediate coverage of emergencies (such as court expenses and bails for the persecuted). Yet, the actions of practical solidarity and the building and development of communication bridges and united struggles between those inside prisons and those outside of it, remain as priorities of the people who form and sustain the structure. (more…)
Tags: Athens, Greece, International Solidarity, Repression
Posted in Prison Struggle