Posts Tagged 'Greece'
Thursday, August 3rd, 2017
Taking responsibility – The burning of a SKAI journalist's car

"As long as necessity is socially dreamed, dreaming will remain a social necessity. The spectacle is the bad dream of a modern society in chains and ultimately expresses nothing more than its wish for sleep. The spectacle is the guardian of that sleep. "
Guy Debord
We are taking responsibility for placing an incendiary device on G.Papahristos' car outside his house at agios dimitrios, at dawn on 18/4.
G.Papahristos is a piece of human garbage of the journalist circles. His career is similar to others of his ilk. A political all-rounder who, in each period, is called upon to offer his services to the relevant authoritarian interests, be they political or economic, as his professional ventures, from the 'green' DOL to the neo-liberal SKAI, demonstrate. (more…)
Tags: Action Cell/Metropolis Fallen – FAI/IRF, Arson, Athens, Car Burning, Fuck the Mainstream Media, Greece, Informal Anarchist Federation (FAI), International Revolutionary Front
Posted in Direct Action
Tuesday, August 1st, 2017
'Eine Antwort auf den Aufruf zur Solidarität mit den Gefangenen in Hamburg' von Panagiotis Argyrou, inhaftiertes Mitglied der Verschwörung der Feuerzellen /FAI-IRF [de]
A response to the call for solidarity to the ones held in custody in Hamburg

During the exile of captivity few are the things that can make you smile, offer a warm thought or a pleasant feeling. I can, however, say with some certainty that these days of July when Hamburg surrendered to the chaos of riots during the G20 summit, the clashes with the police, the burning barricades, the store looting, the vandalisms and burnings of sovereignty targets, my thoughts were boosted, a great deal of "thank you-s" as well as vivid emotions overwhelmed me, and a smile lit up my face.
I'll be honest, however. Although from an early stage a large part of insurrectionary anarchism aspired at setting a high target, something that had become clear already since the call for a militant campaign of informal organization months before the summit; and although there was a large number of public texts and claims of responsibility responding to this call (some comrades were kind enough to even mention the heritage of Black December), I wasn't that sure that the days in question would indeed involve such great momentum. And this due to the fact that the difficulties entailed weren't unknown to me—the adversities and the challenges that would have to be confronted by the people who would want to organize and accomplish such an ambitious riot plan. (more…)
Tags: Black December, Conspiracy of Cells of Fire, G20, Germany, Greece, Hamburg, Informal Anarchist Federation (FAI), International Revolutionary Front, Letter, Panagiotis Argyrou
Posted in Prison Struggle
Monday, July 24th, 2017
We have noticed an increasing hostility towards Bazaar supermarkets in Exarcheia. We have done some research about it. Here are some of the things we discovered.
Bazaar belongs to Veroukas Group, a shady business group with no website and no public contact details or financial info. Veroukas is one of the major business chains in Greece, with a 1,5 billion yearly turnover and 600 stores all over country, and at least 3 in Exarcheia. They claim to have a market capitalization of €35M. A little strange, since Bazaar alone had over €40M in 2014.
So we don't know how much money they make. But we know HOW they make it:
By exploiting their providers and workers, who make a little over minimum wage in the best cases, while the company is making millionary profits.
By speculating with the prices of food, while thousands of Greek families are malnourished. (more…)
Tags: Athens, Exarchia, Greece, Video
Posted in Direct Action
Friday, July 21st, 2017
As an international housing squat we think solidarity is our weapon, and as we all know weapons have categories, from handguns to nuclear bombs. Revolutionary solidarity doesn't have boundaries and can only benefit the struggle. We are already starting to try our theories in practice about this.
International solidarity means bringing and taking ideas from one place to another, placing priorities and supporting the place that needs our help the most. Help is not only texts, supplies and solidarity demonstrations in our territory, but also our physical presence there. Working with the people, learning their language and their culture. Basic ingredients if we want to be effective and helpful, because every battle ground is different. (more…)
Tags: France, Greece, Rosa de Foc Squat, ZAD
Posted in Autonomy
Friday, April 28th, 2017
The struggles of the Palestinian political prisoners are directly and inextricably
connected with the overall struggle of the Palestinian people. 70 percent of the
Palestinian families have at least one member that has been imprisoned for
action against the state of Israel. 20 percent of the total population has been
imprisoned at least once in their life while according to other estimations 40
percent of the male population has been imprisoned at some point in their life
within the past 30 years.
Another revealing manifestation of the situation the Palestinian strugglers find
themselves in while inside the Israeli prisons is the fact that until 1999 "mild
torture" during interrogation was considered legitimate practice by law. These
tortures included- among others – deprivation of sleep, immobilization in an
uncomfortable body posture, loud music, exposure to extremely cold or hot
temperatures, placement of malodorous cloths over the face etc. In 1999 the
supreme court of Israel upheld that in certain cases these practices were illegal
and thus imposed some restrictions. These restrictions did not, however, rule
out force-feeding as illegal in accordance with the UN provisions.
On the 1st of May 2000 almost 1000 out of the 1650 Palestinian political
prisoners participated in a large-scale hunger strike that lasted one month,
demanding better living conditions, better treatment by the guards, family visits,
abolition of the solitary confinement, access to healthcare and release of political
prisoners. During the solidarity demonstrations seven Palestinians lost their
lives while one thousand got injured. Meanwhile, sixty Israelis got injured, too.
On the 31st of the same month the government of Israel satisfied some of the
demands. (more…)
Tags: Andreas-Dimitris Bourzoukos, Antonis Stamboulos, Argiris Dalios, Dimitris Politis, Fivos Harisis, Gaza, Giannis Michailidis, Giorgos Karagiannidis, Greece, Grigoris Sarafoudis, Hamas, Hunger Strike, International Solidarity, Israel, Korydallos Prison, Letter, Palestine, Popular Front for the Liberation of Palestine (PFLP), Tasos Theofilou
Posted in Prison Struggle
Monday, April 17th, 2017
Comrade Marios Seisidis has been acquitted of six of the robberies that he had been accused of but was found guilty of the bank heist at Solonos street and three consecutive 'attempted murder' charges (concerning the bank guard and two police officers).
He has been sentenced to 36 years imprisonment in total. The court did not accept the defendant's lawyer's request to get a penalty suspension until the second degree court nor did it accept any attenuating circumstances for Marios Seisidis. Once again the vengeful tactics of the judicial system against our comrade were more than obvious.
It was encouraging that lots of comrades were present in the courthouse where they protested the court's decision with slogans against the judges.
–
What is the crime of robbing a bank compared with the crime of founding one.
Bertolt Brecht
–
BANKS ARE WEAPONS OF MASS DESTRUCTION, THOSE WHO MAKE THEM FUNCTION ARE TERRORISTS IN THE TRUE SENSE OF THE WORD
FOR THE SABOTAGE OF THE EXISTENT BY ALL THOSE WHO ARE NOT AFRAID TO REJECT DOOM-STRICKEN SECURITY AND VENTURE INTO THE UNKNOWN.
Anarchists in London

via actforfree
Tags: Athens, Bank Robbery, Greece, Marios Seisidis, Trial
Posted in Prison Struggle
Saturday, April 15th, 2017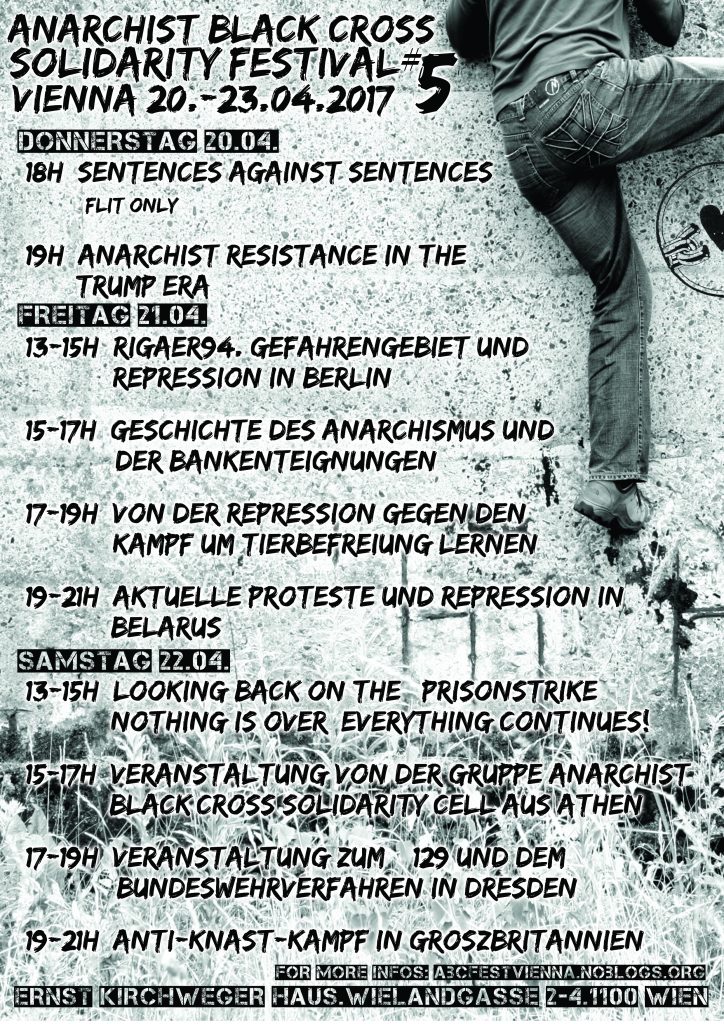 [Vienna] Solidarity event of "Anarchist Black Cross – Solidarity Cell" with imprisoned comrades of Koridallos prison (Athens) @ ABC FESTIVAL VIENNA (20. – 23. April 2017)

"As anarchists, we perceive the need of a multiform anarchist struggle, posing the issue of attack against state and vassalage that is imposed, with every means possible, here and now." (from the self presentation text of the ABC Group)
In this event the comrades from "ABC – Solidarity Cell" will talk about the importance of solidarity with anarchist prisoners and the connection of struggles inside and outside the walls.
Further, the talk will contain a deconstruction of the meaning of the 'anarchist movement' and the myth of the district of Exarchia.
"(…) we do not consider that the action of our anarchist comrades is finished after imprisonment or repression." (from the self presentation text of the ABC Group)
During the event there will be the presence of three anarchist prisoners, via Live-Connection, from Koridallos prison:

– Nikos Romanos
– Panagiotis Argyrou – CCF-Metropolitan Violence Cell/FAI-IRF
– Olga Oikonomidou – CCF-Urban Guerrilla Cell/FAI-IRF
They will talk about the following topics:
– The conditions in prisons and the situation of anarchist prisoners in Greece.
– The importance of solidarity assemblies for the anarchist prisoners and the connection of struggles inside and outside the walls.
– The choice and the importance of the armed struggle, the claim of responsibility for direct actions and the particulars of participation in armed organisations, and the importance and consignment of those choices.
– The choice of jail-breaking.
– The position of women in the armed struggle.
It will be also possible to raise questions to the comrades in prison, so the communication will be in both directions.
Some words from anarchist prisoner Panagiotis Argyrou dedicated to the ABC Festival:
There are times when you feel a certain kind of strength inside you.
This may be happening for different reasons each time but undoubtedly it is always a very positive feeling. Such a kind of strength a prisoner may feel when he/she discovers that there are other individuals wanting a touch, a contact, a communication, a conversation with him/her. It is a very strong feeling, a unique one, the feeling of a great strength filling you all over and this is something priceless. This feeling that you are not alone, that there are other comrades wanting to share moments, experiences or whatever, with you, is something so valuable that only freedom itself can compare with it. So let me thank you very much for the opportunity you offer me to have some contact even if it is for so little. I wish that the future brings us more opportunities so that one day we can have the chance to have a live talk outside the walls. A big warm hug,
Panagiotis Argyrou, member of CCF-FAI
Contacts:
ABC Solidarity Cell Website: https://abcsolidaritycell.espivblogs.net
E-Mail: abcsolidaritycell@riseup.net
Nikos Romanos State prison of Korydallos – Mens prison-ward A', P.C.
18110, Korydallos, Athens
Panagiotis Argyrou State prison of Korydallos – Mens prison-ward A',
P.C. 18110, Korydallos, Athens

Olga Oikonomidou State prison of Korydallos – Womens prison, P.C. 18110,
Korydallos, Athens
Other events @ the ABC Festival Vienna you can find here.
Location:

ERNST KIRCHWEGER HAUS
Wielandgasse 2-4
1100 Wien
Tags: ABC - Anarchist Solidarity Cell, ABC Wien, Anarchist Gatherings, Austria, Conspiracy of Cells of Fire, Exarhia, Greece, International Solidarity, Nikos Romanos, Olga Economidou, Panagiotis Argirou, Vienna
Posted in Prison Struggle
Wednesday, April 5th, 2017
Responsibility claim for the attack on Adonis Georgiades's bookstore.
On 3/15 we placed and detonated a clockwork explosive device at Adonis Georgiades's bookstore at 263 Kifissias Av.
Adonis Georgiadis is a well known to all … picturesque, saturated and at the same time, a ridiculous political figure, who over the years moves within the (far)-right milieu according to his interests. Now an MP of New Democracy (the main right wing party) he does not miss any opportunity to propagate the neoliberal ideas whether in the parliament or in some television broadcast, being addicted to television as a TV persona. When not selling his nationalist noonsense (such as the books of Kostas Plevris – national-socialist figure) he makes "gifts" of 65 million euros to pharmaceutical companies who trade in human life. Specifically, Georgiades, as health minister in 2014, changed the pricing of drugs in favor of the pharmaceutical industries particularly favoring the Novartis company. Combined with the fact that his wife's name featured in the Lagarde list, it's proven that the TV booksalesman does not limit himself to book sales. (more…)
Tags: Adonis Georgiades, Athens, Conspiracy of Cells of Fire, Enrique Guzmán, Greece, Informal Anarchist Federation (FAI), International Revolutionary Front, International Solidarity, Juan Flores Riquelme, Nataly Casanova
Posted in Direct Action
Wednesday, April 5th, 2017
TAKING RESPONSIBILITY FOR THE ARSON ATTACKS IN DAFNI
Cut your strings puppet
We are taking responsibility for the arson attacks at dawn on March 10 at the Mayor's house and at the Post office in Dafni.
In that area, that same evening seven years before, anarchist Lambros Foundas fell from cop bullets. Seven years on, we don't forget our dead comrade who gave his life for freedom and dignity.
In times of repression we slip through the ruptured fence that the state rigs up and fills with the debris of fear and repression against any form of action that lurks the streets. At the targets our devices played the symphony of destruction before exploding few meters from the station patrol, the state police pigs at Dafni metro station that oversee the law-abiding life of the city's marionettes: job, house, cafe, nightlife. Every day the city routine under full control, divided into small occupations.
However, history is written when the silent crowd is abandoned and the refusers of silence act. There where we turn our rage into fire and feed our fire with gasoline. We are the ones that don't fit into your world. Let your sweat pour to protect it with a smile until comes its destruction.
We don't forget, we don't forgive LONG LIVE LAMBROS FOUNDAS
10th MARCH GIVES BIRTH TO GUERRILLAS
Solidarity to the evicted squats and occupied spaces and to the comrades arrested during the state's last repressive operation. 10, 100, 1000s of squats against a world of organized rot.
Attack with all means the regime whether it is left or right
For ANARCHY
Packs of Fire – FAI/IRF

via actforfree
Tags: Arson, Athens, Greece, Informal Anarchist Federation (FAI), International Revolutionary Front, Lambros Foundas, Packs of Fire – FAI/IRF
Posted in Direct Action
Sunday, March 19th, 2017
A day after the German Ministry of Finance received a fully functioning Conspiracy of Cells of Fire / FAI parcel bomb addressed to Wolfgang Schäuble, Finance Minister, the Parisian offices of the International Monetary Fund (IMF) also received a similar explosive device which was not detected by security. It exploded upon opening, injuring a female employee with burns to the face and arms. Her injuries are not life threatening.
The incident caused a wave of reaction as the embattled French State activated public security protocols, sealing off the area with armed anti-terrorist teams and instigating a large, now cross-border investigation with Greek involvement. The current French President made a statement about the attack which was picked up by the mass media, spreading further the idea-virus of insurrectional violence directed at those who are responsible for the ruination of the planet and the economic exploitation of billions of people which results in countless deaths, suicides and miserable existences. The French State is already in a declared state of emergency with army units patrolling the streets during the ongoing presidential election and coping with riots against police brutality and corruption.
Evidence of Greek stamps on the remnants of the device and the fact that a Greek return address was attached have become part of the official investigation, as the letter-bomb was confirmed by the Greek Minister for Public Order, Nikos Toskas, to have been sent from Greece. The bomb was designated for the IMF's European representative, Jeffrey Franks, who has worked for the IMF for 24 years and has been director of the IMF's Europe office since March 2015. The attack has not yet been claimed by those responsible, but Greek intelligence officials believe it to be the work of the Conspiracy of Cells of Fire.
Embassies, financial institutions, branches of the Greek Post Office and all European ministries have been put on alert. Greek police are posting orders for sweeping controls on packages, for those leaving Greece and also interior, as it has not been established that a Greek target will not be next. According to the Greek police, the packages were sent with low amounts of explosive which defeated the X-Ray machines in the airport of Athens. The parcels have a reduced weight, volume and size, with realistic return sender-name and addresses to add to the deception. According to their research of postal records and security footage, Greek intelligence officials believe that up to another 8 similarly functional bombs may have been sent from post offices in Athens and are inbound to targets all over Europe…

Long live CCF / FAI-FRI
Long live Anarchy
Tags: Athens, Conspiracy of Cells of Fire, France, Greece, Informal Anarchist Federation (FAI), International Monetary Fund (IMF), Jeffrey Franks, Letter Bomb, Nikos Toskas, Paris, Wolfgang Schäuble
Posted in Direct Action
Thursday, March 16th, 2017
Conspiracy of Cells of Fire – Nemesis Project – Act 2
Nine Years after the first appearance of the Conspiracy of Cells of Fire in January 2008.
After more than 300 attacks against targets of domination that resulted in tens of millions of euros in damage and the transferring of fear to the camp of power.
After more than 60 arrests of comrades and other individuals over the years who have been accused of being our members and the thousands of years of imprisonment imposed upon them.
After so many times that Ministers and Police Chiefs have declared in the media that they have managed to 'dismantle' us and that "the CCF is finished."
After the inclusion of the CCF in lists of 'terrorist' organizations by the State Department in the US and by Europol in the EU.

… we continue even louder.
With the creation of an international conspiratorial network of FAI and CCF cells in dozens of countries that have carried out and continue to carry out guerrilla attacks.
With even greater passion and tenacity to not only attack the infrastructure of the system but also the people in power.
Always against social apathy.
Always against the oppressors of our lives.
Still they cannot understand that the CCF is an idea and that the idea cannot be imprisoned because it is like the Hydra. For each comrade that is imprisoned, new comrades are ready to take their place and continue on the path of attack.

We still have the rage…
We sent a booby-trapped parcel bomb to the German Minister of Finance within the context of the campaign of the second act of Project Nemesis.
A communique will follow in the coming months.
Comradely greetings to the FAI direct action groups in Chile and Greece for their contributions to Project Nemesis.
Rebellious greetings to the FAI comrades in Italy and the imprisoned members of CCF in Greece who remain unrepentant.
Forward for the Black International of Anarchists of Praxis.
Nothing has ended, everything continues.

LONG LIVE ANARCHY

Conspiracy of Cells of Fire / FAI

via Athens IMC, translated by Insurrection News
Tags: Athens, Black International of Anarchists of Praxis, Chile, Conspiracy of Cells of Fire, Germany, Greece, Informal Anarchist Federation (FAI), International Revolutionary Front, International Solidarity, Letter Bomb, Nemesis Project, Wolfgang Schäuble
Posted in Direct Action
Thursday, March 16th, 2017
Lambros Foundas lives through our flames
Responsibility claim for the attacks on the houses of cops Efthimis Efthimiadis and Ilias Hajis.

On March 10th 2010, anarchist and member of Revolutionary Struggle Lambros Foundas is executed in Dafni during the expropriation of a vehicle that was going to be used in an act of revolutionary violence of the organization.
The arson of the residences of cops Efthimis Efthimiadis on 20 Kiprou street in Agios Pavlos, and Ilias Hajis on 17 Papanastasiou street in Sikies, Thessaloniki in the early hours of March 9th, is our minimal homage to the memory of a comrade who was killed by the shots of the metropolitan occupation army of democracy, fighting for the Revolution.
Dead fighters are the reason and cause of the continuation of our revolutionary struggle. (more…)
Tags: 17 November, Arson, Fuck the Poice, Greece, Konstantina Athanasopoulou, Kostas Gournas, Lambros Foundas, Nikos Maziotis, Pola Roupa, Revolutionary Struggle, Sabotage, SY.RIZ.A., Thessaloniki
Posted in Direct Action
Friday, March 3rd, 2017
E.L.F. Thessaloniki – Responsibility claim
Because of the call from South America against the new destructive plans I.I.R.S.A. which had as its primary concern the development and opening of trade between developed roads, telecommunications, sea and air networks, we decided to take action. On Wednesday 15/2, at 2am, we torched two excavation machines, in the center of Thessaloniki.
The new profitable plan will proceed to a massive destruction of the Amazon which includes deforestation, elimination of the fauna and flora and the persecution of indigenous populations, as well the pollution of the waters aiming at the economic growth of the industrial complex. A complex that is inextricably connected with authority and dominance, while simultaneously being diffused within society, which in turn feeds it, mostly willingly. A society that reproduces the social standards that have been enforced, that perpetuates the regime of waged slavery, that is the observer in the onslaught of dominance. A totality clouded by propaganda, formed to follow the journeys dictated by subjugation.
(more…)
Tags: Arson, Earth Liberation Front, ELF - Cell of Anti-Civilization Agitation, Greece, IIRSA (Initiative for the Integration of the Regional Infrastructure of South America), Sabotage, Thessaloniki
Posted in Direct Action
Tuesday, February 28th, 2017


25.02.17: According to the corporate Greek media police bomb disposal experts defused an explosive device comprising of a hand grenade on Saturday after an anonymous caller telephoned a threat that the bomb would detonate outside the police precinct in Dafni, southern Athens.
The bomb was found in a bag that had been placed in a small park behind the police precinct.
The bomb is said to have had an unusual composition: a hand grenade, a timer, a detonator, a battery and an undisclosed amount of explosives. It was destroyed in two controlled explosions.
The anonymous caller who phoned the police shortly before 3 a.m. had warned that the bomb would go off in 40 minutes from then. The caller said the attack would be in memory of Lambros Foundas, a member of Revolutionary Struggle who died in a shootout with police in the area in March 2010.
More information as it becomes available.

From InsurrectionNews
Tags: Dafni, Greece, Lambros Foundas, Revolutionary Struggle, Solidarity Action
Posted in Direct Action
Wednesday, February 15th, 2017
NORTH GREECE – RESPONSIBILITY CLAIM, KAVALA 26/1/2017
On January 5th Pola Roupa and Konstandina Athanasopoulou, members of the R.O. Revolutionary Struggle, are arrested. The anti-terrorist dogs raid the house where Roupa and her child were living, terrorizing her 6 year old son. As if this was not enough, the scum of society, the cops snatch and kidnap the 6 year old. The despicable government of Syriza-Anel inaugurated a new practice of revenging and exterminating the enemy. The following days there was a "struggle" by some parts of society as well as portion of prisoners with sole demand the child's release.
The members of R.S. pay the price of the anti-state armed struggle. They deal with the state in its most vengeful form, because through these actions they managed to harm, to a greater or lesser degree, the class of bosses and disrupt their calmness proving that the enemy is not invincible. They decided to return some of the violence the lower layers have received in the previous years by domestic and foreign politicians and technocrats. (more…)
Tags: Arson, ATM Burned, Greece, Kavala, Konstantina Athanasopoulou, Pola Roupa, Revolutionary Struggle, Solidarity Action
Posted in Direct Action