Posts Tagged 'Greece'
Monday, April 17th, 2017
Comrade Marios Seisidis has been acquitted of six of the robberies that he had been accused of but was found guilty of the bank heist at Solonos street and three consecutive 'attempted murder' charges (concerning the bank guard and two police officers).
He has been sentenced to 36 years imprisonment in total. The court did not accept the defendant's lawyer's request to get a penalty suspension until the second degree court nor did it accept any attenuating circumstances for Marios Seisidis. Once again the vengeful tactics of the judicial system against our comrade were more than obvious.
It was encouraging that lots of comrades were present in the courthouse where they protested the court's decision with slogans against the judges.
–
What is the crime of robbing a bank compared with the crime of founding one.
Bertolt Brecht
–
BANKS ARE WEAPONS OF MASS DESTRUCTION, THOSE WHO MAKE THEM FUNCTION ARE TERRORISTS IN THE TRUE SENSE OF THE WORD
FOR THE SABOTAGE OF THE EXISTENT BY ALL THOSE WHO ARE NOT AFRAID TO REJECT DOOM-STRICKEN SECURITY AND VENTURE INTO THE UNKNOWN.
Anarchists in London

via actforfree
Tags: Athens, Bank Robbery, Greece, Marios Seisidis, Trial
Posted in Prison Struggle
Saturday, April 15th, 2017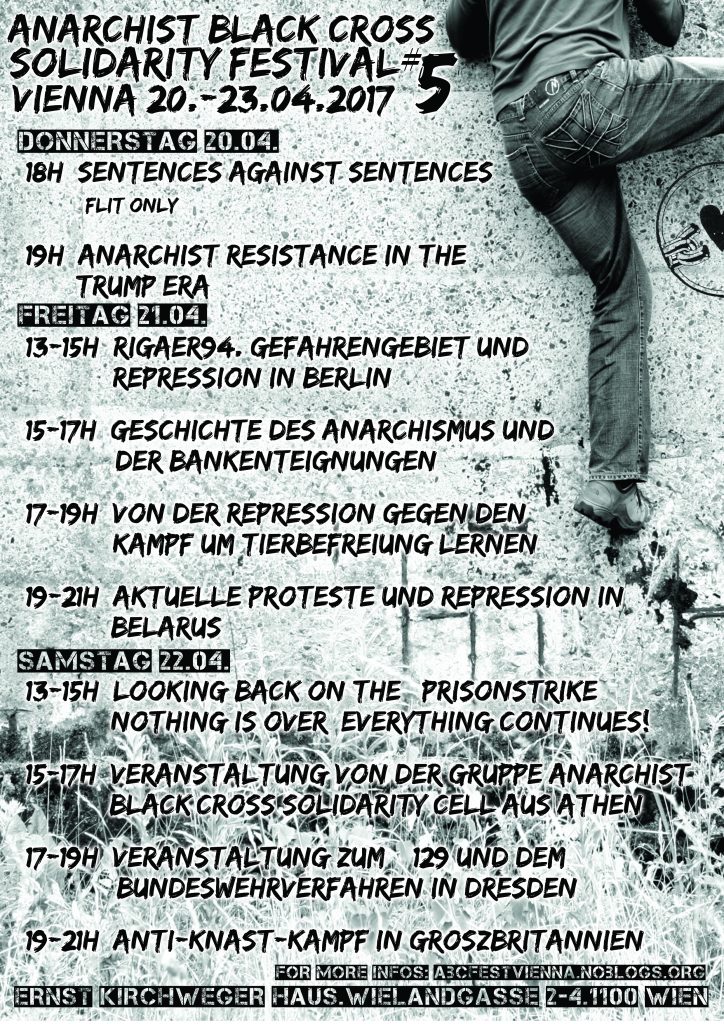 [Vienna] Solidarity event of "Anarchist Black Cross – Solidarity Cell" with imprisoned comrades of Koridallos prison (Athens) @ ABC FESTIVAL VIENNA (20. – 23. April 2017)

"As anarchists, we perceive the need of a multiform anarchist struggle, posing the issue of attack against state and vassalage that is imposed, with every means possible, here and now." (from the self presentation text of the ABC Group)
In this event the comrades from "ABC – Solidarity Cell" will talk about the importance of solidarity with anarchist prisoners and the connection of struggles inside and outside the walls.
Further, the talk will contain a deconstruction of the meaning of the 'anarchist movement' and the myth of the district of Exarchia.
"(…) we do not consider that the action of our anarchist comrades is finished after imprisonment or repression." (from the self presentation text of the ABC Group)
During the event there will be the presence of three anarchist prisoners, via Live-Connection, from Koridallos prison:

– Nikos Romanos
– Panagiotis Argyrou – CCF-Metropolitan Violence Cell/FAI-IRF
– Olga Oikonomidou – CCF-Urban Guerrilla Cell/FAI-IRF
They will talk about the following topics:
– The conditions in prisons and the situation of anarchist prisoners in Greece.
– The importance of solidarity assemblies for the anarchist prisoners and the connection of struggles inside and outside the walls.
– The choice and the importance of the armed struggle, the claim of responsibility for direct actions and the particulars of participation in armed organisations, and the importance and consignment of those choices.
– The choice of jail-breaking.
– The position of women in the armed struggle.
It will be also possible to raise questions to the comrades in prison, so the communication will be in both directions.
Some words from anarchist prisoner Panagiotis Argyrou dedicated to the ABC Festival:
There are times when you feel a certain kind of strength inside you.
This may be happening for different reasons each time but undoubtedly it is always a very positive feeling. Such a kind of strength a prisoner may feel when he/she discovers that there are other individuals wanting a touch, a contact, a communication, a conversation with him/her. It is a very strong feeling, a unique one, the feeling of a great strength filling you all over and this is something priceless. This feeling that you are not alone, that there are other comrades wanting to share moments, experiences or whatever, with you, is something so valuable that only freedom itself can compare with it. So let me thank you very much for the opportunity you offer me to have some contact even if it is for so little. I wish that the future brings us more opportunities so that one day we can have the chance to have a live talk outside the walls. A big warm hug,
Panagiotis Argyrou, member of CCF-FAI
Contacts:
ABC Solidarity Cell Website: https://abcsolidaritycell.espivblogs.net
E-Mail: abcsolidaritycell@riseup.net
Nikos Romanos State prison of Korydallos – Mens prison-ward A', P.C.
18110, Korydallos, Athens
Panagiotis Argyrou State prison of Korydallos – Mens prison-ward A',
P.C. 18110, Korydallos, Athens

Olga Oikonomidou State prison of Korydallos – Womens prison, P.C. 18110,
Korydallos, Athens
Other events @ the ABC Festival Vienna you can find here.
Location:

ERNST KIRCHWEGER HAUS
Wielandgasse 2-4
1100 Wien
Tags: ABC - Anarchist Solidarity Cell, ABC Wien, Anarchist Gatherings, Austria, Conspiracy of Cells of Fire, Exarhia, Greece, International Solidarity, Nikos Romanos, Olga Economidou, Panagiotis Argirou, Vienna
Posted in Prison Struggle
Wednesday, April 5th, 2017
Responsibility claim for the attack on Adonis Georgiades's bookstore.
On 3/15 we placed and detonated a clockwork explosive device at Adonis Georgiades's bookstore at 263 Kifissias Av.
Adonis Georgiadis is a well known to all … picturesque, saturated and at the same time, a ridiculous political figure, who over the years moves within the (far)-right milieu according to his interests. Now an MP of New Democracy (the main right wing party) he does not miss any opportunity to propagate the neoliberal ideas whether in the parliament or in some television broadcast, being addicted to television as a TV persona. When not selling his nationalist noonsense (such as the books of Kostas Plevris – national-socialist figure) he makes "gifts" of 65 million euros to pharmaceutical companies who trade in human life. Specifically, Georgiades, as health minister in 2014, changed the pricing of drugs in favor of the pharmaceutical industries particularly favoring the Novartis company. Combined with the fact that his wife's name featured in the Lagarde list, it's proven that the TV booksalesman does not limit himself to book sales. (more…)
Tags: Adonis Georgiades, Athens, Conspiracy of Cells of Fire, Enrique Guzmán, Greece, Informal Anarchist Federation (FAI), International Revolutionary Front, International Solidarity, Juan Flores Riquelme, Nataly Casanova
Posted in Direct Action
Wednesday, April 5th, 2017
TAKING RESPONSIBILITY FOR THE ARSON ATTACKS IN DAFNI
Cut your strings puppet
We are taking responsibility for the arson attacks at dawn on March 10 at the Mayor's house and at the Post office in Dafni.
In that area, that same evening seven years before, anarchist Lambros Foundas fell from cop bullets. Seven years on, we don't forget our dead comrade who gave his life for freedom and dignity.
In times of repression we slip through the ruptured fence that the state rigs up and fills with the debris of fear and repression against any form of action that lurks the streets. At the targets our devices played the symphony of destruction before exploding few meters from the station patrol, the state police pigs at Dafni metro station that oversee the law-abiding life of the city's marionettes: job, house, cafe, nightlife. Every day the city routine under full control, divided into small occupations.
However, history is written when the silent crowd is abandoned and the refusers of silence act. There where we turn our rage into fire and feed our fire with gasoline. We are the ones that don't fit into your world. Let your sweat pour to protect it with a smile until comes its destruction.
We don't forget, we don't forgive LONG LIVE LAMBROS FOUNDAS
10th MARCH GIVES BIRTH TO GUERRILLAS
Solidarity to the evicted squats and occupied spaces and to the comrades arrested during the state's last repressive operation. 10, 100, 1000s of squats against a world of organized rot.
Attack with all means the regime whether it is left or right
For ANARCHY
Packs of Fire – FAI/IRF

via actforfree
Tags: Arson, Athens, Greece, Informal Anarchist Federation (FAI), International Revolutionary Front, Lambros Foundas, Packs of Fire – FAI/IRF
Posted in Direct Action
Sunday, March 19th, 2017
A day after the German Ministry of Finance received a fully functioning Conspiracy of Cells of Fire / FAI parcel bomb addressed to Wolfgang Schäuble, Finance Minister, the Parisian offices of the International Monetary Fund (IMF) also received a similar explosive device which was not detected by security. It exploded upon opening, injuring a female employee with burns to the face and arms. Her injuries are not life threatening.
The incident caused a wave of reaction as the embattled French State activated public security protocols, sealing off the area with armed anti-terrorist teams and instigating a large, now cross-border investigation with Greek involvement. The current French President made a statement about the attack which was picked up by the mass media, spreading further the idea-virus of insurrectional violence directed at those who are responsible for the ruination of the planet and the economic exploitation of billions of people which results in countless deaths, suicides and miserable existences. The French State is already in a declared state of emergency with army units patrolling the streets during the ongoing presidential election and coping with riots against police brutality and corruption.
Evidence of Greek stamps on the remnants of the device and the fact that a Greek return address was attached have become part of the official investigation, as the letter-bomb was confirmed by the Greek Minister for Public Order, Nikos Toskas, to have been sent from Greece. The bomb was designated for the IMF's European representative, Jeffrey Franks, who has worked for the IMF for 24 years and has been director of the IMF's Europe office since March 2015. The attack has not yet been claimed by those responsible, but Greek intelligence officials believe it to be the work of the Conspiracy of Cells of Fire.
Embassies, financial institutions, branches of the Greek Post Office and all European ministries have been put on alert. Greek police are posting orders for sweeping controls on packages, for those leaving Greece and also interior, as it has not been established that a Greek target will not be next. According to the Greek police, the packages were sent with low amounts of explosive which defeated the X-Ray machines in the airport of Athens. The parcels have a reduced weight, volume and size, with realistic return sender-name and addresses to add to the deception. According to their research of postal records and security footage, Greek intelligence officials believe that up to another 8 similarly functional bombs may have been sent from post offices in Athens and are inbound to targets all over Europe…

Long live CCF / FAI-FRI
Long live Anarchy
Tags: Athens, Conspiracy of Cells of Fire, France, Greece, Informal Anarchist Federation (FAI), International Monetary Fund (IMF), Jeffrey Franks, Letter Bomb, Nikos Toskas, Paris, Wolfgang Schäuble
Posted in Direct Action
Thursday, March 16th, 2017
Conspiracy of Cells of Fire – Nemesis Project – Act 2
Nine Years after the first appearance of the Conspiracy of Cells of Fire in January 2008.
After more than 300 attacks against targets of domination that resulted in tens of millions of euros in damage and the transferring of fear to the camp of power.
After more than 60 arrests of comrades and other individuals over the years who have been accused of being our members and the thousands of years of imprisonment imposed upon them.
After so many times that Ministers and Police Chiefs have declared in the media that they have managed to 'dismantle' us and that "the CCF is finished."
After the inclusion of the CCF in lists of 'terrorist' organizations by the State Department in the US and by Europol in the EU.

… we continue even louder.
With the creation of an international conspiratorial network of FAI and CCF cells in dozens of countries that have carried out and continue to carry out guerrilla attacks.
With even greater passion and tenacity to not only attack the infrastructure of the system but also the people in power.
Always against social apathy.
Always against the oppressors of our lives.
Still they cannot understand that the CCF is an idea and that the idea cannot be imprisoned because it is like the Hydra. For each comrade that is imprisoned, new comrades are ready to take their place and continue on the path of attack.

We still have the rage…
We sent a booby-trapped parcel bomb to the German Minister of Finance within the context of the campaign of the second act of Project Nemesis.
A communique will follow in the coming months.
Comradely greetings to the FAI direct action groups in Chile and Greece for their contributions to Project Nemesis.
Rebellious greetings to the FAI comrades in Italy and the imprisoned members of CCF in Greece who remain unrepentant.
Forward for the Black International of Anarchists of Praxis.
Nothing has ended, everything continues.

LONG LIVE ANARCHY

Conspiracy of Cells of Fire / FAI

via Athens IMC, translated by Insurrection News
Tags: Athens, Black International of Anarchists of Praxis, Chile, Conspiracy of Cells of Fire, Germany, Greece, Informal Anarchist Federation (FAI), International Revolutionary Front, International Solidarity, Letter Bomb, Nemesis Project, Wolfgang Schäuble
Posted in Direct Action
Thursday, March 16th, 2017
Lambros Foundas lives through our flames
Responsibility claim for the attacks on the houses of cops Efthimis Efthimiadis and Ilias Hajis.

On March 10th 2010, anarchist and member of Revolutionary Struggle Lambros Foundas is executed in Dafni during the expropriation of a vehicle that was going to be used in an act of revolutionary violence of the organization.
The arson of the residences of cops Efthimis Efthimiadis on 20 Kiprou street in Agios Pavlos, and Ilias Hajis on 17 Papanastasiou street in Sikies, Thessaloniki in the early hours of March 9th, is our minimal homage to the memory of a comrade who was killed by the shots of the metropolitan occupation army of democracy, fighting for the Revolution.
Dead fighters are the reason and cause of the continuation of our revolutionary struggle. (more…)
Tags: 17 November, Arson, Fuck the Poice, Greece, Konstantina Athanasopoulou, Kostas Gournas, Lambros Foundas, Nikos Maziotis, Pola Roupa, Revolutionary Struggle, Sabotage, SY.RIZ.A., Thessaloniki
Posted in Direct Action
Friday, March 3rd, 2017
E.L.F. Thessaloniki – Responsibility claim
Because of the call from South America against the new destructive plans I.I.R.S.A. which had as its primary concern the development and opening of trade between developed roads, telecommunications, sea and air networks, we decided to take action. On Wednesday 15/2, at 2am, we torched two excavation machines, in the center of Thessaloniki.
The new profitable plan will proceed to a massive destruction of the Amazon which includes deforestation, elimination of the fauna and flora and the persecution of indigenous populations, as well the pollution of the waters aiming at the economic growth of the industrial complex. A complex that is inextricably connected with authority and dominance, while simultaneously being diffused within society, which in turn feeds it, mostly willingly. A society that reproduces the social standards that have been enforced, that perpetuates the regime of waged slavery, that is the observer in the onslaught of dominance. A totality clouded by propaganda, formed to follow the journeys dictated by subjugation.
(more…)
Tags: Arson, Earth Liberation Front, ELF - Cell of Anti-Civilization Agitation, Greece, IIRSA (Initiative for the Integration of the Regional Infrastructure of South America), Sabotage, Thessaloniki
Posted in Direct Action
Tuesday, February 28th, 2017


25.02.17: According to the corporate Greek media police bomb disposal experts defused an explosive device comprising of a hand grenade on Saturday after an anonymous caller telephoned a threat that the bomb would detonate outside the police precinct in Dafni, southern Athens.
The bomb was found in a bag that had been placed in a small park behind the police precinct.
The bomb is said to have had an unusual composition: a hand grenade, a timer, a detonator, a battery and an undisclosed amount of explosives. It was destroyed in two controlled explosions.
The anonymous caller who phoned the police shortly before 3 a.m. had warned that the bomb would go off in 40 minutes from then. The caller said the attack would be in memory of Lambros Foundas, a member of Revolutionary Struggle who died in a shootout with police in the area in March 2010.
More information as it becomes available.

From InsurrectionNews
Tags: Dafni, Greece, Lambros Foundas, Revolutionary Struggle, Solidarity Action
Posted in Direct Action
Wednesday, February 15th, 2017
NORTH GREECE – RESPONSIBILITY CLAIM, KAVALA 26/1/2017
On January 5th Pola Roupa and Konstandina Athanasopoulou, members of the R.O. Revolutionary Struggle, are arrested. The anti-terrorist dogs raid the house where Roupa and her child were living, terrorizing her 6 year old son. As if this was not enough, the scum of society, the cops snatch and kidnap the 6 year old. The despicable government of Syriza-Anel inaugurated a new practice of revenging and exterminating the enemy. The following days there was a "struggle" by some parts of society as well as portion of prisoners with sole demand the child's release.
The members of R.S. pay the price of the anti-state armed struggle. They deal with the state in its most vengeful form, because through these actions they managed to harm, to a greater or lesser degree, the class of bosses and disrupt their calmness proving that the enemy is not invincible. They decided to return some of the violence the lower layers have received in the previous years by domestic and foreign politicians and technocrats. (more…)
Tags: Arson, ATM Burned, Greece, Kavala, Konstantina Athanasopoulou, Pola Roupa, Revolutionary Struggle, Solidarity Action
Posted in Direct Action
Sunday, February 5th, 2017
WE ARE THE ONES WHO WILL BRING THE CURTAIN DOWN

We claim responsibility for the 6 following arson attacks.

– A bank at Petralona a few streetss next to the consumer neighborhood of Gazi.
– The security agency FALCON at the main and busy Kifisias Avenue, which is being advertised by the journalistic trash of the television.
– A post office Savings Bank at the seemingly police state Aleksandra's Avenue.
– 3 diplomatic corps vehicles

Cities are history's theatre. They are the places where life performs disciplined social roles, played by law abiding citizens or happy slaves in the reflection of digital communication displays' and storefronts of consumption, while walking predetermined paths from wage-slavery to paid entertainment. Each move we make is controlled by the vigilant eyes of thousands of cameras on the streets, roadblocks by uniformed police and cops' motor patrols.
In the current conditions of economic crisis, the only currency with a constant value is the currency of fear in the hands of authority. The fear that nothing can change, that we are few and that prison is lurking for those who dare to question authority's orders. However life is running fast and cannot wait for those who are afraid to live. LOOK FEAR IN THE FACE AND FEAR WILL FLINCH AND LEAVE.
We must turn the cities into battlefields and the nights into our allies in urban guerilla surprise attacks. We must lay mines of fire in all the symbols of this world that keeps us imprisoned. We know that burning a bank or setting an official state car on fire is not sufficient; however the real power of illegal anarchist actions is that they are like spare keys. Spare keys that release people's strength of rebellion, the strength to strike authority and live dangerously free. This is why we create small militant groups ready for action, here and now. We can't wait for the soulless crowd; we can't seek after proletarians that are asking only for a better salary. We are not shepherds for the masses of people to follow, nor are we gravediggers for those who have buried their lives into silence.
Through self-organization and informal coordination, we create a legacy of deeds in this fight against this authority of entrapment, breaking the pace of the legal order. These difficult times cannot break our beliefs in any way; on the contrary they become more acute, they reignite. We blend our hatred with conscience and dignity and when this mixture binds, it will poison and destroy the body of every prosecutor, every journalist, every cop, every security guard, every snitch, all kinds of henchmen and peaceful citizens and in general all the garbage that forms this sterilized society of security. The settled will never abandon their commodities and choose the road to rebellion; of that we are well aware. Fear of social rejection leads to inaction and conservative anarchist practices which are confined within the "internal" movement. Our means are purely illegal and we are not willing to make them more "social" and therefore acceptable, as much as the left or right wing stewards of power and the sympathizers-supporters of the movement are trying to convince us.
We became what we dreamt since we were children, ANARCHISTS OF THE DEED that don't sleep at night and all we care for is to set your nights on fire and ruin your party by destabilizing on a regular basis the metropolitan normality. We are the ones that dare to risk where punishment and incarceration is lurking, deconstructing fear in all its aspects. Because in the end anarchy is in our hearts, in our minds, in every drop of blood that runs through our veins, in our illegal actions far away from your bourgeois morals and cleanness. Maybe you can sometimes imprison our bodies but you can never imprison our anarchist beliefs that will always find fertile ground against every form of authority. Besides, our continuous attacks are the most undisputed evidence.
We live in time of war and we know that well. Real solidarity to our imprisoned comrades is one of the most powerful weapons in this social war that is unfortunately being deprived of its meaning. We must make it clear that the anarchist action and assault can only be realized through solidarity. Our solidarity is not a result of mercy or philanthropic, leftist sentimentality. In the eyes of our comrades we can see ourselves, since we chose to be on the field of illegality and the urban guerilla anarchist action.
And if we have losses and imprisoned comrades in this battle, the anarchist cells are like Hydra. For every arrest, new comrades will throw themselves in the battlefield, for every arrest an incendiary device will shimmer right before the ignition. And this fire will last forever… creating anarchy inside anarchy.
Because as we said at the beginning, life is giving a sick performance while the director is setting the scene, lining up everyone to his own interest; with the actors playing their part literally and the passive audience that is either watching absorbed or whistling indifferently and watching silently when bored. However in this theatre, some of us didn't accept the predetermined parts that have been given to us, we are the ones that will sabotage the show and give to your play our own ending. Don't say that we are few; don't say that we don't matter, because in the end we will win. WE ARE THE ONES WHO WILL BRING THE CURTAIN DOWN!
WE DEDICATE THESE ATTACKS OF SOLIDARITY TO THE IMPRISONED MEMBERS OF REVOLUTIONARY STRUGGLE POLA ROUPA AND KONSTANTINA ATHANASOPOULOU AS A RESPONSE TO THE RECENT REPRESSIVE OPERATIONS

P.S. Snitches, journalists, prosecutors don't ever think that we have forgotten you.

WE WILL RETURN SOON
LONG LIVE ANARCHY AND THE NEW URBAN GUERILLA
 Conspiracy of Cells of Fire/FAI-IRF 
 Incendiary Destabilization Outbreaks/FAI-IRF
Tags: Arson, Athens, Conspiracy of Cells of Fire, Greece, Incendiary Destabilization Outbreaks / FAI-IRF, Informal Anarchist Federation (FAI), International Revolutionary Front, Sabotage
Posted in Direct Action
Wednesday, February 1st, 2017
Preamble
Words. Mere Words. The pages that follow are in part transcriptions of the spoken word—'the wonder worker that is no more', as Emma Goldman wrote wistfully over one hundred years ago when referring to the inadequacy of the spoken word to awaken thought and shake people out of their lethargy. Here in the twenty-first century anarchists no longer talk about spoken propaganda to awaken the masses, bemoaning the absence of orators such as Johann Most or Luigi Galleani. In rare encounters organized by comrades today 'the masses' are noticeably absent, they don't even enter the equation. Organized meetings or 'talks' as they are dully referred to are well-attended if there are 50–100 comrades. But there is no need for panic. Now all but the most disconnected fossilized anarchists have moved beyond aims of a quantitative growth in a hypothetical anarchist movement—where discourses addressed 'to the masses' have degenerated into an insulting populism—to the elaboration of ideas and methods addressed towards immediate action and attack on power in all its forms. Numbers have ceased to be important for anarchists as a prerequisite for attack. The illusion of 'Le Grand Soir' was a wonderful dream, it kept the flame flickering and thousands of militants waiting in the wings.
No, lack of numbers is no cause for alarm. They are there, the exploited, all around us—are also 'us'—and could take us by surprise again at any moment (as could we ourselves). In the realm of the quantitative our task is to experiment and spread an insurrectional method for the self-organization of the necessary destruction of power and subjugation. Small groups with intermediate destructive aims based on affinity that can multiply, spread horizontally and coordinate, without limit. The apparent rift between anarchist theory and practice thus disappears along with the false conflict between individual and mass, and not least the conviction that the tenets of anarchism must be espoused by the exploited before they can fight for their own freedom along with that of others. An informal practice of attack leads to freedom revealing itself qualitatively, in leaps and bounds, far from the straight line of quantity, education, progress and waiting. (more…)
Tags: Alfredo M. Bonanno, Analysis, August 2011 Revolt: Anarchy in the UK, Elephant Editions, Greece, Gustavo Rodriguez, Insurrection, Interview, Jean Weir, Korydallos Prison, Kostas Gournas, London, Mexico, Pola Roupa, Revolutionary Struggle, Riots, Social Insurrection, Tame Words from a Wild Heart, UK, Zine
Posted in Library
Wednesday, February 1st, 2017
The state through repressive mechanisms (cops, jail guards) and judicial power (prosecutors, judges) aims at the physical and psychological extermination of our political prisoners.
Prisoners and comrades however, are in a daily struggle between "special" conditions of detention, vindictive transfers, visiting denials, intimidation and persecution of relatives and friendly contacts and relatives, isolations, deprivation of rights like exit permit from prison, intent proceedings and indictments for statements of regret, self-censorship and capitulation. The ideas however are not imprisoned and solidarity is not penalized by any terror law. We build bridges to continue our common struggle by whatever means available. We support the imprisoned comrades both politically and morally through the promotion of their speech and the practical questioning of state power. (more…)
Tags: Aggeliki Spyropoulou, Conspiracy of Cells of Fire, Conspiracy of Cells of Fire - Urban Guerilla Cell, Greece, International Solidarity, Nikos Maziotis
Posted in Prison Struggle
Sunday, January 22nd, 2017
Tags: Flyposter, Greece, International Solidarity, Konstantina Athanasopoulou, Nikos Maziotis, Pola Roupa, Revolutionary Struggle
Posted in Prison Struggle
Sunday, January 8th, 2017
Update: According to Athens Indymedia a new order was issued by the prosecutor on 08.01.16 terminating the detention of Lambros-Viktoras Maziotis Roupas, the 6 year old son of Revolutionary Struggle members Pola Roupa and Nikos Maziotis, and awarding temporary custody of the child to his grandmother. The child has already left the hospital with his relatives. Comrades Pola Roupa, Nikos Maziotis and Konstantina Athansopoulou have ended their hunger and thirst strike. A decision on final custody of the child will take place in six months time.
International solidarity is our weapon
According to Greek media, the comrade Pola Roupa, member of Revolutionary Struggle, has been arrested at a home in the Attica region. Pola is the partner of Revolutionary Struggle member and political prisoner Nikos Maziotis and was one of the most wanted fugitives in Greece. According to media reports Pola was at the house with her young child and a 25 year old woman when police raided. The 25 year old woman was also arrested. There are unconfirmed reports that two more people may have been arrested as well. More information as it becomes available.

Solidarity with Pola Roupa and Revolutionary Struggle!
–

From our comrades in Greece we have learned that during the arrest of comrade Pola Roupa (member of Revolutionary Struggle and partner of the comrade Nikos Maziotis, also a member of Revolutionary Struggle), that the police kidnapped and detained her 6 year old son.
The child is being held in a hospital room under armed guard and the police are refusing to allow family members or legal representatives to see him. Although we do not know if he is being interrogated it is worth noting that it is illegal under Greek law to interrogate a minor without the presence of a parent / guardian or lawyer.
In response to the state's vengeful kidnapping and detention of their son, comrades Pola and Nikos have begun a hunger and thirst strike to demand that their child be released from police custody and into the care of close relatives. The 25 year old woman comrade who was arrested with Pola has also begun a hunger strike with the same demands as Pola and Nikos. She is being held under guard in hospital with a serious injury to her arm. (more…)
Tags: Athens, Greece, Hunger Strike, International Solidarity, Konstantina Athanasopoulou, Nikos Maziotis, Pola Roupa, Repression, Revolutionary Struggle
Posted in Prison Struggle