Posts Tagged 'Greece'
Monday, October 9th, 2017
Since the following news did not get a wide distribution outside Greece in the international counter-information networks when it appeared in May 2017, and as the corporate news also attempted to mitigate and 'play-down' the impact of this attack, we rely this info to highlight that everything continues and nothing is over.
On 25 May, on the first day of the 2017 NATO summit taking place in Brussels, Belgium, whilst being driven back to his home at 6:30 in the early evening, the ex-prime minister of Greece, Loukas Papadimos was injured in a successful high-impact letter-bomb attack that remains unsolved and unclaimed. The incident took place in central Athens, a few blocks from the Athens Polytechnic in the central part of that city. The device detonated inside an armoured-car with accompanying police security detail, and humiliated those security services and the authorities who shut down the area containing the vehicles transporting Papadimos, beginning a counter-terror investigation.
Loukas Papadimos is now a senior economist, former governor of the Bank of Greece and former vice-president of the European Central Bank. The letter-bomb arrived at his home after undergoing checks which did not detect the explosive material. Two security officers serving as driver and bodyguard to Papadimos were also injured in the explosion. The explosion of the device inside the customised vehicle added to the pressure of the bomb, leading to injuries to Papadimos' eyes, chest, abdomen and legs and he was brought to the hospital for surgery for the non-life threatening wounds. The other victims of the bomb also were taken to hospital suffering less severe injuries. The attack was hailed by the authorities as the worst act of violence against a senior figure in the Greek establishment in decades.
The Greek State is terrified that the operational methods have developed and evolved to defeat their security apparatus. If this high profile target can be reached then all of them are in reach.
Technocrats, ticks, parasites – The violence and fear will come to your homes as you try to inject it into ours – Long live anarchy.
Tags: Athens, Attentat, Economic Crisis, European Central Bank, Greece, Letter Bomb, Loukas Papadimos
Posted in Direct Action
Monday, September 25th, 2017
Déclaration de Nikos et Pola (Lutte Révolutionnaire) pour Kostas B., antifa tabassé par la police [fr]
At dawn on 17/9, the 16-year-old Kostas B. was brutally beaten by police officers and arrived at the intensive care hospital KAT. The political leadership of the police, the Ministry of Public Order and the SYRIZA-ANEL government covered for the police, presenting the incident as a traffic accident, but a series of facts and testimonies refutes this Besides, if a traffic accident had occurred during an escape attempt of the sixteen-year-old, as is said, why did he not go directly to the hospital with an ambulance, but instead ended up in GADA [police headquarters] in handcuffs and with the police dragging him as he could not walk?
This happened after an anti-fascist demonstration on the anniversary of the murder of Pavlos Fyssas, which originally started at the US Embassy as an intervention in honor of Heather Heyer, who was murdered in Charlottesville, USA, at an anti-fascist demonstration, and then the demonstration went to the headquarters of Golden Dawn in Mesogeion. There clashes started with the police forces guarding the offices of Golden Dawn. (more…)
Tags: Golden Dawn, Greece, K.B, Letter, Nikos Maziotis, Pavlos Fyssas, Pola Roupa, Police Brutality, Revolutionary Struggle, SY.RIZ.A.
Posted in Anti-Fascist
Friday, September 22nd, 2017
On September 16th, the day of anti-fascist protests in Keratsini and Athens, for the 4 years since the murder of Pavlos Fyssas by neonazis of the Golden Dawn, 16 year old K.B. is arrested in Exarchia. During his arrest and transportation to GADA (central police hq of Athens), K.B. is beaten and tortured by riot cops resulting in his severe injury.
Although this incident is publicized on social networks and counter-information websites, on the same day false information is leaked concerning the health of K.B. as well as the conditions of his care in the intensive care unit of KAT hospital.
In an attempt to cover-up a very serious incident during an especially explosive juncture, another attempt is coordinated to downplay this incident.
Stray information on the same day say that the kid's situation has stabilized, that he has escaped danger, as well as that the detention protocol in the hospital was upheld.
The reality however is far from that, and goes as such: K.B. right now is being hospitalized in an induced coma, in intensive care of KAT hospital. His relatives have had no hopeful news (till now) about his health and the information they have been receiving is extremely incomplete. It simultaneously became known after a
syndicalist doctor of that hospital denounced it, that the police had a cop INSIDE the intensive care unit which is obviously forbidden. Doctors cannot bring him out of the coma he is in right now because of his situation and do not know when he will come out of it. His injuries are severe, he had an epileptic episode as well as loss of consciousness.
Also, today he had an operation and had metal rods placed in both of his legs.
Not trusting the state apparatus who only care about their self-preservation in every way, we call on anyone who knows anything concerning the arrest and transfer of 16 year-old, to email: againstpolicebrutality@espiv.net in order for us to investigate what has happened exactly.
It is a matter of survival of the authoritarians to maintain the illusion of social normality in any way.
On our side, we ought to not give even a bit of space to those who attempt to silence and punish whoever resists.
Our solidarity is a given but also factual and we call for a gathering at KAT hospital on Wednesday September 20th*.
NO ONE ALONE IN THE HANDS OF THE STATE
EVERYONE TO THE STREETS
EVERYONE TO THE BARRICADES

Solidarity assembly to K.B.

*next assembly is on September 22nd at 7pm at the Polytechnic in Athens.

via actforfree.
Tags: Anti-Fascist, Athens, Fuck the Police, Greece, K.B, Pavlos Fyssas, Police Bastards, Police Brutality, Repression
Posted in Anti-Fascist
Monday, September 18th, 2017
Hello everybody, friends and comrades. Everybody knows the politics in Turkey some more than others. I want to try to tell you, to help you understand about the situation in Turkey and I would like to ask for your attention and international solidarity in this matter. Turkey became a nation in 1923. Since this historical moment Turkey was caught in a history of facist military coups. In general they have been 8 fascist coups and related to that ten thousands of revolutionary communists and anarchists were killed. In the last military coup ın 1980 almost one million people were tortured and detaıned ın prısons.Now, after 22 years Recep Tayyip Erdoğan who describes himself as a Muslim, won the elections through manipulation and became the prime minister of Turkey. He has influenced the mind of most people in Turkey through elaborate promises and community schemes to ınfluence the mınds of the people. In the following elections he was elected again through further manipulation (different practices). He has begun to fight against the democratic powers in the society and put every critical voice in prison. (more…)
Tags: Athens, Greece, Hunger Strike, Nuriye Gülmen, Rosa de Foc Squat, Semih Özakça, Solidarity Action, Turkey
Posted in Prison Struggle
Wednesday, September 13th, 2017
"I read somewhere that in the whole world, in all those millions, there are no two boys or two girls that are same as two drops of water.The same thing happens with revolutionaries. Each one carries in their participation their own dreams, their own loves. Their own self, their own "I can". Alas, if it was otherwise. We would be either machines or amoebae.
And the history the whore, that's how they write her, both the bourgeois and the communists: horizontal, flat. They speak about peoples, they speak about masses. Nobody from them could ever feel the intensity, the passion, the climax and the fall of entire worlds, in only one twenty-four hours from the life of the revolutionary."
'Fine, you got killed early'
Chronis Missios
Everything started in 2012 in a protest, where I participated too against the memorandum, as all the people. In the end of the protest others went home, others to some coffee shops, others to the Exarcheia Square. I continued on foot towards my residence. That has little importance for the State and it's lackeys, since they didn't allow me to defend myself before my custody.
On the evening of Tuesday 25/07/2017, while I was leaving the house of a friend – I state that it was not my house – I was surrounded by 25 garbage of State Security, they handcuff me and lead me to the General Police Directive announcing to me, that there was pending an arrest warrant for three months for which I was never informed about. After about 30 minutes, the chief called me to his office and when I entered he gave me his hand. Reflexively, I laughed, told him to hold himself and I sat to listen. He mentioned, that he knows that I'm a good guy, but he suspects, that I participate in protests of the movement. I didn't deny or accept anything. I replied nothing. Next, he mentioned some names without asking me anything specific. Then impersonating the profile of the 'good' cop he told me, that they are not going to my house 'because my mum is elderly, they don't want something to happen to her'. All of this lasted 5 minutes. (more…)
Tags: Greece, Korydallos Prison, Letter, Panagiotis Z.
Posted in Prison Struggle
Wednesday, September 13th, 2017
We are confronting technology to the extent that it is a tool in the hand of the bosses and capitalism, taking away our capabilities practical or not. Their target is to establish any kind of technology as crucial for each one of us, to enslave each mind and body to one or the other technological means that at first sight makes our lives easier and more pleasant.
The real consequence on the other hand, is the destruction of social and human relations and of the earth and nature. All of this for the development of robust social control and making profits.
An inner part of the technological complex is telecommunications, which cause people many harmful symptoms. (more…)
Tags: Anarchist Cell – Destruction of the Existent, Arson, Greece, Sabotage, Thessaloniki
Posted in Direct Action
Tuesday, August 29th, 2017
This is a communique from Irianna B.L's partner, Konstantinos Papadopoulos:

14th March 2011. Anti-terrorism squads raided the house I was renting in the neighbourhood of Cholargos in Athens and arrested me as a suspected member of the revolutionary organization 'Conspiracy of Cells of Fire'. That night Irianna had the bad luck to sleep at mine. She was taken to the police station and interrogated, fingerprinted and submitted to DNA samples taking. She was released on the same day.
I was released on bail 3 days later.
10th November 2011. According to the reconstruction of a 'witness', who was never to be seen again, not even in the trial, weapons were found, which were never used, in the Polytechnic of Zografou in Athens.
11th January 2913. Irianna was arrested as a member of the Conspiracy of Cells of Fire and for illegally transporting weapons on the grounds of a tiny DNA trace found on a magazine which was part of the lot of weapons located in the Polytechnic. A year and a half since those weapons were found and after the police had had her DNA for two years.
Irianna was released on bail, this time, without the judge of the special tribunal making her details or picture public. The task was instead undertaken by the then minister of citizens' protection Nikos Dendias with an informal communique. (more…)
Tags: Athens, Conspiracy of Cells of Fire, Greece, Letter, Repression
Posted in Prison Struggle
Friday, August 25th, 2017
On the international solidarity week for anarchist prisoners, August, 23rd—30th
It's been years now that the various state agencies of repression order the conduct of investigation under the sole criterion the suspects' political status. This is the status of the anarchist, mainly of the one who turns his/her ideas into actions, of the one that arms his/her desires and attacks state authority. So each investigation has to do with the possible prosecution of comrades according to the laws of their "democracy." Police prosecution that starts off with texts and extends to all possible actions is not new amongst the anarchist circles. On the contrary, there is a past record on relative prosecutions in countries such as Italy, Chile etc. where there is a strong comrade presence promoting direct action and intervention.
The common goal of contemporary international police is the prevention of anarchist propaganda, anarchist action and the spreading of our ideas. For this reason, in many cases they don't even hesitate to put aside the refined mask of "democracy" that supposedly allows "freedom of speech and ideas." And thus, any illusion that anyone may still hold is dissolved. Things are now clear: "anarchist action or speech is either illegal or nothing at all!" The new form of repression is currently being practiced upon many of our prisoners that find themselves under illegal restrain with accusations based on their political identity and having taken up the political responsibility for their actions as well as their organizations'. It is certain that in the future this strategy of preventive repression, of persecutions with the maximum of penalties, the fast track trials as well as the effort for isolation and silence, will be implemented everywhere, or at least it will be attempted to— apart from our prisoners, it will try to reach anarchist hangouts and self-organized places that defend and propagate the anarchist values. (more…)
Tags: Greece, International Solidarity, International Week for Anarchist Prisoners, Radio Fragmata
Posted in Prison Struggle
Thursday, August 3rd, 2017
Taking responsibility – The burning of a SKAI journalist's car

"As long as necessity is socially dreamed, dreaming will remain a social necessity. The spectacle is the bad dream of a modern society in chains and ultimately expresses nothing more than its wish for sleep. The spectacle is the guardian of that sleep. "
Guy Debord
We are taking responsibility for placing an incendiary device on G.Papahristos' car outside his house at agios dimitrios, at dawn on 18/4.
G.Papahristos is a piece of human garbage of the journalist circles. His career is similar to others of his ilk. A political all-rounder who, in each period, is called upon to offer his services to the relevant authoritarian interests, be they political or economic, as his professional ventures, from the 'green' DOL to the neo-liberal SKAI, demonstrate. (more…)
Tags: Action Cell/Metropolis Fallen – FAI/IRF, Arson, Athens, Car Burning, Fuck the Mainstream Media, Greece, Informal Anarchist Federation (FAI), International Revolutionary Front
Posted in Direct Action
Tuesday, August 1st, 2017
'Eine Antwort auf den Aufruf zur Solidarität mit den Gefangenen in Hamburg' von Panagiotis Argyrou, inhaftiertes Mitglied der Verschwörung der Feuerzellen /FAI-IRF [de]
A response to the call for solidarity to the ones held in custody in Hamburg

During the exile of captivity few are the things that can make you smile, offer a warm thought or a pleasant feeling. I can, however, say with some certainty that these days of July when Hamburg surrendered to the chaos of riots during the G20 summit, the clashes with the police, the burning barricades, the store looting, the vandalisms and burnings of sovereignty targets, my thoughts were boosted, a great deal of "thank you-s" as well as vivid emotions overwhelmed me, and a smile lit up my face.
I'll be honest, however. Although from an early stage a large part of insurrectionary anarchism aspired at setting a high target, something that had become clear already since the call for a militant campaign of informal organization months before the summit; and although there was a large number of public texts and claims of responsibility responding to this call (some comrades were kind enough to even mention the heritage of Black December), I wasn't that sure that the days in question would indeed involve such great momentum. And this due to the fact that the difficulties entailed weren't unknown to me—the adversities and the challenges that would have to be confronted by the people who would want to organize and accomplish such an ambitious riot plan. (more…)
Tags: Black December, Conspiracy of Cells of Fire, G20, Germany, Greece, Hamburg, Informal Anarchist Federation (FAI), International Revolutionary Front, Letter, Panagiotis Argyrou
Posted in Prison Struggle
Monday, July 24th, 2017
We have noticed an increasing hostility towards Bazaar supermarkets in Exarcheia. We have done some research about it. Here are some of the things we discovered.
Bazaar belongs to Veroukas Group, a shady business group with no website and no public contact details or financial info. Veroukas is one of the major business chains in Greece, with a 1,5 billion yearly turnover and 600 stores all over country, and at least 3 in Exarcheia. They claim to have a market capitalization of €35M. A little strange, since Bazaar alone had over €40M in 2014.
So we don't know how much money they make. But we know HOW they make it:
By exploiting their providers and workers, who make a little over minimum wage in the best cases, while the company is making millionary profits.
By speculating with the prices of food, while thousands of Greek families are malnourished. (more…)
Tags: Athens, Exarchia, Greece, Video
Posted in Direct Action
Friday, July 21st, 2017
As an international housing squat we think solidarity is our weapon, and as we all know weapons have categories, from handguns to nuclear bombs. Revolutionary solidarity doesn't have boundaries and can only benefit the struggle. We are already starting to try our theories in practice about this.
International solidarity means bringing and taking ideas from one place to another, placing priorities and supporting the place that needs our help the most. Help is not only texts, supplies and solidarity demonstrations in our territory, but also our physical presence there. Working with the people, learning their language and their culture. Basic ingredients if we want to be effective and helpful, because every battle ground is different. (more…)
Tags: France, Greece, Rosa de Foc Squat, ZAD
Posted in Autonomy
Friday, April 28th, 2017
The struggles of the Palestinian political prisoners are directly and inextricably connected with the overall struggle of the Palestinian people. 70 percent of the Palestinian families have at least one member that has been imprisoned for action against the state of Israel. 20 percent of the total population has been
imprisoned at least once in their life while according to other estimations 40
percent of the male population has been imprisoned at some point in their life
within the past 30 years.
Another revealing manifestation of the situation the Palestinian strugglers find
themselves in while inside the Israeli prisons is the fact that until 1999 "mild
torture" during interrogation was considered legitimate practice by law. These
tortures included- among others – deprivation of sleep, immobilization in an
uncomfortable body posture, loud music, exposure to extremely cold or hot
temperatures, placement of malodorous cloths over the face etc. In 1999 the
supreme court of Israel upheld that in certain cases these practices were illegal
and thus imposed some restrictions. These restrictions did not, however, rule
out force-feeding as illegal in accordance with the UN provisions.
On the 1st of May 2000 almost 1000 out of the 1650 Palestinian political
prisoners participated in a large-scale hunger strike that lasted one month,
demanding better living conditions, better treatment by the guards, family visits,
abolition of the solitary confinement, access to healthcare and release of political
prisoners. During the solidarity demonstrations seven Palestinians lost their
lives while one thousand got injured. Meanwhile, sixty Israelis got injured, too.
On the 31st of the same month the government of Israel satisfied some of the
demands. (more…)
Tags: Andreas-Dimitris Bourzoukos, Antonis Stamboulos, Argiris Dalios, Dimitris Politis, Fivos Harisis, Gaza, Giannis Michailidis, Giorgos Karagiannidis, Greece, Grigoris Sarafoudis, Hamas, Hunger Strike, International Solidarity, Israel, Korydallos Prison, Letter, Palestine, Popular Front for the Liberation of Palestine (PFLP), Tasos Theofilou
Posted in Prison Struggle
Monday, April 17th, 2017
Comrade Marios Seisidis has been acquitted of six of the robberies that he had been accused of but was found guilty of the bank heist at Solonos street and three consecutive 'attempted murder' charges (concerning the bank guard and two police officers).
He has been sentenced to 36 years imprisonment in total. The court did not accept the defendant's lawyer's request to get a penalty suspension until the second degree court nor did it accept any attenuating circumstances for Marios Seisidis. Once again the vengeful tactics of the judicial system against our comrade were more than obvious.
It was encouraging that lots of comrades were present in the courthouse where they protested the court's decision with slogans against the judges.
–
What is the crime of robbing a bank compared with the crime of founding one.
Bertolt Brecht
–
BANKS ARE WEAPONS OF MASS DESTRUCTION, THOSE WHO MAKE THEM FUNCTION ARE TERRORISTS IN THE TRUE SENSE OF THE WORD
FOR THE SABOTAGE OF THE EXISTENT BY ALL THOSE WHO ARE NOT AFRAID TO REJECT DOOM-STRICKEN SECURITY AND VENTURE INTO THE UNKNOWN.
Anarchists in London

via actforfree
Tags: Athens, Bank Robbery, Greece, Marios Seisidis, Trial
Posted in Prison Struggle
Saturday, April 15th, 2017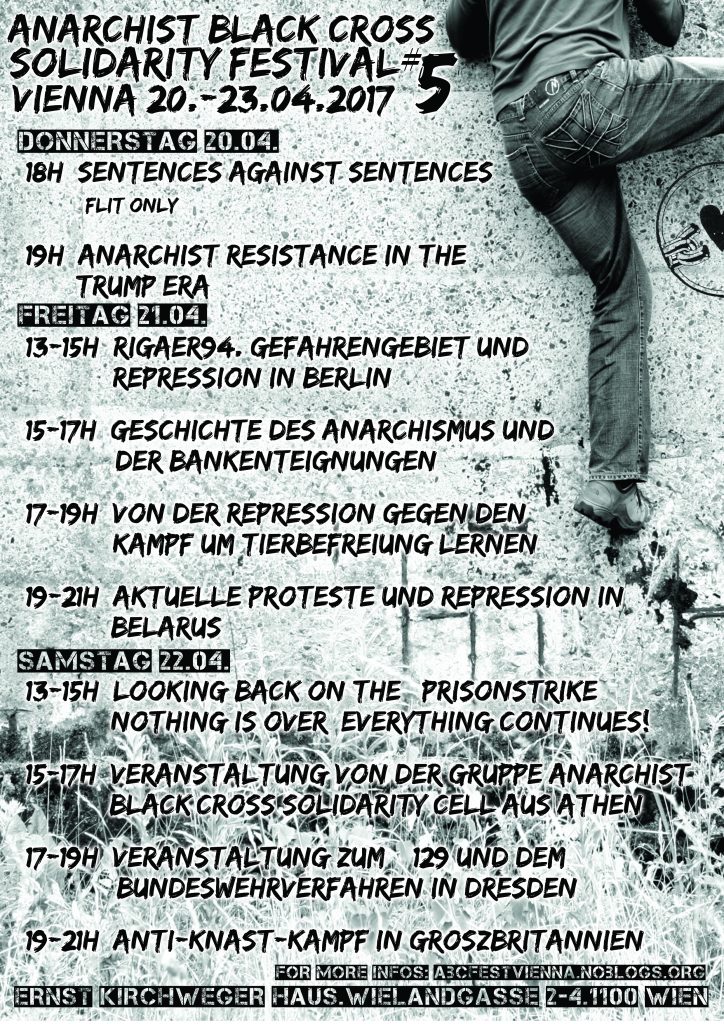 [Vienna] Solidarity event of "Anarchist Black Cross – Solidarity Cell" with imprisoned comrades of Koridallos prison (Athens) @ ABC FESTIVAL VIENNA (20. – 23. April 2017)

"As anarchists, we perceive the need of a multiform anarchist struggle, posing the issue of attack against state and vassalage that is imposed, with every means possible, here and now." (from the self presentation text of the ABC Group)
In this event the comrades from "ABC – Solidarity Cell" will talk about the importance of solidarity with anarchist prisoners and the connection of struggles inside and outside the walls.
Further, the talk will contain a deconstruction of the meaning of the 'anarchist movement' and the myth of the district of Exarchia.
"(…) we do not consider that the action of our anarchist comrades is finished after imprisonment or repression." (from the self presentation text of the ABC Group)
During the event there will be the presence of three anarchist prisoners, via Live-Connection, from Koridallos prison:

– Nikos Romanos
– Panagiotis Argyrou – CCF-Metropolitan Violence Cell/FAI-IRF
– Olga Oikonomidou – CCF-Urban Guerrilla Cell/FAI-IRF
They will talk about the following topics:
– The conditions in prisons and the situation of anarchist prisoners in Greece.
– The importance of solidarity assemblies for the anarchist prisoners and the connection of struggles inside and outside the walls.
– The choice and the importance of the armed struggle, the claim of responsibility for direct actions and the particulars of participation in armed organisations, and the importance and consignment of those choices.
– The choice of jail-breaking.
– The position of women in the armed struggle.
It will be also possible to raise questions to the comrades in prison, so the communication will be in both directions.
Some words from anarchist prisoner Panagiotis Argyrou dedicated to the ABC Festival:
There are times when you feel a certain kind of strength inside you.
This may be happening for different reasons each time but undoubtedly it is always a very positive feeling. Such a kind of strength a prisoner may feel when he/she discovers that there are other individuals wanting a touch, a contact, a communication, a conversation with him/her. It is a very strong feeling, a unique one, the feeling of a great strength filling you all over and this is something priceless. This feeling that you are not alone, that there are other comrades wanting to share moments, experiences or whatever, with you, is something so valuable that only freedom itself can compare with it. So let me thank you very much for the opportunity you offer me to have some contact even if it is for so little. I wish that the future brings us more opportunities so that one day we can have the chance to have a live talk outside the walls. A big warm hug,
Panagiotis Argyrou, member of CCF-FAI
Contacts:
ABC Solidarity Cell Website: https://abcsolidaritycell.espivblogs.net
E-Mail: abcsolidaritycell@riseup.net
Nikos Romanos State prison of Korydallos – Mens prison-ward A', P.C.
18110, Korydallos, Athens
Panagiotis Argyrou State prison of Korydallos – Mens prison-ward A',
P.C. 18110, Korydallos, Athens

Olga Oikonomidou State prison of Korydallos – Womens prison, P.C. 18110,
Korydallos, Athens
Other events @ the ABC Festival Vienna you can find here.
Location:

ERNST KIRCHWEGER HAUS
Wielandgasse 2-4
1100 Wien
Tags: ABC - Anarchist Solidarity Cell, ABC Wien, Anarchist Gatherings, Austria, Conspiracy of Cells of Fire, Exarhia, Greece, International Solidarity, Nikos Romanos, Olga Economidou, Panagiotis Argirou, Vienna
Posted in Prison Struggle