Posts Tagged 'Hamburg'
Saturday, September 21st, 2019
BURNING HEARTS CANNOT BE LOCKED AWAY
FREEDOM FOR THE THREE ON THE PARK BENCH!
On the night of 8 July 2019, three of our comrades were arrested on a park bench. On the same night there were several house searches in various districts of Hamburg, during which some of the people were forced out of their beds with weapons. The suspicion, according to the Attorney General's Office, was the preparation of an arson attack. On 9 July, the three were brought before the magistrate. Two of them were remitted from custody and the third had her arrest warrant suspended, with conditions – she has to report once a week and is not allowed to leave the country – and she has been on the outside ever since. A evaluation trial for the pre-trial detention was requested by the defence and then withdrawn two weeks later. A new date is not foreseeable at the moment.
Currently DNA was taken from the two prisoners for comparison. The person outside did not have to give any DNA, since the alleged traces found are only male DNA. The two in custody are doing well, considering the circumstances. Since the LKA (State criminal police office) officials are present at every visit, the visits that take place twice a month for one hour depend on the LKA calendars. Telephone calls (1 hour per month) and letters are also monitored, listened to and read by the LKA,
the prison and the General Prosecutor's Office. Accordingly, there is never a moment of private communication between the two and their friends or family. It is clear to them what this place should do to them – but they keep their heads up and share solidarity and contact with fellow prisoners. (more…)
Tags: Germany, Hamburg, Letter, Park Bench 3
Posted in Prison Struggle
Thursday, August 29th, 2019
(FR) Vienne, Autriche : Incendie d'une antenne d'autoroute en solidarité avec les trois du banc public de Hambourg
(IT) Vienna, Austria: Le nostre inclinazioni dannose si stanno consolidando
We learned with rage that our comrades of Hamburg known as "the park bench three", are in prison on remand. The fact that two of them are charged with "harmful inclinations" doesn't surprise us. Always, those who rebel against the prevailing order are condemned as "parasites".
Our comrades are clearly accused of attempted arson as they were arrested in possession of incendiaries in this Hamburg park. It should be clear to everyone that this is yet another repressive blow against the anti-G20 rebels and their world, also concerning the arrest on the day of the anniversary of the riots. (more…)
Tags: Arson, Austria, G20, Hamburg, International Solidarity, Park Bench 3, Sabotage, Solidarity Action, Vienna
Posted in Direct Action
Sunday, July 14th, 2019
via https://de.indymedia.org/node/34562:

Solidarity with the Three from the park bench
During the night of 8 July 2019, three of our friends and comrades were arrested and after that several apartments were searched. After the prison examination two of them are now in custody, the third person got released on parole. According to the press, they are accused of preparing an arson attack in connection with the anniversary of the riots against the G20 summit in Hamburg in 2017.
Show solidarity and show them that they are not alone!
If you want to write to them you can send letters:
Libertäres Zentrum
Karolinenstraße 42 (Hinterhaus)
20357 Hamburg
[Germany]
Keyword "Die Drei von der Parkbank"
We are furious!
Whether guilty or not, solidarity with all those affected by repression!
Freedom for all prisoners!
Burning hearts cannot be locked up!
Tags: G20, Germany, Hamburg, Repression
Posted in Social Control
Sunday, February 17th, 2019
Recibido por correo electrónico
A principios de julio de 2017 tuvo lugar en Hamburgo la reunión del g20. Representantes de los países dueños de la economía mundial, planeaban durante dos días como seguir manteniendo ese sistema de miseria, explotación y muerte. Manifestaciones, bloqueos, sabotajes, enfrentamientos con las fuerzas del orden, saqueos… (al igual que ataques descentralizados las semanas previas) pretendieron, y lograron durante muchos momentos, interrumpir el normal funcionamiento de esta cumbre.
El 6 de junio, el día que llegaban los políticos, acompañados de sus más de 6000 delegados, seguidos en todo momento por más de 3000 periodistas y protegidos por unos 10000 policías, estaba convocada una manifestación anticapitalista bajo el lema de Welocome to Hell. (more…)
Tags: G20, Germany, Hamburg, International Solidarity, PDF, Repression, Spain, Zine
Posted in Library
Monday, January 28th, 2019
Tags: Flyposter, G20, Germany, Hamburg, International Solidarity
Posted in Social Control
Tuesday, December 11th, 2018
Deutsch | Arabisch | Türkisch | Farsi | Englisch
Hallo liebe Freund*innen,
wir möchten am Samstag, den 15. Dezember 2018, gemeinsam von Berlin aus
zur "Freiheit für Musa Aşoğlu"-Demo nach Hamburg fahren. Hierzu treffen
wir uns am 15. Dezember um 7.30 Uhr am Ostbahnhof, Gleis 7. Wir besorgen
uns zusammen Wochenendtickets. Der Zug fährt dann um 7.52 Uhr ab. Wir
wären dann pünktlich in Hamburg, wo die Demo um 12 Uhr vor der Roten
Flora beginnen soll. Im Anschluss an die Demo würden wir gemeinsam
wieder zurück nach Berlin reisen.
Musa Aşoğlu wurde am 2. Dezember 2016 verhaftet und befindet sich
seitdem in Hamburg in Isolationshaft. Ihm wird nach §129b
(Mitgliedschaft in einer verbotenen terroristischen Vereinigung)
vorgeworfen, Mitglied der in der Türkei kämpfenden DHKP-C (Revolutionäre
Volksbefreiungspartei-Front) zu sein. Dass Oppositionelle in der Türkei
verfolgt, gefoltert und ermordet werden, stört die BRD in keinster Weise
– ist er doch enger Verbündeter und politischer Stabilidsator des immer
offener faschistisch agierenden Regimes in der Türkei.
Der §129b-Prozess gegen Musa Aşoğlu dauert seit dem 25. Januar 2018 an
und wir gehen davon aus, dass dieser im Frühjahr 2019 enden könnte.
Wir möchten Musa Aşoğlu und alle §129b-Gefangenen durch unsere
Teiilnahme an der Demo supporten. Schließt euch uns an. (more…)
Tags: Berlin, Demo, DHKP-C (Democratic People's Liberation Party-Front), Germany, Hamburg, Musa Aşoğlu, Repression, Trial, Turkey
Posted in Prison Struggle
Tuesday, August 7th, 2018
First appeared as "Ein Gespräch mit einigen Militanten über die informelle Koordinierung im Vorfeld der G20" in Rauchzeichen, a magazine published by Autonomous Groups, Fall 2017 and now first published in English on Anarhija. This is late, but not too late. We can use this conversation to prepare something for the coming black bloc attack next year in Biarritz/France, where the G7 summit will be end of Summer 2019.
–
AG: At the end of the summer of 2016, several communiques propose an informal coordination of radical groups in the run-up to the G20 summit in Hamburg. You took part in it. What interventions were you aiming for and which perspectives did it entail for you?
[Chuzpe]: "On the occasion of several big events like the G8 in Heiligendamm in 2007 or around the Destroika prior to the inauguration of the European Central Bank in Frankfurt in 2015, there have been similar proposals and radical campaigns. It is not a very new idea. Starting from an anarchist analysis, I see the necessity of a permanent conflictuality and I'm sceptical towards this staging of a political play where everyone has its role. Focusing on such an event leads often to the side-lining of everyday struggles. But at the same time, I see the possibility of a tension opening up in such moments, in which the scope of our interventions can amplify. (more…)
Tags: Analysis, G20, Germany, Hamburg
Posted in Interviews
Monday, October 9th, 2017
The anarchist comrade Riccardo, arrested and imprisoned since 7 July 2017 for the days of riots against G20 in Hamburg, was released today (5 October), following the court decision that sentenced him to 1 year and 9 months, but with the benefit of suspended sentence.
Solidarity with the rebels of G20!

–
Also read this article.
Tags: G20, Germany, Hamburg, Riccardo Lupano
Posted in Prison Struggle
Thursday, September 28th, 2017
On Wednesday more than 100 cops raided 14 apartments and a store in Hamburg and the German state of Schleswig-Holstein. The cops confiscated 7 iPhones during the raids. On October 1 there will be a demonstration to Billwerder prison in Hamburg. Many of the NoG20 prisoners are imprisoned in Billwerder. We also publish some of the addresses of NoG20 prisoners and the next trial dates. Earlier today NoG20 prisoner Orazio was released.
The cops confiscated 7 iPhones during the raids. The cops claim the iPhones were stolen as a mobile phone store was looted during the NoG20 protests in Hamburg on July 7. In a press conference the cops yesterday claimed that they are investigating 2000 people, but expect that this number will rise to 3000. Given the fact that yesterdays raids were based on located mobile phones that were allegedly stolen in a mobile phone store during the NoG20 protests, its possible that the 180 men/women strong special investigation squad "Black Bloc" actually don't seem to have that much. But activists should be aware that the cops are also investigating video material from public transport companies and that they use face recognition software to identify people. The 180 men/women strong task force will continue to investigate in order to repress as much people as possible, so stay alert. (more…)
Tags: G20, Germany, Hamburg, International Solidarity, Raids, Repression
Posted in Social Control
Thursday, September 28th, 2017
Transnational Gathering for G20 Prisoners Support from November 3rd until November the 5th, 2017, at the Rote Flora in Hamburg.
The campaign "UNITED WE STAND" is a loose network of different people and groups to support the ones who face repression after the G20 summit in Hamburg. Our focus is to support them during prison and trial.
We invite in particular those who have comrades, friends and relatives in jail because of the G20 summit – to get to know us, exchange experiences, come together, develop ideas and strategies and to learn from each other. We want to gain more power together to handle repression.
During the gathering, we want to develop future action strategies, it's not a wrap-up.
The schedule
Friday: arriving, food and get to know each other
Saturday: breakfast, actual situation of prisoners and trial, we
would like to discuss the following topics
Trial
Support
Networking
Sustainability
Sunday: demonstration the the jail in Hamburg-Billwerder with a manifestation with greetings, music and encouragement.
We welcome your ideas and suggestions for the weekend, please tell us
with the application.
Please write us if you come as soon as possible, thereby we can support
you with your expenses and to find a place to stay.
See you in November "UNITED WE STAND"
application: international.gathering [at] riseup [dot] net
sleeping: unterschlupf [at] riseup [dot] net

via enoughisenough14.org
Tags: G20, Germany, Hamburg, International Solidarity, Rote Flora, Solidarity Event
Posted in Prison Struggle
Monday, September 25th, 2017
The trial that will see Riccardo accused will be held on 5 October at 9.00 at the court of Altona – Hamburg (Max Bauer Allee 91.). It will be open but we do not yet know whether the judgment will be on the same day or will slip to another date. It depends on the hearing (in many cases they have been judged in a single day also because the defendants have confessed).
He will be judged by the second degree court that has sentences from two years upwards (in Germany the courts are divided into 3 levels based on the requested sentence, it is not a special court). The formal charges are: breach of the peace, attack by assault and resistance.
Regarding mail censorship, there have not been any systematic blocks but some letters are blocked (so far they are 3, spread over time: a postcard, a letter, an envelope containing newspapers from Hamburg).
Then envelopes containing counter-informative material and brochures were blocked.
Address:
Riccardo Lupano
Jva Billwerder
Dweerlandweg 100
22113 Hamburg
Germany
Tags: G20, Germany, Hamburg, Riccardo Lupano, Trial
Posted in Prison Struggle
Monday, September 18th, 2017
G20. Updates on trial against Riccardo
The date of the hearing against Riccardo, an anarchist charged with criminal offences relating to riot days against G20 in Hamburg in July, is set. It will be held on 5 October at the Court of Hamburg.
We call on everyone to take part in solidarity presence, organised for that day, in the courtroom (Riccardo will be there) and at the Court, as well as in activities which will be promoted in Genoa during those days.
Updates will follow.
Meeting to discuss solidarity initiatives and updates:
Tuesday 19 September, 20.00 pm.
Il Mainasso — 6, Square Santa Maria in Passione — Genoa, Italy
Tags: G20, Genoa, Germany, Hamburg, Italy, Riccardo Lupano
Posted in Prison Struggle
Wednesday, September 13th, 2017
New counter-information site 'Tormentas de Fogo', translating news and articles from Spanish, Portuguese and English:
Letter from anarchist prisoner Marcelo Villarroel Sepúlveda – Chile.
–
COMUNICADO PARA DIFUSÃO DE "BEM-VINDO AO INFERNO: TEXTOS SOBRE A INSURREIÇÃO CONTRA A CÚPULA DO G20 HAMBURGO, 2017"
Essa publicação reúne algumas ofensivas anárquicas dentro e fora das cadeias, contra a desprezível reunião dos vinte chefes de estado mais poderosos do mundo.
Algumas palavras de provocação… Não tão somente…
A energia caótica mantém a chama da anarquia queimando. As ações transcritas nessas linhas são recebidas por nós calorosamente. Todavia estas práticas não se encerram apenas na nossa memória, mas encontram solo fértil em nossas mentes e corações. Portanto não se trata de contemplar o passado, mas vivê-lo intensamente durante o presente.
Uma cronologia para continuar…
A visão transmitida é bastante nítida: nós não esperaremos pela próxima cúpula. Essa publicação celebra a rebelião, procurando manter pulsante a paixão demolidora pela total liberdade.
Da leitura… Até a cumplicidade…

Tormentas de Fogo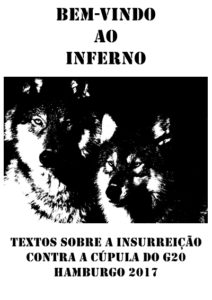 Tags: Counter-info, G20, Hamburg, Marcelo Villarroel Sepúlveda, PDF, Tormentas de Fogo, Zine
Posted in Autonomy
Wednesday, September 13th, 2017
A month ago in Hamburg, Germany, a G20 summit was beginning, and with it mass protests against it, with demands for a more 'human' running of capitalism, up to the total destruction of the system in order to build a more ethical world where there would be a place and respect for all, where there would be no repression or hierarchy, where the earth would be protected and the insatiable thirst for empty benefits on which this society is based would disappear from our values and life goals.
You can read about what happened during the 3 days of the summit and the demonstrations in many websites, including this blog, if you look in the corresponding posts (starting from the month of July, for those who are curious); and as I couldn't go to Hamburg (and I'm sorry about that) for reasons that are irrelevant here, I won't comment on what happened or go into detail. The comrades who were there have talked about that and continue to do so.
I'd like to talk about a particular aspect of those demonstrations, which I think occurs too often in this kind of context, and which seems a serious problem, at least to me, and one that annoys me. It's what is known as the 'tyranny of the image'. (more…)
Tags: Analysis, G20, Germany, Hamburg
Posted in Autonomy
Wednesday, September 13th, 2017
From Amsterdam to Hamburg. On Thursday 31st August a solidarity demo took place in Amsterdam. It was not only against the G20 but also against the recent censorship of Indymedia in Germany. We hope you can spread the news amongst our friends.
A 21-year old person from Amsterdam has been convicted to two year and seven months in prison. He is accused of having thrown two empty beer bottles at the police after hundreds of riot police blocked and attacked the "Welcome to Hell" demonstration on the evening before the G20 summit in Hamburg last July (see here: https://vimeo.com/224524911). (more…)
Tags: Amsterdam, G20, Hamburg, Netherlands, Solidarity Action
Posted in Direct Action