Posts Tagged 'Hamilton'
Sunday, January 12th, 2020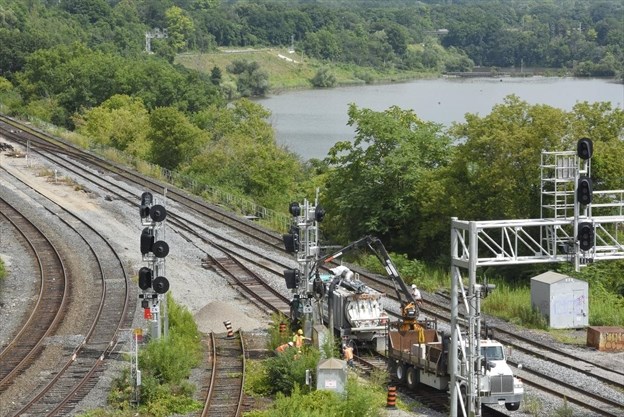 Anonymous submission to North Shore. Callout for rail disruption is here.
A decade ago, in a move that has inspired many, Wet'suwet'en people reoccupied their unceded territories as a way to begun healing and ensuring the land is protected in the ways she needs to sustain Wet'suwet'en people's lives, practices, and continued existence in their traditional territories.
A year ago, the RCMP violently invaded those territories to provide access for industry.
One week ago, the Canadian State criminalized Anuk' nu'at'en – Wet'suwet'en hereditary law – by granting an injunction which criminalizes Indigenous people and their allies should they protect the Yintah from the destructive forces of industry.
We honour these anniversaries with a giant fuck you to the State.
Early this morning, settlers responded to calls of action coming from multiple Wet'suwet'en house groups after they bravely evicted industry from their unceded territories, as well as a call to action for settlers by settlers.
As one small way of pushing back against the colonial violence being enacted by our government we simultaneously disrupted three natural CN and CP railway bottlenecks at strategic locations with the intention and impact of shutting down all rail traffic going in and out of so-called Hamilton. We did this by using copper wires and jumper cables attached to fishplate wires as a way to interfere with the block circuits – see a video here (opens with TOR). The method is safe, easy, relatively low risk, and widely replicable.
CN rail has been and will continue to ship out pipe to storage yards in preparation of construction and have vast, isolated stretches of infrastructure. The first installations of rail had deep, lasting impacts on the colonization of Turtle Island and targeting it today directly effects so-called canada's economy.
While these actions will only serve as a temporary disruption, we hope it sends a strong message: Respecting Indigenous sovereignty – anywhere on Turtle Island – is not optional. We will not be passive.
We hope others throughout Turtle Island – especially settlers – will join us in ensuring this is only the beginning, and make the Coastal GasLink pipeline untenable to both industry and the state in every way they can.
Tags: Anti-pipelines, Canada, Coastal GasLink (Pipeline), Hamilton, Indigenous Struggle, Sabotage, Solidarity Action, Wet'suwet'en
Posted in Direct Action
Sunday, August 3rd, 2014
International Week for Anarchist Prisoners
This August marks the first annual Week for Anarchist Prisoners.
Commencing on the anniversary of the execution of Sacco and Vanzetti, the week will run August 23rd-30th. A packed week of events will be hosted in Hamilton to spread information about anarchist prisoners and to fundraise in support of our incarcerated comrades.
All proceeds from the week will be donated and split between Mexico ABC and Moscow ABC.
Schedule of Events:

Monday, August 25th – 5E Anarchist Prisoners in Mexico
Join us for a presentation on the case of the 5E prisoners in Mexico. Friends of the incarcerated anarchists will cover details of the case, the context of anarchist organizing in Mexico, and discuss the support work being done throughout the continent. (more…)
Tags: Canada, Hamilton, International Week for Anarchist Prisoners
Posted in Prison Struggle
Tuesday, January 4th, 2011
On December 31st 2010, a few dozen people gathered for the second annual New Years Eve noise demo outside Barton Jail in Hamilton, Ontario. Among the fierce chanting, there were fireworks set off for the prisoners on both east and west sides of the jail. A banner with a mailing address painted on it was held to invite prisoners to correspond with us. The wall of the jail was spray-painted with "TEAR THIS SHIT DOWN". A speech was read on both sides of the jail, expressing solidarity with prisoners and explaining reasons for struggling against prison. Solidarity was expressed to the prisoners who were on strike in Georgia (USA), Roger Clement, G20 defendants in custody, and non-status migrants being held at Barton Jail.
Here is a part of that speech:
"This has been a year of increased criminalization, and the beginning of a prison restructuring by the Federal government in an attempt to keep us silent, in constant fear, and even more of us locked away. From these continued attacks on our lives, we will gather strength to fight together. Whether the prison system is reforming to be more cruel, or disguising itself as humane, we will struggle against it. Whether it's the police and cameras in the streets, the judges in the courtrooms, the screws in jail, we will struggle against them. We strive for freedom."
"Solidarity with everyone who fights for freedom, and all prisoners, around the world, who refuse to accept forced confinement, isolation and abuse, who dream of the day that we together destroy these walls."
The Passion for Freedom is Stronger than all Prisons!
Cops, Screws, Murderers!

Tags: Hamilton, Kanada, New Year, Prison demo
Posted in Prison Struggle
Wednesday, August 4th, 2010
July 19th, 2010
"A noise demonstration took place outside of the Hamilton-Wentworth Detention Centre (Barton Jail) in downtown Hamilton, Ontario. Around 25 people marched around the prison, chanting slogans (the passion for freedom is stronger than all prisons; no prisons, no borders, fuck law and order; they might take our lives away but not our dignity, our hearts will pound against their walls until we all are free; smash the borders, fuck the state, all these walls are going to break; no justice, no peace, fuck the police; etc), shooting off fireworks, and making speeches.
This demonstration was held to continue creating a visible presence and tension against prisons and the world that needs them, as well as to take direct action in solidarity with the insurgent spirit: with everyone who chooses the dignity of struggle above the servility of obedience.
The 19th of July marked the beginning of a hunger strike in Saint Paul's Hospital (the infirmary ward of Korydallos prison near Athens, Greece). … Solidarity with prisoners in revolt, inside and outside the jails of this prison-world!
Until we are all free!
Destroy all prisons!"
Tags: Canada, Greece, Hamilton, Hungerstrike, Ontario
Posted in Prison Struggle