Posts Tagged 'Hunger Strike'
Tuesday, March 10th, 2015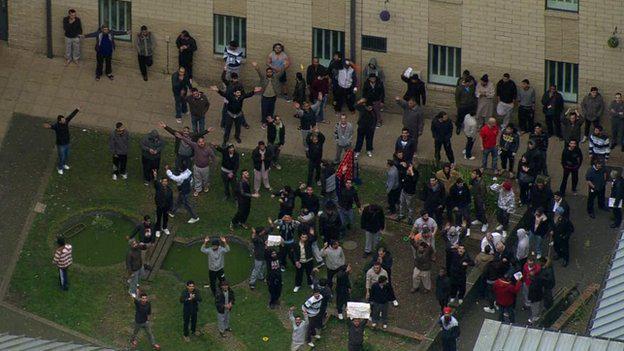 Update: Protests spreading across immigration detention centres in UK.
Resistance continued yesterday at Harmondsworth and Colnbrook. Over 70 people detained had gathered in the courtyard to continue the protest.
Outside at 9am a group of people made a solidarity demonstration in support of the protests. They could hear people shouting 'Freedom' and 'No Food'. The police were called to the protest and one person was pushed aggressively. Guards and centre managers are asking detainees to go to their rooms and come to talk to the managers one-by-one or in pairs. Detainees have refused and ask the management/staff to come and listen to them in the yard. (more…)
Tags: Colnbrook, Demo, Harmondsworth, Hunger Strike, Migrant Struggle, Racism, UK, UKBA
Posted in No Borders
Sunday, March 8th, 2015
UPDATE: The anarchists abandoned the building 1 am, 9 March, without having received any official answer from the governing party.
Today Sunday 8 of March we occupy the central offices of the government SYRIZA in Koumoundourou street.
We stand in solidarity with the hunger strikers, political prisoners in Greece and we ask that their demands are satisfied.
1. Abolition of the Anti terrorist Law Α', article 187, Law 2001 (criminal organization).
2. Abolition of the Anti terrorist Law B', article 187A, Law 2004 (terrorist organizations).
3. Abolition of the "hoodie law" (acts committed with concealed physical characteristics).
4. Abolition of the legal framework for Type C prisons.
5. The immediate release from prison of Savvas Xiros (convicted for his participation in the R.O. 17 November) on health grounds.
6. Against the criminalization of the family relations of the members of the R.O. Conspiracy of Cells of Fire.

Anarchists in solidarity with political prisoners
Tags: 17 November, Athens, Conspiracy of Cells of Fire, Conspiracy of Cells of Fire : Imprisoned Members Cell, Domokos, Greece, Hunger Strike, Occupation, Savvas Xiros, SY.RIZ.A., Type C prisons
Posted in Prison Struggle
Friday, March 6th, 2015
Bruno Ghirardi und Vincenzo Sisi sind nun frei
Bruno und Vincenzo wurden nun definitiv, am 13 und 19 Februar, aus der Haft entlassen. Sie haben ihre Strafe ganz abgesessen und verbrachten die 8 Jahre in verschiedene Hochsicherheitsgefängnisse, als letztes im Siano-Catanzaro.
Vom repressiven Schlag damals, gegen den Aufbau des PC P-M Partito Comunista Politico Militare ("Politisch-Militärische Kommunistische Partei"), bleiben noch zwei Genossen im Knast. Obwohl der Schlag damals diesen operativen Entwurfsversuch beendete, gab der Widerstand im Knast, der sich auf diesem Aufbauprozess bezog, weiterhin eine Stimme den Inhalten des Politprogramms. (more…)
Tags: 17 November, Bruno Ghirardi, Dimitris Koufodinas, Hunger Strike, Kostas Gournas, Nikos Maziotis, PC P-M Partito Comunista Politico Militare, Revolutionary Struggle, Vincenzo Sisi
Posted in Prison Struggle
Friday, March 6th, 2015
NO ONE LEFT ALONE IN THE FACE OF STATE REPRESSION
Political prisoners have currently launched a hunger strike in Greek prisons beginning from March 2nd 2015. Some of them, like me, have a common context of demands regarding: the abolition of the 'antiterrorism' legislations, the abolition of the hoodie law and the type C prisons, and the release of the convicted 17N member Savvas Xiros on health grounds.
At the same time, the political prisoners of the Conspiracy of Cells of Fire have also begun a hunger strike, demanding the release of their family members who were recently arrested and placed under preventive detention, after it was disclosed that CCF members organised a plan to escape Koridallos prisons.
Regardless of differences in demands, I support the CCF prisoners' struggle as regards their demand. Despite the political differences between political prisoners and the problems that have arisen among them, despite the different context of the hunger strikes, I believe that people in solidarity, the anarchist/anti-authoritarian space should support all political prisoners. No one should be left alone in the face of repression.
Nikos Maziotis, member of the Revolutionary Struggle
Domokos type C prison

– Contrainfo
Tags: Athens, CCF Escape case, Conspiracy of Cells of Fire, Conspiracy of Cells of Fire : Imprisoned Members Cell, Greece, Hunger Strike, Nikos Maziotis, Revolutionary Struggle
Posted in Prison Struggle
Friday, March 6th, 2015
UPDATED
As is known, the CCF imprisoned members are on hunger strike until death. Christos' and Gerasimos' mother and Gerasimos' wife testified to the investigating judge on Tuesday, where they both denied the charge of being members of a "terrorist organization" (which is what they are charged with). The comrades' mother only accepted the charge of "harboring a criminal", and she was remanded by the counter-terror state. Gerasimos' wife was also remanded the same day.
On March 4th, Christos Tsakalos wrote a political claim of his own, concerning the escape attempt, and Giorgos Polydoros published a text as well, as a personal friend of his brother was arrested (he was released along with the woman who was arrested on Saturday).
On March 5th, Aggeliki S. and the 39-year-old comrade Christos R. who was arrested in the neighbourhood of Galatsi on February 28th were demanded to testify. Aggeliki gave a statement saying she did not recognise the court and declared herself as anarchist. Aggeliki was then detained in Korydallos, and she had already began a hunger strike from the point of her arrest with the common aims of CCF. Christos R. also gave a statement, and was immediately remanded to Domokos Type C prison.
On March 6th, Christos Polydoros, brother of Giorgos, voluntarily went to the public prosecutor to speak against the repression of the family and friends of CCF, so the prosecutor vermin ordered his arrest. Currently, Christos Polydoros is being held by the anti-terrorist force in the Athens police headquarters [he is now released, 10 March].
Death to the police – Death to the state
Tags: Aggeliki Spyropoulou, CCF Escape case, Christos Polydoros, Christos Rodopoulos, Christos Tsakalos, Domokos, Gerasimos Tsakalos, Giorgos Polydoros, Hunger Strike, Korydallos Prison, Trial, Type C prisons
Posted in Prison Struggle
Thursday, March 5th, 2015
Inter Arma received and translated:
From Monday, 02/03 anarchist comrade Aggeliki Spyropoulou has begun a hunger strike demanding the immediate release of the family members of Gerasimos and Christos Tsakalos.
Strength to the hunger striker Aggeliki Spyropoulou and the 10 members of CCF.
Immediate satisfaction of their claims
Anarchist Squat Nadir
Tags: Aggeliki Spyropoulou, Greece, Hunger Strike, Nadir Squat
Posted in Prison Struggle
Thursday, March 5th, 2015
Inter Arma received and translated:
In the war we are living, both inside and outside prison, and in the fight we are giving, no comrade is alone. As for the vindictiveness that the counter-terrorism unit and the special appellate investigators have shown to the relatives and the friends of the Conspiracy of Cells of Fire members, the least I can do, being imprisoned, is to abstain from the prison meals.
SOLIDARITY IS OUR BIG WEAPON
NOTHING IS OVER, EVERYTHING CONTINUES
Wednesday 04/03
Panos Mihalakoglou – Anarchist Prisoner of War
Tags: Greece, Hunger Strike, Panagiotis Mihalakoglou
Posted in Prison Struggle
Thursday, March 5th, 2015
The text was sent to mass media:
From the first moment, we have claimed responsibility for the escape plan from Korydallos prison, when it was uncloaked, we the 10 members of the Conspiracy of Cells of Fire.
The last five days, we see our relatives and their friends being dragged and being assailed, who have nothing to do with the case and, indeed, detaining the mother of Christos and Gerasimos Tsakalos and the second one's wife.
The accusation of involvement in [terrorist] organization, they are charged with by the counter-terrorism unit, is ridiculous and unsustainable. They're calling a 60-year-old mother and the wife members [of CCF] and detain them, under the pretext that they're suspected of fleeing. We are talking about people with permanent residences and who were visiting us in the visiting hours in prison. Who are the trashes of counter-terrorism unit fooling with? We are experiencing a moment where the counter-terrorism unit is doing whatever it wants and has gone beyond any limit of amorality, without giving an account to anyone. Its political enemies are us and not our relatives. If it wants to strike someone, let it strike us and leave the clowning aside.
We also know that today are the evaluations of police, so everyone understands what a dirty game is being played in the background and the show they have set, in order to get promotions.
From Monday 2/3, we all ten members of the Cells have begun a hunger strike until death, in order for the four relatives and their friends to be set free. They have nothing to do with our actions. They will either set them free, or let them prepare themselves to count the first dead political prisoners.
At the same time, we support the hunger strike taking place in prisons, for the abolition of the counter-terrorism law, the hood-law and the C' Type prisons. The situation the counter-terrorism unit created for our families is the over-the-top consequence of the terror law and opens new doors.
Giorgos Polydoros
Tags: CCF Escape case, Conspiracy of Cells of Fire, Conspiracy of Cells of Fire : Imprisoned Members Cell, Giorgos Polydoros, Hunger Strike, Letter
Posted in Prison Struggle
Thursday, March 5th, 2015
The statement was sent to mass media:
These days we're experiencing the ultimate triumph of the counter-terrorism unit's state.
After supporting and setting an entire show with cameras showing arrested people with hoods on their heads being dragged up the GADA [counter-terror hq] stairs, it completed the coup with the detention of my mother and my brother's wife.
And although yesterday we claimed full political and penal responsibility for the escape plan as Conspiracy of Cells of Fire, all of a sudden I hear that both my mother and my brother's wife are detained.
Accidentally, it is the same day that the [neo-nazi political party] Golden Dawn members are released from prison. Moreover, accidentally, this afternoon there are the evaluations of the police*.
As in the world we live there aren't that many coincidences but only expediencies, it is clear that there is an expediency game being played here.
Apart from the ridiculousness of the accusation against them and against the two personal friends of theirs, the accusation of the two detainees isn't evaluated as necessary for their detention.
Their laws stipulate that: "Someone is to be detained only when judged that he is suspected of escaping or committing similar crimes". What reasonable human being believes something like this, either about my mother, or about my brother's wife?
What is taking place right now reminds one of the fascist state in Germany, in the 1970s, when, in order to avenge the RAF, it launched a pogrom against their relatives and their lawyers.
Back then, the German state counted the first dead hunger strikers.
Maybe someone wants to count the first dead hunger strikers here in Greece as well.
This is why we're not going to end the hunger strike until death, unless our relatives and friends, who are testifying today, are released.
Christos Tsakalos
–
* Christos refers to the procedure of police officers being evaluated for their service.
Translator's note: A female friend of Christos' mother (accused of CCF membership) and Giorgos Polydoros brother's friend have been set free with restrictive bail conditions.
Tags: CCF Escape case, Christos Tsakalos, Conspiracy of Cells of Fire, Conspiracy of Cells of Fire : Imprisoned Members Cell, Greece, Hunger Strike, Letter
Posted in Prison Struggle
Tuesday, March 3rd, 2015
via contra-info:
On March 2nd 2015, combative prisoners launched a hunger strike in various Greek prisons. Their main demands are: the abolition of Article 187 (criminal organisation) and Article 187A (terrorist organisation) of the Greek Penal Code; of the "hoodie law" (acts committed with concealed physical characteristics); of the legal framework for Type C prisons; of the prosecutorial provision of forcible taking of DNA samples – and the immediate release from prison of Savvas Xiros (convicted for his participation in the R.O. 17 November) on health grounds.
So far, those who have joined the political prisoners' mobilisation and collective hunger strike are three urban guerrillas incarcerated in the E1 wing of Domokos type C prison: Dimitris Koufontinas, Kostas Gournas, and Revolutionary Struggle member Nikos Maziotis – and five participants in the Network of Imprisoned Fighters (DAK): Antonis Stamboulos (Larissa prison), Tasos Theofilou (Domokos prison), Fivos Harisis, Argyris Ntalios and Giorgos Karagiannidis (Koridallos prison). The rest of the comrades who participate in the Network of Imprisoned Fighters will join the hunger strike in the coming days.
Furthermore, in the E1 wing of Domokos type C prison, Giorgos Sofianidis has been on hunger strike since February 27th, requesting the abolition of type C maximum security prisons, in addition to his immediate transfer to Koridallos prison in order to continue his studies – and as of today, March 2nd, Mohamed-Said Elchibah also went on a hunger strike.
Tags: 17 November, Antonis Stamboulos, Argyris Ntalios, Dimitris Koufodinas, Domokos, Fivos Harisis, Giorgos Karagiannidis, Giorgos Sofianidis, Hunger Strike, Korydallos Prison, Kostas Gournas, Mohamed-Said Elchibah, Nikos Maziotis, Revolutionary Struggle, Savvas Xiros, Tasos Theofilou, Type C prisons
Posted in Prison Struggle
Monday, March 2nd, 2015
Inter Arma received and translated:
Two months ago our escape plan from Korydallos prison was revealed. It's something we claimed full responsibility for and made our self-critique. After that, an unprecedented hunt for the construction of guilt has started. The target is our relatives and their friends. We saw, two days ago, Giorgos Polydoros brother's friend and a personal friend of Christos' and Gerasimos' Tsakalos being arrested. They, therefore, started talking about "regional members", "mailers" and "revolutionary fund". What for? For a bag of clothes? For some money from contributions and solidarity events? Or for the famous "shooting lasers"? The accused man did not even know that there were lasers in the bag. In addition, the most important is that these lasers are toys being sold for 2 euros in Monastiraki and with which we wanted to create confusion at the time of the attack. Why does the counter-terrorist agency not say it, but, in contrast, presents them as weapons?
So today, we watch the mother of Christos and Gerasimos Tsakalos being arrested along with Gerasimos' wife, because Aggeliki Spyropoulou was found in their family house. Aggeliki is a rare comrade and we are connected to her with absolute political affinity. The two comrades had told her that if she ever found herself in a difficult position, she could go to their house. Because we don't abandon neither our ideas, nor our people. Aggeliki had been wanted for so much time and went to their house asking to be temporarily accommodated by their mother. What should their mother do? Close the door to her? She's not that kind of person and knows the value of humanity for a chased man. In the house stays from time to time due to family relations the wife of Gerasimos Tsakalos, too. That's why she was there as well.
The whole responsibility is exclusively ours. The relatives and their friends bear no responsibility, having nothing to do with the case and what they're accused of. As for Aggeliki, we'll be there for her and she knows she has our support. She'll be among us, with her head up, in the difficult path we've chosen.
But we are not gonna sit here and watch them cannibalizing our relatives and their friends. The counter-terrorism agency crossed the line. We are their opponents not our relatives. So this is it. Since today, 2/3, we go on hunger strike until death to protect our relatives and their friends, so that they won't end up in jail. The responsibility is ours alone and we are the ones taking it. UNTIL THE END! If they put them in jail, we prefer to choose death. This is what responsibility means and everyone makes their choices…
IMMEDIATE RELEASE OF OUR RELATIVES AND THEIR FRIENDS
THAT HAVE NOTHING TO DO WITH THE CASE
Conspiracy of Cells of Fire – Imprisoned Members Cell
Olga Ekonomidou
Michalis Nikolopoulos
Giorgos Nikolopoulos
Haris Hatzimihelakis
Christos Tsakalos
Gerasimos Tsakalos
Giorgos Polydoros
Panagiotis Argyrou
Damiano Bolano
Theofilos Mavropoulos
Tags: Aggeliki Spyropoulou, Athens, CCF Escape case, Conspiracy of Cells of Fire, Conspiracy of Cells of Fire : Imprisoned Members Cell, Greece, Hunger Strike, Korydallos Prison, Repression
Posted in Prison Struggle
Saturday, February 28th, 2015
Via contrainfo:
Prisoner Giorgos Sofianidis began a hunger strike on Friday 27/2 demanding his transfer to Koridallos prison (where he was incarcerated until News Year's Eve) so that he is able to attend his studies in the same region where educational institutions to which he has already been admitted are available (besides, one of those schools operates inside Koridallos prison). Below is a statement by all the prisoners in the E1 wing of Domokos maximum security prison.

We, all the prisoners currently held in the E1 special wing in the prison within the prison, the type C prison of Domokos, declare that as of today February 27th 2015 we are going to abstain from prison meals and refuse to enter the cells at noon.
We stand by our fellow prisoner, hunger striker Giorgos Sofianidis, and ask that he be moved back to Koridallos prison, otherwise he risks losing any possibility to study at the TEI (Technological Education Institute) of Piraeus and the IEK (Institute of Professional Training) of Koridallos prison.
We demand that the special conditions of detention as well as the barbaric and inhumane type C prison be abolished.
Our mobilisations will continue until the type C prisons are permanently abolished.
Kostas Gournas,
Nikos Maziotis,
Dimitris Koufontinas,
Giorgos Sofianidis,
Yannis Naxakis,
Alexandros Meletis,
Konstantinos Meletis,
Vasileios Varelas,
Mohamed-Said Elchibah,
Alexandros Makadasidis
Tags: Alexandros Makadasidis, Alexandros Meletis, Dimitris Koufontinas, Domokos, Giannis Naxakis, Giorgos Sofianidis, Greece, Hunger Strike, Konstantinos Meletis, Kostas Gournas, Letter, Mohamed-Said Elchibah, Nikos Maziotis, Type C prisons, Vasileios Varelas
Posted in Prison Struggle
Thursday, February 19th, 2015
Translated by Act for freedom now!
I am writing this text to critically evaluate the struggle we carried out, as it is an important legacy that needs to be analysed so that we can use it as a strategy compass for the hard days ahead.
The State, aware of the political defeat it suffered, is counter-attacking on other fronts of the struggle, so the continuation of a coordination based on specific agreements is necessary. Not only as a defensive battle position but as a conscious possibility of re-entering the chessboard with assertion as some comrades have rightly said.
During the hunger strike the State weighed up what the political cost of my possible extermination would be; the more the multi-form solidarity movement strengthened, the more the State changed its rhetoric. In brief we can say that the chameleons of government policies changed colour four times. From provocative indifference to superiority, then to a show of power, followed by panic. But let me be more specific. (more…)
Tags: Hunger Strike, Korydallos Prison, Letter, Nikos Romanos, Type C prisons
Posted in Prison Struggle
Tuesday, February 10th, 2015
Via ABC Hurricane:
With fascist fuckweasels ignoring his hungerstrike, anarchist prisoner Sean Swain has vowed to refuse his blood pressure medication, beginning February 9. This medication keeps his blood pressure regulated. To stop taking this medication "cold turkey" is extremely dangerous, as it could cause a spike in blood pressure which can lead to heart attack, stroke or aneurysm.

"Freedom or death," Sean said. "I'm not fucking around."
Fuckweasels have engaged in a concerted, provable pattern of harassing every element of Sean's communication, waging a war against anarchist expression. (more…)
Tags: Hunger Strike, Sean Swain, USA
Posted in Prison Struggle
Thursday, December 11th, 2014
Edited version via InterArma:
*NEITHER HOLIDAYS – NOR UNIVERSITY EXAMS*
*FIRE TO PRISONS*
"I stand here as your declared and unrepentant enemy, I do not beg for
your lenience, I do not seek to engage in dialogue with you and your
peers. My values are at war with yours, so that every phrase I come out
with against you is a razor scoring the masks of your hypocrisy and
making clear the position and the role of each of us. You redact
hundreds of pages of files and you constantly form new cases, in order
to bury us in the prisons of your democracy, for decades. You are
preparing to impose "special detention conditions" on us, which is the
only coup missing from the pantheon of "special treatment" (prison
transfers, trials, laws), which you create to fight us. The simple laws
of physics dictate, that reaction is the consequence of action. Outside
this courtroom on free lands, there are rebelious people, comrades for
me, terrorists for you, who don't intend to tolerate our extermination,
without making you and your political supervisors bleed first. You can
take this as a threat if you like. I believe, that this is the cynical
reality. Each option has its own cost. I guess, that, as judges and
servants of the law, you would agree with me on this."
(Nikos Romanos)
Fragment of the statement at the trial for the robbery in Velvento, Kozani
In the frenetic and ever changing social reality that surrounds us, even
the scientific consultants of the bellwethers of the capitalist system
fall out in their predictions. In addition to the individual
geostrategic choices of their peer competitors (Palestine, Syria,
Ukraine, Iran, etc.) and some flaws and contradictions of the system
that appear to be sharpened during the (because of this) exacerbated
condition of the ongoing structural crisis, that which crumples the
fragile humanitarian masks of statists and refutes, constantly, every
certainty about the future, every myth concerning the omnipotence of the
state and any idea about the futility of the liberation struggle, is the
imponderable factor of the insurgents of this world.
The 'europeanisation' of the Greek prison system, the aggravating penal
repression of social struggles, the escalation of counter-terrorism
policy dictated by interstate police conferences about Justice and
National Security, the bounty on the heads of revolutionaries and the
recent legal establishment and announcement of the construction of a
high security prison (type C) in Domokos, that aims primarily at
prisoners involved in cases of armed revolutionary action, are all
"signs of the times" and expressions of class domination of the vast
majority of formal and informal social institutions controlled by the
State and Capital. The global and multi-level, capitalist and cultural
restructuring attempted, with the economic crisis as pretext and means,
requires social "peace", mass vassalage, individualization and above all
annihilation of "internal enemies".
There are, however, times when the analyzes are redundant, rage and
hatred for the established order become a stream that threatens to drown
not only the usurpers of our lives but also every indolent, hypocritical
challenger and inactive, indignant humanist. There are no excuses! We
are constantly looking for ways to escape the grid of imposition of
domination and strive to reclaim moments of an – in advance – alienated
life, deregulating and seeking to dismantle the clocks of the social
machine, while maintaining an open bet of anarchist revolution and total
rupture with the regime.
***
The imprisoned anarchist urban guerrilla Nikos Romanos, friend of
Alexandros Grigoropoulos, who was present at his murder by the uniformed
worm Korkoneas, is one of the dozens of anarchist prisoners of war of
the Hellenic Republic, who in recent years have faced the inquisitors of
the judicial mafia and the special treatment reserved for political
enemies of the system, and who boldly defended the project and the
values of Anarchy, taking responsibility and having the costs of certain
choices stemmed from them, regardless of the jumble of prosecutions
against them and the harsh conditions of incarceration, that have
implications on their physical existence and freedom.
Since 1st February '13 when he was arrested after a car chase following
the double expropriation of state money along with his comrades
G.Mihailidis, A-D.Bourzoukos and D.Politis in the city of Veria and the
province of Kozani, comrade Romanos, a member of the Informal Anarchist
Federation, is now among those anarchist prisoners who found themselves,
and among other people "accused" for participating in armed
revolutionary groups, temporarily in Greek prisons for bank robberies,
which were chosen as a means of disengagement from the established,
time-consuming living solution of wage slavery and of the strengthening
of the urban guerrilla warfare.
From the juvenile prison of Avlona, he participated in the national
exams and he is now considered – by law – as a student at TEI of Athens
and he is entitled to prison leaves in order to attend the courses,
which the State refuses to grant him. (A similar example is the case of
political prisoner Hercules Kostaris, convicted for involvement in the
Revolutionary Organization 17 November, who has taken over 200 regular
and educational prison leaves in recent years, which were stopped on
the pretext of the runaway of Christodoulos Ksiros). Not having any
illusions about the institution of education as a tool of subjugation
and domestication of people in the hands of Domination and the role of
the university as a factory that produces docile slaves in the service
of the capitalist profitability and normality, our comrade, who is now
in Korydallos prison refusing to unravel the maypole of the
responsibilities of the prison council and the special interrogator
Nikopoulos, is on a hunger strike since November 10th demanding the
granting of his "right", for a breath of freedom!
Factual solidarity and support in this difficult struggle have already
been expressed by the others "arrested for Velvedo case" also with a
hunger strike inside the walls. At the same time, a broad, diverse
solidarity movement has developed throughout the Greek territory, while
public propaganda moves and nocturnal "interventions" are made abroad.
***
Remembering the axiom of uncertainty in the natural world and rejecting
the classical, deterministic conception of the proletarian onslaught at
the sky, the centralized organization models of the Struggle and
optimistic estimates of a shallow, reformist, idealism of "maturation of
the objective conditions", we are there where ideologies impact on the
brutal reality; where the existential rebellion is combined with
horizontal and autonomous class struggle with internationalist and
anti-state character, as it is manifested in each specific
circumstances, becomes an integral part of the social war and seeks to
place anarchist characteristics for the war against Authority and the
liberation of Man and Nature; there where our conventions and
contradictions in everyday life do not prevent us from seeing the
tactical utility and to recognize the partiality of "intermediate
struggles" and the necessity of organizing the anarchist struggle as a
whole, individually and collectively; where only those who were
imprisoned, tortured or killed for devoting themselves to the project of
social liberation, without bowing their heads, can perceive the nobility
of soul and motivation in all its glory; where the consolidation of fear
as a permanent emotional state does not find fertile ground and its
every germ is forcibly uprooted as a parasite that sucks the evergreen
tree of the Revolution; where, at present, the theory meets practice and
any trace of doubt regarding answer to the dilemma of the Selection of a
submissive life or a life in Battle is nullified in front of the rise of
anarchist conscience; we are at the point of no return …
We are inspired by the shooting stars and the fortitude of the people
who fought with the Beast. By night embracing us we swoop in hostile
grounds, creating oases of fire within the social desert. So, in the
morning of 1/12, we torched a school bus owned by St. Lawrence College
in Ag. Dimitrios. Also, we claim responsibility for the attack with gas
canisters, shortly after midnight on 6/12, against a car owned by the
construction company Aktor Facility Management (subsidiary of ELLAKTOR
group, known for its involvement in mining gold in Skouries, Halkidiki
and several cases of pillaging of the natural environment). The attacks
will continue.
*VICTORY TO THE STRUGGLE OF NIKOS ROMANOS*
*STRENGTH TO THE ANARCHIST PRISONERS ON HUNGER STRIKE*
*SOLIDARITY WITH THE WANTED COMRADES AROUND THE WORLD*
*LONG LIVE THE FREE MAN*
*LONG LIVE ANARCHY*
For the widespread (anti) – social insurgence,
*Eternal students at the University of Anarchist Insurrection/FAI – IRF*
Tags: Andreas-Dimitris Bourzoukos, Arson, Athens, Car Burning, Christodoulos Xiros, Dimitris Politis, Eternal students at the University of Anarchist Insurrection/FAI – IRF, Giannis Michailidis, Greece, Hercules Kostaris, Hunger Strike, Informal Anarchist Federation (FAI), International Revolutionary Front, Kozani, Nikos Romanos, Solidarity Action, Velvento, Veria
Posted in Direct Action