Posts Tagged 'Hunger Strike'
Saturday, October 11th, 2014
A short video from instinto salvaje about the hunger strike in Mexico (in Spanish):

Youtube link: http://www.youtube.com/watch?v=H_og-9ajKEU
Solidarity with the comrades!
Fire to the walls!
Tags: Abraham Cortes Ávila, Carlos López Martin, Fernando Barcenas Castillo, Hunger Strike, Jorge Mario García González, Mexico, Video
Posted in Prison Struggle
Saturday, October 11th, 2014
An update on the health of the comrades on hunger strike in mexico via cna mexico:
A 9 días de iniciada la huelga de hambre de 4 anarquistas presos en la ciudad de México, un médico del equipo de seguimiento revisó al compañero Carlos López "Chivo", preso en el Reclusorio Oriente. Al llegar a la puerta del penal, los custodios que resguardaban el acceso dijeron no tener orden de dejar pasar, pero debido a la insistencia de los solidarios que acompañaban al equipo, este logro entrar. Después de permanecer casi dos horas con Carlos, esto es lo que nos comentan:
Mario González no ha sido revisado aún por médicos del equipo de seguimiento, sin embargo sus familares informan que sus síntomas son dolor abdominal,mareos, debilidad e irritabilidad. Ha bajado aproximadamente 5 kilos. Sus signos vitales se mantienen estables.Sigue el acoso y amedrantamiento por parte de custodios.
Tags: Abraham Cortes Ávila, Carlos López Martin, Fernando Barcenas Castillo, Hunger Strike, Jorge Mario García González, Mexico
Posted in Prison Struggle
Thursday, October 9th, 2014


Mensaje solidario a los compañeros anarquistas en huelga de hambre en México
A Carlos López, Fernando Bárcenas, Mario Gonzáles y Abraham Cortés
Salud compañeros! Nuevamente nos encontramos en este sendero de lucha y de vida que elegimos, donde los aromas y deseos de solidaridad se desplazan intransigentemente sobre los vientos de libertad que se extiende hasta los escondrijos más oscuros de esta pútrida civilización.
Acompañamos atentos la decisión de huelga de hambre que iniciaron desde el 1 de octubre, entendemos este acto –como bien lo afirman- no como un intento de victimización sino como una respuesta consecuente de la lucha. Sin duda alguna los pasos que están dando sientan un avance en la solidaridad anárquica y la lucha anti carcelaria desde dentro de las mazmorras del Poder. (more…)
Tags: Abraham Cortes Ávila, Carlos López Martin, Fernando Barcenas Castillo, Hunger Strike, Mario Gonzalez, Mexico, Publicación Destruye las Prisiones
Posted in Prison Struggle
Wednesday, October 8th, 2014
A short update from comrade Thomas Meyer-Falk about the inhuman conditions in German prisons.
Thomas was locked up for 11 and a half years in 1996 for a politically motivated bank-robbery and has spent most of his sentence in isolation. He had his sentence extended and remains incarcerated today.
On 18th August 2014 Koala Rosmane died after two years in Bruchsal Prison, Germany. A few days later the prison director, Mr M, was suspended.
– The Details
In 2012 Koala Rosmane was convicted of manslaughter and sentenced to ten years in jail. Maybe because he had trouble with a prison officer, and/or maybe because Rosmane came from Burkina Faso in Africa, he was sentenced to another year and kept in solitary confinement for the past two years. It has been said that racist officers insulted the inmate often. For the past few months he refused prison food, maybe because he feared that the prison administration wanted to poison him.
– The Death
The forensic doctor who carried out the post mortem examination said that the prisoner was extremely malnourished. Maybe he died of starvation.
– The Suspension
It was the first time ever in Germany that a prison warden was suspended after an inmates death. Mr M was known for his special "character". A couple of years ago, when he sent his Christmas greetings to inmates, he used a quotation from a song by a band which has been involved in racist attacks in the past. Inmates hang themselves, cut their veins, make hunger strikes. No one was interested in them. But it seems that now Mr M has gone too far! (more…)
Tags: Germany, Hunger Strike, Letter, Racism, Repression, Thomas Meyer Falk
Posted in Prison Struggle
Tuesday, October 7th, 2014
Also see: Gestures of solidarity with anarchist prisoner Antonis Stamboulos + Athens: Responsibility claim for incendiary attacks
Update 11/10/14: Antonis Stamboulos has stopped the hunger-thirst strike today for specific reasons explained in his latest text which is being translated.
Media Terror-Frenzy: Greek counter-terrorism police arrested Antonis Stamboulos on 1 October on charges of belonging to the Revolutionary Organisation – Revolutionary Struggle (Epanastatikos Agonas: EA). The police said that Stamboulos's arrest was likely to prevent terrorist attacks, probably planned for 1-4 October, on several targets mentioned in a notebook allegedly in Stamboulos's possession. The targets are alleged to include Vangelis Marinakis (a shipowner and the chairman of the Olympiakos football team), Theodoros Fessas (the president of the Federation of Hellenic Industries) and his Athens-based IT firm InfoQuest, the premises of the ruling New Democracy (Néa Dimokratía: ND) party, as well as Capital (a Greece-registered ship management company), and German engineering company Siemens.
Following his arrest on the 1st of October 2014, Antonis Stamboulos is currently being held under pretrial detention facing terrorism charges.
On October 6th, with another open letter, the comrade announced hunger and thirst strike denouncing the fact that he is now being held in the prisoner transfer centre of Athens. Furthermore, he protests the ongoing media construct fueled by antiterrorism cops against him.
The terror-frenzy scenarios leaked to the Press have no end, to make it easier for the antiterrorism unit to exterminate him. The captive comrade has been portrayed, among other things, as a leading member of the Revolutionary Struggle urban guerrilla group, as co-perpetrator of a bank robbery in Kleitoria (Achaea, Greece), as alleged successor of slain comrade Lambros Foundas, while the mouthpieces of Power have spread that the wanted anarchist Pola Roupa along with her child was supposedly seen on the steps to his apartment in Kallifrona street in Kypseli (which was deemed a "safehouse"). Meanwhile, wannabe informants and other ridiculous snitches have been all too willing to testify against him (e.g. a neighbor to his parents' house claimed he had heard explosions from the basement of their home). (more…)
Tags: Antonis Stamboulos, Hunger Strike, Repression, Revolutionary Struggle, Vyronas
Posted in Social Control
Tuesday, October 7th, 2014
"If you asked me what prison is, I would answer without a doubt that it is a wasteland of defined social-economic plans, where they throw all those individuals that bother them within society: this is why prison mainly houses mainly poor people" Xose Tarrio
"A movement that forgets its hostages is condemned to fail" Harold Tobson
As of October 1st, comrades Mario Gonzalez, Carlos Lopez 'El Chivo', Fernando Barcenas and Abraham Cortez, imprisoned in different prisons in Mexico City, are carrying out a hunger strike indefinitely.
Four days in to the hunger strike, we make a call for solidarity to the struggle that the comrades are carrying out, fighting the society of incarceration in its heart. (more…)
Tags: Abraham Cortes Ávila, Carlos López Martin, Fernando Barcenas Castillo, Hunger Strike, Jorge Mario García González, Mario Gonzalez, Mexico, Mexico City
Posted in Prison Struggle
Tuesday, October 7th, 2014
ABC Hurricane uploaded the Filaki – Prison World DVD about 2007 prison riots uprising in Greece.
PDF: Prison World – Filaki zine
Documentary from Greece about the prison society, its role in social control and the ongoing rebellion against it…
The film focuses on the prison uprisings against the political repression and social war against the comrades in Greece as well as the hunger strikes against the Type-F prisons in Turkey which soon spread to engulf many of the prisons in Greece. These prisons are similar to the Type-C prisons in Greece, the FIES in Spain, the CSC in the UK and other punitive isolation torture regimes around the world.
During the afternoon R.Z. escapes again, for the last time. A detainee shouts to him, 'How did you do it?'. R.Z answers: 'From there at the top… you can't find a way to escape from those walls, because there are other walls beyond… another prison. You must escape from the roof, and head towards the sun. They will never be able to build a wall between the sun and the earth'.

Our passion for freedom is stronger than all prisons!!!
–
Vimeo link- https://vimeo.com/108159482
This is a DVD rip. Contact abc-hurricane [at] riseup [dot] net if you would like an original DVD copy.
Tags: Filaki - Prison World, Greece, Hunger Strike, Isolation, Korydallos Prison, Prison Riots, Turkey, Type C prisons, Type-F Prisons, Video
Posted in Prison Struggle
Thursday, October 2nd, 2014
via cna mexico:
To free media
To the peoples of the world
To all those oppressed
Driven by a sense of rebellion and a declared rejection and true repudiation of all control mechanisms, including the prison system, we, anarchist and libertarian individuals, in our condition as prisoners abducted by the Mexican government, have decided to exercise one of the few tools of struggle which we can assert from inside prison: the hunger strike. From today, October 1st, a year after the arrests on October 2, 2013, 10 months of the kidnapping of Fernando Barcenas and 9 months after the detention of Amelie, Carlos and Fallon.
For us the hunger strike is not synonymous with weakness, much less do we seek to fall into a position of victimization; however, we assume it as an alternative of fighting that we consider conducive in a logic of protest and disobedience to the imprisonment of our bodies and the humiliation, isolation and frustration it means to be held in these centers of terror. We opted to take action rather than accept prison as "normal".
The State seeks to train docile and servile citizens to maintain their established "social order" and thus be able to support the structure of capitalist production only beneficial to the ruling class. Prisons have a key role in shaping these good citizens. It is to the bourgeois society that the prison actually seeks to readjust. (more…)
Tags: ABC Mexico, Abraham Cortes Ávila, Carlos López Martin, Fernando Barcenas Castillo, Hunger Strike, Jorge Mario García González, Mexico
Posted in Prison Struggle
Tuesday, September 16th, 2014
24 pages B&W : Dark Nights #41
International anti-prisons insurrectional newsletter Dark Nights is back after a summer break. Front page news is the communique by 'FAI "Sacco & Vanzetti" Circle of Propaganda by Life & by Deed' for the incendiary attack prior to the NATO summit in Wales, against BAE Systems Arms Development Centre. News of this new anarchist urban guerrilla attack taking place has been suppressed by the regime, as they are frightened of the spread of the anti-system attacks and the damage to the image of the blood-soaked company. The fiery attack took place in Filton, Bristol, where many military-industrial-technological companies are situated, and proved that the direct action groups can strike the military-industrial complex in their closed sites.
Primary article by individualist nihilist-anarchist comrade Venona Q. is about authoritarian fundamentalism and the Islamic State in Iraq and Syria (ISIS). The brief article is about raw power and the total liberation war against all Gods and States. Against "progress", the "West", "democracy" and "civilisation", the writer sounds a sharply critical and vengeful cry against the mullahs, militias, bureaucrats and fundamentalist murderers of the Middle East and the West alike. Reminding us of the continuous visions of the fight for human dignity against dominion by concepts, authorities and the power of death.
There's an incomplete round-up of direct action sabotages, attacks and riots in our chronology, compiling incidents since late May 2014, and a complimentary section giving coverage to the International Week for Anarchist Prisoners which recently took place, that was organised by the world-wide Anarchist Black Cross groups, counter-information groups, action cells and others. During the last few months there have been intense efforts taking place in prisons across Europe, as prisoners in Greece carried out a campaign and hungerstrike against the Type C prison plans, where Domokos prison will be turned into a huge Guantanamo. The hungerstrike is finished now, but the prisoners of Greece and their friends and relatives have vowed to undertake an struggle by all means. This has now spread into the prisons of Germany and Switzerland, as prisoners there also found common cause and solidarity with the fight taking place and carried out their own hungerstrike mobilisation. This kind of trans-border action is a vital sign of a re-construction of the new internationalist struggle happening and we are with the prisoners in struggle in our hearts, words, thoughts and actions.
And there is the usual selection of prisoners letters, including the text by imprisoned anarchist Carlos 'Chivo' Lopez in Mexico about informality, an article by the imprisoned members cell of the Conspiracy of Cells of Fire about negation, coherence and refusal in the active sense during the trial prosecuting them, plus news reports and more writings from our imprisoned comrades enabling their wishes, dreams and struggles to escape beyond the walls of the prisons.
Tamara Sol, Francisco Solar, Gabriel Pombo da Silva, Graziano Mazzarelli, Chiara Zenobi, Nikos Maziotis, dozens and dozens more… To the streets!
Replicate / Organise / Resist
https://server.nostate.net/325-new/html/wp-content/uploads/2014/09/dark-nights-41.pdf
Tags: BAE Systems, Carlos López Martin, Conspiracy of Cells of Fire, Conspiracy of Cells of Fire : Imprisoned Members Cell, Dark Nights, FAI "Sacco & Vanzetti" Circle of Propaganda by Life & by Deed, Hunger Strike, Informal Anarchist Federation (FAI), International Revolutionary Front, International Week for Anarchist Prisoners, Islamic State in Iraq and Syria (ISIS), NATO, PDF, Type C prisons, Venona Q.
Posted in Library
Sunday, August 10th, 2014
via RHI-SRI:
Hi there,
I did a three-day hunger strike (18-20 July.) In solidarity with the Greek prisoners. Isolation is torture. I myself am in an isolation cell for 2 years and 3 months. I understand very well the situation of the Greek. prisoners. I was also in a Greek jail. I know the conditions of the Greek Prisoners.
You know the F-type prison system in Turkey. 7-year-old death fast against isolation cells in Turkey, against the F-type prisons. 122 people have died in the resistance against the F-type prisons.
I do not want a new massacre somewhere in this world. But, imperialism and fascism always want a new massacre in the world. Isolation is a capitalist policy. It is not only related to the prisons. It deprives a brain. 7 years Death Fast has shown the whole world that this is impossible. Everyone should show resistance to the isolation. Anyone can do it. It is possible!
Then yet another development. Murderer Israel has bombed Gaza. A massacre in Palestine! (more…)
Tags: Germany, Gülaferit Ünsal, Hunger Strike, Palestine
Posted in Prison Struggle
Tuesday, July 29th, 2014
MIT POWER DURCH DIE MAUER! – Nur Angst, Kein Respekt – Gegen alle
Zwangsanstalten und die Gesellschaft des Einsperrens!
Anlässlich der Solidaritätstage mit den Griechischen Gefangenen, haben wir beim Antirassistischen Fußballturnier in Lohmen zusammen mit anderen Kicker_innen ein kleines Solifoto geknipst!
Das griechische Parlament beschloss kürzlich ein Gesetz, dass die Haftbedingung sukzessiv verschärft und nach unserer Auffassung vor allem politische Rebellion in und außerhalb der Knäste einschüchtern und bekämpfen soll. Nach der Einführung der griechischen Variante des Paragraphen 129a (1) folgt nun "ganz logisch" eine aggressivere Bestrafung vermeintlicher Terrorist_innen. Unliebsame Subjekte, die mit ihrem Engagement für den Staat ein Problem darstellen, sollen als Gefangene des "Typ C" nach Möglichkeit in Isolationshaft fast beliebig lange begraben werden. (2)
Gleichzeitig werden die Inhaftierten nach ihren "Verbrechen" selektiert um die gegenseitige Solidarität zu unterbinden!
Wir wissen, dass unsere Aktion nicht einmal im Ansatz eine Antwort auf diesen Angriff des Staates darstellt. Ein Banner zu malen und ein Foto zu schießen unterbricht weder die staatliche Routine, noch wird es viele andere Menschen von unseren Ideen überzeugen. Dennoch wollen wir den Gefangenen (in GR) ein kleines Zeichen unserer Solidarität senden damit sie vielleicht etwas Kraft schöpfen können.
Auch unser ganz alltäglicher Kampf ist nicht immer von "Power" erfüllt.
Vielmehr sind wir meist mit Erschöpfung angesichts und Angst vor Repression oder dem eigenen Scheitern konfrontiert. Umso wichtiger finden wir einen solidarischen und verständnisvollen Umgang miteinander – um uns selbst aufzufangen und der Repression möglichst wenig Angriffsfläche zu bieten!

Wir sind alle 129a! Knäste zu Spielplätzen! Bullenkarren zu Wohnmobilen!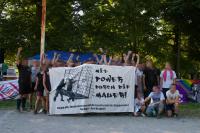 Tags: Germany, Hunger Strike, Solidarity Action
Posted in Prison Struggle
Tuesday, July 29th, 2014
ATTACK AGAINST COCA COLA HELLENIC IN SWITZERLAND
Today, 13 July 2014, we attacked the seat of Coca Cola Hellenic Bottling Company (HBC) at the Turmstrasse 30 in 6300 Zug with pyrotechnics.
We act in solidarity with the struggle of the prisoners in Greece against a "memorandum of prisons" (citation from Kostas Gournas – Revolutionary Struggle – and Dimitris Koufoudinas – 17th November). The memorandum of prisons is in line with different steps aiming to completely restructure Greek society as part of the capitalist attempt to overcome the crisis since 2008. The conditions of the Troika (IMF, ECB and the EU-Commission) which were attached to the credits did not stop at anything. The public health sector, public welfare, infrastructure – everything was trimmed to their satisfaction, what promised profit was generally privatized or sold to other countries (recently representatives of the Chinese government visited Greece for a shopping tour, they were shown airports and ports), jobs were cut and whatever didn't return profit was liquidated. (more…)
Tags: Hunger Strike, International Solidarity, Revolutionary Struggle, Switzerland, Zug
Posted in Direct Action
Saturday, July 26th, 2014
The hunger-strike took place 18-20 July 2014. The participants were a total of seven prisoners: Ahmet Düzgün Yüskel, Andreas Krebs, Oliver Rast, R., Sadi Özpolat, Thomas Meyer-Falk in Germany, and Marco Camenisch from Switzerland.
Ahmet Yüksel Düzgün
Because of his work as a lawyer for political prisoners in Turkey, he had to leave the country and was arrested in Germany in 2007 because of § 129b [terrorist association]. He was imprisoned in Stuttgart-Stammheim and was also on trial and sentenced there in the process bunker. After his imprisonment he was subjected to the residence rule, e.g. he was allowed to remain in a certain district only. He disregarded this rule and was arrested in Greece and delivered to Germany in May this year. There he faces the extradition to Turkey.
About the strike he wrote: "I was able to do my solidarity hunger strike without any problems." (more…)
Tags: Ahmet Düzgün Yüskel, Andreas Krebs, Germany, Hunger Strike, Marco Camenisch, Oliver Rast, R., Sadi Özpolat, Switzerland, Thomas Meyer Falk
Posted in Prison Struggle
Saturday, July 19th, 2014
via RHI-SRI:
Besides Sadi Özpolat, Julihmet Düzgün Yuksel, Andreas Krebs, Oliver Rast, Thomas Meyer-Falk and Marco Camenisch are participating in the solidarity hunger strike for the Greek prisoners, from 18-20 July.
In a § 129b – trial [terrorist association] in the Regional Court of Dusseldorf in early 2012, Sadi Özpolat was sentenced to six years in prison. In Turkey, Sadi spent 17 years in jail. He participated in the 1996 death fast and at the beginning of the century, he was the spokesperson of the prisoners in the hunger-strike. In a battle against the introduction of isolation torture "made in Stammhein" in prisons [Stammhein is the prison where the imprisoned members of the Red Army Faction were murdered by the German State], that is going on for almost 7 years, in that time more than 120 people have died.
Death fast, in contrast to hunger strike, is ended only if a result is reached.
After his release in 2003 in Turkey, Sadi was arrested again in 2004. When he was released in 2008, he left Turkey and applied for asylum in France.
Sadi was arrested on 19 May 2010 in French Colmar due to a warrant by the German Attorney General, and in July 2010 he was delivered to the German authorities and sent to prison.
In Germany, Sadi did several hunger strikes to fight for better conditions.
Sadi Özpolat
Krümmede 3
44791 Bochum
Germany
–
Neben Sadi Özpolat beteiligt auch an dem Solidaritätshungerstreik für die griechischen Gefangenen vom 18-20. Julihmet Düzgün Yüksel, Andreas Krebs, Oliver Rast, Thomas Meyer-Falk und Marco Camenisch ist auch Sadi in den Soli-HS getreten.
In einem §129b – Prozess vor dem OLG Düsseldorf wurde Sadi Özpolat Anfang 2012 zu 6 Jahren Haft verurteilt. In der Türkei war Sadi insgesamt 17 Jahre im Knast. Er nahm am Todesfasten 1996 teil und war Anfang des Jahrhunderts Sprecher der hungerstreikenden Gefangenen. In einen bald 7 Jahre andauernden Kampf, der sich gegen die Einführung der Isolationsfolter "Made in Stammheim" richtete, starben über 120 Menschen.
Todesfasten wird im Gegensatz zum Hungerstreik erst beendet, wenn ein Resultat erreicht ist.
Nach seiner Entlassung 2003 in der Türkei wurde Sadi 2004 erneut verhaftet. Als er wieder frei kam, reiste er 2008 aus der Türkei aus und stellte einen Asylantrag in Frankreich.
Sadi wurde am 19. Mai 2010 im französischen Colmar aufgrund eines Festnahmeersuchens der Bundesanwaltschaft festgenommen und im Juli 2010 nach Deutschland ausgewiesen und in den Knast gesteckt.
Er trat mehrere Male in der BRD in den Hungerstreik, um bessere Bedingungen zu erkämpfen.
Sadi Özpolat
Krümmede 3
44791 Bochum
Deutschland
Tags: Germany, Greece, Hunger Strike, Sadi Özpolat, Solidarity Action
Posted in Prison Struggle
Thursday, July 10th, 2014
via contrainfo:
After some modifications to the draft bill on maximum security prisons, the recess section of the Greek Parliament is now prepared to vote on this new law on Monday, July 7th. Perhaps it will take another summer session for the final voting, but their plan is to pass the bill no matter what… A protest gathering, supported also by anarchists, against the passage of the 'prison reform bill' will take place on Monday 7/7, at 18:00 in Syntagma Square, Athens.
Prisoners throughout Greece have quit their mass hunger strike since the 1st of July, promising other forms of protest on the inside (we don't have related info as of yet).
One can never know what the fucking minister of Justice, Charalambos Athanasiou, will submit at the last minute, but according to updates so far, main modifications are supposed to be as follows:
– initial incarceration period in Type C prison units for recalcitrant inmates: (from 4 years to) 2 years;
– initial incarceration period in Type C prison units for inmates convicted to over 12 years for terrorism (article 187A of the Greek penal code), and for inmates convicted to over 15 years for criminal organization (article 187 of the Greek penal code): (from 10 years to) 4 years.
It is said that prisoners remanded on terrorism charges (under article 187A), who are still awaiting trial (not yet convicted), will also be sent to Type C prison units.
It is still a fact that inmates locked up in Type C prison units won't have the right to furlough (days of leave from the prison).
Even if "dangerous" inmates serve 4 full years in a Type C prison, the incarceration period can be extended by prison prosecutors to 2 more years (when these prisoners are not "well-behaved", or suddenly have further "incriminating indications" presented against them, etc.); when the additional 2 years are over, their incarceration in a Type C prison can be prolonged again to another 2-year period, and so forth…
This is all we can transmit for the time being.

Solidarity with prisoners of the State/Capital. Destroy all prisons!
Tags: Greece, Hunger Strike
Posted in Prison Struggle