Posts Tagged 'Igor Shevcov'
Friday, September 2nd, 2016
Here is the newly updated poster about the repressive operation called 'Fenix' striking anarchists in the Czech Republic. In this poster there is news about the
appeal/higher court against Igor Shevcov and the first two days of the court hearing against the "Fenix 5". Besides that you can find information about the case, police tactics, tips on how to support the defendants and donate and many more.
Please print it in A2 format, so the letters don't get too small. Spread it around your favorite radical places and streets.
http://antifenix.noblogs.org/files/2016/09/fenix_newsA2sep.pdf
—
antifenix.cz
anarchistblackcross.cz
Tags: ABC Czech Republic, Czech Republic, Flyposter, Igor Shevcov, PDF, Repression
Posted in Social Control
Tuesday, July 5th, 2016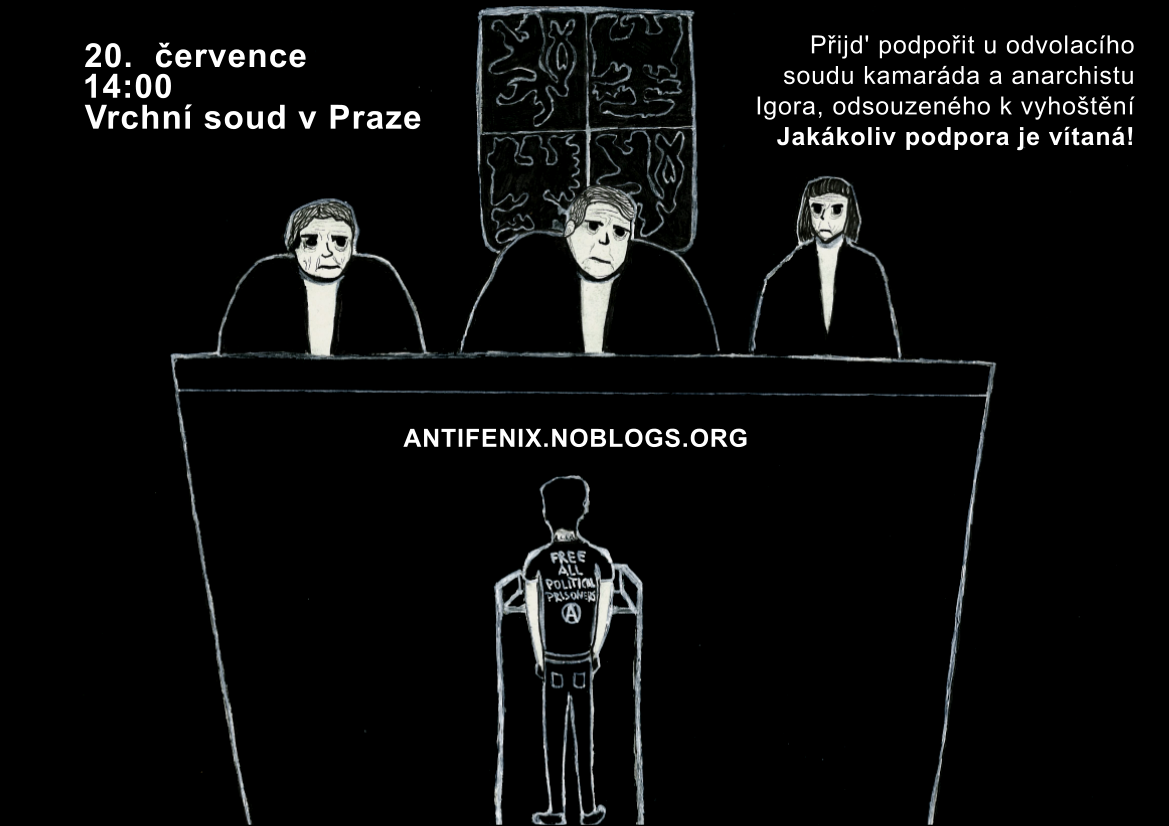 The poster above is hand made by comrade Igor.
The court of appeal of Igor Shevcov will take place on July 20th in High court of Prague. Support an anarchist sentenced to exile for two years because of video recording of spray painting. Share, come, be creative!
Tags: Czech Republic, Igor Shevcov, Prague, Trial
Posted in Prison Struggle
Monday, April 18th, 2016
The very first court hearing since the [Operation] Fenix started will take a place in Czech Republic Prague city court on April 26-27th. The court is about the case of Igor Shevcov. An anarchist accused of fabricated attack on the house of the Minister of Defense.
During this so called attack nothing was damaged and no one got hurt. In the time of incident – which the ministers' son mentioned in his first testimony – Igor could not be physically near by the house.
Igor already had spent 3 months in remand and since September 2015 he has been out on probation. Part of the "deal" is that Igor could have not leave the Czech Republic at all and once a week he must go to visit the probation office. He can be sentenced up to 15 years. Take friends and come to support a comrade, anarchist and great friend Igor in the court room!

The solidarity is our strongest weapon!
Tags: Czech Republic, Igor Shevcov, Trial
Posted in Prison Struggle