Posts Tagged 'Ihar Alinevich'
Wednesday, November 4th, 2020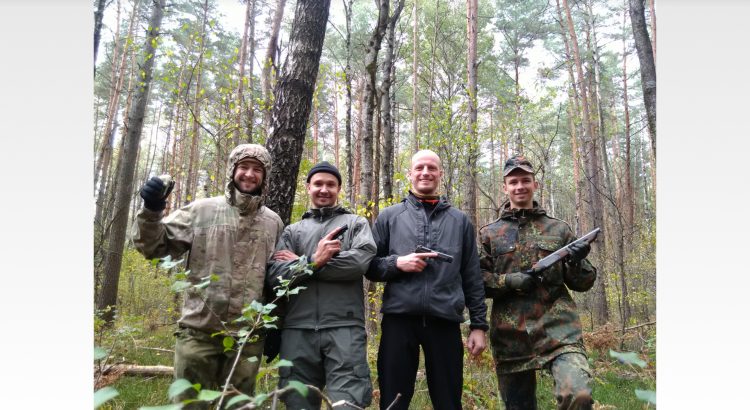 What's happened?
On October 22 in Soligorsk (Belarus) administrative building of State committee of forensic examination was attacked and cars were set on fire at the parking lot of Soligorsk district prosecutor's office. On the night of October 28 the building of traffic police department of Mozyr district police department was set on fire. Soon a group of anarchists-revolutionaries: Ihar Alinevich, Dmitry Dubovsky, Dmitry Rezanovich and Sergey Romanov were detained by a mobile group of Mozyr border detachment near the Ukrainian border in Zabozye village of Yelsky raion (Belarus). The detainees are currently held in a KGB remand prison in Minsk. They were charged under part 3 of article 289 of the Criminal Code (act of terrorism committed by an organized group).

Anarchist Revolutionaries
Each of the detainees had been an opponent of the fascist state for many years and had regularly experienced its repressions. (more…)
Tags: Belarus, Dzmitry Dubouski, Dzmitry Rezanovich, Ihar Alinevich, Ihar Alinievich, International Solidarity, Repression, Sergei Romanov, Sergey Romanov, Siarhei Ramanau, Social Insurrection, Soligorsk
Posted in Social Control
Tuesday, August 25th, 2015
22 August 2015 – Today Alexander Lukashenko has signed papers to release all official political prisoners in the country. This includes anarchists Ihar Alinevich, Mikalai Dziadok and Artsiom Prakapenko.
We would like to congratulate our comrades and thank everyone for the solidarity with them!
Tags: ABC Belarus, Artsiom Prakapenka, Belarus, Ihar Alinevich, Mikalai Dziadok
Posted in Prison Struggle
Monday, February 9th, 2015
The forth presidential term of Alexander Lukashenko will expire in 2015. In 21 years Lukashenko has managed to suppress almost all social struggles in the country, kill several political opponents in the 90s, and eradicate nearly all of the official opposition. Lukashenko didn't allow Belarusian society to transcend the limits of Soviet mentality. Any complaint or criticism of the government are met with repression from the police or the KGB. Any attempts of organizing face with prosecution and hysteria from the state. The policy of the government can be described simply as follows: "Everything that cannot be controlled must be destroyed". At this moment Belarusian state is slowly but steadily getting to the extermination of any dissent or independent thinking.
With the elections planned for November this year the pressure on social movements is increasing. Authorities are afraid of the Ukrainian scenario occurring in Belarus and do everything to fight "extremists": all the people who are calling for the change of the current regime. (more…)
Tags: ABC Belarus, Belarus, Ihar Alinevich, Mikalai Dziadok, Minsk, Repression
Posted in Social Control
Tuesday, July 22nd, 2014
Brand new magazine from the furnace of the 325 editorial collective free online now. 60 pages of b&w printer-friendly insurrectional nihilist-anarchy and anti-civilisation war.
325 #11 : Against the Post-Industrial Consumer Society and the Technological Singularity
325 #11 cover image : A3 download – Full size, Hi-res
CONTENTS
3. Direct Action Chronology
8. No Illusions – Alfredo M.Bonanno
9. Climate change, nuclear-energy and urban war in the new century – Anti-civilisation cell of training & analysis – N.T.
13. Road Ahead Closed – Anti-civilisation cell of training & analysis – N.T.
13. Electricity grid at risk as floods increase – Anti-civilisation cell of training & analysis – N.T.
15. The Dictator – Rodolfo Gonzalez Pacheco
15. Industrial Alienation – B.I
23. Memories from the Future: The Coming Technological Singularity – Anti-civilisation cell of training & analysis – N.T.
29. Information and Slavery – Anti-civilisation cell of training & analysis – N.T.
31. Anarchist comrades contributions to the IX Meeting for Animal Liberation in Italy, 2013 – Silvia Guerini & Costantino Ragusa
38. War against the machines! – Gianluca Iacovacci
41. Letter from Adriano Antonacci about the refusal of video-conference trial
42. Necrotechnologies – Synthetic biology
43. Parts & Labour – Fabricating life in a lab
45. The Daleks Are Coming! – Robot security guards
46. Predictive Analytics: The Power to Predict Human Behaviour
48. Predictive Surveillance Technology Arrives
48. The Problem of Strategy – Alfredo M.Bonanno
49. Empty House & Crowded Forest – Eat
51. Some Thoughts on FAI/IRF – Eat
53. Don't Trust, Don't Fear, Don't Beg – Ihar Alinevich
54. Fear – Rodolfo Gonzalez Pacheco
54. Escape into Sanity: The Fall – V.Q.
57. In the Fall-out of the Black Smoke Cloud of Black Rock Quarry
57. Perpetual Cycles
58. Someone else's meal – L
58. Mechanics of Nature

ANTI-COPYRIGHT NETWORK JUNE 2014
Tags: 325 #11, 325 Magazine, Adriano Antonacci, Alfredo M. Bonanno, Animal Liberation, Anti-civilisation cell of training & analysis - N.T., B.I, Biotechnology, Costantino Ragusa, Eat, Gianluca Iacovacci, Greece, Ihar Alinevich, Informal Anarchist Federation (FAI), Insurrection, International Revolutionary Front, Italy, Nanotechnology, PDF, Predictive Analytics, Predictive Surveillance, Rodolfo Gonzalez Pacheco, Silvia Guerini, Technological Singularity, UK, Venona Q., Zine
Posted in Library
Thursday, July 3rd, 2014
According to information received from ABC Belarus, Belarusian anarchist Ihar Alinevich is to be transferred to another prison colony because the colony he is in now is to be closed by the end of the summer. We don't know to where and when he is transferred, but it makes sense to remove his address from all the lists until the new one is known. We await more information and will publish it when available.
Tags: ABC Belarus, Belarus, Ihar Alinevich, Prison Transfer
Posted in Prison Struggle
Friday, January 10th, 2014
Publishing collective 'Radical Theory & Practice' issued a new edition of Ihar Alinevich's prison diary 'On the Way to Magadan'.
The book is popular not only among Russian-speaking public. It was translated into Belarusian, Bosnian, Polish and English; the translation in German, French and Spanish is underway. Here are the links for download: (more…)
Tags: ABC Belarus, Ihar Alinevich, On the Way to Magadan, Russia
Posted in Prison Struggle
Friday, October 4th, 2013
Jauhen Vas'kovich spent 10 days in a punishment cell at the beginning of August. He regularly writes and calls his mother. The prisoner prefers not to have a lawyer, because he thinks it is pointless. The next date with relatives is planned on January.
Mikalai Dziadok celebrated his 25th birthday in prison on August 23. He claims to have received many cards and letters, as well as some stationary and empty envelopes, which he values the most. Generally, his health state is OK, however, he has lost another tooth. In the beginning of September he spent 10 days in punishment cell for wearing a sports suit inside his cell.
Artsiom Prakapenka was deprived of a long-term date with parents, with had been planned for December. He could explain the reason on the phone. He feels fine and doesn't complain about the health. Before he worked in the night shift, now – in the first shift. He also wants to attend prison classes, but the prison administration didn't let him do it by far. His monthly 'expences sum' has grown from 10 to 20 euro. End of November he will have a short-term date with relatives.
Ihar Alinevich turned 30 on September, 24.
On September, 3 Aliaksandr Frantskevich was set free after 3 years of imprisonment. He claimed that his convictions haven't changed during this time and he will continue taking part in the anarchist movement. Next 6 months he will have preventive police supervision – he can't visit mass events, leave the place of living without permission and stay out from 10 p.m. to 6 a.m. He will have to regularly check in with the police.
Source – abc-belarus.org
Tags: ABC Belarus, Aliaksandr Frantskevich, Artsiom Prakapenka, Belarus, Ihar Alinevich, Jauhen Vas'kovich, Mikalai Dziadok
Posted in Prison Struggle
Sunday, September 9th, 2012
Update: Belarus Embassy communications blockade declared for London demo – 1pm September 23rd.
On 06/09/2012 representatives of Brest KGB made an appearance at homes of 4 Brest antifascist and social activists.
Notebooks, PCs, flash-cards, cell phones and various books have been seized. KGB states that it suspects anarchists of planting a fake bomb on 8 February of 2012 in a garbage bin. Although the case is under police supervision, somehow KGB got involved in the matter. Three of our comrades got "invitational letters" from KGB for an interview. (more…)
Tags: Aliaksandr Frantskievich, Artsiom Prakapenka, Belarus, Demo, Ihar Alinevich, Jauhen Vas'kovich, Mikalai Dziadok, Pavel Syramolatau, Repression, Solidarity Action
Posted in Prison Struggle, Social Control
Sunday, July 8th, 2012
325 receives and transmits:
On June 11th a booth that provided power to granite quarry in Mikashevichi (Belarus) was burnt by a group of dedicated earth liberation warriors. Resulting short circuit left quarry and nearby village in total darkness. It was a strange feeling to suddenly hear silence where just a minute before there had been constant industrial noise. To see stars in the sky that had been blocked out by quarry lights just moments before.
2 incendiaries (5 liters of gasoline each) were used for this action.
We salute imprisoned Belarus anarchists (Ihar Alinevich, Mikalai Dziadok, Aliaksandr Frantskievich) persecuted for their acts of sabotage against Lukashenko's regime. This new act of sabotage on territory, occupied by Belarus state, is in your honour.
Words of gratitude to Ted Kaczynski. Your thoughts served as a light-beacon to us in this action.
To every anti-authoritarian and eco-activist: keep fighting, stay strong and free!
– Friends of Freedom
Tags: Aliaksandr Frantskievich, Arson, Belarus, Ihar Alinevich, Mikalai Dziadok, Mikashevichi, Sabotage, Ted Kaczynski
Posted in Eco Struggle
Sunday, June 3rd, 2012
From Avtonom:
It has been a long time since the last call for solidarity with the Belarusian anarchists appeared. Today we have to admit that the new wave of solidarity is needed urgently to help them out from the prison. That's why we call you to participate in days of action in solidarity with Belarusian political prisoners from June 30 to July 2.
The activists Ihar Alinevich, Mikalai Dziadok, Artsiom Prakapenka, Pavel Syramolatau, Aliaksandr Frantskievich, Jauhen Vas'kovich that were detained in Autumn 2010 and Winter 2011 and then sentenced to 3 to 8 years of prison in May 2011 for a series of attacks on state and capital symbols are finishing their second year in jail. During this time their comrades and relatives did their best to help them feel comfortable in custody and set them free. (more…)
Tags: Aliaksandr Frantskievich, Artsiom Prakapenka, Belarus, Ihar Alinevich, International Solidarity, Jauhen Vas'kovich, Mikalai Dziadok, Pavel Syramolatau
Posted in Prison Struggle
Monday, May 30th, 2011
Belarusian anarchists sentenced – up to 8 years of hard regime, evidence lacking.
On the 27th of May, judge Zhanna Khvoynitskaya sentenced the Belarusian anarchists Ihar Alinevich, Mikalaj Dziadok, Aliaksandar Frantskievich, Maxim Vetkin and Yeveni Slivonchik. The young men were accused of a number of political actions, amongst which was the attack against the Russian embassy in Minsk in August of 2010. (more…)
Tags: Aliaksandar Frantskievich, Belarus, Ihar Alinevich, Maxim Vetkin, Mikalaj Dziadok, Repression, Yeveni Slivonchik
Posted in Social Control
Thursday, April 14th, 2011
It's been 7 months now since the "case of arsons" was started in Belarus.
All this time our friends and comrades have been held behind the bars. Having started with random detentions of activists of radically different political views in September last year, the case is finally coming to an end – it is being brought to trial. At the moment 7 people targeted in the investigation of "the anarchists' case" are staying under arrest. (more…)
Tags: Aliaksandr Frantskevich, Belarus, Ihar Alinevich, International Solidarity, Mikalai Dziadok, Repression
Posted in Prison Struggle