Posts Tagged 'Indigenous Struggle'
Tuesday, August 4th, 2020
PDF: 1 pag. Como vivimos…
PDF: Formato libro. Como vivimos…
El presente libro, está dedicado al guerrero anarquista Gabriel Pombo Da Silva, secuestrado por el Estado español. Querido compañero, te queremos pronto en las calles, la libertad vino hace tiempo a por ti.
Como vivimos desde la anarquía la lucha y los disturbios por el Poder en Bolivia, es el grito furibundo de una recopilación de textos germinados por la sed de lucha contra la dominación, en un escenario tramoyado por la pugna interburguesa por el Poder, en el que sencillamente los ácratas no intervenimos. Ese forcejeo por la silla presidencial no nos incumbe, pero sí la ofensiva constante contra toda autoridad, sin desperdiciar la crítica que nos señala el camino de la praxis. Es necesario enfocarnos en el encandilamiento feligrés-social, que conduce a los ciudadanos a buscar su presente (y futuro) en las urnas de la dominación, con la intención de elegir a su nuevo amo, lo cual atenta contra cualquier expectativa de libertad individual y colectiva. La insurrección es permanente. Quienes luchamos contra toda forma de autoridad no necesitamos esperar por una fecha específica en el calendario para reaccionar contra las imposiciones. No necesitamos quien nos gobierne ni nos dirija; sabemos organizarnos, elegir a nuestrxs afines en la lucha y avanzar hacia la liberación total sin recular. (more…)
Tags: Analysis, Anti-Fascism, Bolivia, Como vivimos desde la anarquía la lucha y los disturbios por el Poder en Bolivia, Edições Crônica Subversiva, Elections, Evo Morales, Fuck the Elections, Gustavo Rodriguez, Indigenous Struggle, Insurrection, Jeanine Áñez, PDF, Social Insurrection, Zine
Posted in Library
Saturday, July 25th, 2020
[Con barricadas amanece el Gran Concepción por la libertad de los presos políticos mapuche y no mapuche.]
Received and translated on 23.07.2020:
Today, July 14, 2020, as part of a day of protest for the release of Mapuche and non-Mapuche political prisoners, roadblocks were reported in Hualpen, Lorenzo Arenas, Chiguayante and Talcahuano.
The following communiqué is about these events:
Today, Tuesday July 14, various individuals from the Bio Bio region dominated by the Chilean state, have decided to interrupt the depressing capitalist daily life, through simultaneous propaganda actions, to break the media siege and in combative solidarity with all those who have taken the decision to confront the bourgeois state in the city as well as in the countryside, in Chile and throughout the world. (more…)
Tags: Burning Barricades, Chile, Indigenous Struggle, Mapuche, Santiago
Posted in Direct Action
Friday, April 10th, 2020
A publication of green anarchist art, poetry, stories, rants from 'so called-Australia'
PDF: Beyond the Dark Horizon.
"We are in a new epoch of breakdown what will it mean to not have a horizon … to have no map of how act … to have only shifting sands to cling to and be in a world radically different than that of the last 10000+ years? What does green anarchy mean today."
https://beyondthedarkhorizon.org/
beyondthedarkhorizon@protonmail.com
Tags: Anti-pipelines, Australia, Beyond the Dark Horizon, Climate Chaos, Ecological Destruction, Indigenous Struggle, Mining, PDF, Sabotage, Uranium Mining, Zine
Posted in Library
Friday, March 27th, 2020
As nihilist-anarchists against civilisation we share this text we were sent, as recognition of the call from the FAI/IRF cell in Argentina to be open to indigenous thoughts and life-ways:
"This moment humanity is going through can be seen as a portal and as a hole. The decision to fall into the hole or go through the portal is up to you. If they repent of the problem and consume the news 24 hours a day, with little energy, nervous all the time, with pessimism, they will fall into the hole. But if you take this opportunity to look at yourself, rethink life and death, take care of yourself and others, you will cross the portal. Take care of your home, take care of your body. Connect with the middle body of your spiritual house, all this is synonymous, that is to say the same. When you are taking care of one, you are taking care of everything else. Do not lose the spiritual dimension of this crisis, have the aspect of the eagle, which from above, sees the whole, sees more widely. There is a social demand in this crisis, but there is also a spiritual demand. The two go hand in hand. Without the social dimension, we fall into fanaticism. But without the spiritual dimension, we fall into pessimism and lack of meaning. You were prepared to go through this crisis. Take your toolbox and use all the tools at your disposal. Learn about resistance with indigenous and African peoples: we have always been and continue to be exterminated. But we still haven't stopped singing, dancing, lighting a fire and having fun. Don't feel guilty about being happy during this difficult time. You don't help at all by being sad and without energy. It helps if good things emanate from the Universe now. It is through joy that one resists. Also, when the storm passes, you will be very important in the reconstruction of this new world. You need to be well and strong. And, for that, there is no other way than to maintain a beautiful, happy and bright vibration. This has nothing to do with alienation. This is a resistance strategy. In shamanism, there is a rite of passage called the quest for vision. You spend a few days alone in the forest, without water, without food, without protection. When you go through this portal, you get a new vision of the world, because you have faced your fears, your difficulties…
This is what is asked of you. Let them take advantage of this time to perform their vision seeking rituals.
What world do you want to build for yourself? For now, this is what you can do: serenity in the storm. Calm down and pray. Everyday. Establish a routine to meet the sacred every day. Good things emanate, what you emanate now is the most important thing. And sing, dance, resist through art, joy, faith and love."
Resiste – Renace
Tags: Coronavirus, Hopi, Indigenous Struggle, USA
Posted in Cognitive Liberty
Monday, March 9th, 2020
325 receives and transmits:
Anonymous Submission to North Shore Counter-Info:
before the sun rose in the early early morning of 02/20/2020 we took direct action against pipeline infrastructure in Acheson AB
outraged by the Reactionary Colonial Mounted Pigs invasion of sovereign Wet'suwet'en territory and in solidarity with the Secwepemc we decommissioned a section of pipe that the klanadian state (financers of this project) had left sitting in the open air with little defense
solidarity means attack
"smile for the camera, boys" shouted the security guard after us
even though the camera could not capture it we were smiling beneath our masks
"joy is arming itself"
we hope to discourage a lot of the fear that currently surrounds resistance
it has now been weeks after a direct attack on a large corporation with no sign of police repression
there are many others living in this colony ready and willing to act
neither the pigs nor reactionary gangs can stop sabotage
do not wait for permission
strike hard while your enemy is unprepared
find your friends and act with joy!
Kenney said we are in a state of anarchy, prove him right!
there are online field guides teaching sabotage
Act spontaneously, but do your homework
we broke our drill bit while eating through the steel pipe these companies publish comprehensive engineering reports which can be found on their own websites
study these and use proper materials
it is worth noting the existence of perimeter-monitoring technology
there was a thick black cable lining the top of the fenced perimeter around the material storage site
it is also possible for these sensor cables to be under topsoil
this perimeter sensor may have tipped off the guard or maybe he found us by the noise we made or by chance but the response was immediate and impotent
This action was done in support of all land defenders
Mohawks who consistently assert their autonomy
Zapatistas and other indigenists in southern Mexico
democratic forces of Rojava
pirates of Somalia
countless tribes of the Amazon
Mapuche in Chile
Standing Rock Sioux Nation
Quechua, Guarani, Aymara of Bolivia
Anishinaabe of Minnesota
feminists in Mexico
redneck coal miners in the Appalachian mountains
rebels of Haiti
farmers of la Z(A)D
to the many nations that inhabit the beaver hills meeting grounds
Many have put effort into reconciling with klanada
consistent colonialism has given only disrespect in return, reconciliation is now dead
to #shutdowncanada colonial land claims must be disputed everywhere alongside the current struggles in so-called BC
the entirety of klanada is illegitimate and there should be insurrection everywhere
Another world is possible!
– your friends in amiskwaciywaskahikan
Tags: #ShutDownCanada, Anti-pipelines, Canada, Indigenous Struggle, International Solidarity, Sabotage, Secwepemc, Wet'suwet'en
Posted in Direct Action
Friday, March 6th, 2020
From Anarchists Worldwide: The following interview with self-described primal anarchist advocate, writer, editor, independent researcher, publisher, musician and rewilding human, Kevin Tucker, originally appeared in the first issue of the new Indonesian anarchist journal, Jurnal Anarki. Jurnal Anarki is written entirely in Bahasa Indonesian, and this is the first time content from it has been republished in English. We'd like to thank comrade Eat for making this possible!
1. Looking at the Anarcho-Primitivist Primer by John Moore, he explains that Anarcho-Primitivism has nothing to do with romanticizing the primitivist way of life, or as many people love to accuse Zerzan of, suggesting that we go back to the stone age. What do you think about John Moore's interpretation of Anprim? Do you have a different interpretation, or perhaps even a critique of the Primer?
I don't know if I would call it a critique of John Moore's primer, but the 'Anarcho-Primitivist Primer' was admittedly a quick and personal take on anarcho-primitivism (AP). It was really only a few pages long, the kind of thing you hand out to contextualize other pamphlets, zines, and books you might have at the same time. It wasn't meant to be definitive, even though, I would say, at the time it was still effective.
That said, I have a lot of appreciation for John, but his work was still limited by the time and when he died in 2002 there was a lot that had been kind of left unaddressed, to the point where a pamphlet like his earlier 'Lovebite' was dated pretty quickly.
A part of that is the terminology and framing. Personally, I've been moving towards a framing of "primal anarchy" over the term "anarcho-primitivist" for the last fifteen years now. "Primitive," as a term, just doesn't really cut it anymore, but it also reinforces this idea that "primitive" refers to a point in time or place. Like it's something that has gone or remains in a few places. I think primal is a lot more fitting, which is the direction that Paul Shepard had been leaning in for some time. (more…)
Tags: Analysis, Anti-technology, Climate Chaos, Earth Liberation Front, Eat, Eco-Extremism, Ecological Destruction, Indigenous Struggle, Indonesia, Informal Anarchist Federation (FAI), Interview, John Zerzan, Jurnal Anarki, Kevin Tucker, Primal Anarchy, Sabotage, USA
Posted in Interviews
Saturday, February 29th, 2020
Decolonization Means No State × 4
These flyers were produced with the intention to disrupt the liberal narratives surrounding the Wet'suwet'en struggle, and the activism we have seen emerge as a result of the most recent waves of state violence. Simultaneously we are inspired by the actions of many of our comrades, especially the Mohawk blockades and those engaged in militant demos and sabotage. We hope these flyers continue to feed the fire of insurrection.
Reconciliation is Dead, and Decolonization Means no State were heavily inspired by Tawinikay's (aka Southern Wind Woman) work – much of the words appearing on them are Tawinikay's directly. Her work provides a critical and revolutionary stance on current struggles to shut down so called Canada – we are very grateful for this work. As anarchists working to refine our perspective and practice, Tawinikay's critical intervention with the struggle and Indigenous solidarity work many of us engage in demands our engagement.

Against the state and capital
For a growing militant movement
Links to Tawinikay's work: 1, 2
Tags: #ShutDownCanada, Anti-pipelines, Canada, Ecological Destruction, Indigenous Struggle, PDF, Sabotage, Wet'suwet'en
Posted in Library
Tuesday, February 4th, 2020
Anonymous submission to North Shore
Over the past weeks since the call-out for railway disruptions appeared, there have been a half dozen actions targeting train lines in Ontario. These have been diverse, with most involving the use of copper wire to trip the sensor system. One such communique described the added impact of doing multiple, coordinated actions of this kind; another emphasized that this action can safely and easily be done alone; and another reflective one talked through some of the difficulties of preparing and making sure it's effective, showing the potential for the action to be taken up widely. There was also a surprise demo that blocked the rails, and an incendiary attack on the power supply of a signal station.
These actions have been inspiring and are only a beginning. The raid on Wet'suwet'en territory seems inevitable, and so we would like to echo the calls that have been made to shut down Canada should the RCMP again attack land defenders there. Over the past weeks, anarchists have built up the means to do this by targeting rail lines, so we want to encourage everyone to start scouting and gathering supplies now to be ready to go in the days immediately following a raid. The disruptions that have already happened show that this strategy allows for a diversity of tactics, so there are many ways of answering this call, though the potential small, discrete groups seems particularly promising. (more…)
Tags: Analysis, Anti-pipelines, Canada, CGL, Eviction, Indigenous Struggle, Line 3 (Tar Sands), Mining, Racism, Sabotage, Tar Sands, Wet'suwet'en
Posted in Eco Struggle
Tuesday, February 4th, 2020
CGL Office Vandalism
We are learning to bite. In Solidarity with the Wet'suwet'en comrades struggling for sovereignty and against pipeline development we vandalized the entrance to the CGL office in Vancouver BC. Using a re pressurized fire extinguisher we made a small mess. This symbolic act feels like the least we could do.
To a growing militant movement – decolonization means attack
Tags: Anti-pipelines, Canada, CGL, Indigenous Struggle, Paint attack, Solidarity Action, Tar Sands, Vancouver, Vandalism, Wet'suwet'en
Posted in Direct Action
Tuesday, January 28th, 2020
PDF: Jurnal Anarki – Edisi Menjelang Badai
INTRO.
EDITORIAL.
KIDUNG BAGI UNABOMBER PART I.
KIDUNG BAGI UNABOMBER PART II.
KETIKA MASYARAKAT MEMBESARKAN HITLER.
KRITIK ATAS PRIMATA, EVOLUSI, DAN ANARKISME.
PRIMATA, EVOLUSI, DAN ANARKISME.
TEKNOFASIS KAPITALISME.
GERAKAN SOSIAL, MUSIK, DAN SEORANG HERRY SUTRESNA.
MAYDAY 2019: DUNIA ADALAH MILIK MEREKA YANG MUDA.
ARSITEKTUR DAN APOKALIPS – IVAN THEO.
TETEK BATOK.
BAGAIMANA ANAK PEMBURU DAN PERAMU BELAJAR – PETER GRAY.
PAPUA BARAT, KOLONIALISME, DAN SOLIDARITAS TANPTA BATAS – VERONIKA KOMAN.
KEBANGKITAN GLOBAL FASISME.
DOMESTIKASI DAN ANARKI PRIMAL – KEVIN TUCKER. [">EN]
MERENGKUH KEKOSONGAN KREATIF: SEKELUMIT KISAH RENZO NOVATORE
Tags: 1st May, Analysis, Anti-Fascism, Ecological Destruction, Herry Sutresna, Indigenous Struggle, Indonesia, Jurnal Anarki, Nazi, Papua, PDF, Renzo Novatore, Ted Kaczynski, West Papua, West Papua Independence, Zine
Posted in Library
Tuesday, January 14th, 2020
From the headwaters of the Mississippi River, a call reverberates across Turtle Island: Stop Line 3!
The Dakota and Anishinaabeg people have lived, died, and cared for the waters in what's now "Minnesota" since long before the founding of the United States. Enbridge Inc. proposes to place a tar sands pipeline across the lands and waters of indigenous people in northern Minnesota—a project called 'Line 3'. This pipeline proposes to cross 211 waterbodies, some of the richest wild rice beds in the world, and violate the treaty rights of Anishinaabeg negotiated in 1837, 1854, and 1855. The Minnesota segment of Line 3 is the final holdout of a pipeline planned to send 1M barrels per day of oil sands from Alberta to the western edge of Lake Superior. Line 3 represents a 10% increase in tar sands production.
As the state of Minnesota weighs the final water crossing permits needed to build Line 3, we invite you to join us for a day of joyful, exuberant, and playful public engagement with the possibilities for life without oil. Indigenous, settler, migrant—we all agree: a world of extraction is not the world we want!
When we take action to support the Dakota and Anishinaabeg preserve their homelands and culture, together we open possibilities for reinventing our lives beyond colonialism and capitalism. You don't have to be part of an organization, a government, or some other structured system to want something else. We want ethical ways of relating to each other and to the earth. This is the only home we have. From January 17th – January 19th we call all beings who want something different to gather and display this desire using the hashtag #StopLine3. From banner drops to rallies to roving street parties to demonstrations to teach-ins, anything that helps spread our joy and defiance is welcome.
The possibilities for another world exist now.
—
Call in Español and Fraçais on the website below.
Website: https://lifewithoutline3.home.blog/
Instagram: @WaterIsLifeJ17
List of possible targets: https://lifewithoutline3.home.blog/locations/
Tags: Enbridge Inc., Indigenous Struggle, Line 3 (Tar Sands), Mining, Minnesota, Sabotage, Tar Sands, USA
Posted in Eco Struggle
Sunday, January 12th, 2020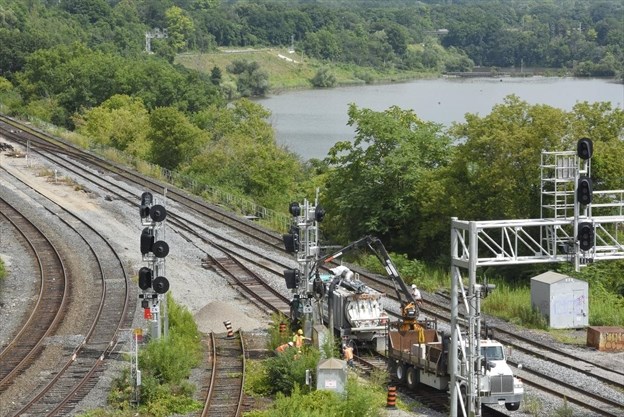 Anonymous submission to North Shore. Callout for rail disruption is here.
A decade ago, in a move that has inspired many, Wet'suwet'en people reoccupied their unceded territories as a way to begun healing and ensuring the land is protected in the ways she needs to sustain Wet'suwet'en people's lives, practices, and continued existence in their traditional territories.
A year ago, the RCMP violently invaded those territories to provide access for industry.
One week ago, the Canadian State criminalized Anuk' nu'at'en – Wet'suwet'en hereditary law – by granting an injunction which criminalizes Indigenous people and their allies should they protect the Yintah from the destructive forces of industry.
We honour these anniversaries with a giant fuck you to the State.
Early this morning, settlers responded to calls of action coming from multiple Wet'suwet'en house groups after they bravely evicted industry from their unceded territories, as well as a call to action for settlers by settlers.
As one small way of pushing back against the colonial violence being enacted by our government we simultaneously disrupted three natural CN and CP railway bottlenecks at strategic locations with the intention and impact of shutting down all rail traffic going in and out of so-called Hamilton. We did this by using copper wires and jumper cables attached to fishplate wires as a way to interfere with the block circuits – see a video here (opens with TOR). The method is safe, easy, relatively low risk, and widely replicable.
CN rail has been and will continue to ship out pipe to storage yards in preparation of construction and have vast, isolated stretches of infrastructure. The first installations of rail had deep, lasting impacts on the colonization of Turtle Island and targeting it today directly effects so-called canada's economy.
While these actions will only serve as a temporary disruption, we hope it sends a strong message: Respecting Indigenous sovereignty – anywhere on Turtle Island – is not optional. We will not be passive.
We hope others throughout Turtle Island – especially settlers – will join us in ensuring this is only the beginning, and make the Coastal GasLink pipeline untenable to both industry and the state in every way they can.
Tags: Anti-pipelines, Canada, Coastal GasLink (Pipeline), Hamilton, Indigenous Struggle, Sabotage, Solidarity Action, Wet'suwet'en
Posted in Direct Action
Thursday, August 29th, 2019
Indigenous Mura people in Canutama, Brazil painted their bodies with orange-red paint and took up long bows and clubs as they headed into the jungle this week, prepared for battle against logging companies, who are destroying the rainforest with the support of the fascist Bolosonaro regime.
More than 18,000 Mura people live in Amazonas state, the largest state in Brazil's Amazon rainforest.
Logging companies have cleared away an area the size of several football fields near their village, leaving a broad dirt hole in the ground pockmarked by the treads of heavy machinery.
"With each passing day, we see the destruction advance: deforestation, invasion, logging," said Handerch Wakana Mura, one of several leaders of a tribal clan of more than 60 people. (more…)
Tags: Brazil, Canutama, Ecological Destruction, Handerch Wakana Mura, Indigenous Struggle, Mura, Raimundo Praia Belem Mura
Posted in Eco Struggle
Friday, November 16th, 2018
Wallmapu: Prisionerxs politicxs mapuche se amotinan en respuesta al asesinato de Camilo Catrillanca
Tags: Flyposter, Indigenous Struggle, Mapuche, Repression
Posted in Library
Tuesday, August 28th, 2018
Information relating to recently dispossessed members on Mallingbar Country.
PDF: KUNIN LAW: CROW AND COUNTRY
A Letter To All First Nations
Ronald Roe
Walman Yawuru descendant,
Goolarabooloo Elder, Broome, Western Australia.
+ How Native Title backfires – big time …
Tags: Australia, Indigenous Struggle, PDF
Posted in Library