Posts Tagged 'Indigenous Struggle'
Tuesday, August 4th, 2020
PDF: 1 pag. Como vivimos…
PDF: Formato libro. Como vivimos…
El presente libro, está dedicado al guerrero anarquista Gabriel Pombo Da Silva, secuestrado por el Estado español. Querido compañero, te queremos pronto en las calles, la libertad vino hace tiempo a por ti.
Como vivimos desde la anarquía la lucha y los disturbios por el Poder en Bolivia, es el grito furibundo de una recopilación de textos germinados por la sed de lucha contra la dominación, en un escenario tramoyado por la pugna interburguesa por el Poder, en el que sencillamente los ácratas no intervenimos. Ese forcejeo por la silla presidencial no nos incumbe, pero sí la ofensiva constante contra toda autoridad, sin desperdiciar la crítica que nos señala el camino de la praxis. Es necesario enfocarnos en el encandilamiento feligrés-social, que conduce a los ciudadanos a buscar su presente (y futuro) en las urnas de la dominación, con la intención de elegir a su nuevo amo, lo cual atenta contra cualquier expectativa de libertad individual y colectiva. La insurrección es permanente. Quienes luchamos contra toda forma de autoridad no necesitamos esperar por una fecha específica en el calendario para reaccionar contra las imposiciones. No necesitamos quien nos gobierne ni nos dirija; sabemos organizarnos, elegir a nuestrxs afines en la lucha y avanzar hacia la liberación total sin recular. (more…)
Tags: Analysis, Anti-Fascism, Bolivia, Como vivimos desde la anarquía la lucha y los disturbios por el Poder en Bolivia, Edições Crônica Subversiva, Elections, Evo Morales, Fuck the Elections, Gustavo Rodriguez, Indigenous Struggle, Insurrection, Jeanine Áñez, PDF, Social Insurrection, Zine
Posted in Library
Friday, April 10th, 2020
A publication of green anarchist art, poetry, stories, rants from 'so called-Australia'
PDF: Beyond the Dark Horizon.
"We are in a new epoch of breakdown what will it mean to not have a horizon … to have no map of how act … to have only shifting sands to cling to and be in a world radically different than that of the last 10000+ years? What does green anarchy mean today."
https://beyondthedarkhorizon.org/
beyondthedarkhorizon@protonmail.com
Tags: Anti-pipelines, Australia, Beyond the Dark Horizon, Climate Chaos, Ecological Destruction, Indigenous Struggle, Mining, PDF, Sabotage, Uranium Mining, Zine
Posted in Library
Friday, March 27th, 2020
As nihilist-anarchists against civilisation we share this text we were sent, as recognition of the call from the FAI/IRF cell in Argentina to be open to indigenous thoughts and life-ways:
"This moment humanity is going through can be seen as a portal and as a hole. The decision to fall into the hole or go through the portal is up to you. If they repent of the problem and consume the news 24 hours a day, with little energy, nervous all the time, with pessimism, they will fall into the hole. But if you take this opportunity to look at yourself, rethink life and death, take care of yourself and others, you will cross the portal. Take care of your home, take care of your body. Connect with the middle body of your spiritual house, all this is synonymous, that is to say the same. When you are taking care of one, you are taking care of everything else. Do not lose the spiritual dimension of this crisis, have the aspect of the eagle, which from above, sees the whole, sees more widely. There is a social demand in this crisis, but there is also a spiritual demand. The two go hand in hand. Without the social dimension, we fall into fanaticism. But without the spiritual dimension, we fall into pessimism and lack of meaning. You were prepared to go through this crisis. Take your toolbox and use all the tools at your disposal. Learn about resistance with indigenous and African peoples: we have always been and continue to be exterminated. But we still haven't stopped singing, dancing, lighting a fire and having fun. Don't feel guilty about being happy during this difficult time. You don't help at all by being sad and without energy. It helps if good things emanate from the Universe now. It is through joy that one resists. Also, when the storm passes, you will be very important in the reconstruction of this new world. You need to be well and strong. And, for that, there is no other way than to maintain a beautiful, happy and bright vibration. This has nothing to do with alienation. This is a resistance strategy. In shamanism, there is a rite of passage called the quest for vision. You spend a few days alone in the forest, without water, without food, without protection. When you go through this portal, you get a new vision of the world, because you have faced your fears, your difficulties…
This is what is asked of you. Let them take advantage of this time to perform their vision seeking rituals.
What world do you want to build for yourself? For now, this is what you can do: serenity in the storm. Calm down and pray. Everyday. Establish a routine to meet the sacred every day. Good things emanate, what you emanate now is the most important thing. And sing, dance, resist through art, joy, faith and love."
Resiste – Renace
Tags: Coronavirus, Hopi, Indigenous Struggle, USA
Posted in Cognitive Liberty
Sunday, January 12th, 2020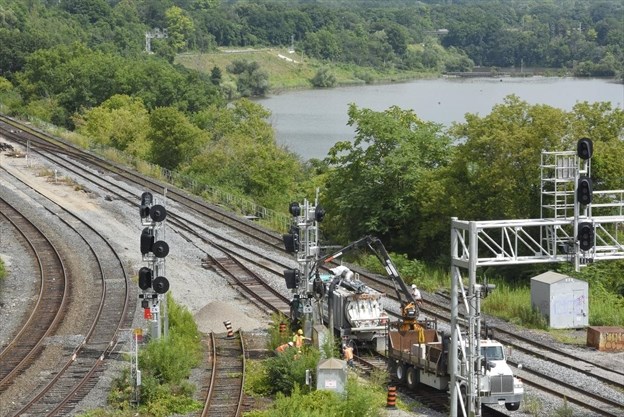 Anonymous submission to North Shore. Callout for rail disruption is here.
A decade ago, in a move that has inspired many, Wet'suwet'en people reoccupied their unceded territories as a way to begun healing and ensuring the land is protected in the ways she needs to sustain Wet'suwet'en people's lives, practices, and continued existence in their traditional territories.
A year ago, the RCMP violently invaded those territories to provide access for industry.
One week ago, the Canadian State criminalized Anuk' nu'at'en – Wet'suwet'en hereditary law – by granting an injunction which criminalizes Indigenous people and their allies should they protect the Yintah from the destructive forces of industry.
We honour these anniversaries with a giant fuck you to the State.
Early this morning, settlers responded to calls of action coming from multiple Wet'suwet'en house groups after they bravely evicted industry from their unceded territories, as well as a call to action for settlers by settlers.
As one small way of pushing back against the colonial violence being enacted by our government we simultaneously disrupted three natural CN and CP railway bottlenecks at strategic locations with the intention and impact of shutting down all rail traffic going in and out of so-called Hamilton. We did this by using copper wires and jumper cables attached to fishplate wires as a way to interfere with the block circuits – see a video here (opens with TOR). The method is safe, easy, relatively low risk, and widely replicable.
CN rail has been and will continue to ship out pipe to storage yards in preparation of construction and have vast, isolated stretches of infrastructure. The first installations of rail had deep, lasting impacts on the colonization of Turtle Island and targeting it today directly effects so-called canada's economy.
While these actions will only serve as a temporary disruption, we hope it sends a strong message: Respecting Indigenous sovereignty – anywhere on Turtle Island – is not optional. We will not be passive.
We hope others throughout Turtle Island – especially settlers – will join us in ensuring this is only the beginning, and make the Coastal GasLink pipeline untenable to both industry and the state in every way they can.
Tags: Canada, Coastal GasLink (Pipeline), Hamilton, Indigenous Struggle, Sabotage, Solidarity Action
Posted in Direct Action
Thursday, August 29th, 2019
Indigenous Mura people in Canutama, Brazil painted their bodies with orange-red paint and took up long bows and clubs as they headed into the jungle this week, prepared for battle against logging companies, who are destroying the rainforest with the support of the fascist Bolosonaro regime.
More than 18,000 Mura people live in Amazonas state, the largest state in Brazil's Amazon rainforest.
Logging companies have cleared away an area the size of several football fields near their village, leaving a broad dirt hole in the ground pockmarked by the treads of heavy machinery.
"With each passing day, we see the destruction advance: deforestation, invasion, logging," said Handerch Wakana Mura, one of several leaders of a tribal clan of more than 60 people. (more…)
Tags: Brazil, Canutama, Ecological Destruction, Handerch Wakana Mura, Indigenous Struggle, Mura, Raimundo Praia Belem Mura
Posted in Eco Struggle
Friday, November 16th, 2018
Wallmapu: Prisionerxs politicxs mapuche se amotinan en respuesta al asesinato de Camilo Catrillanca
Tags: Flyposter, Indigenous Struggle, Mapuche, Repression
Posted in Library
Tuesday, August 28th, 2018
Information relating to recently dispossessed members on Mallingbar Country.
PDF: KUNIN LAW: CROW AND COUNTRY
A Letter To All First Nations
Ronald Roe
Walman Yawuru descendant,
Goolarabooloo Elder, Broome, Western Australia.
+ How Native Title backfires – big time …
Tags: Australia, Indigenous Struggle, PDF
Posted in Library
Thursday, August 9th, 2018
"an independently produced film bringing the voices of the contemporary Adnyamathanha, Gurindji, Tanganekald, Yankunytjatjara Anangu, Mirning, Narunnga Aboriginal Australian people forward who are united in their stand AGAINST the present and planned uranium mining and nuclear dump activities in South Australia. Bruce Hammond, an Aboriginal Tanganekald man with ties to the coast in the lower South East of South Australia and the central desert regions of Finke and Alice Springs in conjunction with Alexander Hayes & Magali McDuffie from Ngikalikarra Media brought the 'Protecting Country' documentary film on a screening road trip across Australia."
Tags: Anti-Nuclear, Australia, Indigenous Struggle, Mining, Protecting Country (Film), Video
Posted in Eco Struggle
Saturday, September 30th, 2017
Por El Companero Anarquista Santiago Maldonado [es]
This September 1st marked one month since the disappearance of the anarchist comrade Santiago Maldonado at the hands of the police of the National Gendarmerie of Argentina. This took place within the context of the repression against a demonstration that included road blocks made by the Mapuche community Pu Lof in Resistance at Cashamen, in the Argentine province of Chubut.
While the anarchic agitation spread beyond borders, comrades in Argentina took to the streets to spread acts of revolt via propaganda and direct action. With arson attacks against the police, barricades and Molotov cocktails against government buildings, our comrades unleashed their rage at a situation that is as sad as it is real: the bastards have arrested and disappeared an anarchist comrade.
Because Santiago is an anarchist, and not just a young musician and artist, something the press and leftists conveniently leave out, in denouncing the state repression we make it clear that denial and silencing of the comrade's political identity is another form of disappearance, erasing from the narrative the true motivations of his solidarity presence in the Mapuche community where he was at the time of his arrest. [1]
We have no advice for our comrades in Argentina, we believe in them and their conviction and autonomy to continue transforming their pain into rage, spreading chaos against the world of authority, and deepening and expanding affinities in concrete experiences of confrontation and agitation. (more…)
Tags: Analysis, Argentina, Chile, Claudia López, Dictatorship, Fuck the Police, Indigenous Struggle, Mapuche, Operation Condor, Police Bastards, Police Brutality, Repression, Santiago Maldonado, Sin Banderas Ni Fronteras
Posted in Social Control
Thursday, September 28th, 2017
Dear all,
This audio is based on material from Voces de la Disidencia.
Alfredo Tralcal Coche, Pablo Trangol Galindo, Benito Trangol Galindo and Ariel Trangol Galindo are imprisoned precisely in the jail in Temuco, Chile, since July 9th of 2016, accused of setting a church on fire with only one piece of evidence against them: the statement of a witness without a face who claims to have seen a truck similar to that of Lonko Alfredo Tralcal Coche near the fire.
After one year deprived of their liberty, without evidence against them, without a set sentence or a reasonable date of trial, on July 7th of 2017, the comuneros decided to begin an indefinite hunger strike with the following demands: 1) fair trial within a reasonable date; 2) no to the use of the antiterrorist law 18314; 3) no to the use of witnesses without faces; 4) liberty under article 140; 5) repeal of the cautionary measure of preventative prison.
You'll find the audio (to listen online or download in different sizes) here.
Length: 3 min
You can find other English and Spanish language audios here:
http://aradio.blogsport.de/englishcastellano/
Tags: Anarchistisches Radio Berlin, Chile, Indigenous Struggle, Mapuche
Posted in Autonomy
Tuesday, September 26th, 2017
WE CAN STILL BE WORSE
Reflections and considerations on the month following the disappearance of Santiago Maldonado
On August 1st, members of the Pu Lof Mapuche community in resistance in the province Cushamen barricaded National Route 40, along with allies in solidarity. They cut off traffic in solidarity against the legal proceedings confronting el Lonko Facundo Jones Huala (for the second time). Minutes later, cars and trucks arrived carrying about thirty border police armed with rifles. The peñis (Mapuches) began throwing rocks, responding to the presence of the bastard forces of order. The Gendarmerie advances to the shots, burning the precarious houses and belongings of the Lof, forcing the occupiers to retreat across a river. Santiago Maldonado ("Lechuga" or "el Brujo") fell behind the rest. Some of the inhabitants of the Lof saw that the Gendarmerie grabbed Santiago; others testified as to hearing the police say they "got one."
Afterwards, images and testimony began to circulate about how Santiago was missing, and that it seemed the Gendarmerie had taken him away in a "unimog" all-terrain military vehicle. The authorities were silent through this whole process.
On Friday, August 4, various anarchists and individuals in solidarity entered the seat of government in Chubut province, demanding Santiago's return. The place was ripe for destruction. Computers, notebooks, windows, and decorations were all viciously destroyed, and fliers and graffiti were left behind referring to the repression in Cushamen. (more…)
Tags: Argentina, Buenos Aires, Dictatorship, Indigenous Struggle, Mapuche, Police Brutality, Repression, Santiago Maldonado
Posted in Autonomy
Tuesday, March 7th, 2017
"Each individuality, group, tribe or original people have their own ways of resisting this system. However they have the same enemy who represses and oppresses them and the ultimate goal of their struggles is to live freely and autonomously." – Compañero Carlos Gutiérrez Quiduleo
1. Brief journey on a path of resistance.
It is well known that the struggle of the Mapuche people has lasted hundreds of years. Even before fighting the Spanish conquistadors, they had already halted the advance of the Incan empire by preventing its advance towards the south of the territory now called Chile and forcing it to maintain its position in the central zone of 'Chile'.
Also known are the battles and clashes with the Spanish conquistadors, where for more than a hundred years a war was fought that put in check the ambitions of the conquistadors to dominate the territory without any major obstacles, forcing them, after periods marked by extermination and captivity, to establish a border that allowed the Mapuche to maintain their territory south of the Bio Bio River. (more…)
Tags: Analysis, Chile, Indigenous Struggle, Mapuche
Posted in Autonomy
Tuesday, November 10th, 2015
There is quite a number of cultures existing and continuously practiced by different indigenous communities in the islands. It is estimated that there is 110 languages in the archipelago and the concept of "Manggayaw" or "Panggayaw" is commonplace. The said word is being used by indigenous communities in different areas in Luzon, Visayas and Mindanao. It corresponds with attacking from the waters or land on specific targets considered to be "enemies".
Manggayaw or Panggayaw could be due to various reasons such as revenge, protection, raiding for marriage or pillaging for its own sake and slave trading in certain places.
Barbaric could be the first thing which comes to minds. Others consider it an uncivilized act based on how we were raised and brought up by our society. This could only be the case if the institutions like the government, market, school or church shaped our consciousness the way it did.
Therefore it is so much better to be familiar with this part of our culture which our ancestors are proud and considered to be positive in regards to marriage, blood pact, trade and even warfare. It is an imperative for many Lumads in the archipelago to engage in Panggayaw or "Panggagamot." These practices are imbedded in our belief system which resonates also with marriage, planting, hunting, exchange and ritual offerings to indigenous spirits.
According to the colonizers (republican government, communists and the church) these practices which emanated from our ancestors are backward and needed to be replaced. (more…)
Tags: Indigenous Struggle, Lumad, Mindanao, Philippines
Posted in Autonomy
Sunday, November 8th, 2015
We are currently supporting a campaign of the Lumad, an indigenous people who are victimized by atrocities of three institutions : the corporations, government military/para-military and left-wing insurgents (New People's Army – NPA).
Our call is:
END LUMAD EXPLOITATION AND KILLINGS!
LET THE LUMAD SPEAK FOR THEMSELVES!
CORPORATIONS, STATE MILITARY AND LEFT-WING INSURGENTS – KEEP OUT OF LUMAD ANCESTRAL LANDS.
DON'T BE USED BY LEFT AND RIGHT WING PARTIES.
FIGHT FOR AUTONOMY!
The Lumad comprise the indigenous people living in Southern Mindanao. They have become refugees in different parts of the country as they flee from escalating violence, rape and harassment.
Asia Indigenous Peoples Pact (AIPP)
Public Statement

4 September 2015 – AIPP strongly condemns the continued brutal killings of Lumads in Mindanao of the Philippines at the hands of paramilitary groups and security forces. At least 13 Lumad human rights defenders and community members, including two children, have been killed in five incidents of extrajudicial killings and four massacres in the past eight months, with the recent killings of Emerito Samarca, Executive Director of a tribal school, and two other Lumad leaders in Surigao del Sur on 1 September. In the aftermath of the killings, more than 4000 Lumads evacuated to a neighboring village due to fear for their safety, and schools have been closed down. (more…)
Tags: Ecological Destruction, Indigenous Struggle, Lumad, Massacre, Migrants, Mindanao, New People's Army - NPA, Philippines
Posted in Autonomy
Sunday, February 22nd, 2015
The Redfern Aboriginal Tent Embassy in Sydney is facing eviction on Monday 23rd February. The Embassy are calling for people to come down and help them resist eviction.
The embassy plans to apply for an injunction Monday against the eviction order, which was issued by the Aboriginal Housing Corporation (AHC) on Friday afternoon. The order demands the total dismantling of Redfern Aboriginal Tent Embassy, which has been a 24 hour protest camp since May 2014. In an area known as the 'Block', it sits wedged between Redfern Station and Eveleigh Street. It's a sparse green oval resting on a grey concrete slope. On first glance it's as unassuming and ordinary as its namesake would suggest. But the tents have only catalysed the political discontent and community activism that has boiled below the suburb's surface for years.
The site has grown over the months to include vegetable patches and a seed bank, a sacred fire pit, kitchen and a collection of tents. The embassy was established to protest a controversial redevelopment plan for the Block – a chunk of Sydney's Redfern suburb where Indigenous Australians have been promised affordable housing since the 1970s. When the AHC first began to be handed parts of what would later become the Block in the 1970s, it was widely viewed as a major victory in the battle for Indigenous land rights. The entire area was earmarked for affordable housing for Indigenous Australians. (more…)
Tags: Australia, Eviction, Indigenous Struggle, Racism, Redfern Aboriginal Tent Embassy, Sydney
Posted in Autonomy