Posts Tagged 'Indonesia'
Thursday, December 12th, 2019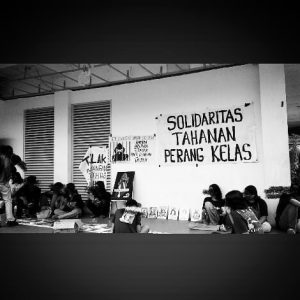 Surrendering to state domination is the death of living for humans, contempt in the face of this is freedom and independence.
Free choice to continue to survive and assemble all forms of power to keep burning and ready to burn all threats, to fight all forms of dictation of power, oppression and all forms of capitalism domination.
There is only one war, namely CLASS WAR !!!
CLASS WAR – FIGHTING SOLIDARITY

Solidarity is a Weapon
Palanghitam Anarkis / ABC Indonesia | More info: 1, 2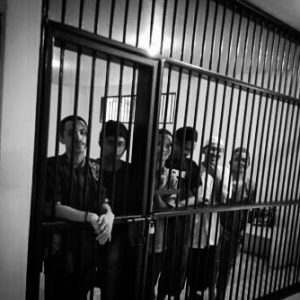 Tags: ABC Indonesia, Indonesia, International Solidarity, Makassar, Makassar City
Posted in Prison Struggle
Wednesday, October 30th, 2019
via anarchistsworldwide:

TEGAKLAH SEPERTI DI AWAL!
Kepada kawan yang masih setia di jalan pedang pemberontakan, terimalah cinta semesta di dada kalian. Jumlah kami adalah sejumlah semut yang ada di bumi manusia. Akan terus ada, meski berkali-kali dilibas senjata.
Haerul, Agus, Faruddin and Alif adalah para anarkis yang ditangkap karena terlibat dalam aksi pembakaran mobil plat merah (mobil negara) di makassar, Sulawesi Selatan beberapa saat lalu.
Haerul, Agus, Faruddin and Alif adalah para anarkis yang ditangkap karena terlibat dalam aksi pembakaran mobil plat merah (mobil negara) di makassar, Sulawesi Selatan beberapa saat lalu.

solidaritas sampai semuanya bebas!!!
******
ASKED AS IN THE BEGINNING!
To friends who are still loyal in the way of the sword of rebellion, accept universal love in your bosom. Our number is the number of ants that exist on human earth. It will continue to exist, even though there are many weapons.
Haerul, Agus, Faruddin and Alif were anarchists who were arrested for involvement in the burning of a red plate car (a state car) in Makassar, South Sulawesi some time ago.

solidarity until everything is free!!!
Tags: Indonesia, International Solidarity, Makassar, Repression, Sulawesi
Posted in Social Control
Thursday, September 26th, 2019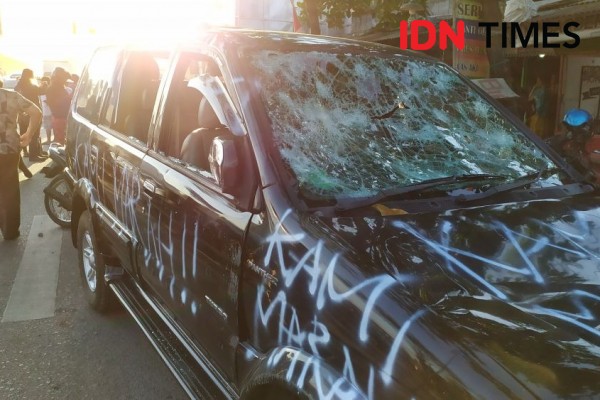 A demonstration outside Hasanuddin University (Unhas) I, Makassar Perintis Independence Street, took place as a series of demonstrations of community and student alliances of various regions. During the end of the demo today, comrades stopped two official state cars, brought the drivers out and trashed the vehicles. According to corporate media 19 people were arrested in the nearby area in a police round-up.
At September, 26, 2019, two cars of the Forestry Service South-Sulawesi Province (Makassar-Indonesia) had been damaged, by breaking all the windshields and then turning it in the middle of the road.
Here is the communique from that action:
1. We are angry because the country along with the Army and Police violently chased, evicted, fired, and killed our brothers in Papua, Kulon Progo, Urut Sewu, Bara barayya and Polongbangkeng.
2. We are angry because the government continues to attack us with torturous rules.
3. We are angry because the capitalists continually try to destroy our lives, destroy nature, burn forests, heap the oceans, destroy mountains, displace the living space of each species, build artificial buildings, to control what we should and should not consume.
4. We are angry because the media are preaching everything that is not important, eliminating cases of murder until the slaughter and continuing to work with the authorities to destroy the struggle of our combatants who fight for a better life.
5. There is no compromise for rulers and capitalists.
Below are link/news about that action:
https://nasional.tempo.co/read/1252801/unjuk-rasa-di-makassar-rusuh-massa-merusak-mobil-pelat-merah/full&view=ok
https://sulsel.idntimes.com/news/sulsel/aanpranata/unjuk-rasa-di-depan-unhas-dua-mobil-dinas-dirusak/full
Tags: Demo, Indonesia, Makassar, Riots, Sabotage, Sulawesi
Posted in Direct Action
Sunday, September 15th, 2019
Solidarity poster for fugitive Anarchist comrade and human rights lawyer Veronica Koman who is facing up to 6 years imprisonment and fines of $US70,000 for 'incitement' and 'spreading fake news' for her important coverage on social media of the racist attacks against West Papuan students in Indonesia and the ongoing peoples' uprising in West Papua.
Veronica was also an important source of information regarding the repression against anarchists in Indonesia that took place during and after the 2019 May Day demonstrations. Text of poster reads: "Stop the criminalization of human rights defenders and anti-racism activists"

via anarchistsworldwide.
Tags: Flyposters, Indonesia, Repression, Veronica Koman, West Papua Independence
Posted in Social Control
Thursday, August 22nd, 2019
Makassar, Indonesia, August 21st, 2019: Dozens of Makassar citizens took direct action (blocking the road) in front of the Hasanuddin University to convey solidarity with West Papuans who received racist acts and violence from the military, police and ultra-nationalist civil militias.
As for what is written on the banner:
MAKASSAR CITIZENS SOLIDARITY FOR PAPUA

1. STOP TORTURING PAPUANS RIGHT NOW!
2. PAPUANS ARE FREE TO CHOOSE THEIR OWN WAY (TO FREEDOM)
3. TNI (Indonesian Armed Forces), POLRI (Indonesian Police Force) AND FASCIST CIVIL MILITIAS, STOP YOUR RACIST ACTS, YOU DICK SHIT!
via Anarchists Worldwide.
Tags: Demo, Indonesia, International Solidarity, Makassar, Police Brutality, Racism, Repression, Solidarity Action, West Papua, West Papua Independence
Posted in Direct Action
Monday, June 3rd, 2019
SAN FRANCISCO, EE.UU.: ANARQUISTAS ATACAN EL CONSULADO DE INDONESIA CON BOMBAS DE PINTURA CONTRA LA REPRESIÓN DEL PRIMERO DE MAYO
On June 1, a modest mob of 20+ anarchists in San Francisco carried out an attack in solidarity with our comrades in so-called Indonesia where 600+ anarchists were arrested this May Day. We threw 60 paintbombs and heavily tagged the Indonesian Consulate with circle-(A)s to send a message to the Indonesian government that despite the distance between us and our comrades, the State is not safe and will always be attacked.
The actions of the Indonesian comrades, simple gestures of paint on walls, resonated with us. In the afterimages of their act, and in their call for solidarity, we recognized friends across the dying ocean. Even more than expressing our contempt for the Indonesian State, we want to convey our love to the comrades struggling within and against its false borders. Ferocity and Strength to those facing repression and those on the run. (more…)
Tags: California, Indonesia, International Solidarity, Paint attack, Paint bombs, Sabotage, San Francisco, Solidarity Action, USA, Vandalism
Posted in Direct Action
Saturday, June 1st, 2019
Solidarity Action Group of Indonesia and Australia
Anarchist Solidarity from Yogyakarta and Surabaya with Antifascist Prisoner Jock Palfreeman!
International Anarchist Solidarity with Antifascist prisoner Jock Palfreeman from the Solidarity Action Group of Indonesia and Australia. Comrade Jock recently completed a 33 day hunger strike in protest against the conditions of his imprisonment and ongoing harassment from prison authorities for his work with the Bulgarian Prisoners' Association. Jock is serving a 20 year prison sentence for defending 2 Roma boys and himself from a racist mob. Free Jock! Long live the Bulgarian Prisoners' Association.
(more…)
Tags: Australia, Banner drop, Indonesia, International Solidarity, Jock Palfreeman, Surabaya, Yogyakarta
Posted in Prison Struggle
Friday, May 24th, 2019
POLITICAL STATEMENT OF FRONT ANTI FASIS BANDUNG (BANDUNG ANTI FASCIST FRONT) ON FUND FROM INTERNATIONAL SOLIDARITY AFTER BANDUNG MAYDAY 2019
Police brutality during International Labour Day May 1st of 2019 in some cities, has append dark record of state apparatus to civil society's life. In Bandung, more than 700 comrades raided, striped off, bald-shaved, spray-painted, beaten up, and others worst things ever done to them by police. Same things also happen to comrades in others city such as Jakarta, Surabaya, Malang, and Makasar, they happened to be the victim of police brutality. That occurrence arouse many condemn to police and military from around the world.
As respond, many solidarity comes from individuals and organization toward the 2019 Mayday movement. Some Indonesian organizations then raise funds locally even internationally, as solidarity to those comrades who raided and threaten brutally by the police.
Until now, we "Front Anti Fasis Bandung" (Bandung Anti Fascist Front) have agreed to:
1. Have never run any fund raising nor receive any donation from International Solidarity.
2. Any necessity related to legal advocation and etc, is handled by local self-powered.
3. We still need all our comrades abroad to organize mass movement, campaign, political statement, and mobilization as a display of International Solidarity for us.
We'd like to sincerely say our biggest thanks to all of our solidarity comrades whose until today still shown their support and keep the flame of resistance on fire!
LONG LIVE DISOBEDIENCE!
-FRONT ANTI FASIS BANDUNG-
Tags: 1st May, Bandung, Front Anti Fasis Bandung (Bandung Anti Fascist Front), Indonesia, International Solidarity, Mayday
Posted in Anti-Fascist
Tuesday, May 14th, 2019
Political Statement of Front Anti Fasis Bandung (Bandung Anti Fascist Front) on State Brutality during May Day 2019 in Bandung
We, Front Anti Fasis Bandung (Bandung Anti Fascist Front), hereby condemn and curse every brutal act that the State carried out via its repressive state apparatus against the masses at the 2019 May Day demonstration in Bandung. We also condemn every form of violation to human rights that the State carried out against the arrested comrades in Bandung Police Station and in the Mobile Brigade base in Jatinangor. Furthermore, we also condemn these wretches for their savage actions against May Day demonstrations in many other areas. As for other condemnations, we say to ever State element that took part in the repression of May Day 2019 in Bandung the following: (more…)
Tags: 1st May, Anti-Fascism, Antifa, Bandung, Front Anti Fasis Bandung (Bandung Anti Fascist Front), Indonesia, Mayday, Police Brutality, Repression
Posted in Anti-Fascist
Saturday, May 4th, 2019
Palang Hitam / Anarchist Black Cross Indonesia has temporarily ceased activity due to problems with a former member who misused international donations. At present there is no anarchist organization supporting those facing repression, so support is being provided spontaneously and individually. Here is an update about the situation in several cities.
In Bandung, there was a peaceful action by a group of anarchists almost 1000 strong. It even consisted of mothers, children and teenage girls. Police attacked them and broke the bloc into two groups. They were then chased, beaten and arrested. The pretext for this was 'vandalism', some spray-painted graffiti. Many of those who were arrested were stripped and had their heads shaved. Some were spray-painted on their faces and bodies as well. Many were forced to crawl along the road in their underwear. In total 619 anarchists were arrested, of these, 3 still remain in custody for destruction of property. (more…)
Tags: 1st May, Bandung, Demo, Indonesia, International Solidarity, Jakarta, Repression, Riots
Posted in Social Control
Monday, January 28th, 2019


"All power to the Kurdish people fighting for their autonomy and liberation."
Ikarus Gang Solidarity. East Borneo, Balikpapan.
Tags: Indonesia, International Solidarity, Kurdish Struggle, Rojava, Syria
Posted in Direct Action
Wednesday, December 12th, 2018
Ucil, the last of the imprisoned anarchists of the Mayday 2018 mutiny in Yogyakarta, Indonesia, has been free since December 7, 2018 at 10:00 a.m. Congratulations, comrade and congratulations to the Palang Hitam crew for all their hard work as well as all the comrades who showed solidarity from so-called Australia.
Tags: ABC Indonesia, Brian Valentino (Ucil), Indonesia, Yogyakarta
Posted in Prison Struggle
Monday, December 3rd, 2018
TRADUCCIÓN: Voz Como Arma:
A continuación sigue una traducción que hemos hecho del texto "Seek and Destroy Eco-Extremism Everywhere: A Joint Statement of Individualist Network and Indonesian Anarchist Black Cross (Indonesia)" (Busca y Destruye el Eco-Extremismo En Todas Partes: Una Declaración Conjunta de la Red Individualista y de la Cruz Negra Anarquista de Indonesia), publicado en 325 y que viene a aportar otra reflexión contra el eco-extremismo y su influencia en algunos entornos del amplio "movimiento" anarquista.
–
"El que pelea con monstruos debería tener cuidado de no convertirse él mismo en un monstruo. Y si miras al abismo demasiado, el abismo también te mira a ti"
Más Allá del Bien y el Mal
Trasfondo
Sabemos que no hay una tendencia eco-extremista en Indonesia, aunque declaraciones anteriores de las células de la Federación Anarquista Informal tendieron a tener algún mérito en relación con la hostilidad general contra las moralidades anarquistas sociales y de izquierda en relación con la violencia, la destrucción y el fetiche de la organización. Para ser sinceres, nosotres no tenemos ilusiones cuando hablamos, escribimos o actuamos contra nuestro enemigo usando cualquier medio posible. Atacar al Estado y al Capitalismo es esencial para anarquistas de todas las tendencias (vamos a ignorar a la tendencia pacifista ya que necesita un contexto de discusión diferente), aunque esto es una declaración conjunta que implica a una amplia gama de tendencias anarquistas, la mayoría de nosotres no tenemos este punto de vista liberal sin sentido hacia la violencia contra el sistema y las personas que lo defienden, mantienen y materializan en la vida cotidiana. Algunas individualidades en nuestra red mantienen su postura anticivilización y postizquierdista mientras que otres encontraron algunos aspectos del anarquismo social como necesarios para organizar la interrupción de la máquina. (more…)
Tags: ABC Indonesia, Aragorn!, Eco-Extremism, Individualist Network - Indonesia, Individualists Tending Toward the Wild (ITS), Indonesia, Little Black Cart, Yogyakarta
Posted in Anti-Fascist
Saturday, November 24th, 2018
Note: Updated edited version.
"He who fights with monsters should look to it that he himself does not become a monster. And if you gaze long into an abyss, the abyss also gazes into you."
– Beyond Good and Evil
Background
We know that there is no eco-extremist tendency in Indonesia, although past statements from FAI cells tended to have some merit concerning the general hostility against the social and leftist anarchist moralities concerning violence, destruction, and the fetish of organization. To be honest, we don't have illusions when we talk, write, or act against our enemy using any means possible. Attacking the state and capitalism is essential for anarchists of all tendencies (we're going to ignore the pacifist tendency as it needs a different context of discussion), although this is a joint statement involving a wide range of tendencies of anarchists, most of us don't have this nonsense liberal point of view toward violence against the system and the people who defend, maintain, and materalise it in everyday life. Some individuals in our network maintain their anti-civ and post-leftist stance while others found some aspects of social anarchism are necessary in organizing the disruption of the machine.
Our intention of this statement is to join the front against the eco-extremist tendency that has been given platform by the self-labeled 'nihilist-anarchists' in the US and Europe, from our sources we know that most of these individuals who endorse EE and keep continuing in giving them platform are using absurd reasoning and it's post-modernist at best- we will discuss about this more below. It is funny though that most of the individuals in our network evolved from anti-civ and post-leftist discourses, even some of us have translated the writings of authors in AJODA: A Journal of Desire Armed (yes, including that boyfriend of ITS, Aragorn!). The critiques of the leftist movement have been useful in identifying the decadence of leftist populism in our territory, their dead-end strugglism and their social democratic tendency which aims to make "a more humanist capitalism," therefore we find it obscure when the recent eco-extremists were using the terms "humanism", "morality", and even "sectarianism" in their absolutist communiques as if the corpse of Nechaev Jesuitism was resurfacing again. (more…)
Tags: ABC Indonesia, Aragorn!, Eco-Extremism, Individualist Network - Indonesia, Individualists Tending Toward the Wild (ITS), Indonesia, Little Black Cart, Yogyakarta
Posted in Autonomy
Friday, November 16th, 2018
From the Anarchist Individualist Network of Yogyakarta to comrade Mikhail, all Anarchist and Anti-Fascist in Russia!
A banner tied in Yogyakarta, reading: "SOLIDARITY WITH ALL ANARCHIST AND ANTI-FASCIST IN RUSIA, LONG LIVE ANARCHY! 🖤 MIKHAIL"
Anarchists and Anti-Fascists in Russia have faced a wave of repression from the State following an action carried out by a 17-year-old young anarchist named Mikhail Zhlobitsky who blew himself up at the Arkhangelsk city FSB building on the morning of October 31. After the action some Anarchists and Anti-Fascists were arrested and received continued repression.
We hope for solidarity and strength for all anarchists and anti-fascists in Russia, Indonesia and worldwide.
Tags: Banner drop, Indonesia, International Solidarity, Misha Zhlobitsky, Russia
Posted in Autonomy