Posts Tagged 'Indonesia'
Tuesday, June 30th, 2020
On April 9th, 2020, three of our comrades were arrested and convicted of a heavy crime for spraying several graffiti that say "sudah krisis, saatnya membakar" (there's a crisis already, time to burn) and "melawan atau mati konyol" (fight or perish). What is actually a voice of rightful citizens is considered a crime of provocation. Their art is a valid criticisms toward the government's lack of integrity in mitigating the impacts of COVID-19 pandemic and just a petty crime at most.
Not long after, two other anarchists were also arrested by the police in Tangerang and Bekasi, without any solid ground. During the investigation, they were beaten and their faces were wrapped with plastic, which made them unconscious; a series of unauthorized measures to the point of torture. This violence was followed by isolation that made them unaccessible to their friends and families, even to legal attorneys that they're supposed to get as stated by the law.
Three of them are currently undergoing a court trial. They are charged of violating the Law of the Republic of Indonesia, No. 01, 1946, article 14 and/or article 15, and against the Criminal Code article 160, where the conviction can be up to 10 years of prison time. Meanwhile, the other two, who are still underage, are already convicted with 4 months of prison time.
We are calling out for solidarity and open donation to support our comrades during their time behind bars. This solidarity is open for local donation or anyone overseas that shares the concern.
https://www.paypal.com/adnandi
E-mail: fed.ao@protonmail.com
via AWW
Tags: Bekasi, Indonesia, Repression, Tangerang, Trial
Posted in Social Control
Tuesday, May 5th, 2020
Calling for anarchists global solidarity action
"STOP THE ISOLATION OF OUR COMRADES IN TANGERANG, RELEASED OUR COMRADES IN MALANG, FREE ALL THE ANARCHISTS!"
Introduction
While we know that the state will act in a totalitarian manner in this times and as being an anarchists we don't value their values, but in our constant struggle against the prevailing capitalist ideology that continues to colonialised our daily lives, the purpose of ABC are to help them in legal matters in which they get the "rights" for them and to communicate with them, to make them not isolated and feeling lonely.
Every decision are theirs we value that, but when the state are trying to orchestrate a bullshit narratives into scapegoating the anarchists or the anarchist movement in general in Indonesia in order to veil their own incompetency in dealing with the crisis and pandemic, we asked you, not for money or anything involving that, but to show your solidarity in whatever means. It can be graffiti, banner dropping, or most importantly to acknowledge every Indonesian consulate about the isolation and the arbitrary action that the police are doing to them. Please read the following articles (two of the were written by the Individualist Sect) and some of them are from mainstream media.
Mainstream media:
(On these reports or in any other reports Indonesian police only knew one tendency, that is anarcho syndicalism, which are false and poor research because the anarchist movement in Indonesia are very diverse and there's only one small group inactive anarcho-syndicalist and not a union)
https://www.thejakartapost.com/news/2020/04/14/books-seized-five-arrestedas-police-claimanarcho-syndicalists-plan-mass-looting-in-java.html
https://www.straitstimes.com/asia/se-asia/coronavirus-police-arrest-five-indonesians-attempting-to-instigate-looting
(These are the earliest reports from the Individualist Sect concerning the arrests and media sensationalisation)
https://anarchistsworldwide.noblogs.org/post/2020/04/12/about-the-indonesian-anarchist-witch-hunt-and-the-normal-activist-mentality/
https://anarchistsworldwide.noblogs.org/post/2020/04/23/indonesia-the-continual-anarchist-witch-hunt-the-scenario-of-state-incompetence/

Chronology of Tangerang Anarchists Isolation
On April 9, 2020, R, Af, and Ri were arrested in a tavern in Tangerang on vandalism charges. Apart from the minor crimes they committed, the police showed an arrest warrant that did not have their names listed. The family was also notified of this arrest on April 11, 2020, 2 days after the arrest. In fact, Af is a minor. The legal process is not in accordance with procedures and until now all three are still blocked by the police to get legal assistance. •
The right to receive legal representation is stipulated in articles 69, 70, 72, Law no. 8 of 1981 concerning Criminal Procedure Law. • "The tendency to obstruct access to legal representation is a violation of the right to a fair trial as contained in Article 14 of the International Covenant on Civil and Political Rights (Ratified in Law No. 12 of 2005)" •
Immediately Fulfill Their Rights To Get A Legal Assistant!
Black Cross – WA – www.palanghitamanarkis.noblogs.org
Ps: Three more arrested and are still behind bars in East Java, Malang. They are prosecuted with the same charges "public provocation" under 160 Law such those comrades in Tangerang.
Ps: There's already small gestures of solidarity from Netherlands and Australia. Links below:
https://palanghitamanarkis.noblogs.org/post/2020/05/04/solidaritas-internasional-untuk-tahanan-anarkis-tangerang-malang-dan-tahanan-politik-papua-barat/
https://palanghitamanarkis.noblogs.org/post/2020/05/05/solidaritas-anarkis-utrecht-untuk-tahanan-anarkis-indonesia/
Tags: East Java, Indonesia, International Solidarity, Isolation, Malang, Repression, Tangerang
Posted in Prison Struggle
Sunday, April 26th, 2020
+ Indonesia: The Continual Anarchist Witch Hunt & the Scenario of State Incompetence
In the middle of a global pandemic–as if there never was a global crisis to humanity before–and on the verge of a global economic recession, the Indonesian police have released a statement that anarchists are planning looting on a national scale on 18th April, The Year of Corona. This idiotic and also a strategic statement falsely made by authority are a clear intention of seeking who to blame in this time of crisis while in the lower layer of Indonesian society many are already fed up with the conditions and looting is no longer a taboo subject. Anger is growing. But as media and the police tried to sensationalize the recent arrest of four anarchists accused of graffiti that said "It's already a crisis, its time to burn" (see photo) they tried to manipulate the crisis and the incompetency of the state in responding to the situation by seeking a "public enemy" now named "the anarchists". If we can just compare how the impact of some graffiti and the recent situation, the response of general middle class internet society and mostly also by activists, snitches, and cowards who are manipulated into focusing on a small group of anarchists in Tangerang, a few kilometers from Jakarta who were arrested for doing graffiti. (more…)
Tags: Coronavirus, Graffiti, Indonesia, Raids, Repression
Posted in Social Control
Friday, March 6th, 2020
From Anarchists Worldwide: The following interview with self-described primal anarchist advocate, writer, editor, independent researcher, publisher, musician and rewilding human, Kevin Tucker, originally appeared in the first issue of the new Indonesian anarchist journal, Jurnal Anarki. Jurnal Anarki is written entirely in Bahasa Indonesian, and this is the first time content from it has been republished in English. We'd like to thank comrade Eat for making this possible!
1. Looking at the Anarcho-Primitivist Primer by John Moore, he explains that Anarcho-Primitivism has nothing to do with romanticizing the primitivist way of life, or as many people love to accuse Zerzan of, suggesting that we go back to the stone age. What do you think about John Moore's interpretation of Anprim? Do you have a different interpretation, or perhaps even a critique of the Primer?
I don't know if I would call it a critique of John Moore's primer, but the 'Anarcho-Primitivist Primer' was admittedly a quick and personal take on anarcho-primitivism (AP). It was really only a few pages long, the kind of thing you hand out to contextualize other pamphlets, zines, and books you might have at the same time. It wasn't meant to be definitive, even though, I would say, at the time it was still effective.
That said, I have a lot of appreciation for John, but his work was still limited by the time and when he died in 2002 there was a lot that had been kind of left unaddressed, to the point where a pamphlet like his earlier 'Lovebite' was dated pretty quickly.
A part of that is the terminology and framing. Personally, I've been moving towards a framing of "primal anarchy" over the term "anarcho-primitivist" for the last fifteen years now. "Primitive," as a term, just doesn't really cut it anymore, but it also reinforces this idea that "primitive" refers to a point in time or place. Like it's something that has gone or remains in a few places. I think primal is a lot more fitting, which is the direction that Paul Shepard had been leaning in for some time. (more…)
Tags: Analysis, Anti-technology, Climate Chaos, Earth Liberation Front, Eat, Eco-Extremism, Ecological Destruction, Indigenous Struggle, Indonesia, Informal Anarchist Federation (FAI), Interview, John Zerzan, Jurnal Anarki, Kevin Tucker, Primal Anarchy, Sabotage, USA
Posted in Interviews
Wednesday, February 19th, 2020
February 19th, 2020. Makassar, Indonesia.
According to the court's decision, our comrades (Supriadi, Anto, Haerul, Alif, Agus, and Faruddin) were sentenced to prison for 1 year and 6 months, they were charged under art. 506 About Actions Against the law and art. 170 regarding acts of violence/destruction carried out jointly.
*Note: On September 26, They were arrested during the nationwide protests in Indonesia in September 2019. Insurrectionary anarchists in Makassar claimed responsibility for blocking a highway and attacking state vehicles.
Don't let them feel alone, solidarity never stop, anywhere!
Smash the state!
Tags: Indonesia, International Solidarity, Makassar, Trial
Posted in Prison Struggle
Tuesday, January 28th, 2020
PDF: Jurnal Anarki – Edisi Menjelang Badai
INTRO.
EDITORIAL.
KIDUNG BAGI UNABOMBER PART I.
KIDUNG BAGI UNABOMBER PART II.
KETIKA MASYARAKAT MEMBESARKAN HITLER.
KRITIK ATAS PRIMATA, EVOLUSI, DAN ANARKISME.
PRIMATA, EVOLUSI, DAN ANARKISME.
TEKNOFASIS KAPITALISME.
GERAKAN SOSIAL, MUSIK, DAN SEORANG HERRY SUTRESNA.
MAYDAY 2019: DUNIA ADALAH MILIK MEREKA YANG MUDA.
ARSITEKTUR DAN APOKALIPS – IVAN THEO.
TETEK BATOK.
BAGAIMANA ANAK PEMBURU DAN PERAMU BELAJAR – PETER GRAY.
PAPUA BARAT, KOLONIALISME, DAN SOLIDARITAS TANPTA BATAS – VERONIKA KOMAN.
KEBANGKITAN GLOBAL FASISME.
DOMESTIKASI DAN ANARKI PRIMAL – KEVIN TUCKER. [">EN]
MERENGKUH KEKOSONGAN KREATIF: SEKELUMIT KISAH RENZO NOVATORE
Tags: 1st May, Analysis, Anti-Fascism, Ecological Destruction, Herry Sutresna, Indigenous Struggle, Indonesia, Jurnal Anarki, Nazi, Papua, PDF, Renzo Novatore, Ted Kaczynski, West Papua, West Papua Independence, Zine
Posted in Library
Thursday, December 12th, 2019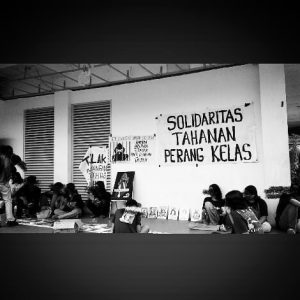 Surrendering to state domination is the death of living for humans, contempt in the face of this is freedom and independence.
Free choice to continue to survive and assemble all forms of power to keep burning and ready to burn all threats, to fight all forms of dictation of power, oppression and all forms of capitalism domination.
There is only one war, namely CLASS WAR !!!
CLASS WAR – FIGHTING SOLIDARITY

Solidarity is a Weapon
Palanghitam Anarkis / ABC Indonesia | More info: 1, 2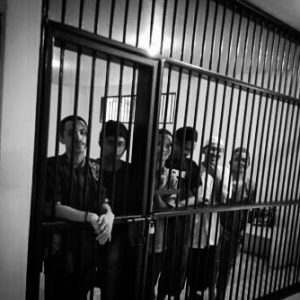 Tags: ABC Indonesia, Indonesia, International Solidarity, Makassar, Makassar City
Posted in Prison Struggle
Wednesday, October 30th, 2019
via anarchistsworldwide:

TEGAKLAH SEPERTI DI AWAL!
Kepada kawan yang masih setia di jalan pedang pemberontakan, terimalah cinta semesta di dada kalian. Jumlah kami adalah sejumlah semut yang ada di bumi manusia. Akan terus ada, meski berkali-kali dilibas senjata.
Haerul, Agus, Faruddin and Alif adalah para anarkis yang ditangkap karena terlibat dalam aksi pembakaran mobil plat merah (mobil negara) di makassar, Sulawesi Selatan beberapa saat lalu.
Haerul, Agus, Faruddin and Alif adalah para anarkis yang ditangkap karena terlibat dalam aksi pembakaran mobil plat merah (mobil negara) di makassar, Sulawesi Selatan beberapa saat lalu.

solidaritas sampai semuanya bebas!!!
******
ASKED AS IN THE BEGINNING!
To friends who are still loyal in the way of the sword of rebellion, accept universal love in your bosom. Our number is the number of ants that exist on human earth. It will continue to exist, even though there are many weapons.
Haerul, Agus, Faruddin and Alif were anarchists who were arrested for involvement in the burning of a red plate car (a state car) in Makassar, South Sulawesi some time ago.

solidarity until everything is free!!!
Tags: Indonesia, International Solidarity, Makassar, Repression, Sulawesi
Posted in Social Control
Thursday, September 26th, 2019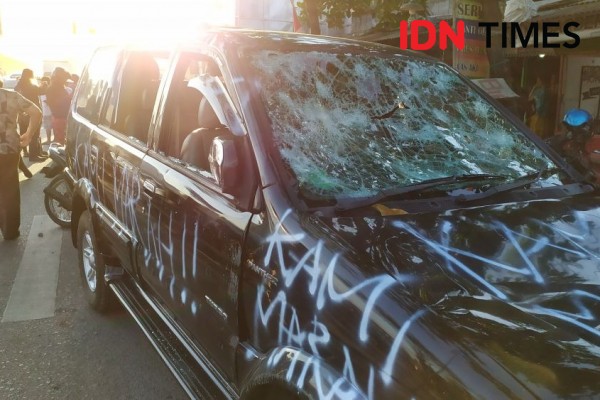 A demonstration outside Hasanuddin University (Unhas) I, Makassar Perintis Independence Street, took place as a series of demonstrations of community and student alliances of various regions. During the end of the demo today, comrades stopped two official state cars, brought the drivers out and trashed the vehicles. According to corporate media 19 people were arrested in the nearby area in a police round-up.
At September, 26, 2019, two cars of the Forestry Service South-Sulawesi Province (Makassar-Indonesia) had been damaged, by breaking all the windshields and then turning it in the middle of the road.
Here is the communique from that action:
1. We are angry because the country along with the Army and Police violently chased, evicted, fired, and killed our brothers in Papua, Kulon Progo, Urut Sewu, Bara barayya and Polongbangkeng.
2. We are angry because the government continues to attack us with torturous rules.
3. We are angry because the capitalists continually try to destroy our lives, destroy nature, burn forests, heap the oceans, destroy mountains, displace the living space of each species, build artificial buildings, to control what we should and should not consume.
4. We are angry because the media are preaching everything that is not important, eliminating cases of murder until the slaughter and continuing to work with the authorities to destroy the struggle of our combatants who fight for a better life.
5. There is no compromise for rulers and capitalists.
Below are link/news about that action:
https://nasional.tempo.co/read/1252801/unjuk-rasa-di-makassar-rusuh-massa-merusak-mobil-pelat-merah/full&view=ok
https://sulsel.idntimes.com/news/sulsel/aanpranata/unjuk-rasa-di-depan-unhas-dua-mobil-dinas-dirusak/full
Tags: Demo, Indonesia, Makassar, Riots, Sabotage, Sulawesi
Posted in Direct Action
Sunday, September 15th, 2019
Solidarity poster for fugitive Anarchist comrade and human rights lawyer Veronica Koman who is facing up to 6 years imprisonment and fines of $US70,000 for 'incitement' and 'spreading fake news' for her important coverage on social media of the racist attacks against West Papuan students in Indonesia and the ongoing peoples' uprising in West Papua.
Veronica was also an important source of information regarding the repression against anarchists in Indonesia that took place during and after the 2019 May Day demonstrations. Text of poster reads: "Stop the criminalization of human rights defenders and anti-racism activists"

via anarchistsworldwide.
Tags: Flyposters, Indonesia, Repression, Veronica Koman, West Papua Independence
Posted in Social Control
Thursday, August 22nd, 2019
Makassar, Indonesia, August 21st, 2019: Dozens of Makassar citizens took direct action (blocking the road) in front of the Hasanuddin University to convey solidarity with West Papuans who received racist acts and violence from the military, police and ultra-nationalist civil militias.
As for what is written on the banner:
MAKASSAR CITIZENS SOLIDARITY FOR PAPUA

1. STOP TORTURING PAPUANS RIGHT NOW!
2. PAPUANS ARE FREE TO CHOOSE THEIR OWN WAY (TO FREEDOM)
3. TNI (Indonesian Armed Forces), POLRI (Indonesian Police Force) AND FASCIST CIVIL MILITIAS, STOP YOUR RACIST ACTS, YOU DICK SHIT!
via Anarchists Worldwide.
Tags: Demo, Indonesia, International Solidarity, Makassar, Police Brutality, Racism, Repression, Solidarity Action, West Papua, West Papua Independence
Posted in Direct Action
Monday, June 3rd, 2019
SAN FRANCISCO, EE.UU.: ANARQUISTAS ATACAN EL CONSULADO DE INDONESIA CON BOMBAS DE PINTURA CONTRA LA REPRESIÓN DEL PRIMERO DE MAYO
On June 1, a modest mob of 20+ anarchists in San Francisco carried out an attack in solidarity with our comrades in so-called Indonesia where 600+ anarchists were arrested this May Day. We threw 60 paintbombs and heavily tagged the Indonesian Consulate with circle-(A)s to send a message to the Indonesian government that despite the distance between us and our comrades, the State is not safe and will always be attacked.
The actions of the Indonesian comrades, simple gestures of paint on walls, resonated with us. In the afterimages of their act, and in their call for solidarity, we recognized friends across the dying ocean. Even more than expressing our contempt for the Indonesian State, we want to convey our love to the comrades struggling within and against its false borders. Ferocity and Strength to those facing repression and those on the run. (more…)
Tags: California, Indonesia, International Solidarity, Paint attack, Paint bombs, Sabotage, San Francisco, Solidarity Action, USA, Vandalism
Posted in Direct Action
Saturday, June 1st, 2019
Solidarity Action Group of Indonesia and Australia
Anarchist Solidarity from Yogyakarta and Surabaya with Antifascist Prisoner Jock Palfreeman!
International Anarchist Solidarity with Antifascist prisoner Jock Palfreeman from the Solidarity Action Group of Indonesia and Australia. Comrade Jock recently completed a 33 day hunger strike in protest against the conditions of his imprisonment and ongoing harassment from prison authorities for his work with the Bulgarian Prisoners' Association. Jock is serving a 20 year prison sentence for defending 2 Roma boys and himself from a racist mob. Free Jock! Long live the Bulgarian Prisoners' Association.
(more…)
Tags: Australia, Banner drop, Indonesia, International Solidarity, Jock Palfreeman, Surabaya, Yogyakarta
Posted in Prison Struggle
Friday, May 24th, 2019
POLITICAL STATEMENT OF FRONT ANTI FASIS BANDUNG (BANDUNG ANTI FASCIST FRONT) ON FUND FROM INTERNATIONAL SOLIDARITY AFTER BANDUNG MAYDAY 2019
Police brutality during International Labour Day May 1st of 2019 in some cities, has append dark record of state apparatus to civil society's life. In Bandung, more than 700 comrades raided, striped off, bald-shaved, spray-painted, beaten up, and others worst things ever done to them by police. Same things also happen to comrades in others city such as Jakarta, Surabaya, Malang, and Makasar, they happened to be the victim of police brutality. That occurrence arouse many condemn to police and military from around the world.
As respond, many solidarity comes from individuals and organization toward the 2019 Mayday movement. Some Indonesian organizations then raise funds locally even internationally, as solidarity to those comrades who raided and threaten brutally by the police.
Until now, we "Front Anti Fasis Bandung" (Bandung Anti Fascist Front) have agreed to:
1. Have never run any fund raising nor receive any donation from International Solidarity.
2. Any necessity related to legal advocation and etc, is handled by local self-powered.
3. We still need all our comrades abroad to organize mass movement, campaign, political statement, and mobilization as a display of International Solidarity for us.
We'd like to sincerely say our biggest thanks to all of our solidarity comrades whose until today still shown their support and keep the flame of resistance on fire!
LONG LIVE DISOBEDIENCE!
-FRONT ANTI FASIS BANDUNG-
Tags: 1st May, Bandung, Front Anti Fasis Bandung (Bandung Anti Fascist Front), Indonesia, International Solidarity, Mayday
Posted in Anti-Fascist
Tuesday, May 14th, 2019
Political Statement of Front Anti Fasis Bandung (Bandung Anti Fascist Front) on State Brutality during May Day 2019 in Bandung
We, Front Anti Fasis Bandung (Bandung Anti Fascist Front), hereby condemn and curse every brutal act that the State carried out via its repressive state apparatus against the masses at the 2019 May Day demonstration in Bandung. We also condemn every form of violation to human rights that the State carried out against the arrested comrades in Bandung Police Station and in the Mobile Brigade base in Jatinangor. Furthermore, we also condemn these wretches for their savage actions against May Day demonstrations in many other areas. As for other condemnations, we say to ever State element that took part in the repression of May Day 2019 in Bandung the following: (more…)
Tags: 1st May, Anti-Fascism, Antifa, Bandung, Front Anti Fasis Bandung (Bandung Anti Fascist Front), Indonesia, Mayday, Police Brutality, Repression
Posted in Anti-Fascist