Posts Tagged 'Indonesia'
Thursday, September 17th, 2020
We are currently still low on the printing cost for this journal, please consider to donate, we still need about 150 USD for 500 exemplars. We have managed to sell 700 exemplars from the previous edition.
Paypal: frambawati@yahoo.com or just email us if you want to donate from another platform: feldasit@riseup.net
Tags: Indonesia, Jurnal Anarki
Posted in Autonomy
Thursday, September 10th, 2020
Women and fishermen from Kondingareng Island, Makassar City and NGO activists from ASP and KIARA blockaded the Boskalis ship Queen of the Netherlands in Galesong-Makassar waters. The action was carried out to stop the marine sand mining activities by the Boskalis ship which is damaging the environment and reducing the income of fishermen. The impact of mining activity has also created social conflict among the traditional fishermen.
Boskalis, the Indonesian state and its officials have been waging a campaign of terror against fishermen who oppose mining. Last August, Indonesian police sank 3 of the fishermen's boats and criminalized 3 of them for fighting against the mining.
The fishermen struggle autonomously and use direct action on many occasions such as intercepting mining boats and forcibly stopping mining activities.
Solidarity with the fishermen of Kondingareng Island!
via Anarchists in so-called Melbourne.
Tags: Blockade, Boksalis (Dutch Company), Ecological Destruction, Indonesia, Kondingareng Island, Makassar, Makassar City, Mining, Netherlands
Posted in Eco Struggle
Tuesday, September 1st, 2020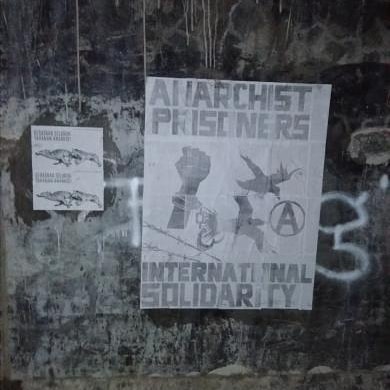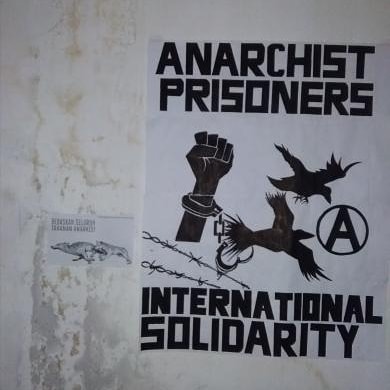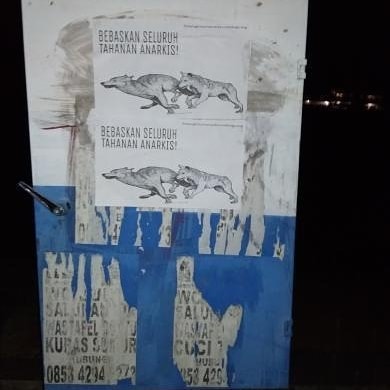 ABC Indonesia
Tags: Gorontalo, Indonesia, International Solidarity, International Week for Anarchist Prisoners, Solidarity Action
Posted in Prison Struggle
Wednesday, August 26th, 2020
Solidarity with the West Papuan Struggle for Independence
[Anarchists Worldwide Archive on the 2019 West Papua Uprising]
via AWW.
Tags: Indonesia, International Solidarity, Video, West Papua, West Papua Independence
Posted in Autonomy
Saturday, August 22nd, 2020
Tangerang and Bekasi Anarchist Prisoners Update News;
Tuesday, August 18, 2020. The 13th trial for our 3 friends MR, RJ, RI, with the agenda of hearing witness testimony.
The witness explained about the violence experienced by the defendant during arrest and procedural errors committed by the police, such as the family being late in receiving an arrest warrant, searches, etc.
The next trial will be held on Tuesday, August 25, 2020
Come and give support! Build anti-authoritarian prisoner solidarity !! Now or never.
Free all anarchist prisoners!!
–
Kabar Tahanan Anarkis Tangerang dan Bekasi;
Selasa, 18 Agustus 2020. Sidang ke 13 untuk 3 kawan kami MR, RJ, RI, dengan agenda mendengarkan keterangan saksi.
Saksi memaparkan soal kekerasan yang dialami terdakwa saat penangkapan serta praktik pelanggaran prosedur yang dilakukan oleh polisi, seperti keluarga terlambat menerima surat penangkapan, penggeledahan, dll.
Sidang selanjutnya akan dilaksanakan pada hari Selasa, 25 Agustus 2020
Hadir dan beri dukungan! Tidak ada yang setimpal selain vonis bebas!
Bangun solidaritas tahanan anti otoritarian!! Sekarang atau tidak sama sekali.
via Palang Hitam Indonesia / Anarchist Black Cross Indonesia
Tags: Bekasi, Indonesia, Repression, Tangerang, Trial
Posted in Prison Struggle
Sunday, August 16th, 2020
From AWW:
15.08.2020: Police have announced that they are investigating 6 anarchists or anarchist affiliated protesters – however, 7 people were put on display at the cop press conference. This follows national protests against Jokowi's neoliberal Omnibus Law (see video) and is occurring in the context of a government crackdown on anarchists. Updates to follow when more information is known.
Tags: Anti-Omnibus Law, Demo, Indonesia, Repression, West Java
Posted in Social Control
Monday, August 10th, 2020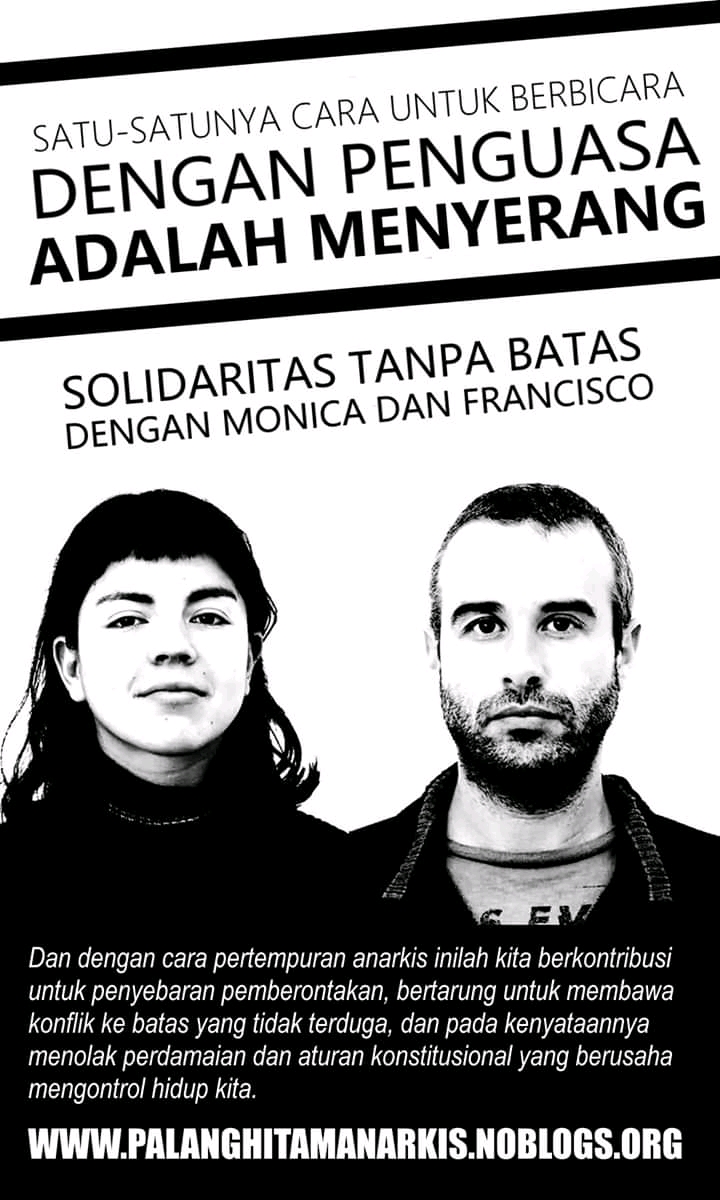 From Indonesia… To Chile…
Palang Hitam Indonesia / Anarchist Black Cross Indonesia menerbitkan poster solidatas untuk tahanan anarkis Mónica Caballero dan Francisco Solar dari Chile. Sebarkan solidaritas!!
Tautan unduhan:
• File PDF
• File JPG
Solidaritas kami akan lebih kuat dari tembok penjara mereka!! Free Monica and Francisco!
Tags: ABC Indonesia, Chile, Francisco Solar, Indonesia, International Solidarity, Monica Caballero
Posted in Prison Struggle
Sunday, August 9th, 2020
One of the Tangerang anarchist prisoners who was previously sentenced to 4 months in prison, on August 8, 2020, has been released.
Of course his release does not make us forget the repressive actions he experienced during his arrest, interrogation and isolation for some time.
Congratulations for Comrade AA's freedom.
2 Tangerang anarchist prisoners and 1 Bekasi prisoner, will undergo trial Tuesday [11 August 2020].
#TillAllAreFree
Tags: Bekasi, Indonesia, International Solidarity, Tangerang
Posted in Prison Struggle
Thursday, July 30th, 2020
Tags: Anti-Fascism, Anti-technology, Indonesia, International Solidarity, Jurnal Anarki, Video, West Papua, Zine
Posted in Library
Saturday, July 25th, 2020
Received from our comrades in Indonesia:
Solidarity actions for Rojava from Indonesia:
https://palanghitamanarkis.noblogs.org/post/2020/07/20/multiple-cities-indonesia-day-of-international-solidarity-for-rojava/
Trial update of the anarchist prisoners of Tangerang and Bekasi (Indonesia):
https://palanghitamanarkis.noblogs.org/post/2020/07/23/indonesia-trial-update-on-tangerang-bekasi-anarchist-prisoners/
Update about Paypal address to support Tangerang anarchist prisoners (Indonesia):
https://anarchistsworldwide.noblogs.org/post/2020/07/16/updated-info-about-the-solidarity-fund-for-anarchist-prisoners-in-indonesia/
Tags: Bekasi, Indonesia, International Solidarity, Rojava, Tangerang
Posted in Autonomy
Sunday, July 19th, 2020
As anarchists we believe, direct action and insurrection is the soul of anarchism itself, while prison and humiliation are the consequences of every direct action we take.
If humiliation is the answer to every direct action, then pacifism is the answer right? Unfortunately not, giving up on pacifism means letting our necks stepped and getting stepped again!
Our comrades in Tangerang and Makassar have decided to fight back against state oppression and must now be locked up in prison, and this is our duty to ensure they are not alone! We did a little decoration in an unused building a few days ago as our solidarity, let's make and spread solidarity!
Our hugs and love for Makassar and Tangerang anarchist prisoners. Fire for prison! No anarchy without abolition of prisons and police!
Tulungagung Anarchist Individual Network
via Palang Hitam Indonesia / Anarchist Black Cross Indonesia
Free All Anarchist Prisoners
Tags: Graffiti, Indonesia, International Solidarity, Makassar, Makassar City, Solidarity Action, Tangerang, Tulungagung
Posted in Prison Struggle
Tuesday, June 30th, 2020
On April 9th, 2020, three of our comrades were arrested and convicted of a heavy crime for spraying several graffiti that say "sudah krisis, saatnya membakar" (there's a crisis already, time to burn) and "melawan atau mati konyol" (fight or perish). What is actually a voice of rightful citizens is considered a crime of provocation. Their art is a valid criticisms toward the government's lack of integrity in mitigating the impacts of COVID-19 pandemic and just a petty crime at most.
Not long after, two other anarchists were also arrested by the police in Tangerang and Bekasi, without any solid ground. During the investigation, they were beaten and their faces were wrapped with plastic, which made them unconscious; a series of unauthorized measures to the point of torture. This violence was followed by isolation that made them unaccessible to their friends and families, even to legal attorneys that they're supposed to get as stated by the law.
Three of them are currently undergoing a court trial. They are charged of violating the Law of the Republic of Indonesia, No. 01, 1946, article 14 and/or article 15, and against the Criminal Code article 160, where the conviction can be up to 10 years of prison time. Meanwhile, the other two, who are still underage, are already convicted with 4 months of prison time.
We are calling out for solidarity and open donation to support our comrades during their time behind bars. This solidarity is open for local donation or anyone overseas that shares the concern.
https://www.paypal.com/adnandi
E-mail: fed.ao@protonmail.com
via AWW
Tags: Bekasi, Indonesia, Repression, Tangerang, Trial
Posted in Social Control
Tuesday, May 5th, 2020
Calling for anarchists global solidarity action
"STOP THE ISOLATION OF OUR COMRADES IN TANGERANG, RELEASED OUR COMRADES IN MALANG, FREE ALL THE ANARCHISTS!"
Introduction
While we know that the state will act in a totalitarian manner in this times and as being an anarchists we don't value their values, but in our constant struggle against the prevailing capitalist ideology that continues to colonialised our daily lives, the purpose of ABC are to help them in legal matters in which they get the "rights" for them and to communicate with them, to make them not isolated and feeling lonely.
Every decision are theirs we value that, but when the state are trying to orchestrate a bullshit narratives into scapegoating the anarchists or the anarchist movement in general in Indonesia in order to veil their own incompetency in dealing with the crisis and pandemic, we asked you, not for money or anything involving that, but to show your solidarity in whatever means. It can be graffiti, banner dropping, or most importantly to acknowledge every Indonesian consulate about the isolation and the arbitrary action that the police are doing to them. Please read the following articles (two of the were written by the Individualist Sect) and some of them are from mainstream media.
Mainstream media:
(On these reports or in any other reports Indonesian police only knew one tendency, that is anarcho syndicalism, which are false and poor research because the anarchist movement in Indonesia are very diverse and there's only one small group inactive anarcho-syndicalist and not a union)
https://www.thejakartapost.com/news/2020/04/14/books-seized-five-arrestedas-police-claimanarcho-syndicalists-plan-mass-looting-in-java.html
https://www.straitstimes.com/asia/se-asia/coronavirus-police-arrest-five-indonesians-attempting-to-instigate-looting
(These are the earliest reports from the Individualist Sect concerning the arrests and media sensationalisation)
https://anarchistsworldwide.noblogs.org/post/2020/04/12/about-the-indonesian-anarchist-witch-hunt-and-the-normal-activist-mentality/
https://anarchistsworldwide.noblogs.org/post/2020/04/23/indonesia-the-continual-anarchist-witch-hunt-the-scenario-of-state-incompetence/

Chronology of Tangerang Anarchists Isolation
On April 9, 2020, R, Af, and Ri were arrested in a tavern in Tangerang on vandalism charges. Apart from the minor crimes they committed, the police showed an arrest warrant that did not have their names listed. The family was also notified of this arrest on April 11, 2020, 2 days after the arrest. In fact, Af is a minor. The legal process is not in accordance with procedures and until now all three are still blocked by the police to get legal assistance. •
The right to receive legal representation is stipulated in articles 69, 70, 72, Law no. 8 of 1981 concerning Criminal Procedure Law. • "The tendency to obstruct access to legal representation is a violation of the right to a fair trial as contained in Article 14 of the International Covenant on Civil and Political Rights (Ratified in Law No. 12 of 2005)" •
Immediately Fulfill Their Rights To Get A Legal Assistant!
Black Cross – WA – www.palanghitamanarkis.noblogs.org
Ps: Three more arrested and are still behind bars in East Java, Malang. They are prosecuted with the same charges "public provocation" under 160 Law such those comrades in Tangerang.
Ps: There's already small gestures of solidarity from Netherlands and Australia. Links below:
https://palanghitamanarkis.noblogs.org/post/2020/05/04/solidaritas-internasional-untuk-tahanan-anarkis-tangerang-malang-dan-tahanan-politik-papua-barat/
https://palanghitamanarkis.noblogs.org/post/2020/05/05/solidaritas-anarkis-utrecht-untuk-tahanan-anarkis-indonesia/
Tags: East Java, Indonesia, International Solidarity, Isolation, Malang, Repression, Tangerang
Posted in Prison Struggle
Sunday, April 26th, 2020
+ Indonesia: The Continual Anarchist Witch Hunt & the Scenario of State Incompetence
In the middle of a global pandemic–as if there never was a global crisis to humanity before–and on the verge of a global economic recession, the Indonesian police have released a statement that anarchists are planning looting on a national scale on 18th April, The Year of Corona. This idiotic and also a strategic statement falsely made by authority are a clear intention of seeking who to blame in this time of crisis while in the lower layer of Indonesian society many are already fed up with the conditions and looting is no longer a taboo subject. Anger is growing. But as media and the police tried to sensationalize the recent arrest of four anarchists accused of graffiti that said "It's already a crisis, its time to burn" (see photo) they tried to manipulate the crisis and the incompetency of the state in responding to the situation by seeking a "public enemy" now named "the anarchists". If we can just compare how the impact of some graffiti and the recent situation, the response of general middle class internet society and mostly also by activists, snitches, and cowards who are manipulated into focusing on a small group of anarchists in Tangerang, a few kilometers from Jakarta who were arrested for doing graffiti. (more…)
Tags: Coronavirus, Graffiti, Indonesia, Raids, Repression
Posted in Social Control
Friday, March 6th, 2020
From Anarchists Worldwide: The following interview with self-described primal anarchist advocate, writer, editor, independent researcher, publisher, musician and rewilding human, Kevin Tucker, originally appeared in the first issue of the new Indonesian anarchist journal, Jurnal Anarki. Jurnal Anarki is written entirely in Bahasa Indonesian, and this is the first time content from it has been republished in English. We'd like to thank comrade Eat for making this possible!
1. Looking at the Anarcho-Primitivist Primer by John Moore, he explains that Anarcho-Primitivism has nothing to do with romanticizing the primitivist way of life, or as many people love to accuse Zerzan of, suggesting that we go back to the stone age. What do you think about John Moore's interpretation of Anprim? Do you have a different interpretation, or perhaps even a critique of the Primer?
I don't know if I would call it a critique of John Moore's primer, but the 'Anarcho-Primitivist Primer' was admittedly a quick and personal take on anarcho-primitivism (AP). It was really only a few pages long, the kind of thing you hand out to contextualize other pamphlets, zines, and books you might have at the same time. It wasn't meant to be definitive, even though, I would say, at the time it was still effective.
That said, I have a lot of appreciation for John, but his work was still limited by the time and when he died in 2002 there was a lot that had been kind of left unaddressed, to the point where a pamphlet like his earlier 'Lovebite' was dated pretty quickly.
A part of that is the terminology and framing. Personally, I've been moving towards a framing of "primal anarchy" over the term "anarcho-primitivist" for the last fifteen years now. "Primitive," as a term, just doesn't really cut it anymore, but it also reinforces this idea that "primitive" refers to a point in time or place. Like it's something that has gone or remains in a few places. I think primal is a lot more fitting, which is the direction that Paul Shepard had been leaning in for some time. (more…)
Tags: Analysis, Anti-technology, Climate Chaos, Earth Liberation Front, Eat, Eco-Extremism, Ecological Destruction, Indigenous Struggle, Indonesia, Informal Anarchist Federation (FAI), Interview, John Zerzan, Jurnal Anarki, Kevin Tucker, Primal Anarchy, Sabotage, USA
Posted in Interviews