Posts Tagged 'Indonesia'
Friday, November 13th, 2020
As we've seen during the Covid-19 pandemic, the State takes advantage of the situation with (offline and online) monitoring, controlled by police and also through technological devices, for example CCTV, smart phones, etc. Their reasons for this situation are, as we know very well, is in the name of public safety, which is an illusion repeated over and over.
We are faced with a situation that is uncertain, we do not know when the pandemic will end and at the same time the State is intensifying its control technology, on which the use is augmented and enhanced, CCTV for example. At the start of the pandemic we found that surveillance of urban space with CCTV increased and active police-army patrols as well. This situation makes the resistance movement decrease, we are "required" to stay put, to isolate oneself. But is this any logical reason not to follow up with the rebels on the streets? We are sure and our answer is no.
We refuse to be passive in the midst of the control and seizure of living space by the State, government and police. However, due to this pandemic and the situation of contamination, we must seek a gap – without meaning to be arrogant – and to simultaneously maintain the health of oneself and with shared affinity and continue the rebellion (albeit minimal and inadequate). We believe it can be done. Because of this attitude, on November 13 on one of the roads of Pontianak city, we sabotaged the CCTV and take responsible for this action.
And lastly, we are in solidarity with fellow Italian anarchists in Operation Scripta Manent, Panico, Prometo, Ritrovo, Lince, Renata, Bialystok, Scintilla, who were repressed by the public prosecutor and Brenner Court. And for fellow Belarusian anarchists, and to Monica and Francisco, also to Gabriel Pombo, also to Tanggerang and Makassar fellow anarchists, and for all imprisoned anarchists all over the world. Our attacks are dedicated to you, without terms and conditions.
Fight Control Technology!
Fight the Prison and For the Release of All Prisoners!
Long live anarchy, long live the insurrection!
Maverick Cell – Informal Anarchist Federation (FAI)
–
Sebagaimana yang kita amati di masa pandemi Covid-19 ini, negara memanfaatkan situasi tersebut dengan pemantauan (offline dan online) terkontrol dengan aparat polisi dan juga melalui perangkat teknologi, misalnya cctv, ponsel pintar, dll. Alasan mereka atas situasi ini kita tahu betul ialah atasnama keamanan masyarakat, ilusi yang berulang-ulang.
Kita dihadapi dengan situasi yang tidak pasti kapan akan berakhirnya pandemi ini dan disisi yang sama bahwa negara memasifkan pengontrolan teknologi, dimana penggunaan ini ditambah dan ditingkatkan, cctv misalnya. Di awal pandemi kami mendapati bahwa pengawasan ruang kota dengan cctv bertambah dan patroli polisi-tentara yang aktif. Situasi ini membuat gerakan perlawanan menjadi menurun, dimana kita "mengharuskan" untuk tetap diam di tempat, mengasingkan diri sendiri. Namun apakah ini alasan yang logis untuk tidak melanjuti pemberontak di jalanan? Kami yakin dan jawaban kami adalah tidak.
Kami menolak untuk menjadi pasif ditengah-tengah pengontrolan dan perampasan ruang hidup oleh negara, pemerintah dan polisi. Namun dikarenakan situasi pandemi dan pengontoral ini kita harus mencari celah–tanpa bermaksud sombong– dan secara bersamaan untuk tetap menjaga kesehatan diri sendiri maupun bersama afinitas (meskipun minimal dan tidak memadai) dan melanjutkan pemberontakan. Kami yakin ini bisa dilakukan. Karena sikap inilah, pada tanggal 13 November di salah satu ruas jalan kota Pontianak, kami menyabotase perangkat cctv dan kami bertanggung jawab atas tindakan ini.
Dan sisi lain, kami bersolidaritas dengan rekan-rekan anarkis Italia dalam Operasi Scripta Manent, Panico, Prometo, Ritrovo, Lince, Renata, Bialystok, Scintilla, yang di represif oleh jaksa penuntut umum dan pengadilan Brenner. Dan juga untuk rekan-rekan anarkis Belarusia, juga kepada Monica dan Francisco, juga kepada Gabriel Pombo, juga kepada rekan-rekan anarkis Tanggerang dan Makassar, dan untuk semua tahanan anarkis seluruh dunia. Serangan kami didekasikan untuk kalian, tanpa syarat.
Lawan Teknologi Kontrol!
Lawan Penjara dan Untuk Pembebasan Semua Tahanan!
Panjang Umur Anarki, Panjang Umur Insureksi!
Sel Maverick-Federasi Anarkis Informal (FAI)
Tags: CCTV, Indonesia, Informal Anarchist Federation (FAI), Maverick Cell - FAI, Pontianak, Pontianak City, RO-FAI (Indonesia Section), Sabotage, Surveillance
Posted in Direct Action
Friday, October 30th, 2020
"Forward everyone! And with arms and heart, word and pen, dagger and gun, irony and curse, theft, poisoning and arson, let's make… war on society!" -Dejaque.
We claim the bus station destruction, BCA Bank Destruction, Roxy mall looting, burning of car and police posts and the burning of the luxury car during the Jakarta insurrection. It's not just about our refusal of the Omnibus law, it's also an accumulation of numbness, and anger against the imbalance that is produced by the dominant system nowadays. This direct action is not only a sort of confrontation against the ruling class, but this is also a solidarity to the street combatants. We're sure that peaceful protest doesn't give us anything and every state is an oppressor.
Solidarity to all combatants and anti-authoritarian prisoners around the world. Solidarity to all anarchist comrades in Belarus, Malaysia, Chile, Greece, Hong Kong, Rojava, and every autonomous liberationist in the world.
Solidarity to all combatants that were captured in October 8, there is no verdict until freedom.
We want to see the world burn, dancing around all the burning cities as they turn into dust. Because we are holding a new world in our hearts.
We are no one, but we are angry!
–Anonymous, Jakarta, Indonesia
–
Komunike Aksi Jakarta
"Melangkahlah kalian semua! Bersama dengan senjata senjata dan hati, kata dan pena, pisau belati dan senapan, ironi dan kutukan, pencurian, meracuni dan pembakaran rumah, mari wujudkan, perang di tengah masyarakat" -Dejaque
Kami menyatakan bahwa pembakaran halte di beberapa titik aksi, penghancuran Bank BCA, penjarahan Mall Roxy, pembakaran pos dan mobil polisi, serta pembakaran mobil mewah saat aksi di Jakarta pada tanggal 8 Oktober. Dan ini bukan hanya menyoal penolakan terhadap Omnibus Law, melainkan akumulasi kemuakan dan kemarahan atas segala bentuk ketimpangan yang diproduksi oleh sistem dominan hari ini. Aksi ini juga tidak terbatas sebagai konfrontasi terhadap penguasa, namun juga solidaritas untuk setiap kombatan di jalanan. Kami menyakini bahwa aksi damai tak menghasilkan apapun dan setiap produk negara adalah bentuk penindasan.
Solidaritas untuk semua kombatan di jalanan dan seluruh tahanan anti-otoritarian di seluruh dunia. Soidaritas kepada kaum anarkis di Belarusia, Malaysia, Chile, Yunani, Hongkong, Rojava, dan seluruh upaya upaya pembebasan— demi terbentuk daerah otonom.
Solidaritas untuk kombatan yang tertangkap di tanggal 8 Oktober di setiap titik penghancuran, tak ada vonis yang pantas kecuali vonis bebas.
Kami ingin melihat dunia terbakar, menari bersama menyaksikan kota menjadi puing dan debu. Karena kami menggenggam dunia baru di hati kami.

Kami bukanlah siapa siapa, kami hanya ingin menegaskan bahwa kami marah!

-Anonymous. Jakarta, Indonesia.
Tags: Arson, Indonesia, Jakarta, Riots, Sabotage, Social Insurrection
Posted in Direct Action
Friday, October 30th, 2020
We (Maverick Cell – FAI) claim responsibility for the arson attack on 20 October 2020 at the police office in front of the University Tanjungpura-Pontianak (West Borneo) because of our unstoppable anger and disgust against the police apparatus (the enemy in human form). We're disgusted by those who want to cooperate and support the police apparatus and their bullshit rehabilitation, we only want to attack. We don't have any illusion to correct the very nature of police brutality. We don't offer a solution- we want an uncompromising collapse of the system -, and "You" have to take control of yourself because of the chaos tricks of the state and the capitalists "you" support. And also this action is condemnation for progressive students who pretend to act on behalf of the people (especially in Pontianak) but still they're a cult for identity politics by saying "Long live students!", and they colluded with the police for the arrests of our brothers.
Our starting point as anarchists is to believe that anarchy is a complete negation of authority. The absence of "justifying" the authoritarianism in the natural form must be destroyed. This thinking finds that deepness within ourselves: autonomy, self-care, love; take control from yourself to yourself. Our turning point is getting stuck in a crowd of mass action that determines a time and attitude within the act. We become complacent about moralization, and therefore the passion was hidden. We become who we are not. This is of course paralysis but not death; comrades who attack head-on are antibodies to us – we feel so – and this "gift" is the spark point that must resonate.
This attack is dedicated to anarchists and fellow subversives held by the state. And also for the brave Mikhail Zhlobitsky. Solidarity with the entire Combatant Indonesia and the World.
RESONANCE FOR INSURRECTIONARIES
Maverick Cell – Informal Anarchist Federation
–
Kami (Maverick Cell – FAI) bertanggung jawab serangan pembakaran pada tanggal 20 Oktober 2020 di kantor pos polisi depan Universitas
Tanjungpura-Pontianak karena kemarahan dan kemuakan tak terbendung lagi terhadap aparat kepolisian (musuh dalam diri manusia). Kami menyangkal, mereka yang mengingkan sekaligus menghidupi aparat kepolisian agar mengayomi seseorang, dengan serangan. Kami tidak akan menuntut "anda" untuk merefomasi kepolisian karena brutalitas. Tidak solusi yang akan kami berikan – melainkan kehendak keruntuhan tanpa kompromi -, dan "anda" harus mengambil kendali untuk diri sendiri karena kekacauan muslihat yang diperbuat oleh negara dan kapitalis yang "kalian" dukung. Dan juga tindakan ini adalah kecaman untuk para mahasiswa progresif mengatas-namakan rakyat(secara khusus di Pontianak) namun masih mengkultuskan identitas politik dengan berkata "Hidup Mahasiswa!" Dan bersekongkol dengan aparat kepolisian atas penangkapan saudara-saudara dalam aksi massa!
Titik awal kami sebagai anarkis ialah yakin bahwa anarki adalah menyangkal otoritas. Ketiadaan atas "membenarkan" ototarian sebagai wujud yang alami mesti dihancurkan. Pemikiran ini menemukan bahwa dalam diri kami sendiri : otonomi, jaga diri, cinta kasih; mengambil kendali dari diri sendiri untuk diri sendiri. Titik balik kami adalah terjebak dalam kerumunan aksi massa yang menentukan satu waktu dan sikap dalam bertindak. Kami terlena atas moralisasi tersebut, dan karenanya gairah kami terpendam. Kami menjadi yang bukan diri kami sendirinya. Ini tentu kelumpuhan namun bukan kematian ; rekan-rekan yang menyerang lansung adalah antibodi bagi kami -kami merasa begitu- dan "pemberian" ini adalah titik api yang harus beresonansi.
Serangan dengan klaim ini kami dedikasi untuk rekan-rekan anarkis dan subversif yang ditahan oleh negara. Dan juga buat Mikhail Zhlobitsky yang berani – sang kalatisator. Solidaritas untuk Kombatan seluruh Indonesia dan Dunia.
RESONANSI BUAT PEMBERONTAK!
Sel Maverick – Federasi Anarkis Informal
Tags: Arson, Indonesia, Informal Anarchist Federation (FAI), International Solidarity, Maverick Cell - FAI, Misha Zhlobitsky, Pontianak, Sabotage
Posted in Direct Action
Wednesday, October 14th, 2020
FR | Keerom, Papouasie occidentale (Indonésie) : Incendie des bureaux de l'agence pour l'emploi
PT Freeport Indonesia (FI) has been present in Papua for decades since the start of the annexation of West Papua by colonial Indonesia. What PT FI produces is only natural destruction, expulsion of indigenous people, and genocide. We think Freeport's existence can only be destroyed if West Papua is separated from Indonesia, but it is not the formation of a West Papua state that we want, but the West Papua Confederation, people control not state control!
We (Long Live Eric King Revolutionary Cell – Informal Anarchist Federation) send our greetings to Lekagak Telengen, Egianus Kogoya, and other West Papuan guerrillas who are among the lush forests of Papua. We invite our comrades who live in cities to start urban guerrilla units and start attacks on the symbols of capitalism and the colonial state of Indonesia.
We clearly declare our hostility towards the opportunist politician Benny Wenda and other shits at the ULMWP who can live comfortably in a foreign country while trying to take struggle for West Papua liberation leadership control. True liberation is from gun and civilian insurrection, not lobbies in air-conditioned buildings!
We also don't forget to send our hugs to comrades in Indonesia who are starting a rebellion against the Omnibus Law and Joko Widodo's neoliberal regime, to our comrades in Malaysia who have to face repression for fighting the fascist kingdom of Malaysia, to the YPG-YPJ guerrillas in Rojava who are facing asymmetrical war against Turkey, and anti-authoritarian insurgents around the world.
We claim the burning of the labour offices building in the regent office complex of Keerom, West Papua during the riots on 1 October 2020. We are among the masses angry at Indonesian colonialism, this is just our opening attack and this is not the last. Get ready for explosion and explosion that will keep on the track!
If the state and capitalism still exist, peace will never be realized. Therefore, the state and capitalism must be destroyed at once !!
Let the fire light up the liberation of West Papua.
Long Live Eric King Revolutionary Cell – (FAI-FRI)
Tags: Anti-Colonialism, Arson, Indonesia, Informal Anarchist Federation (FAI), International Revolutionary Front, International Solidarity, Keerom, Long Live Eric King Revolutionary Cell - FAI/FRI, PT Freeport Indonesia (FI), Sabotage, West Papua, West Papua Independence
Posted in Direct Action
Friday, October 9th, 2020
FR | Yogyakarta (Indonésie) : La CCF/Nemesis Action revendique l'incendie d'une voiture de luxe
ES | YOGYAKARTA, INDONESIA: «CCF / ACCIÓN NÉMESIS» ASUME LA RESPONSABILIDAD DEL INCENDIO PROVOCADO DE UN COCHE DE LUJO
GR | Ινδονησία, Γιογκιακάρτα: "ΣΠΦ / Δράση Νέμεσις" – Ανάληψη ευθύνης για τον εμπρησμό πολυτελούς αμαξιού
Yogyakarta – Indonesia : We claim the burning of a luxury car in front of the Sinar Mas office last night on Ring Road Utara Yogyakarta. And it's not just solidarity for combatants on the streets against the Omnibus Law. But because we understand that the Sinar Mas Group is responsible for the destruction of rainforests in Indonesia to be converted into the palm oil industry.
Solidarity for all combatants throughout Indonesia. Solidarity with Belarus. Solidarity for anarchists in Chile, Greece, Hong Kong, Rojava!
Long Live the Rebellion!

"We want the world and we want it on fire".
Conspiracy of Cells of Fire / Nemesis Action
–
Kami mengklaim pembakaran mobil mewah di depan kantor Sinar Mas semalam di Ring Road Utara Yogyakarta. Dan ini bukan hanya solidaritas untuk kombatan di jalanan melawan Omnibus Law. Tapi karena kami paham bahwa Sinar Mas Grup bertanggung jawab atas penghancuran hutan hujan di Indonesia untuk dikonversikan ke industri Sawit.
Solidaritas buat semua Kombatan seantero Indonesia. Solidaritas buat Belarus. Solidaritas untuk kaum anarkis di Chile, Yunani, Hongkong, Rojava!
Panjang Umur Pemberontakan!
"We want the world and we want it on fire".
Konspirasi Sel-sel Api / Aksi Nemesis
Tags: Arson, Conspiracy of Cells of Fire, Conspiracy of Cells of Fire / Nemesis Action, Ecological Destruction, Indonesia, Informal Anarchist Federation (FAI), International Solidarity, Sabotage, Sinar Mas Group, Yogyakarta
Posted in Direct Action
Monday, August 10th, 2020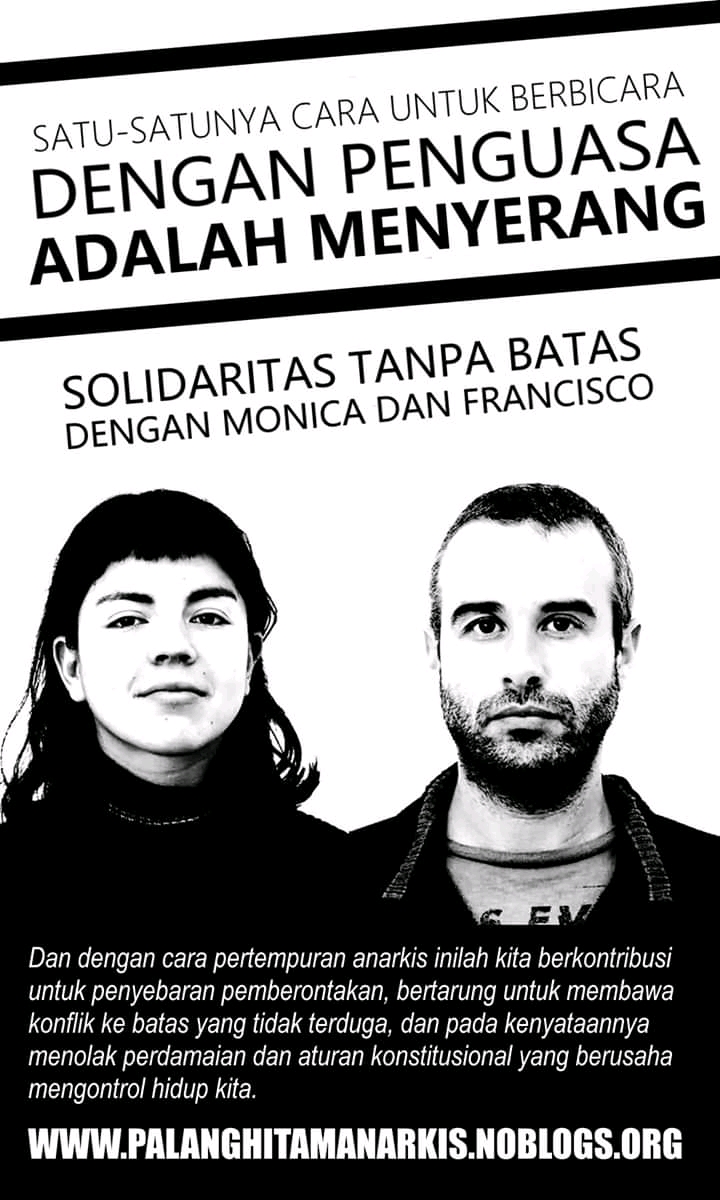 From Indonesia… To Chile…
Palang Hitam Indonesia / Anarchist Black Cross Indonesia menerbitkan poster solidatas untuk tahanan anarkis Mónica Caballero dan Francisco Solar dari Chile. Sebarkan solidaritas!!
Tautan unduhan:
• File PDF
• File JPG
Solidaritas kami akan lebih kuat dari tembok penjara mereka!! Free Monica and Francisco!
Tags: ABC Indonesia, Chile, Francisco Solar, Indonesia, International Solidarity, Monica Caballero
Posted in Prison Struggle
Sunday, August 9th, 2020
One of the Tangerang anarchist prisoners who was previously sentenced to 4 months in prison, on August 8, 2020, has been released.
Of course his release does not make us forget the repressive actions he experienced during his arrest, interrogation and isolation for some time.
Congratulations for Comrade AA's freedom.
2 Tangerang anarchist prisoners and 1 Bekasi prisoner, will undergo trial Tuesday [11 August 2020].
#TillAllAreFree
Tags: Bekasi, Indonesia, International Solidarity, Tangerang
Posted in Prison Struggle
Tuesday, June 30th, 2020
On April 9th, 2020, three of our comrades were arrested and convicted of a heavy crime for spraying several graffiti that say "sudah krisis, saatnya membakar" (there's a crisis already, time to burn) and "melawan atau mati konyol" (fight or perish). What is actually a voice of rightful citizens is considered a crime of provocation. Their art is a valid criticisms toward the government's lack of integrity in mitigating the impacts of COVID-19 pandemic and just a petty crime at most.
Not long after, two other anarchists were also arrested by the police in Tangerang and Bekasi, without any solid ground. During the investigation, they were beaten and their faces were wrapped with plastic, which made them unconscious; a series of unauthorized measures to the point of torture. This violence was followed by isolation that made them unaccessible to their friends and families, even to legal attorneys that they're supposed to get as stated by the law.
Three of them are currently undergoing a court trial. They are charged of violating the Law of the Republic of Indonesia, No. 01, 1946, article 14 and/or article 15, and against the Criminal Code article 160, where the conviction can be up to 10 years of prison time. Meanwhile, the other two, who are still underage, are already convicted with 4 months of prison time.
We are calling out for solidarity and open donation to support our comrades during their time behind bars. This solidarity is open for local donation or anyone overseas that shares the concern.
https://www.paypal.com/adnandi
E-mail: fed.ao@protonmail.com
via AWW
Tags: Bekasi, Indonesia, Repression, Tangerang, Trial
Posted in Social Control
Thursday, December 12th, 2019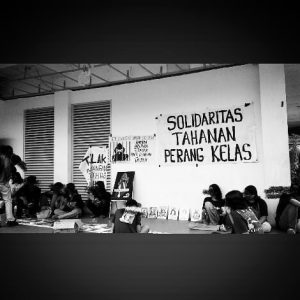 Surrendering to state domination is the death of living for humans, contempt in the face of this is freedom and independence.
Free choice to continue to survive and assemble all forms of power to keep burning and ready to burn all threats, to fight all forms of dictation of power, oppression and all forms of capitalism domination.
There is only one war, namely CLASS WAR !!!
CLASS WAR – FIGHTING SOLIDARITY

Solidarity is a Weapon
Palanghitam Anarkis / ABC Indonesia | More info: 1, 2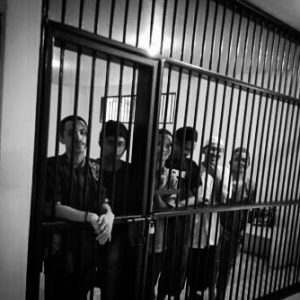 Tags: ABC Indonesia, Indonesia, International Solidarity, Makassar, Makassar City
Posted in Prison Struggle
Wednesday, October 30th, 2019
via anarchistsworldwide:

TEGAKLAH SEPERTI DI AWAL!
Kepada kawan yang masih setia di jalan pedang pemberontakan, terimalah cinta semesta di dada kalian. Jumlah kami adalah sejumlah semut yang ada di bumi manusia. Akan terus ada, meski berkali-kali dilibas senjata.
Haerul, Agus, Faruddin and Alif adalah para anarkis yang ditangkap karena terlibat dalam aksi pembakaran mobil plat merah (mobil negara) di makassar, Sulawesi Selatan beberapa saat lalu.
Haerul, Agus, Faruddin and Alif adalah para anarkis yang ditangkap karena terlibat dalam aksi pembakaran mobil plat merah (mobil negara) di makassar, Sulawesi Selatan beberapa saat lalu.

solidaritas sampai semuanya bebas!!!
******
ASKED AS IN THE BEGINNING!
To friends who are still loyal in the way of the sword of rebellion, accept universal love in your bosom. Our number is the number of ants that exist on human earth. It will continue to exist, even though there are many weapons.
Haerul, Agus, Faruddin and Alif were anarchists who were arrested for involvement in the burning of a red plate car (a state car) in Makassar, South Sulawesi some time ago.

solidarity until everything is free!!!
Tags: Indonesia, International Solidarity, Makassar, Repression, Sulawesi
Posted in Social Control
Thursday, September 26th, 2019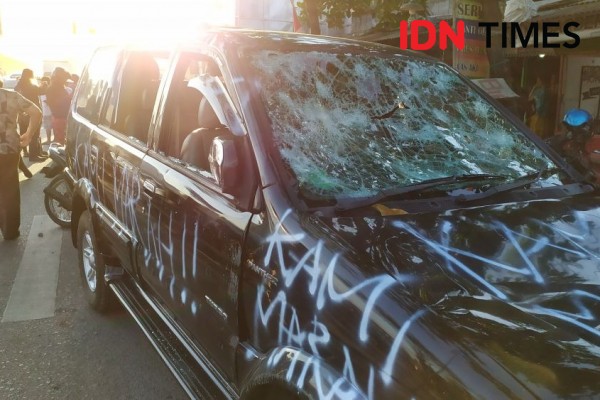 A demonstration outside Hasanuddin University (Unhas) I, Makassar Perintis Independence Street, took place as a series of demonstrations of community and student alliances of various regions. During the end of the demo today, comrades stopped two official state cars, brought the drivers out and trashed the vehicles. According to corporate media 19 people were arrested in the nearby area in a police round-up.
At September, 26, 2019, two cars of the Forestry Service South-Sulawesi Province (Makassar-Indonesia) had been damaged, by breaking all the windshields and then turning it in the middle of the road.
Here is the communique from that action:
1. We are angry because the country along with the Army and Police violently chased, evicted, fired, and killed our brothers in Papua, Kulon Progo, Urut Sewu, Bara barayya and Polongbangkeng.
2. We are angry because the government continues to attack us with torturous rules.
3. We are angry because the capitalists continually try to destroy our lives, destroy nature, burn forests, heap the oceans, destroy mountains, displace the living space of each species, build artificial buildings, to control what we should and should not consume.
4. We are angry because the media are preaching everything that is not important, eliminating cases of murder until the slaughter and continuing to work with the authorities to destroy the struggle of our combatants who fight for a better life.
5. There is no compromise for rulers and capitalists.
Below are link/news about that action:
https://nasional.tempo.co/read/1252801/unjuk-rasa-di-makassar-rusuh-massa-merusak-mobil-pelat-merah/full&view=ok
https://sulsel.idntimes.com/news/sulsel/aanpranata/unjuk-rasa-di-depan-unhas-dua-mobil-dinas-dirusak/full
Tags: Demo, Indonesia, Makassar, Riots, Sabotage, Sulawesi
Posted in Direct Action
Sunday, September 15th, 2019
Solidarity poster for fugitive Anarchist comrade and human rights lawyer Veronica Koman who is facing up to 6 years imprisonment and fines of $US70,000 for 'incitement' and 'spreading fake news' for her important coverage on social media of the racist attacks against West Papuan students in Indonesia and the ongoing peoples' uprising in West Papua.
Veronica was also an important source of information regarding the repression against anarchists in Indonesia that took place during and after the 2019 May Day demonstrations. Text of poster reads: "Stop the criminalization of human rights defenders and anti-racism activists"

via anarchistsworldwide.
Tags: Flyposters, Indonesia, Repression, Veronica Koman, West Papua Independence
Posted in Social Control
Thursday, August 22nd, 2019
Makassar, Indonesia, August 21st, 2019: Dozens of Makassar citizens took direct action (blocking the road) in front of the Hasanuddin University to convey solidarity with West Papuans who received racist acts and violence from the military, police and ultra-nationalist civil militias.
As for what is written on the banner:
MAKASSAR CITIZENS SOLIDARITY FOR PAPUA

1. STOP TORTURING PAPUANS RIGHT NOW!
2. PAPUANS ARE FREE TO CHOOSE THEIR OWN WAY (TO FREEDOM)
3. TNI (Indonesian Armed Forces), POLRI (Indonesian Police Force) AND FASCIST CIVIL MILITIAS, STOP YOUR RACIST ACTS, YOU DICK SHIT!
via Anarchists Worldwide.
Tags: Demo, Indonesia, International Solidarity, Makassar, Police Brutality, Racism, Repression, Solidarity Action, West Papua, West Papua Independence
Posted in Direct Action
Monday, June 3rd, 2019
SAN FRANCISCO, EE.UU.: ANARQUISTAS ATACAN EL CONSULADO DE INDONESIA CON BOMBAS DE PINTURA CONTRA LA REPRESIÓN DEL PRIMERO DE MAYO
On June 1, a modest mob of 20+ anarchists in San Francisco carried out an attack in solidarity with our comrades in so-called Indonesia where 600+ anarchists were arrested this May Day. We threw 60 paintbombs and heavily tagged the Indonesian Consulate with circle-(A)s to send a message to the Indonesian government that despite the distance between us and our comrades, the State is not safe and will always be attacked.
The actions of the Indonesian comrades, simple gestures of paint on walls, resonated with us. In the afterimages of their act, and in their call for solidarity, we recognized friends across the dying ocean. Even more than expressing our contempt for the Indonesian State, we want to convey our love to the comrades struggling within and against its false borders. Ferocity and Strength to those facing repression and those on the run. (more…)
Tags: California, Indonesia, International Solidarity, Paint attack, Paint bombs, Sabotage, San Francisco, Solidarity Action, USA, Vandalism
Posted in Direct Action
Saturday, June 1st, 2019
Solidarity Action Group of Indonesia and Australia
Anarchist Solidarity from Yogyakarta and Surabaya with Antifascist Prisoner Jock Palfreeman!
International Anarchist Solidarity with Antifascist prisoner Jock Palfreeman from the Solidarity Action Group of Indonesia and Australia. Comrade Jock recently completed a 33 day hunger strike in protest against the conditions of his imprisonment and ongoing harassment from prison authorities for his work with the Bulgarian Prisoners' Association. Jock is serving a 20 year prison sentence for defending 2 Roma boys and himself from a racist mob. Free Jock! Long live the Bulgarian Prisoners' Association.
(more…)
Tags: Australia, Banner drop, Indonesia, International Solidarity, Jock Palfreeman, Surabaya, Yogyakarta
Posted in Prison Struggle