Posts Tagged 'Indonesia'
Tuesday, February 21st, 2012
325 receives and transmits:
19 February 2012
"The spirit of insurrectionalism is still in the air like a light of hope – in this
dim atmosphere of cages of repression." – Eat & Billy (Indonesian FAI)
We hate rich cunts in BMWs, in fact they piss us off so much that to show our hate of them and all their like we set a BMW on fire and another SUV nearby, on Kimberly avenue Cambridge in the early hours of Feb 19. Right in front of the houses of these fuckheads who obviously have signed up willingly on the side of this massive prison industrial civilization, for the destruction of our mother earth and against everything we love. Just another small gesture of our war on their world. We were filled with love burning as hot as our hate – our thoughts with REYHARD RUMBAYAN ('Eat') and BILLY AUGUSTAN on trial a few days ago in Indonesia for burning a BRI Bank in Yogyakarta back in Oct. 7 2011, for which they take proud responsibility as members of the Long-Live Luciano Tortuga Cell – Indonesian FAI (Informal Anarchist Federation). Their torture and the long imprisonment the bastards of the Indonesian State have planned for them under 'anti-terrorist' laws are just another reason we'll remain stubborn in our attack all over the world – the insurrectionary anarchists of the black international – with arson, bombs, sabotage and bullets.
We also send our love to subversive comrades JUAN ALISTE, FREDDY FUENTEVILLA, and MARCELLO VILLARROEL banged up in Chile accused of three bank robberies and killing a cop in October 2007, mindful of the international call for days of solidarity between Feb19 and Feb29 and these comrades hunger strike for which they've been isolated in maximum security isolation cells – declaring "our protest contemplates no demand of the intraprison appeal type. More accurately, it is a gesture — an act of attacking anticapitalist Resistance uniting us with each and every Subversive Autonomous Anarchist Revolutionary prisoner who, from different places and different death/isolation camps, keeps alive the revolt in pursuit of Social Revolution and the disappearance of class society". Strength to the dignified revolutionaries Freddy, Juan and Marcello who daily give us so much strength! And flaming solidarity to all our comrades all over the world taking the difficult path of revolt against all odds. Turns out we don't have to look too far to see others who warm our hearts with their irreducible rebelliousness against this grey prison world of cars and roads and shopping centres and metal fences and identical housing estates and schools/workplaces/jails. the local press speculated that the Nov 22 2011 arson of cars at a Histon Vauxhall garage was by the Fire Cell / FAI. That's not the case and we send our warm greeting to these anonymous arsonists – keep burning until all the cities turn to ashes to fertilise an unimaginable feral future!!! Likewise we welcome the arson attack that partially damaged the Santander bank in the center of Cambridge on Feb 1 2012 and regret the arrest of a young man afterwards, ALL OUR SOLIDARITY TO THE ANTI-SYSTEM FIRESTARTERS And of course to those arrested after the riot in Cambridge in the uprizing of August in which some cops got mashed down and everyone else who felt the flame of life burn brighter – we'll have our time again, as long as we're rioters, the riots not dead – NOTHING IS OVER EVERYTHING CONTINUES.
Of course, there's no need to wait to start destroying, just like we don't stop looting off the capitalist system just because there's not a riot – you just need to be a bit more sneaky! Everyone can form a cell of the leaderless resistance and carry out actions (taking the common sense security measures, being lo-tech), and can choose to communicate thru action claims like this one, sharing methods and ideas and anonymously coordinating strikes on the enemy, across all borders, just like our comrades in Bristol, Nottingham, London and all over the world!!
TERRORIZE THE ENEMY
SPREAD THE FIRE

Fire Cell / Informal Anarchist Federation – International Conspiracy for Revenge
Tags: Arson, Billy, BMV, Cambridge, Chile, Eat, Fire Cell / Informal Anarchist Federation, Freddy Fuentevilla Saa, Indonesia, Informal Anarchist Federation (FAI), International Conspiracy for Revenge, International Solidarity, Juan Aliste Vega, Marcelo Villarroel Sepúlveda, RO-FAI (Indonesia Section), Santander Bank, SUV, UK
Posted in Direct Action
Wednesday, February 15th, 2012
Rough translation from Negasi:
Reyhard Rumbayan (EAT) and Billy Augustan (Billy) were yesterday (February 14, 2012) back in court for the third time. This agenda together with the second hearing on February 7, 2012, is to hear testimony from witnesses. The Prosecutor said they would present 30 witnesses to prove and convince the judge that the two combatants can be charged with terrorism.
The trial itself is increasingly clear to us as a sad parody of the State. Two witnesses that were presented at the second trial even admitted that their evidence consisted of only seeing Eat and Billy in a cafe before the burning took place. And the two witnesses who are owners of the cafe, in front of the judges, stated that they did not listen to the conversation the night before the attack on the property occurs. (more…)
Tags: Billy, Eat, Indonesia, Informal Anarchist Federation (FAI), Informal Global Federation / Anarchist Network, International Revolutionary Front, RO-FAI (Indonesia Section), Trial
Posted in Prison Struggle
Monday, February 13th, 2012
From Negasi (Indonesian counter-info website):
"Better to burn out than go out slowly.
Destruction of property is not violence. Violence is when you do it against an individual, and that's not what we do. After all, those properties are produced by workers paid little."
Hidayat, social combatant from Makassar, in prison after being caught over the action of solidarity to the insurgents occupying the Bima Sape harbor where eight people were shot dead by police.
Tags: Bima, Hidayat, Indonesia, Letter, Makassar, Makassar City, Repression
Posted in Prison Struggle
Tuesday, February 7th, 2012
News via Kokemi: Update – Comrade Hidayat is back inside the prison…
This news story is one of the horrors of life in prison, concerning being held in prisons that are contained therein inside the prison. Our comrade Hidayat being undertaken at this time, he was isolated in a room captured, called "Red cells", the prison mini small-sized 2m x 1m, dark and dirty mental intimidation and terror of the state apparatus.
From the reports, comrade Hidayat was held captive for five days in jail also smaller than this size. Besides he reports he often gets intimidation and beatings, Comrade Hidayat also never received the package of food and beverages that he was sent. And our hearts are very painful, access to meet with him is limited. None was allowed to meet. According to information passed along, comrade Hidayat always is targeted by some extortion scenarios which are done by the prison apparatus and the prisoners who are also a finger in the hands of prison officials. (more…)
Tags: Bima, Hidayat, Indonesia, Makassar, Makassar City, Repression
Posted in Prison Struggle
Friday, February 3rd, 2012
The political attack by Long-Live Luciano Tortuga Cell – FAI Indonesian Section against Auto Teller Machine (ATM) of BRI Bank located in Affandi Street, Mrican Caturtunggal, Depok in Sleman Regency, faced it's first trial in Monday 31 of January 2011. Two social combatants, Billy Augustan (Billy) and Reyhard Rumbayan (Eat) who took the political responsibility for this attack, are charged with multiple clauses by the prosecutors at the first trial in Sleman Court.
The lawyers for the social combatants: Andi Suryo Awalludin and Hillarius NG Merro chose not to submit an exception to the judges. In front of the Judge Leader, Mulyanto, three of the prosecutors: Wiwik Triatmini, Wahyu Handoko and Tri Widi read the indictment alternately. In this case, the two combatants (Eat & Billy) are charged with the same clauses but accused of having different roles. (more…)
Tags: Billy, Eat, Indonesia, Informal Anarchist Federation (FAI), Informal Global Federation / Anarchist Network, International Revolutionary Front, Repression, RO-FAI (Indonesia Section), Trial, Yogyakarta
Posted in Prison Struggle
Monday, January 30th, 2012
Correction – Court Update – Trial continues Tuesday February 7 2012
From Indonesia to Chile…

October 7th, 2011 – two anarchists are arrested and imprisoned in Yogyakarta, Indonesia, after an explosive incendiary attack against an empty branch of BRI ATM bank. The action is declared through a written document which the police catch the anarchists in possession of. The written declaration states that the action is in solidarity with Luciano 'Tortuga' (a young anarchist combatant in Chile, who was accidentally maimed in a bomb attack against Santander bank), as well as many anarchist prisoners, including those of 'Caso Bombas' in Chile and the Revolutionary Organisations – Conspiracy of Cells of Fire and Revolutionary Struggle in Greece. Situating themselves firmly within the global revolutionary war for liberation and freedom, Eat & Billy also state that their action is a direct attack against the terrorism of the Indonesian State and their police and military. (more…)
Tags: Billy, Eat, Indonesia, Informal Anarchist Federation (FAI), Informal Global Federation / Anarchist Network, International Revolutionary Front, International Solidarity, Long Live Luciano Tortuga Cell - International Revolutionary Front - FAI, RO-FAI (Indonesia Section), Trial, Yogyakarta
Posted in Prison Struggle
Monday, January 30th, 2012
Rough translation from news of the comrades of Negasi:
Two combatants of the Jogja area (Eat & Billy) who have been detained since October 7, 2011, have now been moved to the court prison and will face their first trial today, January 30, 2012. This trial will proceed with the second trial to be held on February 1, 2012.
From the information we managed to get, both combatants will be tried separately and not together. We still do not know the real reason behind it, but from the interim analysis we can conclude that this was done to try to make the two combatants attack each other, cornering and mutually incriminating one another. This condition clearly shows how the State through the police and military will only operate through fear and terror. The trial itself will be held open. Place of the hearing itself is still not known for sure. But to estimate where the hearing will be held, the State High Court in Sleman (Jogyakarta) is a good guess.
Therefore we call for solidarity with the combatants of Jogja, and so that comrades are able to come and attend this hearing. The presence of this, other than a form of tangible support, is also part of an effort to show to the authorities that we never trust their justice.
Long live the Two Jogya Combatants
Long live solidarity
Tags: Billy, Eat, Indonesia, Informal Anarchist Federation (FAI), International Revolutionary Front, Long Live Luciano Tortuga Cell - International Revolutionary Front - FAI, Luciano Pitronello Schuffeneger, Repression, RO-FAI (Indonesia Section), Trial
Posted in Prison Struggle
Thursday, January 12th, 2012
From kokemi. Rough automatic translation follows. Solidarity with the struggle for freedom in Indonesia. Liberty for Hidayat!
Kamerad Hidayat pagi tadi dipindahkan ke rumah tahanan
Kurang lebih dua minggu sudah menurut hitungan kami, kamerad Hidayat mendekam di balik terali besi milik institusi yang paling brutal dimuka bumi ini.
Pagi tadi sekitar pukul 10.00 WITA (tanggal 12 januari 2012) Pihak Polrestabes Makassar telah memindahkan Kamerad Hidayat di Rumah Tahanan di jalan Sultan Alauddin, Setelah sebelumnya dipenjarakan di kantor Polrestabes Makassar guna menjalani penyidikan dan pendalaman kasus tersebut. (more…)
Tags: Bima, Hidayat, Indonesia, Makassar City, Repression
Posted in Prison Struggle
Friday, January 6th, 2012
From negasi-negasi & kokemi via hidup biasa:
Makassar Police Headquarters have finally charged our comrade Hidayat, who is accused of damaging Police outposts during a demonstration supporting the people of Bima. According to the police, Hidayat's status has been changed to 'accused' because they have sufficiently strong evidence to justify this higher level. They also claim to have video and photo evidence.
Hidayat participated in a solidarity action that took place in Makassar on 26th December 2011 against the brutal police clearance of the anti-mining protest in Bima, where thousands of people had occupied Sape port. From what we have managed to find out, he was arrested secretively in the crowds between Jalan Gunung Bawakaraeng and Karebosi Link. (more…)
Tags: Bima, Hidayat, Indonesia, Makassar City, Repression
Posted in Prison Struggle
Wednesday, December 28th, 2011
Comrades in Indonesia sent this report:
Protests in Makassar (26/12) with an issue about police brutality that killed residents in Bima, had turned into a mass rampage. In the protests that followed more than 300 people, they attacking police post at Sudiman street, by throwing stones and other hard objects.
The action was called by Forum Rakyat Menggugat (Forgat) starting from 11 o'clock to roll out free speech in front of the Mandala Monument for over three hours. Various representatives from every organizations spoke and read their statements.
The masses moved north toward Karebosi. Right at the intersection, the masses started throwing objects at the police post spontaneously. They also throwing at BNI bank right next to the police station.
The masses moved back to the east of town, past the Mesjid Raya Road to go to the next action point namely Flyover kilometers 4. The masses throwing things at other Police stations in that location.
The destruction targets are generally of police facilities and the capitalism symbols such as banks, and the political symbol such as political billboards. Protesters claimed that what happened in Bima and elsewhere is caused by the greed of capitalism to exploit the environment which then threaten people's lives.
Sadly, our comrade, Yayat (Unhas student), was arrested by police. The police didn't release him until now.
Ps: This is Indonesia language link for this info.
Tags: Bima, Indonesia, Makassar, Police Brutality, Solidarity Action
Posted in Direct Action
Tuesday, December 27th, 2011
On the 11th of December 2011, in the very conservative and religious province of Aceh in Indonesia, 64 punks who were attending a punkrock show, were arrested and taken to jail without any criminal charges whatsoever.
The only reason for them to be victim of that totally arbitrary state repression was that they are punks. The police shaved their hair off and removed their piercings, their clothes were taken away from them, replaced by "decent" ones and they were forced to wash themselves in a "religious ritual". Then they were brainwashed and "re-educated" for ten days through "religious education" and "military discipline".
Against this outrageous police action, solidarity actions and demonstrations took place in Moscow, London, San Francisco, Los Angeles, China and Malaysia. (more…)
Tags: Aceh, Aceh 64, Fuck the Law, Indonesia, International Solidarity, Istanbul, Punx, Turkey
Posted in Direct Action
Tuesday, December 27th, 2011
As part of the campaign for solidarity with the freedom struggle in Indonesia, we print this report from a comrade there:
On 24 December 2011, the tragedy happens in Bima, West Nusa Tenggara, Indonesia. Four people (media local said) died (eight now confirmed dead – killed by police during the resistance). It began when thousands of people including farmers blockaded the harbour of Sape in Bima. They protest to the government which had given permission to PT SMN to mine gold in the area of the area about 24.980 hectares. The people there are worried about the environmental damage. It is because most of the people there work as farmers and fisherman. The presence of the mine will destroy water sources and finally the agricultural ways in the area will be damaged.
For sources:
Negasi-Negasi (Indonesian anarchists/anti-authoritarians web-portal)
Australia IMC
Corporate news
1
Tags: Australia, Bima, Indonesia, International Solidarity, Mining, Police Brutality, Repression, West Nusa Tenggara
Posted in Eco Struggle
Friday, December 16th, 2011
325 receives and transmits:

15 December 2011
On December the 15th a group of anonymous punks from Moscow decided to act upon receiving news of brutal state repression of Indonesian punk-scene. We consider ourselves anarcho-punks and these news offended us in the deepest sense. We wont tolerate any religion to hold sway over living being's freedom, especially over our subculture. Thus on the same evening we gathered to express our rage. We chose Indonesian embassy as our target. For us solidarity starts on subcultural level. We feel that modern Russian anarchists pay too little attention to subcultures of resistance. We wish the news of our action to reach Indonesian comrades. We hope they will have their spirits soar after hearing that in such far-away country there are folks who feel solidarity with their struggle.
Punk is not a crime. Religion is fascism. Fight for your looks.
We didn't want to make video, but it was agreed upon after a tedious discussion that even the most pacifist action should have video documentation. So here it goes:

youtu.be/f9cXpVqjsCw
Some photos:
– general view on the embassy
– writing says "Religion = fascism"
– writing says "Punk is not a crime"

Link to the statement of responsibility (Russian).

Up the Punx!
Tags: Aceh, Fuck the Law, Indonesia, International Solidarity, Moscow, Punx, Repression, Russia, Solidarity Action
Posted in Direct Action
Thursday, December 15th, 2011
Dozens of young men and women have been detained for being "punk" and "disturbing the peace" in Aceh, Indonesia's most devoutly Muslim province. They are being held in a remedial school, where they are undergoing government "re-education". The 64 punks, many of whom are from as far away as Bali or Jakarta, were picked up on Saturday 10 December night during a local concert. Many young teens sport punk hairstyles, in keeping with worldwide punk culture, but against the norms of the keenly religious in Aceh. (more…)
Tags: Aceh, Aceh 64, Billy, Eat, Fuck the Law, Indonesia, Punx, Repression
Posted in Social Control
Thursday, December 15th, 2011
7/12/11 – Frankfurt, Germany : CEO Josef Ackermann is the intended target of a fully operational explosive parcel which is mailed to Deutsche Bank headquarters. Bank security staff identify the device during x-ray screening, and it is later neutralised by police. A claim of responsibility is recovered from the device, which is published in the corporate press.
9/12/11 – Rome, Italy : Chief Director Marco Cuccagna of Italy's tax collection office, Equitalia, receives a letter-bomb which explodes after he opens it, causing damage to his hands, blowing off part of his finger and almost blinding him after his glass desk shatters in the explosion.
12/12/11 – Paris, France : The Greek embassy in Paris is the target of a third explosive device which is identified and neutralised.
Amidst the wave, mainstream media report that envelopes containing bullets and threatening letters are mailed to Italian Justice Minister Paola Severino and Rome Mayor Gianni Alemanno. An additional parcel of vengeance was received by Equitalia on the 15th December, but was identified and neutralised. A note inside the latest package said "don't kill yourself, rebel: death to usurers!"

Here is a translation of the claim of responsibility that accompanied the package bomb to the central headquarters of Deutsche Bank in Frankfurt:

FREEDOM AND HAPPINESS FOR OUR BROTHER GABRIEL POMBO DA SILVA. DEATH TO THE BANKS THAT STRANGLE THE PEOPLE.
THREE PARCEL BOMBS IN THESE DAYS ARE TRAVELLING TOWARD BANKS AND BANKERS, TICKS AND LEECHES. WITH THESE SMALL BUT RESOLVED ACTIONS, WE OF THE EAT & BILLY ITALIAN CELL JOIN IN THE NEW ANARCHIST INTERNATIONAL, THE INFORMAL ANARCHIST FEDERATION AND INTERNATIONAL REVOLUTIONARY FRONT. WE HAVE THIS NAME IN SOLIDARITY WITH THE INDONESIAN FAI, WITH OUR BROTHERS EAT AND BILLY. WE DON'T NEED SPECIALISTS OF ACTION, ANYONE CAN ARM THEIR OWN HANDS, ANYONE CAN ASSEMBLE THEIR OWN GIFT PACKAGE. WAR ON THE EUROPE OF THE BANKERS, DEATH TO THE LEECHES THAT GOVERN US.
LONG LIVE THE INDONESIAN FAI
LONG LIVE THE C.C.F.
VIVA THE NEW ANARCHIST GUERRILLA
VIVA THE FAI/IRF
FREE EAT AND BILLY CELL FAI/IRF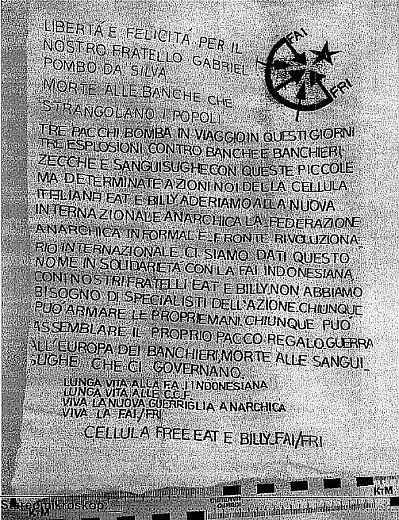 Tags: Billy, Deutsche Bank, Eat, Equitalia, France, Frankfurt, Free Eat & Billy Cell FAI/IRF, Germany, Greece, Greek Embassy, Indonesia, Informal Anarchist Federation (FAI), International Revolutionary Front, International Solidarity, Italy, Letter-bombs, Paris, RO-FAI (Indonesia Section), Rome
Posted in Direct Action