Posts Tagged 'Indonesia'
Saturday, November 10th, 2018
Trial update for the Mayday case 2018.
Information update from the Prisoners in Yogyakarta as of now, they are as well as can be expected. Even though comrade BV is experiencing shortness of breath, and now it's beginning to get better.
The trial process is very long, especially for comrade BV, AM, and W. Those whose the trials already happened on 8.11.18 have already proceeded to the trials of pleading (defendent's defence), and before that they already receive the demands from the Public Prosecutor with a maximum penalty of 10 months at their trial on 1.11.18 at the Sleman District Court. At the moment they are being retained at Cebongan Prison, Sleman awaiting the following trial process with the agenda for the verdict to be handed down on 22.11.18.
We will keep updating information for you with further developments.
TILL ALL ARE FREE
More Information
Instagram: palang__hitam
Web: palanghitam.noblogs.org
Email: civilrebellion@riseup.net
Tags: Indonesia, Mayday, Repression, Trial, Yogyakarta
Posted in Prison Struggle
Thursday, November 1st, 2018
EN: 'No (ITS), You Will Not Go On Forward!' by Eat (Indonesia)
Han pasado tanta mierda de parte de la llamada pandilla Eco-Extremista y de todas sus porristas misántropas, nihilista y aspirantes. Encontré su texto del año pasado, "El mito anarquista", lleno de cristianismo vulgar que esconden como eco-extremismo. Vamos, ¿es esto lo mejor que pueden hacer? ¿Afirmando haber matado a personas sin esperanza en alguna ocasión? Y leyendo sus amenazas de muerte mientras publicas fotos de alguien que asesinaste (según tu reivindicación, por supuesto), es realmente divertido, no, realmente lo es (realmente me río, literalmente cuando leo los comunicados y las fotografías, ¿qué mierda?).
(MÉXICO) 60 COMUNICADO DE ITS: SOBRE LA DELACIÓN DE LA ONG 325
(MÉXICO) 60 COMUNICADO DE ITS: SOBRE LA DELACIÓN DE LA ONG 325
[Abrir con el navegador TOR]
Tengo que decir, este comunicado hace mi día, es jodidamente hilarante.
Después de que tu fea cabeza calva, Abe, haya sido expuesta, comenzaste a actuar como el imbécil infantil que todos ustedes son. ¿Sus estúpidos teóricos de América del Norte y tu pequeño grupo de porristas en Europa? (more…)
Tags: Analysis, Eat, Eco-Extremism, Individualists Tending Toward the Wild (ITS), Indonesia, Mexico
Posted in Eco Struggle
Tuesday, October 23rd, 2018
There have been so much bullshit going on from these so-called Eco-Extremist gang and all of their misanthrope-armchair-nihilist-wannabe cheerleaders. I found your text last year, "The Anarchist Myth", filled with vulgar Christianity covering as Eco-Extremism. Come on, is this the best you can do? Claiming on killing hopeless people on random occasion? And to read your death threats while posting pictures of someone that you murdered (to your claim of course), is really funny, no it really is (I really laugh, literally when I read the communiques and pics, what the fuck?).
[en] (Mexico) 60th Communique of the ITS: On the "NGO 325" snitching
[Open with TOR]
I gotta say, this communique make my day, it is fucking hilarious.
After your ugly bald head Abe have been exposed, you started to begin acting like childish moron that you all are. Your stupid theorists from North America and your small cheerleader group in Europe? It's one thing if you're discussing the insights or the limitation of violence (I'm all ears!), it is another thing when you claimed to be anti-human and yet you only kill one hopeless girl in a university campus (oh, you kill more than one, please?) and your fucking proud of that? If you are really anti-human, please and please I begged you, make an atom bomb or whatever means/tools and commit a genocide of at least 10 people at one time? And after that kill yourself, you stupid human. (more…)
Tags: Analysis, Eat, Eco-Extremism, Individualists Tending Toward the Wild (ITS), Indonesia, Mexico
Posted in Eco Struggle
Monday, October 15th, 2018
Some Yogyakarta prisoners are free!
Here are some Yogyakarta prisoners who have been released after undergoing trial and reading the verdict:
– MD detention decision of 5 months, the term of detention served, free October 9, 2018.
– OO for 5 months detention decision, deducted the period of detention served, free October 9, 2018.
– MI and MEA prisoner decision 5 months 15 days, detained prison term, free 14 October 2018.
– ZW and AMH detention decision 5 months 15 days, the detention period will be deducted, free October 14, 2018.
There are still other prisoners undergoing the trial process including Ucil (BV).
We will provide updates on any developments in the trial as soon as the information is available.
Nobody is free until everybody is free!
(Info via Palang Hitam Indonesia / Anarchist Black Cross Indonesia)
–
Sebagian tahanan Yogyakarta sudah bebas!
Berikut adalah beberapa tahanan Yogyakarta yang sudah dibebaskan setelah menjalani sidang dan pembacaan putusan:
MD putusan tahanan 5 bulan, bebas 9 Oktober 2018
OO putusan tahanan 5 bulan, bebas 9 Oktober 2018
MI dan MEA putusan tahanan 5 bulan 15 hari, bebas 14 Oktober 2018
ZW dan AMH putusan tahanan 5 bulan 15 hari, bebas 14 Oktober 2018
Hari ini, Senin 15 Oktober 2018 sidang dilakukan untuk MC dengan kesaksian dari BV dan AM.
Perkembangan persidangan akan segera kami kabari kembali.
Tidak ada yang bebas sampai semuanya bebas!
Tags: Brian Valentino (Ucil), Indonesia, Mayday, Repression, Trial, Yogyakarta
Posted in Prison Struggle
Sunday, October 14th, 2018
COMMUNIQUE
The State and Capitalism are an inseparable unit of criminals and destroyers. Many bigoted leaders are gathering to consolidate their crimes. Eventually there will be a situation where the workers, the fishermen, the urban poor and all sectors of society who are subjected to oppression will reach a boiling point of anger and disgust.
Capitalism, which is a social relation, has turned the masses of humanity into passive human beings, limiting themselves only to the creation of profit. The purpose of work is to keep the world revolving around society being divided into two classes: the Bourgeoisie and the Proletariat, or more simply put- the oppressor and the oppressed. (more…)
Tags: Bali, Demo, Indonesia, International Monetary Fund (IMF), Makassar, World Bank Group
Posted in Direct Action
Friday, October 12th, 2018
We are a group consisting of autonomous individuals who carried out some poster bombing and vandalism actions against Bank of Indonesia, ATMs, police posts, the Digulist roundabout, the West Kalimantan governor's office and several other highly visible locations in Pontianak City. We carried out these actions as a response to the meeting between Global Capitalist organizations the World Bank Group and the International Monetary Fund that is being held in Bali from October 8-14, 2018.
These spontaneous actions we carried out express our uncompromising rejection of a normal life full of daily submission. These actions are a manifestation of our hatred, anxiety and and anger against a system that requires us to accept a society where we have no control over our own lives. Their meeting is a clear sign that Global Capitalism has improved it's position in controlling daily life with various disgusting economic schemes and investments.
For us there are two options: taking action or remaining silent – and we will never choose the second option. Passively watching or reading the news about the IMF-WBG meeting, that is not an option for us. If we take a deeper look, we can see that all aspects in this world relate to economics, and yes, they are the people who are behind all of this bullshit.
Here is a sentence that is appropriate for all those groups and individuals who condemn our actions as immoral and irrational acts: There is no system or morality that can hold us back when we reach the peak of our anger.
And another thing you should know: you are all under their control. You just don't realize that the concept of good / bad morality that you follow is what allows them to achieve their goals. You are all their obedient tools.

We are what you call Utopianists. We are Anarchists!
Tags: Bali, Counter-Summit, Indonesia, International Monetary Fund (IMF), Pontianak City, Sabotage, Vandalism, World Bank Group
Posted in Direct Action
Sunday, October 7th, 2018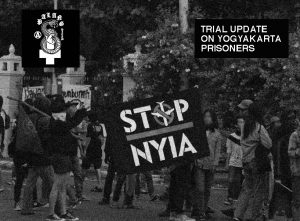 We need to explain, that we have difficulty finding information regarding detainees due to separate case files and also different the trial schedules between them and the schedules change of the trial day, but this did not stop us from giving information to you (readers).
Since October 6, 2018, we have been striving to get the latest information regarding the Class War Prisoners in Yogyakarta who were related to the M1 incident that happened in the past at the intersection of UIN Yogyakarta, from those 11 prisoners they have all received legal assistance (Advocate), with the following details: (more…)
Tags: Indonesia, Repression, Trial
Posted in Prison Struggle
Thursday, September 27th, 2018
ES: El detenido Achmad Azwar Darmawan colabora con la policía
For the first time in the Indonesia anarchist movement there is a snitch who has given information blaming a known anarchist comrade in that territory for organising the Mayday demo (M1) in Yogyakarta. Several comrades are still hunted by police and had to go underground. Here is the info:
Achmad Azwar Darmawan was one of the people who were arrested during the M1 (May 1st) protest in Yogyakarta. He and three other people were arrested when they escaped to Bogor. They were accused of writing down the anti-monarchy graffiti during the protest, which upset a lot of people. Two people became suspects, while two others were set free. It should be emphasized that the escape was done based on individual and group (affinity) decision where each participant was expected to understand that the action was done based on a joint decision (read: without any leader).
The decision-process among M1 participants, especially among those who wore all-black, was very different from the decision-process among leftists or other authoritarian groups, which usually is controlled by a party or a certain central-command, which is very hierarchical. There was no orchestrator who initiated the protest. Azwar is a deluded leftist who risk his comrades for his own safety. (more…)
Tags: 1st May, Achmad Azwar Darmawan (Snitch), Indonesia, New Yogyakarta International Airport (NYIA), Repression, Yogyakarta
Posted in Social Control
Sunday, September 16th, 2018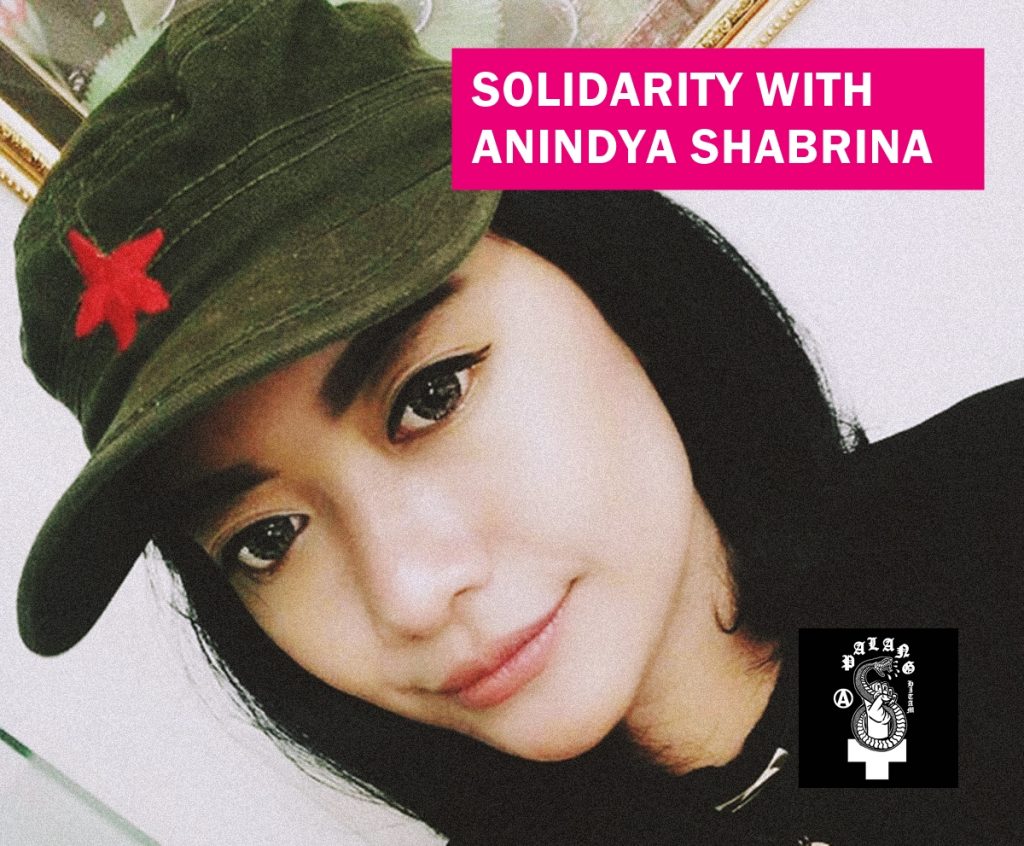 One of the women activists of the National Student Front (FMN) and also a radical feminist who is active as editor in chief of Merah Muda Memudar (MMM), Anindya Shabrina, was threatened with criminalization after complaining of sexual abuse cases by police officers she experienced during the forced dissolution of discussions of Papuan students in Surabaya at Friday, July 6, 2018.
Papuan students living in a student dormitory on Kalasan, Surabaya, East Java held a film screening of the 1998 Biak Papua bloody tragedy. When film discussions were underway, police intelligence entered the dormitory, which was immediately followed by other police officers and Satpol PP personnel. Papuan students standing near the door and discussing the event with the police were dragged out and provoked by the police. (more…)
Tags: Indonesia, Papua, Repression
Posted in Social Control
Thursday, August 30th, 2018
Not Ideological Solidarity but Critical Revolutionary Solidarity: A Personal Reflection of Yogyakarta/Indonesia Anarchist Black Cross (Palang Hitam)

Knowledge chooses its project,
each project is new and chooses its moments,
each moment is new, but simultaneously emerges from
the memory of all the moments that existed before
The Interior of the Absolute
It is fair to say that the Black Cross were initiated after the May Day event in Yogyakarta 2018, a demonstration/blockades that ended up in a riot between the so-called "local people" and the demonstrators (many, even the so-called Student Organization involved in the organizing blamed the Black Clad anarchists for igniting the riot and provoked property destruction, and to their surprised the graffiti that call to "Kill the Sultan", until now there have been no one claimed this). Therefore, even Palang Hitam now are progressing their activities to other places and helping other revolutionaries who are facing the same legal consequences or just being in the grassroots conflict to provide medical aid, its "over-lapping" solidarity still meant that Palang Hitam were originated, initiated, and activated by the comrades who are "on the list" (of the powers that be) and those who are completely not on the list but decided to actively participated. So, in order to specified the location of these comrades, mainly central java, it is fair to say that Palang Hitam is Palang Hitam Yogyakarta or Central Java.
What being said in this short critical reflection are based on specific geographical and historical understanding of the anarchist movement or the revolutionary movement of individuals against state and capitalism in Indonesia. There's no need to say about the contrast between our geographical location and our comrades in the west and those who are also in the global south, especially considering prison solidarity in its historic sense. Indonesia, have plenty of oral history about prison rebellion and rebellious individuals, but these were almost never written, these were almost like mythopoesis among criminals for generation and some even become so legendary that it always inspired rebellion each time there's a prisoner get beaten very severely or until they die. It is obvious there's almost no official history of them because, who want to write about these violent, lawless, and cool individuals? Even the so-called radical academics tend to avoid this subject. (more…)
Tags: Analysis, Brian Valentino (Ucil), Indonesia, Mayday, Repression, Yogyakarta
Posted in Prison Struggle
Thursday, August 30th, 2018
From ABC Indonesia:
At present, Taman Sari residents are facing evictions carried out by the Bandung city government. Previously there were clashes which caused one backhoe to be burned by residents and students of Bandung. The clash resumed in front of the Bandung Mayor's Office, between a mass of activists and police who were repressive towards demonstrators. A third warning letter has been issued and the final eviction was announced to be held today, Monday, August 27, 2018. Anti-authoritarian activist and citizen are building barricades and gathering as many mobs as possible. The Indonesian Human Rights Commission has going to the location of the conflict today, and gave an ultimatum of mediation within three days. Outside of the three days, the possibility of open clashes will occur.
We call for international solidarity for the struggle of Taman Sari, Bandung, as well as at various other points of conflict in Indonesia such as Kulon Progo, Yogyakarta about New Yogyakarta International Airport (NYIA) and Bara-Baraya, Makassar.
Surely our Palang Hitam Indonesia / Indonesian Anarchist Black Cross is trying to help them in every conflict area!
Spread our words. Let the world know we are fighting too. Long live international solidarity!
More information (especially Palang Hitam Indonesia/Indonesia Anarchist Black Cross),
Instagram Account: @palang__hitam
Website: palanghitam.noblogs.org
Email: civilrebellion@riseup.net
Struggle Account (Instagram):
Taman Sari Struggle Account: @tamansarimelawan
Agitasi:Tamansari Clash, One Backhoe Burned
Agitasi: Tamansari Against Eviction: Anarchists and students clashed with police
Yogyakarta Struggle Account : @jogja_darurat_agraria
Palang Hitam Indonesia: Communique From Yogyakarta Anarchist After Anti-Feudalism Mayday Riots 2018
Bara Baraya Struggle Account: @barabaraya.bersatu
Sukoharjo Struggle Account: @sukoharjo.melawan.racun
Pontianak Struggle Account: @bicf.movement
Parung Panjang Struggle Account: @agjt.subparungpanjang
Bekasi Struggle Account: @bekasimelawan
Pasar Griya Struggle Account: @pasargriyamelawan
Jombang Struggle Account: @jombang_darurat_agraria
Surabaya Struggle Account: @surabayamelawan
Talang Struggle Account: @talangmelawan
Banyuwangi Struggle Account: @forbanyuwangi
Kendeng Struggle Account: @kendengmelawan_
Kapuk Poglar Struggle Account: @komitetolakpenggusuran
Solo Struggle Account: @soloberlawan
Dermayu Struggle Account: @dermayuorameneng
Tags: Bandung, Eviction, Indonesia, Kulon Progo, New Yogyakarta International Airport (NYIA), Repression, Squatting, Taman Sari
Posted in Social Control
Monday, August 20th, 2018
6 detainees will soon have finished their trial process, they are waiting to find out the results of the trial and how long their sentences will be. However there are 4 prisoners who still remain in Cebongan Prison (including Ucil) and 1 other prisoner who is still being held in Sleman Police Station, it is still unclear what is happening with their trial process.
On Tuesday, August 14th ,2018, the trial for comrades O and M began, while on Thursday, August 16th, 2018, the trials began for comrades MI, MEA, AMA, and ZW.
As for Brian Valentina (Ucil) , his trial will be held on Tuesday, August 21st, 2018.
Let's express our solidarity by attending the trial every Tuesday and Thursday at 10AM in the Sleman District Court or by visiting the comrades in Cebongan Prison and Sleman Police Station who do not have clear information yet about their trial process.
More information,
Instagram account: @palang__hitam
Website: palanghitam.noblogs.org
Email: civilrebellion@riseup.net
Tags: Brian Valentino (Ucil), Indonesia, Trial, Yogyakarta
Posted in Prison Struggle
Friday, August 10th, 2018
Tags: Flyposter, Indonesia, International Solidarity
Posted in Prison Struggle
Wednesday, August 8th, 2018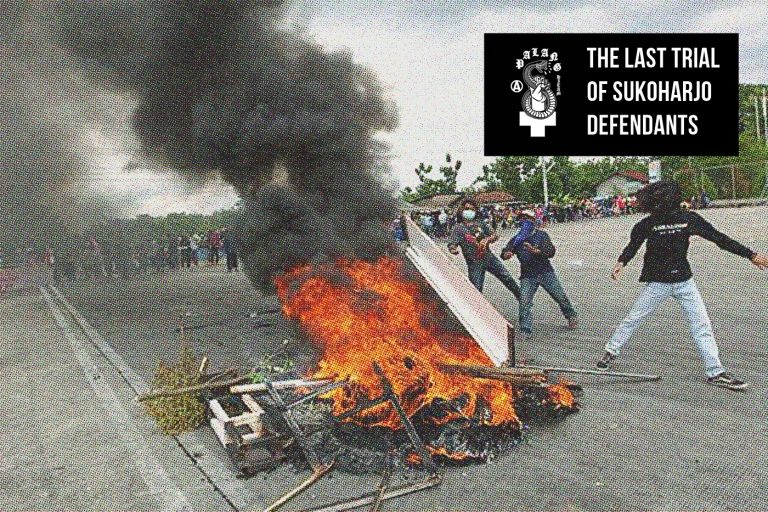 07.08.18: The 7 prisoners from Sukorharjo charged for involvement in the the riots outside the PT. RUM synthetic cotton factory faced their final hearing on Tuesday, August 6th. The riots followed on from the demonstration that took place in front of the factory due to it emitting a foul, toxic odor. The demonstration descended into a chaotic riot that led to the torching of security posts and clashes with the police and soldiers. The 7 prisoners have been detained since their arrests in February 2018. The trial was chaired by Chief Judge Sigit Hariyanto. The sentences of the 7 prisoners were as follows:
1. Muhamad Hisbun Payau (Iss), a member of left-wing student organization Pembebasan, sentenced to two years and three months imprisonment.
2. Sutarno, a resident of Karanganyar, sentenced to two years imprisonment.
3. Brilian, a resident of Nguter, sentenced to two years imprisonment.
4. Bambang, a resident of Bulakrejo, sentenced to three years imprisonment and fined 10 million Rupiah.
5. Kelvin, a resident of Plesan, sentenced to two years and three months imprisonment.
6. Sukemi, a resident of Celep, sentenced to two years and three months imprisonment.
7. Danang, a resident of Nguter, sentenced to two years imprisonment and fined 10 million Rupiah.
The first 3 defendants were convicted for violating Article 406, paragraph (1) of the Indonesian Criminal Code regarding "the destruction of property belonging to another person". The judge's sentencing was lighter than the demands of Prosecutor Rohmadi who was seeking 4 years and two months imprisonment for Iss and 4 years imprisonment for Sutarno and Brilian.
The last 4 defendants were charged and convicted for violating Article 187, paragraphs (1) and (2) along with Article 170, paragraph (1) of the Criminal Code.
The sentences for Danang and Bambang were lower than what the Prosecutor was seeking – the Prosecutor was seeking 4 years imprisonment and a fine of 50 million Rupiah for Danang and 5 years imprisonment along with a 50 million Rupiah fine for Bambang.
For more information:
Instagram account: @palang__hitam
Website: palanghitam.noblogs.org
Email: civilrebellion@riseup.net
Tags: Indonesia, Trial
Posted in Prison Struggle
Saturday, July 28th, 2018
26.07.18: The trial has begun for the 4 anarchist prisoners of war who were transferred to Cebongan Prison for the Yogyakarta M1 (May Day) case.
The four imprisoned comrades are:
– Azhar M. Hasan (Azhar)
– Zikra Wahyudi (Zikra)
– Muhammad Ibrahim (Boim)
– Muhammad Edo Asrianur (Edo)
The state repression against the anarchist M1 actions is entering a new phase as the preliminary trial hearing begins. The 4 anarchist prisoners of war who took part in the demonstrations at the intersection outside UIN Yogyakarta (Sunan Kalijaga State Islamic University) faced a preliminary trial hearing at the Sleman District Court on July 26th.
The first preliminary trial hearing consisted of the prosecutor reading the indictment against the comrades. The prosecutor stated that this trial should take place separately from the criminal case and called for a split hearing. (more…)
Tags: Indonesia, Repression, Trial, Yogyakarta
Posted in Prison Struggle