Posts Tagged 'Indonesia'
Thursday, July 26th, 2018
The former Japanese Red Army activist Tsutomu Shirosaki has launched an appeal against his conviction for attempted murder.
He was found guilty in a trial at Tokyo District Court related to a May 1986 attack in Jakarta that saw a series of mortars hit the Japanese and United States embassies, though none caused injury or significant damage.
Now aged 70, Shirosaki was given a 12-year sentence in November 2016 at the conclusion of the trial, the first of a far-left activist in Japan for terrorism-related crimes for many years and the first to involve lay judges. Witnesses included the film director and former Japanese Red Army member Masao Adachi.
Notwithstanding the high-profile nature of the trial, the prosecution was undermined by its poor handling of Indonesian witness testimony. As reported in the media at the time, the court translation contained notable errors. These are a key part of Shirosaki's appeal, which had its hearing on July 18th. (more…)
Tags: Anti-Imperialist International Brigade (AIIB), Indonesia, Japan, Japanese Red Army, Popular Front for the Liberation of Palestine (PFLP), Tokyo, Trial, Tsutomu Shirosaki
Posted in Prison Struggle
Sunday, July 22nd, 2018
"Knast ist ein Meilenstein auf dem Pfad, den der Revolutionär in Richtung Freiheit geht. Es ist ein vorüber gehender Aufenthalt, aber nicht das Ende." Verschwörung der Feuerzellen (CCF)
Am 1. Mai 2018 wurden dutzende AnarchistInnen in Yogyakarta während eines wütenden Krawalls gegen den Sultan und das NYIA Mega-Flughafen Projekt, welches die Kulon Progo Coastal Community bedroht, verhaftet. 11 AnarchistInnen sind immer noch eingesperrt, weil sie gegen die Bullen und die Schläger das Sultans gekämpft haben. Dem Gefährten Ucil wird vorgeworfen Polizeimotorräder mit Molotov-Cocktails angegriffen zu haben. Der indonesische Staat hat diesen Moment benutzt, um die anarchistische Bewegung auf dem Archipel mit Repression zu überziehen, außerdem sind einige GefährtInnen im Untergrund oder es wird gegen sie ermittelt. Lasst uns den Funken der revolutionären Solidarität entzünden und die schwarze Internationale entfachen. Feuer den Unternehmen, den Investoren, dem Tourismus und den Banken, die in Indonesien tätig sind.
"Bedauerlicherweise ist der Traum, den wir in unseren Herzen tragen, zu bedeutend, als dass wir die Gefahr unterlaufen könnten, uns selbst an der monströsen Wand der Autorität wieder zu finden, die aufgebaut wurde, um Staat und Kapital zu verteidigen." – Nicola Gai
Tags: Flyposter, Germany, Indonesia, New Yogyakarta International Airport (NYIA), Repression
Posted in Prison Struggle
Thursday, July 12th, 2018
The May 1st protests that took place at the UIN Yogyakarta area, against the New Yogyakarta International Airport (NYIA) and the monarchy-feudalism related to Sultan Ground/Pakualaman Ground. Resulted in 11 comrades being detained at the Yogyakarta Regional Police Station (Polda Yogyakarta) suspected of destruction and arson of State facilities (a Police Station).
The comrades were supposed to be transferred to Cebongan Prison at the end of June, but due to further investigation, on June 29 only 4 comrades were transferred to Cebongan Prison and another 2 comrades were transferred one week later. (more…)
Tags: Brian Valentino (Ucil), Cebongan Prison, Indonesia, New Yogyakarta International Airport (NYIA), Yogyakarta
Posted in Prison Struggle
Friday, July 6th, 2018
Tags: Black International of Anarchists of Praxis, Brian Valentino (Ucil), Flyposter, Indonesia, International Solidarity, Repression, Yogyakarta
Posted in Prison Struggle
Wednesday, July 4th, 2018
"Prison is a milestone in the revolutionaries' path towards freedom. It's an intermediary stop, but not the end" – Conspiracy of Cells of Fire
As of May 1st, 2018 to today (July 4th, 2018), the anarchist prisoners in Yogyakarta have still not faced court proceedings. Information received is that the anarchist prisoners should have been transferred to Cebongan Prison in Sleman on June 29th, 2018, as the prosecutor's office has been holding them in Yogyakarta police station (Polda Yogyakarta) since May 1st for the investigation process. However, the planned transfer was cancelled and the period of detention at Polda Yogyakarta has been extended until July 30th, 2018 on the grounds of further investigation. Our prediction *is* the extended investigation process is due to this case being politicized, it's evident by the many opinions that appear on the surface that the May 1st action was an act of opposition against the government.
As for the condition of the anarchist prisoners of Yogyakarta, one of them, Brian Valentino (UCIL) was taken to hospital due to suffering shortness of breath and stomach problems. Ucil is still recovering now, but he remains in good spirits and is always spreading laughter to other prisoners. As for the other anarchist prisoners, they are all in good health both physically and psychologically, however we know the pressure they are under from various parties, especially the police and the state.
We will continue to provide information on the situation of the anarchist prisoners and the progress of the case. Thank you to all the friends who have shown solidarity for the anarchist prisoners of Yogyakarta.
"Unfortunately the dream we carry in our hearts is too great to avoid the risk of finding ourselves up against the monstrous wall of authority raised in defense of the state and capital" – Nicola Gai
Anarchist Black Cross Indonesia

More information:
Instagram account: @palang__hitam
Website: palanghitam.noblogs.org
Email: civilrebellion@riseup.net
Tags: Brian Valentino (Ucil), Indonesia, Repression, Yogyakarta
Posted in Prison Struggle
Tuesday, July 3rd, 2018
After a brief pause we resume an irregular publishing rhythm fueled by our hatred of this techno-prison world. Our last few months were busy with shaping our small project for the future. In the coming weeks we'll be posting a new Dark Nights zine as well as some solidarity posters and other compilations of writings.
Recently we caught this podcast with an anarchist comrade in Yogyakarta talking about the Mayday riot case and the call to 'Kill the Sultan'. 44 comrades were arrested and comrade Ucil was beaten and held incommunicado for molotov attacking police vehicles. Many comrades either have cases pending or are still wanted for the riot and are investigated. Check out this post and help out.
Imprisoned members of the Conspiracy of Cells of Fire released a letter in solidarity with anarchist comrade Grigoris Tsironis, a comrade who spent 9 years as a fugitive and who is persecuted by the Greek judiciary for his anarchist stance. You can find the letter about the house arrest of Tsironis in Greek at Traces of Fire.
In Spanish language you can read about the case of the comrades convicted for the events in Valpraiso, Chile and some reflections on those events in light of the Marfin Bank case in Athens, Greece.
Also, the huge 5th issue of Return Fire is out, this green anarchist zine from UK is packed full of content and available for PDF download.
Translators, saboteurs, image-creators, rioters and writers, contribute via our contact form… New GPG key coming soon…

For the next generation internationalist struggle
For anarchy
325

Tags: Chile, Conspiracy of Cells of Fire, Greece, Grigoris Tsironis, Indonesia, Valparaiso
Posted in Autonomy
Tuesday, July 3rd, 2018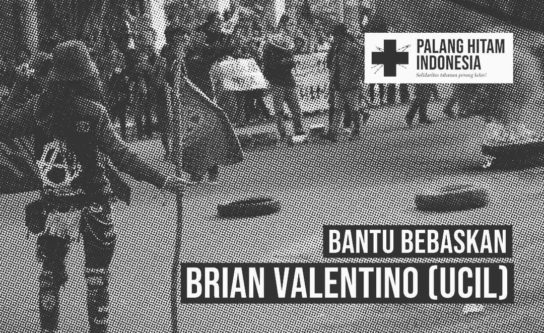 Our comrade Brian Valentino is being held in Polda prison Yogyakarta, the main police headquarter of Yogyakarta (special feudal region within Central Java territory)
Since the day of his arrest, May 1st until May 16th 2018, our comrade, who were beaten and tortured, have been denied of his rights for legal advocate or lawyer. Ever since he was arrested it's already 15 days of interrogation without the company of a lawyer or advocate.The police or the legal aid haven't gave us a clear reason about this, therefore we are not sure that whether the police or the legal advocate who refuse to help him.
To be clear, we received information from Brian Valentino's dad who have just visited him after a week and he make sure that Brian was the only of the arrestees who haven't given any legal aid for 15 days since arrest.
Therefore we urge to the comrades national and international to strengthen solidarity with Brian Valentino, our dear anarchist friend, who have been refused of his rights for legal aid. We are not limiting the solidarity, it can be legal or whatever. (more…)
Tags: Brian Valentino (Ucil), Indonesia
Posted in Prison Struggle
Thursday, November 16th, 2017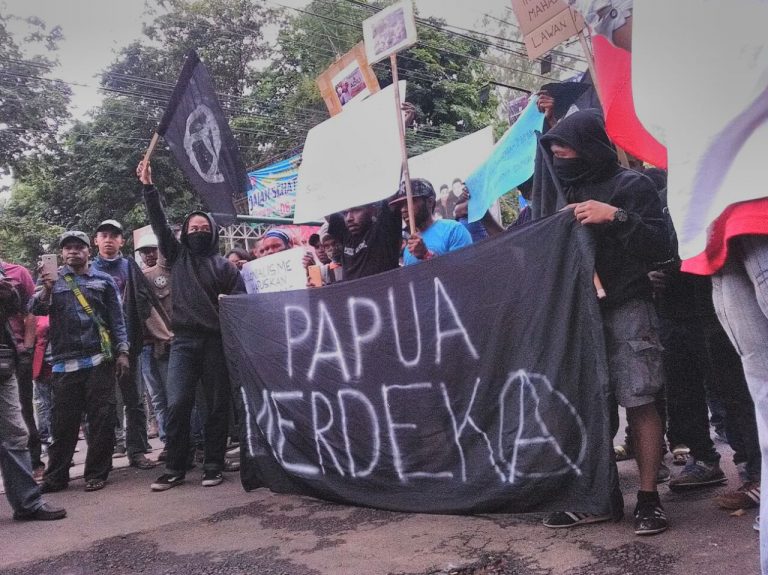 Freedom for Papua
15 November 2017
Solidarity between various alliances including Libertarian Student Federation (FML), Papuan Student Alliance (AMP) in the small town of Salatiga, at the Satya Wacana Christian University. This solidarity is a nationwide call from the KNPB (National Committee of West Papua) in order to give pressure to the Indonesian government to give rights to West Papuan independence and autonomy. In this case, anarchists and libertarians limited their solidarity for the full autonomy and freedom of West Papua from Indonesian state and not supporting the creation of West Papua as a nation-state.
Anarkis/FML
–
Salatiga (Jawa Tengah)
Solidaritas antar berbagai aliansi termasuk diantaranya Federasi Mahasiswa Libertarian (FML), Aliansi Mahasiswa Papua (AMP) terjadi di kota kecil Salatiga, tepatnya di Universitas Kristen Satya Wacana. Solidaritas ini merupakan seruan dari KNPB (Komite Nasional Papua Barat) dalam skala nasional untuk menekan pemerintah Indonesia agar memberikan hak untuk menentukan pilihan bangsa Papua Barat. Dalam hal ini, kaum anarkis dan libertarian, membatasi solidaritasnya dalam bentuk otonomi bangsa Papua Barat dan bukannya disintergrasi yang akan menciptakan negara baru lagi.
Videos Links (click on the links below):
Some anarchist students make their way out of campus
Demonstration outside of University
Tags: Demo, Indonesia, International Solidarity, Salatiga, West Papua, West Papua Independence
Posted in Direct Action
Tuesday, August 29th, 2017
From Indonesian Counter-Information (Click for photos):
29-8-2017
From 08.00 this morning, Communities who joined in refusal (PWPP or Community Against Eviction – Kulon Progo) of the new airport development began gathering near heavy equipment located on the border of Glagah-Palian in order to block the equipment that will destroy the coastal areas. Fish farmers also participated to confront the heavy equipment that will destroy their ponds. At around 10.00am, approximately 500 police moved the people who were occupying the heavy equipment. The community was forced to retreat. The eviction and destruction of community land with heavy machinery continued from 11.00am. (more…)
Tags: Airport, Community Resistance, Eviction, Indonesia, New Yogyakarta International Airport (NYIA), Yogyakarta
Posted in Eco Struggle
Wednesday, August 23rd, 2017
Since 8 August last week, particularly in Macanan Glagah area and 10 August heavy machinery were already operating within the compromised area (the area in which some community of peasants already sold their land and compromised with the project, although their relocation is still unsure) for the development of New Yogyakarta International Airport (NYIA). Despite community and peasant resistance against NYIA, the government and PT Angkasapura, cooperating with this large company from India as the airport major investor: GVK corporation. We urge comrades in India to communicate with us and build international solidarity..
Mainstream coverage of past struggle against NYIA in English:
http://www.thejakartapost.com/news/2015/10/31/islands-focus-hunger-strike-over-kulon-progo-airport-continues.html
http://www.thejakartapost.com/news/2015/05/21/kulon-progo-airport-development-violates-human-rights-komnas-ham.html

Grassroot and independent media coverage (Indonesia):
Facebook: Jogja Darurat Agraria
Note: The struggle against NYIA is connected to the previous struggle of peasants in Kulon Progo against iron mining in which they won the struggle, not through legal means but through community grassroot struggle (riots, arrests, and massive international solidarity makes it difficult for the project to continue) that goes beyond the language of the state. But the development of NYIA can change the past victory and reinstate the power of capital through continuous development of megaprojects which means that the peasants surrounding area will be threatened by these continual development.
Profiles of national and multinational corporations responsible for NYIA:
Indian company:
http://www.gvk.com/
Angkasapura Profile:
https://en.wikipedia.org/wiki/Angkasa_Pura
Article about the corporation and their collaboration (mainstream coverage)
https://article.wn.com/view-lemonde/2016/02/16/GVK_India_to_Invest_US500_Million_in_The_Development_of_Kulo/
Tags: Airport, Indonesia, Kulon Progo, New Yogyakarta International Airport (NYIA), Yogyakarta
Posted in Eco Struggle
Monday, August 14th, 2017
Update: The campaign for Anzi ended early because insurance came through for a lot of the cost. The money collected so far will go towards paying for the hospital room, food, X-rays, rehabilitation and travel expenses for her family and (hopefully not) future surgeries. Anzi spent approximately ten hours in surgery last week and received a total of 2 plates in her arm as well as pins to piece her elbow back together. The doctor said it was a fairly complicated surgery partially because of the time gap while waiting for funding.
Unfortunately, tragedy has struck again in our community in Indonesia. Our friend Anzi Matta was in a motorcycle accident on Wednesday 26 July. Her left arm is severely broken in several places and she desperately needs surgery to repair it. The estimated cost is about 20 million rupiah, approximately $1,500 USD. That is a year's salary or more here. She needs this surgery urgently and as quickly as possible to save her arm. She will also require physical therapy to regain mobility. We are fundraising here as well, but we need all the help we can get. (more…)
Tags: Anzi Matta, Indonesia, International Solidarity, Yogyakarta
Posted in Autonomy
Friday, July 21st, 2017
"'Triste' – crítica del compañero Eat a la tendencia eco-extremista y al grupo ITS en México" [es]
–
It is sad to see "them" resorting to such incoherent, deluded, and even ahistorical if not unfactual analysis of contemporary anarchism and its various movements, successes and failures. It is even more sadder that the critique was poorly written. If the FAI never accomplished anything as the critique said, it is because FAI ideas were and are always to be put on trial of practice and its diverse variants. There is no monopoly of narrow individualism in the FAI as far as I comprehend it, as it is just an idea to encourage anarchists to attack with informal and antiorganisationalist forms (even this also is always within a context), because "it" [FAI] doesn't believe in the binary logic that this critique does. While the critique seemed, at first, to try to dismiss a binary vision of the world it falls on the same mistakes when it doesn't even know nor understand how they or their moralistic-triumphant-over-others-methods originated and empowered.
While I was in full support of ITS in attacking technocrats, NGOs, and its effort in deconstructing the western anarchist moralistic-christian tendency, they too fall to the same logic as their so "ideological enemies of gringo" anarchism. (more…)
Tags: Analysis, Conspiracy of Cells of Fire, Eat, Eco-Extremism, Individualists Tending Toward the Wild (ITS), Indonesia, Informal Anarchist Federation (FAI), Mexico
Posted in Eco Struggle
Wednesday, May 10th, 2017
Tags: 1st May, Bandung, Black Bloc, Demo, Indonesia, Video
Posted in Autonomy
Tuesday, November 29th, 2016
Alleged Japanese Red Army member Tsutomu Shirosaki has been found guilty in his trial over the May 1986 mortar attack on the Japanese embassy in Jakarta. The Tokyo District Court today handed down a 12-year sentence for the attack, in which two projectiles were launched from a hotel room but failed to cause injury or extensive damage.
Shirosaki was deported to Japan in February 2015, having serving 18 years in prison in America for an attack on the US embassy during the same incident. He was then arrested at Narita Airport and his trial for attempted murder began in September, concluding on November 1st.
Shirosaki was a veteran of Sekigun-ha (Red Army Faction), the far-left domestic group out of which the JRA partly emerged. He was arrested in 1971 for bank robbery (Sekigun-ha carried out a successful bank robbery campaign to raise funds) but freed in October 1977 when the JRA hijacked a plane, forced it to land in Dhaka and demanded the release of various prisoners in Japan. He was later re-arrested in Nepal in 1996 by local authorities in co-operation with the FBI. (more…)
Tags: Indonesia, Jakarta, Japan, Japanese Red Army, Repression, Trial, Tsutomu Shirosaki
Posted in Prison Struggle
Friday, February 19th, 2016
PDF: 'Empty House & Crowded Forest'
Here we release the finished PDF version of the surreal children's book written by Eat (Reyhard Rumbayan) and illustrated by Lukas.
"This book is dedicated to all imprisoned members of Conspiracy of Cells of Fire, Revolutionary Struggle, Marco Camenisch, Gabriel Pombo da Silva, Ted K and all the nihilist rebels across the globe. Salute!"