Posts Tagged 'Insurrection'
Thursday, December 3rd, 2020
EN | PDF: 325 #12 – 'Against the Fourth and Fifth Industrial Revolutions'
ES | PDF: 325 #12 – 'Contra la Cuarta y Quinta Revolución Industrial'
Presenting 56 pages of anti-organisational, insurrectional, anti-civilisation anarchy of the 21st Century. A collection of critical texts and letters from anarchist points of view examining the new changes in production and social control brought about by new technologies which are ushering in a totalising prison-world and the advance of smarter-than-human machines. This issue of 325 builds on the considerations and content of the last issue which took as it's focus the subject of the Technological Singularity. Six years later, the mechanisms, ideologies and impacts of this global dystopian project are nearer and clearer and the texts you will read in this new issue deal with the emerging realities of these technological revolutions.
For the first time, 325 is coming out in 3 languages: First in English, with Spanish and Italian to follow. Printed copies are available, but we also encourage people to print out their own copies and distribute them in their area.
CONTENTS : 325#12
3. Editorial
4. Automation, Robotics & Labour in the 4th & 5th Industrial Revolutions
8. From Riot to Insurrection – Excerpt
9. A Small Criticism of Science and its World
10. Covid-19 World: Epidemics in the era of Capitalism
12. The Fractures of Dominion
13. Coordinated Incendiary Attacks Against Relay Antennas in Grenoble, France
14. The 4th and 5th Industrial Revolutions
17. The Artificial Reproduction of the Human: The Road of Transhumanism
23. Machine Psychology: A Disappearing Act
25. Oblique Look
28. Smartphones, Ringtones, Capital
29. Cashless Societies and Crypto-Currencies: End of the Traditional Era of Banking and Finance
32. Contribution to the 1st International Meeting Against Techno-Sciences by imprisoned anarchist Dino Giagtzoglou
38. Cybernetic Society and its World
48. Against Starlink
50. Space : Part 1
51. To Be Released
53. Direct Action Chronology
ANTI-COPYRIGHT NETWORK 2020
Tags: 325 Magazine, Analysis, Anti-Prison, Anti-technology, Artificial Intelligence (AI), Artificial Reproduction, Biotechnology, Coronavirus, Crypto-Currencies, Cybernetics, Fifth Industrial Revolution, Fourth Industrial Revolution, Insurrection, International Solidarity, Konstantinos Yagtzoglou, Nanotechnology, PDF, Prison Society, Robotics, Sabotage, Starlink, Technological Singularity, Transhumanism, Zine
Posted in Library
Tuesday, August 4th, 2020
PDF: 1 pag. Como vivimos…
PDF: Formato libro. Como vivimos…
El presente libro, está dedicado al guerrero anarquista Gabriel Pombo Da Silva, secuestrado por el Estado español. Querido compañero, te queremos pronto en las calles, la libertad vino hace tiempo a por ti.
Como vivimos desde la anarquía la lucha y los disturbios por el Poder en Bolivia, es el grito furibundo de una recopilación de textos germinados por la sed de lucha contra la dominación, en un escenario tramoyado por la pugna interburguesa por el Poder, en el que sencillamente los ácratas no intervenimos. Ese forcejeo por la silla presidencial no nos incumbe, pero sí la ofensiva constante contra toda autoridad, sin desperdiciar la crítica que nos señala el camino de la praxis. Es necesario enfocarnos en el encandilamiento feligrés-social, que conduce a los ciudadanos a buscar su presente (y futuro) en las urnas de la dominación, con la intención de elegir a su nuevo amo, lo cual atenta contra cualquier expectativa de libertad individual y colectiva. La insurrección es permanente. Quienes luchamos contra toda forma de autoridad no necesitamos esperar por una fecha específica en el calendario para reaccionar contra las imposiciones. No necesitamos quien nos gobierne ni nos dirija; sabemos organizarnos, elegir a nuestrxs afines en la lucha y avanzar hacia la liberación total sin recular. (more…)
Tags: Analysis, Anti-Fascism, Bolivia, Como vivimos desde la anarquía la lucha y los disturbios por el Poder en Bolivia, Edições Crônica Subversiva, Elections, Evo Morales, Fuck the Elections, Gustavo Rodriguez, Indigenous Struggle, Insurrection, Jeanine Áñez, PDF, Social Insurrection, Zine
Posted in Library
Friday, July 3rd, 2020
EL | Απολογιστική-προτασιακή τοποθέτηση του συντρόφου Δημήτρη Χατζηβασιλειάδη προς τους συντρόφους
PDF: Debriefing and propositional statement
Historical background
On the 21st of October, around 11pm, together with one more person, I made an appropriation of a state casino shop in Cholargos (suburb of Athens). Before our departure from the shop the rifle that was used for our self defense passed from the other person's hand to mine. An automatic rifle, if available, is a convincing deterrent during any act that may come into confrontation with the murderous mercenaries of capitalism. Bastards like those who tortured to death George Floyd, the same bastards who gang killed Zak Kostopoulos, who was already wounded by the fascist shop-owners in a pedestrian road, in the middle of the day, in the city center, bastards who, shortly after, killed Embouka Mamasoubek inside a police station, and whose names are still kept secret, having enjoyed the full cover of the then leftist government and bourgeois justice, these bastards don't understand any other language than the one they have learned to implement.
The moment I took the weapon, it fired, due to my negligence. The bullet hit my leg. After leaving the place, I sought refuge at the nearby home of an old friend. Estimating that very soon the repression mechanisms and their minions, the regime's journalists, would publish my photo, I decided to evacuate a flat in which I was storing a number of tools for the resistance, with the aim to rescue them. So these tools ended up in the house where I had gone wounded, and from there into the warehouses of the militarist-statist rulers, about two weeks after my injury. (more…)
Tags: Analysis, Athens, Dimitris Chatzivasileiadis, Greece, Insurrection, Letter, Organization for Revolutionary Self-Defense, Repression
Posted in Prison Struggle
Friday, June 19th, 2020
The following interview is the 3rd part in an ongoing dialogue between anarchist comrade Alfredo Cospito, who is currently imprisoned at Ferrara Prison, and the editors of the Italian anarchist newspaper Vetriolo [Vitriol]. As far as we know, the first part of the interview has not been made available in English, however part two was translated by the Abolition Media Worldwide comrades in April 2019. Vetriolo have published the interview in parts, and have plans to publish the interview in its entirety in a forthcoming publication. We hope that we have captured the original spirit of the interview with our translation, however we are acutely aware of the possibility that some errors may have been made and we welcome any correspondence regarding any errors that may need correcting. To request copies of Vetriolo, they can be contacted via vetriolo[at]autistici.org
In some of your recent writings you have wanted to open a debate on: action and affinity groups, individual actions, claims of responsibility, ways to informally organize oneself among anarchists and propaganda through direct action. There are many different experiences that reach the present day, many and diverse within the different tensions of anarchism. We do not believe that there is, for the anarchism of action, an unavailability or impossibility with respect to the current historical context. Anarchists, in different ways and in every age, have always acted "here and now". We would like to ask you, evaluating these experiences and different ways of acting and organizing in a horizontal and anti-authoritarian way: could one say that there is, especially in Italy, an ideological prejudice against "informal organization", "anarchist groups", and "claims of responsibility"? Equally, is the debate, which often ends up in mockery for its own sake, far from being able to confirm absolute validity or theoretical-practical evidence regarding "reproducibility, informality, anonymity", in the Italian context conditioned by methodical, functional and a priori productive calculations, in a distorted logic of "factions"?
The "ideological" prejudice against informal organisation here is nothing new. Although there is no doubt that some concretizations of informal practice are more acceptable to "classical" anarchist organising than others. The "small" reproducible, unclaimed actions against structures of domination, without initials of any kind, create fewer problems than actions that endanger the lives of men and women in power, especially if these are claimed with initials that have a constancy over time. The former compared to the latter are more acceptable to the "movement" for the simple reason that they give rise to less intense repression by the State. The rejection of insurrectionism or informal experiences such as FAI/FRI by "classical" anarchism is almost always motivated as an "ethical" rejection of violence and specifically of certain actions (bomb attacks, arson attacks, parcel bombs, knee-cappings, expropriations…). (more…)
Tags: Alfredo Cospito, Analysis, Black International, Informal Anarchist Federation (FAI), Insurrection, International Revolutionary Front, International Solidarity, Italy, Roberto Adinolfi, Vetriolo
Posted in Interviews
Saturday, September 21st, 2019
A regional headquarters of New Democracy (ND), Greek Prime Minister Kyriakos Mitsotakis, was attacked at dawn on Thursday (12⁄09) with an explosive device, in another incident of these characteristics in just two weeks.
Tenants from a neighboring building alerted the fire department. The attack caused extensive property damage. So far, no group has taken responsibility for the offensive.
"This is the second attack on ND's offices in a few days, this time in Pefki, it's a continuous attack on democracy."
From: Agência de Notícias Anarquistas, AMW
Tags: Athens, Greece, Insurrection, Pefki, Sabotage
Posted in Direct Action
Sunday, August 25th, 2019
PDF: 'For The Insurrection To Succeed, We Must First Destroy Ourselves'
Newly formatted zine of an older text from a situationist-type view of the Greek insurrection and related events of 2008.
From Ruins of Capital
Tags: Greece, Insurrection, PDF, Riots, Zine
Posted in Library
Wednesday, August 21st, 2019
For three weeks already the offensive of the United Revolutionary Movement of the Peoples HBDH (Turkish: Halkların Birleşik Devrim Hareketi) continues unabated. For weeks now the fascist AKP-MHP regime and its supporters in the whole of Turkey and the occupied Northern Kurdistan have been shaken by endless fire and bomb attacks of the militias and guerrilla forces of the revolutionary alliance.
The United Revolutionary Movement of Peoples was founded on March 12, 2016 and is the front organization of various revolutionary, socialist and communist parties and organizations of Turkey and Kurdistan. In the HBDH the Kurdish Freedom Movement in leadership of the Kurdistan Workers Party PKK unites with the revolutionary left of Turkey to a common front in the struggle against AKP-MHP fascism, for the liberation of the occupied Kurdistan and the establishment of a socialist Turkey.
Simultaneously with the renewed rise of the threats of Turkish fascism against the Democratic Federation of Northeast Syria, the militias and guerrilla units started a new offensive in the heart of Turkish colonialism. In the following some of the past actions are summarized:

Declaration of 30 June
On the 29.06 at 16.00 o'clock, in the district Datca of Muğla, Palamutbükü, a sabotage action against a television station was accomplished. The United Revenge Militia of the Peoples confessed to the action with which a television station was met, which legitimizes fascism with its propaganda of lies. Tourists from home and abroad were warned against using Turkey as a holiday destination. Nobody should travel to the areas used by AKP-MHP fascism as the main source of financing for war and massacres.

Declaration of 02 July
In a statement signed with United Revenge Militia of Peoples, the group confessed to a sabotage action against the Grand Efe Hotel and surrounding hotels in the Özdere region in the Menderes district of Izmir. Two hotels had to be evacuated as a result of the action. The group threatened with further attacks against tourist destinations and called on domestic and foreign tourists to stay away. Otherwise they would have to face the reality and pain of the dirty war. The group called on the oppressed, workers, women and youth to stand against fascism. (more…)
Tags: Anti-Fascism, Arson, Attentat, Insurrection, International Solidarity, Kurdistan, PKK (Kurdish People's Party), Rojava, Sabotage, Social War, Turkey, United Revolutionary Movement of Peoples (HBDH), War
Posted in Direct Action
Monday, December 3rd, 2018
December is still a month marked with the stamp of the insurgent memory of the
anarchists who rise up in open antagonism against any form of power.
December 2018 will be 10 years since the comrade Alexandros Grigoropoulos was
snatched from the streets when he was killed by police bullets in the neighborhood
of Exarcheia, Greece, in 2008. It is also the month that will mark 5 years since the
comrade Sebastián Oversluij was killed by the bullets of a mercenary of capital
during a bank expropriation in 2013 in Chile.
Because the memory of our dead is fuel to stoke the flames of our lives in permanent revolt, the Black December is once again a meeting point of multifaceted action, and to reflect upon ourselves and on our strengths in this minority struggle and about the current manifestations of our totalitarian enemy, which is power and its world of hierarchies, fascism. patriarchy, speciesism and the multiple expressions of the desire for superiority of some over others.
Once again, Black December continues to be an invitation for insurgent communication via the savage heat of offensive action against power.
In iconoclastic memory of our dead.
Offensive solidarity with the comrades who face repression in Argentina, Brazil,
Chile, Russia, Italy, Greece and all over the world.

For a Black December, long live anarchy!
–
ES/GR: Por un Diciembre Negro / Για ένα Μαύρο Δεκέμβρη
Tags: Alexis Grigoropoulos, Black December, Black International, Black International of Anarchists of Praxis, Insurrection, International Solidarity, Sebastián Oversluij Seguel
Posted in Autonomy
Sunday, October 7th, 2018
PDF: Dark Nights #47 – EN
PDF: Dark Nights #47 – ES
'Against Surveillance State UK – Against Facial Recognition CCTV'
'Contra la Vigilancia del Estado de Reino Unido – Contra el CCTV de Reconocimiento Facial'
International anarchist newsletter in English and Spanish versions. Latest issue of Dark Nights returns after more than two years. Download, copy and distribute.
Boletín anarquista internacional en versiones en inglés y español. El último número de Dark Nights regresa después de más de dos años. Descargar, copiar y distribuir.
Anti-Copyright Network

+ Facial Recognition CCTV article as A4 PDF to be enlarged to A3 and flyposted.
Tags: Analysis, Anti-technology, CCTV, Dark Nights, Facial Recognition, Insurrection, Intelligent Surveillance, Novichok Case, PDF, Repression, Sabotage, Social War, Zine
Posted in Library
Thursday, September 27th, 2018
Tired of being silent, tired of seeing systematic violence every day through racism, sexism and waged labor that take place in society, whose essential values are authority and profit. Sick of exploitation we see all political parties as main responsible, as they repress freedom with the state, reformist and repressive apparatus (TV, the mass-media, associations, the army, the civil protection, etc.) The state and capital are the biggest criminals, they even violate their own laws, they steal through taxes, they kill through wars and waged labor, rejections of migrants' boats in the sea, concentration camps for immigrants in Europe and Africa, they contaminate irreversibly men, animals and the entire planet, all for their profit and power.
Let's not forget the hypocritical complicity of society made of citizens who pretend not to see the horrors of present and past racism and nationalism. This acceptance is the pillar of totalitarianism and democracy: in the course of time the authority based on indifference, fear, apathy was able to create Gulags and nazi concentration camps, and today the concentration camps in Libya and outside our homes. It's history that repeats itself. (more…)
Tags: Haris Hatzimihelakis, Haris Hatzimihelakis cell/Black International (1881-2018), Informal Anarchist Federation (FAI), Insurrection, International Solidarity, Italy, Social War, Treviso
Posted in Direct Action
Thursday, September 27th, 2018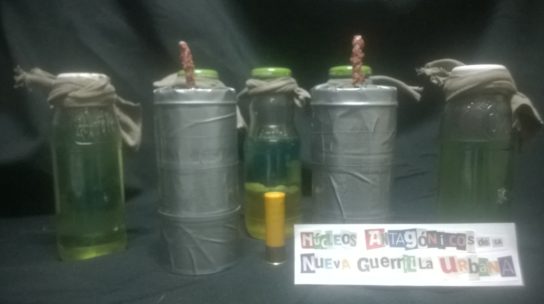 Santiago, 11 de Septiembre 2018
"Hemos decidido rebelarnos frente a esta realidad de mierda, que sin duda nada tiene que ver con nosotros. Pasan los años, y una pregunta me da vuelta en la cabeza. ¿Será siempre así? ¿Es que no tenemos derecho a una vida digna y alegre? ¿Todos los días serán iguales?
Nos cansamos de aplanar esquinas. De estudiar sin saber para qué. De tener que sacarse la cresta por un pedazo de pan. Nos cansamos de ver prostitutas de 11 años y que nos inunden con el Mapocho para salvar a Providencia. Estamos cabreados de los milicos asesinos, de pacos locos y prepotentes, de gerentes ladrones. (…) Queremos ser personas, vivir nuestra juventud. (…) Que no quede ningún asesinato, tortura o atropello sin justicia".
–Movimiento Juvenil Lautaro
El 11 de Septiembre es un hito, marca una antes y un después, lo queramos o no. El 11 de Septiembre ricxs y poderosxs de Chile golpearon la mesa e hicieron prevalecer sus privilegios. El proyecto legalista de la Unidad Popular y también expresiones más radicalizadas de la lucha, vieron notoriamente mermadas sus fuerzas para combatir lo que se avecinaba, de esta manera terminaron siendo aplastados por la bota militar. La derrota fue instalada. Los deseos y las ansias de libertad no pueden ser defendidos solo con buenas intenciones, esto lo aprendimos del dolor que conlleva una lección como esta.
La sociedad chilena fue quirúrgicamente modificada entre decretos, leyes, toques de queda, detenidxs desaparecidxs, muertxs (en falsos y reales enfrentamientos), montajes que avalaban el actuar dictatorial, torturadxs (humilladxs, violadxs, o llevadxs al extremo en simulaciones de fusilamiento), presxs políticxs, exiliadxs, entre otros tantos hechos cuya descripción se vuelve una pesadilla. No obstante y pese a ello, el 11 de Septiembre es una fecha de memoria y de no resignación a los sueños por una vida mejor. (more…)
Tags: Black September, Chile, Informal Anarchist Federation (FAI), Insurrection, International Revolutionary Front, Núcleos Antagónicos de la Nueva Guerrilla Urbana, Santiago, Social War
Posted in Direct Action
Wednesday, August 15th, 2018
In front of the expansion of the Middle-East War and the new Iran-Iraq revolutionary waves: Towards an International Meeting in Kurdistan
Comrades,
In the last decades, the capitalist society as a whole is splitting up more and more into two great hostile armies directly facing each other: Bourgeoisie and Proletariat. Our epoch, the epoch of the deepening of the global industrial and commercial crisis and thereby increasing class struggle around the world has already passed various stages of development, through which the proletariat has exceeded its first stage of the isolated and sporadic phenomena. The growth of the class war will more and more take on an increasingly international form. And despite of the capitalist war in the Middle East, and new attempts by global capitalism to widen the circle of the war under the pretext of striking Iran's nuclear weapons, proletariat in Iran has joined-up the current international wave of class struggle. The strikes and demonstrations in Iran have spread to over 249 cities in all of Iran's 31 provinces. These revolutionary waves did not set an end in Iran, before the proletariat in Iraq entered this historical wrestling ring.
​In July 2018, a new wave of the class struggle in Iraq, with 30 victims killed and 700 injured during the past 10 days, more than 50 police and security men were wounded – proletariat in Iraq too started moving towards the universal scene of the class struggle. During the same week, demonstrations erupted in all towns and cities in central and south Iraq, where dozens of demonstrators were wounded, and hundreds arrested. (more…)
Tags: Baghdad, Insurrection, International Solidarity, Iraq, Kurdistan
Posted in Autonomy
Tuesday, November 14th, 2017
From Athens IMC, Actforfreedomnow:
On Sunday 31st of August, a little before dawn, we carried out an armed intervention against the Mexican state, by shooting at the building of its embassy in Athens. On Wednesday 9th of October, at quarter to five a.m. we carried out another armed intervention against the French state, by throwing a hand grenade next to the guard of its embassy in Athens, opposite the Greek parliament. These two aggressive actions of our organization, together with our first armed intervention on the 25th of May 2014 against PASOK, defy in deed the armed domination of the Greek state and at the same time they express the vision of social revolution and of the dissolution of authoritative institutions here and now.
In order to construct a revolutionary movement on sturdy foundations, we must study the defeats of the past. We must focus on the contradictions of past movements and analyze the dynamics of class antagonism today, as a result of a historical evolution. The totalitarian capitalist aggression, which began two and a half decades ago and spreads around the globe, is connected to the fundamental crisis of the socialist movement.
The main contradiction which brought about the demise of the revolutionary wave of the 20th century is statism. Parliamentary democracy, dictatorship of political parties and, at the same time, the repression of workers' self organization implanted bourgeois authority in the loins of social revolutions, ever since the French revolution. The revolution in Russia was led by a political and technocratic elite. (more…)
Tags: Analysis, Athens, Attentat, Christoforos Marinos, Embassy, France, Georges Ibrahim Abdallah, Greece, Grenade, Hezbollah, Insurrection, International Solidarity, Mexico, Michalis Nikolopoulos, Nikos Maziotis, Organization for Revolutionary Self-Defense, Panagiotis Argyrou, Remi Fraise, Savvas Xiros, SY.RIZ.A., Turkey, Type C prisons
Posted in Direct Action
Tuesday, October 24th, 2017
Hello,
Some anarchists groups in Exarcheia, Athens, are organizing the 1st Insurrection Festival. The date is November 12, 13, 14. We would appreciate your cooperation to spread the news.
https://insurrectionfestival.noblogs.org/
In solidarity
RdF
–
Insurrection is the time when a collective body is uprising. Not a collective body with a common identity or ideology but driven by common actions against authority.
Insurrection is the violent entrance of the invisible into the central political scene.
Insurrection is fed from poverty to despair, from rage to need of empowerment and dignity from the social base.
At the end, insurrection is the practical doubt of domination's structures and any regime. The negation of their omnipotence. If for some of us insurrection must lead to social revolution, or in another way must be a constant situation, the participation this moment should be our common ground.
We are calling this open assembly on to co-organize the First Insurrection Festival. It will be structured around four mains axes :
Political theory
Movement-collective statements
Practices-training
Cultural manifestations
Tags: Anarchist Gathering, Athens, Exarchia, Greece, Insurrection, Rosa de Foc Squat, Social Insurrection, Solidarity Event
Posted in Autonomy
Wednesday, August 23rd, 2017
Anarchist and revolutionary must be ready for revolution to happen in every moment, especially now, when social and political protest all around the world are arising more and more often. Moreover, the possibility of global catastrophes and cataclysms is always present, and saving ourselves along with continuing our struggle in that case should always be in our agenda.
To write this article, we adopted the experience of people's struggle in Ukrainian Maydan, successes and failures of recent anti-governmental protests in Belarus and Russia and analyzed the capacities and repressive tactics of police and intelligence in our country in last years. Though this tips were written first of all for comrades from above-mentioned countries, they may be useful for anarchists in any part of the world.
Note: for publishing this article, our site www.pramen.io was officially labeled as "extremist" by the Central district court, and blocked in Belarus (only accessible via Tor or VPN).
https://pramen.io/en/2017/08/14-tips-on-how-to-get-ready-for-the-revolutionary-situation/
Tags: Analysis, Belarus, Insurrection, Revolution, Riots, Social Insurrection, Ukraine
Posted in Autonomy