Posts Tagged 'Insurrection'
Saturday, September 21st, 2019
A regional headquarters of New Democracy (ND), Greek Prime Minister Kyriakos Mitsotakis, was attacked at dawn on Thursday (12⁄09) with an explosive device, in another incident of these characteristics in just two weeks.
Tenants from a neighboring building alerted the fire department. The attack caused extensive property damage. So far, no group has taken responsibility for the offensive.
"This is the second attack on ND's offices in a few days, this time in Pefki, it's a continuous attack on democracy."
From: Agência de Notícias Anarquistas, AMW
Tags: Athens, Greece, Insurrection, Pefki, Sabotage
Posted in Direct Action
Sunday, August 25th, 2019
PDF: 'For The Insurrection To Succeed, We Must First Destroy Ourselves'
Newly formatted zine of an older text from a situationist-type view of the Greek insurrection and related events of 2008.
From Ruins of Capital
Tags: Greece, Insurrection, PDF, Riots, Zine
Posted in Library
Wednesday, August 21st, 2019
For three weeks already the offensive of the United Revolutionary Movement of the Peoples HBDH (Turkish: Halkların Birleşik Devrim Hareketi) continues unabated. For weeks now the fascist AKP-MHP regime and its supporters in the whole of Turkey and the occupied Northern Kurdistan have been shaken by endless fire and bomb attacks of the militias and guerrilla forces of the revolutionary alliance.
The United Revolutionary Movement of Peoples was founded on March 12, 2016 and is the front organization of various revolutionary, socialist and communist parties and organizations of Turkey and Kurdistan. In the HBDH the Kurdish Freedom Movement in leadership of the Kurdistan Workers Party PKK unites with the revolutionary left of Turkey to a common front in the struggle against AKP-MHP fascism, for the liberation of the occupied Kurdistan and the establishment of a socialist Turkey.
Simultaneously with the renewed rise of the threats of Turkish fascism against the Democratic Federation of Northeast Syria, the militias and guerrilla units started a new offensive in the heart of Turkish colonialism. In the following some of the past actions are summarized:

Declaration of 30 June
On the 29.06 at 16.00 o'clock, in the district Datca of Muğla, Palamutbükü, a sabotage action against a television station was accomplished. The United Revenge Militia of the Peoples confessed to the action with which a television station was met, which legitimizes fascism with its propaganda of lies. Tourists from home and abroad were warned against using Turkey as a holiday destination. Nobody should travel to the areas used by AKP-MHP fascism as the main source of financing for war and massacres.

Declaration of 02 July
In a statement signed with United Revenge Militia of Peoples, the group confessed to a sabotage action against the Grand Efe Hotel and surrounding hotels in the Özdere region in the Menderes district of Izmir. Two hotels had to be evacuated as a result of the action. The group threatened with further attacks against tourist destinations and called on domestic and foreign tourists to stay away. Otherwise they would have to face the reality and pain of the dirty war. The group called on the oppressed, workers, women and youth to stand against fascism. (more…)
Tags: Anti-Fascism, Arson, Attentat, Insurrection, International Solidarity, Kurdistan, PKK (Kurdish People's Party), Rojava, Sabotage, Social War, Turkey, United Revolutionary Movement of Peoples (HBDH), War
Posted in Direct Action
Monday, December 3rd, 2018
December is still a month marked with the stamp of the insurgent memory of the
anarchists who rise up in open antagonism against any form of power.
December 2018 will be 10 years since the comrade Alexandros Grigoropoulos was
snatched from the streets when he was killed by police bullets in the neighborhood
of Exarcheia, Greece, in 2008. It is also the month that will mark 5 years since the
comrade Sebastián Oversluij was killed by the bullets of a mercenary of capital
during a bank expropriation in 2013 in Chile.
Because the memory of our dead is fuel to stoke the flames of our lives in permanent revolt, the Black December is once again a meeting point of multifaceted action, and to reflect upon ourselves and on our strengths in this minority struggle and about the current manifestations of our totalitarian enemy, which is power and its world of hierarchies, fascism. patriarchy, speciesism and the multiple expressions of the desire for superiority of some over others.
Once again, Black December continues to be an invitation for insurgent communication via the savage heat of offensive action against power.
In iconoclastic memory of our dead.
Offensive solidarity with the comrades who face repression in Argentina, Brazil,
Chile, Russia, Italy, Greece and all over the world.

For a Black December, long live anarchy!
–
ES/GR: Por un Diciembre Negro / Για ένα Μαύρο Δεκέμβρη
Tags: Alexis Grigoropoulos, Black December, Black International, Black International of Anarchists of Praxis, Insurrection, International Solidarity, Sebastián Oversluij Seguel
Posted in Autonomy
Sunday, October 7th, 2018
PDF: Dark Nights #47 – EN
PDF: Dark Nights #47 – ES
'Against Surveillance State UK – Against Facial Recognition CCTV'
'Contra la Vigilancia del Estado de Reino Unido – Contra el CCTV de Reconocimiento Facial'
International anarchist newsletter in English and Spanish versions. Latest issue of Dark Nights returns after more than two years. Download, copy and distribute.
Boletín anarquista internacional en versiones en inglés y español. El último número de Dark Nights regresa después de más de dos años. Descargar, copiar y distribuir.
Anti-Copyright Network

+ Facial Recognition CCTV article as A4 PDF to be enlarged to A3 and flyposted.
Tags: Analysis, Anti-technology, CCTV, Dark Nights, Facial Recognition, Insurrection, Intelligent Surveillance, Novichok Case, PDF, Repression, Sabotage, Social War, Zine
Posted in Library
Thursday, September 27th, 2018
Tired of being silent, tired of seeing systematic violence every day through racism, sexism and waged labor that take place in society, whose essential values are authority and profit. Sick of exploitation we see all political parties as main responsible, as they repress freedom with the state, reformist and repressive apparatus (TV, the mass-media, associations, the army, the civil protection, etc.) The state and capital are the biggest criminals, they even violate their own laws, they steal through taxes, they kill through wars and waged labor, rejections of migrants' boats in the sea, concentration camps for immigrants in Europe and Africa, they contaminate irreversibly men, animals and the entire planet, all for their profit and power.
Let's not forget the hypocritical complicity of society made of citizens who pretend not to see the horrors of present and past racism and nationalism. This acceptance is the pillar of totalitarianism and democracy: in the course of time the authority based on indifference, fear, apathy was able to create Gulags and nazi concentration camps, and today the concentration camps in Libya and outside our homes. It's history that repeats itself. (more…)
Tags: Haris Hatzimihelakis, Haris Hatzimihelakis cell/Black International (1881-2018), Informal Anarchist Federation (FAI), Insurrection, International Solidarity, Italy, Social War, Treviso
Posted in Direct Action
Thursday, September 27th, 2018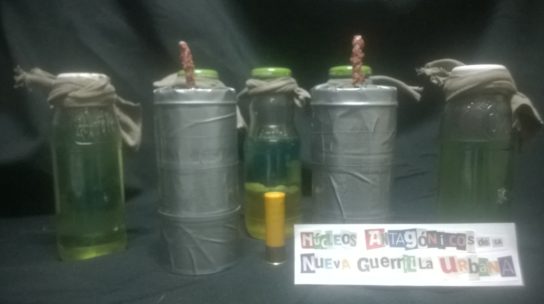 Santiago, 11 de Septiembre 2018
"Hemos decidido rebelarnos frente a esta realidad de mierda, que sin duda nada tiene que ver con nosotros. Pasan los años, y una pregunta me da vuelta en la cabeza. ¿Será siempre así? ¿Es que no tenemos derecho a una vida digna y alegre? ¿Todos los días serán iguales?
Nos cansamos de aplanar esquinas. De estudiar sin saber para qué. De tener que sacarse la cresta por un pedazo de pan. Nos cansamos de ver prostitutas de 11 años y que nos inunden con el Mapocho para salvar a Providencia. Estamos cabreados de los milicos asesinos, de pacos locos y prepotentes, de gerentes ladrones. (…) Queremos ser personas, vivir nuestra juventud. (…) Que no quede ningún asesinato, tortura o atropello sin justicia".
–Movimiento Juvenil Lautaro
El 11 de Septiembre es un hito, marca una antes y un después, lo queramos o no. El 11 de Septiembre ricxs y poderosxs de Chile golpearon la mesa e hicieron prevalecer sus privilegios. El proyecto legalista de la Unidad Popular y también expresiones más radicalizadas de la lucha, vieron notoriamente mermadas sus fuerzas para combatir lo que se avecinaba, de esta manera terminaron siendo aplastados por la bota militar. La derrota fue instalada. Los deseos y las ansias de libertad no pueden ser defendidos solo con buenas intenciones, esto lo aprendimos del dolor que conlleva una lección como esta.
La sociedad chilena fue quirúrgicamente modificada entre decretos, leyes, toques de queda, detenidxs desaparecidxs, muertxs (en falsos y reales enfrentamientos), montajes que avalaban el actuar dictatorial, torturadxs (humilladxs, violadxs, o llevadxs al extremo en simulaciones de fusilamiento), presxs políticxs, exiliadxs, entre otros tantos hechos cuya descripción se vuelve una pesadilla. No obstante y pese a ello, el 11 de Septiembre es una fecha de memoria y de no resignación a los sueños por una vida mejor. (more…)
Tags: Black September, Chile, Informal Anarchist Federation (FAI), Insurrection, International Revolutionary Front, Núcleos Antagónicos de la Nueva Guerrilla Urbana, Santiago, Social War
Posted in Direct Action
Wednesday, August 15th, 2018
In front of the expansion of the Middle-East War and the new Iran-Iraq revolutionary waves: Towards an International Meeting in Kurdistan
Comrades,
In the last decades, the capitalist society as a whole is splitting up more and more into two great hostile armies directly facing each other: Bourgeoisie and Proletariat. Our epoch, the epoch of the deepening of the global industrial and commercial crisis and thereby increasing class struggle around the world has already passed various stages of development, through which the proletariat has exceeded its first stage of the isolated and sporadic phenomena. The growth of the class war will more and more take on an increasingly international form. And despite of the capitalist war in the Middle East, and new attempts by global capitalism to widen the circle of the war under the pretext of striking Iran's nuclear weapons, proletariat in Iran has joined-up the current international wave of class struggle. The strikes and demonstrations in Iran have spread to over 249 cities in all of Iran's 31 provinces. These revolutionary waves did not set an end in Iran, before the proletariat in Iraq entered this historical wrestling ring.
​In July 2018, a new wave of the class struggle in Iraq, with 30 victims killed and 700 injured during the past 10 days, more than 50 police and security men were wounded – proletariat in Iraq too started moving towards the universal scene of the class struggle. During the same week, demonstrations erupted in all towns and cities in central and south Iraq, where dozens of demonstrators were wounded, and hundreds arrested. (more…)
Tags: Baghdad, Insurrection, International Solidarity, Iraq, Kurdistan
Posted in Autonomy
Tuesday, November 14th, 2017
From Athens IMC, Actforfreedomnow:
On Sunday 31st of August, a little before dawn, we carried out an armed intervention against the Mexican state, by shooting at the building of its embassy in Athens. On Wednesday 9th of October, at quarter to five a.m. we carried out another armed intervention against the French state, by throwing a hand grenade next to the guard of its embassy in Athens, opposite the Greek parliament. These two aggressive actions of our organization, together with our first armed intervention on the 25th of May 2014 against PASOK, defy in deed the armed domination of the Greek state and at the same time they express the vision of social revolution and of the dissolution of authoritative institutions here and now.
In order to construct a revolutionary movement on sturdy foundations, we must study the defeats of the past. We must focus on the contradictions of past movements and analyze the dynamics of class antagonism today, as a result of a historical evolution. The totalitarian capitalist aggression, which began two and a half decades ago and spreads around the globe, is connected to the fundamental crisis of the socialist movement.
The main contradiction which brought about the demise of the revolutionary wave of the 20th century is statism. Parliamentary democracy, dictatorship of political parties and, at the same time, the repression of workers' self organization implanted bourgeois authority in the loins of social revolutions, ever since the French revolution. The revolution in Russia was led by a political and technocratic elite. (more…)
Tags: Analysis, Athens, Attentat, Christoforos Marinos, Embassy, France, Georges Ibrahim Abdallah, Greece, Grenade, Hezbollah, Insurrection, International Solidarity, Mexico, Michalis Nikolopoulos, Nikos Maziotis, Organization for Revolutionary Self-Defense, Panagiotis Argyrou, Remi Fraise, Savvas Xiros, SY.RIZ.A., Turkey, Type C prisons
Posted in Direct Action
Tuesday, October 24th, 2017
Hello,
Some anarchists groups in Exarcheia, Athens, are organizing the 1st Insurrection Festival. The date is November 12, 13, 14. We would appreciate your cooperation to spread the news.
https://insurrectionfestival.noblogs.org/
In solidarity
RdF
–
Insurrection is the time when a collective body is uprising. Not a collective body with a common identity or ideology but driven by common actions against authority.
Insurrection is the violent entrance of the invisible into the central political scene.
Insurrection is fed from poverty to despair, from rage to need of empowerment and dignity from the social base.
At the end, insurrection is the practical doubt of domination's structures and any regime. The negation of their omnipotence. If for some of us insurrection must lead to social revolution, or in another way must be a constant situation, the participation this moment should be our common ground.
We are calling this open assembly on to co-organize the First Insurrection Festival. It will be structured around four mains axes :
Political theory
Movement-collective statements
Practices-training
Cultural manifestations
Tags: Anarchist Gathering, Athens, Exarchia, Greece, Insurrection, Rosa de Foc Squat, Social Insurrection, Solidarity Event
Posted in Autonomy
Wednesday, August 23rd, 2017
Anarchist and revolutionary must be ready for revolution to happen in every moment, especially now, when social and political protest all around the world are arising more and more often. Moreover, the possibility of global catastrophes and cataclysms is always present, and saving ourselves along with continuing our struggle in that case should always be in our agenda.
To write this article, we adopted the experience of people's struggle in Ukrainian Maydan, successes and failures of recent anti-governmental protests in Belarus and Russia and analyzed the capacities and repressive tactics of police and intelligence in our country in last years. Though this tips were written first of all for comrades from above-mentioned countries, they may be useful for anarchists in any part of the world.
Note: for publishing this article, our site www.pramen.io was officially labeled as "extremist" by the Central district court, and blocked in Belarus (only accessible via Tor or VPN).
https://pramen.io/en/2017/08/14-tips-on-how-to-get-ready-for-the-revolutionary-situation/
Tags: Analysis, Belarus, Insurrection, Manuals, Revolution, Riots, Social Insurrection, Ukraine
Posted in Autonomy
Wednesday, April 5th, 2017
Tags: Arson, Black International of Anarchists of Praxis, Fuck the Law, How to make Molotovs, Insurrection, Manuals, Molotov, Molotovs, Sabotage
Posted in Direct Action
Wednesday, March 22nd, 2017
Every time I start to talk I ask myself, 'And if I didn't want to say anything for example?'
The title of this debate is 'Towards insurrection'. I said to myself, what does this 'towards insurrection' mean? That is, towards insurrection can mean writing, or talking anyway, or indicating a direction, something moving towards insurrection. I don't know what it is that moves towards insurrection.
I know that's what I've lived, and what I've seen, events that might seem like an insurrection in act. I later realised that it wasn't an insurrection, it was a simple riot. Now we are talking about something that can push us towards a riot, something that happens just like that, all of a sudden, for a reason that one can't foresee, in the street, in the squares, with a hundred thousand people coming out into the streets, is that what we're talking about tonight?
I don't think so. For me, that's not an insurrection. A hundred thousand people coming out into the streets, destroying the town, smashing the shops, dancing their war dance on commodities, — because we are against commodities we anarchists – is that insurrection? No.
(more…)
Tags: Alfredo M. Bonanno, Belgium, Elephant Editions, Insurrection, Italy, PDF, Social Insurrection, Towards Insurrection, Zine
Posted in Library
Wednesday, February 1st, 2017
Preamble
Words. Mere Words. The pages that follow are in part transcriptions of the spoken word—'the wonder worker that is no more', as Emma Goldman wrote wistfully over one hundred years ago when referring to the inadequacy of the spoken word to awaken thought and shake people out of their lethargy. Here in the twenty-first century anarchists no longer talk about spoken propaganda to awaken the masses, bemoaning the absence of orators such as Johann Most or Luigi Galleani. In rare encounters organized by comrades today 'the masses' are noticeably absent, they don't even enter the equation. Organized meetings or 'talks' as they are dully referred to are well-attended if there are 50–100 comrades. But there is no need for panic. Now all but the most disconnected fossilized anarchists have moved beyond aims of a quantitative growth in a hypothetical anarchist movement—where discourses addressed 'to the masses' have degenerated into an insulting populism—to the elaboration of ideas and methods addressed towards immediate action and attack on power in all its forms. Numbers have ceased to be important for anarchists as a prerequisite for attack. The illusion of 'Le Grand Soir' was a wonderful dream, it kept the flame flickering and thousands of militants waiting in the wings.
No, lack of numbers is no cause for alarm. They are there, the exploited, all around us—are also 'us'—and could take us by surprise again at any moment (as could we ourselves). In the realm of the quantitative our task is to experiment and spread an insurrectional method for the self-organization of the necessary destruction of power and subjugation. Small groups with intermediate destructive aims based on affinity that can multiply, spread horizontally and coordinate, without limit. The apparent rift between anarchist theory and practice thus disappears along with the false conflict between individual and mass, and not least the conviction that the tenets of anarchism must be espoused by the exploited before they can fight for their own freedom along with that of others. An informal practice of attack leads to freedom revealing itself qualitatively, in leaps and bounds, far from the straight line of quantity, education, progress and waiting. (more…)
Tags: Alfredo M. Bonanno, Analysis, August 2011 Revolt: Anarchy in the UK, Elephant Editions, Greece, Gustavo Rodriguez, Insurrection, Interview, Jean Weir, Korydallos Prison, Kostas Gournas, London, Mexico, Pola Roupa, Revolutionary Struggle, Riots, Social Insurrection, Tame Words from a Wild Heart, UK, Zine
Posted in Library
Wednesday, February 1st, 2017
When words mingle with the passion to deepen our understanding of reality they become indispensable weapons for the self-organisation of the struggle against all that oppresses us. They don't remain on paper – or the screen – but penetrate rebel hearts and spirits, giving courage and decision – for if many of us don't act against what offends our dignity it is often not courage that is lacking, but that we simply don't know where to start.
We need to liberate reality from the fictitious dimension created by the media into one that is tangible and exposed to attack. In order to carry this out we require knowledge of the enemy in all its forms, including those that lie concealed within us, crouching, waiting to pounce to push us back into the fold of consensus or manageable dissent. Reading certain texts becomes an encounter, tensions we feel burning inside us become clearer, making it easier to assimilate them in order to act. (more…)
Tags: Analysis, Elephant Editions, Insurrection, PDF, Social Insurrection, UK, Zine
Posted in Library