Posts Tagged 'Intelligent Surveillance'
Wednesday, September 9th, 2020
De la revista 325 (próximamente en español):
DE | Automatisierung, Robotik und Arbeit in der 4ten und 5ten industriellen Revolution
EN | Automation, Robotics & Labour in the 4th & 5th Industrial Revolutions
Desde que comenzó la primera Revolución Industrial en la década de 1700, las sucesivas revoluciones industriales han afectado profundamente a los trabajadores, a los propios trabajadores, creando incluso el concepto de 'clase trabajadora', cómo vivían, su integración en los agujeros del infierno urbano que avanzaban, las prisiones de las fábricas, molinos y pozos mineros, incluso sus hijos no se libraron de la indignidad, ni siquiera de la muerte de la esclavitud moderna de la época. La industrialización, el resultado de la mecanización en la industria, alimentó la esclavitud moderna y la domesticación de los seres humanos en todos los rincones de los imperios y colonias en expansión, no solo en el resto del planeta vivo. Ahora estamos en la cúspide del comienzo de una 4ta Revolución Industrial (4IR) e incluso una 5ta (5IR) que afectará tan radicalmente nuestro encarcelamiento dentro de la sociedad tecnológica como las hizo en las anteriores. El concepto mismo de trabajo, incluso el trabajo mismo, cambiará más allá del reconocimiento una vez más. Ya en la consiguiente 'pandemia del coronavirus' y en los controles de toque de queda que se han aplicado a miles de millones en todo el mundo, las señales de las próximas revoluciones industriales ya están apareciendo, y se informa que millones perdieron sus empleos en muchos países. (more…)
Tags: 'The Uncivilized', 3D Printing, 4ta Revolución Industrial (4IR), 5G, 5ta Revolución Industrial (5IR), Alfredo M. Bonanno, Analysis, Artificial Intelligence (AI), Automation, Cashless Society, Coronavirus, Drones, Fifth Industrial Revolution, Fourth Industrial Revolution, From Riot to Insurrection, Ingreso Básico Universal, Intelligent Surveillance, Internet of Things, Reino Unido, Repression, Robotics, Surveillance, UK, Universal Basic Income
Posted in Library
Wednesday, September 9th, 2020
From 325 #12:
DE | Automatisierung, Robotik und Arbeit in der 4ten und 5ten industriellen Revolution
ES | Automatización, robótica y mano de obra en la 4ta y 5ta revoluciones industriales
Since the first Industrial Revolution began in the 1700's, successive industrial revolutions have profoundly affected labour, the workers themselves, creating even the concept of the 'working class', how they lived, their integration into the advancing urban hell holes, the prisons of the factories, mills and mining pits, even their children were not spared the indignity, even death of modern slavery of the time. Industrialization, the result of mechanisation in industry, fed modern enslavement and domestication of human beings in every corner of the spreading empires and colonies not just the rest of the living planet.
We are now on the cusp of the beginning of a 4th Industrial Revolution (4IR) and even a 5th (5IR) that will affect just as radically our imprisonment within the technological society as it did in the previous ones. The very concept of labour, even work itself will change beyond recognition once again. Already in the ensuing 'coronavirus pandemic' and curfew controls that have been enforced on billions worldwide, the signals of the coming industrial revolutions are already appearing, with millions being reported to lose their jobs in many countries. (more…)
Tags: 'The Uncivilized', 3D Printing, 5G, Alfredo M. Bonanno, Analysis, Artificial Intelligence (AI), Automation, Cashless Society, Coronavirus, Drones, Fifth Industrial Revolution, Fourth Industrial Revolution, From Riot to Insurrection, Intelligent Surveillance, Internet of Things, Repression, Robotics, Surveillance, UK, Universal Basic Income
Posted in Library
Sunday, December 15th, 2019
From It's Going Down:
Report from insurrectionary anarchist publication Anathema on the growth of networks of surveillance being developed by Amazon and local police departments.
In November, The Intercept reported that internal documents at Ring, the home security company owned by Amazon, reveal that the company is planning to create automated neighborhood "watch lists" by incorporating facial recognition technology into its increasingly vast network of "smart home" doorbell cameras. The feature would alert camera-owners via smartphone when someone deemed "suspicious" pops up on their cameras. Like the old-fashioned "neighborhood watch" that Ring wants to replace, the feature would extend the power of the police and as well as make certain areas of town more dangerous for anyone Ring camera owners deem "suspicious."
Ring's documents do not define what "suspicious" means. In practice, this will likely be defined by gentrifiers and cops, whose systemic racism is well documented. At its core, the watch list would identify people who "don't belong" in certain areas; this means black and brown people, poor people, and anyone whose appearance deviates from social norms. Ring's Neighbors program — an online discussion forum between camera owners — is already well known for its aggressive racism and for generally heightening distrust and paranoia within neighborhoods. For many people, Ring's new feature would make it dangerous to be in certain neighborhoods at all — a victory for the forces of gentrification everywhere.
Ring doorbell cameras have already allowed police to significantly expand their operations, simply by appropriating private citizens' technology for no additional expense. The technology therefore has immense "value," not only for the company, but for the state. For decades it's been steadily expanding policing in order to keep its increasingly immiserated people under control, while struggling to balance its own budgets. (more…)
Tags: Amazon (Company), Anathema, Facial Recognition, Intelligent Surveillance, Palantir, Rekognition, Repression, Ring (Surveillance Company), Smart Cities, Surveillance, USA
Posted in Social Control
Tuesday, December 10th, 2019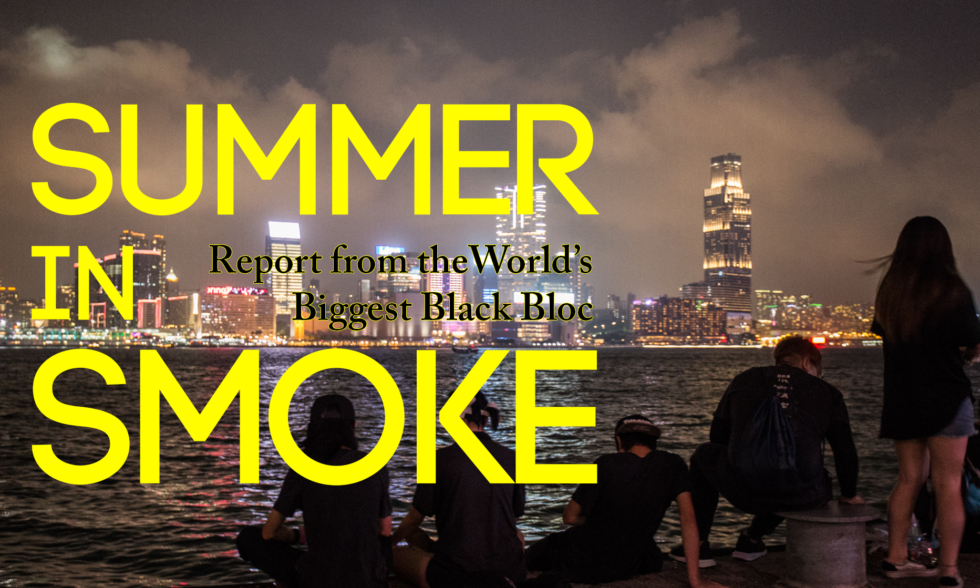 The following article was submitted to Chuang by Vitalist International. It is an account of events in Hong Kong over the summer and early fall of 2019, much of it from a firsthand perspective. We provided minor edits and designed the layout, but otherwise reproduce the piece here in more or less its original form. While the main thrust of the article is in agreement with our own views of events in Hong Kong, the piece is an intake and the opinions expressed here belong to its authors. At the bottom, we've included a gallery (provided by the authors) of 70+ posters, memes, graffiti and other graphics used in the movement.
für Sandra in liebendem Angedenken
by Vitalist International
It was only a matter of time before it happened. The protesters and the cops both knew it. On October 1st, a teenager was shot point-blank in the chest by police. The bullet missed his heart by approximately three centimeters.
Thousands of Hong Kongers gathered the next evening at a playground to fold paper cranes and wish the young protester a speedy recovery. They held banners saying "stop shooting our children!" and used the flashlights on their smartphones as torches to light up the night. In the center of the playground, a thousand origami cranes spelled out "Hong Kongers, Add oil!", a Chinese expression which has come to define the movement, meaning roughly: don't stop, keep going, add fuel to the fire. Within an hour, the protesters were setting up barricades in the streets and throwing molotovs at the nearest police headquarters.
The movement that began as a protest against a proposed extradition agreement with China has now entered its fourth month of unrest, with no end in sight. The bill — now withdrawn — would have granted the Chinese State unprecedented authority to extradite dissidents, criminals, and refugees to be processed in the shadowy court system of the mainland. Coming on the heels of 2012's Moral and National Education Law and 2014's Electoral Reform Bill,[i] this amendment was only the latest attempt at slowly dismantling the region's tenuous political arrangement of "One Country, Two Systems." With the movement rapidly evolving into widespread resistance against Chinese control, and the Hong Kong government declaring a State of Emergency, the situation has reached a political stalemate, with violence escalating on both sides. (more…)
Tags: Analysis, Arson, Black Bloc, China, Dictatorship, Hong Kong, How to make Molotovs, Intelligent Surveillance, International Solidarity, Letter, Repression, Revolution, Riots, Sabotage, Social Insurrection, Surveillance, Xinjiang
Posted in Autonomy
Sunday, November 11th, 2018
THE FUTURE IS ALREADY HERE
TWO DAYS OF RESISTANCE TO SINGULARITY
Artificial intelligence, databases, augmented reality, high security cameras, digital ecosystems, drones, smartphones with smart advertisements and smart houses that steal our thoughts and turn them into merchandise, spectacle, suppression.
Surveillance. Order and security.
The laboratory escapes the four walls- the laboratory is the whole planet.
All this is what the yuppie entrepreneurs, academics, CEOs and scientists are shouting timidly but yet outrageously from Silicon Valley to Athens. On the 19th of November at the SingularityU Summit the enthusiasts of the technological dystopia will gather at Megaro Mousikis. Therefore, dystopia is here, dystopia is now. Singularity Summit is a gathering that will teach to the aspiring leaders and future entrepreneurs how they will thrive in an environment of competition and high technology. The foundation for all of this are the biggest multinational database companies in the world that govern the whole planet and reign in Silicon Valley, such as Google, Yahoo and Apple. Their dream is being presented worldwide by various arrogant scientists, such as Peter Diamantis, and is being spread to the elites of the international scene. Last year in Milan, now in Athens. The sponsors of this year's summit here are Kathimerini and SKAI- we've always disliked them and they never miss out on reminding us- and the research center Demokritos, that test on non-human animals.
The future is already here, but us, our thoughts, our fears, our resistances are also here. Nothing is over – the future is still unwritten.
EVENT-PRESENTATION about the SingularityU Summit and the nanoworld
by the group Resistenze al nanomondo (Italy)
SUNDAY 18/11 (location soon) at 19:00
DEMONSTRATION against the SingularityU Summit
MONDAY 19/11 Parko Eleutherias (Vassilisis Sofias, by Megaro Mousikis) at 11:30
cooperation against the future
initiative from damala fera
traces of fire
Notes from Act for free:
Italy : NOT JUST A MEETING. 2-3 October 2018. Singularity University Summit
[September 27, 2017 Rho-Milan] Not just any meeting – Italy
Tags: Anti-technology, Artificial Intelligence (AI), Athens, Biotechnology, Demo, Greece, Intelligent Surveillance, Nanotechnology, SingularityU Summit, Technological Singularity
Posted in Eco Struggle
Friday, November 9th, 2018
Никогда не выключай телефон: новый подход к культуре безопасности
In the 80s, an anarchist who wanted, for example, to burn some building, developed his/her plan and at the same time looked to see if there were no listening devices in his/her house. In the late 90s, the same anarchist turned off the phone and used encrypted traffic on the Internet. In the 2020s, we need to reconsider our strategy, intelligence gathering has improved and we must also take this into account.
To begin with, let's see how big data analysis is used. To do this, we need to talk about 3 things: metadata, templates and networks. It seems boring and difficult, but I am not a technician, and I will not bore you with technical language, I will make it as simple as possible.
Metadata: In the context of online activity, "content" means "the message you sent", and "metadata" means "everything except the content". So, for example, if you send a text about lunch to your friend, the content may be "Let's go on lunch", and the metadata may be "Message sent 01/04/2018 11.32 from 0478239055 to 079726823 using Signal".
This information is recorded by your phone, even if the application encrypts your actual message. Your metadata is very poorly protected by technology and very poorly protected by law. No matter what country you are in, the majority of your metadata is freely available to special services, regardless of whether you are suspected of something.
Templates: Whether you realize this or not, your metadata has a template. If you have daily work, you can have a very consistent pattern, if there is no such work, your template may be more flexible, but you have a template. If someone wants to know the rhythm of your day, they can do it very easily, because your template is in metadata. (more…)
Tags: Counter-info, Intelligent Surveillance, Surveillance
Posted in Social Control
Thursday, November 8th, 2018
Corporate media article detailing new research and development by the scientists of social control in the service of power:
An EU-funded project is developing an 'intelligent control system' to test third-country nationals who reach the EU's external borders, including a sophisticated analysis of their facial gestures.
The Intelligent Portable Border Control System, iBorderCtrl, is a series of multiple protocols and computer procedures which are meant to scan faces and flag 'suspicious' reactions of travellers who lie about their reasons for entering the Schengen area.
The AI-based screening system will check up to 38 facial micro-gestures of travellers – like eye direction, pupil dilation, minimal voice changes and micro-expressions undetectable to human guards – which were collected during a series of questions asked by the border agents at the checkpoints. (more…)
Tags: Anti-technology, Artificial Intelligence (AI), Biometrics, CCTV, EU, iBorderCtrl, Intelligent Surveillance, Migrant Struggle, Racism, Repression
Posted in No Borders
Wednesday, October 10th, 2018
As requested, here is the 'Against Surveillance State UK' CCTV article as an A4 PDF to be enlarged to A3 and flyposted as a spread, or printed out on to double-sided A4 and handed out.
PDF: A4 – Against Facial Recognition CCTV
Tags: Analysis, Anti-technology, CCTV, Facial Recognition, Flyposter, Intelligent Surveillance, PDF, Surveillance, UK
Posted in Social Control
Sunday, October 7th, 2018
PDF: Dark Nights #47 – EN
PDF: Dark Nights #47 – ES
'Against Surveillance State UK – Against Facial Recognition CCTV'
'Contra la Vigilancia del Estado de Reino Unido – Contra el CCTV de Reconocimiento Facial'
International anarchist newsletter in English and Spanish versions. Latest issue of Dark Nights returns after more than two years. Download, copy and distribute.
Boletín anarquista internacional en versiones en inglés y español. El último número de Dark Nights regresa después de más de dos años. Descargar, copiar y distribuir.
Anti-Copyright Network

+ Facial Recognition CCTV article as A4 PDF to be enlarged to A3 and flyposted.
Tags: Analysis, Anti-technology, CCTV, Dark Nights, Facial Recognition, Insurrection, Intelligent Surveillance, Novichok Case, PDF, Repression, Sabotage, Social War, Zine
Posted in Library
Thursday, September 20th, 2018
EN: Against Surveillance State UK – Against Facial Recognition CCTV
CONTRA LA VIGILANCIA DEL ESTADO DE REINO UNIDO – CONTRA EL CCTV DE RECONOCIMIENTO FACIAL
Gran Bretaña es un Estado autoritario de vigilancia, que ha sido pionero en el aspecto de muchas de las sociedades modernas; que están completamente cubiertos por cámaras de seguridad en casi cada punto urbano, plaza, camino, esquina, tienda, autobús, tren, etc. Parcialmente en un estado de perpetua decadencia y deterioro, aquí han construido una vida como si fuera una gran prisión, y es como se ve su mundo. Sociedad carcelaria un sinfín de monótonos centros comerciales, urbanizaciones, bloques de pisos, áreas industriales y recreativas, las cuales son capaces de encerrarlos en un corto plazo. Simulacros de respuesta antiterrorista de múltiples agencias a gran escala practicados regularmente para posibles ataques terroristas o disturbios en el centro de la ciudad. Los medios de control mental emiten mentiras, medias verdades, distracciones, deseos imposibles de consumismo, mañana, tarde y noche. Cada evento masivo potencialmente perturbador, crisis social y ambiental, es promocionado por los medios como una amenaza de un final tan abrupto a la normalidad que al menos todos los recursos de la policía serán tan escasos que los militares tendrán que involucrarse para restaurar el orden bajo la ley marcial. Austeridad, inundaciones, Brexit, inmigración, islamismo. Los discursos e ideologías reaccionarias, racistas, nacionalistas están en todas partes; grupos neonazis, religiosos y de extrema derecha se están reagrupando. La idea anarquista y de la eco-acción se les llaman "extremismo" o "terrorismo", en el doble discurso del estado policial. Nunca habrá ninguna posibilidad de cambio individual, social y ambiental sin la recreación de la vida diaria en una existencia que refleje nuestros deseos, pasiones y alegrías, en lugar de ser un engranaje en su sistema de miedo. Asimismo, no hay posibilidad de ningún cambio social sin una insurrección, una guerra social. (more…)
Tags: Analysis, Anti-technology, CCTV, Facial Recognition, Intelligent Surveillance, Repression, Surveillance, UK
Posted in Social Control
Wednesday, September 19th, 2018
This article is also available as an A4 PDF to be enlarged to A3 and flyposted as a spread, or double-sided A4 to hand out.
Against Surveillance State UK – Against Facial Recognition CCTV
Britain is an authoritarian surveillance State, which has pioneered how many modern societies look; entirely covered by security cameras at almost every urban point, place, square, road, corner, shop, bus, train, etc. Partially perpetually in a state of decay and disrepair, here they have built a life almost as in a vast prison, and it is what their world looks like. Prison society; endless drab shopping centres, housing estates, tower blocks, industrial and recreational areas capable of being on lock-down at short notice. Regularly practised large-scale multi-agency counter-terror response drills to terrorist attacks, inner-city riots. Mind-control media beams out lies, half-truths, distractions, impossible consumer desires, morning, noon and night. Every potentially disruptive mass event, social and environmental crisis, is hyped by the media as threatening such an abrupt end to normality that at least all the police's resources will be stretched so thin that the military will have to be involved to restore order under martial law. Austerity, flooding, Brexit, immigration, Islamism. Reactionary, racist, nationalist discourses and ideologies are everywhere; religious and far-right neo-nazi groups are regrouping. Anarchist and eco-action is called "extremism" or "terrorism", in the double-speak of the police-state. There will never be any chance of individual, social and environmental change without the recreation of daily life into an existence that reflects our desires, passions and joys, rather than a cog in their system of fear. Likewise there is zero possibility of any social change without an insurrection, a social war. (more…)
Tags: Analysis, Anti-technology, CCTV, Facial Recognition, Intelligent Surveillance, Repression, Surveillance, UK
Posted in Social Control
Tuesday, May 8th, 2012
From 325 #2 / April 2005
The evolution and spread of the industrial-technological surveillance state in the 7 years since this text was written has been fast-paced and this text is archived here for reference and interest. If an active critique of the totalitarian mechanisms of social control was necessary in 2005, the same critique is even more needed now; against these advancing forms of technical domination and the hierarchical society which demands them. For war against the existent…

–
Britain is full of companies involved in the worst kinds of financial activity, the population is terrorised by government-media campaigns, held captive by aggressive borders, and attacked by violent police who kill with impunity. Behind the 'democratic' facade is Empire, enforced by ever more complex means. Every day people are scrutinised under intense surveillance and subjected to the highest levels of consumer propaganda. The authorities are enthusiastic advocates of control technology in all of its guises and have long set the benchmarks for others across the globe. There are an estimated 4.5 million CCTV cameras installed across the country: one per 14 people. This tidal wave of CCTV certainly shows no signs of abating, if anything it is gaining momentum, Britain is on the verge of a Closed-Circuit Television transformation – Companies and researchers are pushing the latest development – Digital, or 'Smart' CCTV. (more…)
Tags: Biometrics, CCTV, Intelligent Surveillance, IPSOTEK, Repression, RF ID, Surveillance, UK
Posted in Social Control