Posts Tagged 'International Solidarity'
Saturday, July 13th, 2019
EN: ¡Punky Mauri Presente! 10 Years After the Death in Action of Mauricio Morales
NOCHE NEGRA DE NEGROS AUGURIOS
"La noche ya ha avanzado. No hace tanto frío para toda la ropa que oscurece nuestra imagen, pero eso no importa, el viento refresca nuestro rápido avance. Estamos a tiempo. Todo hasta el momento va bien. Estamos solos, solos como nunca y como siempre. Por las calles sombrías y maltrechas rodeamos la fábrica de carceleros. Nos acercamos. La próxima parada está cerca. En mi mente repaso el plan acordado…"
– "Un saludo de Libertad" – (1)
Tras un día feriado que anticipaba para muchxs un largo fin de semana, la ciudad de Santiago se iba durmiendo en la fría madrugada del 22 de mayo de 2009. Un sector de Avenida Matta permanecía en quietud, lejos de las luces y bullicio de locales comerciales. Solo dos ciclistas avanzan como difusas siluetas para diferentes cámaras de seguridad.
El avance se interrumpe cuando las siluetas se separan y una de ellas se baja de la bicicleta para arreglar algo en su mochila. Un gran destello corta entonces la filmación.
El ruido de una potente explosión hace eco entre las calles, la confusión despierta el lugar, lanzando las alertas policiales.
En la mitad de la calle Ventura Lavalle, casi en la esquina con Artemio Gutiérrez, un cuerpo ya sin vida está envuelto en una estela de pólvora, a un costado un revólver -con una sola bala en la nuez- más allá una bicicleta negra espera para continuar el viaje. A solo metros se encuentra la Escuela de Gendarmería, lugar donde los carceleros reciben adoctrinamiento y especialización. (more…)
Tags: Chile, CSO Sacco and Vanzetti, Gabriel Pombo da Silva, International Solidarity, Marco Camenisch, Maurico Morales, Santiago
Posted in Autonomy
Saturday, July 13th, 2019
Querida Anna, somos un grupo anárquico informal integrado por mujeres que acciona en México, motivadas por las tesis insurreccionalistas y la ilegalidad anarquista. Nos hemos conformado así por una cuestión de afinidad y no porque creamos que no debemos trabajar con compañeros hombres, de hecho, en diferentes ocasiones nos hemos coordinado con otros grupos de compañeros para accionar de manera más potente. Algunas somos lesbianas, bisexuales, poliamorosas, queers y otras somos tan putas que construiríamos un barco si renacieramos mañana en la Isla de Lesbos por tal de no renunciar a tener sexo con hombres. Lo que esperamos que deje en claro que nuestra "afinidad" no se fundamenta en las preferencias sexuales sino en las ideas que nos impulsan y en la confianza que nos tenemos una a otra en el momento del ataque.
Después de esta aclaración, queremos expresar (pública y abiertamente) nuestra solidaridad contigo, no porque seas mujer ni porque te consideremos "víctima" al encontrarte presa de las garras del Estado sino por tu posicionamiento anárquico en guerra permanente contra el sistema de dominación. ¡Celebramos tu convicción ácrata y tu honesta valentía!
Tus palabras sencillas, reafirmando tu anarquismo sin acotamientos sectoriales y sin caer en la tan desprestigiada corrección política y sus convenciones lingüisticas ("gender-friendly"), nos han tocado en lo más hondo. Por eso no quisimos dejar pasar la oportunidad de darte respuesta pública, evitando que tus ideas y convicciones se pierdan en el mar de cartas, manifiestos y comunicados que circulan en nuestras redes. Esperamos que tu carta 1 y nuestra respuesta inviten a la reflexión a todas las compañeras que en busca de la anarquía han quedado atrapadas en un sucedáneo reformista al servicio de la dominación, inmovilizadas en la "degeneración", "entre el orgullo y el victimismo de género", como explicas en tu carta. (more…)
Tags: Anna Beniamino, F.B.I. (Féminas Brujas e Insurreccionalistas), International Solidarity, Italy, Letter, Mexico
Posted in Prison Struggle
Thursday, July 4th, 2019
Tags: Chile, Flyposter, International Solidarity
Posted in Prison Struggle
Wednesday, July 3rd, 2019
There is also an German and Italian version of this text!
– A Summary (Situation July 2019)
Our friend and companion Andreas is currently imprisoned in Naples (Italy). Since his imprisonment in Germany Andreas has been known as a rebellious prisoner. In April 2019 he was sentenced in Italy to 24 years in jail. In addition, Andreas has recently been diagnosed with kidney cancer. His health is deteriorating and we fear for his life. Actually, he should undergo surgery months ago, but the Italian authorities refuse to transfer him to a hospital.
Andreas was in the clutches of the German judicial machinery for years and he was in jail for a total of 16 years. He is a rebellious prisoner, participated in building the prisoners' union (GGBO) behind bars, he went on hunger strike several times against the prison conditions and also participated in a solidarity hunger strike for the prisoners in Greece. To date he repeatedly publishes texts against the prison society, in which he describes everyday life in captivity. (more…)
Tags: Andreas Krebs, International Solidarity, Italy
Posted in Prison Struggle
Tuesday, June 25th, 2019
We hate prisons, many of our comrades are held in them, some are tortured, and prisons are at the heart of enforcing the established order. Vinci builds prisons, this vehicle belonged to them, so we wanted to set it on fire. So the train of thought that led to the destruction of the road construction vehicle on June 24 was actually quite simple.
(more…)
Tags: Arson, Eurovia-Vinci, Germany, International Solidarity, Leipzig, Sabotage, Solidarity Action, Vinci
Posted in Direct Action
Monday, June 24th, 2019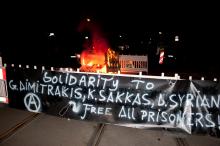 From the urban desert of the danger zone in Friedrichshain we send a signal of our solidarity to Yiannis Dimitrakis, Kostas Sakkas and Dimitra Syrianou. On Monday morning, June 24, we erected a burning barricade on Weidenweg (Street near Rigaer and Liebig) together with a fixed banner (see text on picture). We were waiting with stones to welcome the first patrol car but they needed time to mass up strong forces to enter the area of Rigaer Straße, and we disappeared safe.
(more…)
Tags: Berlin, Burning Barricades, Dimitra Syrianou, Germany, Giannis Dimitrakis, International Solidarity, Kostas Sakkas, Rigaerstrasse, Solidarity Action
Posted in Direct Action
Friday, June 21st, 2019
For June 11 – Solidarity for long term anarchist prisoners
Just outside the city limits of Bristol tucked away in the dark is a poultry farm (Ivy Farm) owned by P&S Mitchell LTD. Located in Whitchurch Lane, Dundry, the birds never see the light of day. Despite the CCTV, the grain silo and broiler house were both spray-painted with the words "Animal Prison".
A new McDonalds restaurant that is not welcome is being built in Fishponds Road, but maybe the "Burger Off!" posters in local's front windows isn't enough. Graffiti was sprayed inside the building site – "McWork Prison".
Vinney Green, hidden in Emersons Green on the edge of Bristol is a special secure detention unit for 10-17 year old "dangerous kids". The unit holds up to 24 detainees. A large hole was cut in the perimeter fence and then the next inner security fence was broken through by bending back the bars, causing a second human size gap. Then the prison buildings themselves were sprayed with the words "Child Prison", "Screws Work Here".
Solidarity to Brian Vaillancourt who is serving a 9 year sentence in the USA for an arson of a McDonalds. To the imprisoned comrades in Italy who are fighting from inside the cells on hunger strike. To the 3 comrades arrested for bank robbery in Thessaloniki, Greece. To Lisa held in Spain. For all the imprisoned anarchists around the world.
Freedom for everyone!

Eco-anarchist vandals – FAI/IRF
Tags: Brian Vaillancourt, Bristol, Eco-anarchist vandals - FAI/IRF, Fuck McDonalds, Graffiti, International Solidarity, Ivy Farm (Poultry), June 11th Solidarity, Lisa, McDonalds Corporation, Paint attack, Solidarity Action, UK, Vandalism, Vinney Green
Posted in Direct Action
Friday, June 7th, 2019
Con esta acción reivindicamos a nuestro compañero Mauricio Morales, quien murió al decidir atacar al sistema dominante a través de la acción directa: Nos adjudicamos la colocación de un artefacto incendiario en el sector de Lo Ovalle.
Nuestra acción resulta luego de afinar nuestras ideas y convicciones, elegimos organizarnos para vandalizar un transporte (que representa el capitalismo industrial). (more…)
Tags: Banda incendiaria Punky Mauri, Chile, International Solidarity, Mauricio Morales, San Miguel, Santiago
Posted in Direct Action
Monday, June 3rd, 2019
SAN FRANCISCO, EE.UU.: ANARQUISTAS ATACAN EL CONSULADO DE INDONESIA CON BOMBAS DE PINTURA CONTRA LA REPRESIÓN DEL PRIMERO DE MAYO
On June 1, a modest mob of 20+ anarchists in San Francisco carried out an attack in solidarity with our comrades in so-called Indonesia where 600+ anarchists were arrested this May Day. We threw 60 paintbombs and heavily tagged the Indonesian Consulate with circle-(A)s to send a message to the Indonesian government that despite the distance between us and our comrades, the State is not safe and will always be attacked.
The actions of the Indonesian comrades, simple gestures of paint on walls, resonated with us. In the afterimages of their act, and in their call for solidarity, we recognized friends across the dying ocean. Even more than expressing our contempt for the Indonesian State, we want to convey our love to the comrades struggling within and against its false borders. Ferocity and Strength to those facing repression and those on the run. (more…)
Tags: California, Indonesia, International Solidarity, Paint attack, Paint bombs, Sabotage, San Francisco, Solidarity Action, USA, Vandalism
Posted in Direct Action
Saturday, June 1st, 2019
Solidarity Action Group of Indonesia and Australia
Anarchist Solidarity from Yogyakarta and Surabaya with Antifascist Prisoner Jock Palfreeman!
International Anarchist Solidarity with Antifascist prisoner Jock Palfreeman from the Solidarity Action Group of Indonesia and Australia. Comrade Jock recently completed a 33 day hunger strike in protest against the conditions of his imprisonment and ongoing harassment from prison authorities for his work with the Bulgarian Prisoners' Association. Jock is serving a 20 year prison sentence for defending 2 Roma boys and himself from a racist mob. Free Jock! Long live the Bulgarian Prisoners' Association.
(more…)
Tags: Australia, Banner drop, Indonesia, International Solidarity, Jock Palfreeman, Surabaya, Yogyakarta
Posted in Prison Struggle
Saturday, June 1st, 2019
"Burn all prisons, with or without walls!" – The call for a Subversive May, as an extension of the proposal for an Anarchist May 1st in Berlin, is understood by us as a call to extend the attack on different levels. We agree with the idea not to confine ourselves to one day but to constantly and unpredictably attack the functioning of existing society and prove that its security is an illusion.
The apparatus of power includes not only the murderers of the State, but also the mercenaries of the private security companies. Securitas vehicles once parked undisturbed in the GESOBAG housing estate where they act as security guards to prevent the intervention of cops during conflicts with tenants or tensions with the property management. Securitas is also engaged in surveillance work in prisons and public spaces worldwide. (more…)
Tags: Alfredo Cospito, Anahi Salcedo, Arson, Berlin, Dimitris Koufodinas, Dimitris Koufontinas, Germany, Informal Anarchist Federation (FAI), International Revolutionary Front, International Solidarity, Mauricio Morales, Securitas
Posted in Direct Action
Saturday, June 1st, 2019
[Hunger Strike By Prisoner Dimitris Koufontinas Ends in Success – AMW]
Athens, Greece: Responsibility Claim for the Arson Attack against Eurobank branch
We were taught that everything is commodity, everything can be exchanged. We didn't understand the small print of history: that we are commodity too; working power that is exchanged with peanuts, prayers and curses, and a daily reverence to alienation, to the shattering of every human dignity. We referred to the wage slavery as our highest value and intention. We didn't feel the waves of history carving our skin, we didn't feel the razor blades of political economy chiseling our motion.
We 've shown discipline to our times' teachings, which are nothing more than the dominant narrative that wants us producing and consuming machines, that wants for itself the monopoly of the decision about what is included and what is excluded by its normativity. A dominant narrative by a dominant world that leaves its bloody marks on us everyday, fracturing the individual, feeding it with oppression and neuroses, killing every desire for experimentation and vitality and replacing them with miserable micro-rivalries and intrigue, disguising the emptiness. (more…)
Tags: 17 November, Anahi Salcedo, Arson, Athens, Dimitris Koufodinas, Dimitris Koufontinas, Greece, International Solidarity, Mauricio Morales, Revolutionary Solidarity, Sabotage
Posted in Direct Action
Wednesday, May 29th, 2019
Macaz Autonom Community Center in Bucharest
Help build Macaz Autonom – an independent intersectional Community Center in Bucharest, Romania.
https://www.indiegogo.com/projects/macaz-autonom-community-center-in-bucharest#/
Tags: Bucharest, International Solidarity, Macaz Autonom, Romania
Posted in Autonomy
Friday, May 24th, 2019
POLITICAL STATEMENT OF FRONT ANTI FASIS BANDUNG (BANDUNG ANTI FASCIST FRONT) ON FUND FROM INTERNATIONAL SOLIDARITY AFTER BANDUNG MAYDAY 2019
Police brutality during International Labour Day May 1st of 2019 in some cities, has append dark record of state apparatus to civil society's life. In Bandung, more than 700 comrades raided, striped off, bald-shaved, spray-painted, beaten up, and others worst things ever done to them by police. Same things also happen to comrades in others city such as Jakarta, Surabaya, Malang, and Makasar, they happened to be the victim of police brutality. That occurrence arouse many condemn to police and military from around the world.
As respond, many solidarity comes from individuals and organization toward the 2019 Mayday movement. Some Indonesian organizations then raise funds locally even internationally, as solidarity to those comrades who raided and threaten brutally by the police.
Until now, we "Front Anti Fasis Bandung" (Bandung Anti Fascist Front) have agreed to:
1. Have never run any fund raising nor receive any donation from International Solidarity.
2. Any necessity related to legal advocation and etc, is handled by local self-powered.
3. We still need all our comrades abroad to organize mass movement, campaign, political statement, and mobilization as a display of International Solidarity for us.
We'd like to sincerely say our biggest thanks to all of our solidarity comrades whose until today still shown their support and keep the flame of resistance on fire!
LONG LIVE DISOBEDIENCE!
-FRONT ANTI FASIS BANDUNG-
Tags: 1st May, Bandung, Front Anti Fasis Bandung (Bandung Anti Fascist Front), Indonesia, International Solidarity, Mayday
Posted in Anti-Fascist
Wednesday, May 15th, 2019
FUEGO, INCENDIO Y MEMORIA POR MAURICIO MORALES

"No retrocedemos: estamos aquí. No intentamos: podemos. No mendigamos: robamos. No borramos: quemamos.
No esperamos: ardemos de impaciencia… La Conspiración nunca será arrestada, porque no se trata simplemente
de una organización sino de un flujo de ideas, y a las ideas no se les puede detener… "
CCF. Sección Ilegal
La noche del 12 de mayo nos agrupamos para llevar a cabo nuestro cometido. Recordar a diez años de su partida al compañero Anarquista Mauricio Morales, quien muere tras la inesperada activación del artefacto explosivo que transportaba la madrugada del 22 de mayo del 2009.Este artefacto tenia como único objetivo, la escuela de gendarmeria de Chile.
Respondiendo y contribuyendo al llamado internacional de acción y propaganda en memoria de Mauricio Morales… (more…)
Tags: Arson, Chile, International Solidarity, Mauricio Morales, Sabotage, Santiago
Posted in Direct Action