Posts Tagged 'International Solidarity'
Thursday, October 29th, 2020
Rotating Hungerstrike in Spanish prisons
From last 1st of September on at least 14 prisoners, mostly anarchists, take actually part of a new rotating hunger strike against the precarious health conditions in the Spanish prisons. They reinvicate also a 14 point program against isolation custody (FIES/DERT), tortures and physical and psychical violence from the prison guards, dispersion of prisoners far from their home, etc. Every comrade is doing a 10-days-hungerstrike, one following other, every month 3 prisoners.
Violence in Spanish prisons is very common, every year 200 prisoners die inside Spanish prisons violently or from drugs, no medical attention or diseases. Actually in corona times, the conditions in jail are mostly insoportables (bad food, no activities, no visits…). Last month of August our comrade Carmen Badía Lachos was violated from a prison guard inside the 'hospital' part of the Zuera-prision (Zaragoza). (more…)
Tags: Carmen Badía Lachos, Claudio Lavazza, Gabriel Pombo da Silva, Hunger Strike, International Solidarity, Repression, Spain
Posted in Prison Struggle
Thursday, October 29th, 2020
…cuando se buscan alianzas se termina por modificar los objetivos en aras de la justificación política de la lucha: un «futuro mejor». Sin reparar que la fe en el futuro es esencial para perpetuar la dominación. Vivir siempre en futuro es precisamente el método tradicional para no vivir aquí y ahora, apartándose para siempre del conflicto permanente implícito en el concurso de la guerra anárquica… En el fondo, detrás de ese posicionamiento, se albergan las desfasadas aspiraciones instituyentes. Fieles al eco de los cantos de sirenas, intuimos en ellos coplas de elogio a la libertad –que siempre retumban en los albores de toda Revolución–, ignorando que en realidad son himnos de alabanza al nuevo Poder constituyente. Después, vendrán las ingenuas elucidaciones en busca de motivaciones y causas de "las desviaciones", de las "traiciones" y se repetirá hasta el cansancio la vieja historia de la "revolución traicionada", en vez de vislumbrar que la Revolución jamás ha estado (ni estará) del lado de la libertad sino al servicio del Poder porque toda revolución es intrínsecamente instituyente…
Gustavo Rodríguez. "Carta a un(a) chileno(a) sobre la situación actual." Noviembre 2019.
Miles de personas volvieron a salir a las calles después de un año de parálisis por las medidas sanitarias impuestas por el gobierno de Piñera, para "conmemorar" el primer aniversario de las protestas populares que sacudieron la región chilena en octubre del año pasado.
Hoy, en un contexto de revuelta popular, los partidos izquierdistas y la peste vanguardista, están apuntando como siempre al control de las masas con la estrategia de la "lucha" multiforme. Con el lema "¡Chile despertó!", los rojxs aplican el peticionismo coyuntural y fuerzan a la servidumbre voluntaria a votar por el "Apruebo", de la misma manera que la derecha criminal fuerza a votar por el "Rechazo".
Esa ha sido la tarea de Daniel Jadue, Camila Vallejo y lxs demás pacxs rojxs, sofocando la insurrección con las limitantes reformistas que tratan de imponer una nueva Constitución, fortaleciendo al sistema de dominación.
Así, quisieron imponer una manifestación pacífica "con alegría, sabiduría y unidad en cada rincón del país" que indujera a millones de chilenxs a votar "Apruebo" el próximo 25 de octubre, cooptando la revuelta
Pero al caer la tarde, la acción anárquica y el ataque nihilista revitalizaron su potencia atacando todas las formas de poder, expropiando y vandalizando comercios, quemando iglesias y atacando comisarias. Más de 40 mil carabineros no pudieron contener la insurrección anárquica.
Nuestra guerra a penas comienza: atacaremos el poder aquí y ahora, sea derechista, centrista o izquierdista.
Por la insurrección permanente y el desarrollo de la informalidad insurreccional anárquica.
Por la liberación total.
Libertad Mónica y Francisco y todxs lxs anarquistas presxs en el mundo.
Fuerza compañero Gabriel Pombo DaSilva.
Desde aquí saludamos el rebrote de la CCF en Indonesia.
Que se extienda el fuego
Viva la anarquía.
Tags: Chile, International Solidarity, Santiago, Social Insurrection
Posted in Autonomy
Thursday, October 29th, 2020
La propagacion de la acción anarquica insurrecional, a modo de propuesta teorica y práctica de liberación sin lideres, jefes ni dirigentes, se ha propagado en Chile y el mundo como una praxis de acción ofensiva contra el estado y como forma de resistencia y ataque contra toda forma de autoridad.
En Chile, con el paso de los años, la tendencia anárquica insurreccional evidencia un planteamiento anárquico siempre en continuo avance. Previo a la revuelta masiva iniciada el 18 de octubre, en las calles existía ya una atmosfera de lucha: grupos minoritarios de acción, manifestaciones y jornadas de protesta que daban cuenta de un escenario siempre fértil para enfrentamientos y ataques a la dominación y los simbolos del capital.
Así, a lo largo de las décadas recientes se ha forjado una continuadad insurreccional desde diversas individualidades y grupos que apuestan por la lucha confrontacional, siempre desmarcándose de partidos y plataformas, avanzando sin tregua por la liberacion total, sin tranzar ni pactar con el poder y marcando una abierta distancia con el peticionismo conyuntural que siempre termina por ser sofocado cuando la protesta tiene limitantes reformistas que solo fortalecen la existencia del estado. (more…)
Tags: Chile, International Solidarity, Santiago, Social Insurrection
Posted in Autonomy
Thursday, October 29th, 2020


Prisionerxs de la guerra social de ayer y de hoy por la destrucción de la sociedad carcelaria.
– A todxs quienes luchan contra este mundo de opresión y miseria.
"La realidad de lxs prisionerxs en guerra en las cárceles chilenas no puede ser falsificada. En el día a día hay lucha, no hay silencio ni menos olvido. Generaciones distintas de subversivxs que se encuentran con miradas similares en este presente de lucha."
(Llamamiento de prisionerxs en guerra Abril 2015.)

"El presidio es otro escenario más de lucha en el camino de la confrontación, el enfrentamiento antiautoritario para mí no ha terminado, solamente ha cambiado de forma."
-Mónica Caballero Sepúlveda.
1.- Desde siempre por la Revuelta permanente.
"Las experiencias de derrotas pasadas quedan viviendo… palpitantes y crecerán de tal manera que lograremos rodear por todos lados a quienes en una batalla pasada nos vencieron".
-Pablo Bahamondes Ortiz.
La revuelta iniciada el 18 de octubre del 2019 fue, entre otras cosas, la cristalización de las luchas multiformes y antiautoritarias que se sucedieron en este territorio durante las últimas décadas, en parte, muestra innegable de la continuidad de un camino antagónico y subversivo.
La inexistencia de un petitorio común y de una conducción centralizada demuestra con claridad el sentido antiautoritario de la revuelta que en su multiplicidad y autonomía encontró su principal fortaleza, resquebrajando el orden establecido, el poder y toda institucionalidad. (more…)
Tags: Chile, International Solidarity, Joaquín García Chanks, Juan Aliste Vega, Letter, Marcelo Villarroel Sepúlveda, Monica Caballero, Pablo Bahamondes Ortiz "OSO", Santiago
Posted in Prison Struggle
Thursday, October 29th, 2020
Tags: Flyposter, International Solidarity, Juan Aliste Vega, Marcelo Villarroel Sepúlveda
Posted in Prison Struggle
Saturday, October 17th, 2020
EN | Incendiary Dialogues: For the Propagation of Anarchic Sedition
ES | Diálogos Incendiarios
PT | Diálogos Incendiarios
IT | Dialoghi incendiari
Printed copies coming soon…
We present a new book by Black International Editions, an internationalist project of anarchic diffusion that, from an informal and seditious anarcho-insurrectional intent, resurfaces in Spanish, Portuguese, Italian and English, with a new title: "Incendiary Dialogues: For the Propagation of Anarchic Sedition". The title is based on a dialogue on the course of the anarchic war between comrades Alfredo Cóspito, Gustavo Rodríguez and Gabriel Pombo da Silva.
We consciously decided to launch this booklet on May 22, in timely celebration of Chaos Day, remembering anarchist comrade Mauricio Morales, who, on a day like today in 2009 left this life fighting against Power when the bomb he was carrying in his backpack exploded prematurely, detonating a few meters away from the Gendarmerie School in Chile.
We dedicate this book to all our comrades in prison around the world, with a special dedication to our comrade Alfredo Cóspito, imprisoned in Italy, and to our beloved Gabriel Pombo Da Silva, who was arrested in Portugal and extradited to Spain at the time this book was published. We send all our strength to comrade Gabriel in the face of this new revenge by the authorities for his eternal irreducible struggle.
This book will have printed versions that will circulate in affinity spaces, among comrades and diverse anarchic projects around the world. We invite you to actively support its diffusion by sharing its digital version, printing copies and/or making presentations and launches wherever there is a willingness to do the impossible in order to spread chaos and extend anarchic warfare.
Editorial collaborators of Black International Editions.
May 22nd, 2020 …
Tags: Alfredo Cospito, Analysis, Black International, Black International of Anarchists of Praxis, Communique, Gabriel Pombo da Silva, Gustavo Rodriguez, International Solidarity, Mauricio Morales, PDF, Zine
Posted in Library
Friday, October 16th, 2020
DE | Italien: Internationaler Aufruf zur Solidarität – 9. bis 24. November
SOLIDARITY MOBILIZATION 9th-24th NOVEMBER
This autumn several prosecutions, which involve hundreds of anarchists, will take place in Italy. In these investigations public prosecutors and judges want to put the anarchist ideal under trial. The attempts to reduce different tensions and practices in various legal schemes, i.e. the hateful and pathetic division between "good" and "bad" anarchism, aim to repress those who fight, making them face decades of imprisonment.
In a period in which the imposed living conditions are increasingly harsh, it is essential to fight: to respond to the violence of the State, to the regime of oppression that tries to impose, attempting to attack anyone who expresses solidarity with those who have already chosen on which side to stand.
We will stand, close and complicit with our comrades, and not only in the courtrooms: we call for two weeks of mobilization from the 9th to the 24th of November, as an opportunity to create moments of active solidarity in the streets or wherever we choose to express it.
ALONGSIDE ALL THE ANARCHISTS ON TRIAL!
AGAINST PRISONS AND FOR THE FREEDOM OF ALL PRISONERS!
FREEDOM FOR ALL!
Tags: International Solidarity, Italy, Repression, Trial
Posted in Prison Struggle
Wednesday, October 14th, 2020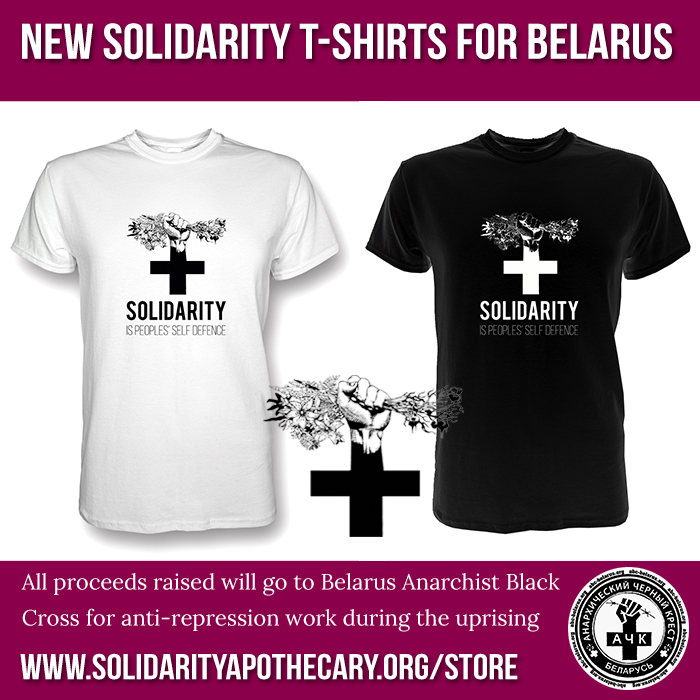 The Solidarity Apothecary is screenprinting tshirts to help raise funds to send to Anarchist Black Cross Belarus.
You can buy one here: https://solidarityapothecary.org/store/
People in Belarus are no stranger to state violence or repression living under a Dictatorship. However, as people have taken to the streets to protest, thousands are experiencing state violence at an unprecedented scale. In the first three days of the uprising in August, more than 5000 were detained by police. Many are experiencing beatings, torture, rape and sexual assault. One person was murdered. Despite the repression, people continue to fight on the streets.
Income from this t-shirt will go towards defendant support, meeting people from jails, legal costs and other anti-repression work. Solidarity is the peoples' self defence!
Please note this is a pre-order. An order will be placed with the printer on the 3rd of October and may take longer than usual to screenprint due to covid-19 restrictions. Thank you for your patience!
To learn more about the situation in Belarus check out:
ABC Belarus – https://abc-belarus.org
Belarus: Anarchists in the uprising against the Dictatorship – https://crimethinc.com/2020/08/12/belarus-anarchists-in-the-uprising-against-the-dictatorship-an-interview
Pramen (for translated news) – https://pramen.io/en/main/
Tags: ABC Belarus, Belarus, International Solidarity, Police Brutality, Repression, Social Insurrection, Solidarity Apothecary, Torture, UK
Posted in Prison Struggle
Wednesday, October 14th, 2020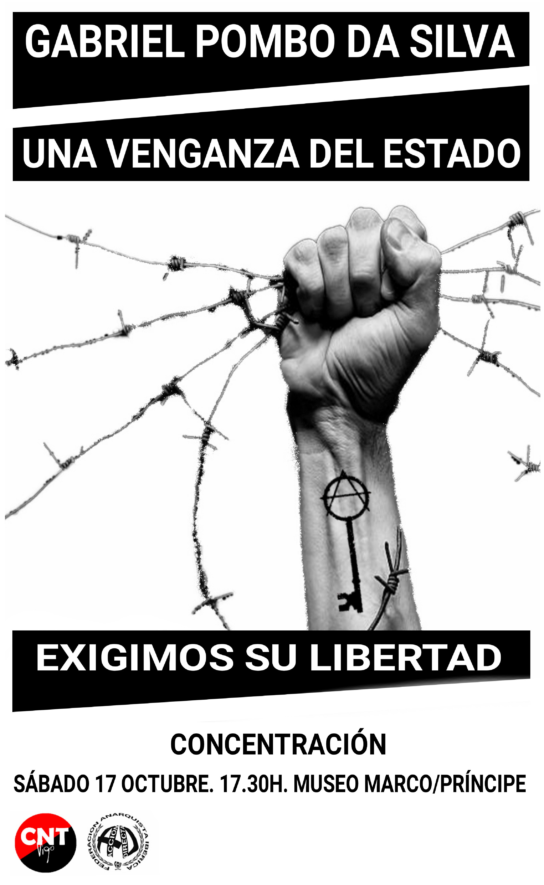 El compañero Gabriel Pombo Da Silva fue arrestado en Portugal, el 25 de enero pasado, en virtud de una ODE, Euroorden, emitida por el Juzgado de lo Penal nº 2 de Girona, del que es magistrada juez Mercedes Alcázar Navarro, la cual, en mayo del 2016, ordenó al entonces director de la cárcel de Dueñas (Palencia) ocultar la orden de liberación inmediata de Gabriel quien, tras tres semanas de "secuestro", fue finalmente liberado el 16 de junio, por lo que se iniciaron los trámites para denunciarla por prevaricación. A cada cual la conclusión de la obcecación de esa magistrada juez en proceder mediante una ODE a la persecución europea del compañero, pese a que Gabriel fuera puesto en libertad en España, dicho 16 de junio de 2016, al haber cumplido la totalidad de su condena. Se aclara que con posterioridad a esa fecha, el compañero no ha sido incriminado por delito alguno, por lo que no existe ninguna sentencia de condena posterior. (more…)
Tags: Anti-Prison, Badajoz, Demo, FIES, Gabriel Pombo da Silva, Girona, International Solidarity, Repression, Spain
Posted in Prison Struggle
Wednesday, October 14th, 2020
FR | Keerom, Papouasie occidentale (Indonésie) : Incendie des bureaux de l'agence pour l'emploi
PT Freeport Indonesia (FI) has been present in Papua for decades since the start of the annexation of West Papua by colonial Indonesia. What PT FI produces is only natural destruction, expulsion of indigenous people, and genocide. We think Freeport's existence can only be destroyed if West Papua is separated from Indonesia, but it is not the formation of a West Papua state that we want, but the West Papua Confederation, people control not state control!
We (Long Live Eric King Revolutionary Cell – Informal Anarchist Federation) send our greetings to Lekagak Telengen, Egianus Kogoya, and other West Papuan guerrillas who are among the lush forests of Papua. We invite our comrades who live in cities to start urban guerrilla units and start attacks on the symbols of capitalism and the colonial state of Indonesia.
We clearly declare our hostility towards the opportunist politician Benny Wenda and other shits at the ULMWP who can live comfortably in a foreign country while trying to take struggle for West Papua liberation leadership control. True liberation is from gun and civilian insurrection, not lobbies in air-conditioned buildings!
We also don't forget to send our hugs to comrades in Indonesia who are starting a rebellion against the Omnibus Law and Joko Widodo's neoliberal regime, to our comrades in Malaysia who have to face repression for fighting the fascist kingdom of Malaysia, to the YPG-YPJ guerrillas in Rojava who are facing asymmetrical war against Turkey, and anti-authoritarian insurgents around the world.
We claim the burning of the labour offices building in the regent office complex of Keerom, West Papua during the riots on 1 October 2020. We are among the masses angry at Indonesian colonialism, this is just our opening attack and this is not the last. Get ready for explosion and explosion that will keep on the track!
If the state and capitalism still exist, peace will never be realized. Therefore, the state and capitalism must be destroyed at once !!
Let the fire light up the liberation of West Papua.

Long Live Eric King Revolutionary Cell – (FAI-FRI)
Tags: Anti-Colonialism, Arson, Indonesia, Informal Anarchist Federation (FAI), International Revolutionary Front, International Solidarity, Keerom, Long Live Eric King Revolutionary Cell - FAI/FRI, PT Freeport Indonesia (FI), Sabotage, West Papua, West Papua Independence
Posted in Direct Action
Tuesday, October 13th, 2020
A report written by the Anti-authoritarian Federation (FedAO) of Indonesia and an update to "Anarchist Prisoners Trial in Tangerang and Bekasi in Indonesia."
Monday, September 28, 2020, the Tangerang District Court (Pengadilan Negeri) Judges read out the verdict of the trial of alleged vandalism. The Judges sentenced Muhammad Riski Riyanto Bin Abdul Syukur and Rio Imanuel Adolof Pattinama aka Petrus Adolof Pattinama to prison for 10 (ten) months in case No: 1136/Pid.Sus/2020/PN Tng because they were considered legally and convincingly by the judges, spreading false news, and deliberately spreading disturbances among the people as regulated in Article 14 Paragraph (1) of Law Number 1, Year 1946, concerning Criminal Law Regulation.
Meanwhile, Rizki Julianda aka RJ aka Zonee, who was tried separately in case No: 1135/Pid.Sus/2020/ PN Tng, was sentenced to imprisonment for 8 (eight) months because he was proven legally and convincingly committed in public orally or writings incite in order to committing a criminal act, committing violence against public authority or not obeying either the provisions of the law or a position order given based on the provisions of the law as regulated in Article 160 of the Criminal Code (KUHP). (more…)
Tags: Bekasi, Indonesia, International Solidarity, Repression, Tangerang
Posted in Prison Struggle
Friday, October 9th, 2020
FR | Yogyakarta (Indonésie) : La CCF/Nemesis Action revendique l'incendie d'une voiture de luxe
ES | YOGYAKARTA, INDONESIA: «CCF / ACCIÓN NÉMESIS» ASUME LA RESPONSABILIDAD DEL INCENDIO PROVOCADO DE UN COCHE DE LUJO
GR | Ινδονησία, Γιογκιακάρτα: "ΣΠΦ / Δράση Νέμεσις" – Ανάληψη ευθύνης για τον εμπρησμό πολυτελούς αμαξιού
Yogyakarta – Indonesia : We claim the burning of a luxury car in front of the Sinar Mas office last night on Ring Road Utara Yogyakarta. And it's not just solidarity for combatants on the streets against the Omnibus Law. But because we understand that the Sinar Mas Group is responsible for the destruction of rainforests in Indonesia to be converted into the palm oil industry.
Solidarity for all combatants throughout Indonesia. Solidarity with Belarus. Solidarity for anarchists in Chile, Greece, Hong Kong, Rojava!
Long Live the Rebellion!

"We want the world and we want it on fire".
Conspiracy of Cells of Fire / Nemesis Action
–
Kami mengklaim pembakaran mobil mewah di depan kantor Sinar Mas semalam di Ring Road Utara Yogyakarta. Dan ini bukan hanya solidaritas untuk kombatan di jalanan melawan Omnibus Law. Tapi karena kami paham bahwa Sinar Mas Grup bertanggung jawab atas penghancuran hutan hujan di Indonesia untuk dikonversikan ke industri Sawit.
Solidaritas buat semua Kombatan seantero Indonesia. Solidaritas buat Belarus. Solidaritas untuk kaum anarkis di Chile, Yunani, Hongkong, Rojava!
Panjang Umur Pemberontakan!
"We want the world and we want it on fire".
Konspirasi Sel-sel Api / Aksi Nemesis
Tags: Arson, Conspiracy of Cells of Fire, Conspiracy of Cells of Fire / Nemesis Action, Ecological Destruction, Indonesia, Informal Anarchist Federation (FAI), International Solidarity, Sabotage, Sinar Mas Group, Yogyakarta
Posted in Direct Action
Thursday, October 8th, 2020
El próximo día 23 de octubre tendremos una interesante charla y debate en el Ateneo con el título: COVID-19 : LA ANARQUÍA EN TIEMPOS DE PANDEMIA.
Quedáis invitados … Salud para tod@s.
En el EKO, calle Ánade 10 -Madrid (Metro Oporto) a las 19:00 horas.
ATENEO LIBERTARIO DE CARABANCHEL LATINA
PARA Y POR LA ANARQUÍA
Tags: Coronavirus, International Solidarity, Madrid, Spain
Posted in Autonomy
Thursday, October 8th, 2020
Eric King describes himself as a 33-year-old vegan anarchist political prisoner and poet who was arrested and charged with an attempted firebombing of a Congressperson's office in Kansas City, Missouri, in September 2014. King was charged with throwing a hammer through a window of the building, followed by two lit Molotov cocktails. The criminal complaint states that both incendiary devices failed to ignite. King was identified as a suspect by local police because he had previously come under suspicion for anti-government and anti-police graffiti. After accepting a non-cooperating plea agreement, King was sentenced to ten years in June 2016. His release date is October 2023. He has served his time in various facilities of the federal Bureau of Prisons, or BOP.
King is currently facing one count of assaulting a government official for an incident that occurred in August 2018 at the Federal Correctional Institution (FCI) Florence. According to King's account, he was taken into a mop closet, out of sight of prison cameras, and beaten up by a corrections officer. The officer then said that King had assaulted him. King has been housed in a segregation cell at FCI Englewood since August 2019, fighting this charge. Overall, King has spent about three years in solitary confinement. He now faces a maximum of 20 additional years in prison. Read more about Eric King here: supportericking.org.
–
My toilet is right next to my cellmate's face, not hyperbolically, it is literally three inches from where he lays his head. I am in the FCI Englewood Secure Housing Unit (SHU)—the oddest SHU in the Bureau surely. In this segregation unit, you will get inmates from the Low [security prison], pre-trial people and folks like myself and my cellie who are on writ [having a court case] from other penitentiaries. This oddball combo makes no sense and causes a localized class system, all a part of the psych-ops of this odd rust bucket of a prison.
On August 17, 2017, I was taken into a mop closet by Super Patriot Lieutenant. I have been in solitary ever since, 19 months and counting. I learned how bad it can get, discovering new ways they can torture you; mentally and physically. Whether being choked while being held in four-point restraints for seven hours, being held in a cell for four days without a functional toilet filled with someone else's feces, I have seen their brutality and am stronger for it. I hope.
(more…)
Tags: Eric G. King, International Solidarity, Isolation, Letter, Repression, USA
Posted in Prison Struggle
Wednesday, September 30th, 2020
GR | Ιταλία: Δύο δέματα-βόμβες στον Πρόεδρο της Confindustria Brescia και στην Ένωση Δεσμοφυλάκων
ES | ITALIA : PAQUETES BOMBAS CONTRA CONFINDUSTRIA BRESCIA Y LXS GUARDIANES DE MÓDENA
IT | Pacchi bomba a confindustria Brescia e secondini Modena
FR | Italie : Deux colis piégés à l'organisation des patrons et au syndicat des matons
We sent two parcel bombs to the president of Confindustria Brescia, Giuseppe Pasini and SAPPE of Modena.
We hit the unions of the bosses and their minions. We hit the corporate and prison slaughterers in the first days of the proclamation of the state of emergency. In front of the images of the bodies taken away by military means we understood: Your death, my death.
Capitalism is a rotting corpse: Let's bury it.
No faith in investigations, but nihilistic revenge against master politicians and minions.
No judgment can stop the Informal Anarchist Federation.
We have not forgotten the action of our brother Mikhail Zhlobitsky. Beyond the generations of virtual alienation, Mikhail is the youth of the world. This action is dedicated to him.
Mikhail Zhlobitsky Cell
Informal Anarchist Federation
International Revolutionary Front
via Round Robin.
Tags: Brescia, Confindustria Brescia, Giuseppe Pasini, Informal Anarchist Federation (FAI), International Revolutionary Front, International Solidarity, Italy, Letter Bomb, Mikhail Zhlobitsky, Mikhail Zhlobitsky Cell - FAI/IRF, Misha Zhlobitsky, Modena, Solidarity Action
Posted in Direct Action