Posts Tagged 'International Solidarity'
Thursday, June 4th, 2020
CALL FOR SUPPORT FOR SCRIPTA MANENT TRIAL
On the 1st July the first hearing of the Italian Appeal Court for the Scripta Manent trial will be held. We are asking comrades for financial support to help us face the legal fees as it has been very difficult to organise benefits during the lockdown.
Bank details below:
IBAN: IT56M0567617295IB0000592586
BIC/SWIFT: SARDIT3S100
Account name: Omar Nioi
for any information email: cassamanent@anche.no
Tags: International Solidarity, Italy, Operation Scripta Manent, Repression
Posted in Social Control
Thursday, June 4th, 2020
Basel, Switzerland / Violence against refugees is systematic: A call
Recently it became publicly known that systematic violence is perpetrated against refugees in the federal asylum camp in Basel (Switzerland). Obviously this violence is neither an isolated case nor is it limited to the asylum camps in Switzerland.
This violence is systematic and the system has names. Those responsible are internationally represented and operate in many different places. Let's name them and show them that their actions bear consequences.
The spread of the coronavirus has highlighted the violence of the European migration regime – both at the EU external border as well as in local asylum camps and prisons.
This call wants to continue the intensified struggles against it.
What are federal asylum camps?
Since the spring of 2019, asylum seekers in Switzerland are being administered in so-called federal asylum centres. The accelerated asylum procedues related to the erection of these new structures do not result in fairer procedures for most of the persons affected, but in faster deportation. The federal asylum camps are often geographically isolated. The type of constuction, the location, as well as the rules imposed are reminding of prisons and other instituions that deprive people of their freedom. They are contributing to the racist constructs of the nation state and borders. (more…)
Tags: Basel, Coronavirus, International Solidarity, Migrant Struggle, Securitas, Switzerland
Posted in No Borders
Sunday, May 31st, 2020
Tags: Bristol, Fuck the Police, George Floyd, Graff, Graffiti, International Solidarity, Police Brutality, Racism, UK, USA
Posted in Direct Action
Saturday, May 30th, 2020
A través de la Red Solidaria Anticarkelaria con Juan y Marcelo esta vez ampliada en una sola voz desde diferentes lugares de Latinoamérica y Europa queremos:
Despedir con profunda emoción a Daniel Vielma, compañero y hermano de origen argentino con el que compartimos un camino de múltiples iniciativas de lucha y solidaridad por la destrucción de las prisiones que cerca de la medianoche de ayer jueves 28 de mayo nos dejara físicamente producto de un cáncer fulminante en su casa en el sector de la Balza Las Perlas en la provincia de Río Negro junto a su compañera de vida Mai y sus hijos Bako, Juan y Diego.
Daniel formó parte de la Red de Solidaridad con Freddy y Marcelo en Neuquén cuando nuestros compañeros fueron detenidos en marzo del 2008 en la Patagonia Argentina y vivieron el encierro carcelario hasta diciembre del 2009 cuando fueron expulsados para ser recién juzgados y condenados por el Estado Chileno el año 2014.
Su entrega y convicción en la búsqueda de posibilidades legales e ilegales para que nuestros compañeros dejaran la prisión y alcanzaran la calle lejos del  Estado Chileno en aquel momento nos mostraron a una persona comprometida profunda y verdaderamente con la lucha contra el poder y su sociedad carcelaria.
En aquel tiempo intenso de múltiples y sucesivas batallas Daniel supo tejer Solidaridad Ofensiva y el recuerdo intacto de su actuar aún perduran en múltiples compañeras/os quienes hoy y desde distintos lugares del mundo unimos nuestros pensamientos para despedir físicamente a este gran guerrero de 39 años que hoy vuelve junto a su madre también fallecida a la localidad Rionegrina de Catriel.
Sabemos de su grandeza valórica, de su entrega incansable, de su permanente caminar para tejer complicidades en lucha constante contra el poder en un aquí y ahora que lo hace quedarse para siempre entre compañeras/os de diferentes latitudes que van hilvanando Resistencias en estos  tiempos álgidos que vive la comunidad humana mundial.
Por todas las presas y presos de la guerra social, revolucionarios, subversivos, anárkikos.
Por las y los presos sociales.
Por un mundo sin prisiones!!
SALUD Y LARGA VIDA AL COMPAÑERO DANIEL VIELMA!!
POR EL Y POR TODAS Y TODOS LOS CAÍDOS: NI UN MINUTO DE SILENCIO, TODA UNA VIDA DE COMBATE!!
ABRE LOS OJOS: ES TIEMPO DE LUCHAR!!
MIENTRAS EXISTA MISERIA, HABRÁ REBELIÓN!!
Para su manada, todo nuestro compañerismo y amor en guerra!!
Red Solidaria Antikarcelaria con Juan y Marcelo.
Viernes 29 de mayo de 2020
Diferentes lugares de Latinoamérica y Europa
Tags: Chile, Daniel Vielma, International Solidarity, Juan Aliste Vega, Marcelo Villarroel Sepúlveda
Posted in Uncategorised
Friday, May 29th, 2020
This is my sixth year in prison and has easily been the hardest. After being accused of assaulting a lieutenant on August 17, 2018, I've been in the SHU since. The past two years have shown me a wide scope of state brutality: physical beatings and tortures, psychological games like being kept in bare rooms with no contact to the free world, and their legal power – bringing serious new charges that could carry 20 additional years. Resistance is not a game.
During this time I've learned a lot; that A LOT of people get set up this way, that prison support is priceless, that they can always turn it up, and that WE can always turn it up also. Despite the harsh sanctions and restrictions, I've refused to be a wilting willow. Now has been the time to face them head on – whether legally with motions and pressure; casual bucking; hard bucking; leading protest for basic rights; having long talks about social, class, and prisoner consciousness; and organizing the other prisoners. Anarchists don't hide.
One thing I couldn't have done this without has been the outpouring of support. Fiscal support to my canteen and legal fundraiser (keep it coming pls), the uptake in letters, those who sent magazines, books and articles after we won those rights. I let me supporters and Team know this wasn't going to be a smooth ride, that resistance is in my blood, and they've stuck it out. People new and long lasting have shown up when needed most. We cannot fight on the inside, without you on the outside. We are fighting cases, fighting injustice, fighting the same battles happening in the streets, inside, in close quarters.
Prisons need to be demolished, it's a fight that can only be won on two fronts – unity inside and solidarity outside. We chop this dragon's head off, relegate it to horror stories and museums of resistance. Together, it's possible.
Thank you to everyone who has helped in any way, whether being kind to my partner, donating funds, showing up to trail (August 10th, see you there!).
Let's take FTTP literal, shall we?
Until All Are Rubble,
EK
Fire Ant Collective
IWOC
Tags: Eric G. King, International Solidarity, June 11th Solidarity, Letter, USA
Posted in Prison Struggle
Thursday, May 28th, 2020
In the early hours of Wednesday 27/05/2020, in Thessaloniki, Greece, 2 anarchist comrades were arrested on an attempt of incendiary/explosive attack on the house of the ex member of New Democracy (the Greek governmental party) and now president of the Deposit and Loans Fund, Dimitris Stamatis.
As Greek media report, the one comrade was seen by civil cops passing by and checking the house in Kalamaria area; then the other comrade was caught at the moment he was going to plant the incendiary/explosive devices. The first comrade was caught a few hours later in Thessaloniki, riding his bike.
There was a big police research operation in the comrade's house, and also in other comrades' houses. More specifically, 4 squatted houses at Ano Poli area in Thessaloniki were thoroughly searched and, furthermore, there were totally 10 comrades persecuted, who were left free some hours later, as nothing was found against them.
The 2 anarchist comrades are accused for the felonies of criminal association, attempt of explosion, attempt of arson, possession and manufacturing of explosive material which could cause danger for human beings; also for offending the laws about arms, firecrackers and drugs, and for resistance and disobedience against authority.
They will pass from the examining judge on Monday 01/06/2020, in the morning, at Thessaloniki's court. Until then, they will be held captive in the State's hands. Calls for solidarity will be published at the next days.
Updates will follow.
STRENGTH & SOLIDARITY TO OUR 2 COMRADES IN THESSALONIKI
WE DON'T FORGET THE PRISONERS OF SOCIAL WAR
NOT A STEP BACK
EACH FLAME AND EXPLOSION IS A SIGNAL OF FREEDOM & INSURGENCY
EACH ANARCHIST COMBATANT IS A WELL-SHARPENED KNIFE
AGAINST THE WORLD OF MISERY & OPPRESSION
solidarity initiative
Tags: Dimitris Stamatis, Greece, International Solidarity, Raids, Repression, Thessaloniki
Posted in Social Control
Sunday, May 24th, 2020
It's been 11 years since your last ride… 11 years… and we were all surprised when it was the first anniversary of your death, Mauri. The years go by, but something always remains, right?
For those of us who knew you and for those of us who knew you after your death, it has been 11 years of having you around, 11 years of continuing to propagate, breaking in, bothering, laughing loudly or in whispers, stubbornly propagating the Black Death.
How much has happened in these years, there is no rational measure that can quantify it. There are those who will say that we have lost, others that we have gained a lot, what is really important is that we continue… and that anarchy, as a concrete practice against any form of domination, as a permanent exercise, continues unrestrained. And that is why our dead people enjoy excellent health and continue to laugh, today already in other laughs.
How much you would have enjoyed the streets in these months, we smile when we imagine the answer, but you were, Mauri, in memorable days, in the chaos and its sweet deliriums. You were there, because there are those who insist on going out with you to the chaos. (more…)
Tags: Chile, Germany, International Solidarity, Mauricio Morales
Posted in Uncategorised
Tuesday, May 19th, 2020
Statement by Amadeu Casellas, after his release
Salud compañerxs,
Yesterday, May 14, I received provisional freedom, awaiting an acquittal or conviction. As you already know, justice in this state is not impartial, depending on whether the prosecutor has been military, fascist or ecclesiastical, that is already a problem for the working class. The same is the case with presidents, magistrates or judges, who depending on their ideology, can also be condemnatory or acquittal. I no longer want to talk about the state hitmen, also called Mossos d'Esquadra [police force in Catalonia], who are manipulative, corrupt and pathetic.
In any case, as you can imagine, I am very happy with my freedom, after the two years I have been unjustly locked up in prison.
But this is not over yet, because I have to go and collect the conviction or acquittal, and as you can imagine, if it is condemnatory I will have to appeal it. Among other things, because the state's hired killers, the Mossos d'Esquadra, manipulated evidence, which was demonstrated in the trial that took place on the 5th and 6th, as well as other evidence that was manipulated by themselves.
I want to thank all the Grup de Suport for all the help they have given me during these two years, which has been a lot, and I hope that the next few days we can all stay together and celebrate my freedom.
And to be able to start, for those who want to participate in new struggles against the many abuses that are inside the prisons, the fact that I have come out does not mean that this has ended.
The struggle continues, because there are many Amadeus in prisons and many fascists that watch over them, torture and humiliate them. For those who want to continue organizing the struggles of the prisons in the Catalan and Spanish death centers, we will be in contact.
Thanks to everyone for your support.
Salud and Anarchy
Amadeu Casellas
Tags: Amadeu Casellas, Anti-Prison, Catalonia, International Solidarity, Letter, Spain
Posted in Prison Struggle
Tuesday, May 19th, 2020
EL | ΑΛΛΗΛΕΓΓΥΗ ΜΕ ΤΟΥΣ ΑΠΑΝΤΑΧΟΥ ΦΥΛΑΚΙΣΜΕΝΟΥΣ-ΚΑΛΕΣΜΑ ΣΕ ΔΙΕΘΝΕΣ ΤΡΙΗΜΕΡΟ ΔΡΑΣΗΣ, 29-30-31 Μαϊου 2020
SOLIDARITY WITH PRISONERS ALL OVER THE WORLD
CALL FOR INTERNATIONAL DAYS OF ACTION
The existing health crisis and its management from governments until now, globally, has unmasked the real character of authority, which was hiding itself behind the democratic mask. This oppressive system imposed an ultimate control of life, forbidding everything. Now, all civil liberties have become senseless words. This extreme condition that we live in, reveals that the prison-model is the true capitalistic model of society.
Prison is the most extreme form of bio-politics and extermination. Prisoners are under constant surveillance and control, something that, nowadays is happening to the whole society.
In this period of time, prisoners in Greek prisons are dying, one after another, from minor causes such as rotten teeth etc. Selim Zerolari and Azizel Demiroglou were two prisoners that we were informed about their deaths, this month. Mass media, of course, managed to conceal or distort these news. Furthermore, the state has grabbed the opportunity, due to the curfew, to move the most active prisoners, anarchists and others, into other prisons. Silence in the streets gives more power to the state to repress the voices of the imprisoned people.
Incarceration has always been, and remains, a form of torture and a tool of submission for authority. If we don't resist to this modern totalitarianism, we will live in this prison-society, which states systematically impose.
Throughout the planet, in the face of the corona virus threat, prisoners stacked in prisons and migrant concentration camps are shouting: We are prisoners, not death row convicts!
Korinthos migrant concentration camp, Greece: 1,200 migrants go on hunger strike, March '20
Italy, March '20: 27 prisons in revolt due to the corona virus, many prisoners killed in the clashes
Argentina, April '20: Revolt in Concordia prison, guards respond with shootings
Palmasola, Bolivia, May '20: 2 prisoners left to die from the corona virus, prisoners revolt
Chile: Strike mobilization at high security prison in Santiago, May '20
Thebes prison, Greece: Prisoners revolt after prisoner dies because she was not taken to hospital, April '20
MEET ALL PRISONERS DEMANDS
FREEDOM TO ALL WHO ARE IN THE CELLS
PUBLIC HEALTH CARE FOR ALL – PRISONERS AND MIGRANTS
OPEN ALL CONCENTRATION CAMPS FOR MIGRANTS
AS LONG AS BORDERS AND PRISONS EXIST NOBODY IS FREE
CALL TO INTERNATIONAL DAYS OF ACTION IN SOLIDARITY WITH PRISONERS
29-30-31 MAY 2020

Comrades, Solidarians with prisoners' struggles
Tags: Anti-Prison, Coronavirus, Greece, International Solidarity, Isolation, Migrant Struggle, Repression
Posted in Prison Struggle
Tuesday, May 19th, 2020
Episode number 34 (05/2020) of "B(A)D NEWS – Angry voices from around the world", a monthly news program from the international network of anarchist and antiauthoritarian radios, consisting of short news segments from different parts of the world, is now online.
Length: 1:22 h
You'll also find the audio on A-Radio Berlin's new website.
In this episode you will hear contributions from:
1. Free social radio 1431AM:
• Hunger strike of V. Dimakis
• 1st of May in Greece
• Some words about Grup Yorum, the hunger strikes and the deaths of 3 comrades.
2. A-Radio Berlin:
• Interview on the film "Radical Resilience" about political burnout and how to avoid it.
3. FrequenzA:
• The audio is from two internationalist, which are based in Rojava at the moment, about their thoughts and analysis of the impact of COVID-19 on the society there and why it makes sense to fight the capitalist system worldwide.
4. Radio Fragmata:
• Updates on situation in Greece and coronavirus (May Day 2020, New environment destructive policy, police brutality, refugees struggles and fascists attacks, anarchist and revolutionary prisoners situation, mutual aid actions)
5. Invisible Radio:
• Voices of people from Moria camp and Last incidents in prisons and camps in Greece
Other audios from A-Radio Berlin in English here:
https://www.aradio-berlin.org/en/audios-2
Or visit the anarchist 24/7 online stream from the Channel Zero Network:
http://channelzeronetwork.com/
Enjoy!
A-Radio Berlin
Tags: 1st May, Anarchist Radio, Anarchistisches Radio Berlin, Athens, Coronavirus, Free Social Radio 1431AM, Frequenz(A), Greece, Grup Yorum, Hunger Strike, International Solidarity, Interview, Invisible Radio, Mayday, Migrant Struggle, Moria, Racism, Radio, Radio Fragmata, Repression, Rojava, Syria
Posted in Autonomy
Saturday, May 16th, 2020
From 13 to 15 September, the heads of government of all European countries will meet with the Chinese government in Leipzig. This will not only be about intensifying trade relations. Rather, it will be about building a new global partnership so that the EU is not ousted from the table of the great powers in the future. The deterioration in the EU's relationship with the USA under Donald Trump has made it necessary to find another partner to coordinate the shaping of its own global interests with the EU. The topics of the summit are therefore not only economic relations, but also foreign and security policy and – unsurprisingly – digitalisation and digital cooperation, as well as climate protection and human rights. The summit is based on strategic position papers which already began in the EU-China 2020 Strategic Agenda for Cooperation from 2013 and have since become increasingly concrete at the annual meetings. This year, not only representatives from China and the EU will meet for the first time, but also all heads of state and government.
Economic Cooperation (more…)
Tags: Black Bloc, China, Counter-Summit, Demo, EU, Germany, International Solidarity, Leipzig
Posted in Autonomy
Monday, May 11th, 2020
Like last year, the autonomous MayDay was full of surprises! And these surprises have caught the cops off guard and we are happy about that!
It started in the night from 30.04. to 01.05. with a demonstration in the Ölberg district, accompanied by fireworks and other great lights and (sound) effects. On our way through the Elberfelder Nordstadt some neighbours at their windows celebrated with us that the 1st of May has begun. So we were able to start the day in good spirits with strike two under difficult conditions. Already with the first strike last year we could catch the cops on the wrong foot and thus trick the cop apparatus. From that point on, we managed to break through the de facto suspension of the right to demonstrate for a short time. At least for a short period of time we were able to make the darkness glow.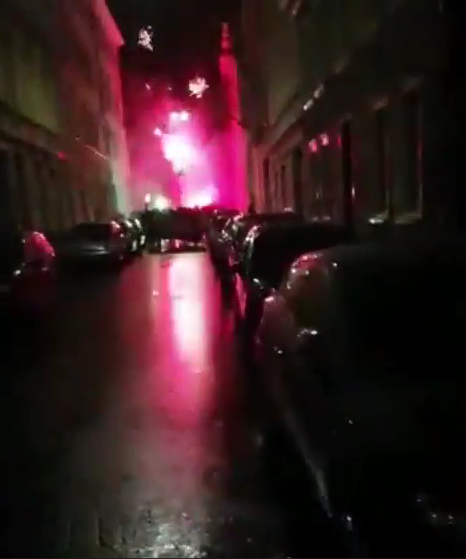 Tags: 1st May, Demo, Germany, International Solidarity, Mayday, Wuppertal
Posted in Direct Action
Monday, May 11th, 2020
"In this current circumstance, especially in light of the new facts about the virus spreading and the restrictive measures imposed by the state on this occasion, it is again extremely difficult to secure the resources to support the material needs of the ones within the walls. Perhaps it is more difficult than ever. The slogan "no one left alone in the hands of the state" is becoming more crucial and tangible these days than ever. We urge you to defend it once again in practice. Factual solidarity will again be our weapon."
https://www.firefund.net/imprisonedsoli
The Solidarity Fund for imprisoned and persecuted militants was established in 2010 in a circumstance where, on the one hand, a hard capitalist restructuring was carried out under the guise of the "economic crisis" and, on the other hand, the radical movement, having very recent memories from the experience of the social revolt of December '08, was in full bloom. Under those circumstances, repression became even more intense, resulting in an ever-increasing number of political prisoners. It is precisely in this context that the Solidarity Fund was formed, initially setting out to provide regular and consistent support to those persecuted or imprisoned for their subversive action or for their participation in social struggles. The basic aim of the structure is to ensure decent living conditions for the imprisoned comrades through a process that would take place within the political movement; thereby taking the material dimension of solidarity a step beyond close family, friendly and comrade relationships, as well as to help with the immediate coverage of emergencies (such as court expenses and bails for the persecuted). Yet, the actions of practical solidarity and the building and development of communication bridges and united struggles between those inside prisons and those outside of it, remain as priorities of the people who form and sustain the structure. (more…)
Tags: Athens, Greece, International Solidarity, Repression
Posted in Prison Struggle
Saturday, May 9th, 2020
May 2020
Whenever the oppressed masses attempted the inversion of an injustice social, economical, political system, the resource to the arms and revolutionary violence has been the cornerstone of each revolutionary undertaking. It is a fact that no revolutionary process can't reject violence as a form of struggling against the oppressors. Anarchists throughout the ages never divided the forms of struggling. For that reason Anarchism as a revolutionary movement has an unbroken and fundamental relationship with armed struggle because armed struggle springs from the roots of the lower social status and proletariat, acts for its interests, emerges as a pattern of construction with a revolutionary prospect. A revolutionary movement which respects itself, cannot exist without having a parallel path and an organic connection with the armed struggle. So we stand in solidarity with the comrades, men and women, who choose to fight also with armed struggle as urban guerillas having the analysis and strategy with main aim the creation of a society of economical equality and political freedom. We respect and support their choice especially when our comrades are still fighting for the cause of Social Revolution even in the most difficult circumstances.Two of those comrades are Pola Roupa and Nikos Maziotis , members of the Revolutionary Organization "Revolutionary Struggle".
The comrades are imprisoned with life sentence and 27 years for Pola and 83 years (after breaking the life sentence in the 4th trial against "Revolutionary Struggle") but they unremorsefully continue their fight in the court rooms and prisons of the Greek regime. The Revolutionary Organization "Revolutionary Struggle" was constituted in 2003 when the social and political environment in Greece was characterized by the absence of social and class resistances toward the neoliberal reforms. With the diffuse consent of the biggest part of the society, the system seemed steadfast. At this first period of action (2003 – 2007), "Revolutionary Struggle" had two main peaks of action against the imported neoliberal reforms on the political and social sphere and the "War on Terror" that had been declared by the USA and the rest of the political and economical elite of the West. Through the analyses, the strategy and the symbolically definitive high-impact blows, "Revolutionary Struggle" was directed to reveal the double nature of globalisation – political and martial- and disputed the state's omnipotence. (more…)
Tags: Athens, Greece, International Solidarity, Lambros Foundas, Nikos Maziotis, Pola Roupa, Revolutionary Struggle
Posted in Prison Struggle
Tuesday, May 5th, 2020
Calling for anarchists global solidarity action
"STOP THE ISOLATION OF OUR COMRADES IN TANGERANG, RELEASED OUR COMRADES IN MALANG, FREE ALL THE ANARCHISTS!"
Introduction
While we know that the state will act in a totalitarian manner in this times and as being an anarchists we don't value their values, but in our constant struggle against the prevailing capitalist ideology that continues to colonialised our daily lives, the purpose of ABC are to help them in legal matters in which they get the "rights" for them and to communicate with them, to make them not isolated and feeling lonely.
Every decision are theirs we value that, but when the state are trying to orchestrate a bullshit narratives into scapegoating the anarchists or the anarchist movement in general in Indonesia in order to veil their own incompetency in dealing with the crisis and pandemic, we asked you, not for money or anything involving that, but to show your solidarity in whatever means. It can be graffiti, banner dropping, or most importantly to acknowledge every Indonesian consulate about the isolation and the arbitrary action that the police are doing to them. Please read the following articles (two of the were written by the Individualist Sect) and some of them are from mainstream media.
Mainstream media:
(On these reports or in any other reports Indonesian police only knew one tendency, that is anarcho syndicalism, which are false and poor research because the anarchist movement in Indonesia are very diverse and there's only one small group inactive anarcho-syndicalist and not a union)
https://www.thejakartapost.com/news/2020/04/14/books-seized-five-arrestedas-police-claimanarcho-syndicalists-plan-mass-looting-in-java.html
https://www.straitstimes.com/asia/se-asia/coronavirus-police-arrest-five-indonesians-attempting-to-instigate-looting
(These are the earliest reports from the Individualist Sect concerning the arrests and media sensationalisation)
https://anarchistsworldwide.noblogs.org/post/2020/04/12/about-the-indonesian-anarchist-witch-hunt-and-the-normal-activist-mentality/
https://anarchistsworldwide.noblogs.org/post/2020/04/23/indonesia-the-continual-anarchist-witch-hunt-the-scenario-of-state-incompetence/

Chronology of Tangerang Anarchists Isolation
On April 9, 2020, R, Af, and Ri were arrested in a tavern in Tangerang on vandalism charges. Apart from the minor crimes they committed, the police showed an arrest warrant that did not have their names listed. The family was also notified of this arrest on April 11, 2020, 2 days after the arrest. In fact, Af is a minor. The legal process is not in accordance with procedures and until now all three are still blocked by the police to get legal assistance. •
The right to receive legal representation is stipulated in articles 69, 70, 72, Law no. 8 of 1981 concerning Criminal Procedure Law. • "The tendency to obstruct access to legal representation is a violation of the right to a fair trial as contained in Article 14 of the International Covenant on Civil and Political Rights (Ratified in Law No. 12 of 2005)" •
Immediately Fulfill Their Rights To Get A Legal Assistant!
Black Cross – WA – www.palanghitamanarkis.noblogs.org
Ps: Three more arrested and are still behind bars in East Java, Malang. They are prosecuted with the same charges "public provocation" under 160 Law such those comrades in Tangerang.
Ps: There's already small gestures of solidarity from Netherlands and Australia. Links below:
https://palanghitamanarkis.noblogs.org/post/2020/05/04/solidaritas-internasional-untuk-tahanan-anarkis-tangerang-malang-dan-tahanan-politik-papua-barat/
https://palanghitamanarkis.noblogs.org/post/2020/05/05/solidaritas-anarkis-utrecht-untuk-tahanan-anarkis-indonesia/
Tags: East Java, Indonesia, International Solidarity, Isolation, Malang, Repression, Tangerang
Posted in Prison Struggle