Posts Tagged 'International Solidarity'
Friday, August 17th, 2018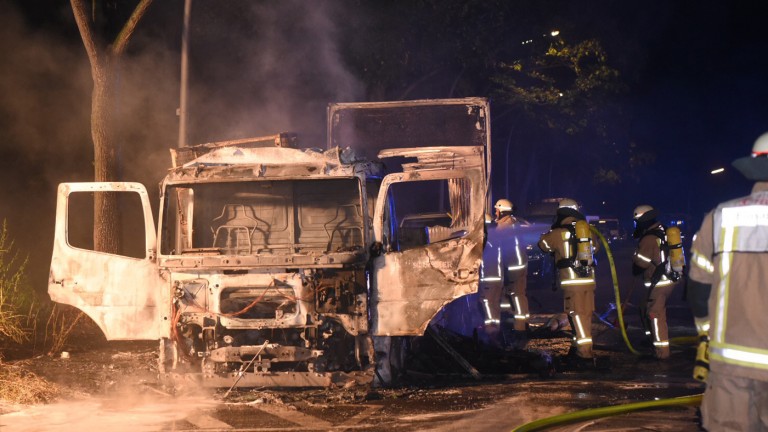 Berlin – Enemy supply lines attacked
We burned a truck of DB Schenker in the night to August 8th in Berlin-Wedding. When Erdogan arrives in Berlin on September 28. / 29., he will find our hostility here. Who rolls out the red carpet for the fascist Erdogan – X Day – is supposed to feel the ashes of the burning city in the nose.
Already since the year 2000, the ESG Elektronicsystem- and Logistics company runs together with its partner Schenker Germany AG (DB Schenker) the headquarters of logistics – called ZEBEL – of the German Armed Forces (Bundeswehr) in Kassel. From this hub with 17.000 square metres occurs the supply of civil partner companies and military repair workshops, which maintain Bundeswehr systems and vehicles. The transport of war material has most priority for DB Schenker. With it, the subsidiary company of Deutsche Bahn is responsible for the logistics and supply with NATO equipment to the Turkish Army in their war against the Kurdish areas. (more…)
Tags: Arson, Deutsche Bahn, G20, International Solidarity, Kurdish Struggle, Sabotage
Posted in Direct Action
Wednesday, August 15th, 2018
In front of the expansion of the Middle-East War and the new Iran-Iraq revolutionary waves: Towards an International Meeting in Kurdistan
Comrades,
In the last decades, the capitalist society as a whole is splitting up more and more into two great hostile armies directly facing each other: Bourgeoisie and Proletariat. Our epoch, the epoch of the deepening of the global industrial and commercial crisis and thereby increasing class struggle around the world has already passed various stages of development, through which the proletariat has exceeded its first stage of the isolated and sporadic phenomena. The growth of the class war will more and more take on an increasingly international form. And despite of the capitalist war in the Middle East, and new attempts by global capitalism to widen the circle of the war under the pretext of striking Iran's nuclear weapons, proletariat in Iran has joined-up the current international wave of class struggle. The strikes and demonstrations in Iran have spread to over 249 cities in all of Iran's 31 provinces. These revolutionary waves did not set an end in Iran, before the proletariat in Iraq entered this historical wrestling ring.
​In July 2018, a new wave of the class struggle in Iraq, with 30 victims killed and 700 injured during the past 10 days, more than 50 police and security men were wounded – proletariat in Iraq too started moving towards the universal scene of the class struggle. During the same week, demonstrations erupted in all towns and cities in central and south Iraq, where dozens of demonstrators were wounded, and hundreds arrested. (more…)
Tags: Baghdad, Insurrection, International Solidarity, Iraq, Kurdistan
Posted in Autonomy
Monday, August 13th, 2018
Una noche de julio: los automovilistas de la autopista Acceso Sur vieron inflamarse dos bolas de fuego que se expandieron ante sus ojos. Nuestros artefactos incendiarios funcionaron como estaba previsto, cortando el tránsito unos instantes en la principal vía de comunicación construída por el proyecto IIRSA-COSIPLAN en la zona centro de Chile, destinada al tránsito de mercancias hacia/desde el sur del país.
Madrugada del 01 de agosto: una lluvia de fuego se deja caer sobre una automotora ubicada a un costado de la autopista Vespucio Sur Express. Las bombas incendiarias que arrojamos cayeron como material piroclástico sobre los automóviles en venta.
Porque incendiando las calles saboteamos los canales nerviosos del flujo mercantil.
Porque atacando automotoras dañamos las máquinas que circulan por el cemento destruyendo el planeta como una plaga asesina. Así llevamos el incendio hasta las propias vitrinas donde se pone en venta la mercancía automotriz junto al sueño ciudadano del progreso sobre cuatro ruedas. (more…)
Tags: Arson, Chile, Grupo de conductas anti-sociales "Claudia López", IIRSA (Initiative for the Integration of the Regional Infrastructure of South America), International Solidarity, Sabotage, Santiago
Posted in Direct Action
Sunday, August 12th, 2018
From Cruz Negra Anarquista do Rio de Janeiro:
"August 14th, international day of support for the 23 activists sentenced in Rio de Janeiro, in defense of the right to protest, for all who fight"
We call on all social movements, popular and revolutionary organizations, trade unions, student movements, human rights groups, progressive intellectuals and other sectors of civil society to organize simultaneous actions in this great day of solidarity and struggle against the criminalization of social movements and in defense of the right to protest. (more…)
Tags: ABC Rio de Janeiro, Brazil, International Solidarity, Rio de Janeiro
Posted in Prison Struggle
Friday, August 10th, 2018
Tags: Flyposter, Indonesia, International Solidarity
Posted in Prison Struggle
Wednesday, August 8th, 2018
Tags: Flyposter, International Solidarity, International Week for Anarchist Prisoners
Posted in Prison Struggle
Sunday, July 22nd, 2018
Soli-Plakat für die bevorstehende Woche der Solidarität für unsere GefährtInnen, die eingesperrt oder auf der Flucht sind.
Überall auf der Welt werden unsere inhaftierten GefährtInnen als Geiseln gehalten für deren Akte des Krieges gegen diese dekadente und verrottete Zivilisation, die alles zerstört und verkünstlicht. Sie haben für ihr Handeln jene Mittel benutzt, die zur Verfügung standen: Sprengkörper, Feuer, Waffen, Entschlossenheit, Mut und den Traum der Freiheit. Lasst sie niemals alleine, sondern lasst die Nächte und Tage mit unserem brennenden Zorn aufleuchten…
Alle unsere Plakate – außer ihr habt Zugang zu einem Pro Printer – werden am besten in hoher Auflösung über einen normalen Drucker in schwarz-weiss ausgedruckt und dann auf A3 vergrößert kopiert und mit Tapetenkleister auf der Straße plakatiert. Der Toner des Kopierers verschmiert nicht so schlimm wie Druckerfarbe, wenn darauf gekleistert wird. Auf die Straße…
Tags: Flyposter, International Solidarity, International Week for Anarchist Prisoners
Posted in Prison Struggle
Sunday, July 15th, 2018
Surviving cancer & a car accident
We're here to raise money for Eric's partner, and their two children who are currently experiencing financial hardship. Life is already tough as a mother of two with her partner in prison, but she was also recently in a car accident, which thankfully left her in okay shape, but has left her care in unsafe conditions for long distance or highway driving. Even more recently she was diagnosed with thyroid cancer, the severity and treatment of which is still being determined. Treatment for the pain alone will financially destabilize the family, on top of future specialists visit, car repairs, and potential unemployment (due to the chronic pain experienced).
Eric's partner tirelessly supports him, facilitates excellent communication between Eric and the outside world, consistently advocates for his rights inside the prison, emotionally supports him through the political battles on the inside, and drives hours to visit him every week, on top on tending to the needs of their children and working.
The recent developments in her life could have devastating impacts for her and her family. Donations are needed asap as the financial toll of these recent development have already taken effect. All of the funds donated will be used by her to support herself and her children in this difficult time in her life.
We will accept any amount from either debit or credit.
If you have any questions please do not hesitate to contact us at: erickingsupportcrew (at) riseup.net
https://www.gofundme.com/surviving-cancer-and-a-car-accident
https://supportericking.org/
Tags: Eric G. King, International Solidarity, USA
Posted in Prison Struggle
Wednesday, July 11th, 2018
When you set out at night with the intention of burning or putting something out of action, interrupting the paralysis inherent in everyday life, you never know exactly what you will find once you are on the street. Which is how it was one night in mid-June when we came across a Diplomatic Corp car and one belonging to ENJOY* parked side by side next to the footpath. If until then, they had been united together in the same shitty existence in service of devastation, power and domination, we could not help but see their willingness to share the same demise together. And so, just like it was with some excavators in France not long ago, we took note of their will by enjoying the sight of the flames that enveloped them.
We hope that despite the high temperatures of recent days that the heat of this fire may bring a smile to all the comrades locked up in prisons, subjected to judicial controls or under surveillance…

To the Argentine comrade Diego Parodi… Strength, hold on!
To those facing investigation for the G20 in Hamburg.
For the prisoners and the accused of Operation Scripta Manent.
For Giova, Ghespe and Paska.

For Anarchy!
*Translation note: ENJOY is a 'sustainable' vehicle sharing company run by energy company ENI and public transport operator Trenitalia

Source
Tags: Arson, ENI, G20, International Solidarity, Italy, Rome, Sabotage, Trenitalia
Posted in Direct Action
Sunday, July 8th, 2018
We are coming back with global week of solidarity with anarchist prisoners. Since last year, a lot has changed in our countries, but the general tendency is going in the worse direction with more repressions applied against anarchists not only in Europe but worldwide. With this in mind, we are calling for sixth annual week of solidarity!
Last year lots of people sent us their reports from different parts of the world and we hope that this year the tradition will grow even bigger. We need to support our comrades! Use this week to spread the information about anarchists behind bars. Don't have prisoners in your country? No worry, support prisoners from other countries in your region or use those days to raise awareness of repression mechanisms and how anarchist communities can fight against them!
Build up security culture, support your local anarchist prisoners and fight back.
Do not hesitate to continue sending your reports to tillallarefree@riseup.net!
Nobody is free till all are free!
Tags: International Solidarity, International Week for Anarchist Prisoners
Posted in Prison Struggle
Sunday, July 8th, 2018
The Anarchist Black Cross is an international network of anarchist groups and individuals engaged in practical solidarity with prisoners and broader anti-repression struggles that started over 100 years ago.
This zine is a resource for anyone wanting to start an Anarchist Black Cross group. It was a collective effort of people from various ABC groups across Europe. We hope you find it inspiring and useful.
Inside you can find articles and resources on:
What is the Anarchist Black Cross and why does it exist?
How do ABC groups organise
What do ABC groups do
An overview of international days of solidarity
Top tips for fundraising
How to keep an ABC group going
Taking care of each other while doing ABC work
Resources
Download a copy for reading (8mb): ABC Zine Small for Download
Download a high resolution version for printing (30mb): ABC Zine Pages – High Res
This zine is dedicated to Anna Campbell. Anna was killed by Turkish forces while fighting alongside Women's Protection Units (YPJ) in the defence of Afrin in March 2018. Anna was a dedicated member of Bristol Anarchist Black Cross and took her commitment to solidarity and mutual aid to her grave.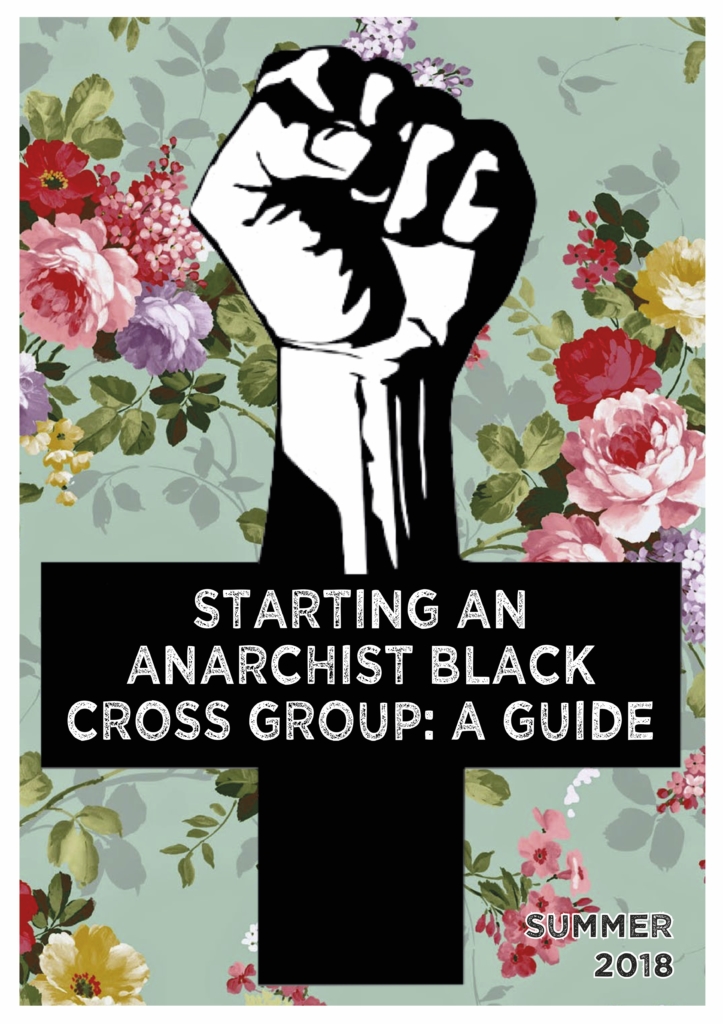 Tags: International Solidarity, PDF, Zine
Posted in Prison Struggle
Friday, July 6th, 2018
Tags: Black International of Anarchists of Praxis, Brian Valentino (Ucil), Flyposter, Indonesia, International Solidarity, Repression, Yogyakarta
Posted in Prison Struggle
Sunday, November 26th, 2017
6 December 2008, 15 years old Alexis Grigoropoulos is shot point blank by cops in the neighborhood of Exarchia in Athens. Alexis falls from the bullet of state murderers and a hurricane of rage rises. This was no accident; it was a targeted murder in the heart of a neighborhood that is, as much historically as in the present, a hub for the oppressed to organize themselves into the resistance movement. The message was clear, to terrorise the resistance, to assert state totalitarian control, to stifle the brewing insurrection against a decrepit system of exploitation and oppression. The story of Alexis is the story of thousands of fighters shot, tortured and disappeared by the armed guards of the state around the world.
In the hours, days and weeks that followed the murder of Alexis myriads of people, who saw in the killing of Alexis their own sufferings in this system, took to the streets around the world. The wave of solidarity broke the isolation and alienation of the oppressed and awakened once again the global vision for a world without exploitation from authority. This history, our history is not a collection of dead symbols. It is our storming ground for the ongoing struggle against the slavery of humanity by capitalist exploiters, their state aparatus and their armies. (more…)
Tags: Alexis Grigoropoulos, Athens, Fuck the Police, Greece, International Solidarity, Police Bastards, Police Brutality
Posted in Autonomy
Wednesday, November 22nd, 2017
International Solidarity with the Greek Prison Resisters Now!
There have been rolling strikes and protests throughout Greek prisons in reaction to the SYRIZA Party led coalition government's plans to bring into force increased repressive legal measures into the prison law codes.
In May, prisoners from A, B and C wings of Korydallos Prison, Greece's main prison located in Piraeus, announced the formation of the Coordinating Struggle Committee to express the opinions of prisoners from Korydallos and other prisons who have decided to join the protests, to issue regular updates regarding prisoner protests and to communicate with people outside the prisons who stand in solidarity with the ongoing struggle of the prisoners. This statement was translated into English and can be read on the Enough Is Enough blog here. (more…)
Tags: Bulgaria, Bulgarian Prisoners' Rehabilitation Association, Greece, International Solidarity, Jock Palfreeman, Korydallos Prison, Type C prisons
Posted in Prison Struggle
Sunday, November 19th, 2017
We see that the repressive campaign on the anarchist movement does not cease. Examples are enough: The operation Fénix case in the Czech Republic, the case of the Warsaw Three, charges of bank robbery in Aachen, courts with rebels against the G20 summit in Hamburg and other cases.
Cops, judges, prosecutors, mass-media. They are haunted, imprisoned, robbed, manipulated. This is a challenge to all Revolutionary cells and other groups and individuals. Do sabotages the activities of those bastards. Turn them into terrain, technology and structures. Organize resistance. Support the fugitive and their loved ones.
What destroys us will stop by fighting.
The goal is clear = Freedom, justice, anarcho-communism.

Network of Revolutionary Cells (SRB)
–
https://revolutionarycells.noblogs.org/
Tags: Czech Republic, G20, International Solidarity, Network Revolutionary Cells, Sabotage
Posted in Autonomy