Posts Tagged 'International Solidarity'
Saturday, January 18th, 2020
Episode number 30 (01/2020) of "B(A)D NEWS – Angry voices from around the world", a monthly news program from the international network of anarchist and antiauthoritarian radios, consisting of short news segments from different parts of the world, is now online.
Length: 1:10 h
You'll find the audio here:
https://www.a-radio-network.org/bad-news-angry-voices-from-around-the-world/episode-30-01-2020
In this episode you will hear contributions from:
1) A-Radio Berlin: Meuterei goes in the air – a steampunk report
2) Frequenz A: A summary and a short interview about the case against the Park Bench 3 in Hamburg
3) 1431AM (Thessaloniki): Struggles in Petrou Ralli Immigrantion Office and Detention Center / 23day-strike in OTE (Organisaton of Telecommunications in Greece)
4) R.O.S.E. (Athens): Eviction of the Utopia squat / Process around the murder of P. Fyssas
5) Radio Fragmata: Updates on political prisoners and persecuted antifascists in Greece
6) Dissident Island (London): News of an oil rig occupation in Scotland, industrial action by precarious workers in London and reports from various hunt saboteur outings around the country
7) The Final Straw: conversation with a translator for the Anarchist Union of Afghanistan and Iran
8) The Final Straw: conversation with an anarchafeminist about the new, rightwing neoliberal regime of Nayib Bukele and the GANA party in El Salvador
9) A-Radio Berlin: Call for an International Week of Solidarity with the Political Prisoners of the revolt in Chile (13.-19.1.2020)
Other audios from A-Radio Berlin in English (or Spanish) here:
http://aradio.blogsport.de/englishcastellano.
Or visit the anarchist 24/7 online stream from the Channel Zero Network:
http://channelzeronetwork.com
Enjoy!
A-Radio Berlin
Tags: Afghanistan, Anarchist Radio, Anarchistisches Radio Berlin, Berlin, Chile, El Salvador, Germany, Greece, International Solidarity, Iran, Migrant Struggle, Park Bench 3, Radio Fragmata, UK
Posted in Autonomy
Thursday, January 16th, 2020
13.01.2020: The Şehit Sorxwin Roboskî and the Şehit Soro Amed Revenge Units carried out actions against factories in Başakşehir, Istanbul that supply clothing and equipment to the Turkish military. The Revenge Units issued a written statement explaining their actions that took place on January 11th, 2020:
"On January 11th, our members organized an action against a factory that makes military clothing for the occupying Turkish army. The factory is located in the PİK Dökümcüler Industrial Estate in the Başakşehir district of Istanbul. 8 minibuses owned by the factory were destroyed as a result of this action. At the same time as this action was carried out, members of our unit also sabotaged a factory on another block located in the same industrial estate. This factory manufactures equipment for military vehicles belonging to the occupying Turkish army. (more…)
Tags: Anti-Militarism, Arson, International Solidarity, Istanbul, Kurdish Struggle, Kurdistan, Revenge Units, Rojava, Sabotage, Turkey
Posted in Direct Action
Thursday, January 16th, 2020
Tags: Anti-Prison, Chile, International Solidarity, Juan Aliste Vega, Marcelo Villarroel Sepúlveda, Santiago, Solidarity Event
Posted in Prison Struggle
Sunday, January 12th, 2020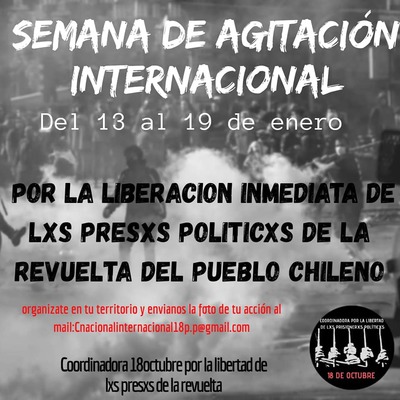 WEEK OF INTERNATIONAL AGITATION IN SUPPORT OF THE PRISONERS OF THE REVOLT IN CHILE. FROM JANUARY 13-19.
"THOSE WHO FORGET THE POLITICAL PRISONERS FORGET THE STRUGGLE"
More than 80 days after the social outbreak in Chile, the struggle and social organization persists in the unwavering conviction of confronting and breaking with the model of power and economy that has perpetuated inequalities, injustices and abuses for decades.
Undoubtedly the revolt that still breathes in Chile means this is a turning point with no return, it is within a long journey of struggle that has also brought with it a hard cost: hundreds and hundreds of prisoners of the revolt that are today in the different prisons in this territory. Each week this number increases and in an obvious phenomenon of mass incarceration the State seeks to intimidate and criminalize social protest. We speak of political prisoners of the revolt because of the fact of the mass imprisonment of social fighters after the outbreak of the 18th [October], responding to a political decision of the State and not to technical/legal criteria, understanding the complicity between the different powers of the State in order to perpetuate the existing model of control. That is why we make this call for international solidarity with the prisoners of the revolt in order to reveal the political condition of their imprisonment and demand their immediate freedom. We extend this call appealing to the multiple initiatives and solidarity actions that arise in each territory.
THOSE WHO FORGET THE POLITICAL PRISONERS FORGET THE STRUGGLE!
IMMEDIATE FREEDOM TO THE PRISONERS OF THE REVOLT!
CO-ORDINATION FOR THE FREEDOM OF THE OCTOBER 18th POLITICAL PRISONERS
— (more…)
Tags: Chile, International Solidarity, Riots, Santiago, Social Insurrection
Posted in Prison Struggle
Friday, January 10th, 2020
Note: Paska, as Giovanni and Ghespe, are actually at house arrest (since June 2019). Paska, Giovanni and Ghespe were arrested at August 3, 2017, in the context of a repressive operation against anarchists in Florence. In the sentence of July 22, 2019, in the trial for the "Panico" operation, Paska, Giovanni and Ghespe were convicted to 9 years and 10 months, 9 years, 10 months and 15 days, and 9 years respectively. "Panico" trial is the result of the union of several proceedings, including the one linked to the "Panico" repressive operation of January 31, 2017 (which involved three house arrest, some restrictions and searches with the main accusation of "criminal association") and the repressive operation of August 3, 2017, which involved eight arrests, searches and the eviction of La Riottosa occupation, in Florence, with accusations (for the eight anarchists arrested) of having carried out an explosive attack against "Il Bargello" bookstore (Florence, January 1, 2017) – a space linked to fascists and the fascist party "Casapound" -, an action during which a policeman was seriously injured and lost part of a hand and an eye, and an arson attack on a carabinieri station in the neighborhood of Rovezzano (Florence, April 21, 2016). Paska, Giovanni and Ghespe were sentenced mainly for accusations related to the attack against the fascist library. Nine anarchists were sentenced for "criminal association" and generally about twenty anarchists were condemned.
Not rotten apples
September 17, 2019, saw the start of the trial against our comrade Paska, accused of resistance and grievous bodily harm towards some of his jailers during a transfer.
A couple of pushes against a few of the escort screws was the least he could do after the treatment they had reserved for him on various occasions: the latest being the rally driving of the paddy wagon that caused him a strong blow to his head and ribs during the transfer of October 18, 2018.
On the other hand, since his arrival at La Spezia the prison management had decided to arbitrarily reserve even more restrictive measures for him such as delaying mail, bans on meeting others, isolation up to the 14bis isolation regime level as well as being forbidden to go to the yard with the other prisoners.
That doesn't surprise us. In the year 2018 – 2019 alone La Spezia prison boasts no less than 5 deaths out of about 230 prisoners, added to the acts of self-harm and beatings as a daily occurrence: the normality of a prison considered to be among the most progressive in Italy.
It is, therefore, within the normal execution of their functions that escort guards Luigi Viziello and Stefano Cenderelli covered our comrade in insults, kicks and punches. (more…)
Tags: Flyposter, International Solidarity, Italy, Operation Panic, Paska, Repression
Posted in Prison Struggle
Sunday, January 5th, 2020
USA
More Than 25 Cities Light Up the Night Against Prisons & Migrant Detention Camps
Sacramento, CA: NYE Noise Demo Report Back
Omaha, NE: Report Back from NYE Noise Demo
Fort Lauderdale, FL: Report Back from NYE Noise Demo
Baldwin, MI: Noise Demo Rallies Against Geo Group's Notorious Detention Camp
Elsewhere
New Year's Light Show for the Prisoners of the Quebec City Detention Center (Canada)
Update from the gathering outside the hellhole of P. Ralli on New Year's Eve (Athens, Greece)
via It's Going Down, PHL AntiCap, Athens IMC and MTL Counter-info.
Tags: Anti-Prison, Canada, Demo, International Solidarity, New Year, USA
Posted in Direct Action
Saturday, January 4th, 2020
From Eric's soli-crew
We have been unable to share a lot lately because of ongoing issues with the prison. We hope to be able to share lot more within the week but have a brief update Eric would like to send out.
Eric is being held since arriving at FCI Englewood indefinitely in segregation since arriving in August. The prison has yet to provide a reason for this detention. There is no disciplinary sanctions being served nor reason to continue to hold him in segregation.
He can not receive books. Letters need to be on white or lined paper. He can now receive newspapers and magazines. There has been a ton of mail held back and lost. He doesn't have a lot of addresses anymore. If you haven't heard from him, please write again. He really could use word from folks right now. Articles are amazing. So are PDFs of books, poetry, zines, ect.
Please be mindful that there is a security officer assigned to Eric reading everything that you send in. Englewood has already used alleged (as in doesn't exist) mail to withhold visits. Please do not ask Eric about his case he cannot talk about it. Also know that he is being held in the same prison that an officer 2 years ago threatened his family (still employs). Tensions are high at the prison. Also anything sent also has the potential of ending up in his discovery as well, so please kept that in mind.
Eric King 27090045
FCI Englewood
9595 W Quincy Ave
Littleton, CO 80123
Tags: Eric G. King, International Solidarity, Prison Transfer, USA
Posted in Prison Struggle
Monday, December 30th, 2019
The genocide in Syrian territory since the invasion of the fascist Turkish state, with the agreement and complicity of the international community, continues. Day by day hundreds of civilians find themselves on the agonizing receiving end of the bombings and attacks carried out Erdogan's fascist army and ISIS's reemerging Islamist terrorism. For 2.5 months the revolutionary forces of rebel militias intensify defensive confrontation with every means against the imperialist international monopolies, which attempt to occupy the Syrian territories, displacing thousands of civilians with their military operations.
The NATO summit in London at the beginning of December ended with a pervasive sense of unity and an exchange of guarantees between the member states, despite superficial disagreements over the fascist Turkish state's invasion of Syria. The constant arrests and interrogations of militants in various states on suspicion of supporting the Kurdish rebels are proof of this. The latest anti-terrorist operation in the UK against the family environment of a YPG volunteer has led to his father being arrested on charges of supporting a terrorist organization.
The fascist Turkish state builds rivalry in the areas of security and energy in the eastern Mediterranean as it chooses to seal the alliance with Libya on the same day as the slaughterer of the Palestinians, Netanyahu is in Athens for the trilateral agreement between Greece, Cyprus and Israel for the EastMed pipeline. They also called for NATO's support, demanding that alliance members officially declare the YPG and the YPJ as terrorist organizations. A prime example is Erdogan's message to the Greek government amid transnational shocks and destabilization in relations between the two states on the basis of the disputed agreement with Libya: power relations and instability can change for the benefit of the Greek state with the precondition that the YPG/YPJ and DHKP-C Kurdish and Turkish fighters are extradited as terrorists. (more…)
Tags: Arson, Car Burning, Greece, International Solidarity, Islamic State in Iraq and Syria (ISIS), NATO, People's Defence Units (Y.P.G.), Revolutionary Solidarity Commando Haukur Hilmarsson, Rojava, Sabotage, Syria, Thessaloniki, Turkey, War, YPJ (Women's Protection Unit)
Posted in Direct Action
Sunday, December 29th, 2019
OVD Info
December 26, 2019
The state prosecutor has asked the Volga District Military Court to sentence the five defendants in the Penza portion of the Network Case to between six and eighteen years in prison, according to a member of the campaign to support the defendants who was present in the courtroom.
The prosecution asked the court to hand down the longest sentence to Dmitry Pchelintsev: 18 years in a maximum-security penal colony. It asked the court to sentence Ilya Shakursky to 16 years, Andrei Chernov to 14 years, Maxim Ivankin to 13 years, Mikhail Kulkov to 10, Vasily Kuksov to 9 years, and Arman Sagynbayev to 6 years. It asked that all the defendants except Kuksok and Sagynbayev be sent to maximum-security penal colonies.
The prosecutor told the court that the defendants' accounts that they were tortured into testifying had not been corroborated.
All the defendants are accused of involvement in a "terrorist community," punishable under Article 205.4.4 of the Russian Criminal Code. Pchelinsky and Shakursky are accused of organizing a "terrorist community," punishable under Article 205.4. In addition, some of the defendants are accused of illegal possession of firearms (Article 222.1), illegal possession of explosives (Article 222.1.1), attempted arson or bombing with mischievous intent (Article 167.2 in combination with Article 30.3), and large-scale attempted drug trafficking (Article 228.1.4.g in combination with Article 30.3).
The criminal case against the Network "terrorist community" was launched in October 2017. According to the FSB, eleven young men in Penza and Petersburg organized the Network and were planning to overthrow the government. The defendants in the case claimed the FSB subjected them to psychological pressure, tortured them with electric shocks, beat them, and planted weapons on them. Some of the defendants recanted the confessions they made in the days following their arrests. OVD Info has reported on each of the defendants in the case in detail.
via The Russian Reader.
Tags: "Network Case", Frame-up, International Solidarity, Repression, Russia, Torture, Trial
Posted in Social Control
Sunday, December 29th, 2019
From A2day:
Anarchist sites report that in recent months in Donetsk and Kiev region base stations (aka towers) of mobile operators were attacked 4 times. Behind the attacks are mostly anarchists.
The first attack was to blow up the base station of the Phoenix operator. Then it was reported that two Lifecell towers were set on fire. December 10, 2019 it was reported about the arson of the mobile base station "Vodafone Ukraine".
For example, when attacking the Lifecell communication towers, anarchists claimed that the main reason for the attack was solidarity with the Democratic Federation of North and East Syria (Rojava), the struggle of the Kurdish people for liberation from the Turkish occupation.
Wishing to give intensity to these attacks, we, a cell of the Informal Anarchist Federation, set fire to another cell communication base station in Kiev. Unlike the aforementioned attacks, our motives and view of the targets under attack are different. We suggest taking a broader look at the topic of communication towers.
Mobile operators are eager to capture as many subscribers as possible. This is a fact. There are three main operators in Ukraine: "Kyivstar", "Vodafone Ukraine", Lifecell. These companies do anything to place their mobile antennas everywhere, to get more money and control. They do not care what we think about it. But the most important thing is that the operators cooperate perfectly with the police, leaking them all the data of their subscribers. Each mobile operator receives more than 20,000 court orders annually for temporary access to things and documents.
(more…)
Tags: Anti-technology, Arson, Black December, FAI Cell "Misha Zhlobitsky", Informal Anarchist Federation (FAI), International Solidarity, Kiev, Kyivstar, Lifecell, Misha Zhlobitsky, Rojava, Sabotage, Smartphones, Surveillance, Ukraine, Vodafone
Posted in Direct Action
Thursday, December 26th, 2019
It's been six years since our anarchic comrade fell from the bullets fired by a security guard during an attempt to expropriate a Bank on December 11, 2013.
From that day we began to write the lines of memories that have allowed the life of the comrade to last in anarchic actions remembering the various methods that our comrade used as a weapon against power, from participating in musical projects, libraries, drawing to taking part in the direct actions.
Today we know that his actions and memories are claimed beyond the close circles that shared his life with him throughout the years, which is a positive sign that confronts all forgetfulness and regret.
"Pelao Angry" is a comrade that we lack. Maybe he would be with us in the midst of the current revolt, fighting the interests of power in a thousand ways. What we do know is that around the world his name resonates in barricades, books and the most varied initiatives of anarchic practice.
Six years after his death in action, our option remains to keep our memory on a war footing against all authority.
AGAINST FORGETFULNESS AND REPENTANCE
SEBASTIAN "ANGRY" OVERSLUIJ PRESENT!
Chile. December 2019
Tags: Chile, International Solidarity, Sebastián Oversluij Seguel
Posted in Autonomy
Saturday, December 21st, 2019
FR: Bristol (UK) : Sabotage chez l'entreprise d'armements Babcock
The war machine is in operation 24/7. Despite the night shift at Babcock in Long Ashton, we snuck over the fence and damaged a fuel tank that forms part of their heating system.
Babcock are the second biggest contractor to the Ministry of Defence in the UK. They have 4 premises in Bristol alone. They specialise in the navy and nuclear industries. We hope our small act will show how many different ways it is possible to resist, without voting!
This "prison island" will continue whoever is prime minister. We reject all politicians and have only contempt for those who buy their lies and cheap promises.
To those who forget the many aspects of control and repression used in the social war, and buy into Labour's hype by focusing only on the National Health Service… we laugh at you in the darkness, and angrily ask…. Do you remember Iraq?
Solidarity with those on the streets in the Green Zone in Baghdad, and belated greetings to everyone who rebelled on the International Day of Action for Rojava 14th December.
Tags: Anti-Militarism, Babcock (Arms Company), Bristol, International Solidarity, Iraq, Rojava, Sabotage, UK, Vandalism
Posted in Direct Action
Thursday, December 19th, 2019
What, When and Where?
Father Frost Against – festival (formerly Father Frost Against Putin) is a cultural and political festival designed to stimulate critical thought and reflection, and to work out new activist strategies, with a focus on developments in Russia and the post-Soviet space. The festival has been organised since 2014, and the 7th edition will take place in various locations in Helsinki, Finland, on 3 – 5 January 2020 and is organized by local activists with active support and participation from individuals and groups from Russia and the post-Soviet space.

Main Aims of the Festival
Redefine social and political fields, through information exchange with successful projects and strategic planning.
Creating a space for networking and connecting with like-minded people.
Involving new participants and guests in the festival program.
Developing a new language to indicate current and relevant issues.
Who are we?
We are Studio 4.413 /a laboratory of alternative discourse and intersectional kinship based in St. Petersburg, created to shift art and activist communities. Studio 4.413 includes artists, human rights activists and independent media representatives from Russia and the post-Soviet space.
https://www.facebook.com/studio4413/ (more…)
Tags: Dictatorship, Festival Father Frost against Putin, Finland, International Solidarity, Russia, Solidarity Event
Posted in Autonomy
Sunday, December 15th, 2019
In the morning hours of 13th of December we set fire to five company cars and one radio antenna on the Deutsche Telekom premises at Hannemannstraße in Berlin-Britz as well as to two cars in front of the Nissan car dealership at Gärtnerstraße in Berlin-Alt-Hohenschönhausen.
Our attacks are aimed at two companies that are globally involved in securing the rule of power and enriching themselves by it, including in Greece, where the current government is threatening to evict all occupied houses and social centers and where those who do not allow themselves to be pushed into the neoliberal norm are subject to massive attacks by the state:
→ Deutsche Telekom, as the biggest European company for Telecommunications, which, profiting from the crisis, bought parts of the former state company Hellenic Telecommunications Organization S.A. (Greek: OTE A.E.) and is now a 45% shareholder. With its subsidiary T-Systems, the Deutsche Telekom is worldwide leading in service for security authorities, industry and the energy sector.
→ Nissan, as a company, which supplies the Greek repression authorities. In June 2019 four Nissan Qashqai Diesel 4×4 and two Nissan Navara for the Criminal Investigation Unit (Δ.Ε.Ε. Διεύθυνση Εγκληματολογικών Ερευνών – forensic division) as well as one Nissan NV400 for the anti-riotcops (M.A.T. – Μονάδες Αποκατάστασης Τάξης – Monades Apokatastasis Taxis) were ceremonially granted to the cops in front of their academy in Amygdaleza, in the north of Athens.
We chose this moment because it was in December 2008, when the assassination of Alexis by the cop Korkoneas in Exarchia, Athens, triggered a social revolt that was accompanied by a multitude of international attacks on the symbols of state and capital and their murderous functionaries.
11 years later, living conditions have not improved either here or there. Rather, the social war is intensifying worldwide. The gap between rich and poor continues to widen. The triumphant march of neoliberalism produces a mass of excluded people who are denied the possibility of social participation. Expelled and parked on the margins of the metropolis or in slums, they are declared enemies, who should be monitored and oppressed. Walls and fences, private security services, intelligent cameras and highly equipped police units are the clearest expression of an increasingly militarized territory in which, under the disguise of security, war is being waged against the poor.
New technologies and the associated digital access to our lives enable new and more subtle techniques of governance. The thousands and thousands of data that are produced every day are intended to make any action calculable and controllable. With Predictive Policing, the foresighted cop, a tool was created that sorts people according to stereotypes and thus creates the criminals of the future. Such technologies are embedded in the restructuring of cities into Smart Cities, the implementation of which companies such as Deutsche Telekom are constantly working on with 5G infrastructure projects or smart traffic systems, lanterns, waste management and much more. However, this is by no means to enable a better life for all, but to enable the totalitarian idea of comprehensive control of the city and its population through practical solutions.
The technological attack is so successful because humans are actually collective beings. Part of the neo-liberal agenda was and is the destruction of this very collectivity in order to reassemble it in line with the market through digital domination. Driven by the fear of being excluded, even outlawed, and by the supposed joys that Virtual Reality has to offer us, we ourselves weave on the net that encloses us. The state of isolation in the cities or the disregard of rural communities leads many into the arms of the constructed national community and therefore parties like the AfD get a influx of followers. Fighting the rise of fascism by integrating ideas of solidarity and collectivity into social struggles, is therefore certainly a task for the coming time.
As it is happening in other countries at the moment, the abolished leftist government in Greece has prepared the ground for the new rise of a right-wing conservative regime. The past phase of Syriza's government should have clearly demonstrated to those in doubt that participation in power must fulfill the conditions of capitalist constraints and that no emancipatory project can stand on democratic parliamentary feet. To name these contradictions, to reject any domination by others, not to compromise and not to recognize the authority of a hostile system are part of the anarchist idea.
We feel connected with the rebels worldwide, who are currently in many different places in the world, especially where the state-social partnership is not developed to the smallest detail, those who let the sparks of resistance grow into a widespread fire of social uprising. While in Athens self-organized and revolutionary structures are being defended and state and capital being attacked, we are fighting the same struggle here, in which we aim at the profiteers of capitalist domination. We do this with the consciousness that the infrastructure and the flow of goods are elementary components of it. We send our flaming greetings especially to those who fight against the regime of Nea Demokratia in Greece as well as worldwide to all those people who revolt against authority, are in prison for it or who have to flee.
Anarchists
via Deutschland Indymedia, Anarchists Worldwide.
Tags: Alexis Grigoropoulos, Arson, Berlin, Deutsche Telekom, Exarchia, Germany, International Solidarity, Nissan, Sabotage, Smart Cities
Posted in Direct Action
Sunday, December 15th, 2019
From Anarchists Worldwide:
In the early morning hours of December 14th, 2019, the International Day of Action for Rojava, we paid a visit to the offices of local war profiteers, Trakka Corp/Trakka Systems, in Moorabin, south-east Melbourne, to let them know that their greed-driven collaboration with the fascist Turkish State's war machine has not gone unnoticed.
In August 2019, Trakka Systems were contracted by Sikorsky, a Lockheed Martin company, to supply "cutting edge, high intensity, multi-mission Trakka Beam A800 searchlights" for their Black Hawk helicopters, including the Sikorsky TAI (Turkish Aerospace Industries) variant destined for use by the fascist Turkish Armed Forces in their ongoing invasion and occupation of the Autonomous Administration of North and East Syria (Rojava).
As a small contribution to the International Day of Action for Rojava we decided to take direct action against Trakka Systems to express our solidarity with the people of Rojava and their internationalist comrades who, since October 9th, 2019, have courageously resisted the genocidal occupation plans of Erdoğan's fascist forces. We also carried out this action to highlight the shameless activities of capitalist vultures like Trakka Corp / Trakka Systems, one of many companies operating within so-called Australia who willingly collaborate with war-mongering authoritarian regimes for profit. Not only do Trakka Systems do business with the Turkish Armed Forces, they are also in bed with other international military and police forces such as those of Israel, Indonesia and the US, who they supply with the latest in 'Critical Vision Technology'.
Finally, we hope that our small action contributes in some way towards a revival of militant, targeted direct action and sabotage in so-called Australia.
Biji Rojava!
Death to Turkish State Fascism!
Death to War Profiteers!
Long Live International Solidarity!

– Anarchists
Tags: Australia, Graffiti, International Solidarity, Lockheed Martin, Melbourne, Rojava, Sabotage, Sikorsky, Trakka Corp / Trakka Systems, Vandalism
Posted in Direct Action