Posts Tagged 'International Solidarity'
Thursday, January 14th, 2021
So we can better collect and transfer financial solidarity to imprisoned comrades in various cases with a minimized interference and seizure by the banks and the state, there are several cryptocurrency wallets available that we have opened to receive money from those interested and in solidarity. We will continue to maintain these wallets for the gathering and channeling of money for imprisoned anarchists internationally. This is also an appeal for financial solidarity to our informal network and group, publications, logistics, outreach etc. Our project requires money as we help persecuted and imprisoned comrades, pay for organisational costs and propaganda. Help us survive and take 325 to the next level, please consider donating, no amount is too small. If you are not able to send financial solidarity, then contributions of translations, articles, reports, photos and thematic art/designs are always welcome.
Below is the QR code & address for our XMR Monero wallet, and you can find our Bitcoin and Litecoin wallets online.

325 Financial Solidarity
49ekLsiZ5Pz74s8Jpgk66whXbNozrjH3CPBsuUNE3PpEJy8fjGvUN59PtLh9AbM
MgkeL8urbeg3dYe88JyjBQ1W624ymFCN
Tags: Counter-info, International Solidarity
Posted in Autonomy
Thursday, December 3rd, 2020
EN | PDF: 325 #12 – 'Against the Fourth and Fifth Industrial Revolutions'
ES | PDF: 325 #12 – 'Contra la Cuarta y Quinta Revolución Industrial'
Presenting 56 pages of anti-organisational, insurrectional, anti-civilisation anarchy of the 21st Century. A collection of critical texts and letters from anarchist points of view examining the new changes in production and social control brought about by new technologies which are ushering in a totalising prison-world and the advance of smarter-than-human machines. This issue of 325 builds on the considerations and content of the last issue which took as it's focus the subject of the Technological Singularity. Six years later, the mechanisms, ideologies and impacts of this global dystopian project are nearer and clearer and the texts you will read in this new issue deal with the emerging realities of these technological revolutions.
For the first time, 325 is coming out in 3 languages: First in English, with Spanish and Italian to follow. Printed copies are available, but we also encourage people to print out their own copies and distribute them in their area.
CONTENTS : 325#12
3. Editorial
4. Automation, Robotics & Labour in the 4th & 5th Industrial Revolutions
8. From Riot to Insurrection – Excerpt
9. A Small Criticism of Science and its World
10. Covid-19 World: Epidemics in the era of Capitalism
12. The Fractures of Dominion
13. Coordinated Incendiary Attacks Against Relay Antennas in Grenoble, France
14. The 4th and 5th Industrial Revolutions
17. The Artificial Reproduction of the Human: The Road of Transhumanism
23. Machine Psychology: A Disappearing Act
25. Oblique Look
28. Smartphones, Ringtones, Capital
29. Cashless Societies and Crypto-Currencies: End of the Traditional Era of Banking and Finance
32. Contribution to the 1st International Meeting Against Techno-Sciences by imprisoned anarchist Dino Giagtzoglou
38. Cybernetic Society and its World
48. Against Starlink
50. Space : Part 1
51. To Be Released
53. Direct Action Chronology
ANTI-COPYRIGHT NETWORK 2020
Tags: 325 Magazine, Analysis, Anti-Prison, Anti-technology, Artificial Intelligence (AI), Artificial Reproduction, Biotechnology, Coronavirus, Crypto-Currencies, Cybernetics, Fifth Industrial Revolution, Fourth Industrial Revolution, Insurrection, International Solidarity, Konstantinos Yagtzoglou, Nanotechnology, PDF, Prison Society, Robotics, Sabotage, Starlink, Technological Singularity, Transhumanism, Zine
Posted in Library
Wednesday, November 11th, 2020
On the 12th of November anarchist revolutionary from Gomel, Dzmitry Rezanovich will become 31. And he is meeting his birthday in prison.
Dima is an active participant of the anarchist movement in Belarus. In 2014 he joined the revolution on barricades of Maidan in Ukraine. Soon after this he crossed the Ukrainian-Russian border by train using his brothers passport, so he was detained on the railway station in Kursk (Russian Federation) and was passed into the hands of FSB. In Russia Dima spent 4 months in the deportation center in Kursk. There he participated in the 4-days long hunger strike against conditions of imprisonment. The struggle end up successfully so locked up people got the right to take shower every day and have home food from their friends and families. Dima refused to serve in the military of Belarus: "It is not interesting for me to serve in the military of Belarus. This army can be forced to serve against people, as I have noticed a lot of times. It's better to accept prison for 2 years than go to army". At the moment Dima is a hostage of the KGB together with 3 other anarchists. They were detained near the Belarus-Ukrainian border on the night of October 29. They were charged under part 3 of article 289 of the Criminal Code of Belarus (act of terrorism committed by an organized group) and article 295 of the Criminal Code of Belarus (illegal arms trafficing). Dima is refusing to testify.
We are calling for solidarity actions with rebel Dima Rezanovich! Let's make actions during all this week.
You can send your communiqué, photos and videos on our email: munroeeffect@riseup.net, or in our Telegram-bot: @munroe_effect_bot
Tags: Belarus, Dzmitry Rezanovich, Gomel, International Solidarity
Posted in Prison Struggle
Wednesday, November 11th, 2020
PDF: Poster A3
EINE EINZIGE GEWISSENHEIT
Zwei Wochen Mobilität zur Unterstützung von angeklagten Anarchisten und Anarchistinnen
Heute erleben wir eine Verschärfung der Repression, die durch den Gesundheitsnotstand COVID-19 erleichtert wurde, und folglich eines Angriffs gegen alle Formen von Konflikten, einschließlich der anarchistischen Bewegung. In Italien werden bald Hunderte von Genossen und Genossinnen wegen verschiedener repressiver Operationen der Staatsanwaltschaft vor Gericht gestellt: "Op. Scripta Manent", "Op. Panico", "Op. Ritrovo", "Op. Bialystok", "Op. Lince", "Op.Renata", "Op. Scintilla", "Op. Prometeo", der Brenner-Prozess, der Prozess wegen des Angriffs auf den Sitz der "Lega Nord" in Treviso.
Industrie- und Finanzlobbys und Repressionsapparate scheinen zu regieren, und der Staat konzentriert sich darauf, die Praktik des direkten Handelns und sogar subversives Denken abzuschaffen. Und so wird die Verbindung von Epidemien mit der kapitalistischen Ausplünderung des Planeten zu einer Prämisse des "Terrorismus", so wie jede Form der Mobilisierung zu einem "assoziativen Verbrechen" werden kann.
Als der Konflikt die Stärke der Revolte annahm – wie im März in den Gefängnissen – lautete die Antwort des Staates: bewaffnete Überfälle durch Schließer und Carabinieri, systematische Schlägereien und ein Massaker mit dem Tod von 15 Gefangenen.
Die Strafvollzugsverwaltung verbreitet und isoliert revolutionäre und Rebellen in den verschiedenen Kreisen des Gefängnissystems, sie verhindert jeglichen Kontakt zur Außenwelt und die physische Anwesenheit der Angeklagten in den Prozessen mit dem Einsatz von Videokonferenzen. Sie dehnt auf alle Gefangenen einige Inhaftierungspraktiken aus, die das "41 bis" Regime kennzeichnen, einschließlich die Reduzierung der Besuche (und nur mit Plexiglastrennwänden), Zensur der Korrespondenz, Zellensperrung.
Die Staatsanwälte zugleich rekonstruieren die Geschichte der anarchistischen Bewegung, indem sie revolutionäre Praktiken in "akzeptable" und "terroristisch" trennen.
Ein System, das nur soziale, wirtschaftliche und ökologische Katastrophen hervorruft, ist auf Angst gegründet und benutzt jeden Tag mehr und mehr die Sprache des Krieges.
Wir fordern daher eine zweiwöchige Mobilisierung vom 9. bis 24. November.
IN SOLIDARITÄT MIT DEN GENOSSEN, DIE IN ITALIEN VOR GERICHT STEHEN,
GEGEN DIFFERENZIERUNG UND ISOLATION IN DEN KNÄSTEN,
UM DER TOTEN IN DEN GEFÄNGNISSEN ZU GEDENKEN.
UM AUF DIE NEUEN HAFTBEDINGUNGEN UND AUSGANGSSPERREN ZU REAGIEREN.
Damit die Fackel der Revolte niemals erlischt und immer neue Hände bereit sind, sie zu ergreifen.
In einer unsicheren Zeit, für uns, aber auch für die Herren, ist die einzige Gewissheit, dass Widerstand und Gegenangriff richtig sind.
GEGEN KNAST UND FÜR DIE BEFREIUNG ALLER GEFANGENEN.
Tags: Flyposter, Germany, International Solidarity, Italy, Repression
Posted in Social Control
Monday, November 9th, 2020
Tags: Anti-Prison, Coronavirus, Flyposter, International Solidarity, Italy, Repression
Posted in Prison Struggle
Sunday, November 8th, 2020
In the night of November 6th we blew up the mailbox of the local Defence Department of the Thales Group, the 8th largest armaments company in the world, at Binzstrasse 18 in Zurich. With our action we join the manifold activities around the internationalist week of action against Turkish fascism and its European sponsors.
Thales, and with it the French state as the main shareholder, plays a central role in the modernization efforts of the Turkish arms industry. Strategically invested in Turkey for more than 25 years, Thales has made a decisive contribution to various projects aimed at supporting the Turkish army in its numerous wars of aggression. To this end, Thales works closely with the largest Turkish defense companies, such as Aselsan in the development and production of rocket launcher systems and infantry helmet cameras, or TAI for the Göktürk satellite system. Both companies are closely linked symbiotically with the gang around dictator Erdogan. (more…)
Tags: Anti-Fascism, International Solidarity, Kurdish Struggle, Sabotage, Switzerland, Thales, Turkey, Zurich
Posted in Direct Action
Thursday, November 5th, 2020
We express our solidarity with the prisoners of the Chilean state, who have already been in preventive isolation for more than 8 months, due to the sanitary measures for the Covid 19 virus. We understand that the authorities are once again using isolation, as a method of repression and torture against those who are held in the dungeons of the capitalism. Using the prohibition of family visits as a punishment for those who have already been sentenced by the laws of the Chilean state-capitalist-prison.
From the other side of the world, we send a warm greeting to those, who resist the scourges of repression and the effects of the Covid 19 pandemic-control, both inside and outside the prison walls.
With fire in our hearts and hands… Here nothing is over, everything continues….
"Until the last bastion of the prison society is destroyed."
"As long as misery exists, there will be rebellion."

From the territory dominated by the German capitalist state.
November 2020
–
Alemania: Solidaridad sin fronteras con lxs presxs del estado chileno
Expresamos nuestra solidaridad con lxs prisionerxs del estado chileno quienes ya cumplen más de 8 meses de aislamiento preventivo a causa de las medidas sanitarias por el virus Covid 19. Entendemos que el Poder utiliza nuevamente el aislamiento como método represivo y de tortura contra quienes se encuentran recluidos en las mazmorras del capital. Usando la prohibición de recibir visitas de familiares como castigo a quienes ya han ido sentenciados por las leyes del estado-Capital-Prisión chileno.
Desde el otro lado del mundo enviamos un afectuoso saludo a quienes resisten dentro y fuera de los muros de las prisiones los azotes de la represión y los efectos de la pandemia-control Covid 19.
Con fuego en el corazón y en las manos… Aquí nada ha acabado, todo continua….
"Hasta destruir el Último Bastión de la sociedad Carcelaria".
"Mientras exista miseria, habrá rebelión".

Desde el territorio dominado por el estado-capital Alemán
Noviembre 2020
–
Wir solidarisieren uns mit den Gefangenen des chilenischen Staates, die nun schon seit mehr als 8 Monaten der präventiven Isolation aufgrund der Gesundheitsmaßnahmen wegen des COVID 19 Virus ausgesetzt sind.
Die Macht benutzt erneut die Isolation als eine repressive Methode und als Folter gegen diejenigen, die in den Kerkern des Kapitals eingesperrt sind.
Das Verbot von Familienbesuchen wird als Strafe eingesetzt für diejenigen, die bereits durch die Gesetze des chilenischen Staates- Kapitals- Knasts verurteilt worden sind.
Wir schicken herzliche Grüße von der anderen Seite der Welt an diejenigen, die sich innerhalb und außerhalb der Knastmauern den Peitschen der Repression und den Auswirkungen der Pandemie-Kontrollen von COVID 19 widersetzen.
Mit Feuer im Herzen und in den Händen…Der Kampf ist noch lange nicht vorbei, es geht weiter….
"Bis die letzte Bastion der Knastgesellschaft zerstört ist."
"Solange es Elend gibt, wird es Aufstand geben."
Aus der Region, die durch den kapitalistischen Staat Deutschland dominiert wird
November 2020
–
Wyrażamy solidarność z więzniami stanu Chile, którzy już ponad 8 miesięcy przebywają w prewencyjnej izolacji, w związku z sanitarnymi środkami zapobiegawczymi przed wirusem Covid19.
Widzimy, ze władza po raz kolejny używa izolacji jako metody represji i tortury przeciwko przebywającym w lochach kapitalizmu. Używają zakazu wizyt rodzinnych jako karę przeciw tym, którzy już zostali skazani prawami stanu-kapitalistycznego-więzienia Chile.
Z drugiego końca świata, przesyłamy pozdrwienia do tych, którzy opierają się batom represji oraz kontroli narzuconej pod pretekstem pandemii, zarówno w środku, jak i poza murami więzienia.
Ogień w naszych sercach i rękach. Tutaj nic nie jest skończone, wszystko kontynuuje…
"Aż ostatni bastion więziennego społeczeństwa zostanie zniszczony."
"Póki istnieje niedola, będzie rebelia."
Z terytorium zdominowanego przez niemiecki kapitalistyczny stan.
Listopad 2020
Tags: Chile, Flyposter, Germany, International Solidarity, Repression
Posted in Prison Struggle
Wednesday, November 4th, 2020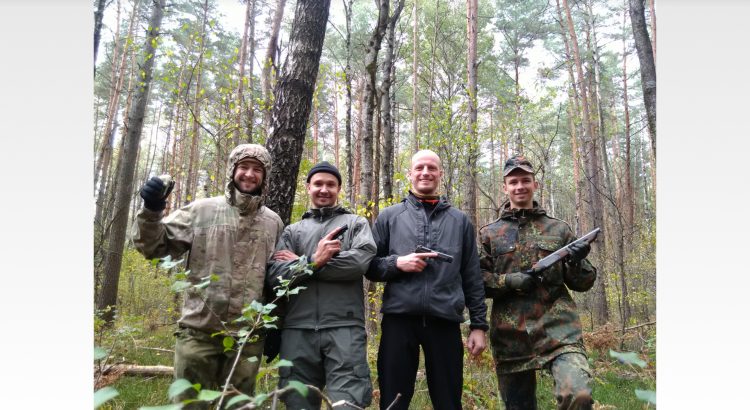 What's happened?
On October 22 in Soligorsk (Belarus) administrative building of State committee of forensic examination was attacked and cars were set on fire at the parking lot of Soligorsk district prosecutor's office. On the night of October 28 the building of traffic police department of Mozyr district police department was set on fire. Soon a group of anarchists-revolutionaries: Ihar Alinevich, Dmitry Dubovsky, Dmitry Rezanovich and Sergey Romanov were detained by a mobile group of Mozyr border detachment near the Ukrainian border in Zabozye village of Yelsky raion (Belarus). The detainees are currently held in a KGB remand prison in Minsk. They were charged under part 3 of article 289 of the Criminal Code (act of terrorism committed by an organized group).

Anarchist Revolutionaries
Each of the detainees had been an opponent of the fascist state for many years and had regularly experienced its repressions. (more…)
Tags: Belarus, Dzmitry Dubouski, Dzmitry Rezanovich, Ihar Alinevich, Ihar Alinievich, International Solidarity, Repression, Sergei Romanov, Sergey Romanov, Siarhei Ramanau, Social Insurrection, Soligorsk
Posted in Social Control
Friday, October 30th, 2020
(Berlin, October 9, 2020 – and the nights before.)
Tags: Arson, Demo, Eviction, Germany, International Solidarity, Liebig34, Liebig34/XB, Repression, Sabotage, Video
Posted in Social Control
Friday, October 30th, 2020
PDF: Manifesto A3 solidarieta a Natascia
Manifesto da stampare in A3 in solidarieta' a Natascia in sciopero della fame contro la censura, in attesa di processo per l'operazione Prometeo. Fuoco alle galere
Tags: Flyposter, Hunger Strike, International Solidarity, Italy, Natascia Savio, Repression
Posted in Social Control
Friday, October 30th, 2020
Osman Aslan has been in extradition custody in Slovenia since June this year. He was arrested by police officers because of a Red Notice entry at Interpol. The Turkish regime uses this controversial instrument to be able to harass opposition members who have fled Turkey, even after decades.
Aslan is 50 years old and lives with his family in Bergkamen (NRW, Germany). The 50 year old Kurd has an unlimited residence permit. The permit threatens to expire because he has been in Slovenian detention for over six months now. Since his court hearing on July 30th, he has had to wait for a Slovenian court to examine the documents so he can finally return to Germany.
This is not the first case in which the Slovenian authorities have delayed such a process for months. Last year, Ismet Kilic from Duisburg was arrested and detained at the border. After 80 days and massive protests in Germany and Slovenia the persecuted unionist got released from extradition.
Anja Sommerfeld, member of the federal executive board of Rote Hilfe e.V.=:
Hardly a day goes by without reports of repression against opposition members and refugees from Turkey, even across the European Union. Once again we are dealing with a procedure in which the regime in Ankara exploits the means of Interpol searches to pursue and arrest those who think differently. Mr. Aslan has lived in Germany as a political refugee since 1994 and has a regular residence. The responsible authorities in both countries must deal with the matter immediately. The deportation of Mr Aslan to Turkey must be prevented, as he is threatened with political persecution and imprisonment there. He must be released from prison and be allowed to return to Germany.
Tags: Germany, International Solidarity, Osman Aslan, Repression, Rote Hilfe, Solvenia, Turkey
Posted in Social Control
Friday, October 30th, 2020
Como ya es conocido, lxs compañerxs se encuentran en prisión desde julio acusadxs de distintos ataques explosivos ocurridos en julio del 2019 y febrero del 2020. El proceso judicial en su contra continua abierta al igual que el plazo investigativo, sin mayores novedades.
En la situación particular de cada unx, podemos informar que:
Francisco aún permanece encarcelado en la Sección de Máxima Seguridad de la Cárcel de Alta Seguridad, y durante el último tiempo ha vivido dos allanamientos realizados por personal policial de inteligencia en colaboración con los carceleros. Esta incautación se tradujo en la requisa de los apuntes de la defensa del compañero, bosquejos de textos además del hostigamiento permanente y continuo por parte de la fiscalía que ha solicitado estos allanamientos.
Mónica, por su parte, se encuentra en el Modulo de Connotación Publica en la cárcel de San Miguel, enfrentándose a una fuerte y completa censura de la comunicación durante semanas. Sin poder entrar ni sacar ninguna carta bajo ningún formato, finalmente y tras varias insistencias la administración carcelaria constituyo un protocolo para que la compañera pueda sacar cartas, pero al mismo tiempo prohibió que se le envíen cartas por correo directamente a la cárcel. En vista a esta situación se ha levantado provisoriamente la siguiente dirección para que compañerxs de otras latitudes envíen su correspondencia y podamos entrarla: Sta Isabel 0151 local 6. Providencia. Santiago
A pesar de las aperturas y desconfinamiento, en las cárceles siguen sin visitas y solo mediante llamadas y videollamada monitoreadas por gendarmería.

¡Solidaridad con Mónica y Francisco!
Tags: Chile, Francisco Solar, International Solidarity, Monica Caballero, Repression, Santiago
Posted in Prison Struggle
Friday, October 30th, 2020
We (Maverick Cell – FAI) claim responsibility for the arson attack on 20 October 2020 at the police office in front of the University Tanjungpura-Pontianak (West Borneo) because of our unstoppable anger and disgust against the police apparatus (the enemy in human form). We're disgusted by those who want to cooperate and support the police apparatus and their bullshit rehabilitation, we only want to attack. We don't have any illusion to correct the very nature of police brutality. We don't offer a solution- we want an uncompromising collapse of the system -, and "You" have to take control of yourself because of the chaos tricks of the state and the capitalists "you" support. And also this action is condemnation for progressive students who pretend to act on behalf of the people (especially in Pontianak) but still they're a cult for identity politics by saying "Long live students!", and they colluded with the police for the arrests of our brothers.
Our starting point as anarchists is to believe that anarchy is a complete negation of authority. The absence of "justifying" the authoritarianism in the natural form must be destroyed. This thinking finds that deepness within ourselves: autonomy, self-care, love; take control from yourself to yourself. Our turning point is getting stuck in a crowd of mass action that determines a time and attitude within the act. We become complacent about moralization, and therefore the passion was hidden. We become who we are not. This is of course paralysis but not death; comrades who attack head-on are antibodies to us – we feel so – and this "gift" is the spark point that must resonate.
This attack is dedicated to anarchists and fellow subversives held by the state. And also for the brave Mikhail Zhlobitsky. Solidarity with the entire Combatant Indonesia and the World.
RESONANCE FOR INSURRECTIONARIES
Maverick Cell – Informal Anarchist Federation
–
Kami (Maverick Cell – FAI) bertanggung jawab serangan pembakaran pada tanggal 20 Oktober 2020 di kantor pos polisi depan Universitas
Tanjungpura-Pontianak karena kemarahan dan kemuakan tak terbendung lagi terhadap aparat kepolisian (musuh dalam diri manusia). Kami menyangkal, mereka yang mengingkan sekaligus menghidupi aparat kepolisian agar mengayomi seseorang, dengan serangan. Kami tidak akan menuntut "anda" untuk merefomasi kepolisian karena brutalitas. Tidak solusi yang akan kami berikan – melainkan kehendak keruntuhan tanpa kompromi -, dan "anda" harus mengambil kendali untuk diri sendiri karena kekacauan muslihat yang diperbuat oleh negara dan kapitalis yang "kalian" dukung. Dan juga tindakan ini adalah kecaman untuk para mahasiswa progresif mengatas-namakan rakyat(secara khusus di Pontianak) namun masih mengkultuskan identitas politik dengan berkata "Hidup Mahasiswa!" Dan bersekongkol dengan aparat kepolisian atas penangkapan saudara-saudara dalam aksi massa!
Titik awal kami sebagai anarkis ialah yakin bahwa anarki adalah menyangkal otoritas. Ketiadaan atas "membenarkan" ototarian sebagai wujud yang alami mesti dihancurkan. Pemikiran ini menemukan bahwa dalam diri kami sendiri : otonomi, jaga diri, cinta kasih; mengambil kendali dari diri sendiri untuk diri sendiri. Titik balik kami adalah terjebak dalam kerumunan aksi massa yang menentukan satu waktu dan sikap dalam bertindak. Kami terlena atas moralisasi tersebut, dan karenanya gairah kami terpendam. Kami menjadi yang bukan diri kami sendirinya. Ini tentu kelumpuhan namun bukan kematian ; rekan-rekan yang menyerang lansung adalah antibodi bagi kami -kami merasa begitu- dan "pemberian" ini adalah titik api yang harus beresonansi.
Serangan dengan klaim ini kami dedikasi untuk rekan-rekan anarkis dan subversif yang ditahan oleh negara. Dan juga buat Mikhail Zhlobitsky yang berani – sang kalatisator. Solidaritas untuk Kombatan seluruh Indonesia dan Dunia.
RESONANSI BUAT PEMBERONTAK!
Sel Maverick – Federasi Anarkis Informal
Tags: Arson, Indonesia, Informal Anarchist Federation (FAI), International Solidarity, Maverick Cell - FAI, Misha Zhlobitsky, Pontianak, Sabotage
Posted in Direct Action
Thursday, October 29th, 2020
Rotating Hungerstrike in Spanish prisons
From last 1st of September on at least 14 prisoners, mostly anarchists, take actually part of a new rotating hunger strike against the precarious health conditions in the Spanish prisons. They reinvicate also a 14 point program against isolation custody (FIES/DERT), tortures and physical and psychical violence from the prison guards, dispersion of prisoners far from their home, etc. Every comrade is doing a 10-days-hungerstrike, one following other, every month 3 prisoners.
Violence in Spanish prisons is very common, every year 200 prisoners die inside Spanish prisons violently or from drugs, no medical attention or diseases. Actually in corona times, the conditions in jail are mostly insoportables (bad food, no activities, no visits…). Last month of August our comrade Carmen Badía Lachos was violated from a prison guard inside the 'hospital' part of the Zuera-prision (Zaragoza). (more…)
Tags: Carmen Badía Lachos, Claudio Lavazza, Gabriel Pombo da Silva, Hunger Strike, International Solidarity, Repression, Spain
Posted in Prison Struggle
Saturday, October 17th, 2020
EN | Incendiary Dialogues: For the Propagation of Anarchic Sedition
ES | Diálogos Incendiarios
PT | Diálogos Incendiarios
IT | Dialoghi incendiari

Printed copies coming soon…
We present a new book by Black International Editions, an internationalist project of anarchic diffusion that, from an informal and seditious anarcho-insurrectional intent, resurfaces in Spanish, Portuguese, Italian and English, with a new title: "Incendiary Dialogues: For the Propagation of Anarchic Sedition". The title is based on a dialogue on the course of the anarchic war between comrades Alfredo Cóspito, Gustavo Rodríguez and Gabriel Pombo da Silva.
We consciously decided to launch this booklet on May 22, in timely celebration of Chaos Day, remembering anarchist comrade Mauricio Morales, who, on a day like today in 2009 left this life fighting against Power when the bomb he was carrying in his backpack exploded prematurely, detonating a few meters away from the Gendarmerie School in Chile.
We dedicate this book to all our comrades in prison around the world, with a special dedication to our comrade Alfredo Cóspito, imprisoned in Italy, and to our beloved Gabriel Pombo Da Silva, who was arrested in Portugal and extradited to Spain at the time this book was published. We send all our strength to comrade Gabriel in the face of this new revenge by the authorities for his eternal irreducible struggle.
This book will have printed versions that will circulate in affinity spaces, among comrades and diverse anarchic projects around the world. We invite you to actively support its diffusion by sharing its digital version, printing copies and/or making presentations and launches wherever there is a willingness to do the impossible in order to spread chaos and extend anarchic warfare.
Editorial collaborators of Black International Editions.
May 22nd, 2020 …
Tags: Alfredo Cospito, Analysis, Black International, Black International of Anarchists of Praxis, Communique, Gabriel Pombo da Silva, Gustavo Rodriguez, International Solidarity, Mauricio Morales, PDF, Zine
Posted in Library