Posts Tagged 'International Solidarity'
Thursday, August 22nd, 2019
Makassar, Indonesia, August 21st, 2019: Dozens of Makassar citizens took direct action (blocking the road) in front of the Hasanuddin University to convey solidarity with West Papuans who received racist acts and violence from the military, police and ultra-nationalist civil militias.
As for what is written on the banner:
MAKASSAR CITIZENS SOLIDARITY FOR PAPUA

1. STOP TORTURING PAPUANS RIGHT NOW!
2. PAPUANS ARE FREE TO CHOOSE THEIR OWN WAY (TO FREEDOM)
3. TNI (Indonesian Armed Forces), POLRI (Indonesian Police Force) AND FASCIST CIVIL MILITIAS, STOP YOUR RACIST ACTS, YOU DICK SHIT!
via Anarchists Worldwide.
Tags: Demo, Indonesia, International Solidarity, Makassar, Police Brutality, Racism, Repression, Solidarity Action, West Papua, West Papua Independence
Posted in Direct Action
Thursday, August 22nd, 2019
Kundgebung in Solidarität mit Grup Yorum!
Freitag, 23. August 2019, 18 Uhr
Kottbusser Tor – Kreuzberg
Grup Yorum im Hungerstreik. Am 25. August 2019 werden es 100 Tage sein.
Mitglieder der Musikband Grup Yorum begaben sich am 17. Mai 2019 in einen Hungerstreik. Ihre Hungerstreik-Erklärung enthielt diverse Forderungen, darunter die Freilassung der gefangenen Bandmitglieder und die Einstellung der Verfahren, die Beendigung der Polizeirepression gegen den Istanbuler Kulturverein İdil, die Streichung der Namen der Bandmitglieder von den "Terrorlisten" und die Aufhebung der Konzertverbote. (more…)
Tags: Berlin, Demo, Germany, Grup Yorum, Hunger Strike, International Solidarity, Turkey
Posted in Prison Struggle
Wednesday, August 21st, 2019
For three weeks already the offensive of the United Revolutionary Movement of the Peoples HBDH (Turkish: Halkların Birleşik Devrim Hareketi) continues unabated. For weeks now the fascist AKP-MHP regime and its supporters in the whole of Turkey and the occupied Northern Kurdistan have been shaken by endless fire and bomb attacks of the militias and guerrilla forces of the revolutionary alliance.
The United Revolutionary Movement of Peoples was founded on March 12, 2016 and is the front organization of various revolutionary, socialist and communist parties and organizations of Turkey and Kurdistan. In the HBDH the Kurdish Freedom Movement in leadership of the Kurdistan Workers Party PKK unites with the revolutionary left of Turkey to a common front in the struggle against AKP-MHP fascism, for the liberation of the occupied Kurdistan and the establishment of a socialist Turkey.
Simultaneously with the renewed rise of the threats of Turkish fascism against the Democratic Federation of Northeast Syria, the militias and guerrilla units started a new offensive in the heart of Turkish colonialism. In the following some of the past actions are summarized:

Declaration of 30 June
On the 29.06 at 16.00 o'clock, in the district Datca of Muğla, Palamutbükü, a sabotage action against a television station was accomplished. The United Revenge Militia of the Peoples confessed to the action with which a television station was met, which legitimizes fascism with its propaganda of lies. Tourists from home and abroad were warned against using Turkey as a holiday destination. Nobody should travel to the areas used by AKP-MHP fascism as the main source of financing for war and massacres.

Declaration of 02 July
In a statement signed with United Revenge Militia of Peoples, the group confessed to a sabotage action against the Grand Efe Hotel and surrounding hotels in the Özdere region in the Menderes district of Izmir. Two hotels had to be evacuated as a result of the action. The group threatened with further attacks against tourist destinations and called on domestic and foreign tourists to stay away. Otherwise they would have to face the reality and pain of the dirty war. The group called on the oppressed, workers, women and youth to stand against fascism. (more…)
Tags: Anti-Fascism, Arson, Attentat, Insurrection, International Solidarity, Kurdistan, PKK (Kurdish People's Party), Rojava, Sabotage, Social War, Turkey, United Revolutionary Movement of Peoples (HBDH), War
Posted in Direct Action
Wednesday, August 21st, 2019


On the 25th of July, 2019, a parcel bomb was delivered to Police Station 54 in Huechuraba, Santiago. The parcel was opened and successfully detonated, causing material destruction to the police station and hospitalizing 5 police officers. On the same day, a second parcel bomb was intercepted before it could be opened at the headquarters of Quinenco SA, one of the holding companies through which Chile's richest family controls the Bank of Chile. A police and State-generated media frenzy soon ensued with much speculation regarding the identity of the senders of the explosive packages. Now, an anarchist cell calling themselves SEDITIOUS ACCOMPLICES / FRACTION FOR REVENGE have issued a communique claiming responsibility for both attacks in which they stated that they were specifically targeting two individuals- Carabineros Major Manuel Guzmán at Police Station 54 in Huechuraba and former Minister of the Interior Rodrigo Hinzpeter who now works at Quinenco SA. Below is an English translation of the original communique that was posted on Contra Info….
OPERATION FOR THE EXPANSION OF HOSTILITIES AGAINST THE EXECUTIONERS
We claim responsibility for the two parcels composed of black gunpowder and dynamite addressed to Rodrigo Hinzpeter and Carabineros Chief Manuel Guzmán at Police Station 54 in Huechuraba.
We took all the necessary security measures to ensure that the devices only exploded in the hands of the persons targeted by our action. Our enemies are clear to us, we are not seeking to harm or injure random people. While we know that we all are part of the operation of dominion, we recognize that there are degrees of responsibility and the recipients of our explosive parcels have decisive roles in both the management and accumulation of capital and in State control and repression. (more…)
Tags: Attentat, Chile, International Solidarity, Letter Bomb, Santiago, Seditious Accomplices / Fraction for Revenge, Solidarity Action
Posted in Direct Action
Wednesday, August 21st, 2019
WEEK OF SOLIDARITY WITH ANARCHIST PRISONERS 23-30 AUGUST
To act in solidarity is completely up to the interpretation of an individual or collective. One could write a letter or visit a prisoner. Others could hold an event for prisoner awareness or a benefit gig. But then there are also the lone wolves who creep around in the darkness of night, lighting up the night sky with flames of rage and solidarity. No matter what act of solidarity is done, it's completely up to the expression of the rebel individual or collective. The point is to show the anarchist fighters encaged in the belly of the beast that they are not alone, we haven't forgotten them.

THE SOCIAL WAR AGAINST TECHNO-INDUSTRIAL CIVILIZATION CONTINUES
SOLIDARITY WITH ALL IMPRISONED ANARCHISTS
SOLIDARITY WITH ALL ANARCHIST FIGHTERS
Tags: Flyposter, Green Anarchy Ireland, International Solidarity, International Week for Anarchist Prisoners
Posted in Prison Struggle
Wednesday, August 21st, 2019
Comrades erected flaming barricades made of tires in Santiago, Chile, in protest and in memory of murdered anarchist Carlo Giuliani, who was shot dead by police on July 20th, 2001 in Genoa, Italy during anti-G8 protests.
23-year-old anarchist Carlo Giuliani was killed by Mario Placanica, a cop, during the clashes that broke out after the police attacks in the afternoon. Images show Giuliani throwing a fire extinguisher at a police vehicle before he was shot and then run over twice by the Land Rover during clashes with police forces.

Carlo Guiliani, never forgive, never forget! Fight back!
Tags: Burning Barricades, Carlo Giuliani, Chile, International Solidarity, Santiago
Posted in Direct Action
Wednesday, July 24th, 2019
IT: SOLIDARIETA' A DINOS GIAGTZOGLOU
SOLIDARITY WITH DINOS GIAGTZOGLOU
αλληλεγγύη
Anarchist Dinos Giagtzoglou was arrested in central Athens on 28 October 2017, one of Greece's national days, in an ambush by anti-terrorist police forces as he left a safe house-hideout rented by him under a false name, carrying weaponry.
Initially he got imprisoned in the prison of Larissa, a city 355 km from Athens, with the aim of isolating him from his comrades, family and friends, making the talks with the lawyer extremely difficult and preparing for his trial almost impossible since the case files contain thousands of pages in digital format.
On 21 February 2018, he was transferred back to Athens for a pending trial about an old arrest in clashes with the riot police in the context of a general strike against the Greek government's austerity economic measures in May 2011. After the postponement of this trial he began a hunger strike demanding to be typically transferred to Korydallos prison, close to his place of residence. (more…)
Tags: Athens, Greece, International Solidarity, Konstantinos Yigtzoglou, Korydallos Prison
Posted in Prison Struggle
Wednesday, July 17th, 2019
In August, we invite all the individuals and groups that feel close to the fate of our companion Santiago Maldonado, disappeared and murdered by the Argentine State.
From the 1st of August let's see our anger, our proposals to the conflict, our unwavering will. Nothing has ended for us, we are sparks that can go on and off, but we will always be there.
Let's unfold our beautiful creativities, activities, meetings, marches, whatever we want. That's what our freedom is about, that's what it's about to remember our fallen brothers and sisters.
Let anarchy overflow the confines and margins of this disgusting society.
Neither martyrs nor heroes!
Active memory with us!
Long live anarchy!
–
Invitamos a que en el mes de agosto todas las individualidades y colectivos que se sienten cercanos al destino que tuvo nuestro compañero Santiago Maldonado, desaparecido y asesinado por el Estado argentino.
(more…)
Tags: Argentina, International Solidarity, Santiago Maldonado
Posted in Autonomy
Saturday, July 13th, 2019
EN: ¡Punky Mauri Presente! 10 Years After the Death in Action of Mauricio Morales
NOCHE NEGRA DE NEGROS AUGURIOS
"La noche ya ha avanzado. No hace tanto frío para toda la ropa que oscurece nuestra imagen, pero eso no importa, el viento refresca nuestro rápido avance. Estamos a tiempo. Todo hasta el momento va bien. Estamos solos, solos como nunca y como siempre. Por las calles sombrías y maltrechas rodeamos la fábrica de carceleros. Nos acercamos. La próxima parada está cerca. En mi mente repaso el plan acordado…"
– "Un saludo de Libertad" – (1)
Tras un día feriado que anticipaba para muchxs un largo fin de semana, la ciudad de Santiago se iba durmiendo en la fría madrugada del 22 de mayo de 2009. Un sector de Avenida Matta permanecía en quietud, lejos de las luces y bullicio de locales comerciales. Solo dos ciclistas avanzan como difusas siluetas para diferentes cámaras de seguridad.
El avance se interrumpe cuando las siluetas se separan y una de ellas se baja de la bicicleta para arreglar algo en su mochila. Un gran destello corta entonces la filmación.
El ruido de una potente explosión hace eco entre las calles, la confusión despierta el lugar, lanzando las alertas policiales.
En la mitad de la calle Ventura Lavalle, casi en la esquina con Artemio Gutiérrez, un cuerpo ya sin vida está envuelto en una estela de pólvora, a un costado un revólver -con una sola bala en la nuez- más allá una bicicleta negra espera para continuar el viaje. A solo metros se encuentra la Escuela de Gendarmería, lugar donde los carceleros reciben adoctrinamiento y especialización. (more…)
Tags: Chile, CSO Sacco and Vanzetti, Gabriel Pombo da Silva, International Solidarity, Marco Camenisch, Maurico Morales, Santiago
Posted in Autonomy
Saturday, July 13th, 2019
Querida Anna, somos un grupo anárquico informal integrado por mujeres que acciona en México, motivadas por las tesis insurreccionalistas y la ilegalidad anarquista. Nos hemos conformado así por una cuestión de afinidad y no porque creamos que no debemos trabajar con compañeros hombres, de hecho, en diferentes ocasiones nos hemos coordinado con otros grupos de compañeros para accionar de manera más potente. Algunas somos lesbianas, bisexuales, poliamorosas, queers y otras somos tan putas que construiríamos un barco si renacieramos mañana en la Isla de Lesbos por tal de no renunciar a tener sexo con hombres. Lo que esperamos que deje en claro que nuestra "afinidad" no se fundamenta en las preferencias sexuales sino en las ideas que nos impulsan y en la confianza que nos tenemos una a otra en el momento del ataque.
Después de esta aclaración, queremos expresar (pública y abiertamente) nuestra solidaridad contigo, no porque seas mujer ni porque te consideremos "víctima" al encontrarte presa de las garras del Estado sino por tu posicionamiento anárquico en guerra permanente contra el sistema de dominación. ¡Celebramos tu convicción ácrata y tu honesta valentía!
Tus palabras sencillas, reafirmando tu anarquismo sin acotamientos sectoriales y sin caer en la tan desprestigiada corrección política y sus convenciones lingüisticas ("gender-friendly"), nos han tocado en lo más hondo. Por eso no quisimos dejar pasar la oportunidad de darte respuesta pública, evitando que tus ideas y convicciones se pierdan en el mar de cartas, manifiestos y comunicados que circulan en nuestras redes. Esperamos que tu carta 1 y nuestra respuesta inviten a la reflexión a todas las compañeras que en busca de la anarquía han quedado atrapadas en un sucedáneo reformista al servicio de la dominación, inmovilizadas en la "degeneración", "entre el orgullo y el victimismo de género", como explicas en tu carta. (more…)
Tags: Anna Beniamino, F.B.I. (Féminas Brujas e Insurreccionalistas), International Solidarity, Italy, Letter, Mexico
Posted in Prison Struggle
Thursday, July 4th, 2019
Tags: Chile, Flyposter, International Solidarity
Posted in Prison Struggle
Wednesday, July 3rd, 2019
There is also an German and Italian version of this text!
– A Summary (Situation July 2019)
Our friend and companion Andreas is currently imprisoned in Naples (Italy). Since his imprisonment in Germany Andreas has been known as a rebellious prisoner. In April 2019 he was sentenced in Italy to 24 years in jail. In addition, Andreas has recently been diagnosed with kidney cancer. His health is deteriorating and we fear for his life. Actually, he should undergo surgery months ago, but the Italian authorities refuse to transfer him to a hospital.
Andreas was in the clutches of the German judicial machinery for years and he was in jail for a total of 16 years. He is a rebellious prisoner, participated in building the prisoners' union (GGBO) behind bars, he went on hunger strike several times against the prison conditions and also participated in a solidarity hunger strike for the prisoners in Greece. To date he repeatedly publishes texts against the prison society, in which he describes everyday life in captivity. (more…)
Tags: Andreas Krebs, International Solidarity, Italy
Posted in Prison Struggle
Tuesday, June 25th, 2019
We hate prisons, many of our comrades are held in them, some are tortured, and prisons are at the heart of enforcing the established order. Vinci builds prisons, this vehicle belonged to them, so we wanted to set it on fire. So the train of thought that led to the destruction of the road construction vehicle on June 24 was actually quite simple.
(more…)
Tags: Arson, Eurovia-Vinci, Germany, International Solidarity, Leipzig, Sabotage, Solidarity Action, Vinci
Posted in Direct Action
Monday, June 24th, 2019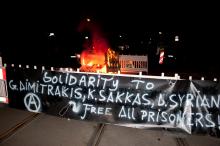 From the urban desert of the danger zone in Friedrichshain we send a signal of our solidarity to Yiannis Dimitrakis, Kostas Sakkas and Dimitra Syrianou. On Monday morning, June 24, we erected a burning barricade on Weidenweg (Street near Rigaer and Liebig) together with a fixed banner (see text on picture). We were waiting with stones to welcome the first patrol car but they needed time to mass up strong forces to enter the area of Rigaer Straße, and we disappeared safe.
(more…)
Tags: Berlin, Burning Barricades, Dimitra Syrianou, Germany, Giannis Dimitrakis, International Solidarity, Kostas Sakkas, Rigaerstrasse, Solidarity Action
Posted in Direct Action
Friday, June 21st, 2019
For June 11 – Solidarity for long term anarchist prisoners
Just outside the city limits of Bristol tucked away in the dark is a poultry farm (Ivy Farm) owned by P&S Mitchell LTD. Located in Whitchurch Lane, Dundry, the birds never see the light of day. Despite the CCTV, the grain silo and broiler house were both spray-painted with the words "Animal Prison".
A new McDonalds restaurant that is not welcome is being built in Fishponds Road, but maybe the "Burger Off!" posters in local's front windows isn't enough. Graffiti was sprayed inside the building site – "McWork Prison".
Vinney Green, hidden in Emersons Green on the edge of Bristol is a special secure detention unit for 10-17 year old "dangerous kids". The unit holds up to 24 detainees. A large hole was cut in the perimeter fence and then the next inner security fence was broken through by bending back the bars, causing a second human size gap. Then the prison buildings themselves were sprayed with the words "Child Prison", "Screws Work Here".
Solidarity to Brian Vaillancourt who is serving a 9 year sentence in the USA for an arson of a McDonalds. To the imprisoned comrades in Italy who are fighting from inside the cells on hunger strike. To the 3 comrades arrested for bank robbery in Thessaloniki, Greece. To Lisa held in Spain. For all the imprisoned anarchists around the world.
Freedom for everyone!

Eco-anarchist vandals – FAI/IRF
Tags: Brian Vaillancourt, Bristol, Eco-anarchist vandals - FAI/IRF, Fuck McDonalds, Graffiti, International Solidarity, Ivy Farm (Poultry), June 11th Solidarity, Lisa, McDonalds Corporation, Paint attack, Solidarity Action, UK, Vandalism, Vinney Green
Posted in Direct Action