Posts Tagged 'International Solidarity'
Tuesday, March 26th, 2019
From AMW:
"Revolutionary change will not come as a singular event, nor an immediate exchange of power, but an ongoing struggle to free us all from the bonds of oppression and distribute power to communities of resistance. The illusion that a small group can seize state power and enact the will of the majority has dried up in the gulags, prisons, and killing fields of nation-states around the world. The Cantons of Rojava, a network of councils without the State, has introduced a new revolutionary paradigm… As we formulate our next steps, we harken to Rojava as a model. Just as it is grounded in the Kurdish liberation movement in Rojava, we here must ground ourselves in the black liberation movement against slavery."
–Burn Down the American Plantation (What We're Working Towards), pg 68-69, Revolutionary Abolitionist Movement
Revolutionary Greetings Comrades!
Did you really think for one moment that I was going to remain silent?
I began working with RAM because of Rojava. The Kurdish struggle struck home. Do you realize that these Sisters and Brothers in Northern Iraq and Syria helped fight and defeat ISIS? Yeah! That is right! These beautiful people, who Donald Trump wants to abandon, sacrificed their lives for the good of all. I was careful when I decided to speak out. Right around the time Trump made his announcement that the U.S. would pull out of Syria – George W. Bush had died. It wasn't really good for me to say what I needed to say but now I am going to say it!! (more…)
Tags: International Solidarity, Keith Malik Washington, Kurdish Struggle, Letter, Rojava, USA
Posted in Prison Struggle
Saturday, March 23rd, 2019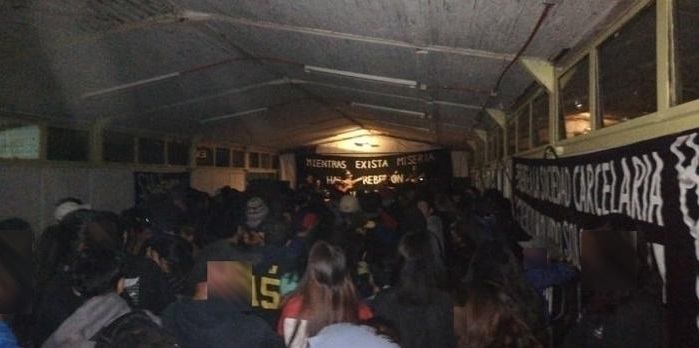 "Tokata Antikarcelaria" en solidaridad con Marcelo Villarroel Sepúlveda en Peñalolén el 15/03/2019.
A 11 años de los hechos en San Martín de los Andes, Argentina
Solidaridad activa, Marcelo Villarroel Sepúlveda a la calle
La expropiación al Banco Security en el centro de Santiago el 18 de Octubre de 2007, la persecución mediática, policial y estatal que se desató contra varios compañeros subversivos cuando ellos tomaron la opción de fugarse para salvaguardar sus vidas fueron golpes que calaron hondo en toda una estructura que se muestra fuerte, intocable e invulnerable.
La detención de los compañeros Marcelo y Freddy el día 15 de Marzo de 2008 en San Martín de los Andes (Argentina) pone fin a su clandestinidad, momento en el que se encontraban con David Cid Aedo, quien es detenido, puesto en libertad y expulsado a Chile con posterioridad. En esta ocasión Marcelo y Freddy son acusados de porte ilegal de armas de guerra, por lo que son condenados a 3 años y 6 meses de prisión. (more…)
Tags: Chile, International Solidarity, Juan Aliste Vega, Marcelo Villarroel Sepúlveda, Santiago
Posted in Prison Struggle
Saturday, March 23rd, 2019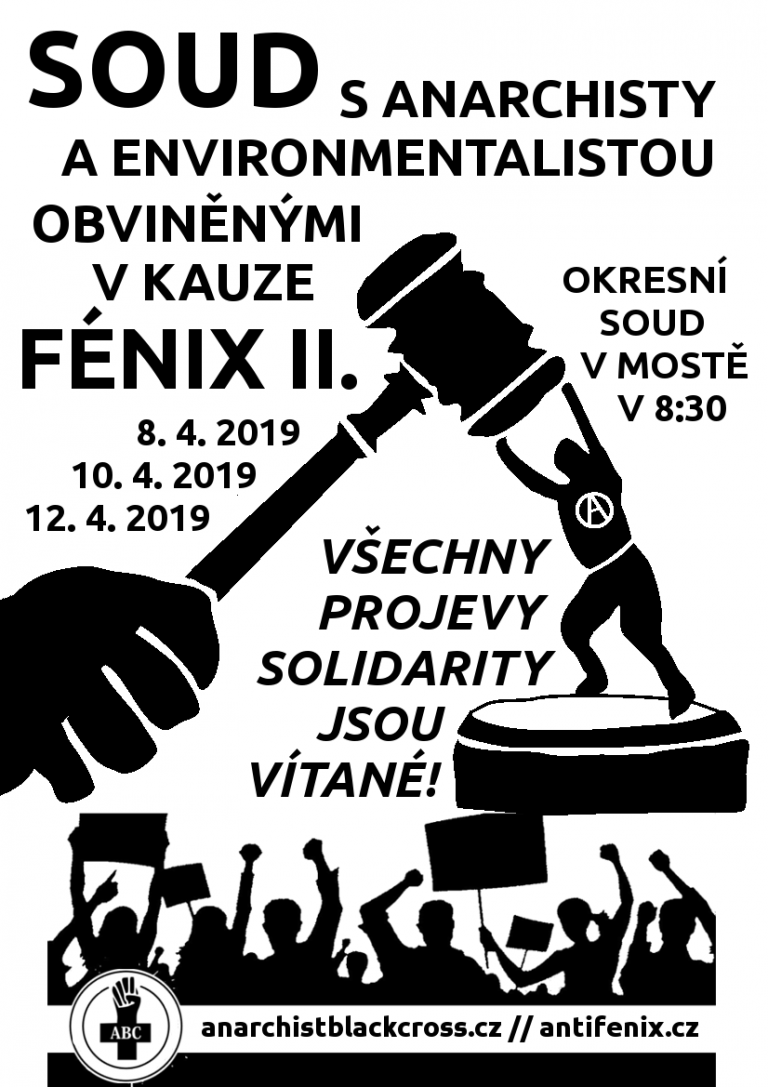 On April 8th, 10th and 12th, 2019, the trial with 4 anarchists and one environmentalist accused in operation Fenix 2 will be taking place at the district court of Most, every day at 8:30 a.m. Come to support them at the courthouse or by any solidarity action. Let them know you are not apathetic to their future as you are not towards the freedom of all of us. Any way of expressing support is welcomed!
–
Ve dnech 8., 10. a 12. dubna 2019 proběhne soudní líčení se čtyřmi anarchisty a jedním environmentalistou obviněnými v kauze Fénix 2. Podpořte obviněné přímo u soudu nebo jinou solidární akcí. Dejte najevo, že jejich budoucnost, stejně jako svoboda nás všech vám není lhostejná. Jakékoliv vyjádření podpory je vítáno! Soud bude probíhat každý den od 8:30 u okresního soudu v Mostě.
Tags: ABC Czech Republic, Czech Republic, Fenix 2, International Solidarity, Most, Trial
Posted in Prison Struggle
Friday, March 15th, 2019
On the morning of March 12, 2019, the police reported on the attack on the court.
The day before, we – the anarchists of Kiev, held an action of solidarity with the anarchist Azat Miftakhov detained in Moscow.
Once in prison, in the clutches of the punitive system, our comrades should be aware of the support, which is usually expressed in the form of concerts, pickets, letters… But more important is the confidence that their cause continues to live, confidence in the justification and consistency of their struggle. We do not care about Azat's involvement in explosives and other episodes, because anyone who calls himself an anarchist is already guilty, and deserves punishment from the point of view of the state.
The best we can do for them is to continue the struggle and resistance. To make it clear that repression is not only a reason to show solidarity out of a sense of comradely duty, but also to once again realize the need for the complete destruction of the state and all its manifestations. What could be better for a comrade than to realize that the repressions only radicalized and rallied the movement, and his being in captivity is not in vain and, whatever may happen to him, his cause will live until the complete victory of the social revolution.
This time we decided to use the method of attack, unpopular for this case, among anarchists – firing from a rifle firearm. We have made 15 shots at the windows of the judges of the Goloseevsky district court of the city of Kiev.
The angle and place of fire were not chosen by chance, we took all measures to avoid casualties among the not involved population. Only persons belonging to power structures, representatives of the authorities and conscious citizens who decided to prevent us could suffer. Accidental victims were excluded.
Freedom to Azat! Comrades anarchists, it's time to move from protest to resistance! With solidarity and partisan greetings!

Anarchists
Tags: Azat Miftakhov, International Solidarity, Kiev, Russia, Sabotage, Ukraine
Posted in Direct Action
Thursday, March 14th, 2019
Berlin: Internationalistische Demonstration & Kundgebung zum Tag der politischen Gefangenen
Samstag 16.03.2019, 15 Uhr Hermannplatz Demo
Montag 18.03.2019 16 Uhr (Kundgebung), Justizministerium, Mohrenstr. 37 in Mitte
Solidarität mit allen politischen und revolutionären Gefangenen!
DEVRİMCİ TUTSAKLARA ÖZGÜRLÜK!, الحرية للثوار في السجون
Anlässlich des 18.März als "Tag der Pariser Commune" und "Tag der politischen Gefangenen" rufen wir zu Solidarität mit den politischen und revolutionären Gefangenen weltweit auf. Viele von ihnen sind seit Jahrzehnten in Haft. Sie befinden sich in Knästen, weil sie gegen Ausbeutung, Unterdrückung, Besatzung und imperialistische Kriege einen organisierten Kampf führen.
Aktivist*innen sind politischen Verfahren ausgesetzt und werden teilweise zu langjährigen Haftstrafen verurteilt, ins Exil oder zur Flucht getrieben, wo sie wiederum verfolgt, angeklagt und eingesperrt werden. Menschen, die in Europa und der BRD ankommen, werden mittels Anti-Terror-Gesetzen, in Deutschland beispielsweise nach §129b StGB, jahrelang eingesperrt. So befinden sich in der BRD dutzende Revolutionär*innen aus der Türkei und Kurdistan in Haft. Die Gefangenen unserer Bewegungen dürfen nicht vergessen werden. (more…)
Tags: Berlin, Demo, Germany, International Solidarity
Posted in Prison Struggle
Tuesday, March 12th, 2019
(Graz/Austria) – Car of Sodexo set on fire
In the darkness of the 6th of march we set a car of the company Sodexo in Graz on fire. Sodexo makes a profit with the deportation system by delivering shitty food to deportation centers. All companies that profit from this industry are our enemies and just deserve our hatred.
We feel connected to all accomplices who are fighting against the domination in this world.
Above all, those behind bars and those who support them, we want to show our revolutionary solidarity through this fire!
Through the walls we specifically send a burning hug to all recently detained anarchists in Turin, Trento and Rovereto. SILVIA, NICCOLO, BEPPE, ANTONIO, STECCO, RUPERT, AGNESE, SASHA, POZA, NICO, GIULIO tutti liberi!
We also send a burning greeting through the bars to Loić! We hope that you will feel supported by such acts in your unbending attitude.
For this action, we used fire accelerators that we filled into emptied beverage cans. We put the cans on the floor under the tires of the car. After 5 to 10 minutes, the tires burn and the car flares off.

Fire to Sodexo!
Fire to all cages!
–
(Graz/Austria) – Karre von Sodexo angezündet
In der Dunkelheit des 6.3. haben wir in Graz eine Karre der Firma Sodexo angezündet. Sodexo macht mit dem Ausschaffungssystem Profit indem es Abschiebeknäste mit schaebigem Essen versorgt. Alle Firmen die aus dieser Industrie Profit schlagen sind unsere Feinde und verdinen unseren Hass.
Allen Kompliz_innen die gegen die Herrrschaft dieser Welt kämpfen fühlen wir uns verbunden.
Vor allem jenen hinter Gittern und jenen die sie unterstützen möchten wir mit diesem Feuer unsere revolutionäre Solidarität zeigen!
Durch die Mauer senden wir speziell eine freurige Umarmung an alle kürzlich Inhaftierten Anarchist_innen in Turin, Trient und Rovereto. SILVIA, NICCOLO, BEPPE, ANTONIO, STECCO, RUPERT, AGNESE, SASHA, POZA, NICO, GIULIO tutti liberi!
Ebenfalls senden wir einen feurigen Gruss durch die Gitter an Loić! Wir hoffen das du dich durch solche Taten in deiner unbeugsamen Haltung unterstützt fühlst.
Für diese Aktion verwendeten wir Brandbeschleuniger den wir in entleerte Getränkedosen umfüllten. Die Dosen stellten wir auf den Boden unter die Reifen der Karre. Nach 5 bis 10 Minuten brennen die Reifen und die Karre fackelt ab.
Feuer für Sodexo!
Feuer allen Käfigen!
Tags: Arson, Austria, Graz, International Solidarity, Italy, Migrant Struggle, Operation Renata, Operation Scintilla, Sabotage, Sodexo
Posted in Direct Action
Sunday, March 3rd, 2019
On the night of February 18, a bank ATM in the Usera neighborhood was set on fire. This small action is a sign of encouragement for Lisa, recently moved from Germany to Madrid; for the repression of the G20; the comrades arrested in Madrid on 30 October – accused of burning another Bankia ATM – and for the comrades in Italy, recently beaten in new operations against the anarchist environments in Turin and Trento, as well as for the comrades on trial in the Scripta Manet and Panic operations.
Let the Spanish and Italian states know that anarchist solidarity will not stop. And it will be formed by more than words. Sabotage is easy and simple. In the possibilities of its reproduction is its strength.
Also, this small action serves as a contribution to the week of agitation and propaganda against gentrification, spatial capitalism and in defense of squatting.
Freedom for Lisa, freedom for all!
Long Live Anarchy!
Tags: Arson, ATM Burned, G20, International Solidarity, Lisa, Madrid, Operation Panic, Operation Scripta Manent, Sabotage, Solidarity Action, Spain
Posted in Direct Action
Friday, February 22nd, 2019
ABOUT THE REPRESSION AGAINST ANARCHISTS IN ITALY
Unfortunately, Italy has a long history of repressive operations against anarchists. Since Operation Marini in 90s, the waves of repression against comrades, which brought into jail many people with charges of terrorism or criminal association, were countless. Just to name a few of the biggest repressive operations: Cervantes, Croce Nera, Ardire, Mangiafuoco, Thor, Ixodidae, Nottetempo, Fuoriluogo…
These operations usually lead to several house raids in all Italy and to the arrest of several comrades who spend 1 or 2 years in pre-trial detention. Then they face trials with charges of 'association' and usually they are also accused of several direct actions for which the inquisitors never found any responsible. Sometimes the public engagement of these comrades in the anarchist struggle and their open expression of anarchist ideas (direct actions support, prisoners solidarity, running an anarchist magazine or website and so on) is the only evidence that the prosecutors bring into the court. For this reason, in the majority of the cases all the accused are later acquitted at the trial, but only after having spent many months or years in prison.
Besides these huge operations, there is a constant small-scale repression against local anarchist groups which are especially active on the territory, for example with struggles against police repression, evictions, detention centres for migrants, jails, gentrification, corporate interests… In these cases anarchists are constantly repressed with recurring trials and spend much of their time going in and out of prison, house arrest or other restrictions of their freedom. This kind of police strategy of trying to burn out comrades with the aim of destroying the local anarchist group happens in many cities but since many years has been especially strong in Torino. (more…)
Tags: Asilo Occupato, Firenze, Informal Anarchist Federation (FAI), International Revolutionary Front, International Solidarity, Italy, Nucleo Olga FAI/FRI, Operation Ardire, Operation Nottetempo, Operation Panic, Operation Scintilla, Operation Scripta Manent, Operation Thor, Repression, Roberto Adinolfi, Turin
Posted in Social Control
Sunday, February 17th, 2019
Recibido por correo electrónico
A principios de julio de 2017 tuvo lugar en Hamburgo la reunión del g20. Representantes de los países dueños de la economía mundial, planeaban durante dos días como seguir manteniendo ese sistema de miseria, explotación y muerte. Manifestaciones, bloqueos, sabotajes, enfrentamientos con las fuerzas del orden, saqueos… (al igual que ataques descentralizados las semanas previas) pretendieron, y lograron durante muchos momentos, interrumpir el normal funcionamiento de esta cumbre.
El 6 de junio, el día que llegaban los políticos, acompañados de sus más de 6000 delegados, seguidos en todo momento por más de 3000 periodistas y protegidos por unos 10000 policías, estaba convocada una manifestación anticapitalista bajo el lema de Welocome to Hell. (more…)
Tags: G20, Germany, Hamburg, International Solidarity, PDF, Repression, Spain, Zine
Posted in Library
Sunday, February 17th, 2019
Solidarity fund for imprisoned and persecuted militants is a structure from Greece, which for the past 9 years has been actively organizing the political, ethical and material support of imprisoned and persecuted revolutionaries. Due to the immense amount of money we have to collect and send _each month_ to the imprisoned comrades in order to cover their needs inside the prisons, and thus the tough financial situation we're facing, we decided to use the firefund platform.
Firefund is an online crowdsourcing platform, run by activists, in order to fund radical causes. You can donate safely either by using credit card or with cryptocurrency (ether). Also if you want you can choose to contribute an amount to the team that administrates the platform.
The link of our campaign is this: https://www.firefund.net/prisonsoli
You can find more info about us and why we choose to use firefund in the link.
The contribution of each and every one who wants to help our cause is ESSENTIAL. While we also believe that it's rather important to forward this initiative to anyone with whom we may not have contact with. To any comrade/collective who stand with solidarity against oppression.
Solidarity fund for imprisoned and persecuted militants from Greece
(for contact: tameio (at) espiv (dot) net)
Tags: Greece, International Solidarity, Repression, Tameio
Posted in Prison Struggle
Thursday, January 31st, 2019
1: 2019 – Year of Action against Prison Expansion
2: March 2019 – Month of Action against Prisons and the State – For Anna
3: 13 March – Global day of solidarity with Kevan Thakrar & Against Solitary Confinement
Tags: Anti-Prison, Close Supervision Centre CSC, International Solidarity, Kevan Thakrar, Prison Labour, Racism, UK
Posted in Prison Struggle
Monday, January 28th, 2019


"All power to the Kurdish people fighting for their autonomy and liberation."
Ikarus Gang Solidarity. East Borneo, Balikpapan.
Tags: Indonesia, International Solidarity, Kurdish Struggle, Rojava, Syria
Posted in Direct Action
Monday, January 28th, 2019
Tags: Flyposter, G20, Germany, Hamburg, International Solidarity
Posted in Social Control
Wednesday, January 9th, 2019
Contribution from La Rebelión de las Palabras for the meeting taking place in Santiago, Chile on 23rd December in combative memory of nihilist-anarchist comrade Sebastian Oversluij, "Angry". The meeting was also within the context of Black December and internationalist anarchist praxis. 5th year since Sebastian's death during a bank expropriation.
From the Spanish State, we greet first of all the compas that raised the commemorative activity for Angry, to a new anniversary of his death in action when he was trying to expropriate one of the temples of Capital. The noise of the blast that killed him awoke new feelings of rabid sadness that roamed the globe, unleashing actions of revenge, activities in his memory, and that inspired more individuals and groups that from the offensive or not, returned to take a breath to continue on this difficult path. We did not know Angry, nor did we know the political and social context of the Chilean territory where he developed, lived and fought. However, the courage, the determination and the coherent commitment that he showed with his last action reverberate in us, and we also feel affinity with his words, his music with the rap band Palabras En Conflicto, which we know and like, and with his drawings and gestures, contributions that mark his offensive trajectory, feeling honored to be able to participate in this activity contributing the present writing.
We have been asked to write something about the context of anarchism in the territories dominated by the Spanish State. However, to be honest, we do not feel legitimacy for such a task, since we do not know in depth the concrete context of many places of the state, and others we know them in a partial, ephemeral way or in any case, from an approach that starts from our assessment, our subjectivity and our own processes, affinities, preferences, with what we have decided to make a general assessment that, we repeat, part of our own personal valuations, without having to be taken as an absolute reason or that we intend to speak for others companions who, perhaps, have another point of view and something to say about it. (more…)
Tags: Black December, Chile, Counter-info, International Solidarity, La Rebelión de las Palabras, Santiago, Sebastián Oversluij Seguel, Solidarity Event, Spain
Posted in Autonomy
Sunday, December 30th, 2018
Black December means action and memory, and, like any initiative of direct attack, it comes to life and continues when there is a will to go from words to deed – to break with the normality of the capitalist social routine and the comfort of civic life.
Always prepared for action, we liberate ourselves from the consumerist fever and the behavioral patterns imposed by the social order with its end of year traditions. And so, with planning, cunning and certain precautions, the anarchist attack never stops.
That's why at dawn on December 28th we set fire to a truck in the city of Santiago, in a suburb of the so-called 'middle class'. The action was reported by the media and now we can confirm: it wasn't a short circuit, it was an intentional fire wrought by anarchic hands during the middle of the night in the streets of their disgusting city.
Setting fire to a truck is attacking the mega-machines and structures that contribute to the devastation of the Earth, it is setting fire to the ideas of progress and civilization, it is our contribution to the ongoing agitation against the IIRSA-COSIPLAN project and the construction of thousands of kilometers of roads that destroy eco-systems to facilitate the transit of trucks full of merchandise and accelerate the advance of the city that contaminates our life. (more…)
Tags: Arson, Black December, Chile, Incendiaries Complicit in Sabotage – Informal Anarchist Federation / International Revolutionary Front (FAI-FRI), Informal Anarchist Federation (FAI), International Revolutionary Front, International Solidarity, Santiago
Posted in Direct Action