Posts Tagged 'International Solidarity'
Sunday, October 30th, 2016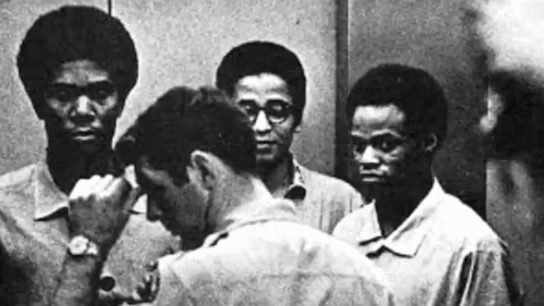 "Gentlemen, the Dragon Will Fly Out"
In Support of September 9th Mobilization in US Prisons
"Gentlemen, the dragon will fly out" is a saying attributed to prisoner George Jackson. On August 21st 1971, holding a pistol, he opened all the cells in an adjustment unit, taking jailers hostage. George Jackson was killed in his attempt to escape…
Since September 9th, prisoners in the United States have called for action against slavery.
A multitude of "invisible" slaves (there are about 2.5 million prisoners in the United States) are condemned to forced labor, or as jailers of their own selves (internal work in prisons, cleaning, repairs, technical operations), or as cheap meat in the service of corporate behemoths (Honda, McDonald's, Wendy's, Victoria's Secret, Starbucks, and many others). Besides, the 13th amendment to the US constitution clearly states: "neither slavery nor involuntary servitude, EXCEPT as a punishment for crime whereof the party shall have been duly convicted…" To put it simply, detainees are considered slaves as part of their punishment.
Prisons in America—and not just there–aren't only bars, walls, surveillance cameras or lockdowns. They're also an enormous lucrative business. Prisons are a dirty dealing for continuously supplied shackled labor force without name and without voice. They represent a modern slave trade, making billion-dollar profit, that not only supplies the companies-caretakers but also the industry of lawyers, judges, cops, corrections officers, private prisons. (more…)
Tags: Attica (Prison Uprising), Conspiracy of Cells of Fire, Fleeta Drumgo, George Jackson, Greece, Informal Anarchist Federation (FAI), International Revolutionary Front, International Solidarity, John Clutchette, Korydallos Prison, Letter, Michael Kimble, Prima Linea, Prison Industrial Complex, Prison Labour, Prison Labour Strike, Racism, Red Army Faction (RAF), USA, Weather Underground
Posted in Prison Struggle
Tuesday, October 25th, 2016
In Italy, comrade Alfredo Cospito since October 3rd and comrade Anna Beniamino since October 10th, are on a hunger strike against the isolation imposed on them and on the anarchists imprisoned for the attacks of FAI (Operation "Scripta Manent").
We know that the struggle against authority is unequal… Nevertheless we choose the war for freedom instead of the peace of fear.
Because we know that there are "free" people, who are more enslaved than prisoners, and living people that are more dead than most of our dead comrades who fell in the battle for freedom.
Because for every battle that we lose, a new one begins.

"Because if I don't get burnt, if you don't get burnt, how will the darkness turn to shining…"
For us solidarity is not simply a "touching" word, but a way of life, of becoming people with the dream as our measure.
We stand by our comrades Alfredo and Anna with all our hearts and minds, until our dreams meet…
STRENGTH AND SOLIDARITY TO THE COMRADE HUNGER STRIKERS
ALFREDO COSPITO AND ANNA BENIAMINO
NEVER REGRETFUL
NEVER DEFEATED
CCF / FAI – Urban Guerrilla Cell

George Polydoros
Olga Economidou
Gerasimos Tsakalos
Christos Tsakalos
Korydallos prison
–
CCF Per Alfredo ed Anna fino al incontro
In Italia dal 3 ottobre il compagno Alfredo Cospito e dal 10 ottobre la compagna Anna Beniamino sono in sciopero di fame contro il regime d'isolamento imposto a loro ed agli anarchici incarcerati per attachi di FAI (operazione scripta manent).
Conosciamo che la battaglia contro il potere è ineguale….però scegliamo la guerra per la libertà che la pace di paura. Perché sappiamo che ci siano "liberi" più schiavi che i carcerati e vivi più morti che i nostri compagni caduti in battaglia per la libertà. Perché per ogni battaglia che perdiamo, una nuova comincia. "Perché se non mi brucio io, se non ti bruci tu, come il buio diventerà splendore…"
Per noi la solidarietà non è una parola "emozionante" ma una maniera di vivere ad essere umani dove la nostra misura sarà il sogno.
Stiamo a lato dei compagni Alfredo ed Anna con tutta la nostra cuore e nostro mente fino al incontro del sogno…
FORZA E SOLIDARIETÀ AI COMPAGNI CHE FANO SCIOPERO DA FAME ALFREDO COSPITO ANNA BENIAMINO MAI PENTITI MAI PERDITI CCF/FAI-Cellula guerriglia urbana
Polidoros Giorgio Iconomidu Olga Tsacalos Gerasimos Tsacalos Christos Dalle prigioni di Coridalos

–
Italy – Anarchist comrades Alfredo Cospito and Anna Beniamino ended their hunger strike on 22nd October
On 22nd October, following the revocation of solitary confinement, Alfredo and Anna stopped their hunger strike, which they had begun on 3rd October and 10th October respectively.

via: Croceneranarchica, actforfree
Tags: Alfredo Cospito, Anna Beniamino, Athens, Christos Tsakalos, Conspiracy of Cells of Fire, Conspiracy of Cells of Fire - Urban Guerilla Cell, Gerasimos Tsakalos, Giorgos Polydoros, Greece, Hunger Strike, Informal Anarchist Federation (FAI), International Revolutionary Front, International Solidarity, Korydallos Prison, Letter, Olga Economidou, Operation Scripta Manent
Posted in Prison Struggle
Tuesday, October 25th, 2016
Dear all,
As Anarchist Radio Berlin, we recorded a presentation about the ongoing prison strike in the United States of America, its backgrounds as well as the methods of support and solidarity that are used in- and outside of prisons. The presentation was held in October 2016 in Berlin.
You'll find the audio (to listen online or download in different sizes) here.
Length: 57:47 min
You can find other English and Spanish language audios here:
http://aradio.blogsport.de/englishcastellano/.
Tags: Anarchistisches Radio Berlin, Berlin, Germany, International Solidarity, Prison Labour Strike, USA
Posted in Prison Struggle
Friday, October 14th, 2016
NEMESIS PROJECT
FIRST ACT

We claim responsibility for attacking the house of the district attorney Georgia Tsatani, in Ippokratous street in Athens city center, next to the Exarhia police department.
We knew that G. Tsatani has a police escort and that she is a guarded target, but this didn't stand in our way to accomplish our attack.
We chose a symbolic action with only material damage as a sole purpose, but the Conspiracy of Cells of Fire won't be limited to that…
We have two reasons for choosing this particular district attorney.
The first one is that G. Tsatani is a member of the para-judicial network whose job is to take out of sight case files that impinge the interests of the business and politics mafia (with a view to profit of course). She is the judicial vanguard of her masters.
The apex of her tainted career is the Vgenopoulos case, where G. Tsatani closed the case, aiding him to be discharged of his certain conviction. Her venality by the businessman Vgenopoulos pumped up more her invisible para-judicial account. These inconspicuous courtesies of businessmen can built the villas of the judges as an exchange for their "justice".
Another sample of this district attorney's writing, that is being kept diligently secret from the media, is Meimarakis' case. Georgia Tsatani is the one who took on the case file regarding the equipment and the bribes of Vagelis Meimarakis, the former minister of national defense back then and she made sure to "forget" to send these files in the parliament, with her sole purpose being to cover for him. The exchange of this conciliation was the placement of Tsatanis' daughter and husband as minister candidates in New Democracy on Meimarakis' presidency.
Georgia Tsatani was involved in the Vatopedi case, making clear once again the mafia-like partnership between Church and Justice, as well as in many other famous cases that she would "chop off" in order to conceal and protect the interests of authority.
The second reason for choosing to attack the district attorney Georgia Tsatani was her participation in the judicial thralldom of our comrades' relatives.
G. Tsatani was the one who viewed as unacceptable one of the applications of release by Evi Statiri, who is the wife of Gerasimos Tsakalos, member of the C.C.F. Thus, she contributed in the anti-guerrilla campaign and in one of the most immoral extortions against anarchist revolutionaries.
The vengeful obsession of the judges against the families of our comrades is a choice that all judges involved will be asked to pay and at a great cost. We have remembrance and most of all patience, persistence and diligence…
We are dedicating this action to the imprisoned members of C.C.F, Gerasimos Tsakalos, Christos Tsakalos, Giorgos Polydoros and Olga Economidou.
We are sending our solidarity to the anarchist comrade Aggeliki Spyropoulou, to all unshakeable political prisoners that lie in the cells of the Greek Democracy, as well as to the Italian comrades Alfredo Cospito, Nicola Gai and the anarchists persecuted in Italy within the undertaking "scripta manent" against F.A.I.
Soon the complete version of this proclamation will follow, as well as our initiative for "Nemesis" Project.
We will be back…
Translated by A-politiko.
–
Conspiración de las Células del Fuego reivindica ataque con bomba contra casa de fiscal.
["Reporte" por Sin Banderas Ni Fronteras]
Con un comunicado subido a internet el grupo de guerrilla urbana anarquista "Conspiración de las Células del Fuego" se atribuyó la responsabilidad por una bomba que explotó el día miércoles 12 de octubre en la casa de la fiscal G. Tsatani en el centro de Atenas, cerca de la estación de policía de Exarchia.
En el comunicado – disponible hasta ahora solo en griego- se detalla que el ataque se realizó aun a pesar de que la fiscal contaba con protección policial y que la bomba buscó generar daños materiales, pero que los ataques no se limitarán solo a eso. También se mencionan los motivos para centrar el ataque en la fiscal Tsatani, siendo uno de ellos su participación en el encarcelamiento de lxs familiares de lxs miembrxs presxs de CCF. El comunicado menciona más específicamente el rol jugado por la fiscal en el secuestro judicial de Evi Statiri (actualmente en la calle), quien es la compañera amorosa del compañero Gerasimos Tsakalos (miembro de CCF actualmente encarcelado en el módulo subterráneo de la prisión de mujeres de Koridalos).
Según la prensa griega, el ataque fue precedido por una llamada anónima de advertencia y la bomba explotó aproximadamente a las 23.45 horas del miércoles.
A continuación se pueden leer algunos extractos del comunicado a la espera de una versión en inglés que permita una mejor traducción al español:
"PROYECTO NEMESIS
PRIMER ACTO
Asumimos la responsabilidad por el ataque a la casa de la fiscal Georgia Tsatani en la calle Hipócrates, en el centro de la ciudad al lado de la estación de policía Exarchia.
Sabíamos que Tsatani tiene escolta policial (…) pero esto no fue impedimento para instalar nuestra ofensiva. Elegimos un acto simbólico destinado únicamente a daños materiales, pero en el futuro la Conspiración de Células del Fuego no se limitará a eso…
La elección de esta fiscal en concreto fue por dos razones principales.
La primera razón es que Tsatani es miembro del circuito (…) que se compromete a hacer "desaparecer" los archivos que afectan los intereses de los empresarios y de la mafia política (con fines de lucro, por supuesto). Es la vanguardia judicial de los patrones.
(…)
La segunda razón por la que elegimos golpear a la fiscal Tsatani fue por su participación en el secuestro judicial de los familiares de nuestrxs compañerxs (…) por lo que también contribuyó a su vez con la campaña judicial anti-guerrillera (…).
La furia vengativa de los jueces hacia lxs familiares de nuestrxs compañerxs es una opción por la que pagarán un alto precio (…)
Tenemos memoria y, sobre todo, paciencia, persistencia y consistencia…
Dedicamos esta acción a lxs miembros encarcelados de CCF Gerasimos Tsakalos, Christos Tsakalos, Georgio Polidoro y Olga Economidou.
Enviamos nuestra solidaridad a la compañera anarquista Angeliki Spyropoulos, a todxs lxs presxs políticxs no arrepentidxs en las celdas de la República griega y a los compañeros italianos Alfredo Cospito, Nicola Gai y lxs anarquistas perseguidxs en Italia dentro de la operación "Scripta Manent" contra la FAI.
Pronto lanzaremos todo nuestro manifiesto y propuesta para el 'Nemesis'.
Volveremos…
Conspiración de Células del Fuego / F.A.I."
–

Ver comunicado en griego acá.

Tags: Aggeliki Spyropoulou, Alfredo Cospito, Athens, Christos Tsakalos, Conspiracy of Cells of Fire, Conspiracy of Cells of Fire - Urban Guerilla Cell, Evi Statiri, Georgia Tsatani, Gerasimos Tsakalos, Giorgos Polidoras, Greece, Informal Anarchist Federation (FAI), International Revolutionary Front, International Solidarity, Nemesis Project, Nicola Gai, Olga Economidou, Operation Scripta Manent, Solidarity Action
Posted in Direct Action
Wednesday, October 5th, 2016
1st of October
A minimum response on the call-out for the day of Rage against the massacre at Aleppo.
Even if there are only ruins left at Aleppo, the bombings haven't stopped. Even now, after 5 years of bombs and sieges, people still live in this city. Some because they didn't manage to leave, some because they didn't see a better future at Mediterranean's seabed, some because they refused to abandon the revolution against the dictatorship of Assad, that started with the Arab Spring. At Aleppo's ruins a guerilla warfare is taking place, that until now, Assad with Hezbollah, Iran and Russian military machine haven't achieved to defeat.
If the things that happened with the repression of Spanish Revolution by Franco and the Nazis were the rehearsal of World War II, probably the war in Syria is an image of the post-industrial future on earth. A future, where the democratic excuses collapse and the absolute violence prevails. A world, that despite the gigantic military power of the tyrants, the most effective way to control the insurrection is still by division. A situation of despair, where people in order to defend themselves and survive, are organized in groups manipulated by generals, who only seek more power and who lead the revolting crowds away from the fight against the regime and into a fight for control of the war zones of their interests.
The result is a constant war, a profitable business for the capitalists, who sell weapons and armament to war zones, where trade and economy still exist.
The example of Syria's punishment is a clear warning to everyone in the world, who even thinks about revolting.
In this chaotic total war, the reference point for us, are the few guerilla groups, organized outside the control the "moderate Muslims" of Al Nusra, or the "cosmics" of the FSA, who are both manipulated from the dominant powers of imperialistic competition, like USA, and both have the same target, a big piece from the power reallocation.
In a situation where people are cruelly attacked from one imperialist, and seek safety from the actions of its rival, we are affected by some revolutionaries, like the Leon Sedov Brigade, who stand against any imperialist and propose the solidarity and unity among the repressed of this world. We are inspired from the attempts of organization from the Revolutionary Coordination Committees against the dividing of the uprising, from the manipulant organizations.
Those rebels who try to self-organize in a battlefield with bombs and chemical weapons, who are still fighting despite the heavy losses, who prefer to die rather than surrender to the murderer Assad, who define and defend their freedom at all costs, they spread the message that in every condition struggle is possible, if there is the will to fight.
They spread a message that the powerful military machines of Al Assad, Iran, Lebanon, Isis, Russia and USA haven't achieved to defeat them for more than 5 years.
That explains the cruelty of the attack to Aleppo, the capital of revolution. After smaller towns were besieged and lead to starvation, the same tactic was attempted at Aleppo. But there were dynamic demonstrations where banks were expropriated, actions outside the guidelines of the army parties, which control the masses. That's why Aleppo is now being totally destroyed.
A major factor for the ongoing slaughter in Syria is the absolute absence of social resistance to this war, from the people of the imperialistic countries that invaded Syria.
European people, not only they do not react to the war, but the majority consent to the closure of the borders for refugees, who, if they survive from the death in the sea, are the only fighting, like the great example of Syrian refugees in Paris who went on hunger strike, demand the termination of the war.
We don't have a clear picture of what happens in movements in the rest of the world, but we are going to talk for the Greek case. Because after all, the economic crisis and poverty here in Greece, except from radicalizing parts of the people, lead more to the pacification. On the one hand we have people who take care of the refugees, rescuing them with their boats, independently from political parties and non-governmental organizations, and on the other hand there were beatings, fascist attacks and actions against the refugees. No big anti-war demonstration though, as happened in the past, because now economy is the only concern. Using it's left mask, Syriza combining fear management and harsh repression, lead social resistances, in general, to surrender. And now Greek state is placing refugees to concentration camps, obeying the demands of the European Union. Sadly, the solidarity to the refugees is limited to charity, without any reference to the revolution, that lead to war.
For the lefts, the "anti-american" feelings and the belief that "the enemy of my enemy is my friend" doesn't allow them to stand against Assad, while the majority of the anarchists, lacking analysis, refer exclusively to Rojava.
At the same moment, refugees give their own fights like the uprising in Moria, where after destroying a large part of the infrastructure, they escaped, but rather than run, as usually happens, they gathered and demonstrated, resulting their arrest.
In our opinion, we seek the expansion of the solidarity to the refugees, in a more general context, that will regard the war in Syria as an example of an uprising and how capitalists dealt with it, in order to be able to exclude the proper conclusions from it.
It's obvious, that the unity of the rebels doesn't come from the big, centralized, hierarchical organizations, that end up fighting each other for the biggest share of power. The only hope is a horizontal organization, that doesn't allow to any ambitious leader to sell the fight. The decentralized network of collectives that fight with their one will to a common direction, coordinating when possible, exchanging information, know-hows, arms and political ideas.
The views that see hierarchical organization as a necessary condition to achieve victory in a revolutionary war, were tried in the past and were lead to defeat or to the reproduction of the same social systems that they hypothetically fought.
The example of Syria, where small guerrilla groups and no centralized armies stand against the Russian military machine and the alliance of local armies, proves that what is missing is not the proper leadership, but a new mindset of organization. And that applies to every field of organization of revolutionary action, whether it is guerilla warfare, or the spread of revolutionary ideas, that do not persuade anyone because they are signed by the biggest federation, but are spread through initiative, close human contact, and co-action.
The massacre in Syria won't stop, unless we do something to stop it.
Unless we face it as a part of the repression that we all have felt. If we don't feel the tenacity of the rebels who don't surrender. If we don't realize that the distance from suffocating because of tear gas in demonstrations to the endless gas chamber of Syria is short. As long as we abstain from the streets, we give our permission to this bloodshed.
When captivity and death become universal condition, we are called to make insurrection and solidarity a universal condition.
EVERY DAY, A DAY OF RAGE
WAR AGAINST AUTHORITY ON EVERY INCH OF EARTH
Anarchists from D' wing of Koridallos Prison (Greece)
Tags: Al-Nusra Front, Aleppo, Analysis, Athens, Brigade León Sedov, Hezbollah, International Solidarity, Iran, Islamic State in Iraq and Syria (ISIS), Korydallos Prison, Lebanon, Letter, Migrant Struggle, Rojava, Russia, Social Insurrection, Syria, USA, War
Posted in Prison Struggle
Wednesday, October 5th, 2016
Inside the framework of the international day of solidarity to the struggle of the US prisoners that was called by the Anarchist Black Cross-Solidarity Cell, a protest outside of the American embassy took place.
ABC solidarity cell, Assembly for solidarity to political prisoners, Assembly for solidarity to the prisoners' struggle against slavery, A.S.M.P.A., Assembly of anarchists communists for the class counter attack against the European union as well as other comrades participated in the protest. During the protest, slogans were shouted, flyers were spread, texts were given out and banners were hanged.
Anarchist Black Cross – Solidarity Cell
Tags: ABC - Anarchist Solidarity Cell, Athens, Demo, Greece, International Solidarity, Prison Labour Strike, USA
Posted in Prison Struggle
Saturday, September 24th, 2016
Prisons in the USA – The dark side of slavery in American society
In order to be in the position to understand the importance and necessity of the us prisoners' struggle, we first need to analyze the role of slavery in the foundation and evolution of the american state and its historical and integral ,until today, link with the capital.
Slavery in its many forms was actually the foundation on which the omnipotence of american overlordship was gradually built. The root of this phenomenon can be traced back in the era when the christian empires of europe started a race to conquest unknown lands, founding colonialism regimes, in the era of brutal genocides of the indigenous populations and the slave trade of the non-white african population. Since then and until today, the social and political circumstances have rapidly changed, mainly because of a heavy blood tax that has been paid from beneath, towards the direction of the total shaking off of slavery as an institution. However, it continues up until today, more or less covered.
Today's prisoners' class and racial composition, the spreading of private prisons, the institutionalization of enforced labor as a form of criminal sanction, the exploitation of prisoners by big companies highlight the fundamental connection between state-capitalism-slavery and prison. (more…)
Tags: ABC - Anarchist Solidarity Cell, Greece, International Solidarity, Prison Labour, Prison Labour Strike, Prison Riots, USA
Posted in Prison Struggle
Wednesday, September 7th, 2016
At dawn on September 6, an operation coordinated from Digos [political police] based in Torino led to the search of thirty homes in Piemonte, Liguria, Lazio, Umbria, Lombardia, Abruzzo, Campania, Sardinia and Emilia Romagna, as well as the arrest of six anarchist comrades on charges of subversive association with terrorist aims: Anna, Marco, Sandrone, Daniele, Danilol and Valentina, in addition to the notification in prison for Nicola and Alfredo.
The operation, called "Scripta Manent", seeks to attribute to a single directing a series of actions in common the claim by the Informal Anarchist Federation, which reproduces the repressive strategies of some earlier as Op. Cervantes and Op. Ardire, and trying to superimpose a membership structure and top-down to expressions of anarchic conflict.
Specifically, the attacks included in this investigation include the explosive packages sent in May 2005 to the Director of the CPT [immigration detention centre] of Modena, the traffic wardens' barracks in Turin – San Salvario and the superintendent of Lecce [claimed by FAI / Narodnaya Volya], the explosive device against the barracks of the RIS (Italian scientific department) of Parma [24 October 2005 – claimed by FAI / Artisan Cooperative Fire and Similar (occasionally spectacular)], the parcel bomb sent to Sergio Cofferati [2 November 2005 claimed by FAI / Artisan of Cooperative Fire and Similar (occasionally spectacular)], the arsonist device against the barracks of the Carabinieri's cadets in Fossano [2 June 2006 claimed by FAI / RAT (Rivolta Anonymous and Tremenda)], the
letter bombs sent in Turin in July 2006 to Coema Edilità (company involved in the restructuring of CIE) , the Mayor Sergio Chiamparino and the director of Turin Chronicle [claimed by FAI / RAT (Rivolta Anonymous and Tremenda)], the bombs placed in the Crocetta Turin neighborhood [March 7, 2007 claimed by FAI / RAT]; in addition to other actions also injured Adinolfi [7 May 2012], for which two comrades have already been convicted and have publicly claimed the attack, returns to substantiate the crime of association. (more…)
Tags: Informal Anarchist Federation (FAI), International Revolutionary Front, International Solidarity, Italy, Operation Scripta Manent, Repression, Turin
Posted in Social Control
Sunday, September 4th, 2016
Here is a text that several imprisoned members of the Conspiracy of Cells of Fire in Athens, Greece, wrote for an event at the squatted anarchist centre Bibloteca Kaos in Brazil.
To all comrades, to all our anarchist brothers and sisters who are present in this event organized by the anarchist library Kaos. Let our thoughts break out and travel to Brazil so as to send these few words with the hope that maybe a little, you can feel our presence beside you.
In response to the subject of the event taking place during the International Week of Solidarity to Anarchist Prisoners and on the case of Nicola Sacco and Bartholemeo Vanzetti we would like to throw in our personal and historical contribution. The Conspiracy of Cells of Fire was from the very beginning an anarchist group of direct action that aspired to an upsurge of the anarchist aggressive presence in Greece. Thus, the CCF did not hesitate to often criticize that which was believed to be preventing the generalization of this intensification. But when the oppression finally made it to our doorstep, we fully understood that we would not own up to our standards should we refuse to defend our identity, our political viewpoints and our very substance. Furthermore we could have ended up being in complete contrast with our critiques against others in the past. So seven years after the day that repression struck us, we remain at the forefront of anarchist dignity, at least so as we perceive it. We refused to dishonor ourselves in any way and defended what we believed we had to defend, still paying the price of our uncompromising attitude. (more…)
Tags: Andrea Salsedo, Athens, Biblioteca Kaos, Brazil, Carlo Valdinoci, CCF - Metropolitan Violence Cell, Charles Poggi, Conspiracy of Cells of Fire, Emma Goldman, Ferrecio Coacci, Gabriella Antollini, Greece, Informal Anarchist Federation (FAI), International Solidarity, International Week for Anarchist Prisoners, Luigi Galleani, Mario Buda, Nicola Recci, Sacco and Vanzetti, Severino Di Giovanni
Posted in Prison Struggle
Sunday, September 4th, 2016
Image above is a photo of Forever21 garment factory workers on their two year long boycott of the said company. Presently Forever21 is seeking to investigate who is agitating and identify the struggling workers and campaigners to harass and sue them. Despite this the workers are not scared and will not back down. Help spread this appeal and the previous article in solidarity to their fight. Strike, sabotage, boycott, flames to corporate leeches.
Six Forever21 workers (three which has their employment ended) is currently on an on-going court case against Forever21. Please help cover:
1. Court expenses.
2. Personal necessities to those who's currently finding new work which wont have them paid for a month or two.
3. Medical expenses for the father of one of our folks who's currently confined in the hospital and don't have healthcare to cover cost as Forever21 denied them this benefit.
https://www.youcaring.com/6-forever21-workers-in-the-philippines-627366
Tags: Forever21, International Solidarity, Philippines
Posted in Autonomy
Wednesday, August 31st, 2016
Between 1st and 10th of July, international days of solidarity for political prisoners of Putin's police state took place in 21 cities of 10 different countries. Although state pressure is growing, new delirious «anti-terrorist» laws are passed instead of improving life of citizens, activists of Moscow Anarchist Black Cross, Autonomous Action and other anarchist and anti-fascist initiatives organized a wide international campaign to defend our comrades imprisoned in Putin's gallows.
For full report with working links and pictures, check original at
http://avtonom.org/node/32772
Tags: ABC Moscow, Antifa, International Solidarity, Russia
Posted in Anti-Fascist
Friday, August 26th, 2016
On September 9th, prisoners across the United States will begin a strike that will be a general work stoppage against prison slavery. In short, prisoners will refuse to work; they will refuse to keep the prisons running by their own labors. Prisoners are striking not just for better conditions or changes in parole rules, but against prison slavery. Prisoners state that under the 13th Amendment which abolished racial slavery, at the same time it allowed human beings to be worked for free or next to nothing as long as they were prisoners.
Prisoners see the current system of prison slavery to thus be a continuation of racial slavery, which is a system that generates billions of dollars in profits each year for major corporations in key industries such as fossil fuels, fast food, banking, and the US military.
Soon after the passing of the 13th Amendment, many former slaves were soon locked up in prisons on petty offenses, quickly returned to their former roles as slaves. Over a century later, the Drug War sought to deal with the growing unemployment rate brought on by changes in the economy (outsourcing, financialization, deregulation, etc), as well as the threat of black insurrection which grew in the 1960s and 70s, by throwing more and more people in prison. At the same time, the state and corporations continued to look towards prison labor as a source to generate massive profits. (more…)
Tags: Anti-Prison, International Solidarity, Letter, Prison Abolition, Prison Industrial Complex, Prison Labour, Prison Labour Strike, Repression, Sean Swain, USA
Posted in Prison Struggle
Tuesday, August 9th, 2016
Tijuana, México

Durante los últimos meses hemos realizado algunas acciones
Alguna madrugada del mes de abril, realizamos pintas en el parque
industrial del Florido
Saboteamos cuatro cajeros automáticos del banco
Estas acciones no forman parte de un plan de lucha o son resolutivos de
algún congreso, estas acciones nacen de nuestros deseos y placeres de
atacar a los símbolos del capital
En alguna madrugada del mes de junio se colocaron lienzos en algunas
partes de la ciudad, el primer lienzo fue con motivos de un pequeño
gesto de solidaridad con lxs compas afines que propagan la guerra social
en Oaxaca, el segundo lienzo con motivos de propaganda de ideas:
"nuestra venganza sera una insurrección anarquista" y se hicieron pintas
contra la autoridad.
En alguna madrugada del mes de julio se colocaron dos lienzos, el
primero con motivos de tejer complicidad y solidaridad con lxs compas
afines y en lucha contra el fascismo y a autoridad policíaca en estados
unidos, en a que en los últimos meses lxs policías han estado asesinando
a personas de descendencia africana o cualquier otar que no sea la
personificación del individuo nacionalista estadounidense. El segundo
lienzo se colgó con motivo de un mensaje de insumisión contra la
autoridad policíaca que decía , "balas, bombas, puñales y fuego contra a
policía". (more…)
Tags: Individuales Anarquistas Insurrectxs Coordinadxs / FAI-FRI, Informal Anarchist Federation (FAI), International Revolutionary Front, International Solidarity, Mexico, Tijuana
Posted in Direct Action
Sunday, August 7th, 2016
Forever21 has a long history of labour lawsuits (aside from gender and discrimination, copyright violations) filed against them by their own employees. In early June this year, six employees (from an initial dozen holding meetings) from its outsourced call center in the Philippines have finally decided to take the necessary steps to hold the company accountable for its unfair labour practices.
History speaks for itself—these are the same old practices that Forever21 has already been sued for: exploitative scheduling practices where employees are made to work overtime (unannounced or announced two minutes before the end of their shifts), where anyone who refuses are threatened to be fined for insubordination; delaying lunches and breaks due to staff shortages and eventually shortening the allotted lunch time from an hour to 45 minutes; delayed salary; unfiled paperwork for employee dependents' medical benefits; threats and harassment towards employees who speak up (sometimes resulting in termination). (more…)
Tags: Forever21, International Solidarity, Philippines
Posted in Autonomy
Thursday, August 4th, 2016
In Italy comrades have been touched by the repression, for a solidarity action with Rojava last year… Long live the intenational revolutionary solidarity.
Once again, on July 21, 2016 we've been waked at dawn by police. This time, under warrant of prosecutor Rinaudo as usual, they would compel us coming daily to police station twice a day, as precautionary measure, following an action on September 2015, when we visited the Turkish Airlines offices at Caselle (Torino) to denounce Erdogan's terrorist politics and express support to those both in Turkey and Kurdistan who keep on resisting and fighting to.
Unbelievable but true, just while purges and massive arrests are overflowing and Erdogan states real destitution of Parliament and suspension of human rights Convention, in Italy – like in Europe – they pretend be shocked and try silencing those who since long have been denouncing the terror of the Turkish state, which isn't any fresh news, rather. (more…)
Tags: International Solidarity, Islamic State in Iraq and Syria (ISIS), Italy, Kurdistan, PKK (Kurdish People's Party), Repression, Torino, Turkey
Posted in Social Control