Posts Tagged 'International Solidarity'
Tuesday, September 4th, 2018
On Sunday, 2/9/18, banners from prisoners in Larissa were hung in A Wing. The banners were in solidarity with striking prisoners in the US, the banner reads "SOLIDARITY TO ALL US STRIKING PRISONERS – UNTIL THE DESTRUCTION OF ALL PRISONS"
Outside of the prison, 15 comrades were present, they called out slogans and had a little contact with the comrades who put the banner.
Tags: Banner drop, Greece, International Solidarity, Larissa, Prison Labour Strike, Solidarity Action, USA
Posted in Prison Struggle
Sunday, September 2nd, 2018
With this we take responsibility for the incendiary device we placed in front of the building of the German Society for Foreign Politics (DGAP) in Drake-/Rauchstraße (Tiergarten) in the night of 21.8.18.
13 litres of a petrol-oil-mixture shall be the beginning of putting an end to the undisturbed and fearless existence of the DGAP as a political advisor of the German war society.
Since the beginning of this year increased attacks against the war industry, their profiteers and financiers take and took place over all the German controlled territory. We join these attacks and let the fire speak from our side. War starts here! War on the war!
War starts here, in the halls of politics. War starts everywhere, where people throw away their empathy, to profit from the globalized misery. In the war-industry, the thinktanks of science, in the faceless administration of bureaucracy, in the form of uniformed slaves, who receive and obey orders in rank and file. War starts between human beings, when concurrence and aspiration to power reigns over solidarity and the free development of the individual.
German Security – Profit through war
Through the choice of the DGAP as the target of our incendiary device we declare the ideological architects of German-European hegemonic politics, the scientists and forerunners of a security paradigm which works with as well as alongside of warmongers and in this way are our enemies. What they declare about security is not ours. Their foreign policy is a policy of order. And their order needs tanks against uprisings and frigates against inflatable dinghies, it builds fences against the suppressed and works continuously to extend their ongoing misery. (more…)
Tags: Arson, Berlin, G20, Germany, International Solidarity, Kurdish Struggle, Rojava, Sabotage, Solidarity Action
Posted in Direct Action
Saturday, September 1st, 2018


Above: Banner of solidarity hung by Utopia AD, Greece, with the prison labour strike of the US prisoners and with the anarchist prisoners around the world.
Solidarity text to prisoners of "Lee Correctional Institution" prison of U.S.A.

In light of what happened at the "Lee Correctional Institution" prison in the state of South Carolina, U.S.A., and with the tragic death of 7 of our detained and 17 seriously injured and with the full responsibility of the service of the prison, the director and the chief guard, as they knew they were members of rival gangs and intentionally placed them in the same wing, being proud about their cowardly result. We, the prisoners of the A' wing based on solidarity with all South Carolina imprisoned fighters and all the prisons of America, declare our support in the general situation of this time, setting as a primary purpose the opposition to the dirty manipulations the director and the guards exercise in the prisons, having for result the death of our retained brothers. (more…)
Tags: Greece, International Solidarity, Prison Labour Strike, USA
Posted in Prison Struggle
Wednesday, August 29th, 2018
There is a new text, which came out from the cooperation of some people from couple of Anarchist Black Cross groups and Crimethinc. It is published in connection with both the ongoing prison strike in US and the global week of solidarity with anarchist prisoners. ABC Czech Republic asked us to share and spread the article:
Taking a Global View of Repression – The Prison Strike and the Week of Solidarity with Anarchist Prisoners
Tags: International Solidarity, International Week for Anarchist Prisoners
Posted in Prison Struggle
Wednesday, August 29th, 2018

ES – SEMANA INTERNACIONAL DE AGITACIÓN Y PROPAGANDA ANTIFASCISTA
INTERNATIONAL WEEK OF ANTI-FASCIST AGITATION AND PROPAGANDA
Call for a week of anti-fascist agitation and propaganda, due to the growth and visibility that far-right groups have achieved in recent times which has reached into spaces in the mainstream media, in neighborhoods and in bourgeois politics.
Because of the above it is necessary that we make ourselves present everywhere, mainly in the streets, making it clear that the intention is not only to act in an effective manner to fascist provocations, but to act in an offensive manner, permanently promote an anti-authoritarian attitude, to make visible, question and stress the daily reproductions of fascist attitudes such as racism, xenophobia, sexism and homo/transphobia.
We are present with Heather Heyer, Rodrigo Lanza and those who confront fascism in any of its forms.
Any info: latinxantifa(at)riseup(dot)net
Tags: Anti-Fascism, Antifa, International Solidarity
Posted in Anti-Fascist
Saturday, August 25th, 2018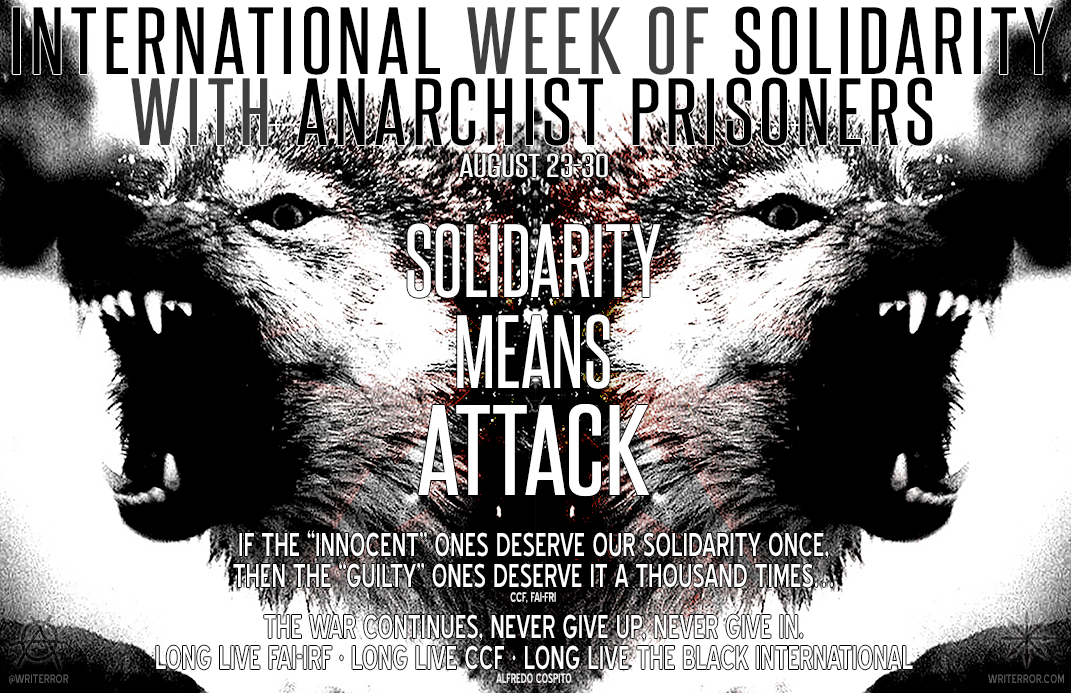 If the "innocent" ones deserve our solidarity once, then the "guilty" ones deserve it a thousand times… — Conspiracy of Cells of Fire, FAI-IRF / Imprisoned Members Cell

Solidarity will always be practiced as an indispensable feature of an anarchist way of life and action. The war continues, never give up, never give in. Long live FAI-FRI. Long live CCF. Long live the black international — Alfredo Cospito

Source
Tags: Flyposter, International Solidarity, International Week for Anarchist Prisoners
Posted in Prison Struggle
Thursday, August 23rd, 2018
Por la vida y salud de Juan Aliste Vega
Por el fin de las condenas de la justicia militar contra Marcelo Villarroel Sepúlveda
La "Red Solidaria Antikarcelaria con Juan y Marcelo" converge en los momentos en que nos llega la feliz noticia de que nuestro compañero Freddy Fuentevilla Saa logra pisar las calles nuevamente el 18/06/2018 tras 10 años y 3 meses de prisión ininterrumpida. Mientras por otro lado se encuentra la difícil situación de salud del compañero Juan y las duras condenas de la justicia militar que recaen sobre Marcelo. Por lo que como "Red Solidaria" nos empeñamos en agitar y difundir estas dos batallas que están dando los compañeros en prisión. Estas situaciones son delicadas y urgentes, es necesario visualizarlas, ponerlas sobre la mesa. Por lo que llamamos a todos/as las mentes concientes, a los/as autónomos/as, libertarios/as y subversivos/as a apoyar de forma real y concreta a Juan y Marcelo; ¡Aunemos!
– Sobre la situación de Juan
El compañero Juan fue un activo miembro de la guerrilla urbana del Mapu-Lautaro, organización que combatió durante años a la dictadura militar y su posterior transición a la democracia. Bajo la propuesta de la "Guerra Insurreccional de Masas" desarrollaron sabotajes, asaltos a bancos y armerías, atentados explosivos y armados, etcétera. (more…)
Tags: Chile, International Solidarity, Juan Aliste Vega, Marcelo Villarroel Sepúlveda, Santiago
Posted in Prison Struggle
Thursday, August 23rd, 2018


–What is a prison?
Prison is a material structure through which it is intended to inhibit the acts of any person who transgresses the conduct imposed by the State. Thus, punishment and the imposition of socially accepted discipline are the regime in which the captives have to live, by this seeking to annul their actions, ideas and beliefs. These acts may constitute crimes and like the ones that challenge order, be of revolutionary politics. It is with these that we again take a stand – either by supporting or having solidarity with those companions who presently are encarcerated for having carried out subversive actions for a political idea of liberation. The commitment of these companions makes us want to support them in real ways, concretely because we share goals. (more…)
Tags: Chile, International Solidarity, Juan Aliste Vega, Marcelo Villarroel Sepúlveda, Santiago
Posted in Prison Struggle
Monday, August 20th, 2018
ES – Grecia – "Hasta que todes seamos libres" (texto de compañeres de Grecia para la Semana Internacional de Solidaridad con los Presos Anarquistas)
Till all are free – International Week of Solidarity with Anarchist Prisoners
In 2013 the groups comprising the Anarchist Black Cross initiated the Week for Anarchist Prisoners, which takes place in the last week of August. The first day, chosen on purpose, is the anniversary of the execution of Nicola Sacco and Bartolomeo Vanzetti in 1927. It's important to emphasize the stories of our
comrades, since many of them will not be acknowledged as political prisoners.
Various state services of surveillance requested to speak with comrades as part of ongoing investigations, using the suspects' political orientation as the only criterion. This orientation is toward anarchism. Every investigation is based on the possibility of prosecuting comrades with the aid of an arsenal of laws aimed against a dangerous domestic enemy.
These prosecutions could involve anything, from texts until any sort of direct action, and this practice is nothing new since similar prosecutions in many
countries of the world have been witnessed in the past, especially those with a strong presence of anarchists who promote direct action and interventions. A tactic of the forces of repression is to prevent anarchist propaganda and the diffusion of our ideas and for that they won't hesitate to puncture the veneer of "democracy" which supposedly allows the free dissemination of ideas and information. Thus, any illusions people might like to have about democracy come to an end. Things have now become clear, the anarchist action or discourse will either become illegal or mean nothing"! This new form of repression that appeared now, is enforced against many of our captives, even under the guise of international "terrorism" which actually aims to target the domestic enemy that anarchy is. On one hand our captives have been prosecuted based on their political identity and on the other by having taken the political responsibility of their actions and their organizations. The strategy of preventive repression, of persecutions leading to convictions with the maximum possible sentences, of fast-track trials and of an effort to muzzle dissent, is already being enforced against anarchist centres and self-organized efforts that support and disseminate anarchist values. Simultaneously, the latest trial hearings constitute a final rehearsal of a new doctrine the state wants to enforce. (more…)
Tags: Greece, International Solidarity, International Week for Anarchist Prisoners, Type C prisons
Posted in Prison Struggle
Friday, August 17th, 2018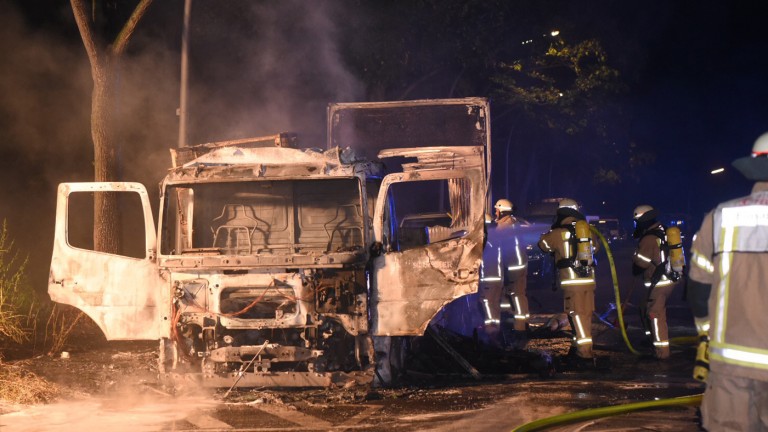 Berlin – Enemy supply lines attacked
We burned a truck of DB Schenker in the night to August 8th in Berlin-Wedding. When Erdogan arrives in Berlin on September 28. / 29., he will find our hostility here. Who rolls out the red carpet for the fascist Erdogan – X Day – is supposed to feel the ashes of the burning city in the nose.
Already since the year 2000, the ESG Elektronicsystem- and Logistics company runs together with its partner Schenker Germany AG (DB Schenker) the headquarters of logistics – called ZEBEL – of the German Armed Forces (Bundeswehr) in Kassel. From this hub with 17.000 square metres occurs the supply of civil partner companies and military repair workshops, which maintain Bundeswehr systems and vehicles. The transport of war material has most priority for DB Schenker. With it, the subsidiary company of Deutsche Bahn is responsible for the logistics and supply with NATO equipment to the Turkish Army in their war against the Kurdish areas. (more…)
Tags: Arson, Deutsche Bahn, G20, International Solidarity, Kurdish Struggle, Sabotage
Posted in Direct Action
Wednesday, August 15th, 2018
In front of the expansion of the Middle-East War and the new Iran-Iraq revolutionary waves: Towards an International Meeting in Kurdistan
Comrades,
In the last decades, the capitalist society as a whole is splitting up more and more into two great hostile armies directly facing each other: Bourgeoisie and Proletariat. Our epoch, the epoch of the deepening of the global industrial and commercial crisis and thereby increasing class struggle around the world has already passed various stages of development, through which the proletariat has exceeded its first stage of the isolated and sporadic phenomena. The growth of the class war will more and more take on an increasingly international form. And despite of the capitalist war in the Middle East, and new attempts by global capitalism to widen the circle of the war under the pretext of striking Iran's nuclear weapons, proletariat in Iran has joined-up the current international wave of class struggle. The strikes and demonstrations in Iran have spread to over 249 cities in all of Iran's 31 provinces. These revolutionary waves did not set an end in Iran, before the proletariat in Iraq entered this historical wrestling ring.
​In July 2018, a new wave of the class struggle in Iraq, with 30 victims killed and 700 injured during the past 10 days, more than 50 police and security men were wounded – proletariat in Iraq too started moving towards the universal scene of the class struggle. During the same week, demonstrations erupted in all towns and cities in central and south Iraq, where dozens of demonstrators were wounded, and hundreds arrested. (more…)
Tags: Baghdad, Insurrection, International Solidarity, Iraq, Kurdistan
Posted in Autonomy
Monday, August 13th, 2018
Una noche de julio: los automovilistas de la autopista Acceso Sur vieron inflamarse dos bolas de fuego que se expandieron ante sus ojos. Nuestros artefactos incendiarios funcionaron como estaba previsto, cortando el tránsito unos instantes en la principal vía de comunicación construída por el proyecto IIRSA-COSIPLAN en la zona centro de Chile, destinada al tránsito de mercancias hacia/desde el sur del país.
Madrugada del 01 de agosto: una lluvia de fuego se deja caer sobre una automotora ubicada a un costado de la autopista Vespucio Sur Express. Las bombas incendiarias que arrojamos cayeron como material piroclástico sobre los automóviles en venta.
Porque incendiando las calles saboteamos los canales nerviosos del flujo mercantil.
Porque atacando automotoras dañamos las máquinas que circulan por el cemento destruyendo el planeta como una plaga asesina. Así llevamos el incendio hasta las propias vitrinas donde se pone en venta la mercancía automotriz junto al sueño ciudadano del progreso sobre cuatro ruedas. (more…)
Tags: Arson, Chile, Grupo de conductas anti-sociales "Claudia López", IIRSA (Initiative for the Integration of the Regional Infrastructure of South America), International Solidarity, Sabotage, Santiago
Posted in Direct Action
Sunday, August 12th, 2018
From Cruz Negra Anarquista do Rio de Janeiro:
"August 14th, international day of support for the 23 activists sentenced in Rio de Janeiro, in defense of the right to protest, for all who fight"
We call on all social movements, popular and revolutionary organizations, trade unions, student movements, human rights groups, progressive intellectuals and other sectors of civil society to organize simultaneous actions in this great day of solidarity and struggle against the criminalization of social movements and in defense of the right to protest. (more…)
Tags: ABC Rio de Janeiro, Brazil, International Solidarity, Rio de Janeiro
Posted in Prison Struggle
Friday, August 10th, 2018
Tags: Flyposter, Indonesia, International Solidarity
Posted in Prison Struggle
Wednesday, August 8th, 2018
Tags: Flyposter, International Solidarity, International Week for Anarchist Prisoners
Posted in Prison Struggle