Posts Tagged 'International Solidarity'
Tuesday, September 15th, 2020
Tags: International Solidarity, Philippines, Repression, Video
Posted in Autonomy
Wednesday, September 9th, 2020
International Call for Action and Discussion Days in Berlin 30.10.-01.11.2020
International Demo in Berlin 31.10.2020
UNITED WE FIGHT!
Connect Urban Struggles – Defend Autonomous Spaces
Over the last years we experience a global resurgence of reactionary politics. State and capital, in a constant process of intensifying exploitation and expanding repression, used the global capitalist crisis, which started a decade ago, as a chance to further restructure relations of power in their advantage. Their political answer is materialized in a shift to the right, with a political alliance of neoliberal economic policies coupled with strong nationalistic narratives and repressive policies against resistance and progressive movements. The new face of authoritarianism has unleashed an all out attack against individuals it considers unnecessary or those that choose to resist and collectivize against the ruin of their lives. In our current period, states the world over used measures against Covid-19 to extend repression, policing and surveillance against societies. At the same time, the failings of neoliberal healthcare systems have led to masses of deaths and increasing inequality due to access to healthcare.
To all of this, people in different areas of the world answer with massive resistance on the streets. Movements with different perspectives have revolted, for example in Argentina, Bolivia, Chile, or more recently in France and the USA. The common thread of all these movements is their distance from institutionalized and systemic politics and the choice of self-organization and horizontalism in the fight against authority. (more…)
Tags: Berlin, Demo, Eviction, Germany, International Solidarity, Liebig34, Liebig34/XB, Meuterei, Potse, Squatting, Syndikat
Posted in Autonomy
Sunday, September 6th, 2020
"Bread, Salt, Land and Freedom" can be heard in the streets of all Belarus at present. Everywhere people and our friends have been streaming onto the streets since August 9th. Unusual for a country where activists disappear, are tortured or draconian prison sentences are supposed to suppress any thought of another world. But the population is looking for alternatives and our companions are right in the middle of it:
"We should not forget that anarchists are against not only this presidential election, but against any president in general. The Belarusian people have long known that power corrupts everyone. Lukashenko may be replaced by an opposition politician, who will keep power in the country and continue repression against his own population. We must rise up not to get a new president, but to live without presidents. Decentralization of power should be a key factor in the transition from dictatorship to a free society."
Pramen
While the madman from Belarus, self-proclaimed president, congratulates his murderous cop units and symbolically walks through Minsk with a Kalashnikov, the strikes and attacks on these units continue. The fear must be deep-seated of losing power, so he had the Internet turned off, sent the military to fight the demos and his whole family ran through the streets with weapons.
In Berlin, too, we follow the events and were inspired by the attack on the Belarusian embassy in Paris.
We send our greetings and strength to our anarchist friends and all the other rebels in the streets, following the call for international solidarity:
"Support from the outside inspires not only the hearts of anarchists, but also the hearts of everyone on the street."
For this reason we threw stones and paint bottles at the Belarusian embassy near Treptower Park during the night of August 27. We crossed their disgusting emblem at the gate with an A in a circle.
For a upheaval of the circumstances – until anarchy!
Fear turned into rage, rage into victory!
To all our comrades in revolt, courage, hold on!
(Translation from http://zf2r4nfwx66apco4.onion/node/1598520077610523)
Video: https://streamable.com/gepr2qv
Tags: Belarus, Berlin, Germany, International Solidarity, Sabotage, Solidarity Action
Posted in Direct Action
Friday, September 4th, 2020
Para lxs antagonistas a este sistema de terror el ingreso a la cárcel siempre es un trago amargo y siempre duele.
La prisión y yo somos viejas conocidas, en mas de una ocasión me han sentado en su mesa, con los años hemos cambiado y ambas hemos aprendido la una de la otra… pero por mas tiempo que pase escencialmente la cárcel y yo seguimos siendo las mismas. La cárcel aun es el monstruo fagocitador de poderes que crece con la sumisión y el arrepentimiento, yo continuo con los mismos deseos sediciosos de antaño.
Lxs poderosxs lograron encerrar mi cuerpo inquieto, trataron de custodiarlo por muchos años, pero aunque esté enjaulada, mi corazón sigue afuera lejos de alambrados, altos muros y ojos vigilantes… el gris de este lugar solo me toca superficialmente.
El presidio es otro escenario mas de lucha en el camino de la confrontación, el enfrentamiento antiautoritario para mi no ha terminado, solamente ha cambiado de forma.
Queridos Juan Aliste, Joaquín García, Marcelo Villarroel y Dinos Giagtzoglou sus palabras son una bocanada de aire fresco en esta celda.
¡Queda mucho por construir y destruir!
Solidaridad activa con los presos politicos mapuche en huelga de hambre.
Viva la Anarquía!
Monica Caballero S.
Presa anarquista.
Santiago Chile
Septiembre 2020.
–
Letter from imprisoned comrade Monica Caballero in San Miguel prison
For those opposed to this system of terror, prison is always a bitter pill and it always hurts.
Prison and I are old acquaintances, on more than one occasion I have sat at his table, over the years we have changed and we have both learned from one another… but no matter how much time I spend in prison, I remain the same. Prison is still the monstrous phagocyte of power that grows with submission and repentance, and I continue with the same seditious desires of yester-year.
The powerful succeeded in locking up my restless body, they tried to guard it for many years, but even though it is caged, my heart is still out there far from fences, high walls and watchful eyes… the grey of this place only touches me superficially.
The prison is another place of struggle on the road to confrontation, the anti-authoritarian confrontation for me has not finished, it has only changed shape.
Dear Juan Aliste, Joaquín García, Marcelo Villarroel and Dinos Giagtzoglou's words are a breath of fresh air in this cell.
There is still much to build and to destroy!
Active solidarity with the Mapuche political prisoners on hunger strike
Long live Anarchy!
Monica Caballero S.
Anarchist prisoner.
Santiago Chile
September 2020.
Tags: Chile, International Solidarity, Letter, Monica Caballero, San Miguel prison, Santiago
Posted in Prison Struggle
Tuesday, September 1st, 2020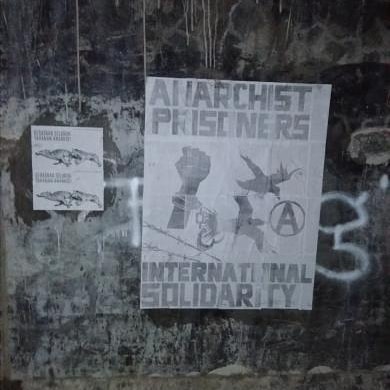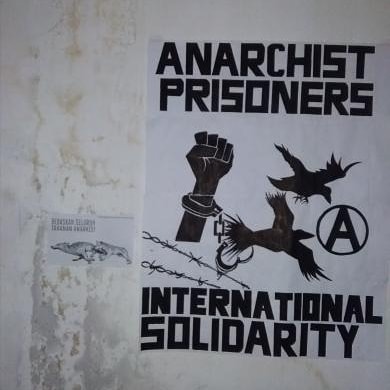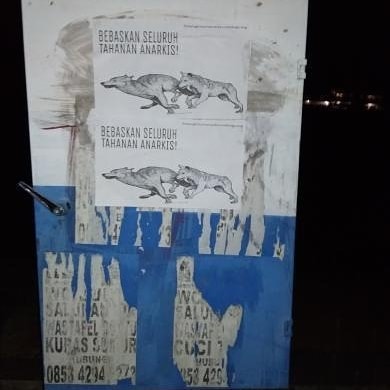 ABC Indonesia
Tags: Gorontalo, Indonesia, International Solidarity, International Week for Anarchist Prisoners, Solidarity Action
Posted in Prison Struggle
Tuesday, September 1st, 2020
Porque vivemos na contradição de perder a liberdade lutando por ela Cartazes. Semana de agitação pelos Anarquistas Presxs. Porto Alegre.
"Um escravo pode se transformar num rebelde, um só homem, uma só mulher, podem se transformar num incêndio devastador da ordem que se deseja abater, que é a civilização, a qual dia a dia destrói tudo aquilo pelo que vale a pena viver."
Alfredo Cóspito (palavras no cartaz pela semana de agitação pelxs anarquistas presxs).
Diante do inimigo, no nosso dia a dia, no nosso agir solidário, na construção de nossas cumplicidades e afinidades, na escolha entre gritar "morte ao estado e que viva a anarquia" e calar… vamos marcando nosso passo pelo mundo. Somos o peso de nossas decisões, e vivemos na contradição de perder a liberdade lutando por ela.
Cada companheiro e companheira sobre quem cai uma condenação e não se rende nem recua, marca no seu passo pelas prisões a determinação anárquica e a luta cotidiana de se manter dignos diante do inimigo.
Fora, xs anarquistas não deixam nenhum guerreiro só. Nessa interação que pretende quebrar o isolamento carcerário, recuperamos algumas das palavras dos próprios companheiros para fazê-las ecoar nas ruas.
Na tirania do encerro globalizado, a rua é um dos espaços onde o conflito permanece, onde as regras são quebradas, onde o ataque acontece, onde as revoltas são possíveis… Eis a importância de invadir seus muros com as palavras daqueles que lutam contra toda forma de dominação, com elas abrimos as portas para sair do encerro mental acurralado na lógica estatal e no consolo virtual, formas de poder engrenadas entre sim.
A Semana de Agitação pelos Anarquistas Presxs, inaugurada na década de 1920, nas agitações mundiais contra o assassinato de Sacco e Vanzetti, é o momento da vigência da solidariedade combativa: Através de diversos acenos que piscam em vários lugares, reafirmamos nossa cumplicidade na conspiração anárquica contra a dominação, nossa mão terna para os compas
e o punho fechado para os inimigos.
Semana de Agitação pelos Anarquistas Presxs 2020
Palavras dos compas nos cartazes:
"O dia que não exista um só indivíduo (e não falo de lendas místicas) capaz de resistir a mega-máquina autoritária, a liberdade de todxs haverá morto… Somente seremos apêndices de um sistema que gera apenas alienação perturbada."
Gabriel Pombo Da Silva.
"Sabemos que a simples existência do Estado nos localiza em uma situação de opressão, situação que é necessário combater e atacar se se têm por horizonte a liberdade. Não pode ser de outro modo. E é nessa opção de atacar onde vamos encontrando verdadeiros momentos de liberdade"
Francisco Solar.
"É inegável que cada experiência de procura da liberdade vale a pena. Se fazer cargo da própria existência com todas suas vitórias, derrotas, alegrias e penas, é a experiência impagável que aquele que vive submetido nunca poderá conhecer. Não se trata de se perguntar se valeu a pena tentar fugir, pensar assim me condenaria a ser um eterno perdedor. O primeiro passo de toda ação é o mais valioso, aquele que sempre será um ganho."
Joaquín Garcia.
"A dor é momentânea, o orgulho é para sempre"
Mônica Caballero.
"Um escravo pode se transformar num rebelde, um só homem, uma só mulher, podem se transformar num incêndio devastador da ordem que se deseja abater, que é a civilização, a qual dia a dia destrói tudo aquilo pelo que vale a pena viver."
Alfredo Cóspito.
Tags: Brazil, International Solidarity, International Week for Anarchist Prisoners, Porto Alegre, Solidarity Action
Posted in Prison Struggle
Thursday, August 27th, 2020
Informativo a un mes de la detención de lxs compañerxs Francisco Solar y Mónica Caballero (Agosto 2020)
El 24 de julio del 2020 el Estado detiene a lxs compañerxs anarquistas Francisco y Mónica acusadxs del envío de paquetes bomba contra la 54 comisaria y el ex Ministro del Interior Rodrigo Hinzpetter (Julio 2019, acción revindicada por "Cómplices Sediciosos / Fracción por la Venganza") y el doble ataque explosivo contra el edificio Tánica en el adinerado barrio de Vitacura (Febrero 2020 en plena revuelta, acción revindicada por "Afinidades Armadas en Revuelta"). Francisco se encuentra encarcelado en la Sección de Máxima Seguridad de la Cárcel de Alta Seguridad, en un comienzo permaneció completamente aislado pero tras la llegada del asesino de la joven Ámbar(*), el compañero busco la forma de encararlo y mostrar su rechazo con actos, siendo trasladado a una celda de otro sector permitiéndole salir -en parte- del extremo aislamiento en el cual se encontraba. Mónica tras permanecer varios días en la sección de "ingreso" sin acceso a patio y extendidose esta medida bajo la excusa de la cuarentena, finalmente fue trasladada al modulo de Connotación Publica de la cárcel de San Miguel.
Siguiendo las órdenes de los perseguidores de la Fiscalía Sur, a ambxs compañerxs se les extrajo nuevamente muestras de ADN, aquellos persecutores ya en el 2010 habían sacado mediante torturas esas muestras en el llamado Caso Bombas. Al igual que la totalidad de los recintos penitenciarios bajo el Estado Chileno, ambxs compañerxs se encuentran sin visitas, debido a la coyuntura sanitaria por el coronavirus y solo pueden tener comunicación mediante llamadas y videollamadas monitoreadas por gendarmería.
¡Solidaridad revolucionaria y activa con lxs compañerxs anarquistas Mónica y Francisco!
–
(*) Un mediático caso de un sujeto asesino y violador que atacaba a lxs hijxs de sus parejas, recientemente fue detenido tras un nuevo asesinato.
Tags: Chile, Francisco Solar, International Solidarity, Monica Caballero, Santiago, Solidarity Action
Posted in Prison Struggle
Wednesday, August 26th, 2020
Solidarity with the West Papuan Struggle for Independence
[Anarchists Worldwide Archive on the 2019 West Papua Uprising]
via AWW.
Tags: Indonesia, International Solidarity, Video, West Papua, West Papua Independence
Posted in Autonomy
Sunday, August 23rd, 2020
ES | Stuart Christie, el compañero, el amigo
The news of the death of Stuart Christie was communicated to me by telephone, the day before yesterday in the afternoon, by my comrade René after asking me if I was aware of the new bad news and after answering him abruptly: who has died? Well, from the tone of his voice, I immediately sensed that it must be the death of someone close to me.
His answer left me stunned, because although Stuart had confirmed to me a week earlier that he was still suffering from cancer and that the results of the medical examinations were not very encouraging, at no time had I thought of such a quick end for him. Close to me are several comrades -more or less my age- who are not in very good health, and the "normal" thing, at my age (soon ninety-three years old), is to think that it is you that time is counting down on.
So, in Stuart's case, how can I think about it when he's eighteen years younger? Besides, we were both in common projects and determined to continue participating in the fight against the world of power and exploitation.
For me, his death is not only the loss of a comrade, of a friend; it is the end of a collaboration of many years in common actions and initiatives to denounce the injustices of the world in which we live and to fight for a more just and free world. A world that is possible and for everyone, which we have not ceased to long for and to try to build through the consistent practice of active revolutionary and internationalist solidarity. (more…)
Tags: International Solidarity, Letter, Octavio Alberola, Perpignan, Stuart Christie
Posted in Uncategorised
Sunday, August 23rd, 2020
In the morning of 17th of August Terra Incognita gets TEMPORARILY evicted by the repressive forces of neoliberalism. Police forces intrude in the building and conduct researches for hours and confiscations. Days after the eviction the squat still remains open with cops celebrating TEMPORARILY their capability of violating every corner of our liberalized grounds.
For over 16 years Terra Incognita constituted a meeting place for hundreds of people of the struggling social basis. With constant events, direct acts, demonstrations and conflicts Terra Incognita was present in moments of the violent struggle against the violence of the state, the benefits of capitalistic monopolies, against the violating authority of fascism and patriarchy, against any type of discrimination and speciesism. In the grounds of the self-organised structures of self-education, solidarity and mutual aid of the squat all the "known-unknown" strugglers of freedom met and will continue to meet. Liberating and equality-based relationships were constructed, subversive plans and operations, dreams that day by day found and still find a space of moral and physical substance. For 16 years the squat proves itself to be the flesh of the flesh of the multiform struggle against any type of authority and oppression, without prioritizing or distinguishing the means that contribute to the spreading of libertarian ideas and the organization of social and class-conscious counter attack. Because for us this is liberation. (more…)
Tags: Eviction, Greece, International Solidarity, Repression, Terra Incognita Squat, Thessaloniki
Posted in Autonomy
Saturday, August 22nd, 2020
EN | Text by anarchist comrade Dinos Giagtzoglou: For the day of agitation and propaganda in solidarity with Monica Caballero and Francisco Solar
Texto anarquista de Dinos Giagtzoglou – Para el día de la agitación y la propaganda en solidaridad con Mónica Caballero y Francisco Solar (14 de agosto 2020)
Justo como hoy, hace 10 años, el Estado Chileno llevó a cabo una amplia operación represiva en contra de compañeros y anarquistas en respuesta a las decenas de atentados en contra de los símbolos y de las instituciones del Estado y el Capital. Esta operación condujo a la detención de diez de los anarquistas y llegó a ser conocido como el "Caso Bombas", terminó en un fiasco, los cinco compañeros que fueron finalmente procesados quedaron completamente absueltos, y esto fue descrito por la prensa como la derrota más grande de la fiscalía en la historia. Hoy, dos de nuestros compañeros, Mónica y Francisco, quienes estaban entre los detenidos en ese tiempo, son de nuevo encarcelado en un Estado que hace un par de meses estaba siendo sacrificado por una enorme revuelta social que nos sorprendió a todxs nosotrxs.
La detención y la prisión no son nada nuevo para nuestrxs hermanxs, ya que en 2013 fueron llevados a las celdas por el Estado español acusados de un ataque a una catedral en Zaragoza revindicada por el Comando Insurreccional Mateo Morral. Los compañeros son una vez más acusado de una serie de atentados en contra de los representantes de los ricos, los poderosos y sus defensores en el territorio Chileno. Los ataques incluyen el envío de dos bombas explosivas, uno de los cuales explotó, en una estación de policía dejando a ocho policías heridos (3 de ellos de gravedad) en Santiago, y el otro se encuentra antes de llegar a su destino en la filial de las oficinas de uno de los mayores consorcios de empresas en Chile (propiedad del cuarto más rico de la familia en América latina), teniendo como destinatario el jefe del departamento legal, quien se había desempeñado como Ministro de Defensa y del Interior durante la represión de los anarquistas, conocido como el "Caso Bombas".
Después de tantos años de persecución y encarcelamiento, luchas implacables dentro y fuera de las cárceles, se mantienen firmes y convencidxs del derecho a la lucha por la liberación. Son estos ejemplos de combatientes los que también me han motivado a tomar iniciativas subversivas y elegir la resistencia a la dominación y la explotación. En tales caminos de lucha queremos y debemos caminar constantemente con amor por la vida y la libertad y sin miedo a la muerte o la cárcel.
Con el recuerdo intacto de Mauricio Morales,
Con pasión y determinación,
Con terquedad y compromiso,
Con la cabeza en alto
Desde el fondo de mi corazón les envío una señal rebelde y un abrazo fuerte a Mónica Caballero y Francisco Solar.
PRIMERO Y SIEMPRE LA REBELIÓN
-Dinos Giagtzoglou-
Subterraneos de la prisión de Korydallos
Tags: 14/14, Athens, Chile, Francisco Solar, Greece, International Solidarity, Konstantinos Yagtzoglou, Letter, Monica Caballero
Posted in Prison Struggle
Wednesday, August 19th, 2020
EN | 'Hands to the gunpowder!' – By Gustavo Rodriguez
FR | 'C'est le moment de la poudre noire!'
Solidaridad directa con lxs anarquistas presxs
—A Gabriel Pombo Da Silva, Dinos Giagtzoglou, Alfredo Cospito, Anna Beniamino, Nicola Gai, Marco Bisesti, Christos Rodopoulos, Lisa Dorfer, Michael Kimble, Eric King, Mónica Caballero, Francisco Solar y, todas las compañeras y compañeros anarquistas en prisión alrededor del mundo.

«Para mí elegí la lucha […] Enfrenté a la sociedad con sus mismas armas, sin inclinar la cabeza…»
Severino Di Giovanni
«La quema de los ateos, la reprobación de los homosexuales o incestuosos,
la segregación de los "locos" y el encarcelamiento de los forajidos son
sólo formas diferentes de integrar y reprimir a cualquiera que vaya más allá
de los límites establecidos por la norma […]
Las prisiones, los asilos, las terapias democráticas y los tratamientos ortopédicos
son sólo diferentes maneras de aplicar la misma fe en un modelo.»
Canenero, número 3, 11 de noviembre de 1994.
La semana internacional de solidaridad con lxs anarquistas encarceladxs es fruto de varios grupos de la Cruz Negra Anarquista (CNA) resueltos a establecer una fecha en el calendario en solidaridad con nuestros compañeros y compañeras secuestradas por el Estado. Desde el verano de 2013, esta loable iniciativa nos ofrece la oportunidad de reafirmar nuestro incondicional apoyo y, de enviarle un contundente mensaje al enemigo, corroborando que nuestros hermanos y hermanas no están solas. Este año, además, podremos dedicar este esfuerzo al compañero Stuart Christie, que recién nos deja.
Incansable difusor de la lucha anárquica y artífice de la resurrección de la CNA en los años sesenta del siglo pasado, Stuart impulsó la solidaridad con nuestrxs presxs en aquel escenario adverso que les invisibilizaba mediante la imposición hegemónica de la vulgata marxista, reprobando sus luchas desde una poderosísima maquinaria de amplificación ad infinitum –con sede en Moscú y sucursales en La Habana– que solo reconocía a sus aliados estratégicos como «presos políticos»1 o «prisioneros de guerra»2 y condenaba al ostracismo cualquier otra acción que no se ubicara en la lógica de la «Guerra Fría» y las operaciones financiadas desde las oficinas de contra-inteligencia del llamado «socialismo realmente existente». (more…)
Tags: Analysis, Gustavo Rodriguez, International Solidarity, International Week for Anarchist Prisoners, Sacco and Vanzetti
Posted in Prison Struggle
Wednesday, August 19th, 2020
ES | '¡Manos a la pólvora!' de Gustavo Rodriguez
FR | 'C'est le moment de la poudre noire!'
Direct solidarity with imprisoned anarchists
–Gabriel Pombo Da Silva, Dinos Giagtzoglou, Alfredo Cospito, Anna Beniamino, Nicola Gai, Marco Bisesti, Christos Rodopoulos, Lisa Dorfer, Michael Kimble, Eric King, Monica Caballero, Francisco Solar and, all the anarchist comrades in prison around the world.

"For me, I chose the struggle […] I faced society with its same weapons, without bowing my head…"
Severino Di Giovanni
"The burning of atheists, the reprobation of homosexuals or incestuous people, the segregation of "madmen" and the imprisonment of outlaws are just different ways of integrating and repressing anyone who goes beyond the limits established by the norm […].
Prisons, nursing homes, democratic therapies and orthopedic treatments are just different ways of applying the same faith in a model."
Canenero, number 3, November 11, 1994
The international week of solidarity with imprisoned anarchists is the fruit of the efforts of several groups of the Anarchist Black Cross/Cruz Negra Anarquista (ABC/CNA) who were determined to set a date of solidarity in the calendar for our comrades who have been kidnapped by the State. From the summer of 2013, this laudable initiative offers us the opportunity to reaffirm our unconditional support and to send a strong message to the enemy, confirming that our brothers and sisters are not alone. This year, moreover, we will be able to dedicate this effort to comrade Stuart Christie, who has just left us.
A tireless disseminator of the anarchic struggle and architect of the resurrection of the ABC/CNA in the 1960s, Stuart promoted solidarity with our prisoners in that adverse scenario that made them invisible through the hegemonic imposition of the Marxist vulgate [trans. Latin version of the 'Holy Bible'], condemning their struggles from a very powerful machinery of amplification ad infinitum -with headquarters in Moscow and branches in Havana- that only recognized their strategic allies as "political prisoners "1 or "prisoners of war"2 and condemned to ostracism any other action that was not located in the logic of the "Cold War" and the operations financed from the counter-intelligence offices of the so-called "really existing socialism". (more…)
Tags: Analysis, Gustavo Rodriguez, International Solidarity, International Week for Anarchist Prisoners, Sacco and Vanzetti
Posted in Prison Struggle
Sunday, August 16th, 2020
ES | Texto anarquista de Dinos Giagtzoglou – Para el día de la agitación y la propaganda en solidaridad con Mónica Caballero y Francisco Solar
Just like today, 10 years ago, the Chilean State carried out an extensive repressive operation against comrades and anarchist operations in response to the dozens of bombings against symbols and institutions of the State and Capital. This operation, which led to the arrest of ten anarchists and became known as the "Bombs Case", ended in a fiasco, as the five who were eventually prosecuted were completely acquitted, and were described by the press as the biggest defeat of law enforcement authorities in court history. Today, two of our comrades, Monica and Francisco, who were among those arrested at the time, are again imprisoned in a State that a few months ago slaughtered a massive social uprising that shocked us all.
Arrest and imprisonment are nothing new for our siblings, since in 2013 they were found in the cells of the Spanish State accused of an attack on a cathedral in Zaragoza by the Insurrectional Commando Mateo Morral. The comrades are once again accused of a series of bombings against representatives of the rich, powerful and their defenders in Chilean territory. The attacks included the shipment of two booby-trapped parcels, one of which exploded, leaving eight cops injured (3 of them seriously) at a Santiago police station and the other being located before hitting its target at the subsidiary offices of one of the largest business consortia in Chile (owned by the fourth richest family in Latin America) having as a recipient the head of the legal department, who had served as Minister of Defense and Interior during the crackdown on anarchists known as the "Bombs Case".
After so many years of persecution and imprisonment, relentless struggles inside and outside prisons, they remain steadfast and convinced of the right of the liberation struggle. It is such examples of combatants that have motivated me too to take subversive initiatives and make choices of resistance to domination and exploitation. In such paths of struggle we want to and must walk constantly with love for life and freedom and without fear for death or prison.
With the undimmed memory of Mauricio Morales,
With passion and determination,
With stubbornness and commitment,
With my heads high,
From the bottom of my heart I send a rebellious signal and a big hug to Monica Caballero and Francisco Solar.
REBELLION FIRST AND ALWAYS
Dinos
Special underground section of Koridallos prison
14/08/2020
Tags: 14/14, Athens, Chile, Francisco Solar, Greece, International Solidarity, Konstantinos Yagtzoglou, Letter, Monica Caballero
Posted in Prison Struggle
Sunday, August 16th, 2020
From AWW:
Repressions against anarchists in Belarus!
WE NEED SOLIDARITY! PLEASE DISSEMINATE THIS INFORMATION!
On August 12, anarchists Alexander Frantskevich and Akihiro Khanada were detained in Belarus. Frantskevich is a former political prisoner, in 2010-2013 he was imprisoned on charges of attacks on government facilities. The police call him "the leader of the most radical group of anarchists, "Revolutionary Action."" At the moment, Alexander is accused of organizing mass riots (sanctions – from 5 to 15 years in prison). It is currently unknown what the second detainee, Akihiro Hanada, is accused of.
Anarchists have been the most radical and one of the organized forces opposing the regime of Alexander Lukashenko for a long time. They actively participate in all mass protests of Belarusians against the dictatorship, and have long been the object of persecution by the authorities.
Now, with the start of unprecedented protests for Belarus, the authorities are concerned about the popularity of anarchists, and they are beginning another round of repressions. State TV channels directly accuse Russian and Belarusian anarchists of "coordinating the riots," and Frantskevich and Akihiro, apparently are suitable candidates for the role of "organizers of protests." Now our comrades are facing long imprisonment for fighting against the dictatorship, and we call on everyone don't be indifferent. Conduct actions of solidarity, demand the release of Frantskevich, Akihiro and all the detainees, translate and disseminate this appeal in all languages ​​of the world. Belarus is a country very sensitive to global pressure. By drawing as much attention as possible to the case against the anarchists, we can influence its positive outcome.
We also remind you, that anarchist Nikita Yemelyanov is still imprisoned in Belarus, sentenced to four years in prison for symbolic attacks on court buildings and an isolation ward in Minsk.
You can send reports on the conducted actions to our Belarusian comrades from "Revolutionary Action" to revolutionaruaction(AT)riseup(DOT)net
Or you can send us news about the conducted actions
Mail media_ns(AT)riseup(DOT)net
Telegram bot: @Anarchotheory_bot
Tags: Akihiro Khanada, Aliaksandar Frantskievich, Belarus, Dictatorship, International Solidarity, Nikita Yemelyanov, Repression
Posted in Social Control