Posts Tagged 'International Solidarity'
Wednesday, October 14th, 2020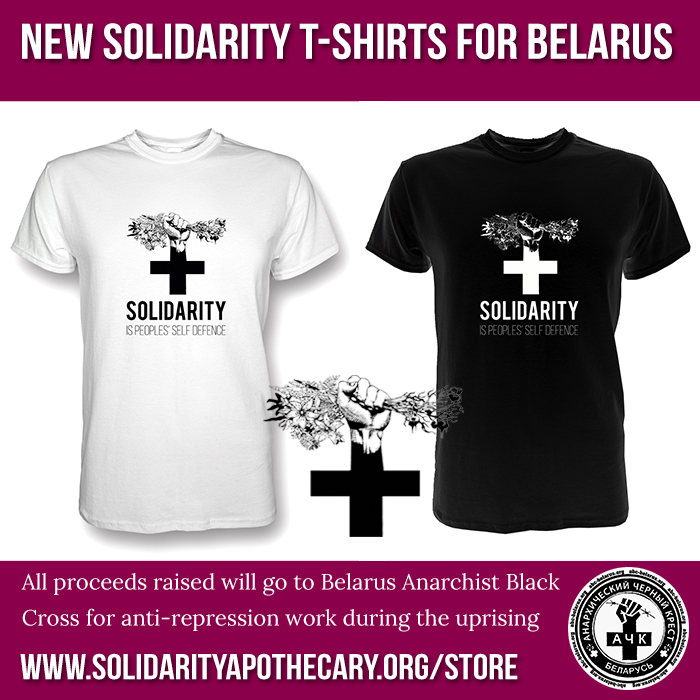 The Solidarity Apothecary is screenprinting tshirts to help raise funds to send to Anarchist Black Cross Belarus.
You can buy one here: https://solidarityapothecary.org/store/
People in Belarus are no stranger to state violence or repression living under a Dictatorship. However, as people have taken to the streets to protest, thousands are experiencing state violence at an unprecedented scale. In the first three days of the uprising in August, more than 5000 were detained by police. Many are experiencing beatings, torture, rape and sexual assault. One person was murdered. Despite the repression, people continue to fight on the streets.
Income from this t-shirt will go towards defendant support, meeting people from jails, legal costs and other anti-repression work. Solidarity is the peoples' self defence!
Please note this is a pre-order. An order will be placed with the printer on the 3rd of October and may take longer than usual to screenprint due to covid-19 restrictions. Thank you for your patience!
To learn more about the situation in Belarus check out:
ABC Belarus – https://abc-belarus.org
Belarus: Anarchists in the uprising against the Dictatorship – https://crimethinc.com/2020/08/12/belarus-anarchists-in-the-uprising-against-the-dictatorship-an-interview
Pramen (for translated news) – https://pramen.io/en/main/
Tags: ABC Belarus, Belarus, International Solidarity, Police Brutality, Repression, Social Insurrection, Solidarity Apothecary, Torture, UK
Posted in Prison Struggle
Wednesday, October 14th, 2020
FR | Keerom, Papouasie occidentale (Indonésie) : Incendie des bureaux de l'agence pour l'emploi
PT Freeport Indonesia (FI) has been present in Papua for decades since the start of the annexation of West Papua by colonial Indonesia. What PT FI produces is only natural destruction, expulsion of indigenous people, and genocide. We think Freeport's existence can only be destroyed if West Papua is separated from Indonesia, but it is not the formation of a West Papua state that we want, but the West Papua Confederation, people control not state control!
We (Long Live Eric King Revolutionary Cell – Informal Anarchist Federation) send our greetings to Lekagak Telengen, Egianus Kogoya, and other West Papuan guerrillas who are among the lush forests of Papua. We invite our comrades who live in cities to start urban guerrilla units and start attacks on the symbols of capitalism and the colonial state of Indonesia.
We clearly declare our hostility towards the opportunist politician Benny Wenda and other shits at the ULMWP who can live comfortably in a foreign country while trying to take struggle for West Papua liberation leadership control. True liberation is from gun and civilian insurrection, not lobbies in air-conditioned buildings!
We also don't forget to send our hugs to comrades in Indonesia who are starting a rebellion against the Omnibus Law and Joko Widodo's neoliberal regime, to our comrades in Malaysia who have to face repression for fighting the fascist kingdom of Malaysia, to the YPG-YPJ guerrillas in Rojava who are facing asymmetrical war against Turkey, and anti-authoritarian insurgents around the world.
We claim the burning of the labour offices building in the regent office complex of Keerom, West Papua during the riots on 1 October 2020. We are among the masses angry at Indonesian colonialism, this is just our opening attack and this is not the last. Get ready for explosion and explosion that will keep on the track!
If the state and capitalism still exist, peace will never be realized. Therefore, the state and capitalism must be destroyed at once !!
Let the fire light up the liberation of West Papua.
Long Live Eric King Revolutionary Cell – (FAI-FRI)
Tags: Anti-Colonialism, Arson, Indonesia, Informal Anarchist Federation (FAI), International Revolutionary Front, International Solidarity, Keerom, Long Live Eric King Revolutionary Cell - FAI/FRI, PT Freeport Indonesia (FI), Sabotage, West Papua, West Papua Independence
Posted in Direct Action
Friday, October 9th, 2020
FR | Yogyakarta (Indonésie) : La CCF/Nemesis Action revendique l'incendie d'une voiture de luxe
ES | YOGYAKARTA, INDONESIA: «CCF / ACCIÓN NÉMESIS» ASUME LA RESPONSABILIDAD DEL INCENDIO PROVOCADO DE UN COCHE DE LUJO
GR | Ινδονησία, Γιογκιακάρτα: "ΣΠΦ / Δράση Νέμεσις" – Ανάληψη ευθύνης για τον εμπρησμό πολυτελούς αμαξιού
Yogyakarta – Indonesia : We claim the burning of a luxury car in front of the Sinar Mas office last night on Ring Road Utara Yogyakarta. And it's not just solidarity for combatants on the streets against the Omnibus Law. But because we understand that the Sinar Mas Group is responsible for the destruction of rainforests in Indonesia to be converted into the palm oil industry.
Solidarity for all combatants throughout Indonesia. Solidarity with Belarus. Solidarity for anarchists in Chile, Greece, Hong Kong, Rojava!
Long Live the Rebellion!

"We want the world and we want it on fire".
Conspiracy of Cells of Fire / Nemesis Action
–
Kami mengklaim pembakaran mobil mewah di depan kantor Sinar Mas semalam di Ring Road Utara Yogyakarta. Dan ini bukan hanya solidaritas untuk kombatan di jalanan melawan Omnibus Law. Tapi karena kami paham bahwa Sinar Mas Grup bertanggung jawab atas penghancuran hutan hujan di Indonesia untuk dikonversikan ke industri Sawit.
Solidaritas buat semua Kombatan seantero Indonesia. Solidaritas buat Belarus. Solidaritas untuk kaum anarkis di Chile, Yunani, Hongkong, Rojava!
Panjang Umur Pemberontakan!
"We want the world and we want it on fire".
Konspirasi Sel-sel Api / Aksi Nemesis
Tags: Arson, Conspiracy of Cells of Fire, Conspiracy of Cells of Fire / Nemesis Action, Ecological Destruction, Indonesia, Informal Anarchist Federation (FAI), International Solidarity, Sabotage, Sinar Mas Group, Yogyakarta
Posted in Direct Action
Thursday, October 8th, 2020
Eric King describes himself as a 33-year-old vegan anarchist political prisoner and poet who was arrested and charged with an attempted firebombing of a Congressperson's office in Kansas City, Missouri, in September 2014. King was charged with throwing a hammer through a window of the building, followed by two lit Molotov cocktails. The criminal complaint states that both incendiary devices failed to ignite. King was identified as a suspect by local police because he had previously come under suspicion for anti-government and anti-police graffiti. After accepting a non-cooperating plea agreement, King was sentenced to ten years in June 2016. His release date is October 2023. He has served his time in various facilities of the federal Bureau of Prisons, or BOP.
King is currently facing one count of assaulting a government official for an incident that occurred in August 2018 at the Federal Correctional Institution (FCI) Florence. According to King's account, he was taken into a mop closet, out of sight of prison cameras, and beaten up by a corrections officer. The officer then said that King had assaulted him. King has been housed in a segregation cell at FCI Englewood since August 2019, fighting this charge. Overall, King has spent about three years in solitary confinement. He now faces a maximum of 20 additional years in prison. Read more about Eric King here: supportericking.org.
–
My toilet is right next to my cellmate's face, not hyperbolically, it is literally three inches from where he lays his head. I am in the FCI Englewood Secure Housing Unit (SHU)—the oddest SHU in the Bureau surely. In this segregation unit, you will get inmates from the Low [security prison], pre-trial people and folks like myself and my cellie who are on writ [having a court case] from other penitentiaries. This oddball combo makes no sense and causes a localized class system, all a part of the psych-ops of this odd rust bucket of a prison.
On August 17, 2017, I was taken into a mop closet by Super Patriot Lieutenant. I have been in solitary ever since, 19 months and counting. I learned how bad it can get, discovering new ways they can torture you; mentally and physically. Whether being choked while being held in four-point restraints for seven hours, being held in a cell for four days without a functional toilet filled with someone else's feces, I have seen their brutality and am stronger for it. I hope. (more…)
Tags: Eric G. King, International Solidarity, Isolation, Letter, Repression, USA
Posted in Prison Struggle
Monday, September 28th, 2020
FR | Bath (UK) : Incendie en solidarité avec les six inculpé.e.s de l'attaque d'une antenne 5G en France
We torched an Orange mast in the South West; a few miles outside of Bath (UK), to show that we too despise the dodgy technology that promises to enhance our futures, while imprisoning our minds. Solidarity with the six comrades who were arrested for an arson attack on an Orange relay 5-SFR antenna that was burnt in the industrial zone of Douai-Dorignies, France.
Act locally, give solidarity globally….
….especially solidarity with those on the streets across the world who have resisted lock-downs, and pushed beyond the mediated options of social media, to physically attack the racist police, and all the structures that support them.
See you on the streets. Stay safe, stay rowdy.
Tags: 5G, Anti-technology, Arson, Bath, International Solidarity, Orange (Phone Company), Sabotage, Solidarity Action, UK
Posted in Direct Action
Thursday, September 24th, 2020
Programa #6 de Negras Tormentas Radio
Programa internacionalista realizado el martes 25 de agosto del año 2020 como especial de música en el marco de la "Semana Internacional de Solidaridad con lxs Anarquistas Encarceladxs". En este se compartieron textos del compañero Marcelo Villarroel Sepúlveda (prisionero de la guerra social) y se destaca la participación de manera conjunta con la Red Solidaria Antikarcelaria con Juan y Marcelo.
Para ver más visita: //www.facebook.com/sinfronterasninaciones/
Tags: Anarchist Radio, Chile, International Solidarity, International Week for Anarchist Prisoners, Marcelo Villarroel Sepúlveda, Negras Tormentas Radio, Radio, Repression, Santiago
Posted in Prison Struggle
Wednesday, September 16th, 2020
Refugees demonstrating after the burning of Moria. "Azadi!" Freedom!
In the following report from Greece, anarchists describe the burning of the refugee camp, Moria, and the response countrywide, as well as the latest chapter in other struggles against state repression on a variety of fronts.
A report by Radio Fragmata.
Another month, another report on the situation here in Greece. There has been no pause in the repression of the state, nor any peace for the marginalized and excluded. Another historic squat has been evicted, the economic despair many already face is becoming generalized, society drifts towards the right at the guidance of state and corporate media, and the largest concentration camp housing migrants in all of Europe has been engulfed in flames, displacing thousands.
As in the rest of the world, each morning brings new concerns, new disasters, new forms of precarity. We share the following information in the pursuit of a relentless and borderless solidarity.
-Radio Fragmata, September 2020
Moria Burns—The Greek State Plays Victim
The refugee camp Moria on the island of Lesvos has burned down.
The state claims this was the result of demonstrations by desperate people inside the camp reacting to new measures the police had opportunistically declared in response to an inevitable and now unavoidable outbreak of COVID-19 inside the camp. Some 35 cases have been made public as of early September; considering the intense overcrowding of the camp, the number should be assumed to be much higher. Some wonder whether nearby fascists took the opportunity to set fires under the cover of the refugees' protests. It is certain that some of the villagers wanted those fleeing the flames to burn alive, as they pushed those who tried to flee to the nearby village of Mytilene back towards the blaze. (more…)
Tags: Chania, Coronavirus, Crete, Eviction, Giannis Dimitrakis, Greece, International Solidarity, Kostas Sakkas, Lesvos, Migrant Struggle, Moria, Mytilene, Pavlos Fyssas, Racism, Radio Fragmata, Rosa Nera, Terra Incognita Squat
Posted in No Borders
Tuesday, September 15th, 2020
Tags: International Solidarity, Philippines, Repression, Video
Posted in Autonomy
Sunday, September 6th, 2020
"Bread, Salt, Land and Freedom" can be heard in the streets of all Belarus at present. Everywhere people and our friends have been streaming onto the streets since August 9th. Unusual for a country where activists disappear, are tortured or draconian prison sentences are supposed to suppress any thought of another world. But the population is looking for alternatives and our companions are right in the middle of it:

"We should not forget that anarchists are against not only this presidential election, but against any president in general. The Belarusian people have long known that power corrupts everyone. Lukashenko may be replaced by an opposition politician, who will keep power in the country and continue repression against his own population. We must rise up not to get a new president, but to live without presidents. Decentralization of power should be a key factor in the transition from dictatorship to a free society."
Pramen
While the madman from Belarus, self-proclaimed president, congratulates his murderous cop units and symbolically walks through Minsk with a Kalashnikov, the strikes and attacks on these units continue. The fear must be deep-seated of losing power, so he had the Internet turned off, sent the military to fight the demos and his whole family ran through the streets with weapons.
In Berlin, too, we follow the events and were inspired by the attack on the Belarusian embassy in Paris.
We send our greetings and strength to our anarchist friends and all the other rebels in the streets, following the call for international solidarity:
"Support from the outside inspires not only the hearts of anarchists, but also the hearts of everyone on the street."
For this reason we threw stones and paint bottles at the Belarusian embassy near Treptower Park during the night of August 27. We crossed their disgusting emblem at the gate with an A in a circle.
For a upheaval of the circumstances – until anarchy!
Fear turned into rage, rage into victory!
To all our comrades in revolt, courage, hold on!

(Translation from http://zf2r4nfwx66apco4.onion/node/1598520077610523)
Video: https://streamable.com/gepr2qv
Tags: Belarus, Berlin, Germany, International Solidarity, Sabotage, Solidarity Action
Posted in Direct Action
Friday, September 4th, 2020
Para lxs antagonistas a este sistema de terror el ingreso a la cárcel siempre es un trago amargo y siempre duele.
La prisión y yo somos viejas conocidas, en mas de una ocasión me han sentado en su mesa, con los años hemos cambiado y ambas hemos aprendido la una de la otra… pero por mas tiempo que pase escencialmente la cárcel y yo seguimos siendo las mismas. La cárcel aun es el monstruo fagocitador de poderes que crece con la sumisión y el arrepentimiento, yo continuo con los mismos deseos sediciosos de antaño.
Lxs poderosxs lograron encerrar mi cuerpo inquieto, trataron de custodiarlo por muchos años, pero aunque esté enjaulada, mi corazón sigue afuera lejos de alambrados, altos muros y ojos vigilantes… el gris de este lugar solo me toca superficialmente.
El presidio es otro escenario mas de lucha en el camino de la confrontación, el enfrentamiento antiautoritario para mi no ha terminado, solamente ha cambiado de forma.
Queridos Juan Aliste, Joaquín García, Marcelo Villarroel y Dinos Giagtzoglou sus palabras son una bocanada de aire fresco en esta celda.
¡Queda mucho por construir y destruir!
Solidaridad activa con los presos politicos mapuche en huelga de hambre.
Viva la Anarquía!

Monica Caballero S.
Presa anarquista.
Santiago Chile
Septiembre 2020.
–
Letter from imprisoned comrade Monica Caballero in San Miguel prison
For those opposed to this system of terror, prison is always a bitter pill and it always hurts.
Prison and I are old acquaintances, on more than one occasion I have sat at his table, over the years we have changed and we have both learned from one another… but no matter how much time I spend in prison, I remain the same. Prison is still the monstrous phagocyte of power that grows with submission and repentance, and I continue with the same seditious desires of yester-year.
The powerful succeeded in locking up my restless body, they tried to guard it for many years, but even though it is caged, my heart is still out there far from fences, high walls and watchful eyes… the grey of this place only touches me superficially.
The prison is another place of struggle on the road to confrontation, the anti-authoritarian confrontation for me has not finished, it has only changed shape.
Dear Juan Aliste, Joaquín García, Marcelo Villarroel and Dinos Giagtzoglou's words are a breath of fresh air in this cell.
There is still much to build and to destroy!
Active solidarity with the Mapuche political prisoners on hunger strike

Long live Anarchy!
Monica Caballero S.
Anarchist prisoner.
Santiago Chile
September 2020.
Tags: Chile, International Solidarity, Letter, Monica Caballero, San Miguel prison, Santiago
Posted in Prison Struggle
Sunday, August 16th, 2020
Just like today, 10 years ago, the Chilean State carried out an extensive repressive operation against comrades and anarchist operations in response to the dozens of bombings against symbols and institutions of the State and Capital. This operation, which led to the arrest of ten anarchists and became known as the "Bombs Case", ended in a fiasco, as the five who were eventually prosecuted were completely acquitted, and were described by the press as the biggest defeat of law enforcement authorities in court history. Today, two of our comrades, Monica and Francisco, who were among those arrested at the time, are again imprisoned in a State that a few months ago slaughtered a massive social uprising that shocked us all.
Arrest and imprisonment are nothing new for our siblings, since in 2013 they were found in the cells of the Spanish State accused of an attack on a cathedral in Zaragoza by the Insurrectional Commando Mateo Morral. The comrades are once again accused of a series of bombings against representatives of the rich, powerful and their defenders in Chilean territory. The attacks included the shipment of two booby-trapped parcels, one of which exploded, leaving eight cops injured (3 of them seriously) at a Santiago police station and the other being located before hitting its target at the subsidiary offices of one of the largest business consortia in Chile (owned by the fourth richest family in Latin America) having as a recipient the head of the legal department, who had served as Minister of Defense and Interior during the crackdown on anarchists known as the "Bombs Case".
After so many years of persecution and imprisonment, relentless struggles inside and outside prisons, they remain steadfast and convinced of the right of the liberation struggle. It is such examples of combatants that have motivated me too to take subversive initiatives and make choices of resistance to domination and exploitation. In such paths of struggle we want to and must walk constantly with love for life and freedom and without fear for death or prison.
With the undimmed memory of Mauricio Morales,
With passion and determination,
With stubbornness and commitment,
With my heads high,
From the bottom of my heart I send a rebellious signal and a big hug to Monica Caballero and Francisco Solar.
REBELLION FIRST AND ALWAYS
Dinos
Special underground section of Koridallos prison
14/08/2020
Tags: 14/14, Francisco Solar, International Solidarity, Konstantinos Yagtzoglou, Letter, Monica Caballero
Posted in Prison Struggle
Sunday, August 16th, 2020
From AWW:
Repressions against anarchists in Belarus!
WE NEED SOLIDARITY! PLEASE DISSEMINATE THIS INFORMATION!
On August 12, anarchists Alexander Frantskevich and Akihiro Khanada were detained in Belarus. Frantskevich is a former political prisoner, in 2010-2013 he was imprisoned on charges of attacks on government facilities. The police call him "the leader of the most radical group of anarchists, "Revolutionary Action."" At the moment, Alexander is accused of organizing mass riots (sanctions – from 5 to 15 years in prison). It is currently unknown what the second detainee, Akihiro Hanada, is accused of.
Anarchists have been the most radical and one of the organized forces opposing the regime of Alexander Lukashenko for a long time. They actively participate in all mass protests of Belarusians against the dictatorship, and have long been the object of persecution by the authorities.
Now, with the start of unprecedented protests for Belarus, the authorities are concerned about the popularity of anarchists, and they are beginning another round of repressions. State TV channels directly accuse Russian and Belarusian anarchists of "coordinating the riots," and Frantskevich and Akihiro, apparently are suitable candidates for the role of "organizers of protests." Now our comrades are facing long imprisonment for fighting against the dictatorship, and we call on everyone don't be indifferent. Conduct actions of solidarity, demand the release of Frantskevich, Akihiro and all the detainees, translate and disseminate this appeal in all languages ​​of the world. Belarus is a country very sensitive to global pressure. By drawing as much attention as possible to the case against the anarchists, we can influence its positive outcome.
We also remind you, that anarchist Nikita Yemelyanov is still imprisoned in Belarus, sentenced to four years in prison for symbolic attacks on court buildings and an isolation ward in Minsk.
You can send reports on the conducted actions to our Belarusian comrades from "Revolutionary Action" to revolutionaruaction(AT)riseup(DOT)net
Or you can send us news about the conducted actions
Mail media_ns(AT)riseup(DOT)net
Telegram bot: @Anarchotheory_bot
Tags: Akihiro Khanada, Aliaksandar Frantskievich, Belarus, Dictatorship, International Solidarity, Nikita Yemelyanov, Repression
Posted in Social Control
Tuesday, August 11th, 2020
Active and revolutionary solidarity for our imprisoned comrades.
Tags: Chile, Francisco Solar, International Solidarity, Monica Caballero, Santiago
Posted in Prison Struggle
Tuesday, August 11th, 2020
Elephant in the room – Bringing down the dictatorship. Interview on protests in Belarus
Since Sunday streets in Belarus are filled with rage of protesters trying to bring down the dictatorship. People from all parts of the society have been clashing in the night of August 9 in 33 different cities around the country. They are fighting against president Lukashenko who is ruling the country for the last 26 years.
We got together with one of comrades from Belarus who is living in emigration and clarified some things that are happening in Belarus right now.
Music:
Lyapis Trubetskoy
Zdrada Pałki
–
How did the Belarusians come to rebellion against the dictatorship
[German], [Russian]
https://pramen.io/en/2020/08/how-did-the-belarusians-come-to-rebellion-against-the-dictatorship/">Pramen:
If you had asked people in Belarus how long the dictatorship of Lukashenko was left in early 2020, they would have looked at you like a fool. In a respected dictatorship, such questions are not asked, because you know what can happen. And in general, it so happens that the reign of the great leader is timeless. But the situation has changed so radically over the last 8 months that Belarusians took to the streets and for the first time in the new history of Belarus they fought back the police in at least 33 different cities of the country.
Today Belarusians have woken up in a new country. In it, people openly talk about hatred for the government and prepare for a violent confrontation with the police and state. They discuss online and live effective methods of struggle. Several factories went on strike the day after the elections. (more…)
Tags: Belarus, Coronavirus, Dictatorship, Elections, International Solidarity, Minsk, Repression, Riots, Social Insurrection
Posted in Autonomy
Monday, August 10th, 2020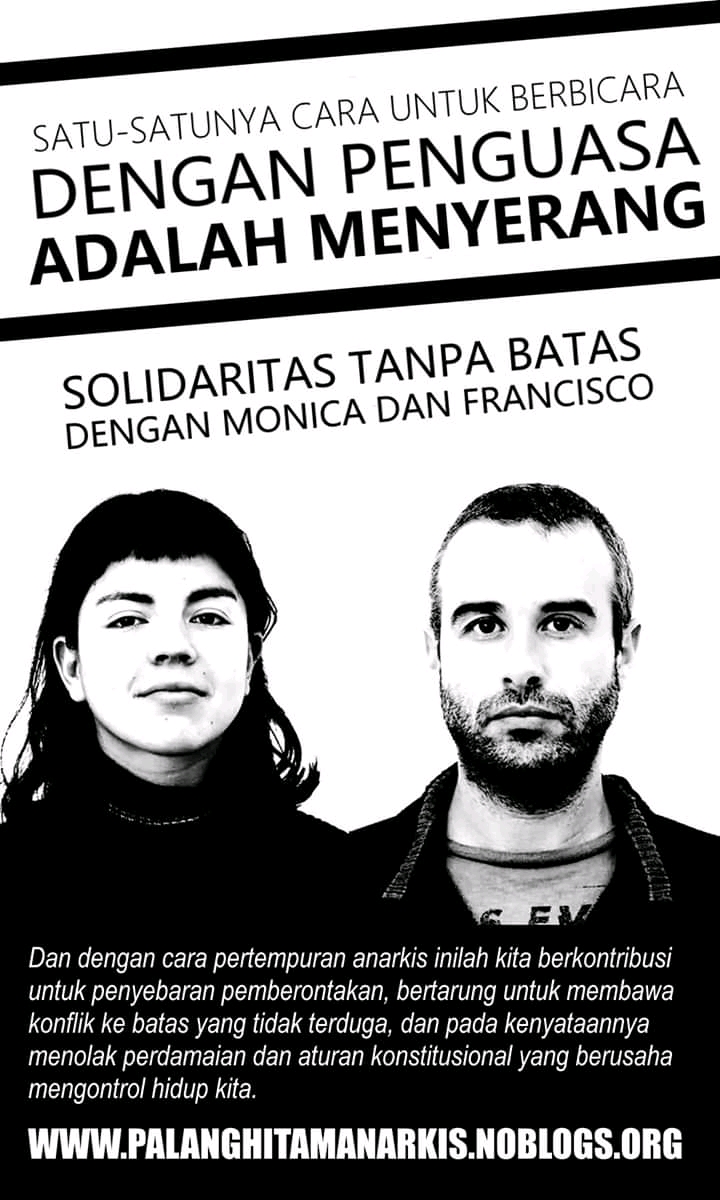 From Indonesia… To Chile…
Palang Hitam Indonesia / Anarchist Black Cross Indonesia menerbitkan poster solidatas untuk tahanan anarkis Mónica Caballero dan Francisco Solar dari Chile. Sebarkan solidaritas!!
Tautan unduhan:
• File PDF
• File JPG
Solidaritas kami akan lebih kuat dari tembok penjara mereka!! Free Monica and Francisco!
Tags: ABC Indonesia, Chile, Francisco Solar, Indonesia, International Solidarity, Monica Caballero
Posted in Prison Struggle